Yoon So-yi pinch-hits for Hero as new leading lady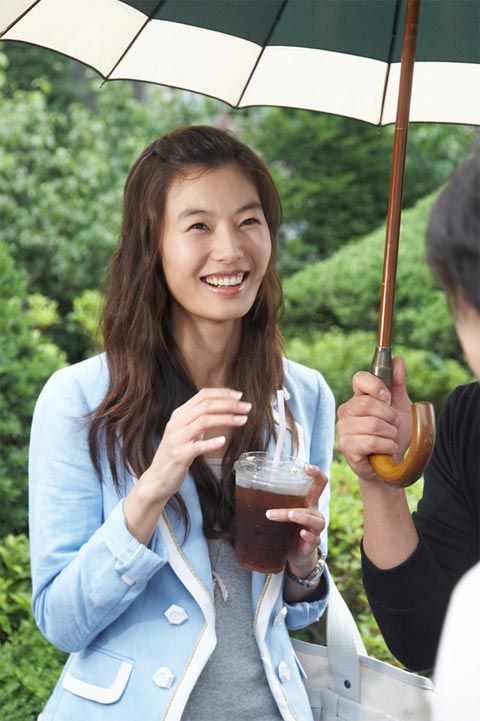 Innnteresting…?
MBC has tapped Yoon So-yi to be the last-minute replacement for Kim Min-jung in Hero after the latter was forced to drop out a week before the drama's scheduled premiere. This has thrown the Hero production for a loop, since all previously shot scenes will have to be redone, and they have so little time remaining in which to throw everything together. (Kim Min-jung had filmed the first two episodes before she had to take a break to heal. Overall filming slowed while waiting for her recovery, but Lee Junki has filmed Episodes 3 and 4.)
With Yoon So-yi coming onboard so late, she quickly wrapped new Hero poster shoots on November 4 and began filming for the drama. According to her management, she is currently wrapping up a movie shoot, but as the filming is 90% complete, she is able to begin work on Hero right away.
Now the big question is whether MBC will delay the premiere, which is still scheduled for November 11. The production company finds itself in a difficult spot, trying to accommodate the station while playing catch-up for all the time they've lost. On set, the opinion is that forcing the drama to shoot on too unreasonable a timetable would just contribute to a weaker drama and lessen quality. According to the broadcast station, they are still aiming to keep the premiere date for next week, but they are also preparing backup programming in the case that does not work out.
As for the casting: I'm not excited about Yoon So-yi. At all. The thing is, I actually like her. Although I've found her flat in some instances, she was pretty good in Goodbye Solo — although that was a Noh Hee-kyung drama, and (almost?) nobody does dialogue as good as Noh does it. But Yoon has a quiet sort of presence, and I can't see her being a good fit with Lee Junki's dynamic, forceful screen presence.
Also — allow me to be shallow for a moment — Yoon is very tall and lanky, and while Lee Junki is no shorty, he's not that much taller than her (Lee's official height is 178 cm, while Yoon's is 172 cm). Ironically (?), Yoon So-yi had also recently pulled out of a drama relatively late (though nowhere near as late as this instance) — she'd been scheduled to head Angel's Temptation and dropped out citing personal reasons. (Lee So-yeon stepped in to replace her.)
Sorry to say, my interest in Hero is waning further, and I'm starting to feel really bad for it. If it pulls off even a reasonably coherent drama, I will give it tons of props for pulling it together in the face of impossible circumstances.
(Some scenes featuring Lee Junki:)
Via Star News, Herald Biz
RELATED POSTS
Tags: Hero, Yoon So-yi