Behind the scenes from Pasta's outdoor shoot
Here is our first look behind the scenes on the set of MBC's Pasta, which had previously released its promo stills and posters.
Since the drama is set in an Italian restaurant, much of filming takes place indoors, but apparently whenever the shooting heads outside, the actors have been greeted with a cold snap. Leads Lee Seon-kyun and Gong Hyo-jin, who play a head chef and assistant chef, respectively, said, "I don't know why it always turns so cold whenever we shoot a scene of us meeting [outside]. Our relationship in the drama is already chilly, and the weather isn't helping."
The two characters first encounter each other in a minor collision at an intersection. Gong Hyo-jin and Lee Seon-kyun run into each other while she's holding a goldfish in a plastic bag, which sends her falling to the ground. Trying to save the fish, they cup water in their hands. Lee Seon-kyun said, "At first my fingers lost feeling, and later on they burned with heat."
Recently, the two spent the night filming an outdoor scene at a pojangmacha, and the shoot was greeted with the first snow of the season. In the scene, she heads to a pojangmacha alone after being fired from her job by Lee Seon-kyun. There, she finds him sitting by himself in a glum mood and can't bring herself to sit in front of him, so she turns around and mutters insults about him to herself. He, on the other hand, is only pretending to be on the phone while he listens in, and a confrontation ensues.
The drama describes the two as "a man who loves to cook" (Lee) and "a woman who cooks love" (Gong). Pasta premieres January 4.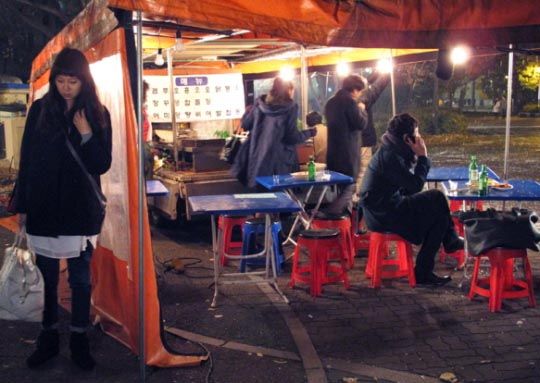 Via My Daily
RELATED POSTS
Tags: Gong Hyo-jin, Lee Seon-kyun, Pasta