Prosecutor Princess holds open set day
On March 17, SBS's Prosecutor Princess held an open set day at the Ilsan Production Center, inviting the press for a look behind the scenes at the filming location. Pictured above are the four main actors (from left to right): Park Shi-hoo, Choi Song-hyun, Kim So-yeon, and Han Jung-soo.
Prosecutor Princess has strong competition from rival dramas, and although Kim So-yeon has been acting longer than their lead actresses (Sohn Ye-jin of Personal Taste and Moon Geun-young in Cinderella's Sister), she has had a more understated career in smaller projects and supporting roles. Therefore, she explained, she's pleased just being compared with them now.
This role is a complete shift from her last, as she played the fierce North Korean spy Sun-hwa in last fall's IRIS. Kim describes her Hye-ri character thusly: "She's immature and simple, but she does mature through her profession as a prosecutor. There are certain aspects of her personality that are similar to my own in real life." Playing someone more similar to her real personality is something Kim has always wanted, "and I feel like that's happened with this drama."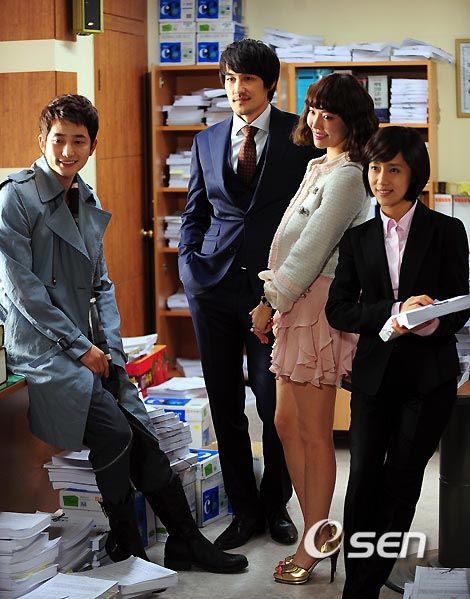 As the title character, Kim So-yeon said she feels a lot of responsibility, which has her anxious that she'll catch a cold or fall ill and is therefore taking precautions to stay healthy. This is Kim's first leading role in a drama in five years, since 2005's Autumn Shower. (She's only been in supporting roles in dramas like IRIS and Gourmet.)
This is also the first time we've seen secondary lead Choi Song-hyun, who landed this role after going through an audition process. Choi got her career start as a broadcast announcer and was in the drama Smile and the movie Girlfriends. (She frumps up her image quite a bit; she usually looks a lot younger and sexier.) She plays another prosecutor who is the complete opposite of Ma Hye-ri (meaning: serious and professional).
The drama premieres on March 31.
RELATED POSTS
Tags: Choi Song-hyun, Han Jung-soo, Kim So-yeon, Park Shi-hoo, Prosecutor Princess