Will Chuno have a Season 2?
While I wouldn't get too excited yet, there is a lot of talk and speculation over the possibility of a Chuno Season 2, given the intense popularity of the drama, which ended this past week.
A representative from Chuno's production company, Chorokbaem Media, gave interviews to the press on the 26th saying that they have discussed the possibility of airing a Season 2, although nothing has been confirmed yet. A different representative from the broadcasting side confirmed that they are looking favorably at the matter, but that nothing had been decided.
The day before, PD Kwak Jung-hwan was asked by a reporter at the finale event, which took place at KBS's Yeouido building, about the chance of a Season 2 being produced. He gave a roundabout answer, saying that writer Chun Sung-il would have to write it, but that every day he feels differently. Kwak added that he'd like to do a contemporary drama, and would like to choose something with a strong genre flavor, as genre dramas haven't really been done much in Korean television.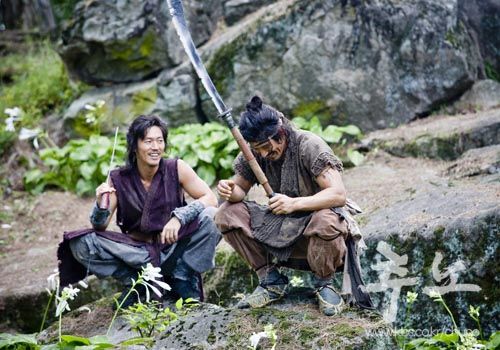 On the other hand, in contrast with PD Kwak's vague answers, another source with the production spoke more affirmatively, saying that a Chuno 2 would take the form of a prequel, "centered around the story of the two men" (Jang Hyuk and Oh Ji-ho). It would be set against the backdrop of the Manchu war, when Song Tae-ha (Oh) was still a military officer protecting his country. It would show how Injo and Prince So-hyun came to their tragic ends, as well as portraying the lives of the commoners who suffered through the harsh wartime.
However, there are still some hurdles to overcome, such as the fact that KBS and Chorokbaem Media had each invested half into a limited liability company that produced the first season. That LLC holds the sequel rights, so even if KBS wants a sequel, both sides must be onboard.
Furthermore, writer Chun is CEO of the film company Harimao Pictures (whose first feature was the hit spy-action romantic comedy Level 7 Civil Servant, which Chun also wrote). As such, he is busy with Harimao's next project, a film called All Quiet on the Western Front [서부전선 이상없다] whose production had previously been delayed. Chun also expressed interest in doing a modern drama first.
Still, many are optimistic about a Chuno Season 2. In addition to high viewership ratings at home, it has attracted substantial overseas buzz, and if it can achieve status as a Hallyu drama, like Jewel In the Palace did overseas, the possibility for a sequel would improve.
One insider who requested anonymity said that as a result of Chuno's success, there are a lot of people with ambitious thoughts, spurred by the smell of money. Therefore, "If everyone works together to not allow greed to ruin the project, plans [for the sequel] will come out by the end of the year."
RELATED POSTS
Tags: Chuno, drama production, sequels