Joseon X-Files: Episode 5
Dare I say it? Okay, I'll call it: Best drama of the year, folks.
Given that statement, I feel doubly guilty for letting Joseon X-Files fall behind — apologies for the delay, but in case you hadn't noticed, there are a lot of dramas airing at the moment! Trust the year to backload everything so that it becomes painful to choose which ones get attention first.
The reason I've been slower with this drama isn't because I like it less, but because it's so good — I like to pay attention and grasp every detail.
SONG OF THE DAY
Thornapple – "빨간 피터" (Red Peter) [ Download ]
Audio clip: Adobe Flash Player (version 9 or above) is required to play this audio clip. Download the latest version here. You also need to have JavaScript enabled in your browser.

EPISODE 5: "Sealed Book"
A sickly looking young man sits at his desk, swaying uneasily. With his eyes rolling up in his head, he grabs his brush and begins writing feverishly, as though driven by whatever force is causing his physical distress.
As he writes, elsewhere a storyteller tells a creepy tale to a small audience of theatergoers: A woman walks in the foggy nighttime, is approached by a man, and her head is cut off. This appears to be the story the writer is scribbling, and just as it hits its conclusion, a police officer bursts in and charges the storyteller, Oh Soon-tak, of murder.
Oh Soon-tak is questioned, because his story matches the murder of a royal official that took place the previous night. Oh insists upon his innocence — why would he go around blabbing about a murder he committed? — and says he merely repeated the story as written.
The man was given the story by someone, but doesn't know his name. He didn't really care, since he was getting stories for free that were interesting and fresh. He hadn't known they were based on real events.
Following the interrogation, Hyung-do and Yoon-yi talk about the case. Hyung-do feels like they're getting involved in something big, which gives him pause. Murder cases are for the police anyway, and not their purview.
Yoon-yi tells him not to think in such complicated terms — their job is to simply find out why the murderer is spreading the stories of his murders.
The young writer visits a local newspaper man and hears of the new murders, which make him nervous. He's a meek, anxious young nobleman, yet when his eyes start to roll upward, his personality shifts — he smiles chillingly and offers a few predictions for the annoying newsman, ending on his untimely death.
He's beat up for the trouble, and as he walks out looking drained of energy, a man rushes past him, bumping him hard. This triggers another vision, wherein a man stabs a man wearing red clothing just like the guy who'd bumped him.
Later, the writer sits in his room, almost like he's waiting for something, when suddenly a force hits his body and his eyes roll upward. He starts to wheeze as he laboriously reaches for his writing materials and starts writing as though possessed.
Whatever it is inside him seems to command his body but not his mind, and the man struggles against its power. He cries out, "No!"
I love this scene:
Hyung-do is busy with research at the bookshop, and spends the night there reading. Yoon-yi comes into his room to see him asleep on the hard wooden floor still clutching a book. Gently, she places a pillow under his head, giving him a small smile, then withdraws to let him sleep.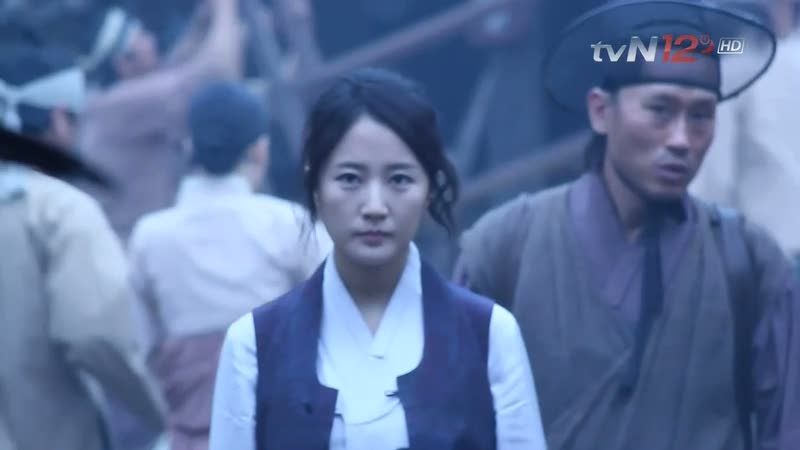 The next day, the writer walks through the marketplace again, thinking of that vision of the murdered man in red. He takes a seat at a restaurant table to await his contact — the man Yoon-yi and Jang are also there trailing, the storyteller.
The two men meet eyes, but the storyteller has noticed he's being followed and shoots the writer a look, who takes that as his cue to hurry away. Yoon-yi recognizes the writer and shouts out his name — Oh Kyung-woon — and that sends him into a full-on run.
Hyung-do tackles him and restrains him — just as Kyung-woon's eyes roll back.
Just then, the man in red runs by, in fact leaping over Hyung-do, and crashes into a stall. He's being chased by a man who stabs him with his blade — just as Kyung-woon had foreseen.
This spooks Kyung-woon as much as it does Hyung-do, and he bolts while the others are distracted with the murder. In the process, he drops a piece of paper, which Hyung-do picks up.
The paper records a vivid description of the murder, which both Hyung-do and Yoon-yi can say firsthand is accurate. So how could he have known so clearly what was going to happen? Jang calls him a psychic, but the other two ignore him, searching for a more concrete explanation.
(Note: Kim Ji-hoon is good with dry humor, which he used a bit in Wish Upon a Star and is given greater opportunity to exercise here. Since Hyung-do is such a stickler for rules and comes off humorless, it's particularly funny to see him in scenes like this: Yoon-yi asks what he thinks, and he takes an authoritative tone as he starts saying, "Well…", as though he's about to divulge an important truth. Then he leans in and asks, "What do you think?")
The brainstorming session is short cut with Hyung-do's discovery that he is missing his identification tag.
It's in the hands of Oh Kyung-woon, who tries to conjure a psychic flash as he clasps the tag. (His premonitions are triggered by physical contact, such as the bump that brought on the flash of the marketplace murder.) Kyung-woon gets a vision and starts writing furiously.
The team returns to the marketplace the next day to search for the ID, and have no luck. They do, however, see the storyteller walking through the area and follow. They don't notice — and neither does the storyteller — that he's being followed by two other men.
Arriving at a drinking establishment, the storyteller greets the man he regularly meets here: Kyung-woon, who calls him hyung. Ah, they're brothers. They head inside a room to talk, which is when the two armed pursuers leap into action and raid the room.
Kyung-woon runs and the men take off after him, as does Hyung-do. The storyteller writhes in pain from a jab to the gut, but he's more worried about his brother and begs Yoon-yi to see to him.
Jang finds a document left behind by Kyung-woon — the latest prediction, which is about Hyung-do and a sword.
The pursuit takes the two attackers into the woods, but they've lost him. Hyung-do arrives moments behind, panting, and the pursuer turns his anger on him. He delivers a blow to Hyung-do's gut, then holds his sword to his neck.
But he flips Hyung-do's robe and reads his government badge. Though he keeps his sword drawn, he backs off a little, and asks what he's doing in this chase.
Hyung-do recognizes the man as a government official and turns the question around on him. Why are they following him? The official leaves Hyung-do with the warning to stop chasing Kyung-woon if he values his own safety.
Thankfully, a book saved Storyteller Oh from greater injury — the blade was stopped by the thick pages. Team X-Files finds that the man is Kyung-woon's half-brother, who raised him as a father.
However, he worries that his brother isn't normal. When Kyung-woon started seeing things, he said he'd go crazy if he couldn't write them down. At some point, Kyung-woon noticed he was being followed around.
Team X-Files believes him when he swears that Kyung-woon isn't a murderer, but they still need to know how he writes down things that haven't happened yet. Oh answers that Kyung-woon's mother was a psychic.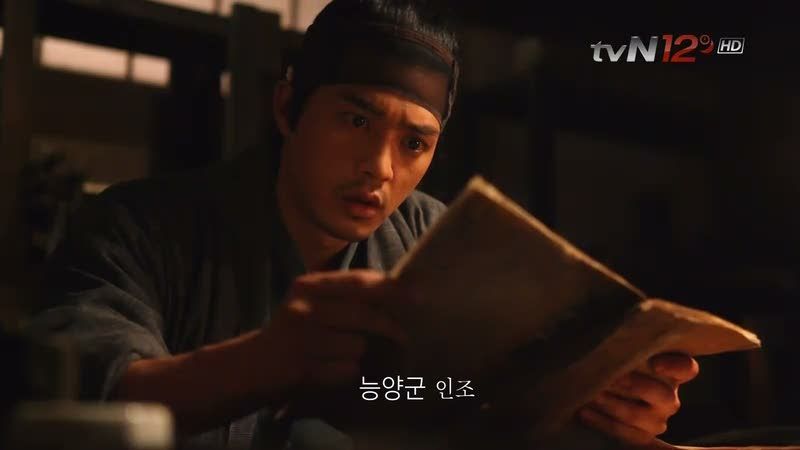 Oh doesn't know what the book is, but figures it's a novel; Kyung-woon had given it to him for safekeeping. Taking it back to headquarters, Hyung-do breaks the wax seal and finds two bound manuscripts. One is titled "Psychic Baek-yi's disturbance," while the other is labeled "Prophecies."
Hyung-do takes the latter and starts reading, growing increasingly alarmed at the contents, which tell of an uprising to dethrone the current king and establish a new one.
This is serious stuff — high treason, in fact, since it could be a threat to the current state and speaks of danger to the king. Completely unnerved, Hyung-do bursts into motion, grabbing a stack of books from the room to find one that approximates the damning text. He finds a good match and swaps it out, then re-seals the bundle with wax to make it look like this innocuous text was there all along.
The book of prophecies, however, he tucks away, sweating nervously all the while.
Yoon-yi brings him records of people who claimed to see the future. The most recent one is of a court lady named Baek-yi, who was kicked out of the palace for making eerily prescient forecasts.
Hyung-do — who recognizes the name Baek-yi from Kyung-woon's books — cuts Yoon-yi off, feigning skepticism in an effort to shut her down. She argues that this case is worth noting, but he is especially dismissive and ends this discussion. He hands over the rebundled texts, calling it an unremarkable novel.
The brothers have a tearful reunion, with Kyung-woon telling his brother that he'll probably have to leave Hanyang. He hands him a letter, telling him to be careful, and turns to go.
Suddenly, his body is possessed by that force again, which tips him off to the two mysterious officials who are following them again. Grabbing his brother, Kyung-woon breaks into a run, and the two hide.
Alas, they are found and cornered. Oh pushes his little brother back and orders him to make a run for it, and is stabbed. Kyung-woon freezes in horror, but his hyung tries to delay the attacker to enable him to get away.
Kyung-woon finds safety in an empty warehouse — where he's assailed by another vision. This one features Hyung-do, wielding a bloody sword and standing over a dead man.
A while later, he returns to the place where his brother still lies, dead. Kyung-woon places a note in his brother's bloody hand.
Back in his own home, he finds a letter on his desk. It's from Hyung-do, informing him that he read his book, which is dangerous material. He advises Kyung-woon to leave the capital and directs him to a certain gibang (gisaeng establishment, or house of entertainment).
Yoon-yi takes a look at the crime scene, where she finds the piece of paper crumpled into the dead man's hand. Snatching it before the police do, she takes the note and reads it, her eyes widening in shock at the contents. It is Kyung-woon's description of his latest vision of a bloody scene at a gibang and a dead government official. And in front of him is investigator Kim Hyung-do, holding a sword.
Hyung-do meets with Lord Choi, a government official who turns out to be the father of Kyung-woon. He admits to having an affair with court lady Baek-yi (who is Kyung-woon's psychic mother), and Hyung-do understands that because of the relationship, he wasn't in a position to help Baek-yi when she was thrown out of court.
Hyung-do makes the connections between all the recent deaths, which were of government officials, all of whom were connected with Baek-yi. Lord Choi looks genuinely saddened and disbelieving. He also asks Hyung-do to convey his worry to his son, though he professes to feeling unworthy of requesting a meeting, as he has not been much of a father to his bastard son.
Yoon-yi seeks out Ji Seung to talk over the case. (It must be noted that as they converse, a curious-looking object, which looks like an inverted cone, hovers in the air. They ignore it, of course, as though such a sight is wholly mundane.)
Ji Seung shows her a book containing Baek-yi's predictions on the Japanese invasion, written two years before the actual event. That got her thrown out of the court and everyone believed she'd died, but recently someone claimed to have seen her — her lover, Lord Choi. Ji Seung asks if a book was found, expecting more than Yoon-yi's answer that there was a trifling story, nothing more.
Per Hyung-do's instructions, Kyung-woon seeks out the gibang that night, where he is greeted by a gisaeng. Upon hearing why he's here, the woman invites him in. Soon afterward, Hyung-do makes his way to the same gibang, followed once again by the two officials, who decide not to kick up a fuss here and leave.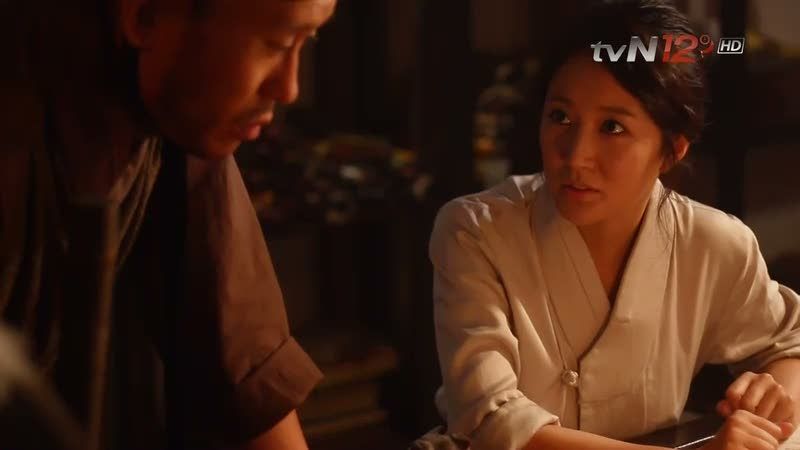 This gibang business allows us another spot of levity (and character development!) because Yoon-yi is thinking of the prophecy she'd read. But when she asks Jang, a little cautiously, if there are any gibangs that Hyung-do frequents, there's also that subtext of "So, which women is he seeing?"
Jang smiles at that (did he read the undercurrent of interest?) and answers firmly that Hyung-do doesn't go to places like that.
Except, of course, that he is at a place exactly like that at this very moment. Granted, he's not here for fun, but it is apparent from the way he and the gisaeng speak to each other that they are familiar with each other, although they haven't seen each other in a while. She's sweet and tries to speak with friendliness, but Hyung-do speaks with curtness (more than usual, I mean) and rises to leave after thanking her for complying with a difficult request. (Kyung-woon is, at the moment, sleeping in the next room.)
Hilariously, when Hyung-do returns to the bookshop late that night, Yoon-yi leans in close and notes that he carries the scent of a gisaeng. Although he didn't do anything untoward, he stutters a little and just says he had a reason for going off on his own tonight.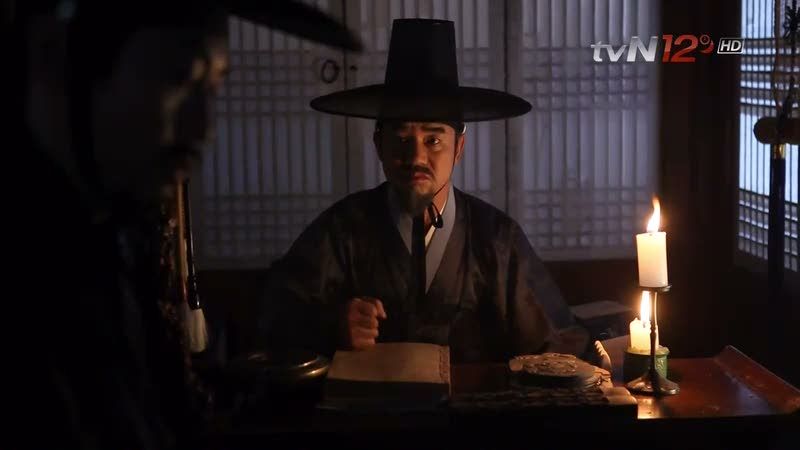 Despite Lord Choi's outer concern for his son's welfare, it turns out he was the one who dispatched the two officials to chase him. He's angry that they didn't "take care of him" while they had the chance, but the officials reply that they couldn't act because Hyung-do was also there. Daddy Dearest orders them to take care of him (Kyung-woon) and get that book. He confirms the neighborhood where the gibang is located.
Yoon-yi prepares some tea for Hyung-do, but it must have been laced with something because the next thing we know, he's waking up at the table and finds that he's been tied to the chair. Saucy girl! Yoon-yi has gone out on her own to speak with Lord Choi, only to hear that he has headed out for a certain neighborhood — he's going to that gibang.
The gisaeng gives Kyung-woon soothing tea, while he looks at her intently and asks why she didn't tell "that person" anything. I'm not 100% positive that my interpretation is the right one, but I suspect he means that she has feelings for Hyung-do, which she is keeping a secret. We'll have to wait to find out, because just then, the two pursuers leap over the wall and open the gate for Lord Choi.
With two swords drawn against him, Kyung-woon is ordered to hand over the book. Instead, Kyung-woon refuses and faces his father with dignified anger — is he going to kill him too? Is there no end to his corruption?
Lord Choi is in no mood to be lectured by his son and tells him to shut up, but Kyung-woon replies that he is fully aware of the importance of that book. Lord Choi is angered to be thus challenged, and raises a sword against his son, intending to strike.
Which is when Hyung-do interrupts. He had been untied by Jang and hurried here — as Yoon-yi also hurries over — bearing the book. He declares that although he doesn't know why they're all in a tizzy to get their hands on the thing, if it's true that its contents are not for the world to know, he can just burn it in front of them. Will that satisfy them?
That buys him some time and the advantage of surprise, because he tosses the book to Jang, then draws his own sword, not intending to give it up after all.
He turns to the minions to inform them that Lord Choi had lied to them about the book being the prophecies rather than of a novel about his affair with Baek-yi. Realizing the truth, one of them slashes Lord Choi in anger, then engages in a fight with Hyung-do while the other goes after the book, intending to burn it.
After a fierce clash of swords, Hyung-do is knocked to the ground and loses his grasp on his weapon. His opponent raises his sword to make the killing blow — only to be stabbed from behind.
Kyung-woon has intervened to save Hyung-do, but now the man turns to fight him, injured but still alive. Kyung-woon is no fighter, but Hyung-do hurriedly grabs his sword and slashes just in time, this time felling the man.
However, the other official has gotten the better of Jang, and holds a knife to his throat. The book is starting to catch fire from a dropped torch, and Hyung-do can't save the text and his friend — looks like he's going to have to make a choice.
Or not — because just then, a bang sounds, and they all turn to look at the source. Yoon-yi has fired her gun and takes down the official (and how much do I love that the gun makes a reappearance, after its comic introduction in the previous episode?).
Yoon-yi sees Hyung-do standing over the dead body of an official, holding a bloody sword, just as the prophecy stated. She looks at a little stunned at this direct proof, while Hyung-do looks on in shock over everything. And the book continues to burn.
However, we soon see the reason for his lack of reaction to the burning — because he, in fact, still possesses the real book. He had once again put forth a fake as the original, and now he contemplates the true text with a heavy mind.
It's nice to see that Kyung-woon gets a happy(ish) ending: He publishes a novel. Hyung-do brings a copy to headquarters, where he sees the flowers on the table and inquires about them. It's pretty obvious that they're from a ladyfriend, and Jang hands over a pretty note while Yoon-yi rolls her eyes (LOVE her reaction!). She says pointedly, "I thought you didn't go to gibangs." Jang adds that he didn't think he was that kind of guy, either.
Hyung-do clears his throat awkwardly and reads the note, but not without casting wary glances at Yoon-yi. And that look on his face as he tries to read her reaction? Priceless.

COMMENTS
This episode was a bit lighter than the previous one, but it still managed that wonderful blend of intrigue and heart that characterizes all the episodes. How is it that I care about these new characters in every episode, who only have 45 minutes to make an introduction AND an emotional impression? Yet they do, without fail. Every episode impresses me even more, intrigues me, and moves me. I can't spot any weaknesses, and everything fits together so tightly andthoughtfully.
This story was less scary than the others and possibly less intricate in its plotting, but it seems like it may tie in to the overarching story about possible government conspiracies and this secret Shinmuhwe organization. Anytime Ji Seung makes an appearance means we're getting more bits and pieces about the Big Story, and it's great to see the individual stories playing into larger themes.
This is also the episode that solidifies the romantic attraction between Yoon-yi and Hyung-do, and does it in a wonderfully droll way. They're in the early stages, but it's clear that the interest is mutual, and that both are at least somewhat aware of their feelings. I laughed out loud when the gibang detail was worked into the plot — way to make things work on multiple levels! I look forward to seeing this romantic awareness develop.
RELATED POSTS
Tags: featured, Im Jung-eun, Jo Hee-bong, Joseon X-Files, Kim Ji-hoon