Character stills and preview for It's Okay, Daddy's Girl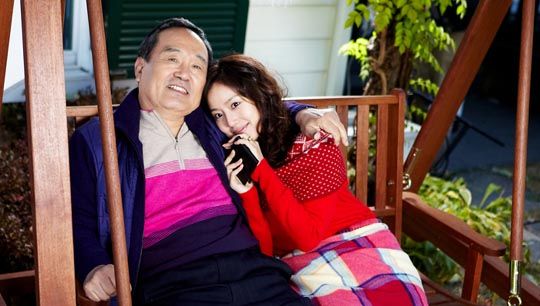 It's Okay, Daddy's Girl is set to premiere on SBS (as soon as Dr. Champ ends this week), and is in the thick of filming. With rising star Moon Chae-won (Brilliant Legacy) in the lead and peppered with a hot (albeit inexperienced) young cast of idol singers, I'm hoping Daddy's Girl proves to be a light, sweet watch.
The preview, which you can see below, suggests a range of tones, from lightly comedic to serious and dramatic. It starts out showing Moon Chae-won's character's close relationship with her father, who spoils her. (She sees him as a source of unending cash flow and pouts when he can't come to a promised shopping trip with her.)
However, he gets into an accident where the other person dies, and that throws our heroine's family into chaos. At the end of the preview, she says as though trying to convince herself, "It's okay, Daddy's Girl." The rest of the drama will show her pulling herself back up and growing into a mature adult.
Based on this setup, It's Okay, Daddy's Girl reminds me in a lot of ways of Wish Upon a Star, another SBS drama that aired in the same timeslot earlier this year. (This can be both a good and bad thing: Wish Upon a Star was incredibly uneven, especially because of that messy range of tone, but also very winning. If you fast-forwarded the boring side storylines, the rest was lots of hilarious fun.)
Below are stills of four of the boys in the cast, beginning with Jeon Tae-soo, who will probably be known for his villain's role in Sungkyunkwan Scandal for a while yet. (At least it gives him a nickname other than "Ha Ji-won's little brother," although I wouldn't expect people to stop calling him that anytime soon, either.) In Daddy's Girl, Jeon trades his Joseon-era hanbok for expensive suits as he plays Moon Chae-won's close sunbae. He's a law student in the States and has grown up in a privileged household; it looks like he'll be second lead. (There are a lot of boys in this cast so it's a bit hard to tell for sure, but of the supporting roles, his looks the largest.)
Jeon seems to relish playing the villain, and said that he's considering playing this character "even stronger than in Sungkyunkwan Scandal." Oh god, do we have to fear him popping his eyeballs clear OUT of their sockets, then? (Sungkyunkwan actually made me like Jeon quite a lot, and I think he has potential, but he has definitely NOT yet found the best way to channel his energies into a complex, rounded performance. I hope he keeps growing in this one.)
One of a number of singer-actors involved in the drama is Kang Sung (a solo singer and member of two-man group Cerulean Blue), who plays the son of a famous hospital director. He won this role by advancing from open auditions, which is promising since that means he had to go through a series of auditions and beat out a number of other hopefuls. Although he's not a well-known name, he has acted in a few projects before, including SBS sitcom Let's Go and musical Sinbad.
Another singer-actor in the cast is Super Junior's Donghae, whose photos here show his character at a construction site. His character comes from a poor background, and construction work is pretty much the Korean drama shorthand for poor man's work. (It's honest work but used as a last resort because it's demanding, difficult labor. On the upside, it doesn't require fancy prerequisites in order to be hired.)
Donghae's dependable, good-guy character is the younger brother to the main lead of the drama, played by Kim Tae-ho of Pasta, who by the way has just changed his stage name to Choi Jin-hyuk. (What the heck, actors who are always changing your names? I was mightily confused for a while until I realized that Choi Jin-hyuk and Kim Tae-ho were the same person.)
Choi, who is in his first leading role here, plays a poor law student who is currently on a leave of absence of school. In the last stills below, the two brothers grieve in a mourning scene.
It's Okay, Daddy's Girl will premiere on Monday, November 22.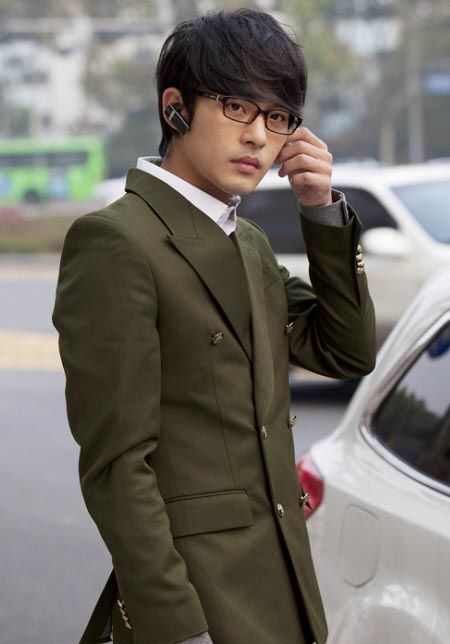 Jeon Tae-soo

Kang Sung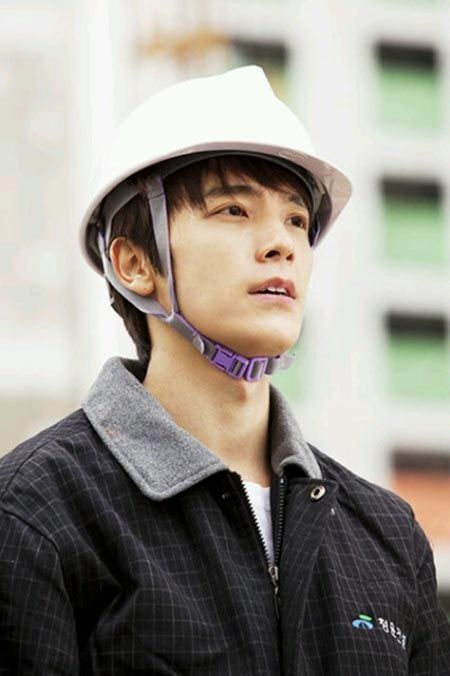 Donghae

Jeon Tae-soo, Donghae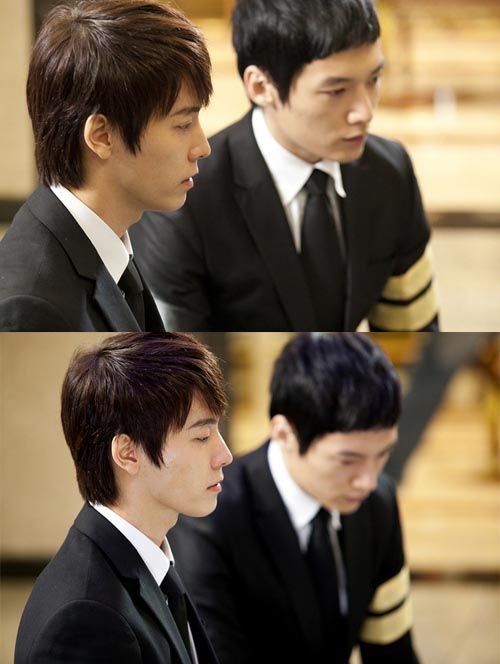 Donghae and Choi Jin-hyuk
Via OSEN
RELATED POSTS
Tags: Choi Jin-hyuk, Donghae, It's Okay Daddy's Girl, Jeon Tae-soo, Kang Sung, Moon Chae-won