KBS's Thorn Birds begins rehearsals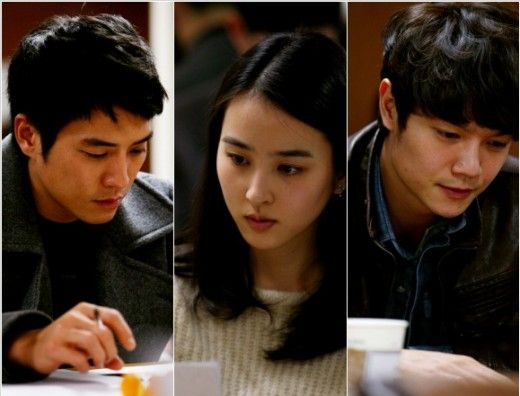 There's a new drama in the works for KBS's Wednesday-Thursday timeslot, Thorn Birds, which hasn't been much on my radar because it seems like a muddly mess in the making.
But first, the details: It stars Han Hye-jin (back to TV a year after 2010's Jejoongwon), Joo Sang-wook (who revitalized his career with Giant), Seo Do-young (who took an edgier turn with his dark cable drama Yacha), and Kim Min-jung (in her first drama since being forced to drop Hero due to injury).
I have nothing against those actors; it's the creative team that has me on alert. This drama is described as the story of two women who make radically different choices in pursuing their ambitions. It also centers around "a beautiful and fierce love" between the heroine and the two men (Han, Joo, Seo).
Han Hye-jin plays a tough woman who faces off against a difficult fate, while Kim Min-jung's villaness character harbors a birth secret that leads her on a path of revenge against the world. Joo Sang-wook plays the heir to a powerful chaebol, while Seo Do-young plays a romanticist and film director whose affection for the heroine is described as a "shadow love." Oh great, more romantic stalking.
This kind of plot seems in keeping with the director-writer pair behind it. PD Kim Jong-chang did 2005's weepfest A Rosy Life, and then 2009's mess of jerky writing (so I hear), Again My Love.
Writer Lee Sun-hee has more tears on her resumé with the 2009 short drama Father's House, which was a wonderful showcase for its cast (Choi Min-soo, Kim Soo-hyun, Moon Jung-hee) but plot-wise seemed like a mere vehicle for angsty crying. She also did 2007's airport-action drama Air City, which was so bad I felt bad for Choi Ji-woo and Lee Jung-jae for marring their A-list resumés with it.
Anyway. Thorn Birds recently held its first script reading, shown in these photos, and will premiere on February 23, following the currently airing President.
If it turns out to be good I'll be happy to congratulate it, but so far? Blegggh.
Via TV Report
RELATED POSTS
Tags: Han Hye-jin, Joo Sang-wook, Kim Min-jung, Seo Do-young, Thorn Birds