Sign apologizes for glitchy finale, promises a do-over
Forensic-crime drama Sign went out on a high this week — at least, ratings-wise — but it was hardly smooth sailing getting there. The most noticeable problems were the glaring glitches that marred the broadcast: audio cut in and out, sometimes repeating, editing was choppy, and an error screen with color bars was sent up halfway through.
Unsurprisingly, fans were disappointed, and let their disgruntlement known online. The producers have apologized for the problems, as well as for running behind schedule in a way that compromised the quality of the episode. A production rep explained that they were taking particular care in shoots for the finale, but in so doing, they ran out of time for adequate post-production work, which accounts for the spotty sound and visual work. Yeah, I coulda told you that the prettiest pictures in the world are worth nothing if you muck 'em up with crap sound and editing. The rep promised a higher-quality rebroadcast, stating that they're at work now cleaning up and improving the episode.
That was hardly the only issue; it seems that Sign was hit with a number of little insanities in its run-up to the ending. The shoots themselves ran so late that they were filming up to THE HOUR before airtime. Inconceivable. The director tweeted at 9:20 pm that night (Sign was a 10 pm drama) that they'd just finished the last shoots.
I've heard of dramas being edited right until showtime (and in Fantasy Couple's extreme case, the tapes were split so that the first half was being aired while the second half was being edited). But cramming all that post-production work into ONE HOUR? Insanity.
After filming wrapped, lead actress Kim Ah-joong was hit with exhaustion and given an IV drip. The cumulative overworking, all-night filming sessions, and lack of sleep conspired to worsen her health and she sought rest immediately. According to her management, she'd spent the four previous nights without sleep (she had a particularly high number of scenes in the finale), and had been suffering the effects of a cold and body aches. Therefore, she missed the wrap party and sent in her well-wishes via phone.
On the upside, the finale drew its highest rating, a 25.5%.
[SPOILERS!]
The drama ended on a dramatic twist with regards to the serial killer the characters have been chasing. In the finale, Ji-hoon (Park Shin-yang) sacrifices his own life in order to leave behind solid evidence incriminating the culprit, Kang Seo-yeon (Hwang Sun-hee).
(I haven't been up to date on Sign, but that kind of ending is either brilliant, or supremely aggravating. Killing off the hero for a noble cause can work — particularly in a historical drama, or a twisted thriller — but in a drama that's all about finding out Truth and meting Justice? Arrrrrrgh. Blood pressure alert!)
The killer's last words ("I'll be found innocent, so don't think this is over") lent some speculation over whether the drama is truly done, or whether a Season 2 possibility is on the table. Fans have latched onto the bit of dialogue with fervent hope and have been requesting a sequel.
However, a source with the production stated that the dialogue could be interpreted not as indication of another season, but of the killer's warped mentality. He added that there are no current plans for a sequel. Yeah, I don't blame 'em. If I were on that team, my only current plans would be a month of sleep, interrupted only for food and pee breaks.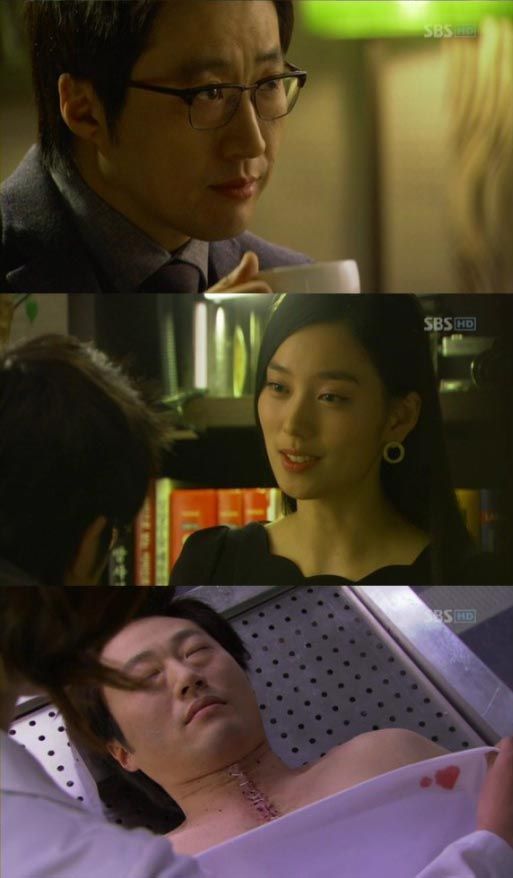 Via Seoul.co.kr, OSEN, Star News
RELATED POSTS
Tags: drama production, Kim Ah-joong, Park Shin-yang, Sign