Han Hyo-joo rumored to star opposite Jang Geun-seok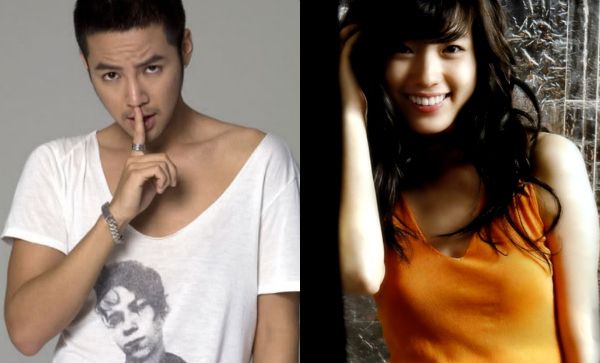 Ever since Jang Geun-seok was cast in the upcoming Yoon Suk-ho drama Love Rides the Rain / Love Rain, there's been ruckus over leading ladies, and why shouldn't there be? There's probably a line out the door and into the next dimension. And yeah, I know, that picture of him isn't his current hair. But listen, sometimes a girl just needs to dream.
The strongest contender is rumored to be Han Hyo-joo (Dong Yi, Brilliant Legacy), who also starred in PD Yoon's last drama, Spring Waltz, which also happened to be her first drama. It would be a stellar lineup all three ways, and I'm sure PD Yoon is clamoring to score a leading lady like Han, who has since become a ratings maven and a melo queen in her own right.
Reportedly he's particularly happy that Han and Jang are the same age (because on-set rapport can skip past the formalities that way). Hm, I wonder if the search is for one leading lady and not two, means that she'll play two characters as well? The story takes place in two different time periods — 1970 and now, and Jang is set to play two different characters in each era.
I initially assumed he'd romance two different women in each part because he was playing two unrelated characters who were simply bound together by theme. But this new description makes it sound like the the present-day characters are direct descendants of the 70s characters. As in parents in love?… Followed by children in love?… WTF?
Apparently it plays with the idea that love gets passed on through generations. What, like sickle cell anemia?
Sigh. I was hoping that the Season Dramas being a complete set meant that we could move on. Problem is, Yoon PD is working with writer Oh Soo-yeon, who wrote his most famous dramas Autumn Story and Winter Sonata, and it'll be their first reunion on a project in ten years. Okay, so I will admit that I watched those dramas like mad way back when, and they were, and still are, indisputably hallmarks of the Hallyu wave. But if they pull that amnesia-sister-leukemia crap NOW? I'm out. Please for the love of dramas, don't make them play children of parents who were in love. That's just mean.
Love Rain enters production in October and plans to premiere next spring.
Via IS Plus
RELATED POSTS
Tags: Han Hyo-joo, Jang Geun-seok