Press conference day for cast of Shut Up: Flower Boy Band
With less than a week till premiere day, the youthful, mostly newbie cast of tvN's Shut Up: Flower Boy Band gathered on January 25 for their production press conference. Leading the pack were series leads Sung Joon, playing our rocker-leader-hero (above right), who romances Jo Boa, who gets caught in a love triangle with cool, princely rival Jung Eui-chul.
(Pretty boy sandwich, mmm. Except… what in blazes are you wearing, Sung Joon? Did you run out of appropriately rebellious black rocker-goth gear on your trip up the Alps and have to settle for dyeing your lederhosen black? I'm just going to pretend the bottom half of that ensemble doesn't exist. That may have been an unfortunate choice of words. Not I'm picturing pantsless Sung Joon. Though that's arguably not a bad thing.)
The two boys play leaders of rival rock bands, Eye Candy and Strawberry Fields, and are pretty much polar opposites in every way. One's poor, the other is rich. One's all passion, the other's cold precision. One's raw talent, the other is technical skill. Both are, however, played by two charismatic actors who perhaps make up for their lack of experience with lots of onscreen presence, which has me hopeful for a worthy rivalry (and, dare I hope, reluctant bonding?).
Jo Boa is even greener than her co-stars, but I hope that the fact that she scored a leading role in her drama debut indicates that she's got talent. It's also said that her real-life personality shares a lot of similarities with her character Su-ah, which should help her get into character as the upbeat and self-reliant girl who goes from riches to rags and learns to take care of herself.
Jo said, "I know I will probably have awkward moments, but I hope you'll accept me in a positive light."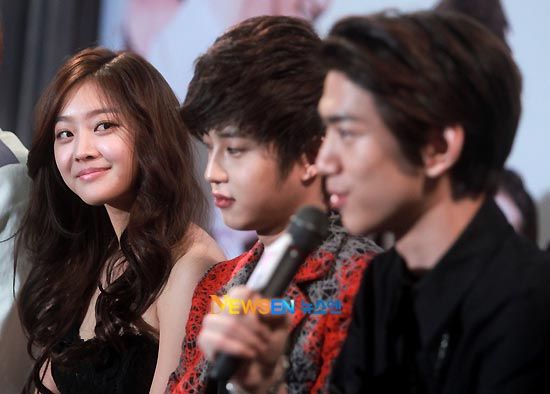 Meanwhile, co-star Jung Eui-chul explained feeling bashful donning a high school uniform again at his age (he's 26). He's currently dieting to slim down to look more like a rangy teenager, which is understandable but also craaaazy since he's looking pretty gaunt already. Eep.
Jung also described his acting process, saying that normally he makes an effort to befriend his co-stars, but that this drama pits him as the rivals to the bandmates who make up Eye Candy, and therefore he's keeping some space from them. Aw. It makes sense as a character issue, but it would be a shame to miss out on rewarding bonding relationships by sticking to Method-like mentality.
Then there are the other new faces (at least in the drama realm) with the rest of the bandmates: Clockwise from top left is Infinite's L, rock band Mate's Lee Hyun-jae, Superstar K 3's Kim Min-seok, and Oh Boy Audition's Yoo Min-kyu.
I suspect this is where we may have some gaps on the acting front, because you've got one idol, one drummer, one audition-reality-show contestant, and one competitive-reality-show contestant. That doesn't preclude acting talent, but I have to say I did belatedly realize that Lee Hyun-jae is in Color of Woman (as background character Jason) and he's pretty terrible in it. He's saved by the fact that he doesn't have much screentime or dialogue there. (Random aside: Does anybody else wonder if he's followed around by a wind machine to blow back his long flowing locks, all music video-style?)
On the upside, when you've got a boisterous group of adorable young boys together, sometimes the collective chemistry can overrule problems of acting. Sort of like how the drama's Eye Candy rockers beat out (I'm assuming) Strawberry Fields's superior musical skills with their raw energy. I'm crossing my fingers that the dynamics make this group work.
Shut Up: Flower Boy Band premieres next Monday, January 30, on tvN.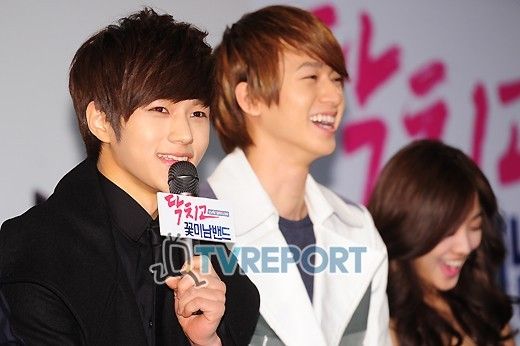 RELATED POSTS
Tags: Jo Boa, Jung Eui-chul, press conferences, Shut Up: Flower Boy Band, Sung Joon