Equator Man: Episode 2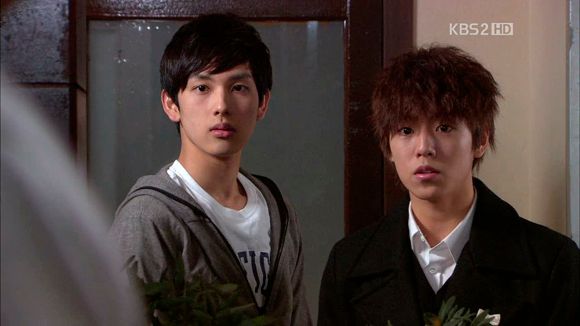 The friendship becomes deeper and the emotions more profound as we delve a little more into how our boys will fare against the sins of their fathers. We're being set up for quite the painful fall, but that doesn't mean we can't enjoy the cute moments as we see them. Who doesn't enjoy a little (or a lot) of bromance with their revenge dramas, anyway?

EPISODE 2 RECAP
Sun-woo immediately scrambles up from where he'd fallen, and can only hold onto his father's legs as he tries, in futility, to save him. Jang-il readily contributes to the scene with the well-timed line of: "I think he's dead."
Granted, Jang-il is right, but that doesn't stop Sun-woo from trying to revive his dad. While Jang-il goes to call for help the branch holding the rope breaks, sending Sun-woo's father's body to the ground. Sun-woo sobs while he holds the body, and uselessly pleads for him to wake up.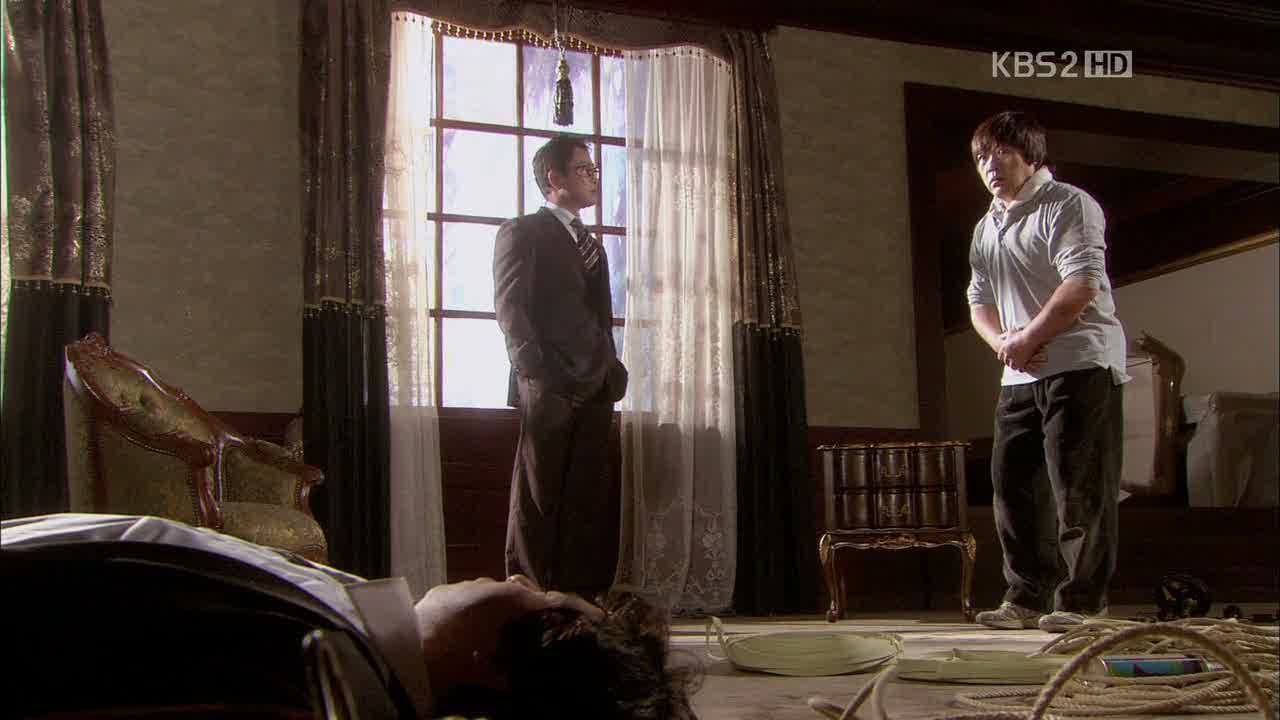 We enter a flashback to reveal exactly how Sun-woo's Dad ended up hanging from a tree. After Chairman Jin strangled him to death, Jang-il's father, Yong-bae, came in to check the body. But when he checked for a pulse, he found that Dad wasn't dead. Unconscious, maybe, but still alive.
Chairman Jin puts a stop to Yong-bae calling for an ambulance with an eerie question: "Who's here besides you?" What's worse is that Yong-bae doesn't even take time to consider the ramifications of his actions before replying: "It's just me here." Riiight. Just you and that guy who's not dead yet.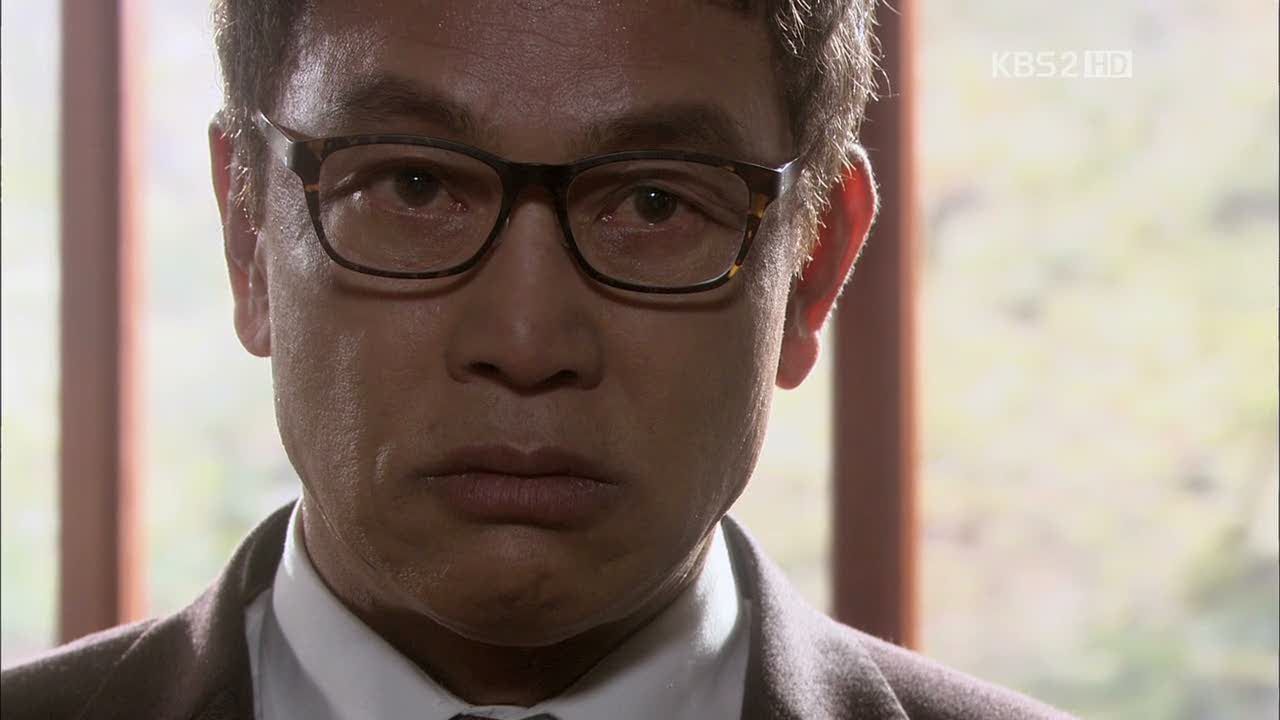 The exchange that follows is frightening, if only because of Chairman Jin's sheer heartlessness. He tells Yong-bae to bury the body – which means killing Sun-woo's dad at this point – with the deal being that he'll take care of Jang-il from now on, and make him into a powerful and respected man.
Yong-bae sinks to his knees and pleads for mercy, claiming that he can't do the task in front of him. But it's Chairman Jin's very businesslike way of speaking that's the most unsettling, as he assures Yong-bae, "Don't be afraid. I have more to lose than you." He stands motionless as Yong-bae sobs.
Next we find Yong-bae he's writing up a fake suicide letter via a typewriter. When night falls he takes Sun-woo's dad out to the forest, and nearly loses his nerve when Sun-woo's dad suddenly regains consciousness, asking to be saved.
But Yong-bae, despite his crippling terror, remembers Chairman Jin's words. For his son, he will do the unthinkable – and so with tears in his eyes he readies the rope to hang Sun-woo's father.
Jang-il has gone to his father's workplace in the meantime, and Yong-bae stops him right before he's able to read the fake suicide note. Yong-bae is frantic as he stuffs the letter in a waterproof bag so that he can later stuff it in Dad's pocket.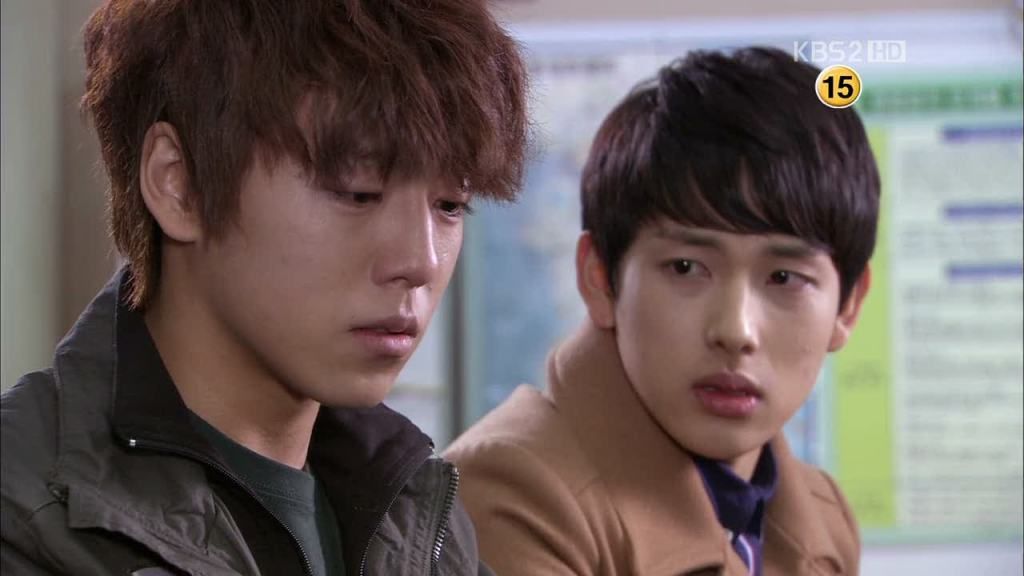 Back in the present, Sun-woo files a police report while Jang-il looks on worriedly. The policeman insinuates that Dad killed himself because he was already dying of cancer, and has the suicide note to prove it.
Jang-il steps up and claims that it makes no sense for a father to commit suicide on his son's birthday. He gets a halfhearted reply from the policeman, who clearly considers this case a done deal.
Sun-woo walks out of the station like a zombie. "My father would never do that," he reassures himself. "If someone did that to my father… I'll never forgive him." (Uh oooh.)
Later that night, Jang-il is surprised to find that his father's prepared a small feast for dinner. It's with a heavy heart that he tells Yong-bae that his friend's father committed suicide – and Yong-bae's has to struggle to keep his reactions in check.
He doesn't give Jang-il time to catch on as he shares some good news – the chairman of his company has decided to give Jang-il a scholarship, so whichever university he goes to now will be a free ride. In fact, all their debts have now been paid – so no more hiding from gangsters. Jang-il is both shocked and pleased, and doesn't bother to question the source of this sudden good fortune.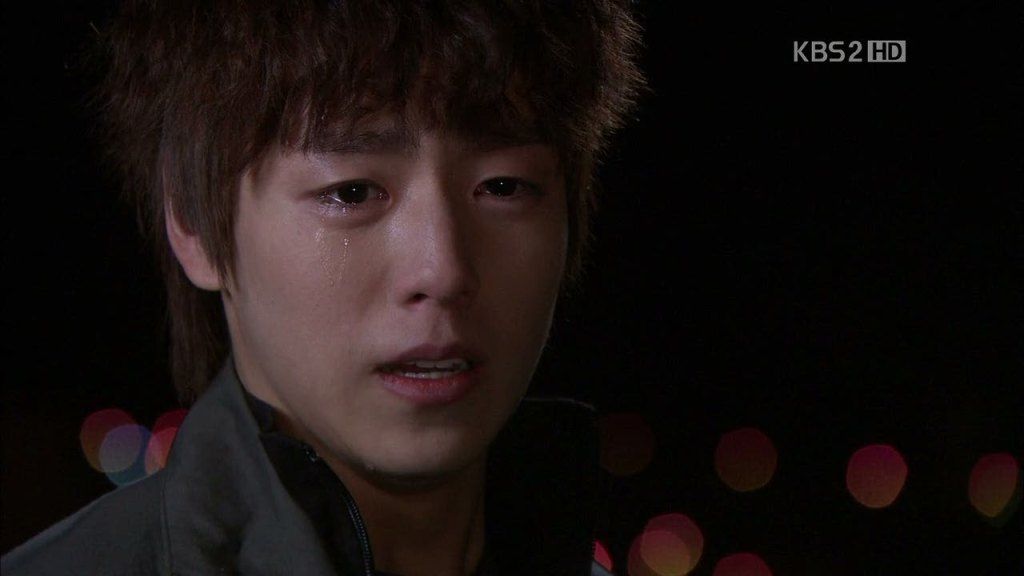 Poor Sun-woo is forced to sit in his empty house, thinking only of his father. He even imagines his father's voice speaking to him, which brings a whole new wave of tears. Echoing his father's question "Did you really do that?" when he took the fall for Jang-il, he now asks his father in turn, "Why did you do it?" He still can't believe that his father committed suicide.
He's absent from school the next day, and Jang-il keeps sending longing looks toward his empty desk. He's eventually pressured by his friends into attending an event that seems to function more like a company talent show/family night.
As the company president's daughter, Han Ji-won (last episode's windshield-breaker) ends up taking the stage to perform an acoustic version of "Moon River." Jang-il becomes enraptured by everything about her, and doesn't take his eyes off her for the entire song.
She's there to cheer on the employees who may be wavering due to rumors (Chairman Jin did promise her father's downfall, after all). The tactic seems to be working.
As promised, Jang-il and his father meet with Chairman Jin and his wife, who coos over Jang-il's good looks. Chairman Jin asks Jang-il what his goals are, to which he replies that he wants to become a prosecutor. "There are so many problems among the poor and disenfranchised. I want to help with their problems."
Duly impressed, Chairman Jin hands Jang-il an envelope of money as allowance. He shares a look with Yong-bae, only the two of them aware of what price was paid for this familial-like acceptance.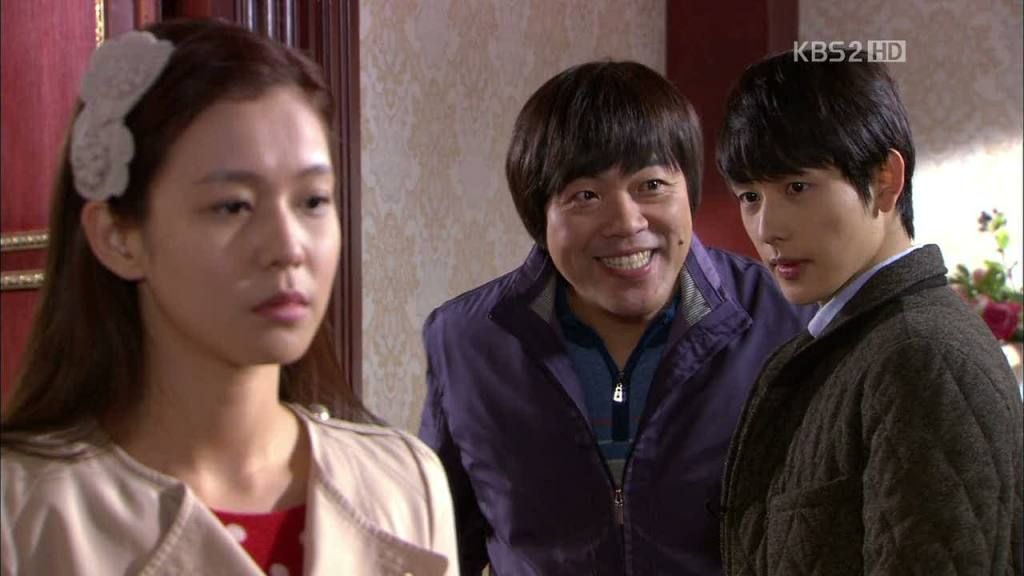 While Jang-il bathes in the warmth of Chairman Jin's favor, Han Ji-won and her mother are forced to wait outside like outcasts. Secretary Cha makes it clear that they aren't welcome, and it's with fire in her eyes that Ji-won says that the Chairman used to see them. I like this girl.
Jang-il sees her outside the door, although the two don't exchange any words. Ji-won and her mom end up leaving first, and seeing as her mom is still carrying the food she brought as a gift, we can surmise that the meeting didn't go well.
In the car, Ji-won tells her mom that she should stop sucking up to Chairman Jin and his family. It's by chance she sees Sun-woo near the docks, who's been asking everyone he knows for any information they might have on his father, to no avail. (Aww, he's the only one investigating his father's death.)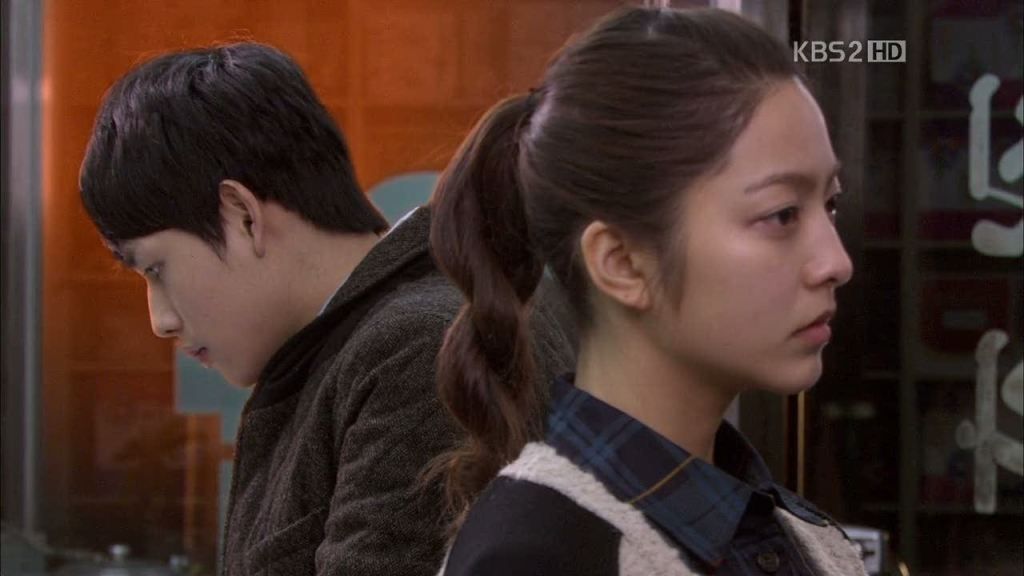 Soo-mi and Jang-il run into each other at the same small-town pharmacy. Because continuing to ignore her would only make things more awkward, Jang-il stutters out that he's sorry he didn't meet her for their date, because something came up.
The look on Soo-mi's face proves that she knows it's all bullshit, and so she says that fine, he can make it up to her by meeting her at the same time and place next Sunday.
I'm sure she knew what the reaction would be, and Jang-il fails her test when he goes outside to tell her that he won't be able to make it this Sunday either. Soo-mi turns on him and asks him if it's because he knows who her father is, and knows that it isn't like he can't make it on Sunday, it's that he never will.
But here's the curious thing that she genuinely wants to know – why was he nice to her at first? I'm kind of hoping he doesn't tell her the truth on this one, because if he says it's because he thought she was rich then he'd seem, well, like a terrible person.
Since Sun-woo is the only one doing the investigating, his cause only gets more and more depressing. The police aren't keen on entertaining any other ideas because, as they tell Sun-woo, his dad was a conman who cheated people out of their investment money in his younger years. I can't really tell if this news comes as a surprise to Sun-woo or not.
Chairman Jin is downstairs in the police office, talking about an "agreement" with one of the police chiefs, who seems all too willing to comply. I assume this has something to do with Sun-woo's Dad, and poor Sun-woo just passes them up without knowing any better.
Jang-il is waiting for Sun-woo in his house, who collapses onto the ground the second he gets home. His friend gives him some words of encouragement, along with a reminder to eat. Before he leaves he adds one last thing: he received a scholarship for a university in Seoul.
Even though Sun-woo just saw his dad hang himself, he's able to pull himself from his grief long enough to be genuinely happy for his friend. Aww.
I love this little antagonism that goes on between Kwang-choon, who's come to pay Sun-woo a visit, and Jang-il. From the first moment Kwang-choon saw Jang-il he didn't like him one bit, and it's clear from Jang-il's facial expression that he feels the same. It's a mutual dislike based on gut reactions.
There's a desperation in Kwang-choon's voice as he tells Sun-woo that they should hold a prayer ceremony for his father – an idea that Sun-woo finds laughable, because he knows from his childhood with Soo-mi that Kwang-choon is a thespian fraud.
Still, Kwang-choon insists, and he says he'll even do it for cheap. "You said you don't think your father committed suicide," he tells Sun-woo. "If it's not suicide, is it murder?" Sun-woo nods and says yes. Kwang-choon latches onto that, and promises that even if they can't find the culprit through his ceremony, they can at least pray for his soul.
Kwang-choon has a really sweet reason for doing all this, too. When Sun-woo asks why, he tells him, "Because you're Soo-mi's friend. When no one wanted to be her friend, you talked to her. So I'm grateful." Aww. "Also, if there's a culprit, I won't be comfortable with that. Let's find out who it is, okay?"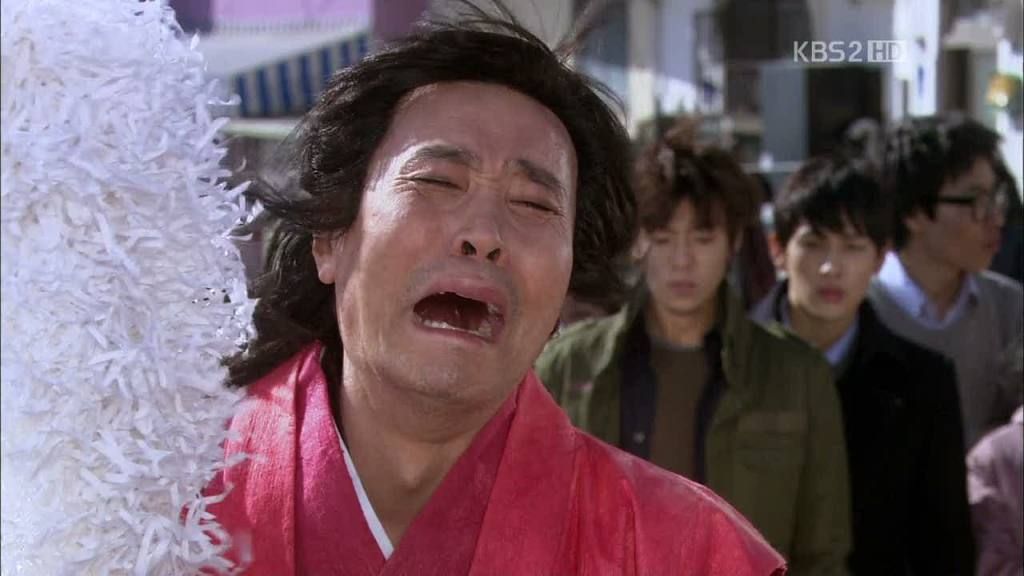 Quite a few townspeople gather to watch the shamanistic ritual that Kwang-choon performs in full costumed regalia. Yong-bae is one of them, along with Sun-woo and Jang-il, while Soo-mi watches from above. Just when you think the ritual is a bunch of crock, lightning pierces the sky and a strong wind blows, as though there really is some heavenly intervention going on.
Kwang-choon takes on the demeanor of a man possessed by the spirit of Sun-woo's father. It's honestly frightening to watch as he struggles for breath, like even in death, his father can't breathe. Kwang-choon's possession seems to follow the timeline of Dad's death, an inner view into the thoughts he had as he was dying, like: "Who is trying to hang me?" "I can't breathe." "Help me."
But then Kwang-choon's face goes grave as he says that the culprit is among them. Sun-woo's bought into this as being real, and he shakes Kwang-choon to tell him who the culprit is, just as Yong-bae grows nervous enough to escape the scene.
Then, slowly, Kwang-choon says: "I'm sorry I couldn't make it. I'm sorry. He killed me." Sun-woo takes this as his Dad apologizing for being unable to make it to his birthday, and breaks down into sobs along with Kwang-choon.
So just when you were thinking maybe this isn't a bunch of crock, we enter a flashback through Kwang-choon's eyes. Questionable circumstances led him to be near the scene where Yong-bae killed Sun-woo's father. And in the original scene, when we saw Sun-woo's dad say, "Save me," now we see that he was directing it to Kwang-choon, who he had seen in the bushes. (That puts shivers down my spine. Creepy.)
And right before Yong-bae killed him, Dad said: "Sun-woo… I'm sorry I couldn't make it." Then we see the grizzling scene of Yong-bae pulling the rope taut until Dad's feet stop moving… only the burn scar on his arm, left there by the gangsters, isn't left unnoticed.
So that's how Kwang-choon was able to so convincingly portray the last minutes of Dad's life via a "possession," because he'd seen them firsthand.
Sun-woo doesn't know this, of course, and can't necessarily deny that Kwang-choon knew things that he was never told. "I think my life is going to be very different now," he says. "I feel like I'm running into a fire."
He spreads Dad's ashes into the ocean and returns home to read over the suicide letter… but something is off. He compares the grammatical ending of a sentence Yong-bae wrote to the way his father would normally type, and there is a noticeable difference. (I can't really think of a way to equate it into English since we don't use formal grammatical endings, but his father would use "-umnida" as opposed to Yong-bae's "-sumnida.") On top of that, he's able to tell that the typewriter he has at home was not the one used for the letter.
Sun-woo goes to Jang-il to tell him as much, not knowing that the man who actually wrote the letter and killed his father overhears everything. Yong-bae manages to hide his nervousness even when Jang-il invites Sun-woo to dinner. (Which is like the number one thing you never want to do – eat dinner with your father's murderer.)
Yong-bae goes to Chairman Jin to tell him that Sun-woo plans to go to the police to request an investigation into his father's death. Chairman Jin is more understanding than anything, "Of course he should. Of course he'd do that for his father." But if Yong-bae is so concerned, he can solve the matter himself. Uh oh.
So in an effort to do just that, he invades Sun-woo's home to find the suicide letter he forged. He's new to this whole espionage game and gets caught leaving Sun-woo's house by none other than Sun-woo himself…
And we cut to a call with Jang-il, where it's revealed that Yong-bae used the excuse of bringing food to Sun-woo to hide his tracks. Once he's outside, he burns the suicide note.
While Chairman Jin orders an investigation into the life of Sun-woo's dad, the Moon Tae-joo spoken of in the last episode receives a letter from Dad. In it he says that "the child is alive," and all signs point to that child being Sun-woo. But he asks the question that Chairman Jin asked – who's son is he? Is he Tae-joo's son, or is he Chairman Jin's son? (Is this going to be like City Hunter where there's three fathers?)
Meanwhile, announcements are posted all over town that Jang-il was accepted to a university in Seoul – something for the whole town to be proud of. In the same breath, Jang-il sees a newspaper article that Ji-won was also accepted into a university in Seoul. What luck.
He remembers her as the girl who sang "Moon River" and smiles… but it probably doesn't hurt that she's a company president's daughter.
We cut to Ji-won having a fancy dinner with her father – and he tells her that this will be their last, at least for a while. He informs her that she's to take care of her sisters as the eldest now, but she's more keen on assuring him that she'll get everything back that they've lost to Chairman Jin.
Taking a sip of expensive wine, she tells him that she'll remember the taste of this wine – as though she'll remember it until she fights tooth and nail to enjoy it again.
Meanwhile, though Sun-woo has tried and failed to find his father's suicide note, he does find a picture hidden away in a box – and it's of his father, Chairman Jin, and Tae-joo all together.
Yong-bae hosts a celebration for Jang-il's university acceptance that the whole town is invited to. Kwang-choon is in high spirits until he notices the burn scar on Yong-bae's father… and realizes that he's the man he saw that night – the murderer.
Kwang-choon is doubly flabbergasted when he sees that Sun-woo is a friend of Jang-il's. It becomes worse when both he and Yong-bae overhear Jang-il assuring his friend that once he becomes a prosecutor, he'll find out about Sun-woo's father's death… and if he was murdered, he'll find the perpetrator. (Well, that's not going to get complicated.)
It's cute that Jang-il wants Sun-woo to move to Seoul with him, and sad that Sun-woo refuses so that he can stay there to find justice for his father. Kwang-choon is the first to stop Sun-woo from going outside as he fishes for information – like why wouldn't his father and Jang-il's father know each other, if the two are best friends? Sun-woo doesn't have an answer, and just as it looks like Kwang-choon is about to say something important… he doesn't.
Sun-woo finds Jang-il drunk and happy outside, and they walk along the water's edge for a while. Jang-il is the first one to assure Sun-woo that he will succeed at becoming a prosecutor, "I will succeed and I will help you." Aww, stop saying that – we know it's never going to happen.
On his way home, Sun-woo suddenly finds a black bag thrown over his face as he's kidnapped into a van. When he's un-blinded he's tied to a chair in the middle of a warehouse, face-to-face with the Head Gangster from the band of gangsters chasing Jang-il.
Head Gangster puts the guy that Jang-il almost killed on display for Sun-woo, knowing that Sun-woo took the fall for the beating. The guy still looks like he's doing pretty badly, and it probably doesn't help that his leader tosses him to the ground like used garbage.
He asks Sun-woo if he knows why they didn't do something to avenge their comrade right away. "We thought your friendship was cute," he explains, "and we waited for the right moment. We waited until your friend got accepted."
He threatens Sun-woo with ruining Jang-il's life unless Sun-woo performs some tasks for them – and one involves a large, newspaper-wrapped knife. If Sun-woo fails to comply, they'll go after Jang-il.
COMMENTS
Our prayers were answered – the music got better! I'm not sure if there was some last minute reshuffling done, but overall the score was much less offensive this episode. There were even some nice musical moments – like the aria that played during Ji-won's dinner with her father, all the way until Sun-woo found the picture. I'm a sucker for operatic music in general though, so when it's put to good effect in dramas, I'm happy.
I find myself more drawn to Jang-il as a character than Sun-woo, if only because Jang-il is displaying a great deal of complexity in his character. We can see that tendency toward heartlessness brimming under the surface (he also seems to be a bit of a gold-digger), but we also see how much love he has for Sun-woo, along with the inherent sense of justice he possesses. That might go crumbling if ever he realizes what Daddy has done, but for now, it's nice.
And while I like Sun-woo well enough, I'm having a little less fun trying to understand him. So far he's just normal hero material with some steroids thrown in, the kind that makes him increasingly self-sacrificing at every turn. But I'm also guessing that his niceness comes from some naivety – he's still young, after all – though I'm not predicting that even a knife in his hand will cause him a huge fall from grace. But if it does, and he actually does some law-breaking of the serious kind to protect his friend, it'll be awesome. If not, still awesome. There's room to grow.
I'm loving the setup of their friendship, because the more invested I become, the more dread I feel for their inevitable fallout. All the characters within this world are well-drawn and colorful – like Yong-bae, for instance. There have been plenty of fathers willing to do anything for their sons, but I like that we can really feel Yong-bae's unease as well as his terror and uncertainty while he performs all his horrible deeds. It doesn't make murder forgivable, but little touches of humanity like that help to give his character, and thus the drama as a whole, a nice touch of depth.
So bear with me while I play catch-up on this week's Equator Man. Now that the premiere craze is over, it'll be nice to settle in for the long haul with these characters. I'm ready for something deep and profound (or maybe just some grown-up bromantic exploits). Is Uhm Tae-woong on screen yet?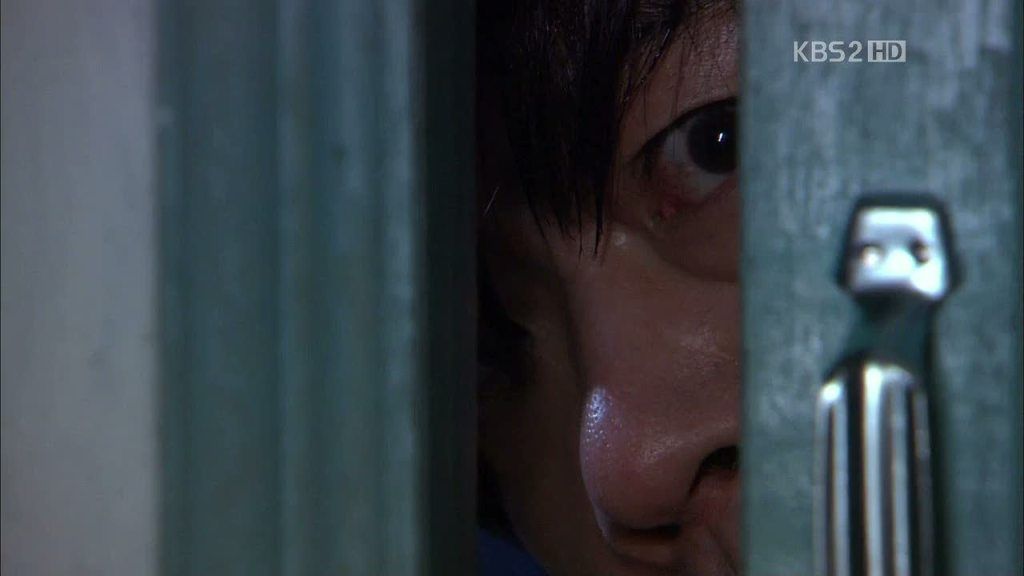 RELATED POSTS
Tags: Equator Man, featured, Im Shi-wan, Lee Hyun-woo (2), Lee Jun-hyuk, Uhm Tae-woong