Equator Man: Episode 3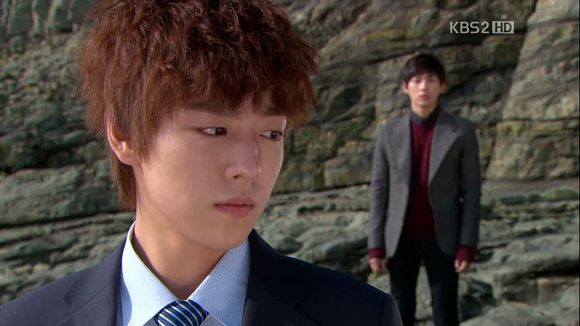 This episode takes the word extreme to a whole new level, and I'm loving it. The fact that we're dedicating so much time and effort to a bromance instead of romance is refreshing, even though the hints we get of the latter are somewhat creepy, somewhat intense. Poor Sun-woo gets put through the wringer in more ways than one as the the boys' friendship gets put to the ultimate test, with an ending that will leave you gasping for air. Get ready.

EPISODE 3 RECAP
Jang-il's words about succeeding in the future just so that he can help Sun-woo flash through Sun-woo's mind, but in the end, he throws the knife into the sea.
Just when I thought that meant he wasn't going to resort to violence, Sun-woo still goes to find the man the gangsters wanted him to rough up. Without fear he enters a pool hall full of minions, and the camera takes us outside the building so that we see the ensuing fight only in silhouette and hear the sounds of bones crunching. To put it simply: it's awesome.
Sun-woo breaks a pool cue and jams it into the guy's leg before trying to make an escape. He manages pretty well, only there's nothing he can do against those kind of numbers, so he's eventually caught and thrown into another empty warehouse. (If dramas have taught us anything, it's that all respectable gangsters must own at least three shady warehouses.)
Yong-bae has a frightening nightmare in which he tries to strangle Sun-woo's dad, only Dad wakes up and starts choking him instead. Jang-il comes to his father's side once he wakes, though Yong-bae insists nothing is amiss with a smile on his face. It's only when Jang-il has gone back to his room that Yong-bae murmurs into the darkness, "I did it for my son. Please forgive me."
A sliver of light from a crack in the warehouse door shines on Sun-woo, who awakens briefly from his unconscious state to crawl toward it. At first only half his face is revealed, which is already a horror show, and then once we see his whole face in the light… it was enough to get a good gasp out of me. That poor boy was beaten within an inch of his life.
We find Kwang-choon sitting in the darkness, composing a letter to Yong-bae. It reads, so far: "To Lee Jang-il's father. I saw you that night. I need fifty-thousand dollars." Oof. Not cool, Kwang-choon.
Soo-mi is in a foul mood as she receives a Shirley Temple perm (when she really wanted a Julia Roberts perm) from a salon. She doesn't like it one bit and demands that they straighten it – and when the stylist says she'll damage her hair that way, Soo-mi takes the shears and cuts her own hair. I'm not really sure of what just happened.
She runs into a mutual acquaintance of her and Sun-woo's, and he asks her if she's seen him lately. She couldn't really care less, but if he's so concerned about Sun-woo he can call the police – she's going to Seoul to fix her hair.
As fate would have it, Soo-mi finds her seat on the train next to Jang-il's, who is on his way to Seoul for university. They don't exchange a single word the entire ride.
Someone bumps into Soo-mi as she's leaving the station, and presumably steals her wallet. However it happened, she finds herself without it once she's outside. She sees Jang-il and calls out to him, asking sincerely if she can borrow some money because she now has none.
Jang-il looks more put-out than anything, and coldly tells her that he has no money to lend her. Ouch. To make matters worse, he thinks that she followed him to Seoul on purpose – did she find out from Sun-woo?
Soo-mi scoffs in disbelief. "Do you think I did this just because I want to see you?" She then sets to putting him in his place – he's not that different from her, he's just a country bumpkin who's a little bit smarter than the rest of them. She even calls him out on ignoring her just because her father isn't rich.
"You'll regret it someday," she says. "About treating me like this." Jang-il: "I'll regret it then." (Man, he can be cold.)
She's able to call her dad from a pay phone to ask him to come and bring her money – on the condition that he dress normally this time.
As we see Ji-won moving her belongings and furniture to a downgraded apartment, we cut to the source of her father's downfall – Chairman Jin (and his family, by extension). His wife, Ma Hee-jun, is taking voice lessons from a daughter that she had before marrying Chairman Jin. Her daughter makes it known that she wants to study business to 'help' Chairman Jin, while her mother makes it known that she wouldn't have married him were he poor. This family is going to be fun, isn't it?
Meanwhile, Kwang-choon makes it to Seoul to pick his daughter up. He treats her more like a friend than a father, and I think it's cute that he did as she asked and wore a suit to go get her. This still doesn't make her happy, as she stares longingly out of the window on the ride back to their hometown and says, "I miss Mom."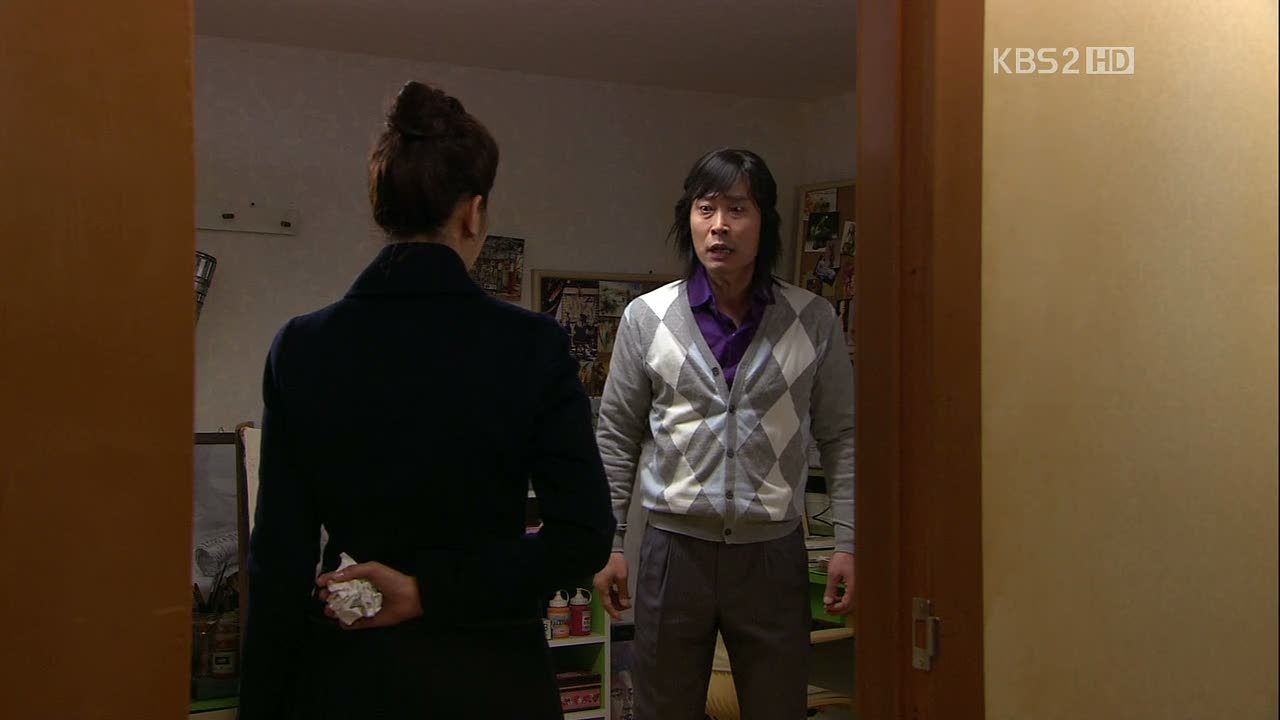 Her dad goes to fix dinner for her once she gets home, but she spots one of the crumpled up drafts he'd made of his letter to Yong-bae. She reads it in shock, and hurries to hide it when her father returns. He takes the food into her room where he sees that she has a wall of Jang-il drawings. "Do you like him?" he asks. "I do," she says simply.
He gets into a fit, and tells her that she absolutely can't like Jang-il . Soo-mi holds up the crumpled letter and asks if that's the reason. (Dayum!) She threatens that she'll call the police if he doesn't tell her the truth – and maybe he still doesn't believe her, because it takes her dialing the numbers before he rips the phone away.
Pouring himself a glass of rice wine, he tells Soo-mi the whole story with tears in his eyes. When she asks him why he didn't go to the police, he says that it was because he's wanted for creating fake amulets – and anyway, he was scared to get involved. As far as the ritual went, it was because he wanted Sun-woo to have some hints in order to solve the mystery.
After she's pieced everything together in her mind, she turns to her father. "Promise me you keep this a secret until you die." When Kwang-choon counters that they should tell Sun-woo at least, Soo-mi stands firm. Even if Sun-woo was once her friend, she's siding to protect Jang-il now, and escapes into her room surrounded by drawings of him.
Yong-bae and Jang-il explore the spacious new apartment Chairman Jin has leased just for him, though Jang-il complains that it's too big for him to live alone. This clearly affects his father, who reminds him with an unusual intensity that he's killed worked hard for Chairman Jin – so Jang-il deserves nothing less.
But Jang-il wisely notes that nothing is free in this world. He'll work hard for a school scholarship to free his father of his subservience to Chairman Jin.
It's not explicitly said how long Sun-woo's been in the warehouse, but his face has healed up considerably. The gangsters try to rouse him via a lighter under his nose (how is that supposed to work?) but Sun-woo's unconsciousness is a ploy.
He's able to break out of the truck that the gangsters threw him in, but they're too many in number and start chasing after him. In a last ditch effort Sun-woo jumps from the bridge onto a moving train below, and successfully escapes.
At university, Jang-il is happy to find himself in the same class as Ji-won. The subject is about photographic memory, and Ji-won is called to relate an event that she's taken a mental picture of, so to speak. She tells the story of Chairman Jin's broken windshield and finding Sun-woo inside, how their eyes met and how he helped her, saying that "his eyes and that moment remained like a picture in my head."
We can see Jang-il deflate when the teacher teases Ji-won about having a crush on her fellow windshield-breaker. Ji-won simply laughs and admits, "He was my type."
Jang-il is eager to volunteer to tell his story next, and relates the time (one year ago – has that much time passed?) that he saw a girl playing the guitar and singing "Moon River" at a business event. Ji-won realizes that he's talking about her.
He meets her outside, excited that they have the good fortune to go to school together. He wants to buy her dinner but she claims she doesn't have the time – working three part-time jobs gets her out by midnight at the earliest. When he asks her why she works so much, she tells him it's because she needs the money. What other answer could he expect? Because it's fun?
We find Sun-woo again, stumbling into shelter bruised and bloody. He apologizes to the spirit of his father as he lies on the floor. "I wanted to help Jang-il. Please understand me."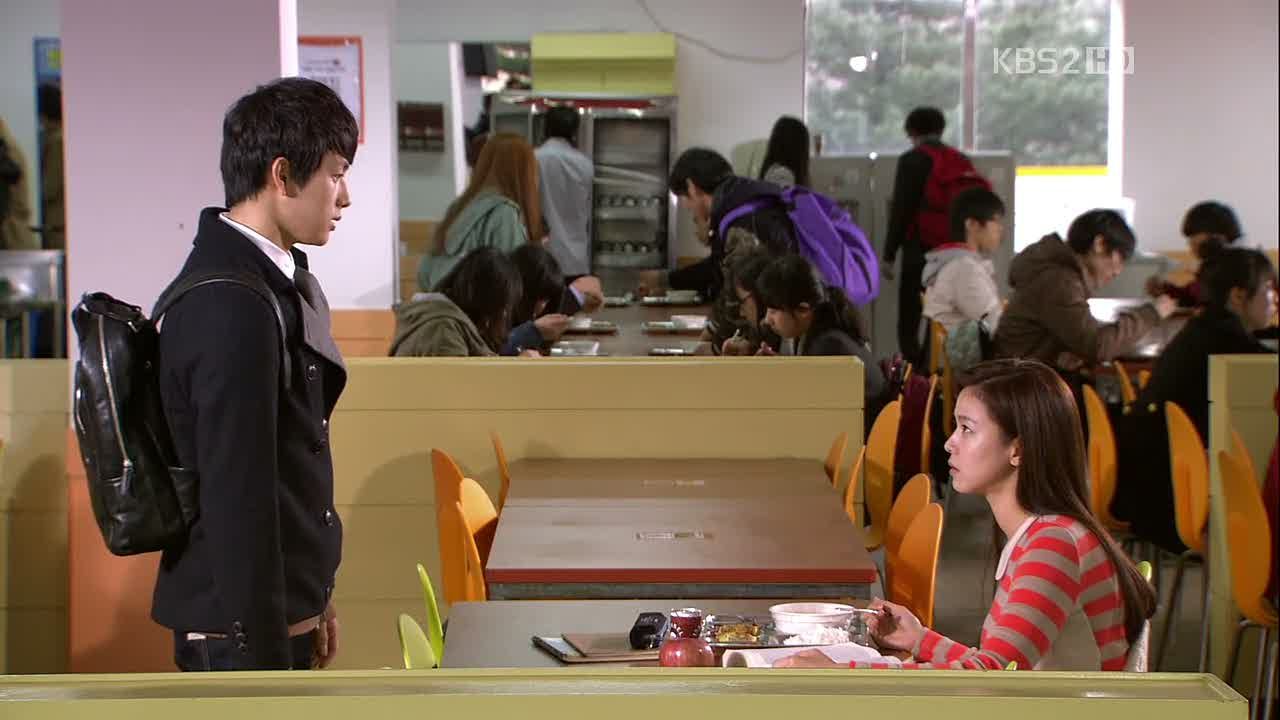 I'm sure the reason we keep getting Sun-woo/Jang-il juxtaposed scenes is to show what Sun-woo has sacrificed for Jang-il's current happiness. We cut back to Jang-il spying on Ji-won in the cafeteria, and he leaves her with an apple and coffee for dessert. By the look of it, she can tell he's interested – and she accepts the gesture.
Secretary Cha returns to Chairman Jin with what he could dig up on Sun-woo's dad – mostly that he has a record for fraud and that he adopted a boy ten years ago. He was married for one year and then divorced, although that was probably just so he could adopt a child. He asks Yong-bae about Sun-woo later, but Yong-bae doesn't know that Chairman Jin is asking out of concern and just tells him that Sun-woo has been wasting away his days.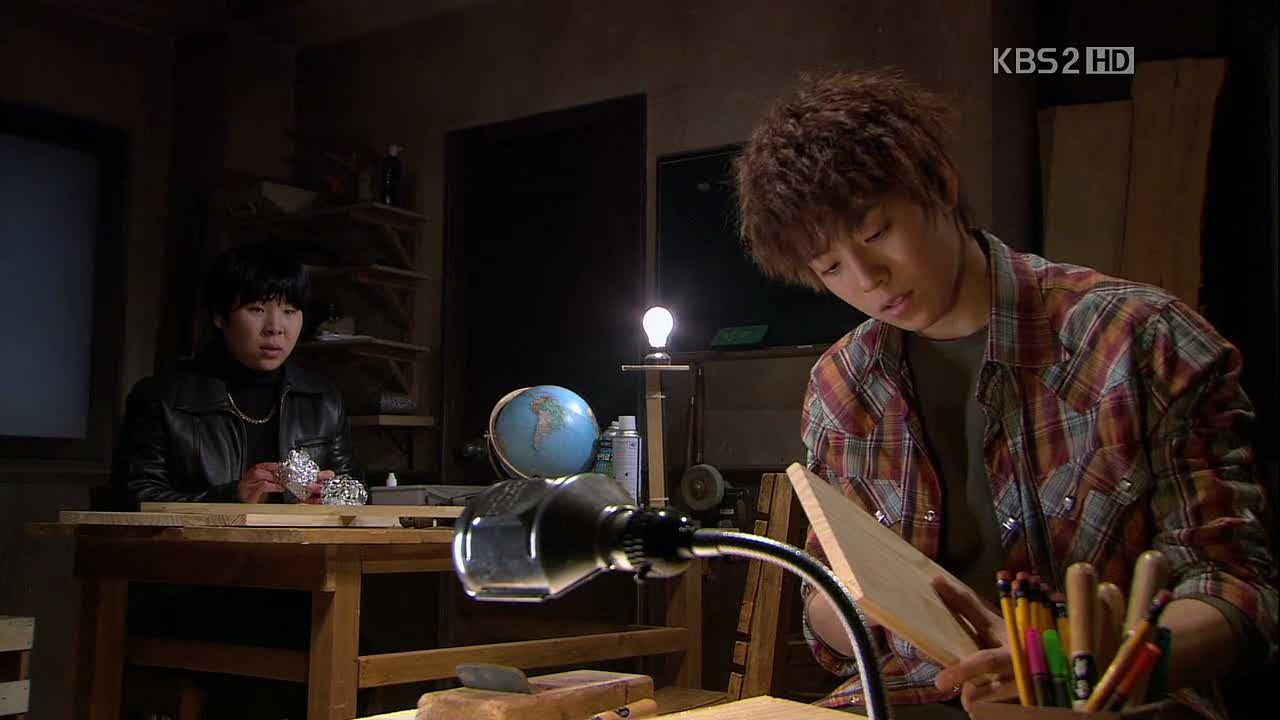 Sun-woo has been hiding out in a woodworking shed, his face completely healed. He ends up applying first aid to his old friend (now a gangster minion) who tells him that Head Gangster has now joined forces with the guy Sun-woo stabbed with a pool cue. Ergo, Sun-woo is low enough on the totem pole that he can return to his old life again.
But his friend has other news to relate – a trip to the police station led him to overhear some detectives talking about Sun-woo's dad. They claimed the rope mark on the tree was suspicious, and deeper than the mark a normal hanging would bring. For whatever reason though, everyone wants to just move on. (That's Chairman Jin's hand, for sure.)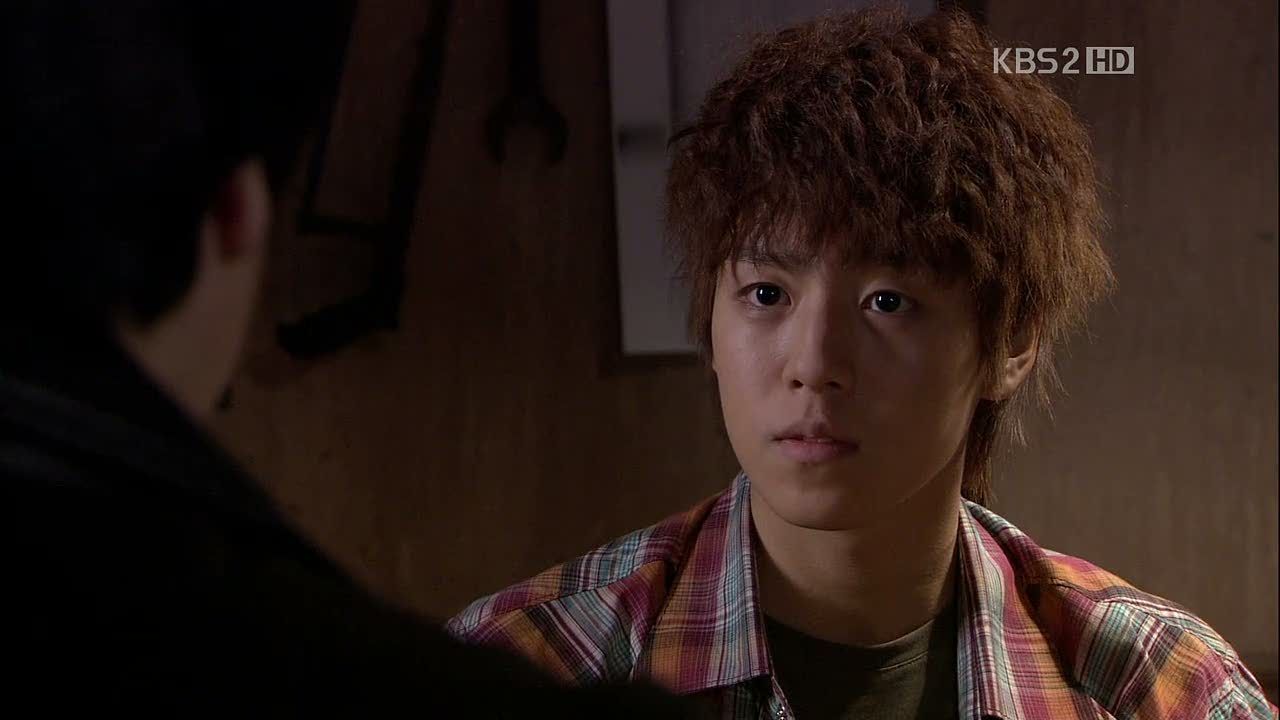 Okay, this kid should win something for being the Most Useful Gangster Ever. He even tells Sun-woo that he knows the taxi driver who drove his dad to the building Chairman Jin was repairing the day before Dad was found dead.
Sun-woo thinks for a moment. "That's where Jang-il's father is." Uh ohhhh.
Of course he doesn't connect the dots that way (he has no reason to), and instead just goes to Yong-bae to ask if he'd seen his father that day. Yong-bae skirts suspicion pretty well by offering his help, but claims that he has no useful information for Sun-woo.
Sun-woo walks into Chairman Jin's empty house and spots a picture of him, recognizing him from the picture his dad had hidden away. The dots, they are connectin'.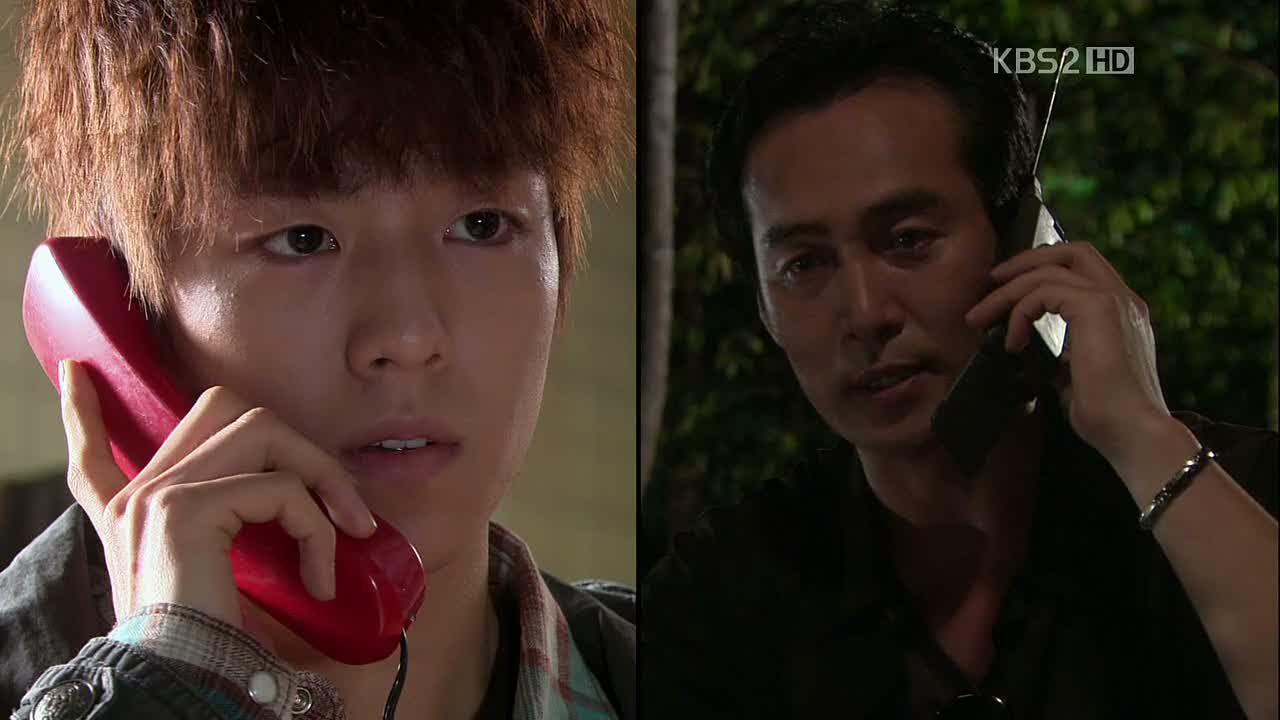 He gets a call from a man asking to speak to his father – it's Tae-joo. Sun-woo is the one to inform him that his father is dead, which is something that Tae-joo takes with some disbelief and brooding. Hopefully he knows what Chairman Jin is capable of. (He's just got such an honest face!)
Jang-il visits Sun-woo the moment he has a vacation and is disheartened to see that Sun-woo has taken up woodworking as a job. He doesn't want this to be Sun-woo's life, and tells him to study in Seoul with him. Sun-woo avoids the question as if Jang-il is just talking nonsense, but Jang-il repeatedly has to remind him that he really means it.
They go for a drink, and Jang-il updates him on his Seoul life. Adorably, he says that it's full of rich kids but he has something that they don't have (Sun-woo interrupts: "Your good looks?"), "A friend who's willing to pay my tuition and living expenses for me. I realized I can have a true friend in my life, not just competitors." Aww. I missed you guys together.
Sun-woo asks if there's a girl in Jang-il's life, and he says that he's interested in an English major. When Sun-woo asks if she's pretty, Jang-il offers a boyishly cute thumbs up.
Back at home, Sun-woo shares what he's gathered on his father's investigation with Jang-il. The lack of a suicide note doesn't matter since the police took pictures of it before it disappeared. His plan is to get the police to reinvestigate, or he'll go to the press.
Jang-il thinks it would be better if Sun-woo had some help, and wonders if Chairman Jin could be of help. (Nooo.) Sun-woo's already thought of this option, and shows Jang-il the picture of his dad with Chairman Jin. Only, neither of them know who the third man in the picture – Tae-joo – is.
Sun-woo gets a classic Cinderella makeover courtesy of Jang-il, who buys him a fancy new suit for his meeting with Chairman Jin. (This is like, a reverse of a reverse makeover scene. Love.) They both go to meet Chairman Jin, and Sun-woo immediately hands over the picture of his father with him and Tae-joo.
Props to Chairman Jin for not even flinching. He's able to deflect every question Sun-woo asks convincingly, either blaming poor memory or the amount of time that's passed. He looks at Sun-woo and sees Tae-joo, recalling the conversation he had with Sun-woo's dad about his absentee fiancée. He seems to see Sun-woo as Tae-joo's son.
Chairman Jin lies that he can't even remember Sun-woo's father's name, and with no other options the boys are forced to leave. Jang-il is left with some veiled words of warning from Chairman Jin though, that he must watch his behavior from now on if he wants a grand future.
With the boys agreeing to go to the police station tomorrow with a letter of petition, they part ways for the night. Jang-il goes to find his dad… but stops outside once he hears another voice inside.
It's Chairman Jin, who's yelling up a storm in front of Yong-bae – Jang-il is getting too close to the truth. He finally says outright that he wants to see Jang-il's face when he learns that the reason he can eat and sleep in Seoul is because his father killed Sun-woo's dad. Oh, crap.
Jang-il's eyes go wide as memories flash before him, everything fitting together perfectly – his dad's reactions, Kwang-choon's shamanistic ritual. Just to make sure we know this is a big revelation, we get some gratuitous use of Extra Dramatic Camera Angles. But that's okay, because this is a pretty big deal.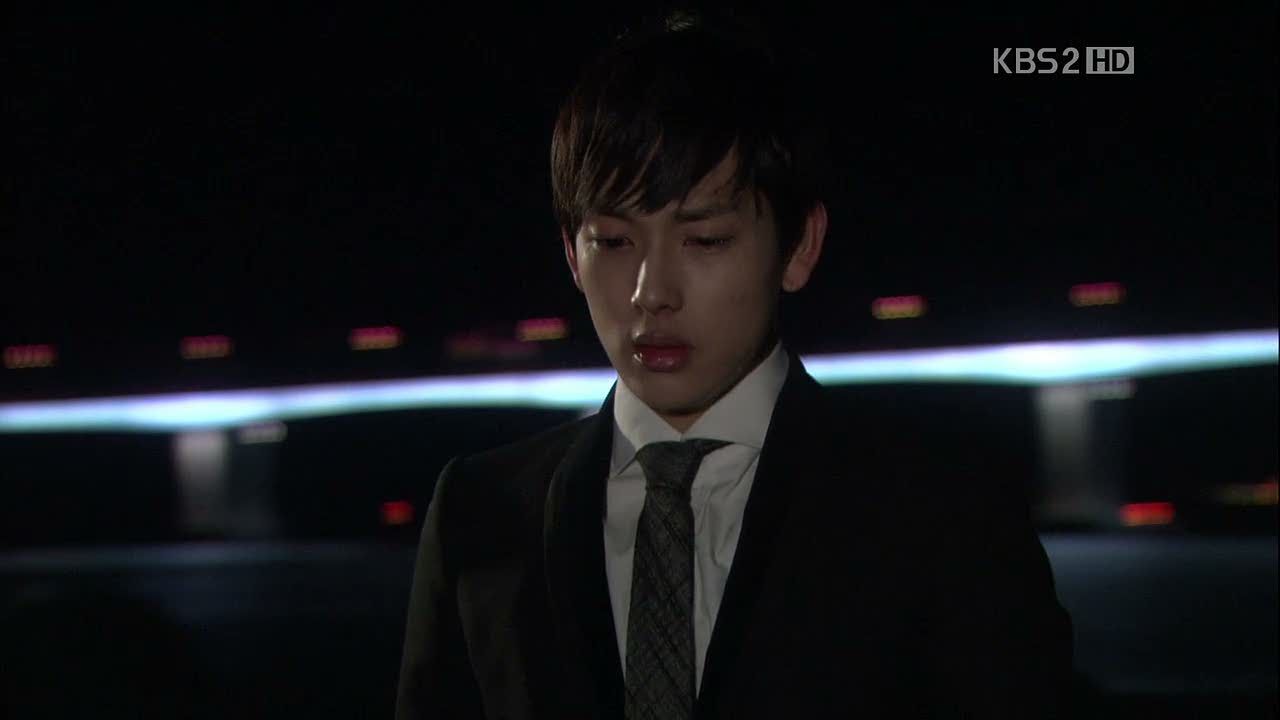 He takes a moment to cry, and then goes beating on Sun-woo's door in the middle of the night. He's in a daze as he tells Sun-woo that they should go to Seoul together tomorrow. Jang-il: "What are we doing now? What's more important? Sun-woo-ya. You study to get in a college in Seoul. I'll support you. Have a big dream, living with me."
Aww. He wants to save everyone at once – both his father and Sun-woo. He wants Sun-woo to quit with investigating his father's death and enjoy life. "You just don't know there's a better world out there," Jang-il pleads.
Sun-woo isn't having it, and the night ends on a bad note. He sends Jang-il away with the promise that he'll go to the station alone tomorrow, and he won't stop until he knows the truth.
Yong-bae is drinking by the time Jang-il gets home. They exchange some terse words until Yong-bae brings up Sun-woo and the police petition, to which Jang-il replies, "Don't worry. He's not going to submit the petition."
His dad seems to have realized something is amiss, and tries to get into Jang-il's room. Jang-il asks, "Why did you do that, Father?" But he seems to drop the question, and assures his dad through the wall separating them that Sun-woo won't submit the petition.
Sun-woo goes to the shore where he spread his father's ashes, wearing the suit Jang-il bought for him. Jang-il calls him from behind. I have a terrible, terrible feeling about all this.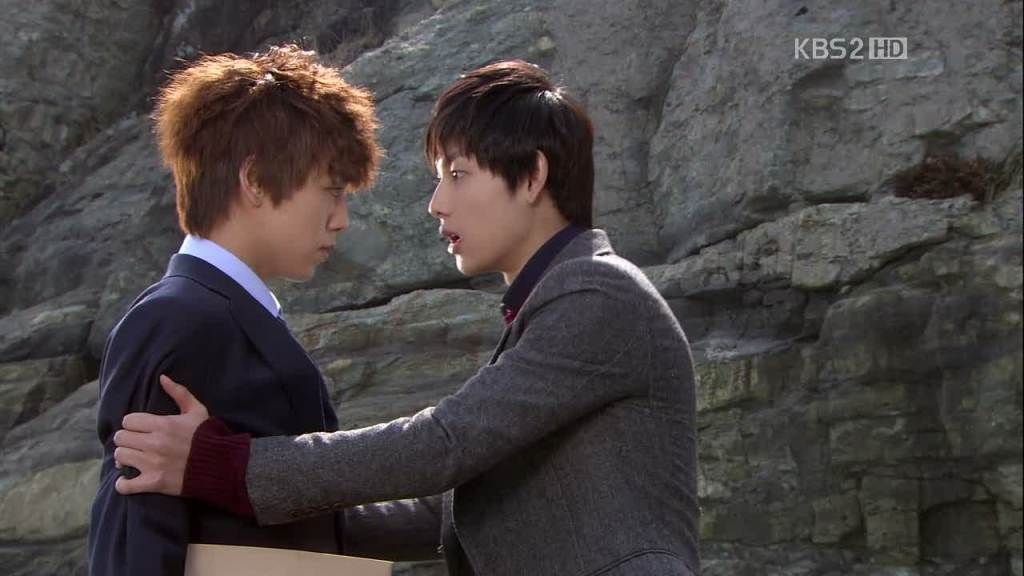 Jang-il wants to check one last time to see if Sun-woo will change his mind. He even grabs him by the shoulders to plead. "I'm begging you, Sun-woo. Let's forget about this and go to Seoul together."
But Sun-woo is quick on the uptake. "Did you find out something?" Crap. He knows something is off with Jang-il's behavior. "You bought me this suit to wear when I go to the police station. What's wrong?"
Jang-il: "Because I want to be your friend forever. While you're wasting time on this, I'm going to have a different life in Seoul. I think you and I might drift apart."
AWW. I need a couple of minutes to process this level of cute so I can prepare myself for what will inevitably follow.
Sun-woo tells him that even if it had been him that died and not his father, he would act the same. "What's important to me is the people that I love," Sun-woo says. "Losing them is the greatest pain to me."
Jang-il still asks him not to go, and falls to his knees to beg. "I killed your dad," he says. He asks Sun-woo to assume it was a mistake and forgive him, but please, please don't go to the police station.
It's sad to see his desperation, and sadder still to see how it only fuels Sun-woo's resolve. He begs and begs, but Sun-woo says that no matter what, he'll find out how it happened. Even if Jang-il did it – he has to know, and nothing Jang-il can do or say will change his mind.
As he walks away, Jang-il is left with only his desperation and some quickly-turning wheels in his head. He eyes a large tree branch… (Noo, don't do it!)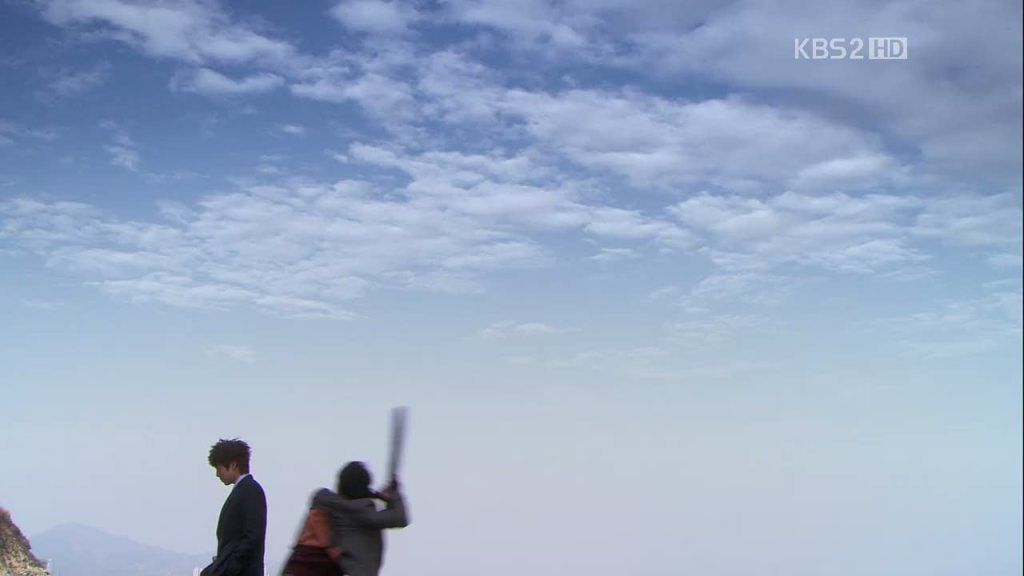 It's a slow, tense moment as he starts catching up to Sun-woo, whose back is turned to him. Even the sound of the waves fades out into white noise as he rushes up to Sun-woo… and bashes him in the back of the head.
Good. Gracious.
What maybe makes this moment even more severe is the fact that after Sun-woo goes down with one hit, Jang-il has a moment where his eyes dart back and forth (you can just see the thought process, which is even more sickening), before he hits Sun-woo in the head again, even harder.
Sun-woo is barely conscious, but he sees Jang-il clearly. The look in his eyes says it all.
Jang-il begins to drag his body to the edge of the rocks with tears running down his face. He collects himself in time to get Sun-woo to the edge, before he pushes his friend's body into the ocean.
Blood from his head wound swirls around Sun-woo as he sinks into the depths.

COMMENTS
The cojones on this show, I tell you. My nerves are a wreck.
I love that this show is willing to go extreme, and that it doesn't chicken out at crucial moments to spare the audience. It's real and in-your-face, but it's not gratuitous. It's just a very unflinching look into the depths of desperation.
It's also a special treat when a drama can be surprising even when you see plot turns coming a mile away – and it can be just the little things, like Jang-il hitting Sun-woo a second time. (I cringed just thinking about it.) There was something so crazed and well-played about that moment that I just can't get over, because I was left clutching my pearls at the shock. When Jang-il was playing the emotions of "I now know the shocking true story!" earlier on in the episode, he was having some trouble emoting well. But he played all the complex emotions of Sun-woo's beating scene with an appropriate dash of madness and despair, so maybe one good scene cancels out a bad one?
There's a lot of depth to these characters, and I liked that with the final scene we saw all the tactics Jang-il could think of to use before he resorted to violence. He even tried to call on Sun-woo's love for him by claiming that he was the killer, and I'm still unsure as to whether Sun-woo really believed him. If he really thought Jang-il was telling the truth, then maybe he wouldn't have been so set on submitting the petition. Or would he, and we got to see exactly what Sun-woo is capable of?
This show isn't flawless, but it's flawed in such an awesome way that I can't help but love it. The third episode is normally the make-it-or-break-it in my book, and from the moment I saw Sun-woo's swollen, wrecked face at the beginning of the episode I just knew the rest would be gravy. If the drama is willing to go there with such relentlessness, then we are going to be in for one hell of a ride.
RELATED POSTS
Tags: Equator Man, featured, Im Shi-wan, Lee Hyun-woo (2), Lee Jun-hyuk, Uhm Tae-woong