Equator Man: Episode 6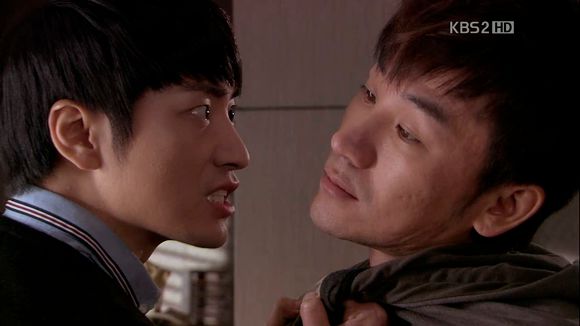 Patience must be hard when you're living with someone you failed to murder properly, and we get treated to the darkest side of roommate hijinks this side of the equator. There's an edge to every scene with all our characters playing double or triple objectives as the superficial cordiality between Sun-woo and Jang-il reaches its end – but what happens from here is anyone's guess.

EPISODE 6 RECAP
Ji-won's ability to help the blind does end up coming in handy after all. Though she was sure Sun-woo was the boy from that long-ago memory, now she's unsure – though she still offers him her arm to help him to the rehab center.
Geum-jool finally catches up with them, since he'd gone looking for the center himself. He comes bearing a cane for Sun-woo along with instructions that he's to take a class to learn basic Braille. Soo-mi has gone to a real estate office nearby to look for an apartment for them.
When Sun-woo offers Ji-won his thanks for helping him so far, she remembers how Young Sun-woo said 'thanks' in the same way before. She seems confused. Is this blind man the boy she once shared a brief connection with?
She tries to put the pieces together in the school registry office, and finds out from the secretary that Sun-woo became blind from a recent accident, and has no family.
Jang-il seems like he's been waiting around just for Ji-won's call – and when it does come, it's with bad news. She tells him that she can't go to the movies with him today, and hangs up before he can get another word in. When his phone rings immediately afterwards it's Dad.
He wants to come to Seoul to bring Jang-il food, but is stopped short when Jang-il tells him that Sun-woo is currently living with him. Yong-bae flips a lid and declares that he'll take care of Sun-woo himself, to which Jang-il replies emotionlessly, "We're going to get punished then."
I wonder if Father and Son have ever been honest about what exactly happened to Sun-woo, though it's pretty clear that Yong-bae knows his son did something terrible. Jang-il assures his father that all is well, since Sun-woo only came to look for a school for the blind. He'll take care of it.
Chairman Jin, meanwhile, has been keeping close tabs on the mysterious Moon Tae-joo. He finds out from Secretary Cha that Tae-joo is in Korea, but they know nothing more than that.
Soo-mi isn't at the real estate office at all – in fact, she's gone shopping to get herself some pretty clothes, and preens in front of the mirror. It's off to the hair salon next, where she cuts off her long hair, and then to the supermarket. She overhears a happy couple discussing groceries and imagines her doing the same with Jang-il. This should be creepy, but instead it's just sad.
She's wearing one of her new dresses as she cooks for Geum-jool and Sun-woo at the apartment, the latter of whom has picked up some new tricks to keep him from bumping into everything. There's an interesting moment when Geum-jool notices that Soo-mi changed her hair, to which she replies, "I change every ten minutes. Don't be interested in me."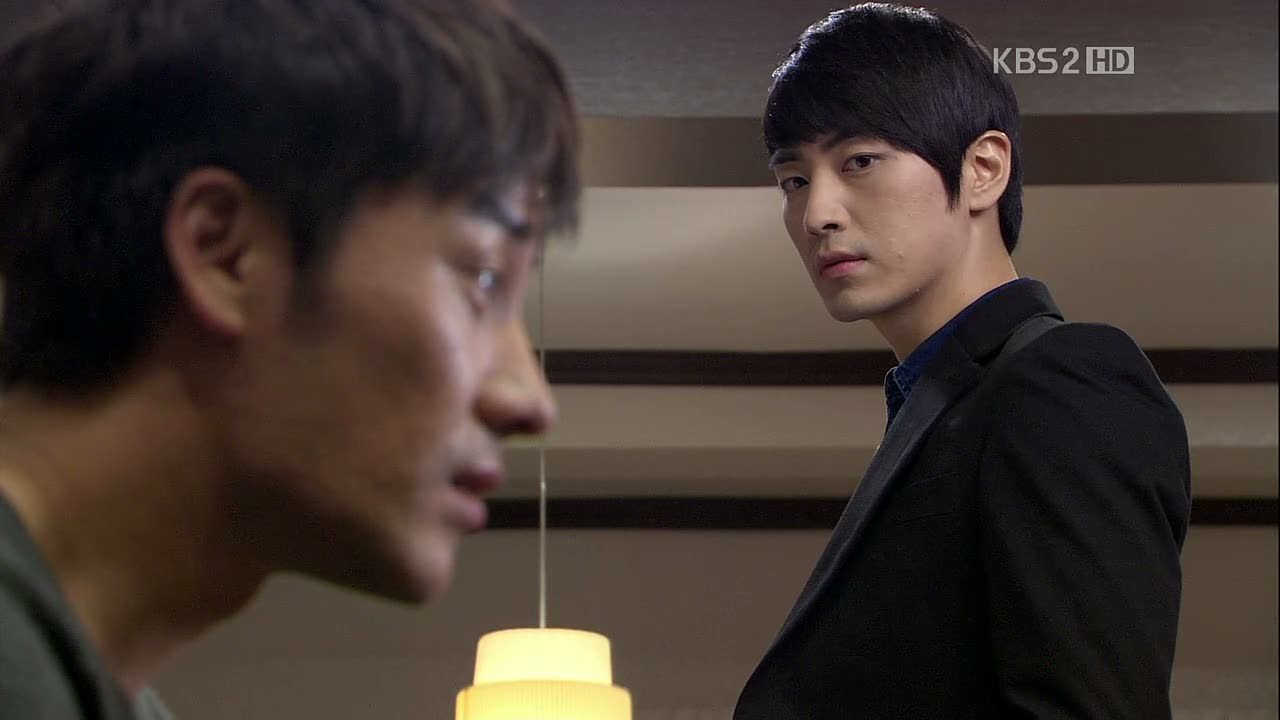 Jang-il seems to want to be anywhere but home (for good reason) and when he finally comes late, he's greeted with the sight of Sun-woo's cane. The moment Sun-woo invites him to eat with them (per Soo-mi's instructions, they had to wait for Jang-il), there's a charged moment where Jang-il just stares at him. These two are electric.
The dinner is awkward, as expected. When the subject of soju comes up Jang-il deflects by saying he's not a good drinker. Sun-woo cuts in, saying that Jang-il used to be a champion. After all, didn't they drink two bottles the night he was accepted into college?
Fragments of his memory are coming back, Sun-woo claims. Ooo, I like this. Is Sun-woo waging psychological warfare on Jang-il? It's working – Jang-il looks awkward, miserable, and scared all at once.
And of course Soo-mi only fans the fire, "We were right. Sun-woo is recovering better with Jang-il." Except that's the exact opposite of what Jang-il wants.
Gah, these conversations are so tense. Over some beers later, Soo-mi asks Jang-il to take Sun-woo to rehab tomorrow so she and Geum-jool can look for places to rent. Jang-il tries to get out of it by saying he has class – only Soo-mi knows he doesn't on Fridays. Jang-il plays it like he lost track of the days, but you can just see how this is all affecting him.
The next morning, Jang-il avoids having any contact with Sun-woo until they have to leave the apartment together.
Jang-il helps Sun-woo to the train platform, and as Sun-woo begins to unknowingly walk toward the tracks Jang-il assures him that he's doing well, he's going the right way… Good gracious! I thought this was a possibility, but Jang-il is actually trying to let Sun-woo get himself killed.
The call for the oncoming train comes. Jang-il hears it, but stares dead ahead at Sun-woo, as though willing him to step in front of the train. He even lets Sun-woo get close enough to be hit…
Except at the last moment, Sun-woo hears the train coming and pulls back just in time. Oy, my nerves.
It's without concern that Jang-il suddenly asks, "Sun-woo, are you alright?" And the look on Sun-woo's face… yikes. He knows what Jang-il tried to do.
Jang-il drops Sun-woo off at the rehab center, and there's a charged moment where he looks back as Sun-woo climbs the steps. We can see the wheels turning in his mind – to what end, we don't know. With Jang-il, anything is possible.
Ji-won is lost in thought as she wonders what happened to Sun-woo that caused him to go blind. An eager Jang-il finds her sitting alone, but she shows her disinterest by quickly packing her things to leave. He wants to go together to buy her a guitar so she can sing "Moon River" again, but she cuts him off – does he remember the person she talked about, the one from the time she broke a car windshield?
Jang-il doesn't catch on that it's Sun-woo right away, so she spells it out for him. That same boy is now blind, and going to the rehab center… oh no. As if Jang-il needed any more reason to want Sun-woo dead.
Kwang-choon finds out a little late that Soo-mi has gone to Seoul and decides to follow her. Unfortunately for him he runs into an ajumma he cheated money from via fake talismans, which results in him running away… straight into a dead end. Caught.
He's honest with the ajumma as he tells her that the talisman couldn't have worked to stop her husband's cheating, because his mistress was younger, prettier, and nicer than her. "Plus, your cooking is terrible. What can I do?" Ha. I really like Kwang-choon.
Needless to say, this derails his trip to Seoul.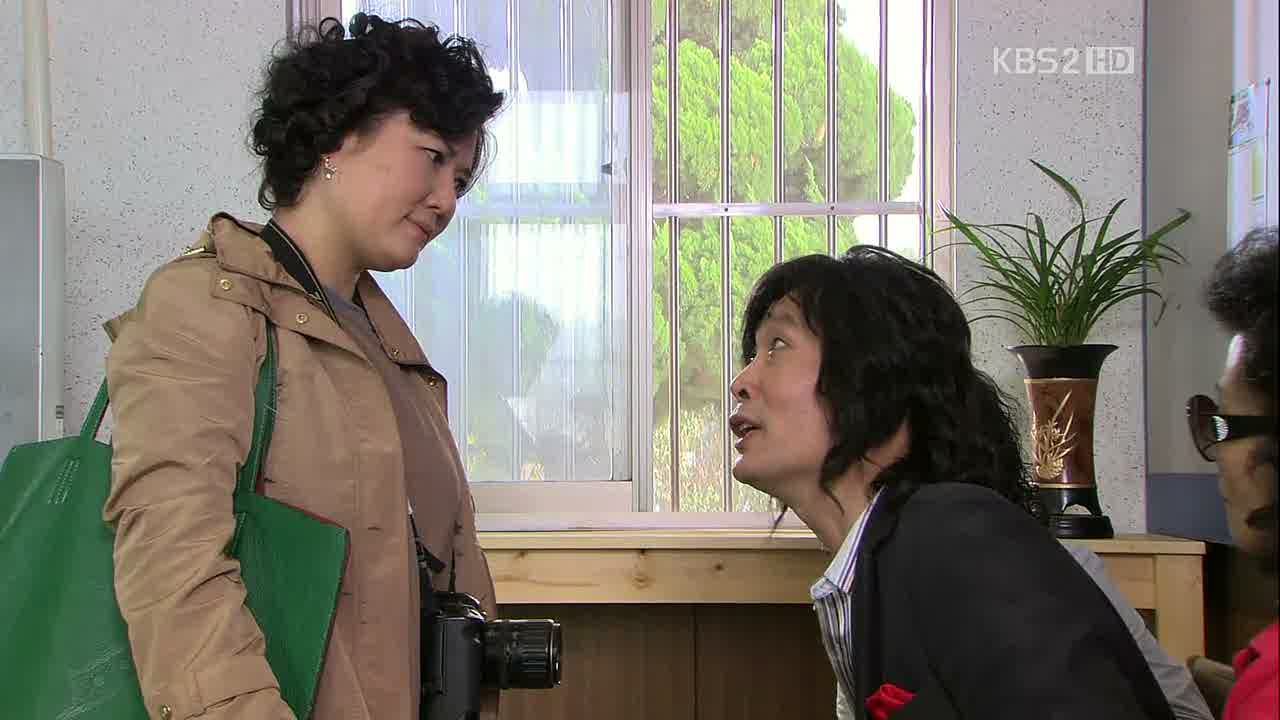 During his Braille class, Sun-woo grows frustrated with his inability to learn and slams the notebook closed. Ji-won does community service as a sort of class assignment, so the last episode when she was reading a book aloud into a microphone, it was to create an audiobook. Sun-woo ends up listening to one of her audiobooks, The Old Man and the Sea by Ernest Hemingway.
He finds Ji-won at the library desk and asks to check out more audiobooks. She hands him the master list in Braille, though he can't read it yet. So she reads him the list herself.
The books Sun-woo chooses all have a common theme that Ji-won quickly picks up on – that of not trusting others, and constantly being on guard. Why is he choosing those?
Sun-woo replies, "I want to understand people who stab others in the back."
All right, now Jang-il is just being cruel. He told Sun-woo that he would meet him at the front gate by five, and deliberately chooses not to meet him so that Sun-woo is still waiting forty minutes later. And then another forty minutes passes.
Sun-woo eventually tries to call a cab for himself, just as Ji-won arrives and offers her help. Jang-il has taken his sweet time and finally shows up in time to see both Sun-woo and Ji-won get into the cab together.
Ji-won takes him home while Jang-il follows in a cab directly behind. She even makes sure he gets to the correct floor before taking her leave – and after staring at him for a long moment, she smiles happily and waves goodbye. Sun-woo either nods his head in return or just looks down naturally.
Jang-il finds her outside, and shares his ire over a cup of coffee. He asks if she always meddles into other people's business – or is it just that she's interested in Sun-woo? Ji-won: "You've never helped anyone or received help from anyone in your life?"
Boom. These were the exact words Sun-woo once asked Jang-il when they were young. It's almost sad that Jang-il is so transparent when it comes to being a terrible person.
Jang-il: "I want to become a prosecutor and help more people. Not just a blind man on the street."
Even Ji-won is just like, Okay then.
Soo-mi ends up watching them through the cafe window. Jang-il is pretty forceful when he asks Ji-won to have dinner with him, and grows angrier when she declines. "You have time to escort a blind man here, but you don't have time for dinner with me?"
Ji-won has had enough, and decides to leave. Before she can he grabs her and asks why she's even bothering to volunteer when she can barely make ends meet. Isn't helping others a luxury she can't afford? Oh, Jang-il.
It's no secret that Jang-il dumped Sun-woo, and a call from Soo-mi doesn't make much difference. Jang-il claims he's spending the night at the school, and Soo-mi sighs that he's doing this all on purpose.
Geum-jool is adorably pissed at Jang-il on behalf of Sun-woo, and wonders aloud whether Jang-il has forgotten everything Sun-woo did for him. He tells Sun-woo that Jang-il even gave the apartment gatekeeper the gifts Sun-woo sent him way back when, and even carved out the inscription Sun-woo had put on the gifts. Aww.
Sun-woo tells Geum-jool not to mention it around Jang-il. Soo-mi catches on quickly – if Sun-woo remembers the gifts, which he made right before the accident, are more of his memories returning? Maybe he'll remember how he got into the accident. Sun-woo smiles cryptically.
While Jang-il goes to the guitar store to presumably buy one for Ji-won, Sun-woo begins to run a fever back at the apartment. He assures everyone that he's fine and encourages Soo-mi to pack, since she has to leave Seoul tomorrow.
Creepy time. While packing away her things Soo-mi wraps the arms of Jang-il's coat around one of her dresses and addresses it as if she were talking to him. "I think Sun-woo is recovering his memories. Are you afraid of that?" I don't know, Soo-mi. Should he be afraid of you?
Jang-il has erstwhile spent the night drinking, and Ji-won finds him outside of her apartment in the morning bearing a new guitar. She can smell the liquor on him, and wonders why he didn't go home last night. "I don't want to go home," he admits. "I think they came to give me a hard time on purpose."
When she asks who, he doesn't answer. Instead he asks her if she can like him only, and gives her the guitar. "Only I can listen to it," he clarifies. "Only I can listen to the 'Moon River' that you play."
Ji-won looks uncomfortable, and clearly doesn't know how to respond.
Soo-mi and Geum-jool leave Sun-woo alone in the apartment to go get him medicine, with the instructions that he's not to go to the rehab center today. Ji-won ends up dragging a reluctant Jang-il home, who continues to insist that he doesn't want to go and just wants to keep drinking.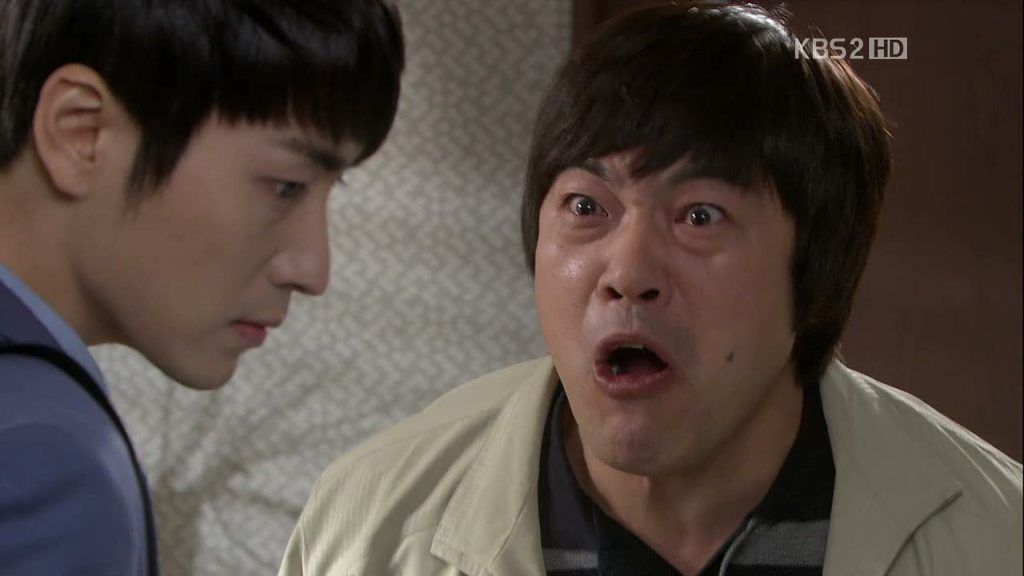 Unfortunately for him, Dad has chosen this time to visit and becomes enraged at the state he sees his son in. Once they're in the apartment he delivers a hard slap to Jang-il's face. Is he out of his mind? "Just so that you can study, I live as Jin's dog! And you come home drunk with a girl?"
Jang-il fires back, "Who told you to be Jin's dog? Why did you become Jin's dog, and make me go through this?"
They don't know that Sun-woo is in the other room, listening to everything. Yong-bae decries his son for daring to bring Sun-woo here after everything, despite Jang-il's claims that he never wanted to. When Yong-bae demands that Jang-il kick Sun-woo to the curb and never see Ji-won again, Jang-il has finally had enough. "Leave if you're going to do this. I'm sick of you and Sun-woo."
Yong-bae blinks disbelievingly, tears in his eyes. "I'm going to hell for you," he cries. "And what did you say? You're sick of me?"
Jang-il is just as emotionally affected, but sticks to his guns all the same. Yes, he's sick of him, and sends his father home crying piteously in the car.
Sun-woo covers his tracks by emerging from his room with his earbuds in and a CD player in hand. At first Jang-il is worried that he overheard everything, but when he speaks to Sun-woo he gets no response – it's only until he pulls the earbuds out that Sun-woo acts surprised. When did Jang-il get home? Jang-il: "Just now. My father was here, didn't you know?"
Sun-woo lies, "No." It's enough to comfort Jang-il, though his expression changes when he hears the voice coming from the CD. It's Ji-won. He takes one of the earbuds and listens for himself, a strange look in his eyes. It's as if he's jealous that Sun-woo gets to listen to this much of her voice, and he finally just stops the tape.
Jang-il suggests that they drink together, and Sun-woo is suspicious as to whether he's the only one drinking. It's hard to tell what Jang-il is thinking, and it doesn't help that he takes a knife to an apple and eats the piece directly off the blade. That's not foreboding or creepy.
He tells Sun-woo that he should have come to Seoul when he first asked him. He could have gone to college, had a girlfriend, stay up all night in the library… "We could have stayed as good friends like before, depending on each other," Jang-il says.
Sun-woo chuckles, "You depended on me?" Jang-il says yes, and that if Sun-woo had listened to him, he wouldn't have ended up blind like this. Oh really, Jang-il?
Granted, that's true, but Jang-il makes it sound like this was all Sun-woo's fault. Sun-woo affirms that the only thing he can do now is believe that his life isn't over like this. Jang-il: "Triumph over your agony, the glorious day will come tomorrow." He says it almost ruefully, as though he's poking fun at Sun-woo's efforts to live.
Sun-woo remembers those words as the motto written on Jang-il's desk. This washes over Jang-il at first, and he next asks Sun-woo what he would do first if he could open his eyes right this minute.
Sun-woo: "I want to see your face."
Jang-il's eyes widen. Why? Sun-woo just laughs it off. But then a horrible realization sinks into Jang-il which we can see written all over his face. "You…" he practically stutters. "You do remember. The corny line that I wrote on my desk." Gulp.
Sun-woo keeps passing everything off as coincidence, and keeps a surprising level of calm. Jang-il has already passed into Defcon 2 Paranoia, and accuses Sun-woo of faking his blindness. When Sun-woo again attempts to pass it off, Jang-il violently grabs him by the collar. "You have something you're not telling me right now," he hisses into Sun-woo's face. "Tell me. Tell me right now!"
There's a pause, and Sun-woo is just like a rag doll being grabbed about, his expression completely devoid of emotion. "The truth is…" he begins. "I always wanted to ride a boat on the Han River. But I couldn't ask you."
This complete deflection is finally what sets Jang-il off, and he throws Sun-woo down. He climbs on top of him and begins to punch him repeatedly, though Sun-woo just covers his head and cowers. Jang-il then grabs a pillow to start hitting Sun-woo (which… okay, I'll just go with this), demanding to know where the old Kim Sun-woo has gone.
As he's getting hit by a harmless pillow, Sun-woo puts all the pieces together in his mind. His father knew Chairman Jin, then went to see him at his villa. Then his father died, Jang-il got a scholarship to Seoul, and stopped him from turning in the petition by trying to murder him.
As we near the end of this self-reflection, we see Jang-il passed out on the floor. I guess he had too much to drink.
Sun-woo kneels by Jang-il as he says, "I can't forgive you."
We get another brief scene with Chairman Jin to remind us that he exists. His wife heard him call out Eun-hae's name in his sleep and doesn't like it one bit. She wants to make sure to remind him that she owns him.
Meanwhile, Geum-jool finally returns to the apartment and sees the remnants of a fight. Jang-il claims that he can't remember what happened.
Chairman Jin's stepdaughter asks him to bless her marriage to a poor man that her mother doesn't approve of. She's still filled with the youthful ideologies of never ending love, and Chairman Jin is too jaded. He tells her love is nothing, and that people change – it's the belief that they don't that gets people hurt.
He finds out that Tae-joo is in Busan, just as we see Tae-joo and a minion going through Sun-woo's now-empty house.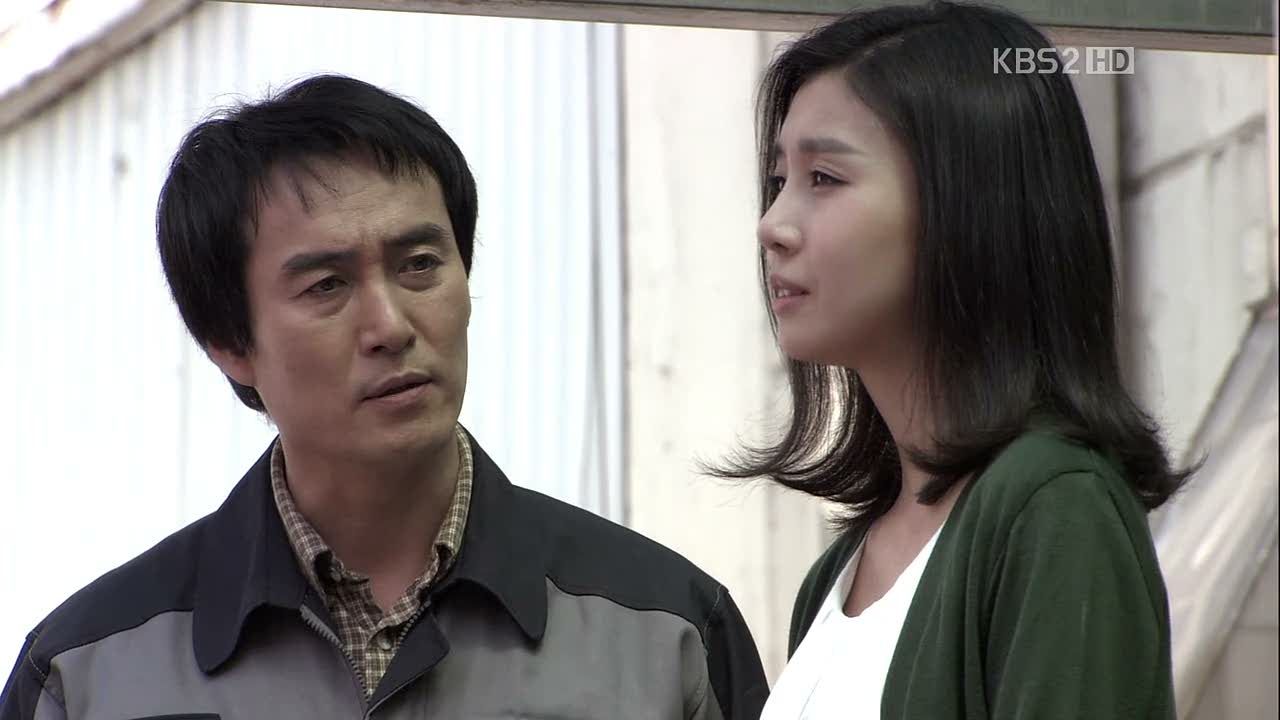 We get a flashback through Tae-joo's eyes, which involved Chairman Jin's jealousy driving Eun-hae into Tae-joo's arms, though the relationship seems to have been platonic. She believed that Chairman Jin never loved her, and that if she were to tell him that she was having his child he'd send her for an abortion. "I wish that I loved you, Moon Tae-joo," she told him.
It's clear that Tae-joo did love her, but kept his distance out of respect for Chairman Jin. In the next breath of the flashback, we see Tae-joo get arrested for embezzlement, which was all a fabrication by Chairman Jin.
Back in the present, Tae-joo still claims that he's intent on finding his son. (So whose son is he?) Chairman Jin makes it to Sun-woo's former house only moments after Tae-joo has gone.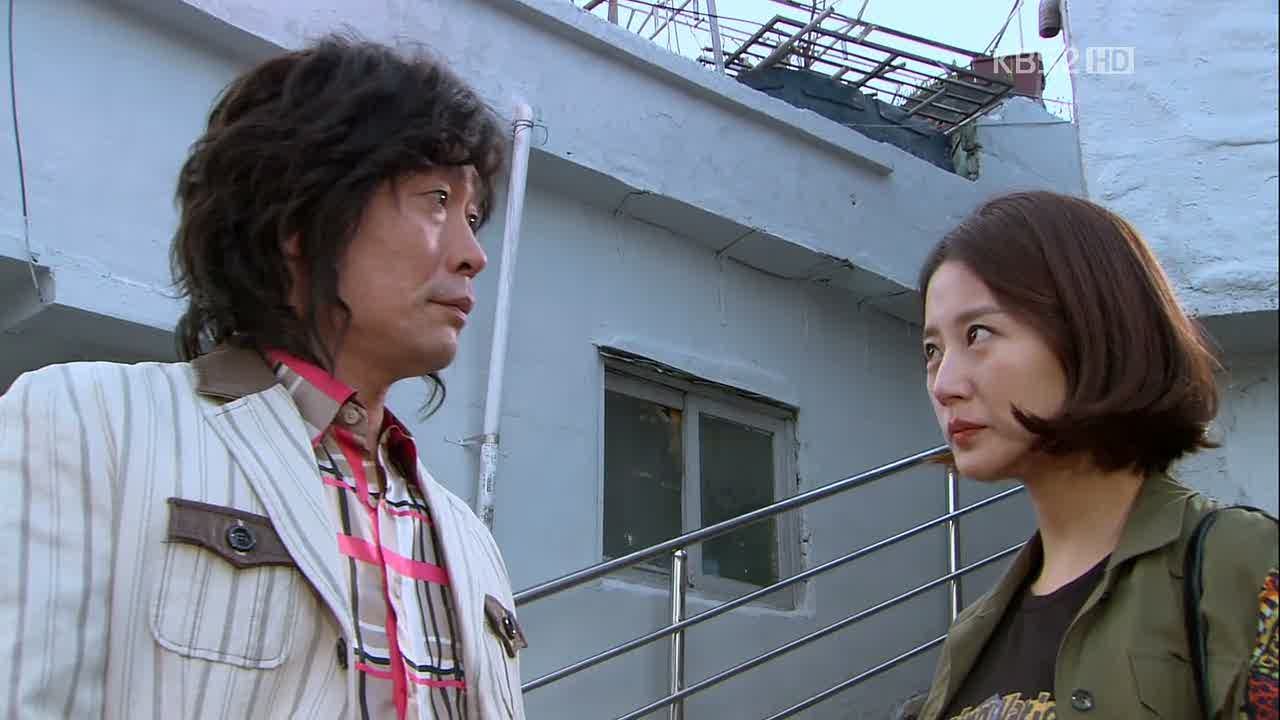 Soo-mi comes across her father sending a letter with plastic gloves on. She tells him not to do anything stupid since everything is in the past – and I get the feeling that the letter is to Yong-bae asking for blackmail money. Apparently that ajumma he swindled was serious about getting her $10,000 refund.
Yong-bae tracks Ji-won down at school only to tell her to stay away from his son so he can focus on his studies and become a great man. She stops trying to clear up the misunderstanding that her and Jang-il are an item and simply agrees, ignoring Jang-il on her way out as was requested of her.
She finds Sun-woo on the bus headed for a Blind Class Retreat, and he calls her "Hemingway" because of the audiobook he listened to. When she asks how he knew it was her, he says that it was because he could smell something nice.
Sun-woo isn't participating in the class activities, and Ji-won slips and falls in an effort to get to him. Her ankle is made of glass so she hurts it somehow, but insists against being carried on Sun-woo's back… so he pulls her into a bridal carry instead and gives her a choice between that or piggybacking. She chooses the latter.
She becomes his eyes, but when her eyes end up focusing on him he runs into a tree. Ha! "Look forward!" he chides her. "Were you looking at me?"
Back at school, Sun-woo returns the audiobooks to the library but finds that some of his requested books aren't available via audio. He's content to leave it at that, but it's Ji-won who volunteers an alternative – so the two sit in the library while she reads aloud to him. Aww.
Jang-il waits for Ji-won to get out of class with a bouquet of flowers, but can't find her. He eventually goes to the audiobook section of the library, and hears the sounds of the guitar he bought for her. This can't end well.
He opens the door all excited… and finds that she's playing for Sun-woo. He walks straight up to her, a strange and strained smile on his face. She stops playing.

COMMENTS
There's a lot of obsession in this drama, and it's telling that those who have obsessions so far – Jang-il, Soo-mi, Yong-bae – are suffering at the inherent unattainability of all the things they want. Jang-il wants success and Ji-won, Soo-mi wants Jang-il, and Yong-bae wants to make sure that all the wrong he's done in this life won't be in vain. Now Sun-woo might be joining the pack with an obsession for revenge, which can't bode well for him.
I'm having a bit of a hard time reconciling the character differences between the younger versions of the girls compared to their current versions. This could very well just be due to an actress switch, but young Ji-won seemed much more ambitious and more frigtening. The girl who practically promised her father that she'd dance on the graves of their enemies once she returned their wealth – where did she go? I'm not necessarily complaining since I enjoy Ji-won more now (I was not as huge a fan of her younger characterization), but it does make me scratch my head a bit. What is it that Ji-won wants? Is she truly just a good person through and through, with a desire to help those in need? There has to be more there that we've yet to see.
I mentioned this in the last recap, but Soo-mi's general demeanor also changed somewhat drastically. I can attribute most of her changes to the actress switch, because the core of what she strives for – Jang-il – still shapes her day to day life. But unless she's just pulling one on everyone, she seems to possess some genuine concern for Sun-woo, who she seemed to regard with such disdain in the past.
The story is moving along nicely, though I keep bracing myself for a supposedly inevitable time skip. I'm guessing it'll all have something to do with Tae-joo taking Sun-woo away, but at the same time, I wonder why Sun-woo would choose to put his revenge plan on hold for so long. That's part of the beauty of this story – we've got the main pieces in place, but the minute-to-minute plot movements remain satisfyingly suspenseful.

RELATED POSTS
Tags: Equator Man, featured, Im Jung-eun, Lee Bo-young, Lee Jun-hyuk, Uhm Tae-woong