Will Salon H become the next Goong?
(I wouldn't hold my breath, but don't let that stop you from hoping.)
Where lightning strikes once, there will always be producers camping out wanting it to strike again, it seems. In the case of manhwa writer Park So-hee, there are big hopes for future success based on the overwhelming popularity of Goong (aka Princess Hours), the fusion fantasy-trendy drama from 2006 that swept the nation (and much of Asia) and brought to life Park's manhwa premise wherein modern-day South Korea still has a monarchy—and a hot young prince of marrying age. It was a Cinderella tale dressed up in gorgeous, innovative new threads and became a pop-culture sensation.
I'm not sure the premise of her new adaptation has anywhere near the scope of Goong, but producers have licensed Park's popular webtoon Salon H for a live-action drama, which has apparently been in the works for the past two years as a collaboration between manhwa content company Korea Data House (which published Moss, which was then turned into the acclaimed 2010 crime film) and beauty salon brand Ra Beauty Core.
The drama adaptation rights have been secured by Curtain Call Media, which produced shows like My Princess, Miss Ripley, Oh Ja-ryong Is Coming, and the upcoming Level 7 Civil Servant. So at least we're dealing with drama specialists here, not a show slapped together by beauty industry pros.
Salon H has been running as a Nate serial since last June, with a mobile outlet as well. The story is supposedly fresh for its beauty-salon milieu, though it sounds familiar enough at the heart: It's the story of growth and development of a heroine, starting from her introduction into the beauty industry as she navigates her way to becoming a star designer through lots of hard work. But I won't write it off for that trite setup alone, since the devil's always in the details, and the series promises to entertain with a diverse array of personalities. As with everything, the execution is the thing, not the concept.
The manhwa-to-drama jump is pretty common in the biz, both with dramas and films, and there have been enough successful adaptations to justify the move. Though that's not a guarantee, since you've got a number of them that didn't make the cut. Even so, with hits like Boys Before Flowers, Gaksital, Le Grand Chef, Iljimae, Return of Iljimae, City Hunter, and of course, Goong in your manhwa-adapted ranks, you can see why there'd be hope.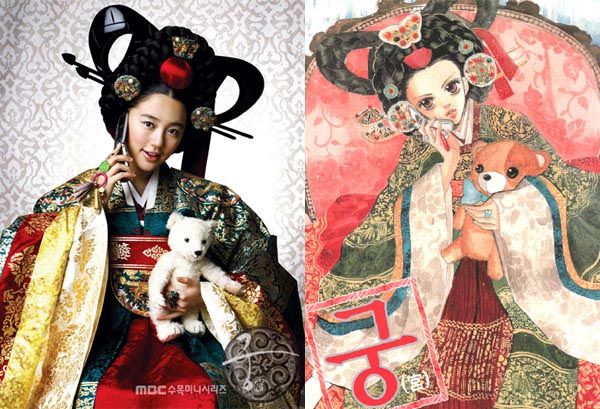 Via ETV
RELATED POSTS
Tags: adaptations, Goong