Incarnation of Money: Episode 7
How would you react to an ex-girlfriend you can't recognize? Shock? Relief? Displeasure? Cha-don finally comes face to face with the new Jae-in, who looks for any way she can to get revenge. Perhaps someone needs to teach her that there are greater things at hand, like a murderer on the loose, than worrying about whether your cheeks bloated a little this morning.
Ratings remained steady for this episode at 13.3%.
EPISODE 7 RECAP
Mom's injured hand now bandaged up, Cha-don begins her parole interview. He pauses when she assumes responsibility for her late husband's murder – the first time she's done so since her incarceration.
Her head remains bowed as she speaks until she finally lifts her head… and sees young Kang-seok sitting across from her. Oof. She recognizes him though I'm sure no one, let alone Cha-don, will believe her given her current state.
Another question brings her out of her reverie and she answers that she plans to find her son upon her release. But her face hardens when Cha-don implies that her son may be missing or dead. She eyes him with suspicion: "Do you think Kang-seok is dead too?"
Enraged, she grabs Cha-don by the shirtfront, yelling that Kang-seok is waiting for her to return to him. The guards drag her away, and Cha-don sits there for a long moment, affected by her emotional outburst. He writes on her report: pending decision.
Cha-don remains silent in the car as Chief Yang sighs that it would have been easier to deny parole instead. He notices Cha-don's tears and asks if he's crying out of compassion for the woman.
Given their current caseload, they don't have the time to look into the missing son, but Cha-don urges him to follow up. He thinks to himself: "Is Mom looking for me too? Or did she already…"
His train of thought is interrupted by the news of Secretary Lee's escape, which means Jae-in is in danger. Tracking her whereabouts leads them to a club where understandably no one recognizes Jae-in by her Before photo.
Present Jae-in dances amid a small crowd of men and like all the others, Cha-don is immediately drawn in by her beauty. Jae-in panics when she sees him until she remembers that he can't recognize her slimmer self.
So she plays up her allure with a hair flip and dance, set to sexy music. And to be honest, it's a bit cringeworthy.
Regardless, he falls for it hook, line, and sinker and sidles up to her at the bar. Jae-in is clearly amused that her flirtatious act worked like a charm but nearly gives herself away when she immediately crumples the poster with her old photo in his hand.
As Cha-don paints her old self as "a vicious and brutal woman," you can almost hear Jae-in think, I'll give you vicious and brutal… and then she punches him square in the face. He laughs off the bloody nose like it's no big deal and she gives a sarcastic smirk when he worries if she sustained any injuries.
He's regaling an unamused Jae-in with tales by the time Ji-hoo arrives and is promptly dragged out of the club by the ear. Back at the office, he and Ji-hoo point the blame at each other while poor Chief Yang is caught in the fray.
As for Jae-in, she waves off the last of her suitors before climbing into a taxi, completely unaware that Secretary Lee is behind the wheel. Uh-oh.
She scoffs at Cha-don's message and considers it ridiculous that she's in possession of a crucial piece of evidence and that a murderer has it in for her. That is, until she sees a picture of the suspect and identified him as the same man as her driver.
Jae-in does her best to remain calm and tries to engage with her driver to no avail. He ignores her requests to stop, so she takes matters into her own hands and grabs the wheel.
The car swerves and crashes into a police car. Sporting two bloody noses, she barely has enough energy to tell the officers to arrest the driver.
Boss Bok and Assistant Kim rush to the hospital at the news of the accident and they hilariously mistaken a completely bandaged victim for Jae-in. Boss Bok sobs over (who she presumes to be) her daughter's wretched state, crying that she forgives all of Jae-in's previous wrongdoings.
Jae-in listens to their cries from around the corner and once the gurney is taken away, she walks up to her mother and taps her on the shoulder. As expected, Boss Bok doesn't recognize her and after a few prompts, Jae-in asks: "Have you forgotten your daughter's voice?"
The realization of her daughter's complete physical transformation settles in as Jae-in pointedly notes her mother's promise that she'd forgive her. That earns her a beating and Jae-in shrills that she's still recovering. And did you think you'd get out of this without a beating?
On their way out the hospital, the three notice Cha-don who makes the same mistake and they watch him try to interrogate the unknown injured victim about the pen. Jae-in quickly ushers her mother away and huffs her annoyance at running into him again.
But Boss Bok asks how her daughter knows "our Cha-don-ie" and confirms that he's the "good-looking dummy" who almost became a part of the family. Jae-in is shocked at this connection and she blubbers in disbelief.
Ji-hoo and her team run into Se-kwang at the prosecutor office with Secretary Lee in tow. Declining Se-kwang's offer to transfer the case to Team 2, she vows in a slightly strained voice to show him that she can handle a case on her own.
Se-kwang follows Secretary Lee to the bathroom and a punch to the suspect is enough to send the Team 1 members scurrying away. He pushes Secretary Lee up against the wall and tells him to listen up.
Which might explain why the interrogation gets the prosecution team nowhere and Secretary Lee remains tight-lipped, much to their annoyance. Chief Yang oh-so-casually hints that it would be easier if they brought in Jae-in, but she's busy trying to work off extra calories and doesn't notice her phone ring.
Mayor Jung raises a curious eyebrow when he hears that Ji-hoo is the prosecutor in charge of the case. He's more concerned about the shark, Se-kwang: once he bites down on his prey, he won't ever let go.
The mayor has one more present for Lawyer Hwang to deliver to Secretary Lee: a pill. Huh, that looks awfully familiar.
So when Lawyer Hwang meets with Secretary Lee, he also relays the message from the mayor. Secretary Lee owes his life to the mayor, and now it's time for him to repay that debt. Eek.
The pill will take effect in 10 hours, long enough for the prosecutors not to suspect him or the mayor. Secretary Lee twists the lid free with a shaky hand and consumes the pill.
Lawyer Hwang breaks into a smile and tells Secretary Lee that the pill was just a vitamin; the mayor will be pleased to hear of the man's unwavering loyalty. That was a pretty twisted game you played there. Sheesh.
Lawyer Hwang assures him that they have nothing to worry about as long as the alibi remains in place. If it breaks, then they'll say that the bank president's downfall was about money.
Secretary Lee doesn't look so confident about that statement and once the lawyer leaves, he removes the pill from under his tongue.
Chief Yang briefs his team that Secretary Lee's alibi checks out because it's virtually impossible that he left the hotel, committed the crime and returned within an hour's time. The team acknowledges that he must have fabricated the details, but how?
Meanwhile Cha-don tries to decipher what Se-kwang said in the interrogation room and he runs through a mental list of syllables. The others try to join in to help but that only confuses him more and when he yells at them, the music abruptly stops. Heh.
Ji-hoo sighs that at this rate, even one call from Jae-in will help their cause. Ring ring.
Jae-in sets up a meeting time and hangs up. We see that she's back at the plastic surgeon's office and she gets an emergency facial to reduce the yo-yo weight gain. She dreams of returning home to see Cha-don holding a bouquet, his teeth chattering from the cold.
She would be annoyed, call him a stalker, and get lost. He'd confess his undying love for her in return: "I'll die without you! I can't live without you!"
And even in that fictional scenario, she'd tell him to die.
She's still laughing about the fantasy when Cha-don walks into the coffee shop. He recognizes her from the club and babbles on about how serendipitous their meeting is. He asks if she's here to meet a boyfriend and lights up when the answer is no.
She turns the question back on him and is rendered utterly speechless as he answers that he's here to meet the "vicious and brutal" woman again. She fumbles for her phone as Cha-don gets up to look for a chubbier Jae-in.
Cha-don picks up his ringing phone and looks back to find the voice… that belongs to Jae-in. The women in this show have some pretty awesome reappearances to the men who screwed them over.
Now it's Jae-in's turn to rise and she chucks off her jacket in a defiant stance. At Cha-don's baffled stare, she waits for him to say that she's pretty. Only he blurts out how remarkable plastic surgery is these days.
Jae-in gets on the defensive – she lost this weight naturally. But Cha-don doesn't buy it and notices that her entire body is different. Then his eyes rest on her chest and she covers them up with her hands.
His reaction freaks her out and she yells that she won't help with the investigation just as Ji-hoo enters calmly as you please. She introduces herself and apologizes on Cha-don's behalf – she's read up on their previous relationship. Ji-hoo bows her head and barks for Cha-don to follow suit.
Jae-in hands over the fountain pen and is turned off by the idea to testify against her previous employer. Ji-hoo asks if she won't regret her decision but Jae-in answers that she's sure since she was considered an outcast at work.
With that, she walks out the door and Ji-hoo orders Cha-don to go after her. It's their job to protect her before the hearing since the mayor might try to win her over to his side.
He follows her to the luxury hotel she's staying out and he wonders how she can stay at such an expensive place. She slams the door on him and he stays outside, rapping the door. And all the while, he's unaware that he's picked up a tail.
The Chungrok Literary Society formally deliver their donation to the forensic psych ward. Angelina reads her own literary work and it cracks me up that her last name is Silver (which is "eun" in Korean.).
As she continues, Mayor Jung reels with emotion and Boss Bok whispers to her assistant: "Are those song lyrics?" HA – I wouldn't put it past Angelina to do something like that.
The best part is that the very melody plays in the background and Boss Bok whispers the line before Angelina dramatically recites it. By now, even the inmates have caught on and they exchange curious looks.
Mom arrives late, now calm after her previous outburst. But one look at Angelina and she explodes in anger, charging onto the stage and grabbing Angelina's hair. The guards pull Mom back and Angelina shakes in terror.
Angelina calms her nerves with a stiff drink and Mayor Jung consoles her that anyone can get bitten by a crazy dog. Boss Bok sees the situation differently and wonders why that crazy dog targeted Angelina.
Her eyes grow wide – is Boss Bok insinuating that the crazy woman has some sort of vendetta against her? Answer: Yes.
Boss Bok gets a call from Jae-in informing her that she won't be returning home tonight so that Cha-don remains in the dark about their familial relations. As soon as she hangs up, the mayor gets news that the prosecution are looking to bring in Jae-in.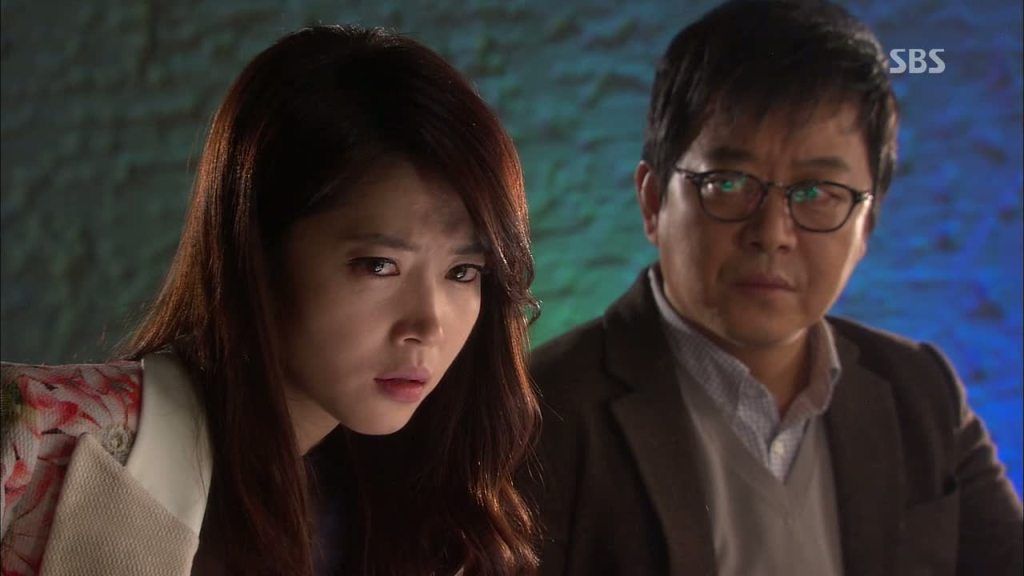 Prosecutor Kwon puts in a call to Se-kwang, informing him that Ji-hoo has handed over the fountain pen for DNA testing. A minute later, Se-kwang receives a panicked call from Angelina and as usual, he coldly dismisses her.
She calls up Prosecutor Kwon and is drunk by the time he arrives. She recounts her encounter with Mom that day and Prosecutor Kwon assures her that they have nothing to worry about – Mom is half-mad by now.
Angelina scoffs – she's heard that a prosecutor has deferred Mom parole and may be out soon.
Chief Yang arrives at the hotel and Cha-don scowls when he mentions that he's heard that Jae-in is pretty now. Cha-don tells Chief Yang about a bakery he often frequented when he was at the orphanage.
But one day, he saw the baker spit into her hands in the batter and he was scarred for life: "Because it was so disgusting."
Jae-in overhears their conversation from the other side of the door and she flares when Cha-don declares that he won't ever consider her beautiful. "How dare he compare me with a steamed bun!"
She thinks back to when he called her "fatty" as kids and racks her brain over how to exact her revenge.
Cha-don's half-baked plan for Chief Yang to disguise himself as a thief to draw Jae-in out seems like a disaster waiting to happen. Their conversation is cut short by a waiter who brings them some drinks and Chief Yang assumes it's a nice gesture on Jae-in's part. He downs it in one shot.
Thankfully Cha-don is a bit more suspicious and he pulls Chief Yang away without drinking a drop of his juice. The camera pans over and we see his tail just around the corner.
They escape to an empty maid's closet and run through the simulation. But not before Chief Yang consumes the other glass as well. Uh, that might not have been a great idea.
Se-kwang is surprised to hear about the deferred decision as well. Prosecutor Kwon warns him that the statute of limitations for Mom's case hasn't run out yet. If she gets out now, things will get messy for them.
Back to the hotel where Chief Yang is about to knock on the door when the juice effects finally kick in. He makes a run for the nearest bathroom and passes by the real attacker, who slips in and stifles Jae-in's screams.
The man emerges with her slung over his shoulder – the cue for Cha-don's grand appearance. Cha-don thinks the masked man is Chief Yang and is impressed by how thorough his co-worker is to keep up the ruse.
Cha-don demands the masked intruder to put her down but he gets ignored. The rehearsed play-fighting quickly turns into a real struggle and by the time Cha-don sees the real Chief Yang, there's a taser gun in the intruder's hand.
Chief Yang counts to three before being tased (aw) and Cha-don manages to kick the taser out of the attacker's hands. Cha-don turns it on the masked man and gives chase down the hallway, but he loses him.
Cha-don reports to Ji-hoo who instructs them to move into a safe house in the morning. Chief Yang reminds him about Mom's parole review the next day. As for the missing son, all the leads about his disappearance are dead ends.
Mom steps inside for her parole hearing the next day and finds herself face to face with Se-kwang. It's clear he expects her to be angry with him but she readily trusts him like before.
She thinks that Bi-ryung might know where her son is, but Se-kwang answers that the former actress doesn't know either. He advises her to retain her sanity for as long as she can – it's her only ticket out of here. Says the man who suggested it in the first place.
Tears well up in Mom's eyes and she poses the possibility that Kang-seok might not be alive any longer. And if that's the case, she sees no purpose in her own life either.
Just then, the door opens and we see that in Mom's perspective, Kang-seok walks through the door. She cries out his name in relief and hugs Cha-don.
Se-kwang initially looks confused and then narrows his eyes at Cha-don. It can't be, can it?
COMMENTS
A great way to bookend this episode. Both Mom and Cha-don felt some hint of recognition in the beginning of this episode, though it became evident that it was much more intense for Mom whose maternal instinct trumps any mental state. It was heartbreaking to watch her scenes with Cha-don because she immediately identified her son and no one in this world will believe her. Then pair that with Se-kwang's confusion: out of all the people in the world, could this newbie prosecutor trainee be the same person he's been looking for all this time? I doubt that he'll act on his suspicions anytime soon, but it's safe to say that Cha-don will be on his radar.
Even though Incarnation carries some obvious flaws, I still feel like the hour flies by pretty quickly. The scenes feel relatively short and we circle through so many different characters that it's only when I look back at the end of the hour do I realize the characters who didn't get that much screentime. For instance Se-kwang and Lawyer Hwang felt much more peripheral in this episode but instead of that feeling of characters swinging in when needed, the world feels like it's still moving and these characters are out doing something even if we don't see much of them.
I still find myself hard-pressed to invest myself in our lead couple and their interactions together. There's an odd sense of naiveté in their bickering. I found it cute when they were teenagers but as adults, they feel stuck as characters among others who have moved on with their lives. It bothers me that Cha-don is still that same teenager who still only appreciates the physical beauty of a woman, though granted, Jae-in feels like she endorses those same values for herself as well. So then does that make these two meant to be anyway?
RELATED POSTS
Tags: featured, Hwang Jung-eum, Incarnation of Money, Kang Ji-hwan