Queen Seon-deok, Tree with Deep Roots team returns with new drama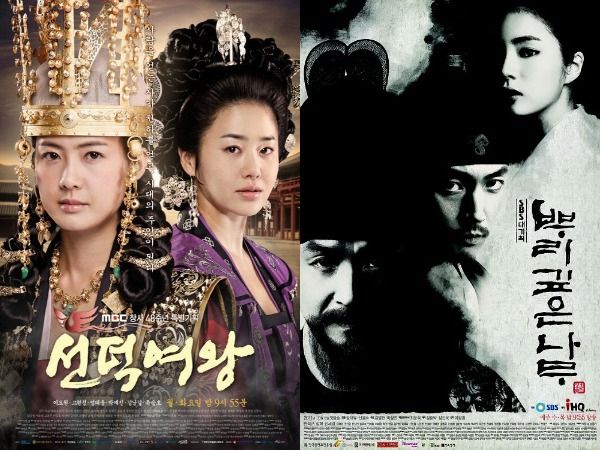 All hail — the true kings and queens of sageuk are returning. That'd be the creative people behind Queen Seon-deok and Tree With Deep Roots, otherwise known as midas touch writers Kim Young-hyun and Park Sang-yeon. They have the distinction of writing "well-made sageuk" (just a moniker for high production value) that also gets good ratings, which is not a thing to trifle with in dramaland. The new project is called Unprecedented, which has successfully set my expectations sky high with the title alone. I hope you weren't trying to undersell the thing, 'cause then you might want to call it something a little less auspicious.
They're reteaming with Queen Seon-deok's director Park Hong-kyun, who directed the Hong Sisters rom-com Best Love in the years since Seon-deok and New Heart. The new drama is months away from broadcast at the earliest, and is being planned as a special presentation drama at MBC for 2014.
It's a political action drama set in early Joseon, and specifically about "the heroes who founded the nation." The central story will be Jung Do-jeon vs. Lee Bang-won. Jung Do-jeon was a scholar and advisor to King Taejo (first king of Joseon), who influenced the political future of the country for centuries to come, by designing the political infrastructure from laws to taxes to education. In short, he was the political brains behind the founding of Joseon.
Lee Bang-won was the fifth son of King Taejo, and future King Taejong of Joseon (father of Sejong the Great). While Jung Do-jeon believed in a political system governed by ministers and a centralized bureaucracy, Lee Bang-won believed in an absolute monarchy. He was overlooked to succeed his father to the throne because of Jung Do-jeon's influence, and so during the reign of his brother, he raided the palace, killed Jung Do-jeon, and became the third king.
It's pretty much as high-stakes as a political thriller can get for source material, and it'll be like a prequel to Tree With Deep Roots, which will be fun. I can't wait till they start casting calls for the two leads who will battle it out for Joseon's future.
Unprecented is headed to MBC in 2014.
Via Xports News
RELATED POSTS