Movie Review: The Thieves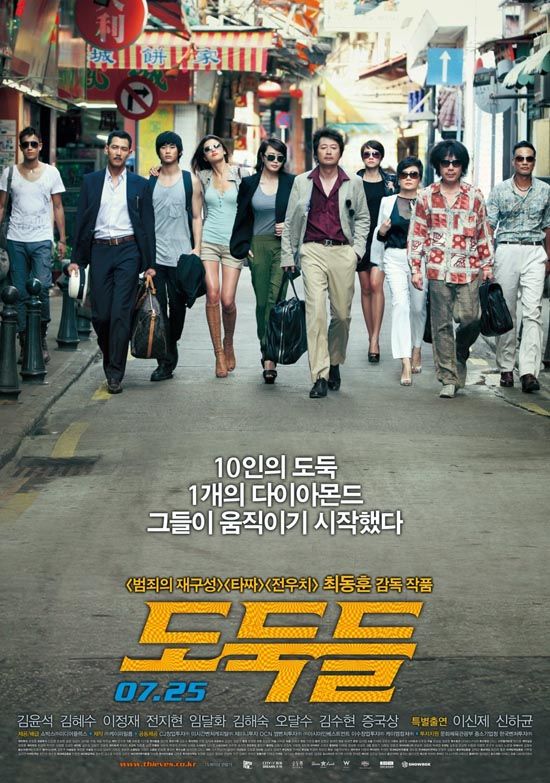 Some directors have made careers on the backs of making certain kinds of movies and Choi Dong-hoon is one such director. In many ways, his filmography kind of resembles that of English director Guy Ritchie as both started with crime caper films and largely built their careers on similar films with a deviation or two. Choi's first feature film, The Big Swindle, also turned out to be a sizable hit, breaking over two million admissions in its native Korea, which made it one of the most successful films of 2004, but it also had the distinction of being the first Korean heist film of notable success.
Choi was so successful with The Big Swindle that he was quickly able to make and release his next film, Tazza: The High Rollers. If The Big Swindle is to be considered a success, Tazza was a runaway hit in 2006, crushing all of its competition that year, including high profile Hollywood blockbusters like Mission Impossible III, save the beast from the Han River, The Host, which went on to become one of the most successful Korean films of all time.
The director took a change of pace for his next film and made the fantasy action film Woochi and made yet another smash hit, again breaking six million admissions. Yet, Woochi, for all of its entertaining antics, seemed to fall just a little short of Choi's twists-and-turns character oriented strengths that he displayed with Tazza. So three years later, in 2012, Choi returned with The Thieves.
The Thieves is the most successful Korean film of all time. Not only did it knock aside the record previously held by The Host, but it even outraced its fellow record-maker The Masquerade with over half a million more admissions, coming in at a staggering thirteen million admissions. To put it in perspective, that's over five million admissions more than its closest Hollywood competitor that year, The Avengers. In fact, there are very few films even from Hollywood that have done better in Korea. James Cameron's Avatar being the only film I could find with higher numbers.
And The Thieves does this by returning to what Choi does best: the heist film. The Thieves raises the stakes on Choi's history of heist films by taking The Thieves international, set in Korea, Hong Kong, and Macau and adding to his all-star Korean cast a number of notable Hong Kong (and Malaysian Chinese) stars. The Thieves is highly entertaining thanks to its mix of character-based comedy, complex plot, excellent performances, especially from the women in the cast, and a dose of adrenaline via action sequences.
The object that the titular thieves want? The Tear of the Sun diamond, estimated to be worth about $20 million USD. The players? First, there's Macao Park (Kim Yun-seok), the mastermind of the operation. He calls in his former accomplice Popeye (Lee Jung-jae), who then calls in safecracker Pepsi (Kim Hye-soo), the latter having completed a term in prison. The wrinkle is that the three of them had previously worked together on a separate heist when things went sour and grudges continue to be held.
Filling out the rest of the Korean crew are Yenicall (Jeon Ji-hyun / Gianna Jun) and Zampano (Kim Soo-hyun), a wire-walker (specialist in getting into buildings from outside) and her smitten rope man, and Chewing Gum (Kim Hae-sook), a con artist. Macao also calls on Chen (Simon Yam), Johnny (Derek Tsang) and Andrew (Oh Dal-soo), the latter being the one Korean member of the Chinese crew, and they find Julie (Angelica Lee) for their second safecracker.
Typical for heist films, there are alliances, secrets, and potential backstabbing a-plenty among this band of talented thieves and the risk is high, since they are essentially stealing the diamond from notorious Chinese fence, Wei Hong (Ki Gook-seo), only to sell it back to him.
Although the film follows the standard heist film progression of recruitment, plot, and execution, followed by a ton of backstabbing and plot twists, The Thieves wins not by subverting the formula, but by executing everything so well. The first strong element is the attention to character detail. Admittedly, the women in the film actually are all better fleshed out than the men and the tension and camaraderie in their relations with each other help drive a large portion of the story. Kim Hye-soo, who previously worked with Choi Dong-hoon on Tazza, manages to capture Pepsi's bitterness towards Macao Park quite well and the trio with Popeye, played with almost adolescent angst by Lee, drive most of the drama of the film.
On the other side, we also have a strong dose of comedy from Gianna Jun and Kim Soo-hyun, the former handling her sometimes goofy trickster Yenicall well, recalling all the charm that made her a star over a decade ago, and Kim Soo-hyun, although playing a much more minor role, mixes well with Gianna. Simon Yam and Kim Hae-sook get a side plot themselves as they have to pretend to be a Japanese couple and while their Japanese is abysmal, their Chen and Chewing Gum manage to connect in a hilarious, but somewhat affecting way as well.
The Thieves does feel a bit long, especially in the last act when Macao Park gets his own story told. Unfortunately, Macao Park, though played with infinite cool by Kim Yun-seok, doesn't get his subplot woven very well into the film, so the last reel feels like a fifteen minute detour into a wholly different action-thriller film, like the kind that Simon Yam has often starred in and starts to drag. And although Choi and his co-writer, Lee Ki-cheol do pretty deftly handle weaving together the stories of many of the rest of the thieves, it often feels like there's simply too many characters to give them all their due.
While that last act is full of rope-swinging, gun-firing, bullet-dodging action, it's actually everything before the action that is the most enjoyable part of The Thieves. It's when we learn about the alliances within the group, the secrets that some characters harbor and how the different groups have their own agendas that the tension is set. Then seeing how all this internal plotting mucks up the actual heist itself, despite the careful planning, as backs are stabbed and crosses are doubled and everyone runs from the law which trying to get their hands on the diamond. All with a rousing dose of comedy and style.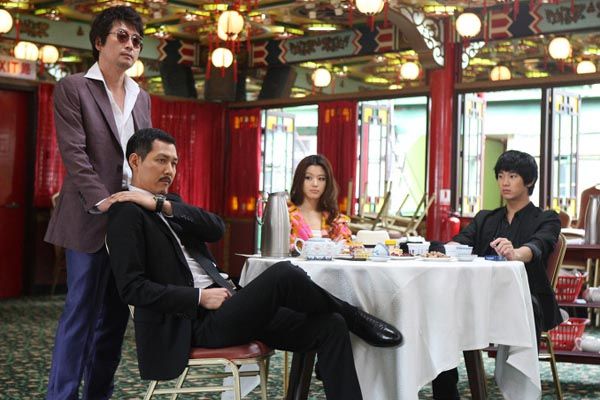 Choi Dong-hoon directs his film in a classical Hollywood style and, unlike his aforementioned counterpart, Guy Ritchie, doesn't rely on much fancy filmmaking tricks, rather letting the action and actors in front of the camera drive the film. When combined with the quality work from the production team, you get a film that's modern, slick without being dizzying, and more interested in telling the story effectively than in style, in a clean and attractive presentation.
Not all of the pieces of story work perfectly in The Thieves and the film gets stretched a bit thin trying to cover so many characters in a limited amount of time, resulting in some shallow characters and underdeveloped stories, in addition to the lengthy running time. However, held together by a largely charismatic cast, the story's many twists and turns largely deliver and the film never feels long until the last action-heavy sequence.
The Thieves won't go down in history as a terribly influential or groundbreaking heist film on its storytelling or directing merits. It doesn't have the uniqueness of vision of a Jean-Pierre Melville, a Steven Soderbergh, or even a Guy Ritchie, nor is it infused with a particularly Korean flavor as Choi's previous hwatu-based Tazza, but what Choi does accomplish here is polishing what he's already proven good at, the heist film, to a glistening gem of entertainment, raising the stakes at every level.
And it has clearly worked, with thirteen million viewers and counting, leaving Choi a name for South Korean film history books. Even if The Thieves doesn't aspire to the halls of cinematic greatness, if you're the kind of moviegoer that enjoys a good heist film, The Thieves is highly likely to meet and possibly even exceed your expectations with its highly polished, entertaining ride. 8/10.
RELATED POSTS
Tags: featured, Jeon Ji-hyun, Kim Hae-sook, Kim Hye-soo, Kim Soo-hyun, Kim Yoon-seok, Lee Jung-jae, Oh Dal-soo