Finding Seung-gi in Noonas Over Flowers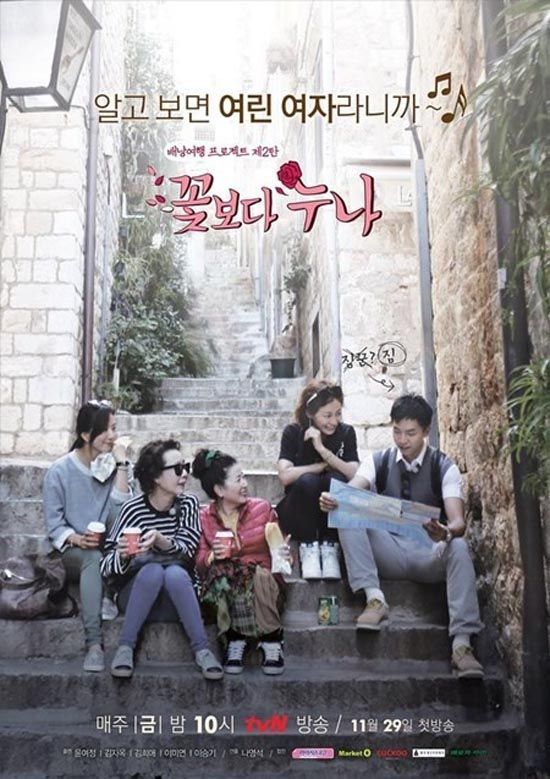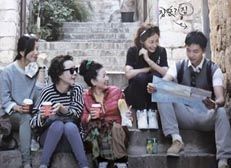 On one hand, I would really rather have variety show Noonas Over Flowers just start already, rather than doling out more teasers and promos, but on the other hand, I'm not going to be unhappy about said teasers and promos. I'm just ready for the premiere to come along (only a couple days left!), so we can see Lee Seung-gi running for dear life in Croatia, or maybe just running away.
I love how in the two posters here, Seung-gi has been thoughtfully labeled "Luggage Boy," which has then been crossed out and amended to read, "Luggage." Snerk. And if you're wondering just what the show means by calling Seung-gi luggage, catch the clip posted directly below, where we see Seung-gi running to and fro, apparently getting lost on his travels and trying to get un-lost, only to get more lost. Having witnessed his terrible sense of direction playing out to much comedic effect on 1N2D, I can't say I am at all surprised.
Throughout the teaser above, the noonas (Yoon Yeo-jung, Kim Ja-ok, Kim Hee-ae, Lee Mi-yeon) call after Seung-gi like a lost puppy search party, while he runs around sweating bullets. They keep repeating, "Seung-gi-ya, where are you?" and "Where did he go?" and Yoon Yeo-jung quips that while the show has been nicknamed "Seung-gi-ya, Run Away," for them it really should be "Finding Seung-gi." LOL.
The teaser below features Lee Mi-yeon, the group's youngest and most inquisitive cast member, having never traveled without people arranging everything for her. That explains her bombarding of Na PD with questions ranging from the detailed to the very, very detailed: Will we have to get lodgings next to the airport? Will we unpack and then look around? Or will we go directly? Do the five of us have to stick together? She seems game for anything, which should make her a lot of fun to watch.
The show premieres on November 29, beefing up tvN's Friday night lineup considerably—it's a one-two punch with Answer Me 1994 starting things off, then Noonas Over Flowers taking over.
Via BNT News
RELATED POSTS
Tags: Kim Hee-ae, Kim Ja-ok, Lee Mi-yeon, Lee Seung-gi, Noonas Over Flowers, Yoon Yeo-jung