Full Sun: Episode 12
It only takes one person to start the domino effect and threaten to blow the whistle on Se-ro's many secrets to just about anyone who will listen. And just when our hero thought that the jig was up, the stakes are even raised higher and he discovers that returning to a life of normalcy will be even harder than he anticipated. Man, it really is hard to see any kind of silver lining in this dilemma when both the chance and choice are pulled out right from under you.
I really don't know what to tell you all about the ratings apart from telling you that it mirrors the depressing tone of this melodrama. I'd say that would be a good thing only if that number wasn't the worst one this show has seen yet with a 2.5%. Maybe the idea of Yoon Kye-sang cooking for you might cheer you up?
SONG OF THE DAY
MBLAQ – "둘이라서 (The Two of Us)" [ Download ]
Audio clip: Adobe Flash Player (version 9 or above) is required to play this audio clip. Download the latest version here. You also need to have JavaScript enabled in your browser.
EPISODE 12 RECAP
Se-ro begs Young-won to be by his side, and then appeals to Young-joon to keep his lips sealed for a few more days. He cares for Young-won as much as little bro does, but Young-joon voices his disapproval in Se-ro anyway.
Young-won assures her brother that it won't take long, and she speaks with Se-ro alone. Challenging his argument that she shouldn't be left alone, she asks how her brother fits into this. She doesn't buy the answer that it was nothing, arguing that she saw his panicked state to prevent her from meeting Young-joon.
Slightly frustrated, Se-ro asks if she can't be okay with not knowing, to understand that there are things he can't tell her. "That's deceiving me," Young-won points out. "That's to con me again."
Se-ro requests that they take a break from worrying about what happened or will happen and that she sees him just as he is. Young-won says she wants to believe him because a swindler can be sincere and fall in love like anyone else, but there are so many things he's hiding from her.
What she's really curious about is why his tears and wounded expression makes him worry, why he makes her anxious, why he's trying to protect Belle la Fair, and what secrets he's withholding from her with Young-joon. In other words, it's the things he says he cannot tell her.
She demands answers, and Se-ro pitifully asks why she's so stubborn. He acknowledges that she's right and that he'll tell her everything, but now's not the time. After she regains her health and state of mind, he'll gladly tell her everything. Until then, he asks that she stay at his place and he'll tell her his reasons for that later on… even if it's not the answer she's looking for. "Listen and trust me."
After Se-ro drops Young-won off, he returns Young-joon's text, assuring him that his sister is safe. Young-joon feels that his sister is better off knowing the truth than to end up falling in love with her worst enemy. They agree to meet.
Alone in the apartment, Young-won picks up Se-ro's whistle and thinks back to how he said it as his only possession, along with his request for her to blow it if she accepts him after knowing the truth.
Jae-in seeks out Kang-jae in hopes that if he packs his bags, Se-ro will follow suit. It's almost heartbreaking to see Kang-jae act so cold to her now, as he says that she's mistaken if she was hoping that he'd do whatever she asked of him, since she's never given a second thought to how it would affect his pride or feelings.
Jae-in points out that she never would have worked beside him if she hated him, only to get an angry, ironic response out of Kang-jae. His about-face legitimately scares her, and Kang-jae drives in the nail that he's given up trying to impress her. Aw, sad.
She says Daddy Han won't accept him once he knows Se-ro's real identity. But that matters little to Kang-jae, who sees that as a challenge: "Do you want to see how far up I can go? 'I gave up on people, I decided to only think of myself.' It doesn't sound all that scary." Ack, it's scary for us.
Jae-in won't be able to persuade him the moment he casts her aside, Kang-jae levels. He then instructs Third Wheel Lackey to keep tabs on Se-ro. Whereas they can't do anything about Young-joon knowing the truth, they have to think about how to respond once Young-won does.
Se-ro meets with Hama & Hong (those two really come as a set), who points out that he's trying to stop Daddy Han and protect Young-won all while trying to pull Kang-jae out of the job.
The baddies need solid proof that Lee Eun-soo is the Jung Se-ro they're looking for, so Secretary Ahn's lackey delivers a note (as if written by Se-ro) to Grandma with an address. Stop messing with poor Grandma! Hrmph.
Se-ro sits down with Young-joon, who wonders why Se-ro doesn't hate Young-won unlike the rest of the family. He points out that Se-ro should think of how the truth would affect her, especially since it seems like Young-won's feelings for him are genuine.
Se-ro says Young-joon will hold off spilling the beans if he truly cares for his sister—if anything, Young-joon should be asking this of him.
They're not a family to keep secrets to protect one another, Young-joon notes. "Secrets are used like weapons," he clarifies. Se-ro counters that Young-won has gone through enough because of her family: from losing her fiance and soon her mother's company, to her selfish stepmother and a brother who feigns ignorance.
Young-joon shifts in his seat uncomfortably as Se-ro confirms the truth of his desire to expose Daddy Han's misdeeds and how much it pains him to withhold those words from Young-won.
Unable to bear it any longer, Young-joon rises to his feet and asks what Se-ro plans to do. Se-ro honestly answers, "I don't know either." But he is doing what he can right now.
At the question of the rumors about buying out Belle la Fair, Se-ro clarifies that he's going to stop Daddy Han because that's what's right. He's certain that Young-won will understand and afterwards, he's going to tell Young-won everything.
Se-ro arrives home to check in on Young-won, groceries in hand. He's doubtful that Young-won will find any connections between FL Gemstones and a professor she's researching. Exposing FL Gemstones himself isn't that great of an option either, since it's unlikely people will believe the word of another swindler.
Young-won asks what his plan is then, but Se-ro says they can talk after they eat. She asks if she looks foolish for actively trying to trust him again, but Se-ro says it makes him want to cook for her "because I'm a better cook than you are." Haha, I forgot that Yoon Kye-sang once had his own cooking show.
For a minute I thought that Secretary Ahn's lackey would direct Grandma to the middle of nowhere, but it turns out the address is to Se-ro's place. While Se-ro prepares food, Young-won asks how he became a con man, since the profession doesn't seem to suit him.
She asks if his mother is alive, to which Se-ro answers that he honestly doesn't know nor remember. That prompts Young-won to ask his very first memory then, and Se-ro replies that he already told her—of how he blew the whistle and happily ran away from the police with Dad.
He didn't choose this line of work because of immature reasons, Se-ro adds, but when Young-won presses for what then, he doesn't answer.
The doorbell rings and Se-ro is shocked to see Grandma on the other side of the door. He pulls her away so they can talk, but the emotional meeting is enough for the lackey to report back that they've got the right man. And Secretary Ahn immediately takes that happy news to Daddy Han.
Once they're outside, Se-ro asks how Grandma found her way here and seeing the note is enough for him deduce that they aren't alone. Grandma doesn't understand anything that's going on and admits that she's worried sick and misses him so.
She hits him for keeping her in the dark and wonders if it's because he finds his weak old grandma bothersome now. But Se-ro retorts that that's not true in the slightest and promises that he'll come visit her later on the week.
Grandma asks if she can't stay with him, and I sorta love how Se-ro falls back on his childish dynamics with his grandmother, telling her that she can't. This entire exchange is witnessed by Secretary Ahn's lackey… who's being watched by our good ol' Third Wheel Lackey, who's told to hold off to see how things develop.
Daddy Han is shaken to learn of the Eun-soo/Se-ro connection and asks where his daughter is right now. Secretary Ahn turns to leave when he doesn't get anywhere with Young-joon, but then little bro stops him to say that he sent noona away to get some rest.
Back at the apartment, Young-won blows on Se-ro's whistle, and then reads a text from Hama on Se-ro's phone asking if there won't be any negative repercussions for exposing Daddy Han.
Searching Se-ro's computer and his desk turns up nothing (good to know that he's thorough), but then she discovers a USB in his jacket, which contains the recorded video conversation with Daddy Han. Damn it Se-ro, couldn't you password protect that?!
Se-ro finds her watching said video and Young-won asks if his plan was to use this in order to threaten her father. He corrects her: "No, I'm going to release it to the public."
Kang-jae calls to inform Se-ro that Daddy Han knows, so he should pack his bags and leave while he still has the chance. Looking at Young-won, Se-ro says that running away is the easiest thing he can do, but he doesn't want to run. He urges Kang-jae to change his mind and hangs up.
Se-ro plainly states to Young-won that he wants to take Daddy Han down—she knows that they don't have much time either and that this is the way to protect Belle la Fair. She asks what he wants from her, if she should cheer him on or thank him for revealing just how horrible her father is.
She admits that she too had vowed to denounce her father, but she's flustered at the chance of actually doing it because she's still his daughter. Young-won runs to collect her things so that she can leave, but Se-ro insists that she stay.
"Why? What are you so nervous about?" Young-won asks. Why is he going through such lengths to keep her trapped here when he possesses the necessary evidence against her father?
At his reply that it's to protect her and Belle la Fair, Young-won retorts, "What are you? What are you in my life?" Their short-lived romance doesn't give him license to talk to her like this, Young-won argues. Whoa, did we just get a heroine who actually challenges the dramaland trope that a short-term romance = love?
In any case, her words are a major blow to Se-ro, who tries to drop the argument. But Young-won isn't finished, and she says if this is because how Daddy Han treated Se-ro, then she'll apologize on her father's behalf.
That sends Se-ro over the edge and he grabs her shoulder, telling her that he would have never started loving her in the first place if it was all a lie. He bitterly tells her to stay here and to be curious about nothing.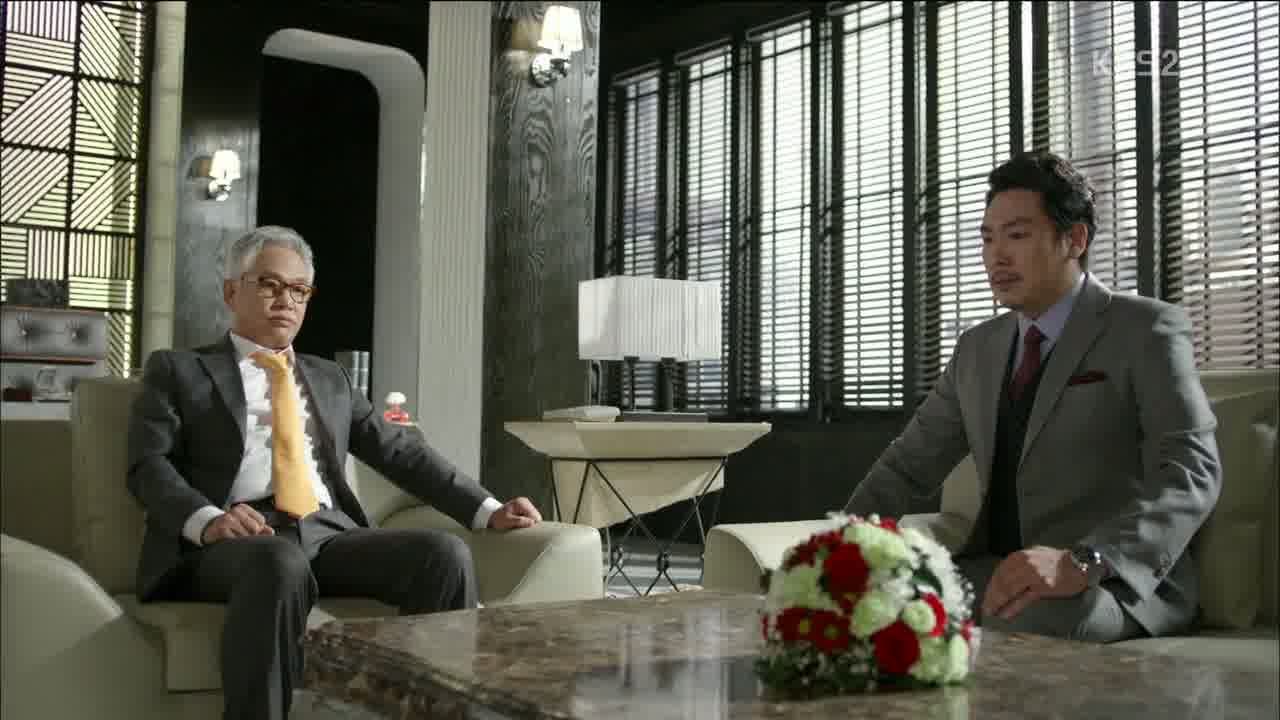 Kang-jae seeks an audience with Daddy Han on the pretense to reveal dirt on Se-ro's identity. He pretends as if he didn't already know that Daddy Han found out, and appeals to the chairman's favor that he intends to be Daddy Han's man through and through.
Daddy Han has deduced for himself that Se-ro must be out for revenge, and isn't surprised to hear that Se-ro knows that he was responsible for Woo-jin's death. Though he isn't readily accepting of Kang-jae's offer, he's willing to put his loyalty to the test.
Daddy Han's plan is to make sure that Se-ro will never be able to recover his old name and identity, and then happily calls up President Shin. Eek, now Kang-jae is stuck under both evil chairmen's thumbs, and we see him stop the car to finally vent his pent-up frustration.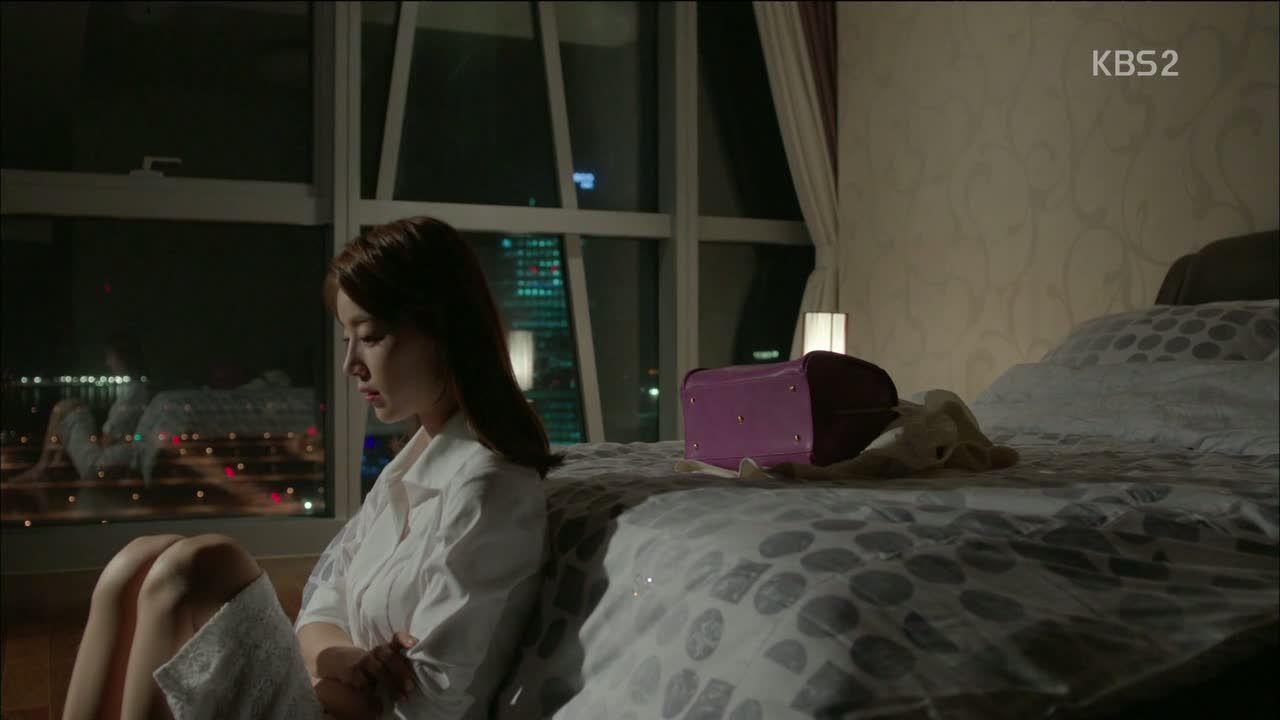 Se-ro knocks on the bedroom door, telling Young-won to come eat. She refuses and muses aloud: "There are so many things I don't know about, right? But there are so many things you know about that I don't, right?"
She's given it a lot of thought as to why Se-ro started his revenge, to who he truly is. She asks if it was her father who stole the money for Se-ro's father's surgery, and when he deflects, she agrees with him that perhaps the hours alone has left her jump to conclusions.
Se-ro is called outside by Kang-jae, and Se-ro checks in with Young-won before leaving, telling her that his own personal revenge has been taken care of. After he leaves, we see Young-won leave the apartment as well, holding the old whistle in her hand.
After Young-joon is informed that his father knows the truth, he immediately reveals that he knows everything, too. While Young-joon declares that he'll be the one to protect his sister from now on, Daddy Han suspiciously gauges Madam Baek's nervous reaction. Oh, you think she told Young-joon, don't you?
Turns out that's exactly what Daddy Han thinks, offended that his wife would blab to their son. Does she plan on telling Young-won next? Madam Baek no longer has the right to live in this house, as evidenced by the divorce papers now on his desk.
Young-joon will stay in this house, but nary a penny will be left to Madame Baek in his own will. Furthermore, she'll be barred from meeting her son anymore, a cruel consequence for Madame Baek.
She brought this upon herself, Daddy Han says, and when asked how he viewed her, he answers, "Someone filled with an inferiority complex." He admits he once did pity her, though, and angry tears well up in Madam Baek's eyes as she bites back that he completely ruined her life.
Young-joon is surprised to see his sister arrive at the house and prevents her from heading inside. So she decides to ask her brother what he knows about Se-ro and if his vengeful actions had anything to do with their father.
Unfortunately for Young-joon, he's a poor liar and Young-won cottons onto the fact that he knows something. Madam Baek steps outside to have a word with Young-won, and it's sweet how Young-joon is reluctant to leave them to talk.
And if Madam Baek didn't intend to tell Young-won anything regarding her father and Woo-jin before, she does now.
Se-ro meets with Kang-jae on a rooftop and lets out an ironic laugh that he should call Daddy Han for letting him live another day. We've heard Kang-jae address Se-ro by his full name a few times in this episode (versus the more affectionate "Se-ro-ya"), but it's only now that I realize that it's a deliberate choice on Kang-jae's part, to introduce some distance between them.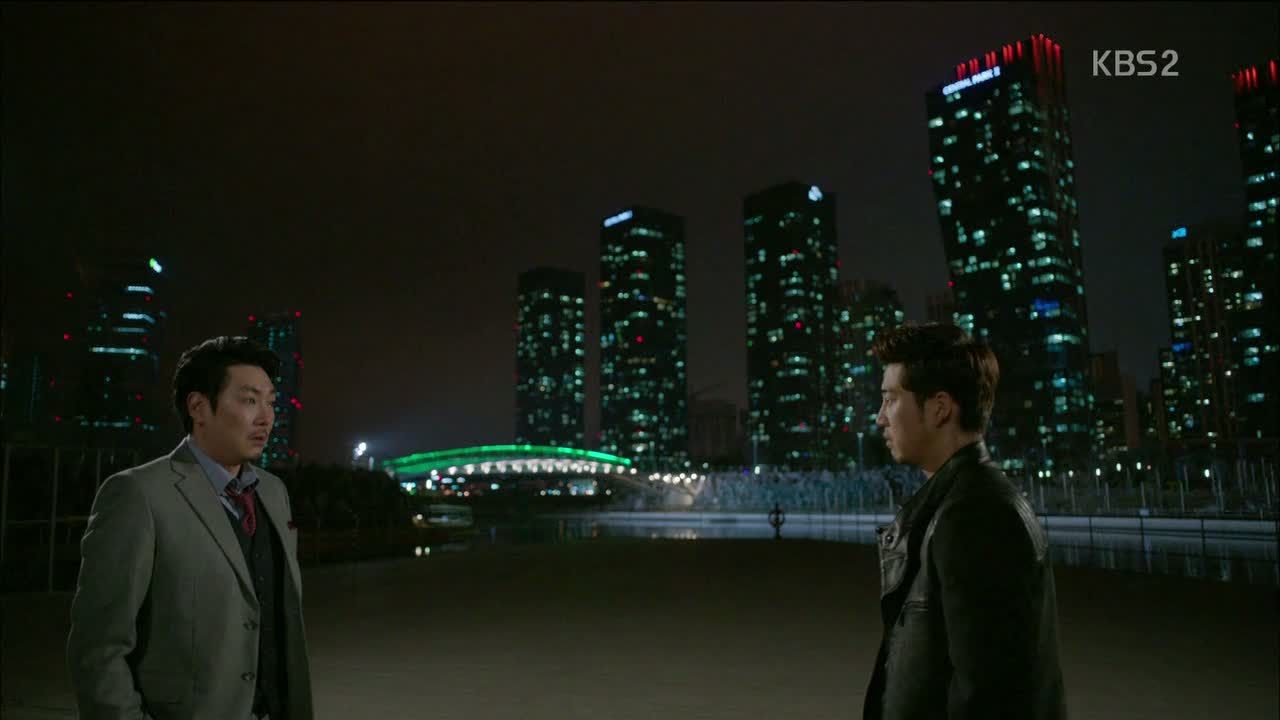 The gravity of this difference seems to dawn on Se-ro in this moment, too, and Kang-jae announces haltingly, "I'm… going to frame you."
"I'm going to turn Jung Se-ro's name into a wanted man," Kang-jae continues. This confrontation is intercut with what Daddy Han had tasked Kang-jae to do: make it look like Se-ro had stolen a blue diamond. If he wants to clear his name and return as Jung Se-ro, he can reveal himself and go to prison or else live the rest of his days as Lee Eun-soo.
The choice is his, but really it isn't much of a choice because there will be nothing left for Se-ro to return to if he chooses his former life. Back in the present, Kang-jae urges him, "So leave… and I'll do my best to stop Daddy Han."
Tears welling up in his eyes, Kang-jae says there are two things that scare Daddy Han most: that Se-ro knows the truth about Woo-jin and that Young-won is by his side. But Daddy Han won't be able to touch him if Se-ro leaves, he finishes.
"And what if I don't?" Se-ro throws back. It takes all of Kang-jae's willpower to say in a breaking voice that he won't have a choice if Se-ro keeps standing in his way. Gah, it kills me to see Kang-jae look so tortured.
But Se-ro can only let out a sigh and grits out, "Park Kang jae… you bastard."
And back at the Han residence, Madam Baek delivers the killing blow: "The one who was responsible for Woo-jin's death… was your father."
Young-won has a hard time digesting this truth, so Madam Baek spells it out for her in a monotonous voice: that her father had ordered Woo-jin's death. Young-won reels in shock.
It's hard to tell whether Madam Baek is truly sorry to tell her this or if she's fueled by her anger towards Daddy Han, but we get a hint of an answer when Young-won demands to know how Jung Se-ro fits into this, and Madam Baek gives a tiny smirk.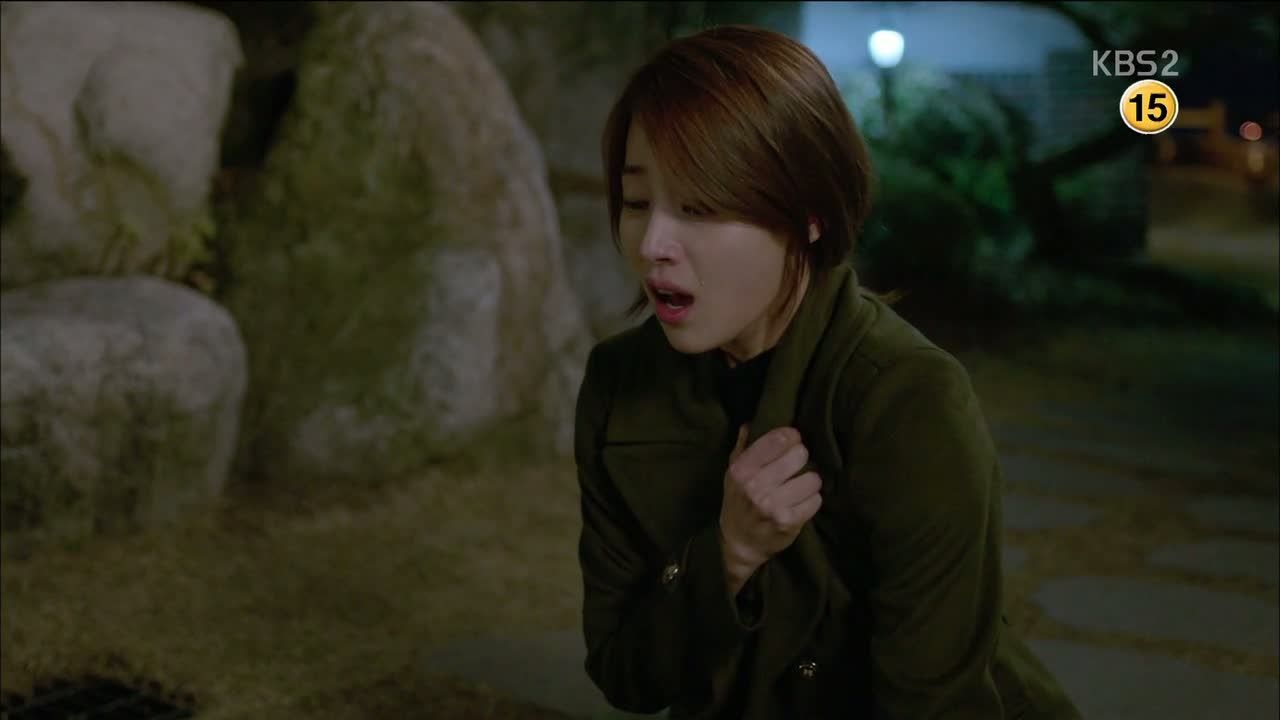 Young-won collapses to the ground under the weight of this revelation, clutching her chest as Se-ro's tortured reactions to her insults overwhelm her.
At the same time, Se-ro is astounded that it wasn't enough that his enemies took his life away once that they would now erase his entire life. "You want me to abandon myself? I may as well die then."
He vows: "You bastards, I'm going to beat you all. I'll beat you, and I… I'm going to live again as Jung Se-ro. Why? Because I'm Jung Se-ro!"

COMMENTS
Damn, talk about being stuck between a rock and a hard place. I admit that I underestimated Daddy Han in his villainry when it came to Se-ro, given how it took him forever and a day to track down the guy he had framed. But it's unnerving when your baddie isn't the least surprised that his target is thirsty for revenge and actually comes up with an awfully smart plan to turn the tables in his favor. Like Se-ro said, putting his original name and identity behind is one thing, but now he's faced with the possibility of the extinction of his entire existence and robbed of that very choice.
I'd say that this is the price you pay for procrastinating on telling the truth, but you have to give the guy points for promising to explain everything once he does (what he feels) is the right thing. What makes Se-ro even more compelling as a character is his desire to yearn for the return of a normal life. Often times, we see so many melodramatic heroes do that initial 180 degree about-face and fall into the depths of greed and vengeance (and fall in love if they have the time), and as viewers, we're left out of their thought processes or Ultimate Revenge Plan. What differs in Full Sun is that Se-ro's intentions in this endeavor are explained in a clear and simple to-do list: bring Daddy Han down, protect Young-won, and rescue Kang-jae. And if he has to resurrect his identity over and over again to do it, you know that he's going to do it.
Ever since Kang-jae and Se-ro decided to split ways, we've seen them throw words at each other that have been hard to listen to and seen the both of them shed tears that make it hard to watch. The final confrontation scene added another example of their now estranged relationship, especially with how we kept getting tiny hints in Kang-jae that he's trying to keep Se-ro from getting involved throughout this episode. I still don't know what Kang-jae has up his sleeve or if he has any other cards to play now that he too has little choice but to push Se-ro out of this dangerous game of evil. Seeing Kang-jae's anguished expression was especially hard to bear, and the more formal address of using Se-ro's full name hammered in the final nail in the coffin that there's no chance of reconciliation between them now.
So even though Young-won is trying to process the gravity of the truth, it's the crumbling hyung-dongsaeng relationship between Kang-jae and Se-ro that pains me. What's a girl gotta do to fix a broken bromance around here?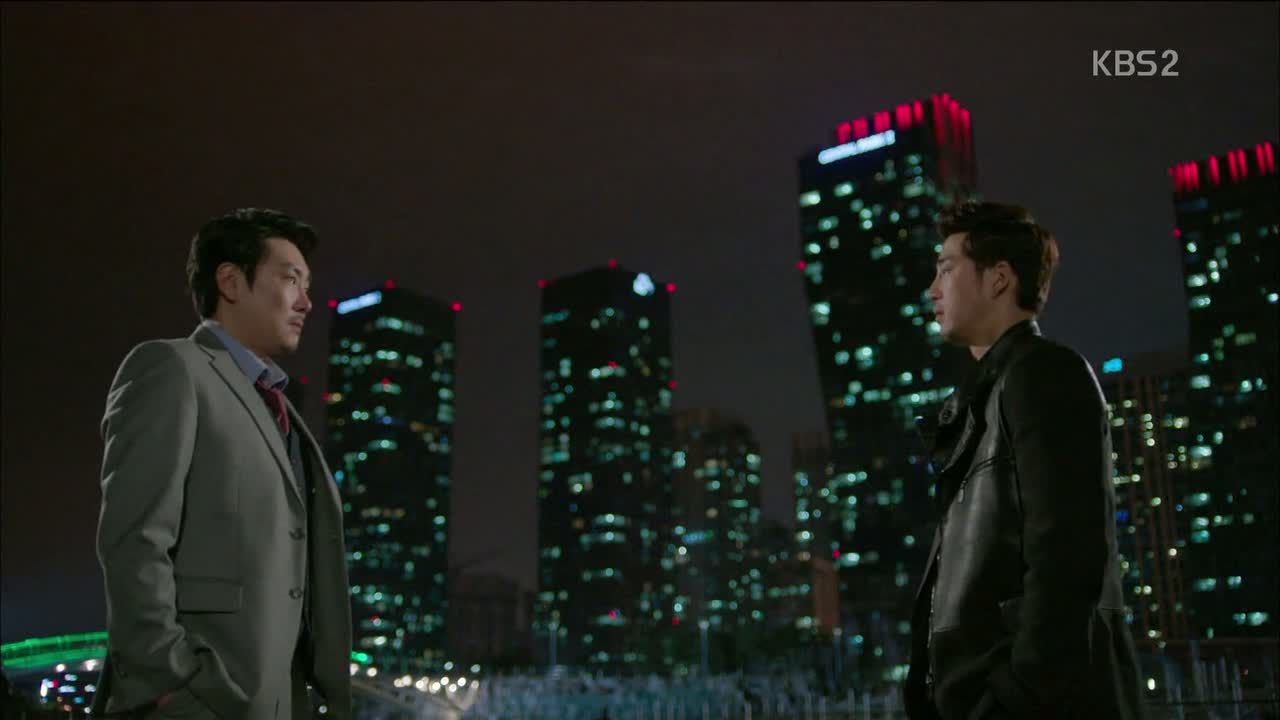 RELATED POSTS
Tags: featured, Full Sun, Han Ji-hye, Jo Jin-woong, Kim Yuri, Song Jong-ho, Yoon Kye-sang