Seo-jin gets cookin' for Grandpas Over Flowers in Spain
Reminding us that the show is only a few days from its premiere, we have new teasers and a poster out for tvN's upcoming reality-variety show Grandpas Over Flowers: The Spain Trip. (I'm not totally certain how they're counting "seasons" of this show with all the various trips and spin-offs going on — some places call this Season 2, having counted the France and Taiwan trips as two halves of one season, and others count this as Season 3. So we may just end up calling it Grandpas Over Flowers in Spain, or Grandpas in Spain to be concise about it. )
Aside from being just cute, the poster above makes me laugh because Lee Seo-jin (aka Seojinnie, aka Seo Genie) has added a new title among the many he has accrued while being the grandpas' resident luggage boy, interpreter, chauffeur, tour guide, messenger, and more. Above his head, the show (or more to the point, Na PD) has written: Errand boy? Cooking king?
That point gets reiterated in the teasers below, where Seo-jin first heads out amidst gorgeous scenery in Barcelona, with pretty music scoring the moment, and gets asked what he's doing. A half-grumpy "Going to cook" is all he says, and off he goes carrying supplies.
In the teaser after that, we have Seo-jin in the kitchen with hungry halbaes getting crankier by the minute as he runs around trying to fulfill their menu requests before they tear his head off. Il-sub halbae requests kimchi jjigae ("with lots of pork belly!") and then waits impatiently by while Seo-jin gets cooking — and don't you love the way Na PD hovers, all pesky-like? Geun-hyung halbae chimes in that it's been all of ten whole minutes — what's taking so long? The show sneaks in an Emergency Couple nod (way to cross-promote, tvN), calling this "Seo-jin's Emergency Kitchen," with heart rate monitor beeping away as Seo-jin barks orders like a surgeon demanding implements. In this case that translates to "Soju! Gimme soju, hurry! Boil the kimchi jjigae! Fry the bacon!" Finally he sits down at the table for the verdict, and thankfully it's deemed tasty. Phew. Dodged that bullet.
The Spain edition of Grandpas Over Flowers kicks off this Friday on tvN.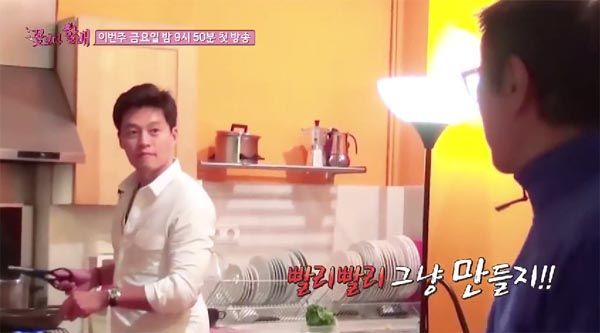 Via Mt.co.kr
RELATED POSTS