Three Days: Episode 5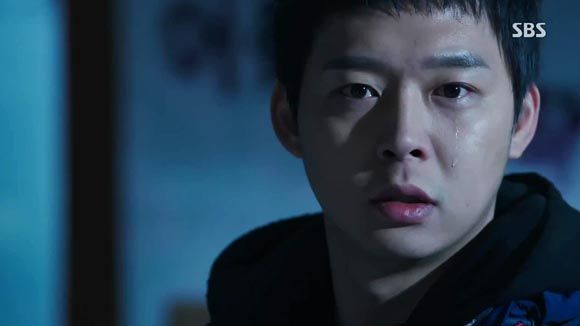 And I'm back in the rotation! Just in time to catch a sharp upswing with this episode, which really amped up the intensity and made me care about what happens to people (even if I still can't care about the timeline in which it happens, whether it's three days or three years). We find out more about the bad guys and the good guys, although with added clarity comes added confusion as to just exactly what makes a bad guy a bad guy, or a good guy a good guy. So many details to work out, so little time. Guess it's a good thing that three days to us is really two months.
SONG OF THE DAY
Gummy – " 날 부르네요" (You're calling me) from the Three Days OST [ Download ]
Audio clip: Adobe Flash Player (version 9 or above) is required to play this audio clip. Download the latest version here. You also need to have JavaScript enabled in your browser.

EPISODE 5 RECAP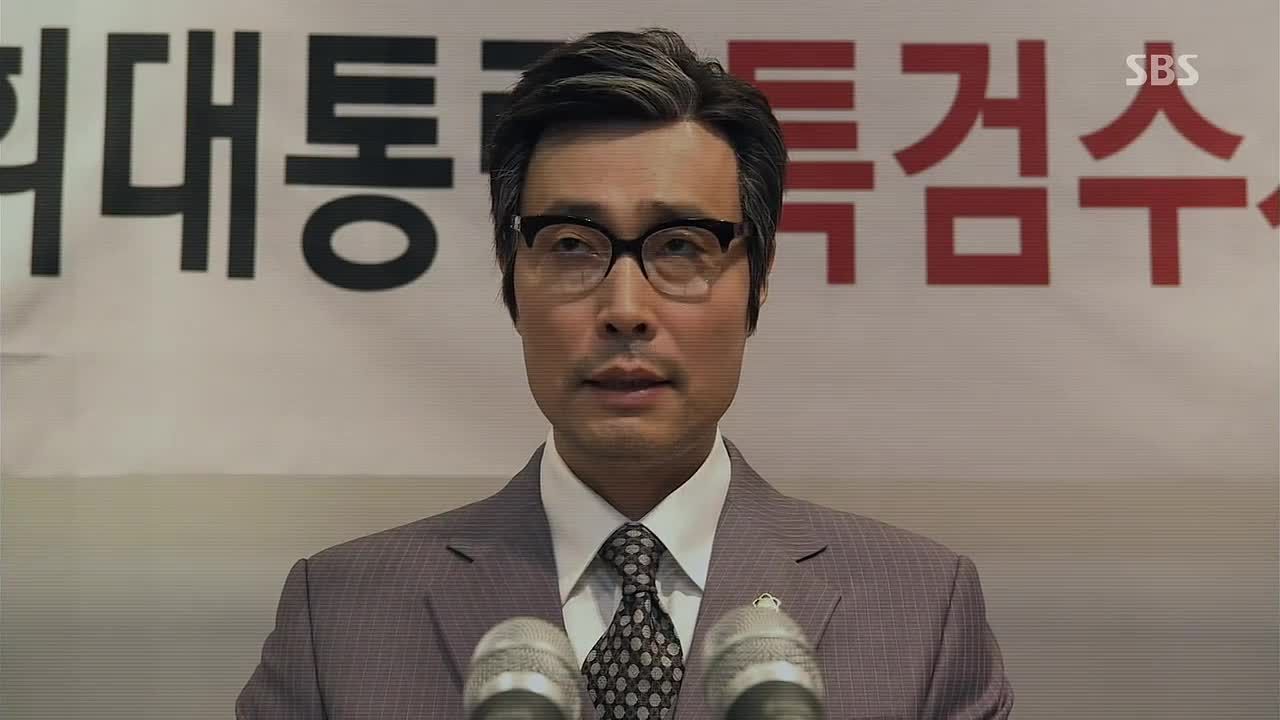 Prosecutor Choi reveals the results of the special investigation, telling the nation of the 1998 Yangjinri incident that resulted in numerous soldier and civilian deaths. It was said to be an act of North Korean aggression but in fact was orchestrated by President Lee Dong-hwi, then a consultant working with an American firm, Falcon.
According to Choi, Falcon attempted to sell new-model helicopters to the South Korean military, but when that fell through, they contacted (Not-Yet-)President Lee to fabricate an event to heighten tensions between the North and South. Lee was heavily connected to people in the military and government, and at the cost of a hundred million U.S. dollars, the Yangjinri incident was set into motion.
As a result, Falcon sold its helicopters and President Lee pocketed 5 million dollars, which he used to establish a new company, Mobi Asset Management.
Tae-kyung and Bo-won rush to the hospital where the bus crash survivors were taken, but he stops short when he hears the press conference on TV: His father is named as one of the president's four co-conspirators.
Team Leader Ham arrives at the same hospital, moments behind Tae-kyung. He gets confirmation that the president isn't at the other hospital where crash victims were taken, so he's gotta be here.
Flashback to 1998, Yangjinri. Armed and camo'd, Ham advances toward the source of the gunfire with his team of military scouts. Wading through the wreckage of a seaside restaurant, they find innocent civilians gunned down.
Suddenly the lights cut out. They're hit with rapid-fire artillery, shooting at them through the windows from outside. It's like shooting fish in a barrel, and Ham's men go down swiftly.
Ham ducks for cover, then directs his surviving men to charge. They open fire on their assailants, but it's futile—they're literally shooting into the dark. Ham is the last man standing, firing like a man possessed while his men lay dead all around him.
Given this brutal context, it's no wonder he was out to kill the president. The question is: Who's the true culprit?
Prosecutor Choi wraps up his conclusion by saying that the conspirators are guilty of high treason and murder, and will be indicted as such. Hit hard by this news, Tae-kyung doesn't spot the Secret Service agents now arriving in the lobby, though thankfully Bo-won does. She urges him away before they're seen.
As President Lee lies in his hospital bed, his dreams take us to another flashback.
16 years earlier, February 1998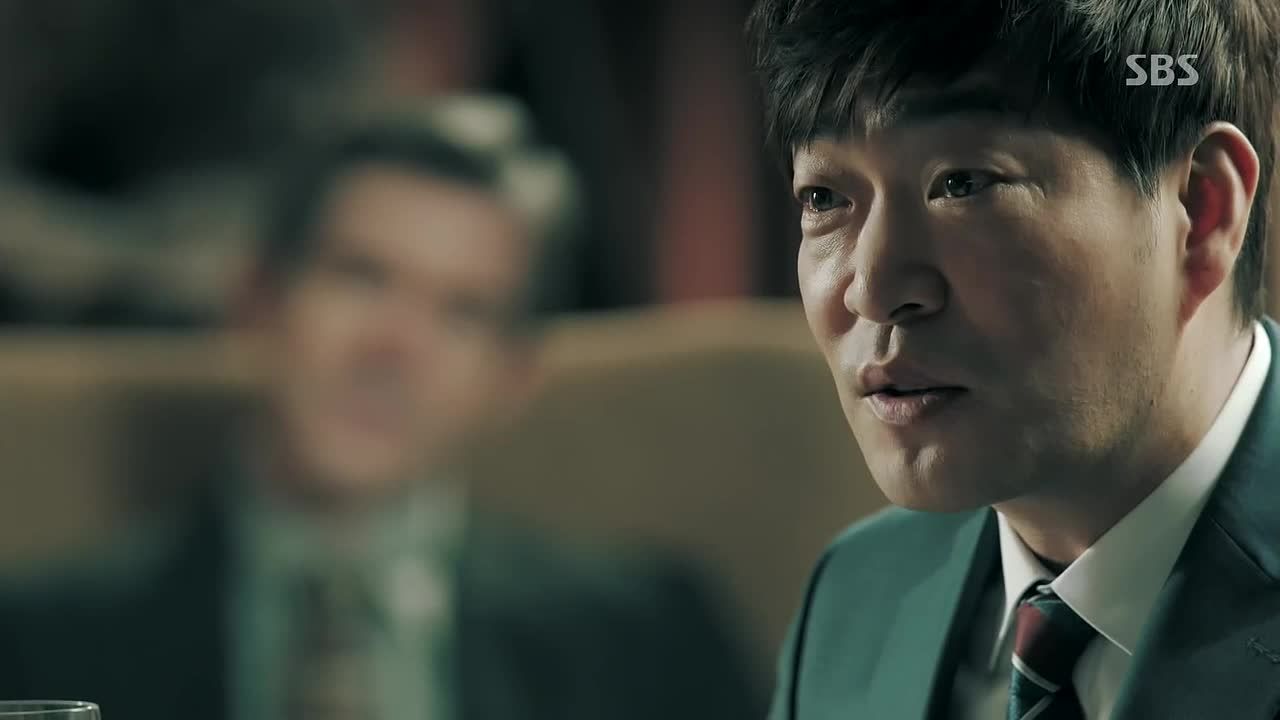 President Lee, then a highly connected consultant, takes a meeting with powerful men, which include an army officer and a couple parliamentarians. The meeting unfolds according to the picture Prosecutor Choi has painted: President Lee proposes the purchase of weapons from America despite pushback from the others. He has the idea to bribe North Korean troops into inciting a minor skirmish in the South, which would drum up enough fear to convince naysayers to buy weapons from Falcon.
President Lee promises to guarantee the safety of civilians and colors the situation as a win-win for everyone, driving home the importance of U.S. dollars in this time of IMF instability.
One assemblyman, Minister Min, seems the most resistant, and he asks, "Aren't you also a South Korean citizen?" President Lee just replies, "Is that important?" Minister Min says, "So the rumors are true, that you're a heartless lapdog for Falcon." President Lee laughs and says that he is.
With that, present-day President Lee snaps awake in his hospital bed.
March 6, 1:14 AM. 5 hours, 15 minutes after the assassination attempt.
Bo-won ushers Tae-kyung into an empty room, and he's still in shock over the press conference. "That can't be," he says. "Not my father…"
Flashback. Geez, another one? President Lee asks for a trusted contact to be assigned the money delivery to their northern contacts. Ah, so this is where Dad, working as a secret agent, comes in. He's tasked with delivering the money on a trip to Yanbian University, located near the China-North Korea border.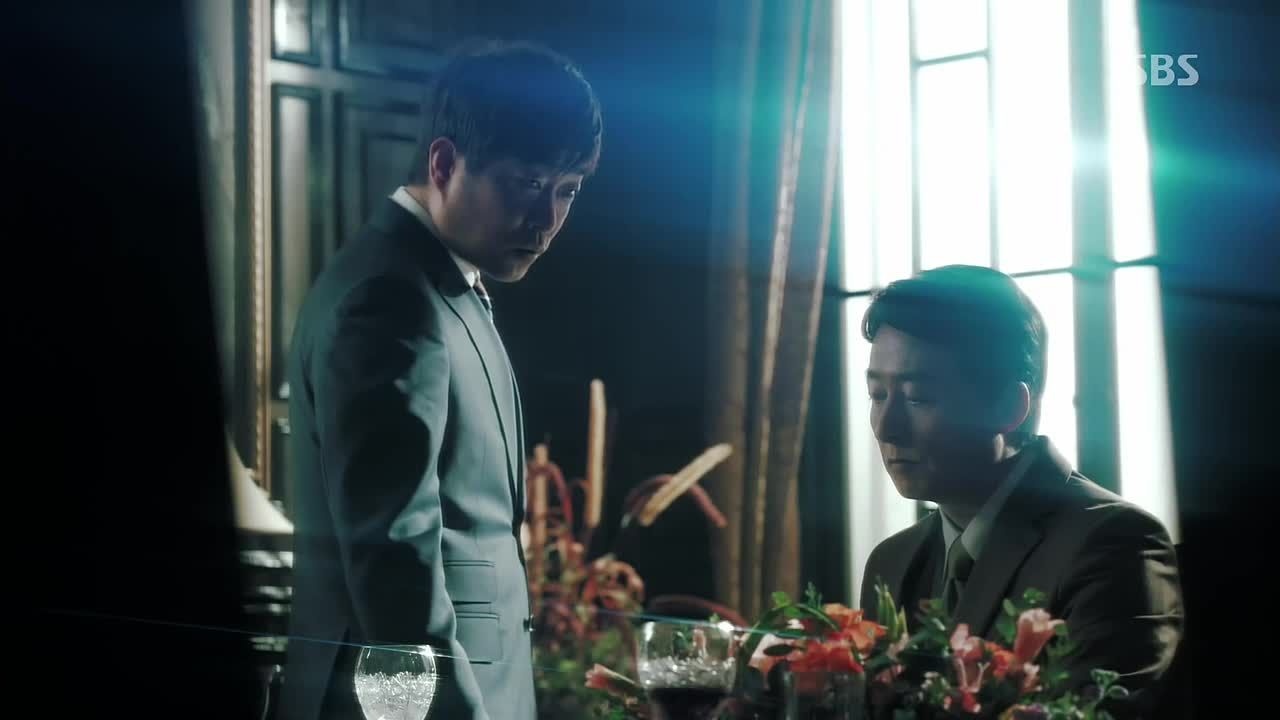 Present. Team Leader Ham and his agents flood into the emergency room, but there's no sign of the president. Hearing that some patients were transferred to other wards, they head up immediately, dispersing to cover more ground.
It's a good thing Bo-won is so sharp-minded because Tae-kyung's still in shock. Knowing they're in danger of being caught by Secret Service, she thinks of a way out, then catches a glimpse of the doctor's gowns hanging nearby. Light bulb.
While Ham searches room after room, President Lee struggles in bed helplessly. The president's bed curtains get whipped open, but we don't see who's standing there. A creative cut fakes us out into thinking it's Ham, but moments later we see he's still on the prowl. Then he spies a familiar figure wheeling away a gurney—it's Tae-kyung in a doctor's gown.
Team Leader Ham races after him, but Tae-kyung manages to wheel the patient into an elevator, and the doors close on Ham's face.
Ham mobilizes his agents, calling them to Tae-kyung's elevator. Riding the elevator to the ground floor, Tae-kyung braces himself for a clash, grabbing the gurney like a battering ram. Are… you sure that's a great idea?
The second the doors open, he barrels through the lobby and out the front door, mere steps ahead of the agent mob. The other agents refrain from shooting lest they hit the president, but Team Leader Ham has no such qualms and opens fire. Bullets whizz by Tae-kyung's head and lodge in cars. Suddenly he flings the gurney away and into the path of an oncoming car—crash! Aha, it must be a decoy.
The agents rush to the overturned gurney and find that it was empty all along: While they were occupied in this chase, Bo-won was free to wheel away the real president without interference.
Team Leader Ham gets word of a rogue ambulance and orders his men to nab it. The agents scramble to their vehicles.
Back at the presidential villa, Cha-young reports to her superiors that the assassin is an insider. Now that the truth is out about Team Leader Ham, Director of Security Kim calls one of the agents and orders him to arrest Ham, not Tae-kyung.
Tae-kyung drives the ambulance with Bo-won sitting in back with the president. He's soon overtaken by Team Leader Ham, who pulls up alongside him and points gun through his open car window. In a brief flashback, Tae-kyung is reminded of shooting drills where Ham earned his reputation as a legend.
Ham opens fire and Tae-kyung ducks, but he's not the target: Ham shoots at the side of the ambulance, hoping to finish off the president inside. One bullet hits something, and blood spatters against the inside of the vehicle—oh no. Bo-won freezes when she sees the president's side soaked in blood… then relaxes to see that the source is actually the blood supply. Bullet literally dodged.
The chase continues through the streets, and then Ham changes tack and aims for the tires. Bam! The blowout sends the ambulance careening, and Tae-kyung braces for impact as he crashes into a storefront before slamming to a halt.
Gun reloaded, Ham advances on the ambulance and reaches for the rear doors. Tae-kyung creeps beside him, scoops up shattered glass, and flings it into his face. Game on. They fight hand-to-hand.
Team Leader Ham didn't earn his reputation for nothing, and sends a flurry of strong blows at Tae-kyung. On the other hand, we saw Tae-kyung taking down a whole team of agents in a moving train, and he holds his own as they grapple through aisles of bookcases, slamming each other into the shelves.
Finally, they come to an impasse. Tae-kyung yells at his boss to stop now, while Ham reiterates that the president doesn't deserve to live. "All I learned was how to protect the president," Tae-kyung replies. "The one who taught me that was you."
A flashback to his training days shows Ham leading a drill, which Tae-kyung repeats until he is able to react as the perfect Secret Service agent, taking a bullet to save the president. Tae-kyung is so proud of himself that he can't help grinning, and Ham tells him that his reaction is exactly what their job requires: "Save the president, and die yourself."
Tae-kyung repeats those words now, saying, "Before you kill me, you will not be able to kill the president."
Them's fighting words, but they don't exactly present a great obstacle to Ham, who says he'll kill Tae-kyung first, then the president. He pulls another gun on him, but Tae-kyung reacts swiftly to disarm him, and they go for Round 2.
Ham slams Tae-kyung into the side of the ambulance, taking him down. But Tae-kyung launches himself at Ham before he can get to the ambulance, and Ham orders him to step aside.
"You told us not to," Tae-kyung reminds us. Training flashback confirms that Ham had indeed instructed his recruits to never back down while protecting their charge, even in the face of death. Tae-kyung shouts at him, nearly in tears, "You told us it didn't matter what kind of person the president was!"
Ham downs Tae-kyung again and points the gun at his head. "He is no longer my president," he says.
President Lee hears the commotion and struggles to get up and check it out. Bo-won blocks his exit, telling him it's dangerous. He shoves her aside and steps out anyway, and now Team Leader Ham points the gun at President Lee.
Ever so quietly, Tae-kyung spots the other gun on the ground and picks it up, pointing it at the back of Ham's head. Another of Ham's lessons rings in his ears, of how hesitating for a split second could give a bullet the opportunity to hit its mark. Ham's finger tightens on the trigger… and a shot rings out. Blood spatters Bo-won's face.
It takes a moment to register who was hit. Team Leader Ham stands, but just for a moment before he falls, blood pooling around his head. Tae-kyung's gun smokes. A tear falls for the mentor he just killed.
"There's something I would like to ask you," Tae-kyung says to the president. "The results of the investigation, are they true?" His voice grows increasingly desperate: "They're not, right? You and my father didn't do those things, did you? People are mistaken, aren't they? Please. Answer me."
The president answers, "They're true."
Oh noooo. Tae-kyung's world goes crashing down around him.
The rest of the secret service agents arrive to usher the president away safely, while Tae-kyung demands that the president tell him it's all a lie.
March 7, 2:35 AM. 30 hours, 35 minutes following the assassination attempt.
President Lee's injuries are fortunately not severe, and he is advised a week of rest and monitoring. In the wake of this incident, the friction is as crackling as ever between Chief Secretary Shin and the Secret Service team, the latter now led by Security Director Kim (that's Ahn Gil-kang, for all those confused by all these names).
In private, Secretary Shin asks why the president kept his train plans a secret from him: "Do you trust me and the secretary's office so little?" He lays out exactly how big the pile of doo-doo is that they're not sitting in: An assassination attempt was made, the president has been made into a traitor and murderer, and the police are getting involved. Our main characters will all be investigated, as will any related parties, until they can find who's behind the events. (As in, who Ham was acting under.)
Tae-kyung, Bo-won, and Cha-young are interrogated separately for their part in recent events. It doesn't look great for them, with the investigators challenging their accounts and poking holes into their testimony. In light of their questioning, their claims start sounding like wild theories, without the evidence to back them up. Tae-kyung answers his questions numbly, while Bo-won fumes at their dismissive attitude.
The president asks Secretary Shin why he hasn't inquired whether the investigation results are true. Secretary Shin replies that it doesn't matter to him—he cares about preserving the government. He does raise one concern, though: In the wake of the EMP blast and gunshots, they should have been fighting off inquiries from all fronts. And yet, they've heard not a peep from the intelligence bureau, the police, the military, or even from the Americans, who would have seen something on their satellite imaging.
Secretary Shin posits two possibilities: Either nobody reported the incident because it happened at a late hour, or somebody's intentionally impeding. Ooh ooh, I can answer that one. Pick me.
The president suggests that they ask those parties directly, and instructs Secretary Shin to call a meeting. Immediately.
Tae-kyung's interrogation ends for the day, and it's made clear to him that he's still a suspect in the murder case of Yang Dae-ho, the man murdered at home. He sits in a daze afterward, replaying his killing of Team Leader Ham, which is where Cha-young finds him. She wants to take him somewhere, but he's not in the mood: "Secret Service? I don't think I can do it anymore," he says.
Tae-kyung walks numbly in the streets, and after trailing behind in concern for a while, Bo-won steps in and drags him to a restaurant for a drink. She tells him he's wearing the same long face he'd worn when she first met him at his father's funeral, full of pain and uncertainty. She urges him to express his feelings outwardly instead of bottling them up. She pours him a shot, then gets up to leave him alone, urging him to work out his emotions.
This spurs another flashback, back to Team Leader Ham taking out the rookie agents for their first night off. Tae-kyung is so stiff and uncomfortable that he has to be ordered to drink, though he gradually loosens up and looks up at his leader with admiring eyes.
It's Team Leader Ham who has to be carried to his bed drunk that night, and Tae-kyung sees the photo of him with his army comrades. The other agent warns him not to ask about that, since it's Ham's most painful memory.
The president arrives at a hotel suite to take that last-minute meeting, and now we see that this is the same room as the one that held the 1998 meeting. The men gathered are the same authority figures from before, only a bit older and higher up on their respective career ladders.
Flashback to 1998 meeting, picking up from where we left off. "I am Falcon's lapdog," President Lee says, but then adds, "Whose dog are you?" Ah, so now we're getting the rest of the story.
President Lee says that during these tough times, some people will try to make a buck by selling out their country—but they have nobody to blame, because this is merely capitalism at work: "Money doesn't care about name or conscience. It's just money."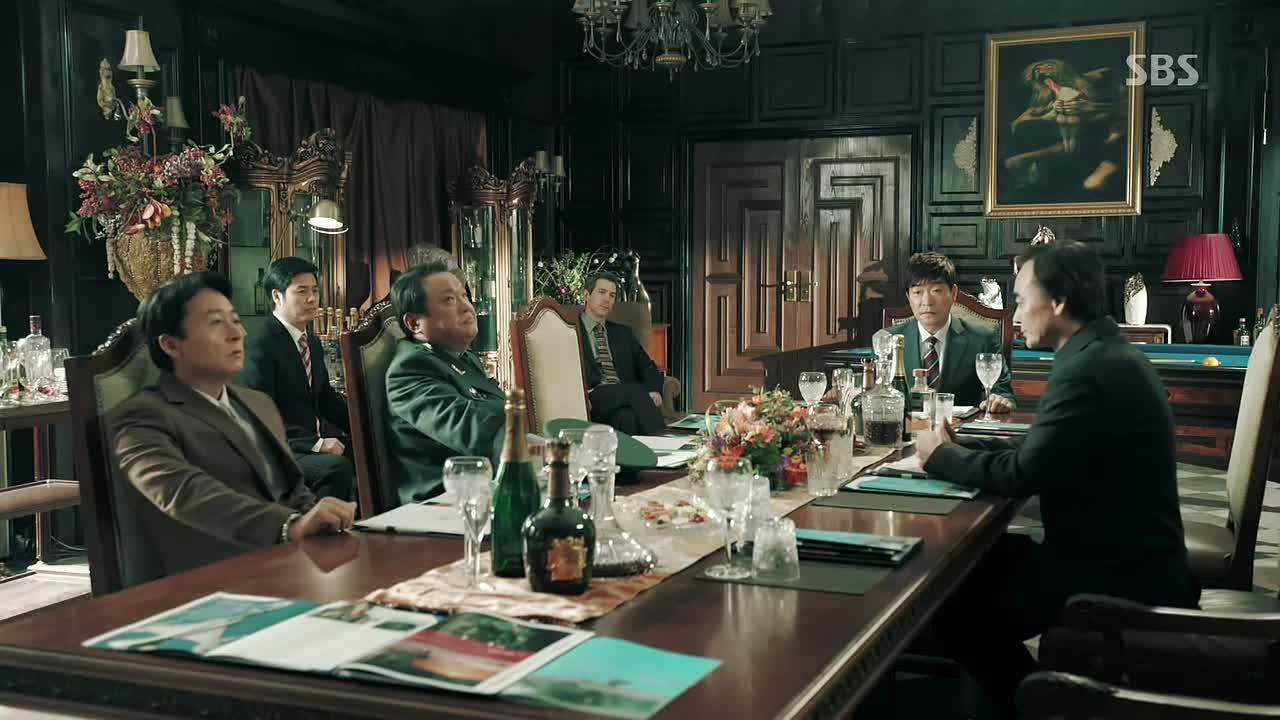 They're not gathered here to save the country, he points out—they're all going to make sure they've taken care of themselves when all is done, whether with money or with power. So call a dog a dog.
And now, a familiar face chimes in to back him up—this is the man he'd secretly met with in Episode 1, a chaebol named Kim Do-jin (Choi Won-young) who owns this hotel they're meeting in. According to Chairman Kim, they just have to make sure this one operation goes off, and then everyone can reward themselves for working so hard on behalf of the nation.
As the meeting concludes, the American Falcon representative thanks President Lee for his work. President Lee, however, doesn't look so happy with himself.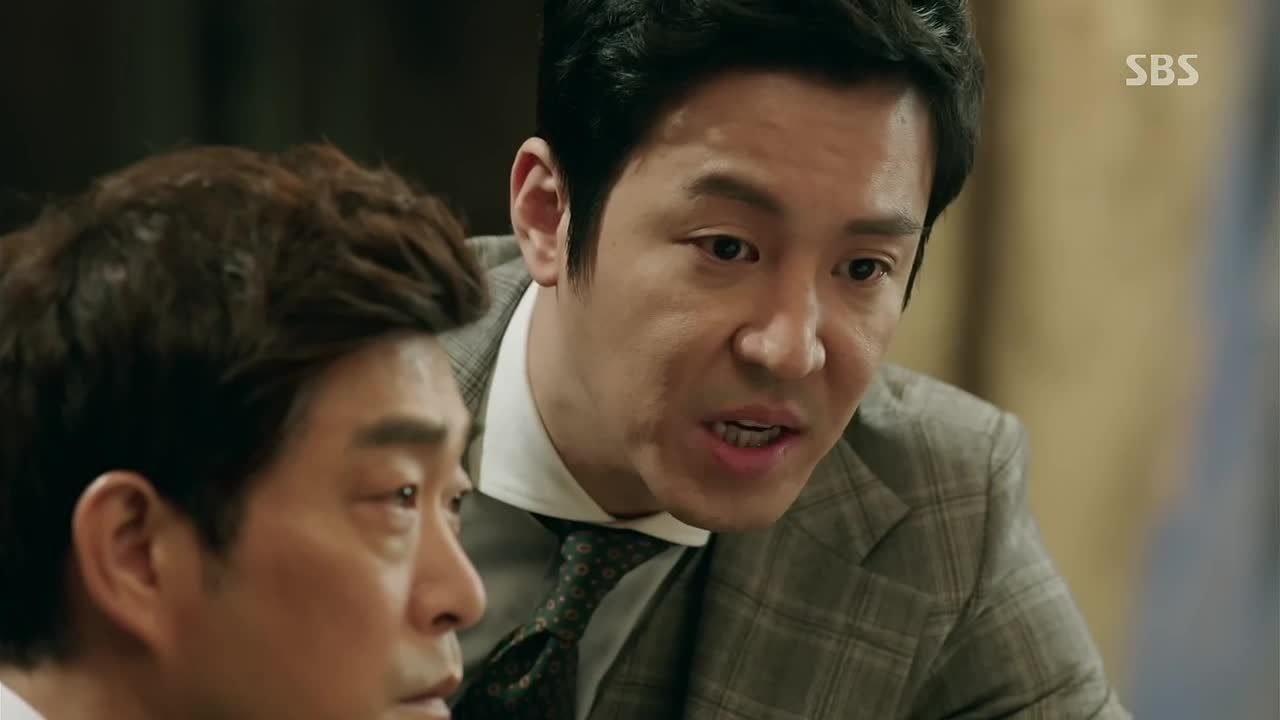 Back to the present. President Lee sits across from Chairman Kim and asks, "Are you shocked to see that someone who should be dead is alive?" Ah, so he's accusing Chairman Kim of ordering the hit on him.
Chairman Kim says that everything was going well, until President Lee betrayed them. "You betrayed me first," President Lee counters.
Back to 1998. Following the meeting, Chairman Kim returns to speak to President Lee one on one. President Lee asks explicitly for Kim to promise to carry out the plan without bloodshed, and also, "Please help me to not live as Falcon's dog anymore."
Present day. Chairman Kim says he kept his promise. President Lee replies that trying to kill a president is an act of treason, and all their money won't be able to save them from a death penalty.
Chairman Kim feigns ignorance, saying that he heard the assassination attempt was solely Team Leader Ham's doing. The president warns that he will get to the bottom of the conspiracy and reveal them as the ones behind it. "I will make you all pay for your deeds with a price greater than death," he warns. "I have nothing to lose now. Wait and see how frightening such a person can be."
Chairman Kim reminds him of his earlier words to stop now, for dogs to act like dogs. President Lee: "I told you then, I don't want to live as anyone's dog anymore."
Tae-kyung goes to Team Leader Ham's apartment, having been there that once to carry him home drunk. The door code is unchanged so he lets himself in. Once inside, there are signs of ransacking, with the framed army photo smashed on the ground.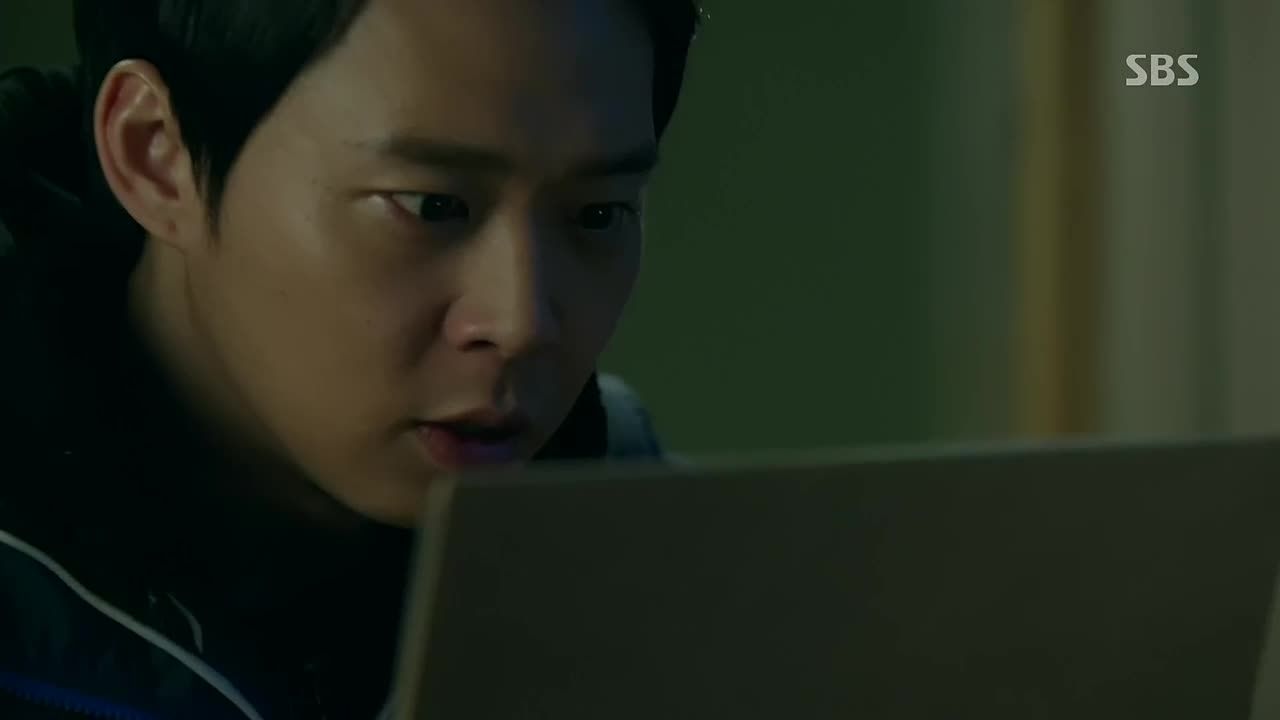 The president's former co-conspirators understand that they must tread lightly—since he's the president, being implicated in the assassination attempt puts their necks on the line. Chairman Kim declares that there's only one solution: "The president must die for us to live."
Tae-kyung examines Team Leader Ham's photo more closely, and realizes, "He wasn't acting alone. There was one more person." Ooooh.
March 7. 5:40 AM. 33 hours 40 minutes after the assassination attempt.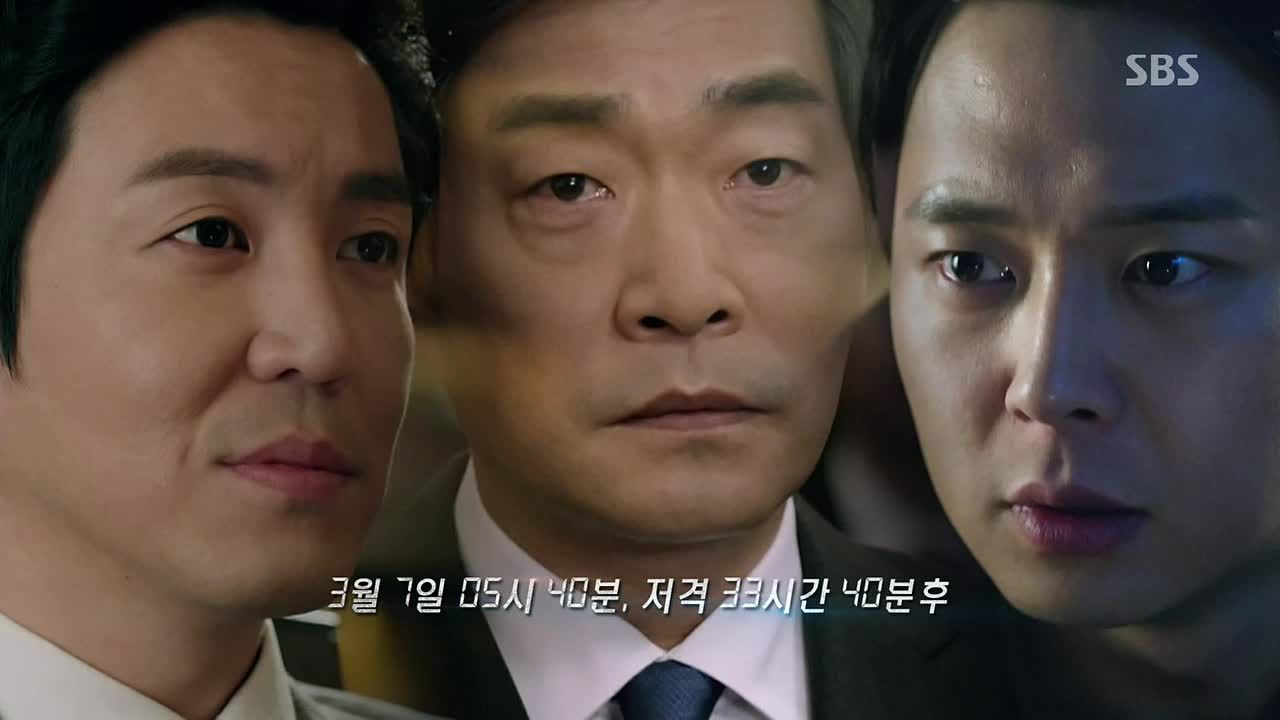 COMMENTS
Whew, the series just got a lot more interesting. 'Cause I'll be honest, I wasn't really feeling it so much when it started—it's not that I didn't like the plot or the acting or all the high-speed chasing (so much high-speed chasing), or even the fact that the whole timestamp caption gimmick is becoming increasingly irrelevant because the show isn't doing anything to work the ticking clock angle. It's more that it wasn't executing the way it could have, and that was a damn shame because I saw a lot more to the show than what the show was showing us.
And then this episode came along and stepped it up, and now not only is the plot thickening in interestingly intricate ways, I also give a damn. For some reason, that's the thing a lot of slick productions forget to do, as though throwing a lot of money at a show will make it more interesting. For all its fancy tricks and loads of production budget (just tallying up all the wrecked vehicles should be enough to make any line producer wince), it's always going to be character work that draws us in and makes us invested in sticking with a drama through the end.
I'm a little surprised that the show has already wrapped up the assassination plot story and resolved the villain's arc, because that was how the show was marketed to us: Three days, missing president, find him. But you won't hear me complaining that we got here too fast, because where it takes us now is much more complicated and intriguing, in my opinion. I like that the show is playing with us in terms of light versus dark, in that we don't quite know what to make of the president or his past, or how much of a good guy or bad guy he is. Perhaps the answer is simply that he's both, or neither; maybe he was just an opportunist, a war profiteer who didn't like what he was doing who wanted to retrieve his lost conscience. Or maybe he figured out that being a dog wasn't worth it.
Not that the Team Leader Ham storyline didn't have its moments, once we got past the nuts and bolts of what happened at Yangjinri. Not that it's not a compelling storyline; I just felt like I'd seen it before when it was Operation Clean Sweep. So where it landed for me was in Tae-kyung wrestling with himself to Do The Right Thing or to bend a little in sympathy for his mentor-friend-hero. I was absolutely gripped through their fight sequence, and for once didn't mind the constant flashback back-and-forth (which can be excessive), because the juxtaposition gave us a window into Tae-kyung's mind (and heart).
Oof, the respect and admiration in Tae-kyung's eyes, cut in and around the present-day fight—that was moving in a way that wouldn't have been achieved merely by keeping all the flashbacks intact, and the fight scene uninterrupted. The interruption is part of the narrative, and that's what made it so wrenching, to understand just what it meant to stand in the path of his mentor's bullet, and then to turn that bullet on his mentor.
And then he heard that the president was a profiteering traitor after all, and damn. The disillusionment hits hard, and sets his character up to go in some compelling places—I don't believe he regrets saving the president's life, necessarily, since he's too principled to flout the rules that form the basis of his identity. Only now in the aftermath, he's questioning whether those rules have meaning in the first place. He's jaded and lost, and now where does that leave him? Someplace really interesting, I'm thinking.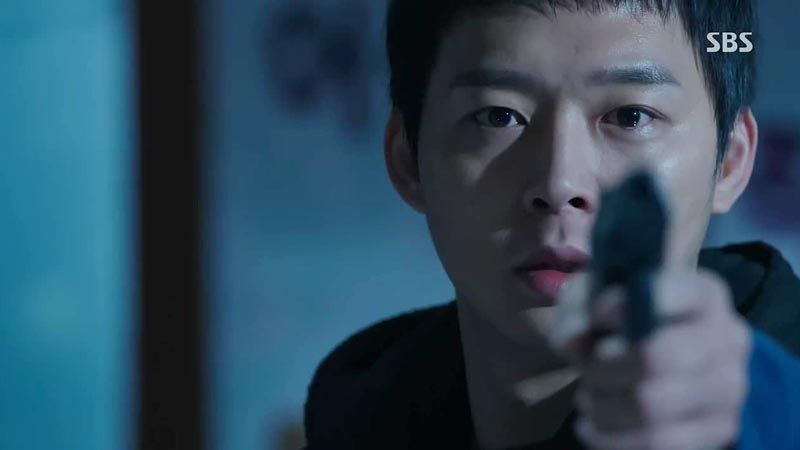 RELATED POSTS
Tags: featured, Micky Yoochun, Park Ha-sun, So Yi-hyun, Sohn Hyun-joo, Three Days