Three Days: Episode 12
The drama gods must have been smiling on me this week. How else can you explain two dynamite episodes of Three Days back-to-back? With a little less mystery and lot more focus on character, Thursday's episode seems to have gotten us a bit closer to the recipe for a perfect Three Days.

EPISODE 12 RECAP
Something bad is on the way. We know that Chairman Kim has stolen an enormous amount of dynamite, we know he's planning to use it soon, but where and when is anybody's guess.
At the Blue House, the president is attempting to talk Chairman Kim down. He knows that Kim's driving passion is to make himself filthy rich, so he reasons with him: with the new executive order just signed by the prime minister, Kim will never get his big pay day, even if he sets off the bomb or creates a second IMF crisis.
Looking a little desperate, Kim asks the president to join him. All the talk about the Yangjinri incident will disappear once the nation is focused on the new IMF crisis. The people will look to President Lee, an economics expert, to lead them. Of course President Lee declines this generous offer, and seems a little shocked by just how insane Chairman Kim really is, which makes me think the president hasn't been paying very close attention.
President Lee asks Kim once more to call it off, but Kim says it's gone too far already. There are billions of dollars in this thing and not just from Kim. Even if he drops it, the others involved will move forward without him. The president has a hunch about who the other investors might be: his former employer, Falcon.
He tries to get Chairman Kim to reveal the location of the explosives, but Kim plays dumb. With insufficient evidence to arrest him, he's free to saunter out of the Blue House.
Meanwhile, Tae-kyung and Bo-won are analyzing the GPS data from the assassin's cell phone to determine where he might have taken the explosives after the route to Daeseungri was blocked. They track his movements to Jaesin headquarters, then to the hospital to inquire about Cha-young's condition.
Before returning to the hospital to get himself shot by Bo-won, he stopped for two hours at a location that appears on the map as an empty lot. Nothing suspicious about that, right? Bo-won and Tae-kyung hop in their cars to go check it out.
At the hospital, Prosecutor Choi's shady assistant has identified the assassin as an American marine who served as a mercenary for Falcon. When Choi asks to see the assassin's personal belongings, the assistant reminds him that this case doesn't fall under his jurisdiction. But just as it's happened to all our other good guys before him, Choi has finally become desperate enough to adopt an ends-justify-the-means philosophy.
When they reach their destination, Tae-kyung and Bo-won are confused. A vacant lot in a quiet residential area? Why would Kim set off his bomb where it would have so little impact? They split up to search for the explosives anyhow.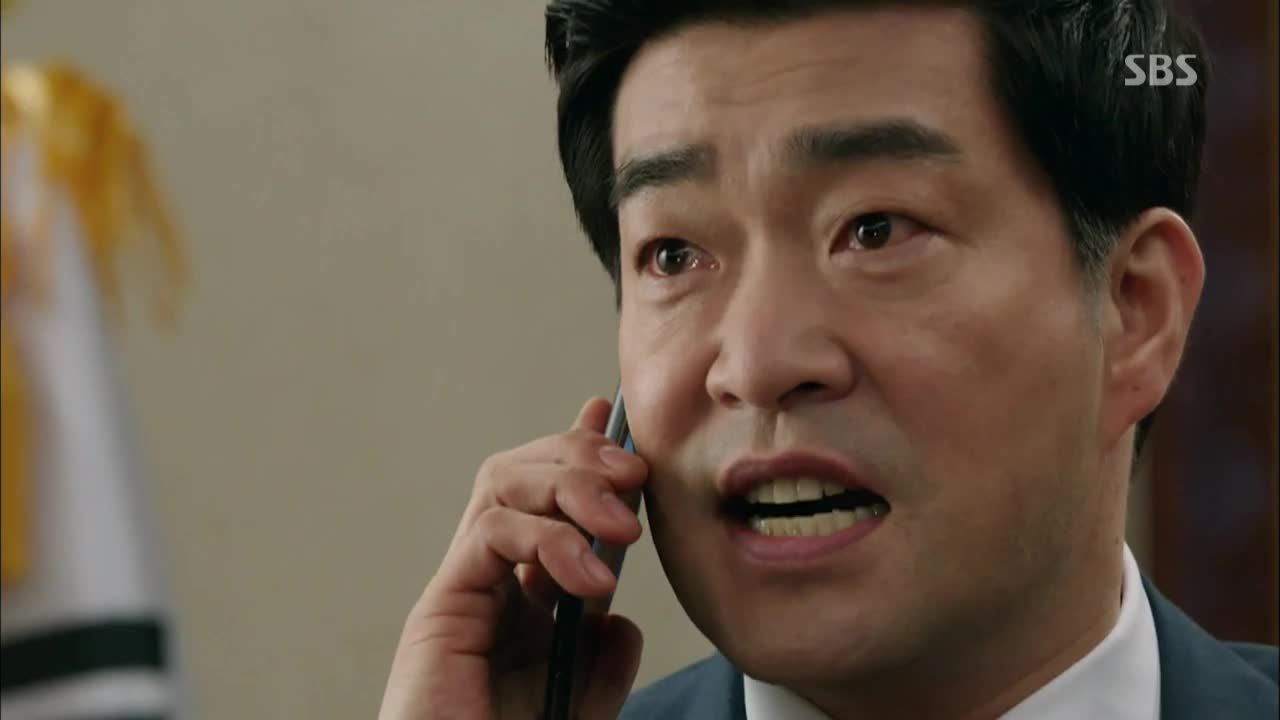 Willing to try anything to stop the impending disaster, President Lee phones one of Chairman Kim's cohorts, the NIS director, to plead for his help. "We're talking about hundreds of lives!" he says, but the message seems to fall on deaf ears. President Lee's calm exterior is seriously beginning to crack as he orders the NIS director to put a stop to it.
Tae-kyung and Bo-won continue to look for the bomb, but with so little time and so much ground to cover, their search is getting more and more frantic.
Prosecutor Choi calls Tae-kyung to tell him about a piece of paper with numbers written on it that was found on the assassin. As he reads off the numbers, Tae-kyung scans his surroundings, trying to make sense of it all. Nothing seems to add up until the very last number, 5129-2318, matches the numbers on a passing bus.
A suspicious man in a dark suit is aboard that bus, a briefcase with blinking lights at his side. The bomb, I presume?
At a nearby bus station, Tae-kyung and Bo-won verify that all the numbers on the page correspond to buses — and all four of them are headed for the center of Seoul in the middle of rush hour. If each bus carries a bomb, that city's in big trouble. They notify the authorities and hop into Tae-kyung's car to chase after bus 2318. See, this is where I would be headed in the opposite direction of the exploding bus, but I guess that's why I'm not the star of any action dramas.
The dark-suited man gets off of bus 2318, but he seems to have left his blinking-light bomb behind. The other numbered buses are also stopping to let anonymous men in black off. The bombs are in place, the bombers on their way to safety, and the buses continue to speed toward the crowded city center.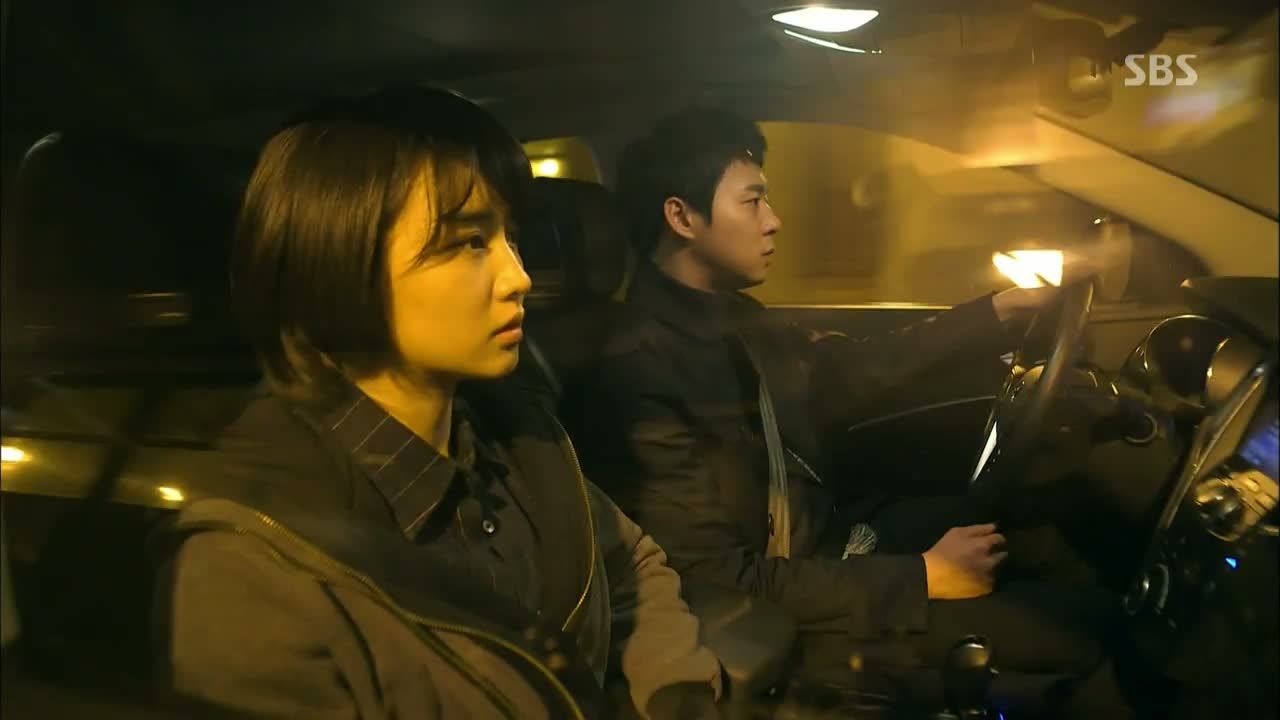 From their respective offices, Chairman Kim and President Lee are tensely keeping watch over the security camera footage of the buses' progress. The police are on their way, but will they be able to stop it in time?
Tae-kyung catches up to bus 2318 and uses his vehicle to create a road block, stopping the bus in its tracks. With Bo-won right behind him, he boards the bus in search of the bomb and orders the bewildered passengers to debark.
The men in black, who have been keeping an eye on the situation, telephone Chairman Kim for further instructions. They'll have to do something quickly, as the police and bomb squads are now searching and evacuating the other buses.
Just as the briefcases containing the bombs are located, Kim gives the order: "Set it off." Tae-kyung is staring right into the bomb on bus 2318 as it starts counting down from 20 seconds…
16… 15… 14… The president stands with eyes glued to the monitors, powerless to affect the events he watches unfolding.
11… 10… 9… Chairman Kim leans back in his chair and closes his eyes. He can relax now; this one's in the bag.
8… 7… 6… Not so fast! In a surprise move, the NIS director whom the president spoke to earlier dials up the men in black with a different order: "Withdraw now!" The men in black look at one another, unsure whose orders to follow, and the numbers on the clock keep dropping…
5… 4… 3… The clock stops.
Tae-kyung relaxes, expelling the breath he's been holding for the past 17 seconds. The bomb squads deactivate the explosives, but there are no victory cries from the president — just tears welling up in his eyes.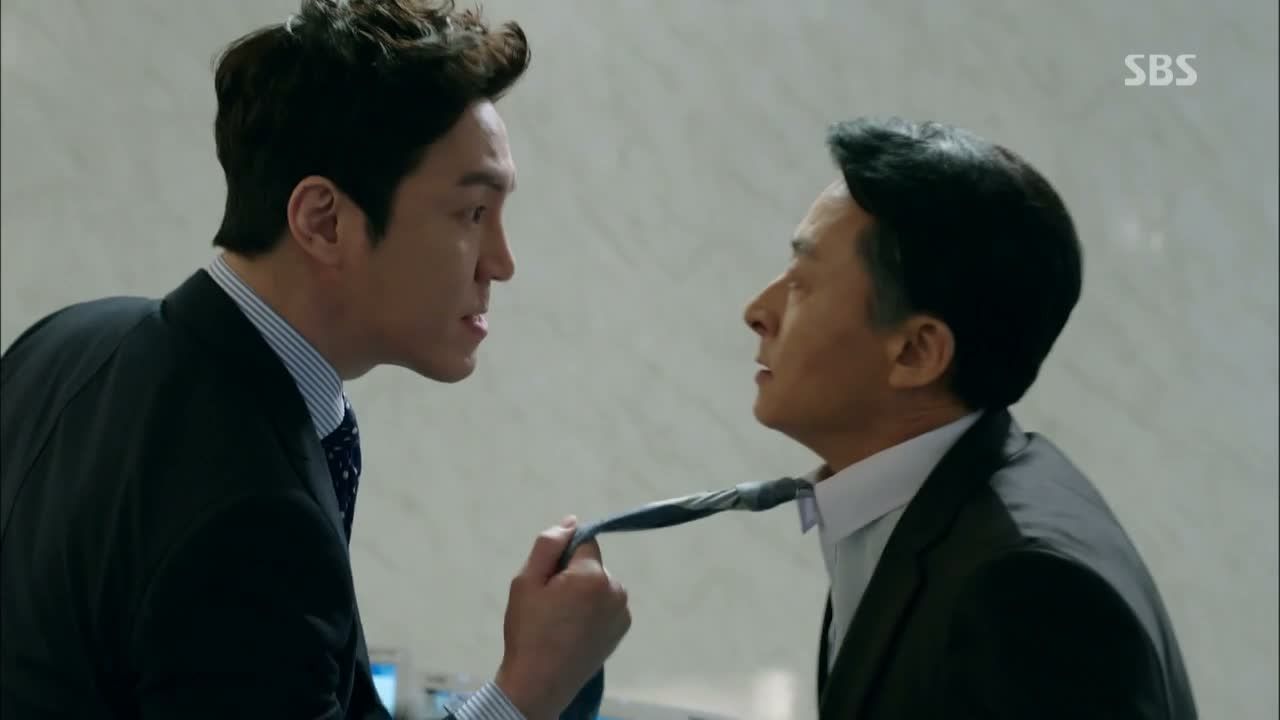 The NIS director storms into Chairman Kim's penthouse in a rage. How could the chairman do this without discussing it first? This is no podunk town like Yangjinri; this is Seoul!
Kim can't believe his plan was foiled by this puny underling, but the NIS director has some powerful people on his side. He's been speaking to Falcon. With the president's executive order about to become law, they don't stand to gain anything by bombing Seoul. Falcon's orders are to drop it and wait for another opportunity to present itself.
Kim's whole world is falling down around him — never tell a control freak he's been overruled. He takes his frustration out on his office phone, beating it against the desktop and flipping his computer monitors while screaming to the heavens. It makes him feel a little better.
Tae-kyung finds Bo-won sitting on a curb. It looks like their big ordeal is over. He congratulates her on a job well done, taking her hand to help her up off the ground. They hold hands just a little too long and let go just a little too quickly, clearly uncomfortable with the sparks flying between them. In the world of Three Days, I'm pretty sure this counts as getting to second base.
Of course it's much too early in the episode for everything to be tied up with a pretty bow. Chairman Kim gets a worrisome call from the assassin with the lizard tattoo: "What should I do with the last bomb?"
Tae-kyung plans to visit Cha-young at the hospital. Bo-won says she'll stop by there as well, before heading back to her hometown.
They're interrupted when the Blue House security director calls with an update. The explosives have all been recovered — 20 kilograms of dynamite from each of the four buses. But something's not adding up for Tae-kyung. Didn't Bo-won determine that at least 100 kilograms had been stolen? Tae-kyung realizes what we already know — there's one more bomb unaccounted for.
Tae-kyung's mind races through the timeline they established for the assassin transporting the bombs. Something occurs to him that they had overlooked. The assassin returned to Cha-young's hospital at 8:30 PM, but he didn't try to kill her until after ten. What was he doing during those two hours?
A flashback gives us the answer. The assassin was placing a bomb into the trunk of a car in the hospital parking garage.
Chairman Kim responds to Lizard Tattoo's question: "The last bomb? Detonate it now." The assassin obeys and starts a 20-second countdown to the final explosion.
As Bo-won heads to her vehicle, Tae-kyung thinks back to the promise Chairman Kim made that people around him would continue to die and he suddenly knows where to find the last bomb — it's in Bo-won's car! He runs after her, calling her name to stop her. When the explosion detonates, the force of the blast knocks both of them off their feet.
Tae-kyung is momentarily stunned, but Bo-won lies motionless on the ground, helpless to protect herself from Lizard Tattoo who is approaching to check out the effects of his handiwork.
Tae-kyung leaps to his feet, charges toward him, and the fight is on. At first they seem to be evenly matched, but with Bo-won's life on the line, Tae-kyung is hulking out. He throws Lizard Tattoo against the burning wreckage and connects with sharp jabs to the face, one after the other. In short order, Lizard Tattoo is down for the count.
Tae-kyung rushes to tend to Bo-won, but she remains unresponsive even as he shouts her name over and over again through tears. Just when it begins to feel like she's really done for, her eyes open. Tae-kyung cradles her in his protective arms still weeping, only now it's tears of joy.
At the same time, the results of the impeachment vote are being announced. With more than half of the Assembly abstaining, the bill fails to pass.
President Lee ought to feel secure in his position once again, but even as he hears the good news, he knows it's not over yet. Chairman Kim will never give up.
March 11, 8:00 PM. 72 hours after the motion for impeachment. Impeachment failed.
March 14, 8:30 PM.
Three days (and one half hour) later, the president and Chairman Kim stand on a bridge, staring into each other's eyes. From down the road, back in his secret service attire, Tae-kyung runs toward them with such a look of urgency in his eyes you just know something major is about to go down. But not yet…
72 hours ago. March 11, 8:30 PM.
Chairman Kim's two assassins are both taken into police custody for their connection to the bombings. A news report indicates that the investigation will continue until the mastermind behind the plot is discovered.
Prosecutor Choi knows just where to begin. Accompanied by his entourage and armed with a search warrant, he barges into Kim's penthouse. The chairman hardly looks up as Choi's staff begin seizing documents, computers, and anything that's not nailed down.
Kim is brought into police headquarters for interrogation. Unfortunately, he lays all the blame on the assassins and without concrete evidence the police can't hold him.
Tae-kyung and Bo-won are at the same building to identify Lizard Tattoo as the car bomber. When they run into Chairman Kim in the hallway, Tae-kyung can't control himself and punches Kim in the mouth, splitting his lip. Kim is lucky that they're in a police station, Tae-kyung says, or he would have finished him then and there.
But Chairman Kim has a scarier threat to make. Forget what he said before about not killing Tae-kyung. He's coming after everyone who's gotten in his way, and that includes Bo-won, Cha-young, and the president, too. (It's never too late to correct a mistake, I guess.) It starts tomorrow morning, Kim warns.
After requesting an increase in Cha-young's police protection, Tae-kyung prepares to say goodbye to Bo-won again as she departs for home. Just then, a vehicle comes speeding toward them and Tae-kyung instinctively pulls Bo-won close to him, but the innocent car swerves around them. I guess everyone's still a little on edge.
He takes her back to his place and invites her to stay over — you know, so he can keep an eye on her. (Uh-huh, I've heard that line before…) Always the protector, he gives Bo-won some of his clothes to sleep in and checks the locks on the bedroom windows before giving her his bed to sleep in. He'll be out on the sofa, like a true gentleman.
Tae-kyung pokes his head back into the bedroom because he forgot something. A scandalous, stolen kiss? No such luck. He just wants to let her know about the wooden sword he keeps by the bed. 'Night then.
Late that night, Tae-kyung is having trouble sleeping, maybe because of the stressful six days he's just endured, or maybe because he left every light in the apartment on. Either way, he checks on Bo-won who is sound asleep, then takes down a framed photo of himself and some of his former secret service chums.
He pulls the photo out of the frame to read the message on the back, a reminder of his pledge to give his whole self for the protection of one person. It leads him to think of Chairman Kim's promise to kill the president. I feel a renewed sense of duty coming on.
Back at his penthouse, Chairman Kim appears to have found a replacement for his incarcerated assassins: a former employee of Falcon who accepts a briefcase full of money in exchange for doing whatever Kim asks. Kim punches the newbie in the face for taking Falcon's orders over his. "From now on," Kim tells him, "if I say kill, you kill."
And Kim's power trip is just getting started. He has the backstabbing NIS director abducted and taken to a secret location, where the director discovers Kim has already murdered Secretary Min, another of their partners in crime.
The NIS director pleads for his life, but Kim is looking to dispose of anyone with firsthand knowledge of his misdeeds. He walks away, ordering his men to finish the job.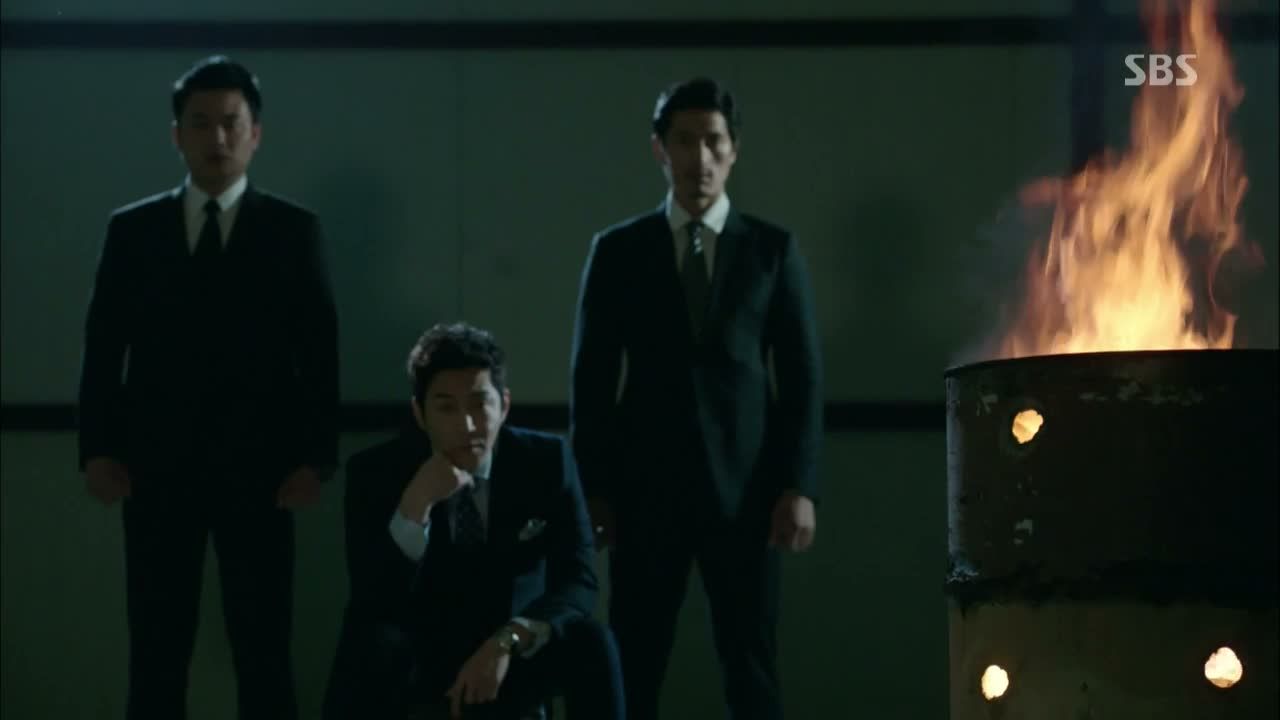 In the morning, Tae-kyung calls one of his secret service buddies to come over. The agent lets himself in and walks right into the bedroom where he discovers a sleeping Bo-won. Tae-kyung tells him it's not what it looks like. He asks the agent to stay and watch over her while he steps out. "If you try anything, you're dead," he adds as an afterthought.
The president and Prosecutor Choi discuss the NIS director's death. It was made to look like a suicide, but President Lee is certain Chairman Kim is behind it. They have to stop him, but Choi still hasn't found enough evidence to make the arrest.
Choi's assistant bursts into the room with an urgent message: the body of Secretary Min has been found, another staged suicide.
The president plans a meeting with Chairman Kim, but Tae-kyung arrives at the Blue House as he's preparing to leave. Understanding the danger involved, Tae-kyung wants to accompany the president to his meeting. The president warns him that Kim can become even more dangerous when he decides to, because he has the weapons company Force One at his disposal.
Although the president plans to resign soon, Tae-kyung asks for the privilege of rejoining the secret service in the meantime. A few days ago, the president requested Tae-kyung's protection and he would be honored to grant that request now.
The look of pride on his face when he receives his old name badge and pin says it all. Although his fellow agents rag on him a little ("Did you enjoy your rest?"), he suits up to join them as they accompany the president to his meeting.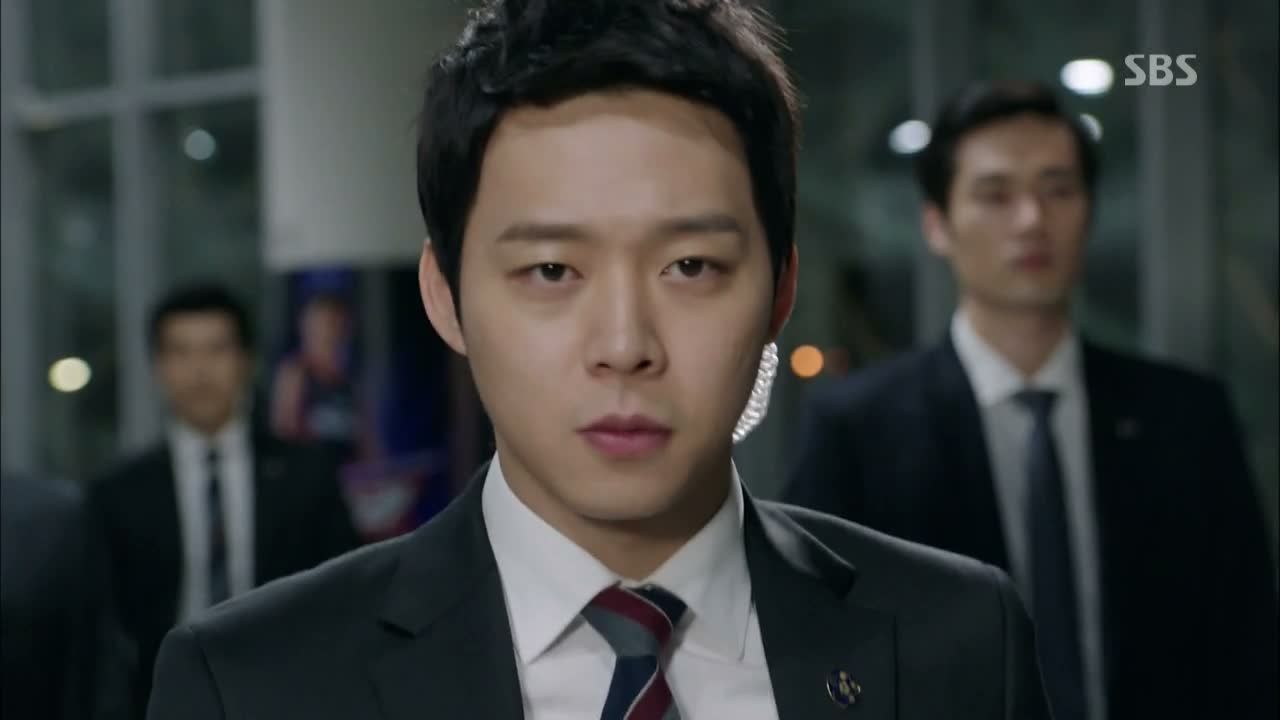 Against her bodyguard's better judgment, Bo-won decides to go alone to visit Cha-young at the hospital. There are police officers there; it's perfectly safe… right?
When Bo-won arrives, Cha-young is giving testimony about the evidence she uncovered linking Chairman Kim and the late Secretary Shin to the bus bombings. But she's a little confused — weren't the special prosecutors only supposed to be looking into the Yangjinri incident? That's right. She's been talking to the shady assistant from Prosecutor Choi's office.
Remembering that someone from the prosecutor's office fed her bad information about Cha-young's phony witness protection, Bo-won starts to put two and two together. As she and Cha-young are bottled up alone with the enemy, she knows better than to let on about her suspicions (but I'd feel a lot better if they got out of there ASAP).
At his meeting with Chairman Kim in an empty sporting arena, President Lee threatens to create another special executive order, a 100% tax on all fraudulent accounts created for the purposes of tax evasion. He cautions Kim to think carefully — he's losing all his allies and he'll be locked up behind bars very soon.
Kim reminds him that it was Lee himself who created the monster he is today. Anything that happens now is on the president's conscience.
At the hospital, Bo-won excuses herself to go get some drinks, but as she turns to leave, Shady Assistant Prosecutor stops her. "You have a very familiar voice," he says with a dangerous smirk.
Out in the hallway, a new set of officers come to relieve the current security detail, but something about their heavy-lidded sideways glances tells me that they are not to be trusted.
Chairman Kim asks the president who he supposes will be the first to die. We may get the answer a lot sooner than we'd like, because hidden high above the arena is a sniper taking aim. But who's he working for? And more importantly, who's the target: Chairman Kim, the president, or Tae-kyung?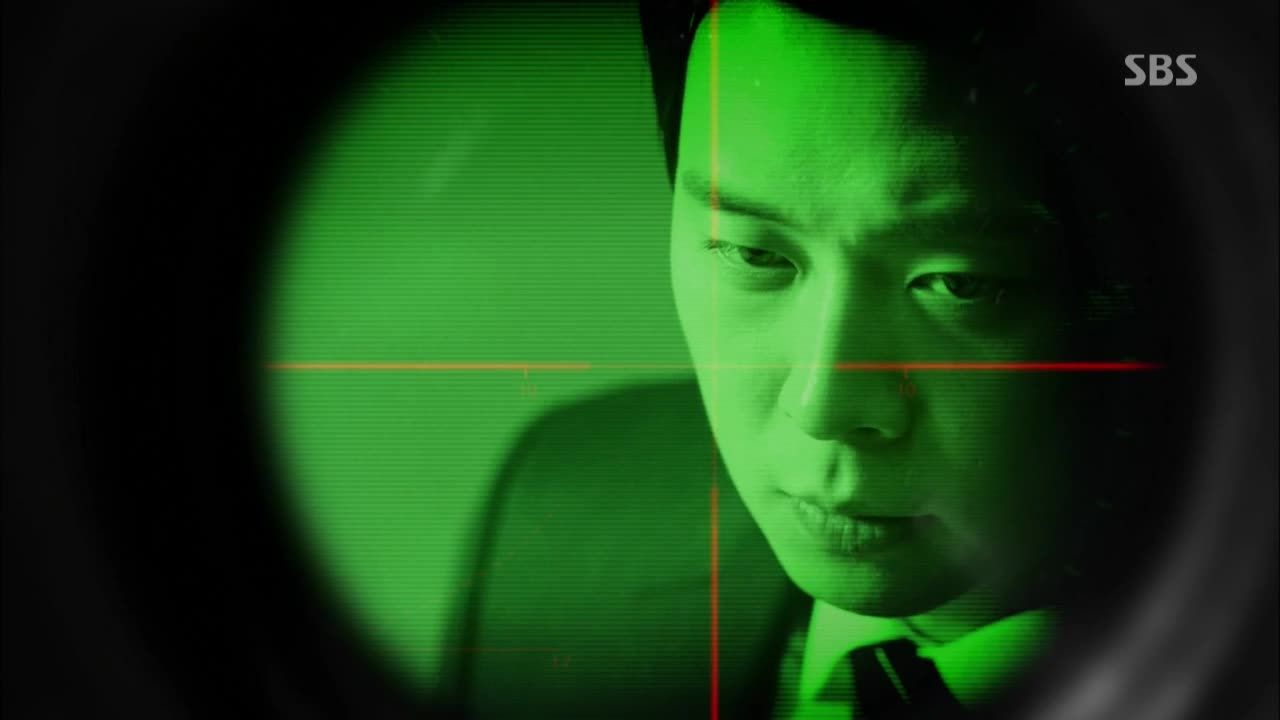 COMMENTS
There's so much good going on here, I hardly know where to begin. The intriguing flash-forward glimpse of things to come, the suspenseful bus bombs sequence (actual, meaningful clocks!), Tae-kyung and Bo-won's slumber party…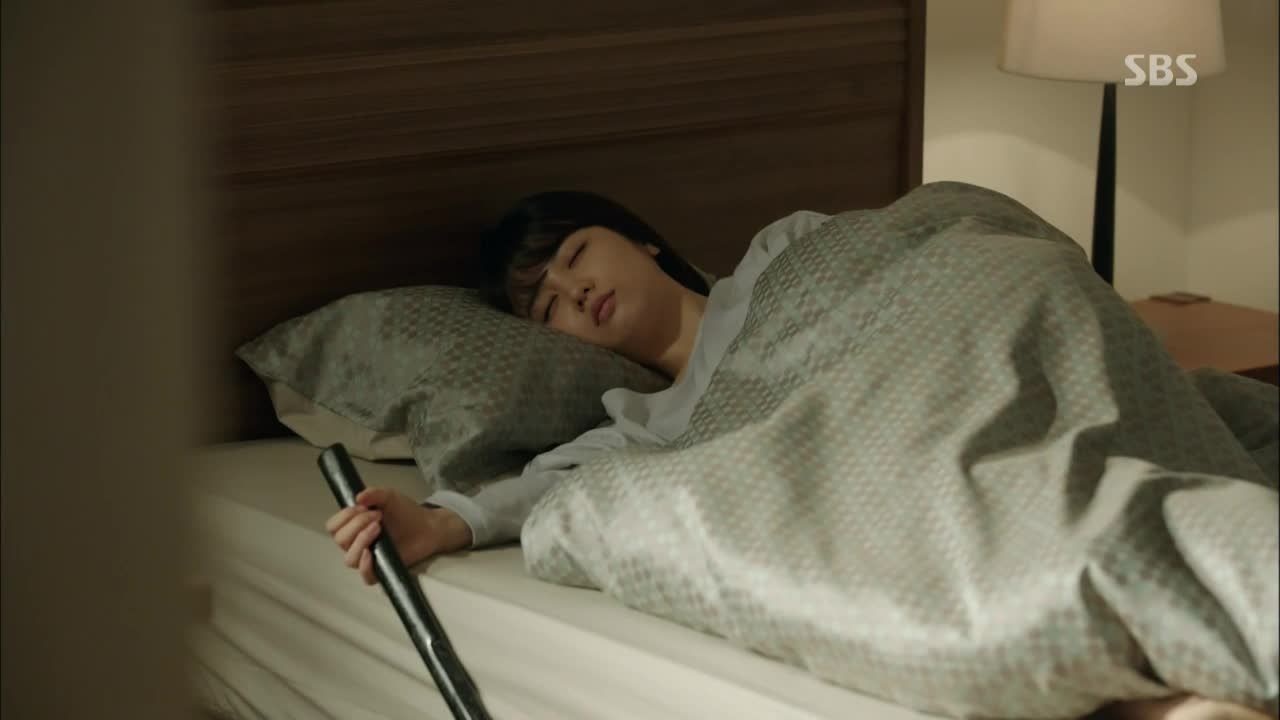 It was an episode full of winning moments, but the majority of my focus was on the two big character transformations going on in this episode. I'm talking about Chairman Kim's downward spiral and subsequent rebound, and Tae-kyung regaining his sense of self.
As I've said before, I never really bought Kim holding off on killing Tae-kyung in order to make him suffer more. It felt like the writer was trying to make excuses for his inexplicable behavior and it also made him seem impotent. Knowing almost for certain that no harm would come to Tae-kyung, their scenes together stopped feeling dangerous. After this episode, that's all changed. Kim's a looser cannon than ever and back to being the scary villain he once was.
It's part of a larger change that Kim undergoes in this episode, one that's all wrapped up in his need for control. His big master plan falls apart, he loses his right-hand men, and it sends him into a state of complete despair. The scene where he destroys his telephone may have been a little heavy-handed, but it certainly got the point across that something was going seriously wrong in Kim's brain.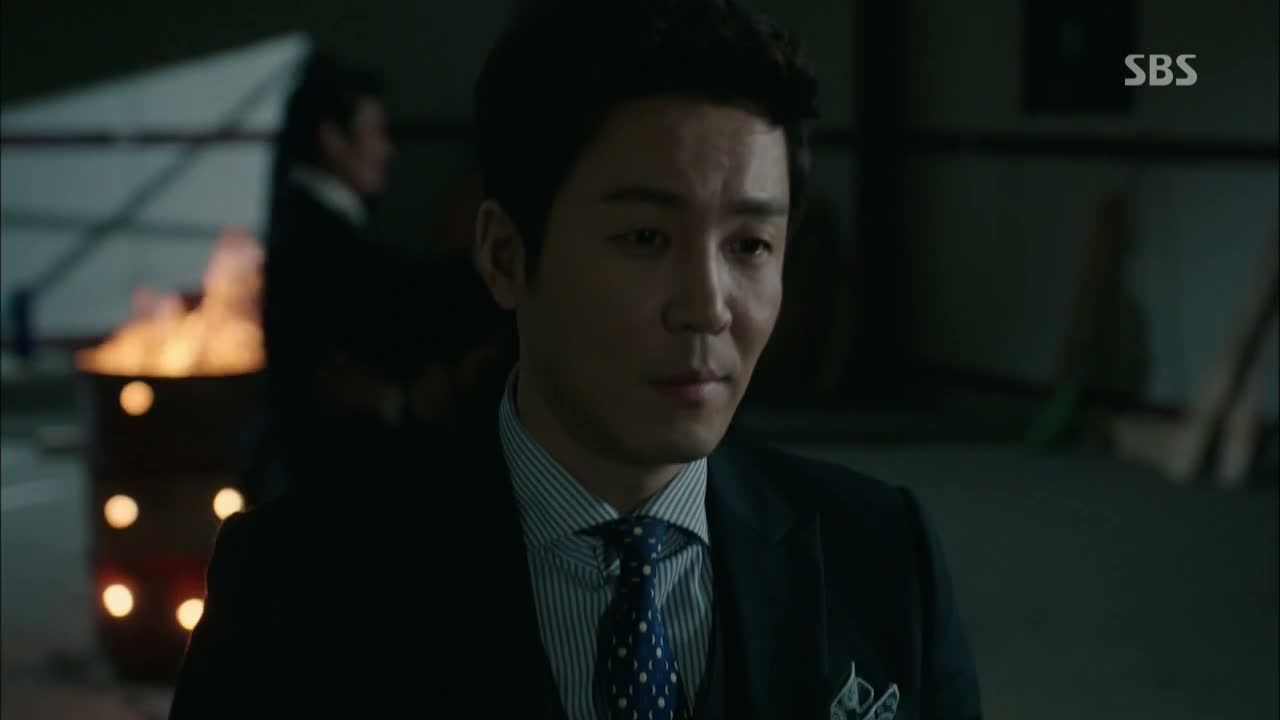 The big turning point is when Tae-kyung hits him in the face at the police station. All at once, he's done messing around and ready to take action. I don't think it's a coincidence that the next time we see him, he's bloodying his new employee's lip just as Tae-kyung did to him. From that point on, his actions build upon each other up until the end of the episode as he seizes control of the situation once again.
Although I don't quite understand what prompts Tae-kyung's transformation in this episode (looking at the old photo?), it definitely helps with the shift into the final block of three days. The previous set of three days was about Tae-kyung losing his identity and flailing around as he tried to figure out who he was going to become. Now he's got his head back on straight and realizes that he is who he always was.
Putting him back in his secret service garb is an excellent visual expression of how he's come full circle, but it would be wrong to think of it as a backslide to exactly how he was before his father's death. He's had the experience of being forced to question his most deeply held beliefs, and rather than losing his identity because of it, the process has strengthened his sense of self. That's not a backslide at all; that's progress.
Watching our characters continue to grow and change is fantastic, but if there's one thing in this episode I enjoyed even more than that, it was the president's little cardigan sweater. Come on, it's adorable.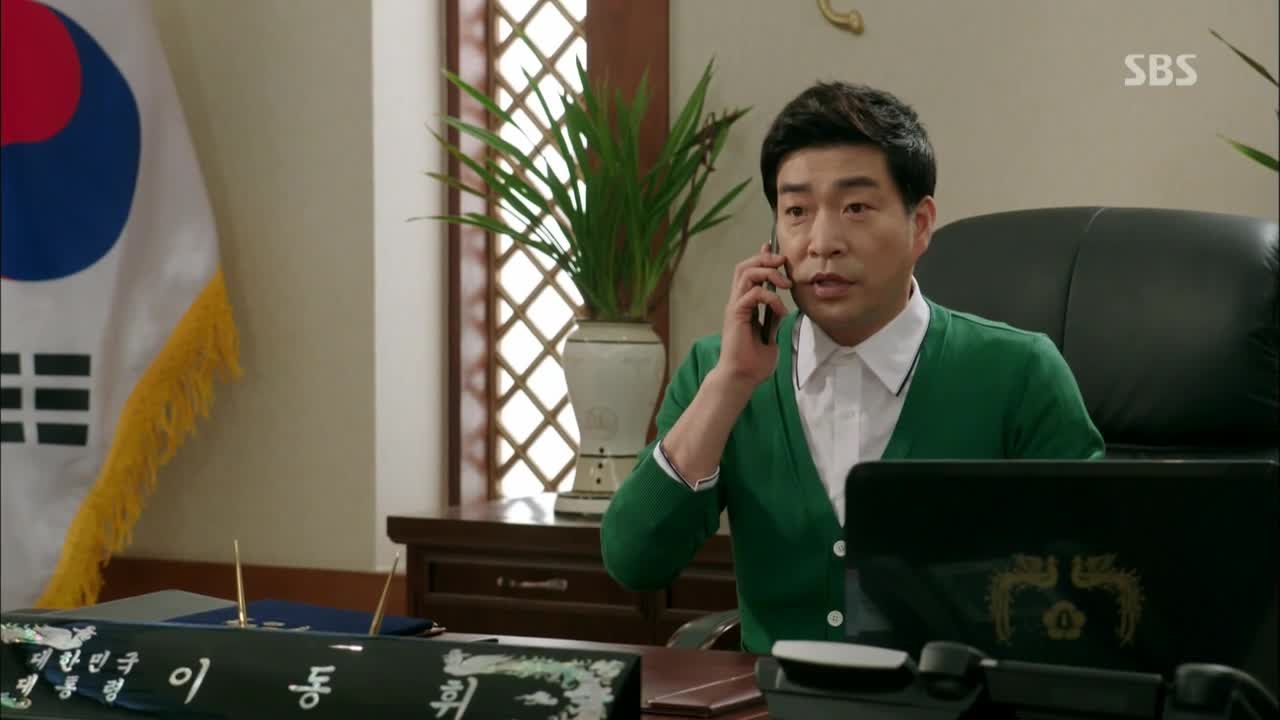 RELATED POSTS
Tags: featured, Micky Yoochun, Park Ha-sun, So Yi-hyun, Sohn Hyun-joo, Three Days