Three Days: Episode 13
I was expecting the two-week break between episodes to make my memory hazy on the details of this show, but as it turns out, when your plot is this simple there's no misremembering things. Some people want the president dead, and other people want to protect him. Clear enough, but what do you do when the president no longer wants to be protected?

SONG OF THE DAY
Kim Bo-kyung – "가슴이 소리치는 말" (The Words My Heart Screams) for the Three Days OST [ Download ]
Audio clip: Adobe Flash Player (version 9 or above) is required to play this audio clip. Download the latest version here. You also need to have JavaScript enabled in your browser.

EPISODE 13 RECAP
The president meets with our resident evildoer Chairman Kim, who snarls and challenges President Lee to guess the person who dies next, all because of him. Sigh, megalomaniacs are so showy sometimes.
As they talk, someone from up in the stands aims his sniper rifle right at Tae-kyung. Then the scope moves over to the president and locks on its target. But Tae-kyung is thankfully facing in that direction, and the rifle's scope reflects light as it moves.
The flash of light snaps Tae-kyung to attention and he screams, "Gun, eleven o' clock!" All the agents spring into motion, and in one fluid movement, the president is surrounded and led out from the stadium.
Tae-kyung stays behind and sticks his gun in Chairman Kim's face, which then leads all of the bodyguards and agents remaining to raise their guns in a confusing jumble of men in black. I'm sure they know which side they're playing for, so that's all that's important.
Tae-kyung says that it's perfectly within his job description to fire his weapon at anyone who attempts to endanger the president, but Chairman Kim just smirks coolly that he has no idea what he's talking about.
The Blue House agents race to the other side of the stadium to try and locate the sniper, but he's vanished. With no real evidence of foul play, Tae-kyung knows he has nothing to hold him with, and lowers his weapon. Chairman Kim then goads him and asks where Cha-young and Bo-won are…
They're in Cha-young's hospital room, of course, with the shady assistant prosecutor smiling at them like a creep. He and Bo-won recognize each other, and the air turns to ice.
Suddenly Bo-won's phone rings, and when she reaches to answer it, the prosecutor makes his move. The cops he planted in the hall come running in, and they attack both women.
When Tae-kyung can't get a hold of Bo-won, he calls his buddy who was supposed to stay by her side. But he says they parted at the hospital. Worst bodyguard ever. Up in the hospital room, Bo-won gets knocked out with a blow to the head, and Cha-young gets strangled until she passes out.
The president realizes that other people are in danger and refuses to go back to the Blue House until he checks on Cha-young. They turn the cars around on his command.
Tae-kyung's friend finds the room empty, and downstairs we see three (fake? Dirty?) cops wheeling someone out on a stretcher. They reach the hospital parking garage, but just before they can get away, they're blockaded by a row of cars. Yay, it's the president, here with his army of guards.
The agents move to examine the person on the stretcher, so the cops pull out their guns and try to fight. It's pretty hilarious how quickly the agents disarm them and turn the tables. Once the baddies are pinned down, President Lee goes over to the stretcher and braces himself before lifting the sheet. His eyes widen… Please don't be dead.
Tae-kyung arrives and runs over to the stretcher. He sighs in relief and calls out Bo-won's name, and she opens her eyes. Phew. She asks for Cha-young and looks around, but she's long gone.
After getting her head wound bandaged, Bo-won tells Tae-kyung that it was the assistant prosecutor who took her, and they go through the hospital's security feed. They find him wheeling an unconscious Cha-young away in a wheelchair at the same time the others were taking Bo-won in the other direction.
The president wants to go back and confront Chairman Kim about this, but his head of security won't allow him to just walk into a death trap. Tae-kyung steps up and says he'll go talk to Chairman Kim himself.
President Lee leaves with a long face as Tae-kyung bows, no doubt troubled again by how little it is he can do to protect his people.
Once they're gone, Tae-kyung just puts his arm around Bo-won and leads her away without a word. Awww.
The president calls a meeting with the Falcon representative, who confirms what he already knew—they're after money. He offers to let the president find creative solutions, like buying up Falcon weapons, or resuming the partnership they once had. Otherwise, people keep dying.
Tae-kyung takes Bo-won back to his apartment and re-checks all the locks. She asks him to let her help in the search because she feels responsible for letting them take Cha-young on her watch, but he's firm about not letting her take one step outside.
He redresses the wound on her forehead, and says he knows it's frustrating but she needs to stay put. He promises to find Cha-young and pretends like he's not worried at all about finding her.
Prosecutor Choi apologizes to the president for the mole in his department. So far they have no leads, and are still struggling to find something to pin on Chairman Kim that'll hold up in court.
Tae-kyung goes to see Chairman Kim as promised, and I love how surly he is now as he enters, with no pretense of trying to be civil anymore. Chairman Kim relishes the moment as he opens up his tablet and shows a live feed to a room where Cha-young is tied up and gagged, struggling against her restraints.
He goes into this patronizing spiel about how the president's bodyguards are SO impressive that an attack during an official public function is near impossible. But he notes with a gleam in his eye that a personal outing—now that would be different.
Tae-kyung narrows his eyes as Chairman Kim suggests that all he has to do is invite the president out for a friendly dinner or a movie. Because you think the president might enjoy a movie bro-date while terrorists are running around threatening to bomb random citizens on buses?
Chairman Kim points out that Tae-kyung is the one agent that President Lee trusts more than anyone, so if anyone can do this, it's him. Tae-kyung realizes now that the sniper in the stadium was just a test—they were flexing to test the Blue House agents, and when they found out it would work, they moved on to Plan B and kidnapped Cha-young as leverage.
Tae-kyung growls and asks if this is what he did to manipulate Team Leader Ham into doing his bidding. He refuses to cave to his ploy, and tells Chairman Kim not to underestimate the presidential security team as he turns to walk away.
Chairman Kim takes one last potshot: "I guess you'll just live the rest of your life burdened by the guilt that you killed agent Lee Cha-young." Tae-kyung turns around with anger blazing in his eyes: "If Cha-young dies, I will kill you." Niiice. I'm not ashamed to admit that I do a little fist-pump every time Tae-kyung gets the last word in.
The Falcon rep comes by to warn Chairman Kim that he's replaceable and that he'll be financially responsible for all their losses if the presidential order to stop international withdrawals gets passed by the national assembly. He warns Chairman Kim not to go the way of his father.
On his way out, Tae-kyung recognizes a familiar car driven by one of Chairman Kim's men. He peers inside and sees a parking sticker and stubs from a gas station, and it gives him the idea to check the surrounding neighborhood for a possible hideout. Well that's a bit convenient.
Meanwhile, Chairman Kim comes by to see Cha-young himself, and stops to put on a pair of rubber gloves. Gack.
Bo-won spends her day cleaning Tae-kyung's apartment, and smiles at the photos sitting on his desk. The doorbell rings, and she runs to get it. Wait, don't answer that!
Chairman Kim picks up a small blade (An x-acto knife? Is it better or worse that he plans to make shallow cuts?) and brings it menacingly close to Cha-young's face.
Tae-kyung circles around the neighborhood near the gas station until he finds other cars with the same parking sticker, and discovers two men in black suits coming out of a storefront. He runs inside.
Chairman Kim rips the duct tape off of Cha-young's face and she tells him it's useless to kidnap her. He doesn't need much convincing on that matter since he's already decided to manipulate some other agent, and tells her that he'll get away with all his crimes like he always does, and all she needs to do is quietly die.
Tae-kyung runs up the stairs and finds a hallway lined with cameras and a room blocked off by a gate, and he just kicks the gate down. But it's not the room where Cha-young is being held—it's some sort of minion hideout, complete with a big board and evil plan roadmap.
Chairman Kim gets a call from someone else in the Blue House (just how many moles does this guy have?) and tells this mystery person that Tae-kyung running around on his own doesn't matter—they just need to lean on the president.
President Lee doesn't need to be leaned on much, since he's already sitting in his office weighed down by the guilt of all the deaths in the past few days. He recalls each of them one by one (when we line them all up in a montage like that, the death toll does seem excessive).
He slams his hand on the desk and then picks up the phone. He calls Chairman Kim and offers to walk out of the Blue House on his own two feet. In exchange they have to return Cha-young and leave Tae-kyung and the other agents unharmed.
Chairman Kim agrees cheerily, saying he has no intention of harming the agents and will in fact help him ditch the guards for their meeting, since it only benefits him. They agree to meet in a movie theater that night.
Tae-kyung waits until Prosecutor Choi arrives at the hideout to take pictures and collect the evidence, and Tae-kyung mentions that one of the documents involves a theater that has yet to be linked with any of the attacks. He asks the prosecutor to look into it.
He calls the security team leader and leaves a message about the same movie theater, but the message goes suspiciously ignored. Great, is the new boss the other mole?
Tae-kyung comes back to the office but his team is back out in the field because the president had a personal meeting. He doesn't have much time to mull that over (though really, it should be raising a red flag or twenty), because Bo-won is waiting at his desk.
He's alarmed because he told her to wait at home, but she says that he had a visitor earlier that night. A flashback to the apartment reveals that it was President Lee who came by.
He looks around the place and smiles at the family pictures, and recalls that he first met Bo-won in the ambulance while Team Leader Ham and Tae-kyung were fighting outside, remembering both her name and rank.
He says he's here to ask her for a favor: "Agent Han Tae-kyung is someone who only knows how to protect others, and doesn't know how to protect himself. Sometimes he only runs while looking ahead and misses the truly important things. So I worry about him. Will you stay by his side and protect him? Can you do that?"
She gives a nod between stunned blinks, and he smiles warmly. President Lee takes out an envelope and asks her to give it to Tae-kyung, and she hands it to him now. He opens it to find a USB drive inside, and watches the video loaded onto it.
The president addresses the camera and bows, and we don't hear the rest of the audio. All we get is Tae-kyung's horrified reaction as he pulls his headphones off, and Bo-won asks what it is.
Tae-kyung: "I have to stop it. The president went to his death."
Led by his security team, President Lee marches silently into the empty theater where a movie is already playing. He sits down with his guards surrounding him, just waiting…
Cha-young manages to get herself over to the desk where Chairman Kim so conveniently left his x-acto knife lying around, and cuts herself free. She calls Tae-kyung's apartment, and Bo-won picks up. (Why is she back home? Can we get her back in the action, please?)
Thankfully Bo-won is smart and calls Prosecutor Choi directly to report that she found Cha-young, and that they can't trust anyone else with the information.
Tae-kyung races to the theater, knowing that whatever goes down happens at 8:00 PM—he saw the notes in the hideout he found earlier. President Lee sits in his seat anxiously until just minutes before 8:00, and then gets up to go to the bathroom.
Most of the agents remain in the theater at the team leader's orders, and he's the only one standing just outside the restroom. President Lee stands there just waiting for the seconds to pass by, and a flicker of fear flashes across his face.
Tae-kyung races inside the building, when suddenly the fire alarm goes off, effectively turning the crowd of moviegoers into the perfect diversion. The agents race to the president's last location, but he's gone.
Two of them find the president heading towards one of the emergency exits, but he steps on the other side of a gate that closes behind him. As he watches the agents race toward him, we flash back to his demands for Chairman Kim.
He says that his security team trains daily to make their bodies do the opposite of what comes naturally—to throw themselves headlong toward bullets instead of running away. He refuses to let anyone else get hurt in the name of protecting him, and Chairman Kim says the only way to ensure that is to come alone.
He lets the gate close and marches ahead. Chairman Kim heads toward their rendezvous point.
Bo-won and Prosecutor Choi walk into Chairman Kim's office, where Cha-young was being held all along. She warns them that she overheard a phone conversation, and she's quite sure that Chairman Kim has another mole in the Blue House.
Tae-kyung scrambles to fill the other agents in and catch up to the president, since he's seen the blueprints for the plan of attack, including a minute-by-minute outline.
Chairman Kim waits from his vantage point in a different tower where a sniper has his rifle aimed at the rooftop where the president is due to arrive. His minion calls to confirm that everything is going according to plan, and the security team leader suspiciously answers a call just a few seconds later.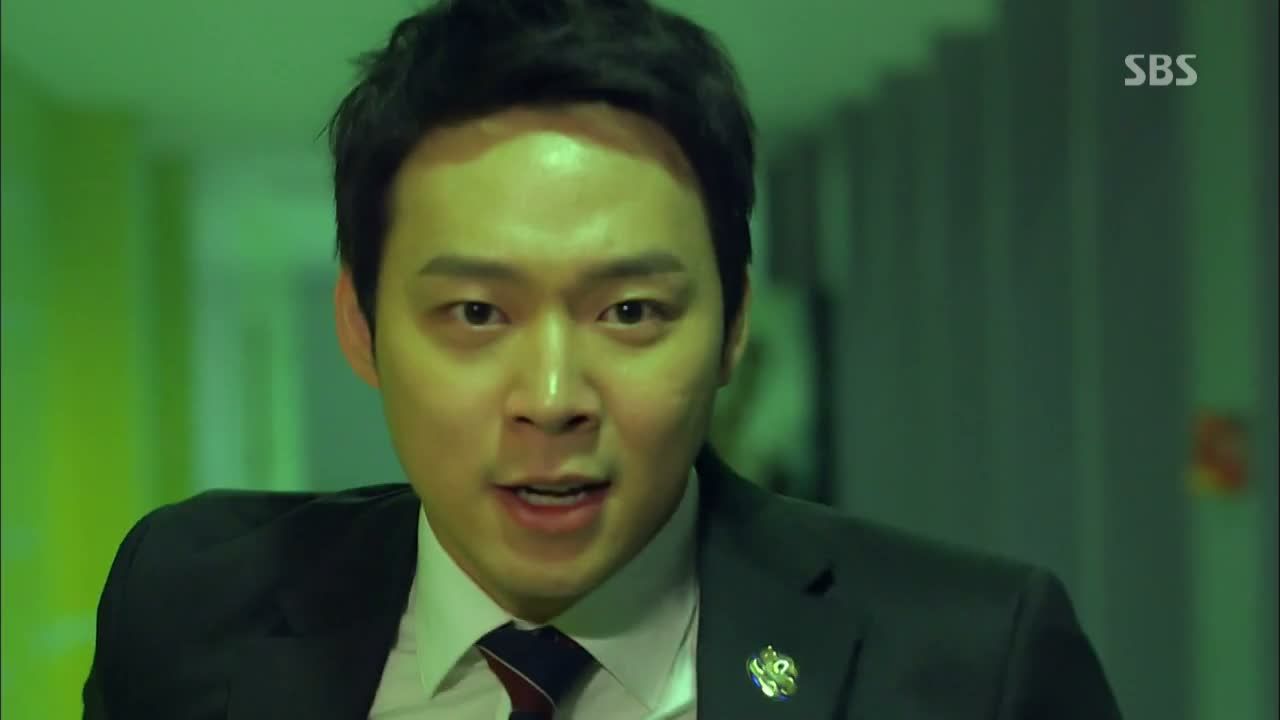 While Tae-kyung races up to the roof, we go back to the video message that President Lee left for him. He calls himself a failed president and says that he can no longer let others be hurt in his place.
He announces that he will lay down the office of the president with the belief that the people can place their hopes for the future in someone new.
He declares his resignation and asks for understanding so that he can take his mistakes with him as he goes. He addresses Tae-kyung and asks him to understand the choice: "I started this, so it is right that I finish it."
Tae-kyung thinks to himself, "No, I will protect you until the end!" And in flashback, Chairman Kim topples his chess pieces until only the king and one pawn remain. With one push they go down together: "Tonight, the president dies."
The door opens, and President Lee walks out onto the rooftop alone, as promised. Chairman Kim breaks into a smile.
But then from the other end of the rooftop, a door swings open and Tae-kyung arrives.

COMMENTS
Plotwise, this felt largely like a filler episode, given that as long as the president doesn't die in the next few seconds (unlikely, since we've got three episodes left), nothing greatly changes over the course of the hour. It starts with the president in sniper scope and ends with the president in a sniper scope. Okay, so we have another mole in the Blue House, but at this point I'm surprised if someone isn't a mole. People who are kidnapped or attacked are saved, the baddies still want the same thing they've always wanted, and the status quo remains.
That doesn't mean that the individual scenes weren't interesting, but they hold less weight because our story is pretty much at a standstill until the final showdown. This has always been the pattern in this drama, but the gap between the buildup episodes and the payoff episodes seems wider in the final act, when it feels like we're just waiting for the big face-off.
That said, the episode wasn't without crucial character development, namely for President Lee. We've already been through this philosophical quandary with Tae-kyung so it isn't new, but it's important that the president struggles with the same question in his own way: Is the president's life worth more than someone else's, and why is it one person's job to die for the other? The guilt of all these agents' deaths has clearly been mounting for him, but it's interesting that Cha-young becomes that line in the sand—this is a death he can prevent, so he'll sacrifice everything to do it.
In a practical sense, there's nothing more frustrating to a bodyguard than having the person you have to protect throwing himself headlong into danger—it goes against the natural order of things and part of the time I'm frustrated at President Lee because he's just making Tae-kyung's day harder. But as a leader, it's important that he's a person who doesn't actually believe that he's better than his bodyguards, that his life is somehow more valuable. And the fact that he's actually willing to walk into certain death to protect them speaks volumes about his character.
Of course I would argue that the only way you actually know they're safe is to stay alive and make it so, but the symbolic sacrifice isn't lost on me, as long as it remains symbolic. And the fact that he recognizes Tae-kyung's blinding need to protect and asks Bo-won to protect him? It's so sweet. Now if we could just get you guys to stop trying to die for each other, maybe we could turn our attention to the bad guy running all over town trying to kill the president. Repeatedly. In public places. With roadmaps left behind detailing his every move. I mean, come on.

RELATED POSTS
Tags: featured, Micky Yoochun, Park Ha-sun, So Yi-hyun, Sohn Hyun-joo, Three Days