Fated To Love You: Episode 6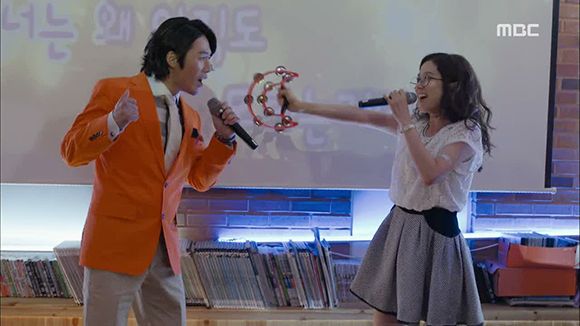 This show is so insanely fun to watch that it's literally one puppy parade away from being the greatest thing on earth. It knows just when to tug on the heartstrings and just when to tease out that perfectly-timed comedic gag, with this episode in particular delving deeper into the growing connection between our newlyweds—especially on Gun's part, as he futilely tries to resist the best thing that's ever happened to him. But he's not the only one to recognize Mi-young's worth, which means he's got to stay on his toes if he wants to win her heart.
Note: Since frequent reminders in the thread haven't been very effective, I'll try here instead: For those of you who have seen the original, please, please keep your fellow viewers in mind who haven't and refrain from posting any spoilers. If y'all want to compare and contrast the versions, by all means, have a party—just please don't be a Buzz Killington by talking about events that haven't happened yet.
SONG OF THE DAY
Jeff Bernat – "Be The One" from the OST [ Download ]
Audio clip: Adobe Flash Player (version 9 or above) is required to play this audio clip. Download the latest version here. You also need to have JavaScript enabled in your browser.

EPISODE 6 RECAP
Gun stalks up to Mi-young and Daniel as they stand outside his house, though it seems like the two men have never met before since Daniel claims he's been wanting to meet Gun.
Of course, Gun has no desire to share such niceties, and instead demands to know who he is. Daniel seems pretty chipper as he replies that he's a neighborhood oppa, aka an oppa next door, which garners a cute (if not befuddled) reaction from Mi-young at his use of the word "oppa."
Gun has a nice chuckle at Daniel's moniker before he points to the kid's bandaid on Mi-young's arm. She attempts to pass it off in her usual style, but Daniel seems to be playing at something when he interjects: "It happened when she was with me. I'm sorry, I should have protected her."
There's this awesome moment of silence where Gun tries to keep his devil-may-care smile all while covertly sizing Daniel up. To make matters worse, he can't help but pick up on the friendly atmosphere between the two as Daniel tells Mi-young to call him if she needs anything.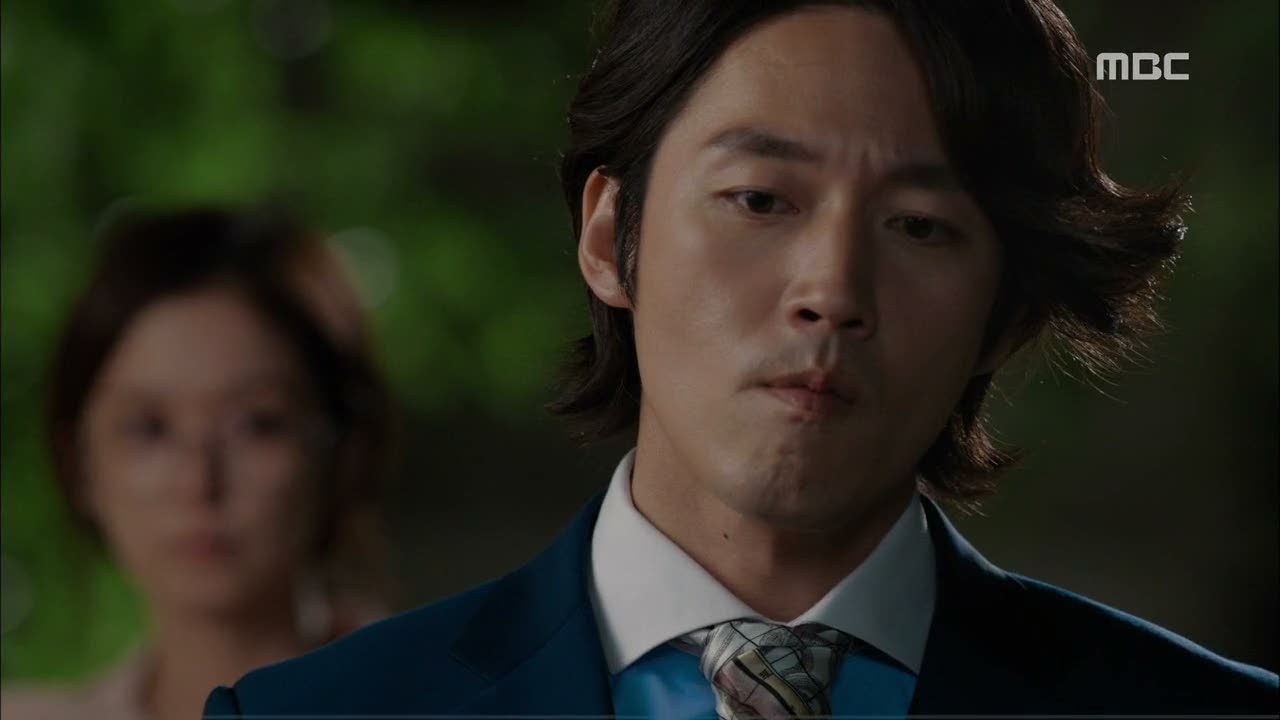 Once inside the Lee Manor walls, Gun tsks at Mi-young for making "friends" in the neighborhood when she's barely been living there. He doesn't seem to buy her good-natured defense that Daniel is a priest, and instead tells her that she's to live with class while living with him—and that means no more hanging out with whoever-he-is. Ooh, if this is jealousy, let the games begin.
I don't need to point out the irony of Gun seething over Daniel telling a married woman to call him whenever she needs to when he's holding a picture of Se-ra, but there it is.
At least he has the decency to hide Se-ra's picture when Mi-young meekly enters his man cave resolved to discuss the divorce papers with him. She's given it a lot of thought, but can't agree to the stipulation that she give up the baby.
She asks for the chance to prove to Gun that she can raise the baby and love it more than herself, which means she's asking him to wait ten months before signing the divorce papers. She thinks it's what's best for the baby, and knows that his best interests lie with the baby too.
But Gun claims that it won't matter if she signs now or ten months from now, because the fact that they're divorcing isn't going to change. He's also sure that she'll be the one to cave in the end, and when she does, she can come back to the man cave to sign—and that's the only reason she'll ever have to enter.
Mi-young's quiet affirmation takes the wind out of Gun's sails, since he wasn't prepared for her to agree so readily. If anything, he seems disappointed. Good. We're headed in the right direction.
Due to Yong's mother's bribe, Gun and Mi-young are brought before the Lee clan elders for questioning. Luckily, Grandma Wang is ready to jump to her granddaughter-in-law's defense when the head elder questions the pregnancy's legitimacy, and demands to know who's been spreading such false rumors… before she shoots a look directly to Yong's mother. Caught.
It's funny how none of the other clan elders seem to be awake enough to care as the head elder decries Mi-young for coming from such a humble background and a small island. But our girl isn't about to let her hometown be stepped on as she eloquently defends Yeoul Island's merits to the elder, ending with the declaration that she's proud to call it her home.
This is what catches the other elders' attention, and unfortunately for Yong's mother, puts them all firmly in Mi-young's court as they tell Grandma Wang how lucky she is to have found such an innocent and virtuous granddaughter-in-law.
Of course, when the island's soap factory is brought up, Mi-young happily tells the elders that Gun promised to save the factory from being shut down… which has Gun sweating like a whore in church, seeing as how he just sold the factory land off. Whoops.
After placing a hushed call to Manager Tak in order to find out what that other company plans to use the factory land for, Gun hesitates a long while before answering Se-ra's incoming call. He's clearly nervous that she's planning to return to Korea next week, and hesitates even more as he tells her that there's something he needs to say…
…But he hangs up when he hears Mi-young scream from the bathroom. He enters to find Mi-young fighting a removable shower head gone wild, and ends up soaked when he helps to turn it off.
His first reaction is to get upset with her for trying to clean the bathroom when they have a maid, but he swiftly switches gears when he notices how much she's shivering in nothing but a wet towel.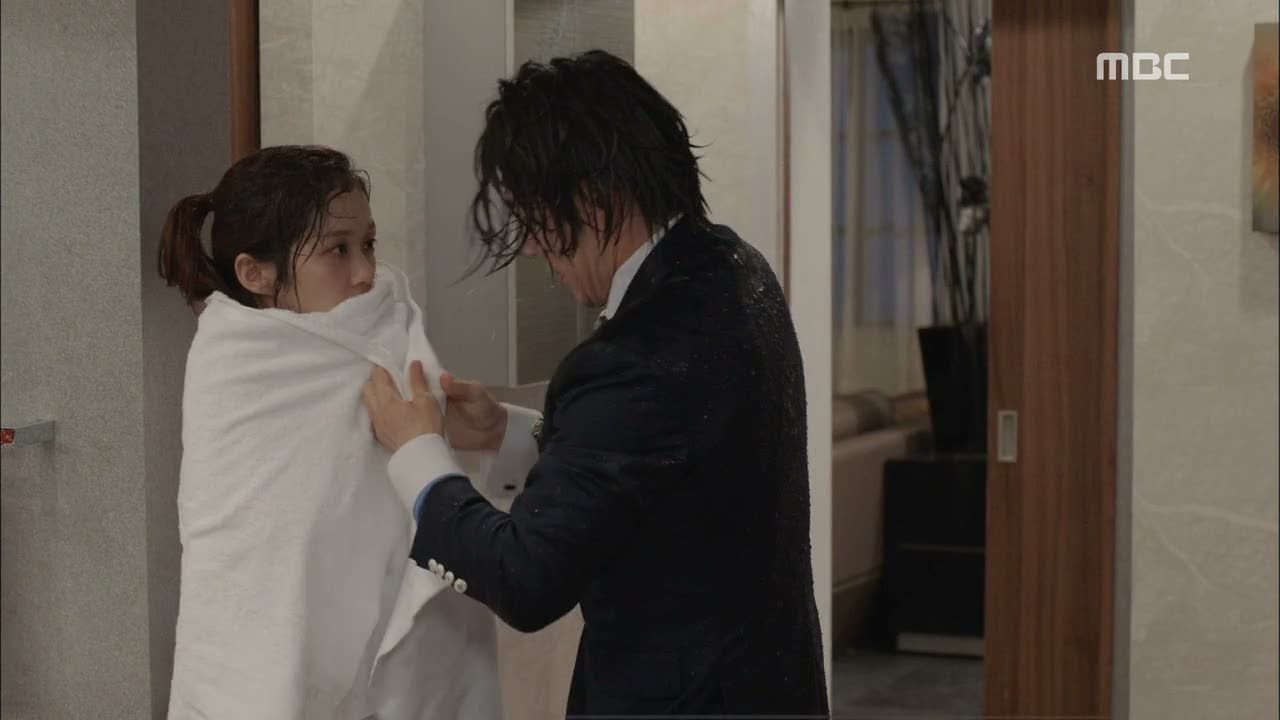 It's Gun to the rescue again, as he slips and slides across the bathroom to cover her in dry towels, completely consumed with worry that she'll catch a cold. Awwww.
Meanwhile, Se-ra stares at her phone in disbelief, because Gun has never hung up on her before.
Gun checks in on Mi-young as she dries her hair, and sweetly encourages her to take her time and be thorough so she won't get sick. Mi-young shyly thanks him for earlier, and Gun looks touched as he smiles at her.
She can't help but smile to herself afterward, unaware that Gun is still lingering outside the bathroom as though he can't bring himself to leave.
He's not the only one thinking of Mi-young though, since Daniel keeps the mug she decorated on his desk as he thinks back to her admission that she's told him all her secrets. He knows it's because she thinks he's a priest, and feels bad about unintentionally conning her.
But while Daniel normally rejects invitations to his own art exhibitions, he takes one look at Mi-young's mug before deciding to make an exception this time. What's he planning?
Mi-young attends the next phase of the prenatal class alone, where the objective is to hand sew the baby's first outfit. After instructing all the fathers present to make the first stitch, the teacher finds Mi-young ready to go at it by herself and asks if Gun is so busy he couldn't come with her.
As always, Mi-young smiles as she makes a viable excuse for Gun—and besides, he's never held a needle before, so she's sure he'd do a poor job anyway.
Suddenly, a voice booms from the doorway: "I'll do a poor job?" Of course it's Gun, and not only is his entry hilarious, but so is the veiled antagonism between him and the teacher. She is definitely not a fan of his cackle. Haha.
Even though she's happy Gun came, Mi-young claims that he didn't have to if he's busy. "You said our baby would like it," he returns. "You can't upset the baby while it's in your stomach." Aww, he doesn't want their baby to be sad. (So. Cute.)
He tells her to hand over the needle and thread—he's totally got this. And surprisingly, he does, causing the two of them to catch everyone else's attention as they smile and laugh while treating the stitching like a surgery.
Gun even asks her to wipe his brow like a doctor, to which the teacher comments that the two of them may as well be reenacting a scene from the well-known medical drama White Tower. Haha.
As if things weren't already too cute to handle, Gun tries to stay one step ahead of Mi-young after the class by asking her if she's hungry. She isn't, and instead thanks him for helping as she holds the outfit happily.
There's no doubt he's pretty proud of himself, but he is curious to know why she's so excited over a simple outfit when she can buy brand name clothes anywhere. Mi-young replies that this outfit is one of a kind, and believes in the old wives' tale that it's lucky for the baby if the parents keep the first outfit it wears.
Gun pokes fun at her outdated beliefs with a good-natured smile, while still giving her that indescribable look, like he's really starting to admire her.
An awkward situation arises when one of Se-ra's friends recognizes Gun outside the prenatal care class, but Mi-young saves her from misunderstanding their situation by acting like she's accompanying Gun on work matters as his secretary.
Gun can't come up with a better excuse, nor can he defend Mi-young when Se-ra's friend treats her like a servant—though he does mutter some choice words about her under his breath.
Mom calls as Mi-young waits alone for the bus, and is as keen to her daughter's tone of voice as ever. Her main reason for calling is that she'll be in Seoul for a get-together, and she wants Mi-young to go with Gun so she can see her son-in-law.
Mi-young pays a visit to her ex-roomie Ji-yeon, who's decided to drown herself in soju since she's recently been fired. She also laments how lonely it is to live without Mi-young, and grabs her friend in a hug: "Unni, you have to be happy. If you're happy, then I'll be fine. I'll be okay."
Even though Mi-young assures her that she'll be happy, she doesn't look all that sure herself. And when she ends up finding the chip Gun gave her in Macau in her old room, she can only heave a sigh. "What did I expect?"
Gun is worried when he thinks Mi-young isn't home, only to discover her already asleep on the couch. He finds himself drawn to the outfit they made together as he runs his fingers along the fabric with this faraway but happy look in his eyes.
He stares down at Mi-young as she sleeps, and swoops down to catch her before she accidentally rolls off the couch. Making an executive decision, Gun carries her to the bed and carefully tucks her in.
After slipping her glasses off, he brushes his fingers against her cheek before he seems to catch himself. But it's only because of her distracting bandaid, since it reminds him of Daniel—so he rushes off and returns with a new one, and oh-so-carefully peels her old one off to apply it.
Then, like a kid, he rips up the bandaid Daniel gave her. Haha. Jealous much?
Mi-young is still asleep by the time Gun gets dressed the next morning, and he seems exorbitantly pleased with himself as he smoothes his bandaid on her arm.
But then he gets the idea into his head to crouch down next to her and take a selca of them together, even though she's still out like a light. Priceless.
He can't stop staring at the photo until he's drawn away by Yong's mother badmouthing Mi-young for what she perceives as laziness. When he tells her that whatever she has to say should be said to Mi-young's face, Yong's mother acts offended that he thinks so ill of her—his mother must have taught him that.
However, she crosses when she adds that Gun may not even remember his mother's teachings since she died when he was so young. Gun exercises a surprising amount of restraint as he replies that he only remembers his mother's back, because she never wanted him to see her cry over his father's infidelity.
Yong's mother complains to her son about her mistreatment, causing Yong to promise her that he'll use the unrest brewing at the company to make Gun pay.
When Mi-young finally wakes up and jumps out of bed, it takes her a while before she notices the new bandaid on her arm. She's clearly confused, but has more important things to worry about since today's the day Mom comes to town.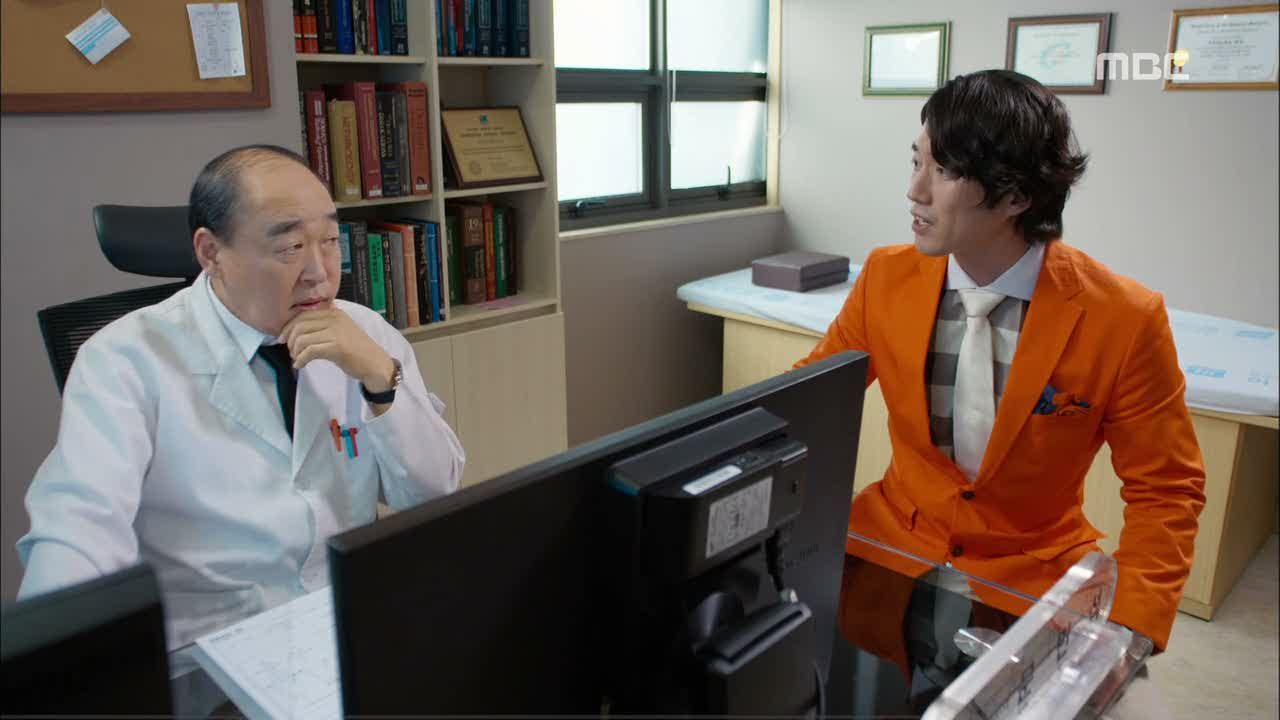 Meanwhile, Gun gets checked out by his family doctor only to get all worked up for nothing—he's totally fine… for now. Apparently there's a genetic disease that runs in his family, and while Gun doesn't show any signs, the doctor advises him to control his temper so that whatever-it-is (seriously, they're deliberately vague) doesn't pop up and kill him.
While Gun gets a mysterious call, Mi-young mentally prepares herself for what excuse she'll have to give Mom for showing up to the party minus one husband…
…But when she walks in, the festivities are already in full swing. The life of the party, currently singing karaoke and dancing with all the ajummas, turns out to be none other than Gun. Hahaha. Did Mom call him?!
He's having a blast, and Mi-young finally manages to pick her jaw up off the floor when all the party ajummas recognize her as Gun's wife and usher her over. She's in complete shock that he's there when she didn't even tell him about it, to which he jokes that she didn't invite him deliberately so that he'd get slapped by Mom.
Mi-young assumes he's doing all this out of obligation and attempts to give him an out, but he doesn't even seem to be acting the part of the perfect son-in-law when he enthusiastically agrees to sing a couple song with his wife and chooses a 90's song called "Why You" by Chuli and Miae.
(Funny Meta Moment: The background visual that plays during the song is of Jang Hyuk performing on a music show back in the early 2000's, when he used to be a rapper under the name TJ Project. That's right, he used to make rap music videos. Nobody's perfect.)
It's hilarious that Gun's verses are about a man accusing his woman of seeing someone else (Daniel, perhaps?), while Mi-young's verses are all about promising that he's the only one she loves. Gun is so delightfully transparent sometimes.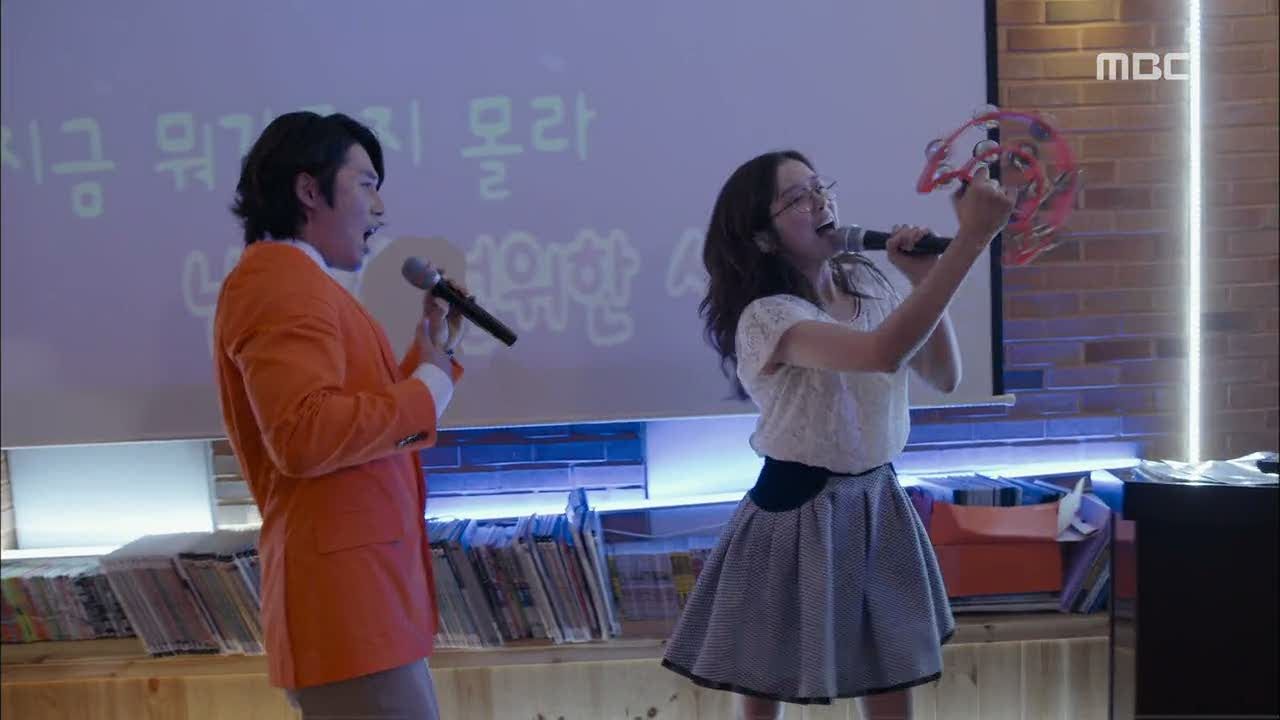 Both of them get super into the song, and have the time of their lives singing and dancing together. This scene is too much fun—my cheeks actually hurt from smiling.
Needless to say, Gun has thoroughly impressed Mom, especially since she'd been worried that he was mistreating her daughter. But now she's dispelled those thoughts, and ends up affecting Gun more than she thinks when she tells him that he can call her "Mom" now.
Aww, he's so happy to use that word for the first time in a long time, and happily calls her "Mom" over and over again as she leaves.
Mi-young thanks him for coming, only for him to brush it off as being his duty—after all, a son-in-law is also a son, right? And when Mi-young compliments his rapping skills, Gun gets a chance to go meta as he chalks it up to an old project of his.
Later that night, Gun calls Manager Tak (wearing the couple pajamas he once eschewed) for a report on the company that bought the Yeoul Island soap factory. Turns out that they plan on using the land to dump industrial waste, which would be really, really bad for Mi-young to find out.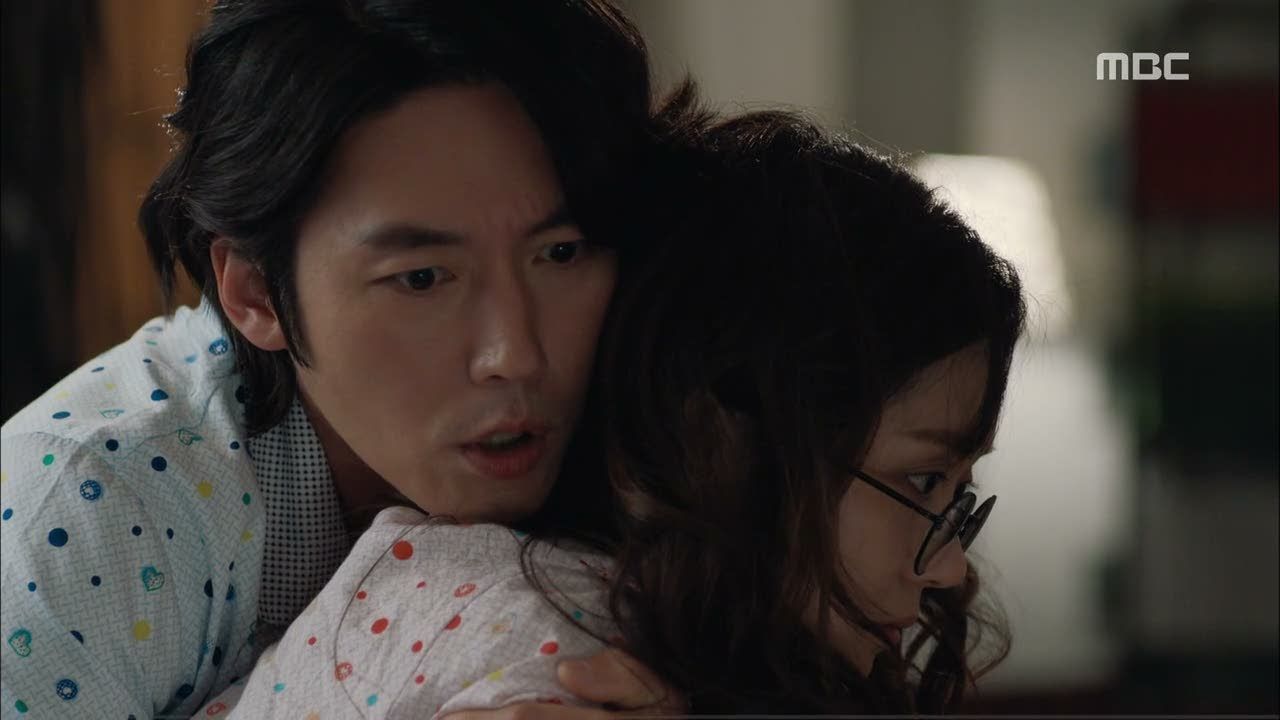 Gun is so nervous that he drops the phone when she enters the room, and desperately grabs her from behind to stop her from reaching down to pick it up. Cue the theme song from Titanic when things get awkward. Bahaha.
But it's only after he makes a production of sneaking the phone out of the room that he all but hits himself for selling the factory and causing this whole mess.
After a brief scene where Se-ra packs her things in order to surprise Gun by returning to Korea early (yikes), Yong uses aegyo on the office secretary to learn that Gun has gone off to negotiate the Yeoul Island issue.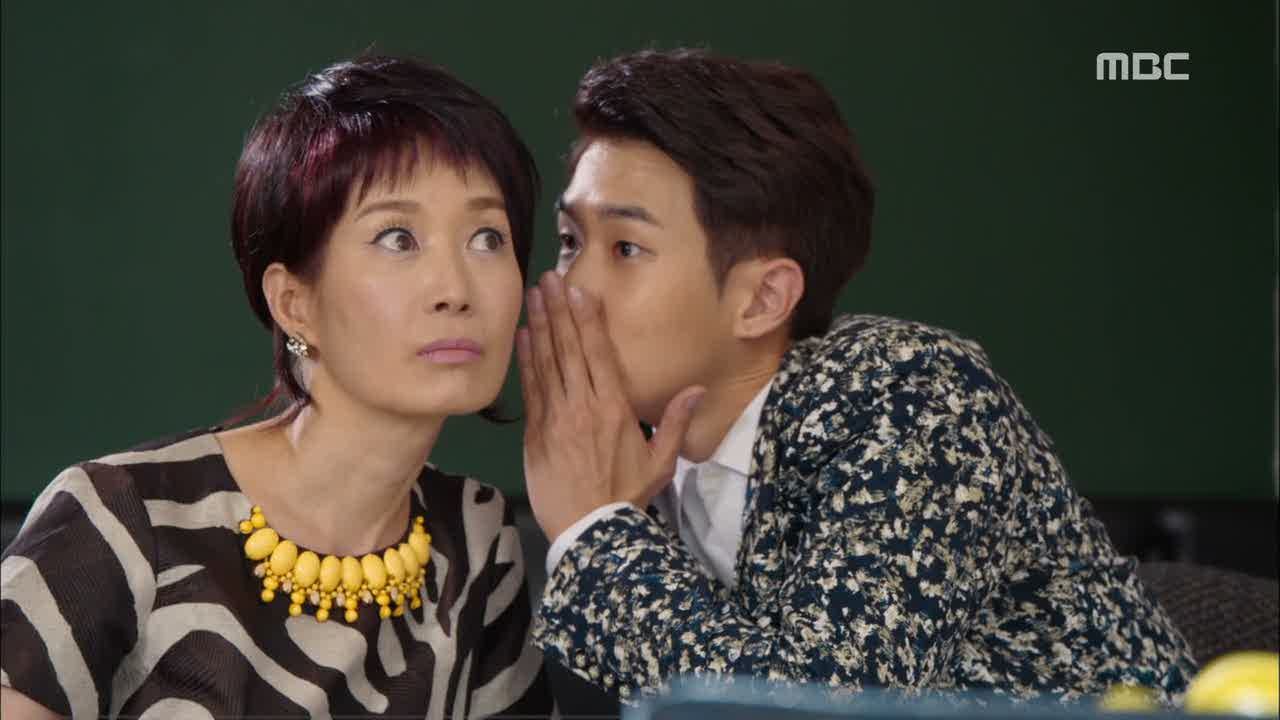 Yong takes the juicy bit of information to his mother, who's absolutely delighted that Gun sold his wife's hometown factory to (the aptly named) Doodoo Industries, especially since they'll turn Yeoul Island into a landfill. She knows it'll be the end of Gun and Mi-young if Mi-young were to find out.
Meanwhile, Daniel sends Mi-young a ticket to the art exhibition along with a note that he has something to tell her if she meets him there.
Gun meets with the CEO of Doodoo Industries in a Nameless Gangsters throwback to cancel the sale of the Yeoul Island factory, only for CEO Doodoo to bark that it won't be so easy to get out of their deal.
Even though Gun is willing to pay him an "unimaginable amount" for breaching the contract, CEO Doodoo is unimpressed as he asks why Gun suddenly changed his mind.
As Gun replies that Yeoul Island isn't a worthless spit of land that deserves to be turned into a landfill, he flashes back to Mi-young defending the island to the clan elders. When CEO Doodoo asks what the price needs to be for Gun to sell, Gun stares him straight in the eye as he says that he won't sell it, not now or ever.
"That island is my wife's hometown," he adds firmly. "Even if I die, my decision will never change. Do you understand?" He doesn't wait to see if the shady CEO does, because he's got another gig to run off to—the art exhibition, to be exact.
Turns out that the very same art exhibition is for Daniel's work, which he seems much less interested in than he is in waiting for Mi-young to show up.
Gun takes a long look at his bare ring finger as he thinks back to how Mi-young had covered hers with her hand when they were at the prenatal class. It's enough to make him fish out his wedding band in order to place it back on his finger with a smile.
Daniel stays just out of sight as Mi-young peruses the gallery, but loses his first chance to approach her when she receives a text that instantly wipes the smile from her face. On her phone is all the information about Jangin Chemicals selling the Yeoul Island factory. Oh no.
When Daniel calls her, Mi-young turns around, her face stricken and her eyes welling with tears. "Father, what should I do?" she stutters.
Mi-young: "I… truly thought that person was a good person. He could have turned me and the baby away, but he didn't… And he did everything he could for the people in my hometown. So perhaps… perhaps… I thought he could be someone the baby needs more than myself. But now… I don't know what kind of person he is."
As Daniel stares helplessly at Mi-young, a completely unaware Gun walks into the exhibition after smiling at his wedding band like a true newlywed… Only to stop curiously when he spots his wife's back.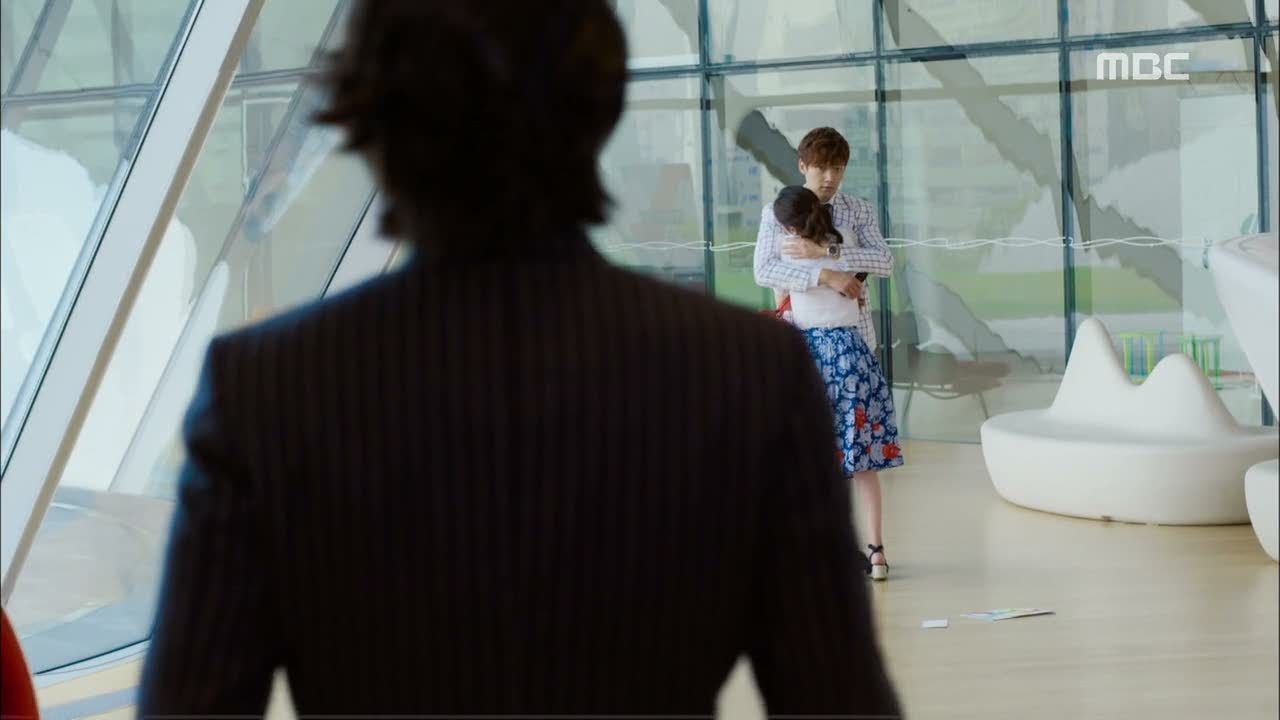 Daniel's expression grows dangerously dark the moment he lays eyes on him. Mi-young has no idea who's behind her and motions to leave, but Daniel stops her with a hand on her arm.
"Should we see what kind of person he really is?" Daniel asks, right before he pulls her into a sudden embrace.
And as he holds her there, he locks eyes with Gun from across the room.

COMMENTS
If smelling salts were still a thing, I'd totally be reaching for them right now. Maybe even from my fainting couch.
The funny thing is, even though that last scene felt the most contrived, recognizing that did absolutely nothing to stop me from eating it up like a giant piece of artery-clogging cake. Is this what true suspension of disbelief really feels like? Has this show reached the point where a cliche here or a plot contrivance there can not only be forgiven, but actually embraced?
As long as those moments serve to better tell the story and make logical sense in-universe, then the answer is a resounding Y-E-S. It's hard to tangibly pin down what's essentially intangible about this show, suffice to say that all its separate elements are working together to create a cohesive whole that just works, for lack of a better way to put it. It's sincere without being maudlin, hilarious without being dumb, and balanced without being a bore. No show is perfect, but Fated To Love You is getting pretty darn close.
It helps that both Gun and Mi-young are so winsome in their own rights, whether they're together or apart. I couldn't have loved Gun's change of heart any more than I already do, because while he had a temporary lapse in judgment, he never passed that point of no return we were all worried about. He clearly wanted to hate Mi-young and blame her for what happened, but he's also not an idiot, nor is he anything even remotely close to being a bad person.
In fact, he might actually be more emotionally vulnerable than Mi-young is, which would account for his overcompensation when it comes to protecting himself. Despite all the safeguards he put up against an impending snail attack, he tore them down without even being attacked at all. To make matters worse for his crazypants theorizing, Mi-young wasn't even trying when it came to him. She was willing to go along with his conditions and live separate lives even if it meant lying to her family to protect his dignity because that's who she is, and what's probably the most amazing aspect of these two characters is that Gun realized that all on his own.
In that sense, Mi-young's acceptance of all his terms save for where the baby is concerned turned her into an unwitting mirror for Gun, since all she had to do was be herself for Gun to see his own wrongs reflected back at him. The reason why I'm fairly convinced that Gun is the more delicate of the two is because he was the one following Mi-young around all episode long, and while we could maybe chalk up the prenatal class to him doing right by the baby, the same can't be said of him acting like the perfect son-in-law at Mom's party.
Scratch that—I don't think that Gun was forcing himself to be anything that he isn't. Mi-young gave him multiple opportunities to escape that he refused to take, probably because he was having the time of his life. And that look when he got to say the word "Mom" and meant it? That's love. But now he's gonna have to prove it, because unlike him, Mi-young won't be operating off a misunderstanding, nor will she be thinking of cute metaphorical snails—she'll be thinking of her beloved hometown covered in toxic waste. Good luck, Gun. You're going to need it.

RELATED POSTS
Tags: Choi Jin-hyuk, Fated To Love You, featured, Jang Hyuk, Jang Nara