Records of a Night Watchman: Episode 1
MBC's new supernatural fusion sageuk Records of a Night Watchman premiered today, and I don't know if it's because I set my expectations really low (or because the really terrible trailers made me), but the show is off to a decent start. Granted, it's a world filled with ghosts, magic, and dragons—you have to be prepared for a certain amount of cheese when what's written on the page and the CG outcome isn't always as seamless as you'd wish. But there's a hefty mythology in play that blends a familiar element—Joseon royalty—with a complex supernatural universe that manages to feel pretty epic at times.
I can't say whether that'll hold up past the first episode, but I am intrigued. I'll keep watching to see if it's something I want to keep recapping, but for now I make no promises. Ratings-wise the show got off to a good start in first place at 10.9% (Trot Lovers came in at 9.1% and Temptation followed at 8.3%).

EPISODE 1 RECAP
A narrator tells us that in a time long ago, there was a battle raging between the world of ghosts and the world of humans, between those who denied that ghosts exist, those who used ghosts, and the ones who chased them out. The humans on the front lines of that battle are called the Night Watchmen.
Our journey through space ends on an eclipse, and fades into an old man's eye. The man casts some kind of dark magic on the mountainside and becomes young again. He hands his serpent staff to his minion and says that a murderous energy has been unleashed, and soon Joseon will be stained with blood.
In the palace, a tiny toddler prince plays games with the other court children, attended to by a very fussy mothering eunuch. The prince, LEE RIN (later Jung Il-woo), is a good-natured little boy who doesn't quite register the unfairness of the power imbalance between him and his older, illegitimate brother GISANGUN (later Kim Heung-soo).
When Gisan bumps into Rin by accident, EUNUCH SONG (Lee Se-chang) pitches a fit that the prince might've been injured, and the other children insist that Gisan bow in apology to his little brother. He swallows his pride and complies, and watches Rin with a long face as he plays with the other children and brags about the scarab cage their father built for him.
Suddenly a strange energy stirs in the air, and an eclipse darkens the sky. Everyone looks up curiously, and their eyes widen to see a meteor shower looming down on them. Giant flaming rocks come crashing down left and right, destroying everything in their path.
Little Prince Rin stands frozen in that spot and Eunuch Song scrambles to pick him up and piggyback him to safety, surrounded by the remaining guards. In the chaos Rin doesn't have a chance to go back for his pet scarab, but Prince Gisan braves the falling rocks to retrieve it.
KING HAEJONG (Choi Won-young) hears the report of the damage to the palace, and stops cold when he's told that Rin is missing.
Up in the mountains, Evil Minion enacts the second phase of the attack and slams the serpent staff into the ground. Waves of energy turn into clouds of black smoke that descend upon the city. What's creepy is that the smoke monsters are clearly sentient, moving through the people with purpose, looking for something… or someone.
Two of them swoosh through the palace and stop when they reach Prince Rin's entourage on the run, and collide with two of the guards. Oh no, the black smoke seeps into them, taking over their bodies. Ack, it's demon-possession! Ruuun!
Rin and Eunuch Song look on in horror as their own guards turn against them, killing everyone who stands in the way. They run as the other guards fight off the black-veined demon-possessed attackers. Curiously, as soon as the other guards have been killed, the demons turn on their hosts, stabbing themselves, and then seep out again as black smoke. Creeepy.
Eunuch Song cries that he'll protect Rin until the end, but it's not long before a demon catches up and wraps its smoky tendrils around his foot. He uses all his strength to fight it off, and shouts for the prince to save himself.
Rin cries that he won't leave him, but Eunuch Song screams for him to go. Once Rin starts running, Eunuch Song makes his last stand and tells the demons they'll have to kill him to go any further… so that's exactly what they do. Poor Eunuch Song.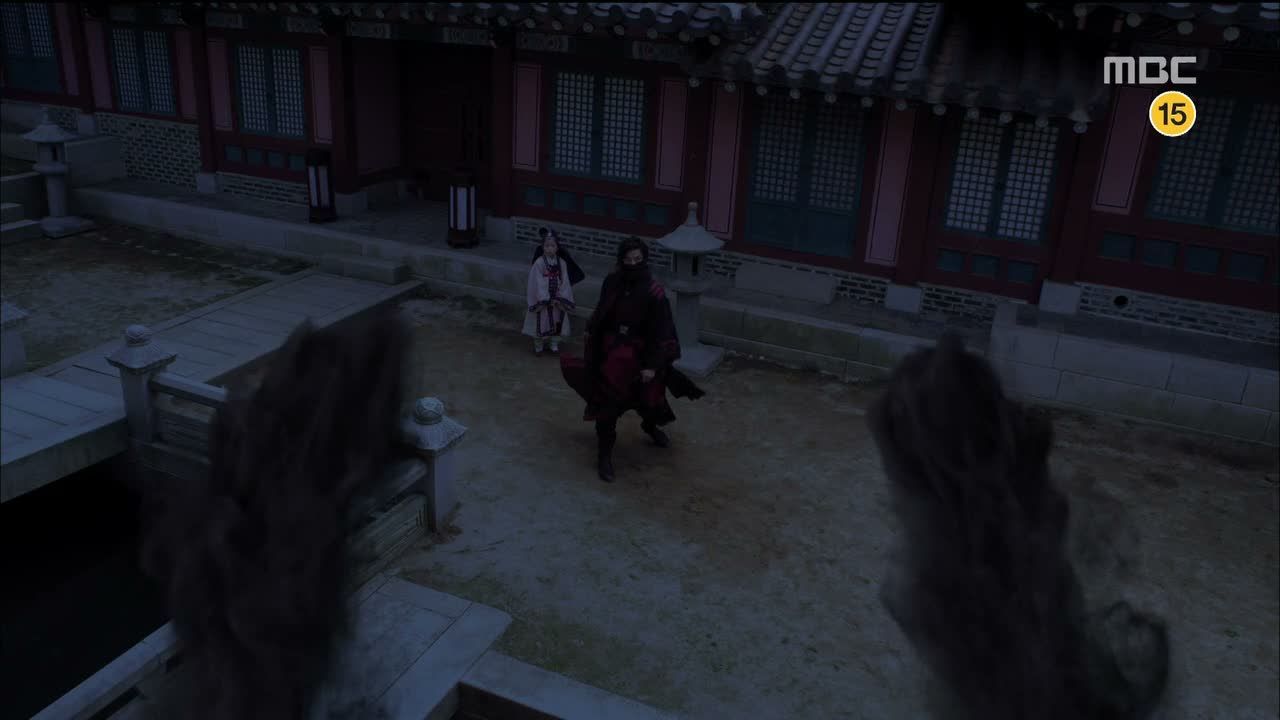 Now that Rin is all alone, he's quickly outrun by two smoke demons who loom above him like predators. He backs away from them, whimpering in fear, when suddenly a man swoops in like he fell from the sky and cracks a whip that makes the demons back away.
He tells the prince to run, and Rin watches the badass warrior agape. With one swift throw, he sends talismans and blades flying, and they magically pin the smoke to the wall as if they're made corporeal by the talisman's magic. He decrees, "Ghosts, return to the afterlife!" and they dissipate.
During the chaos, Evil Minion breaks into a palace storeroom and steals a scroll. That's a pretty elaborate diversion for a simple theft, no? He leaves behind an ornamental knife as a signature.
Rin runs through the woods calling out for his father, and comes face to face with another smoke demon. It's about to overtake him when the king lunges with his sword, having arrived just in time to save his son.
Rin breaks into a huge smile and goes running toward his father's arms; what they don't notice is that the ghost is still there, creeping along the ground and clipping at Rin's heels. Just as he's about to reach his father, the black smoke yanks Rin back and dangles him in midair by the throat.
The king screams for his son but nobody seems to know what to do. Thankfully our badass masked night watchman JO SANG-HEON (Yoon Tae-young) comes flying in for a second rescue, and a talisman pins the ghost to the tree.
The king catches Rin as he falls, and Sang-hyun kills the ghost. It must be the last one standing, because that brings back the sunlight. The king sighs in relief when Rin regains consciousness for a brief moment, and he nods knowingly in Sang-hyun's direction.
In the aftermath, Rin is safely back in the palace, but lies ill with a fever. His parents tend to him, as his grandmother the queen dowager warns the king that they can't stand for such attacks on the royal family. She orders him to uncover the traitors behind the deliberate attack and punish them accordingly.
Oh phew, Eunuch Song didn't die—he frets outside, worried about the prince. The queen dowager warns him on her way out that if Rin doesn't wake up in time to become the crown prince, she'll have Eunuch Song's neck.
The court ministers beseech the king to punish the attackers, and an argument brews between the ministers who heard (and believe) they were attacked by ghosts, and those who chafe at the idea that the supernatural world exists. The king declares that whether human or ghost, he'll make them pay.
Once the king is alone, Jo Sang-heon (now dressed in his normal warrior garb) reports the theft of the scroll and shows him the knife that was left behind. He says that the protective barrier to keep the monsters out of their world is starting to break down, and the king tells him to call an emergency meeting of the night watchmen.
Meanwhile, the spell-casting masked Blonde Zorro in charge, SADAM (Kim Sung-oh), unravels the stolen scroll with an evil glint in his eye.
The king's night goes from bad to worse when the queen tells him that Rin is missing. We see him wander through the woods in a daze—is he possessed, or just being watched by something creepy? Something's not right with him.
He's looking for his pet scarab, and when he finds the cage floating in a lake, he jumps into the water. It seems shallow enough for him to tiptoe along, but then suddenly a wisp of black smoke grabs him by the ankle and pulls him underwater.
He flails, drowning, and the king jumps into the lake to fish him out. He's breathing at first, but then he goes limp in his father's arms…
Late that night, the king and Sang-heon make their way into a secret room hidden behind a wall. It's a strange transition seeing as how we don't know what happened to Rin, but if he's tending to business, the prince must be okay?
He sits down with the head of the night watchmen (one of the ministers in his court) and shows him the knife left behind by the person responsible for the attacks. The minister says the mark is from the Yongshin (Dragon God) Tribe in Mount Baekdu, an ancient tribe that worships imugi. (Imugi are proto-dragon serpent monsters that must amass great power to become dragons.)
Their leader Sadam is a sorcerer who can conjure ghosts, and based on the scroll they took during the attack, their goal seems to be to free the imugi that's been bound inside Mt. Baekdu.
He adds that Rin's ailment must be supernatural and can't be cured by human medicine. Sang-heon says that there's a supernatural flower that grows in the heart of Mt. Baekdu that cures mystical ailments, and the king orders them to prepare for the journey.
Rin cries in his sickbed over the lost scarab that his father gave him, calling it his friend. The king promises to retrieve his pet on the way back and tells Rin to fight off the sickness until then. He then leads his army deep into the mountains, where Sadam sees them coming from his perch at the very peak.
When it gets dark, the king's army finds the road blocked by mystical boulders, forcing them to turn around at a dead end.
Sang-heon feels something coming and prepares the archers to attack, and they watch dumbfounded as a lone horse gallops toward them, transforming into black smoke on the way. In the blink of an eye, the horse turns into a giant boulder, flattening everything in its path.
Okay, Smokey the Horse was pretty cool, but then the next wave of attacks comes in the form of giant skeletor monsters with glowy eyes that look like they hopped out of a video game (or Pirates of the Caribbean), and I'm pretty sure I'm not supposed to be laughing, but I am.
The warriors fight back, but no matter how many times they stab at the giants, they won't die. Because they're already dead, I want to explain, but then Sang-heon finally figures out that they're made of dead things. He slaps a ghost talisman on one to make it killable, and then strikes with a sword to the heart. They all vanish into thin air.
A little girl suddenly comes out of a tiny crevice in the cliff and waves for the army to follow her. Sang-heon is wary that it might be another trap, but the king doesn't see another way out and decides they'll follow. She leads them to a group of mountain people called the Mago Tribe, whose leader can see the future and already knows why the king is here.
She says that they can give the king the flower he needs to save his son, but the member of their tribe who can perform that magic has been taken captive by the Dragon God Tribe. The little girl pleads with him to save her sister, and the tribe kneels before the king.
He says that he is only the king of men, and wouldn't dare to get involved in the world of the gods. But the tribe leader takes him to a sacred cave to show him a bow and arrow given by the gods that can only be wielded by the king of Joseon.
The king approaches carefully, and when he first puts his hand on the bow, the ground shakes and he can't lift it. But then the cave grows still and he can feel something change, and the bow lifts in his hand.
Sadam taunts his captive shaman YEON-HA (Yoo Da-in), making sure to make us feel extra creepy about the fact that this all-male tribe has kidnapped this girl so she can be "reborn" to serve their dragon god. Creepy cult leader much?
He brands a mark into her neck and casts a spell, as she screams in pain and fights against her chains.
Late that night, Sadam leads his tribe in a primal chant, wearing the craziest headdress you've ever seen, I guarantee it. It's… just… wow. He says that tonight they're going to awaken the dragon god, ushering in a new world that will belong to them.
They bring Yeon-ha up to him, and he tells her that she's now going to be put to use. She spits in his face and declares that she is a Mago Tribe shaman, not one of them, but one powerful tap of his serpent staff makes the mark on her neck glow, and she struggles from the pain.
They chain her up to the tree to be made a sacrifice, and Sadam begins to chant the spell written on the stolen scroll. He approaches with a knife…
Suddenly a shower of arrows rains down on them, and the king's army charges in. Go, king's army, go! They clash with the tribe, but Sadam continues toward Yeon-ha to finish the ritual before he loses his window.
The king attacks him just in time to save her, but in the tussle, Sadam manages to knick her arm with the blade and the king knocks it into the water. Agh. With her sacrificial blood on it? This is bad news bears…
They continue to fight, but then a scary rumble begins to make the lake water ripple, and then a giant freaking imugi comes flying out of the lake.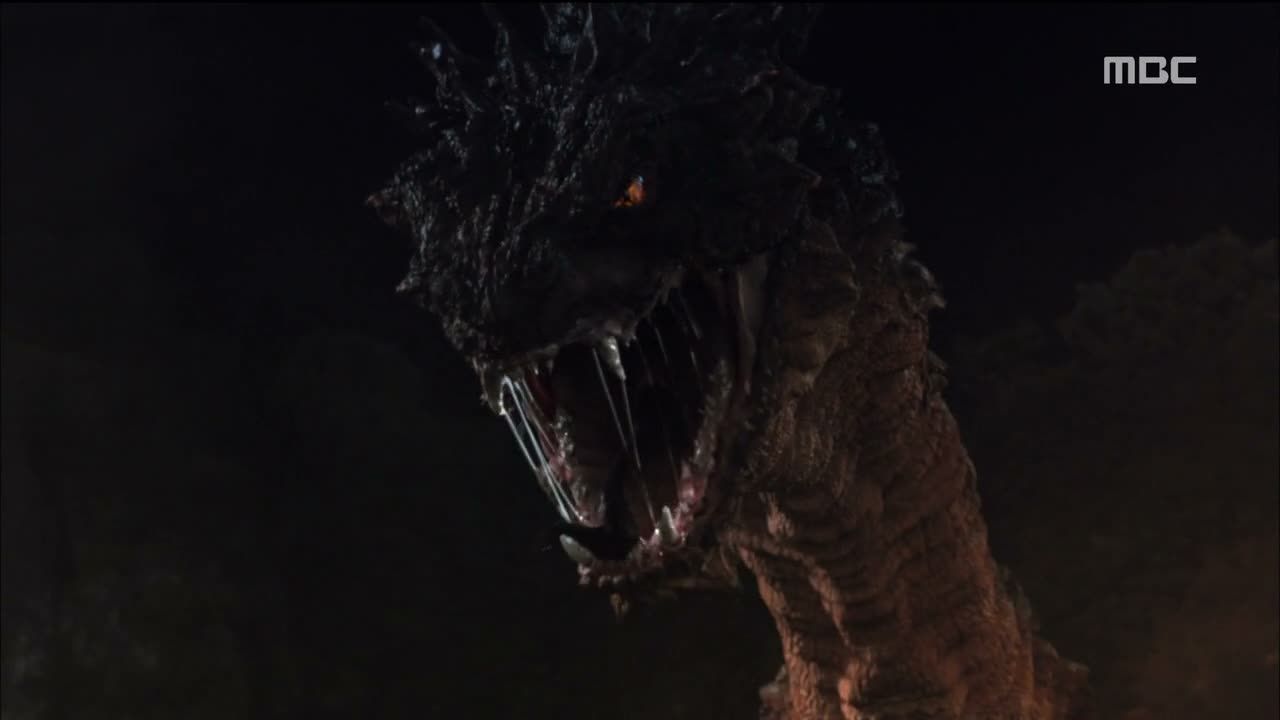 The king gathers his wits in time to order a round of flaming arrows, but that just pisses it off. Thinking quickly, Sang-heon orders the night watchmen to put up their shields, which at least ensnares the imugi in some kind of electric supernatural force field.
The king fights Sadam and nearly gets killed in the process, so Sang-heon rushes to his rescue and takes over, urging the king to focus on the imugi. Ah right, the god-bow. Shoot it down!
The king grabs the bow and arrow and aims for the imugi, but Sadam sees what's happening and sends a round of arrows at the men holding up the force field. It's enough for the imugi to break free.
Sang-heon uses the moment to send a spear right into Sadam's chest, knocking it into place with one push of the hand. His men finish Sadam off with swords, and he falls into the lake.
The imugi beelines for Yeon-ha, and the king gives chase on horseback, drawing his bow and searching for the source of the imugi's power, under the scales that run in the opposite direction. He finally spots it and lets the arrow fly…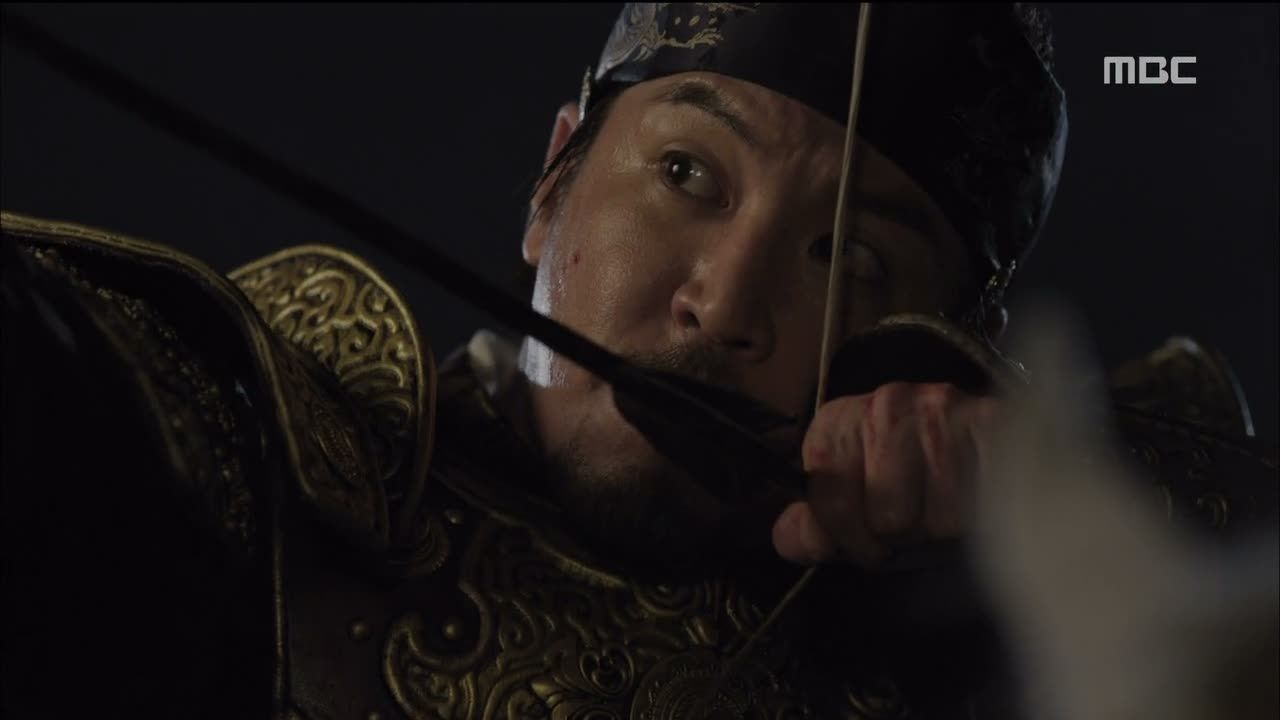 And it lands with precision in the perfect spot, sending the imugi crashing down to the ground in a heap. Nice hero moment.
He leaps off the horse and cuts Yeon-ha's chains down for good measure, and the night watchmen run to the imugi, where it shrinks and turns to stone.
In the morning, Yeon-ha returns to the army's camp with her little sister and her tribe elder. The king sees that she's still bleeding from her arm and tenderly bandages her wound, and Yeon-ha promises to use all her strength to conjure the mystical flower to save Prince Rin.

COMMENTS
Honestly, I was expecting it to be much worse. I was excited about Night Watchman early on because I'm just a fan of supernatural genre shows, but the promo material (and okay, some of the casting) put me on edge and I'm still a little worried for what's to come. But the premiere surprised me because for the most part, it told a cohesive story, introduced me to a supernatural universe, and executed a fair amount of action in an engaging way. I feel like the downside might now be that the backstory is better than the main story, a la Gu Family Book. I don't think I'll get attached to the father more than the son, but I wonder if the scale of the supernatural 'verse holds up once the king's dragon war is over.
I don't know that they actually had to have quite so many action set pieces in one episode, though I'm then going to contradict myself by saying that Yoon Tae-young's night watchman character is by far my favorite because he's so badass. He's the kind of character that keeps a show like this grounded, because no matter how many puffs of black smoke he's fighting, he does it like there's a person on the other side. And you have to give props to Kim Sung-oh, who commits to his character no matter how ridiculous he looks. His costume actually makes me go slackjawed, it's so crazy. How does he do it with a straight face?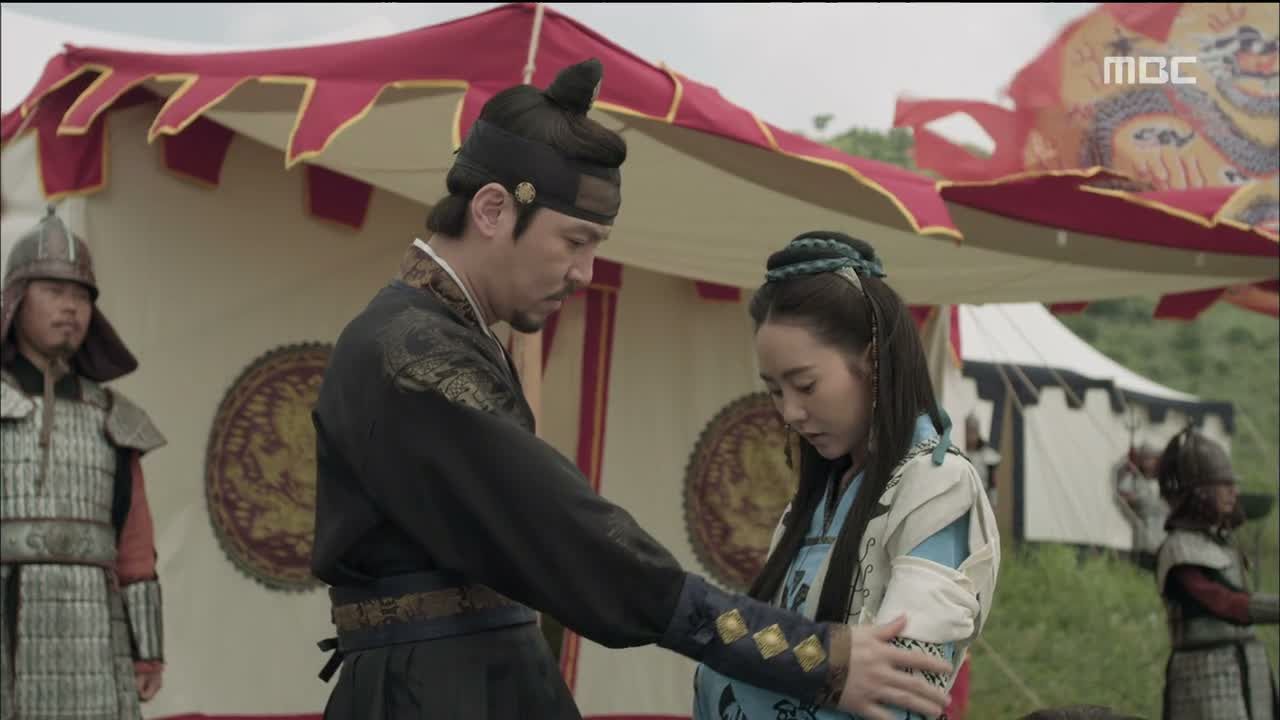 To their credit, the actors ground the outlandish plot by playing everything straight—you buy into the world because they act as if it's not at all strange to be interacting with ghosts and gods. It also helps greatly that we have very familiar story elements at the core, underneath all the action and the magic: a palace drama between princes, a king's love for his son, a warrior's dedication to his king, a eunuch's devotion to a tiny child prince.
This is the stuff that engaged me, so I hope that they don't lose their focus trying to out-magic themselves. I think it's a feat that the imugi didn't make me laugh out loud (I'm totally cool with dragons—there's just a fundamental level of execution you need to pull one off without inciting laughter), and I thought the cooler element was the ghost-demons of black smoke (like Supernatural but with a higher level of sentience in smoke form). They were surprisingly eerie and I liked that they were doing ghosts in a different way that kept them from being the usual specter-forms.
It's not an opening that blows me away, so we'll have to see how the full backstory plays out, because it could very well be the kind of show that changes its tone quite drastically once the prince grows up. I'm back to being cautiously optimistic, but it's a show that teeters so close to the edge—you know, the one where you go over and it becomes too ridiculous to be taken seriously but too serious to be campy—that I worry about that balance once we get a new cast. Again, no promises for recaps, but I'll keep an open mind and keep watching.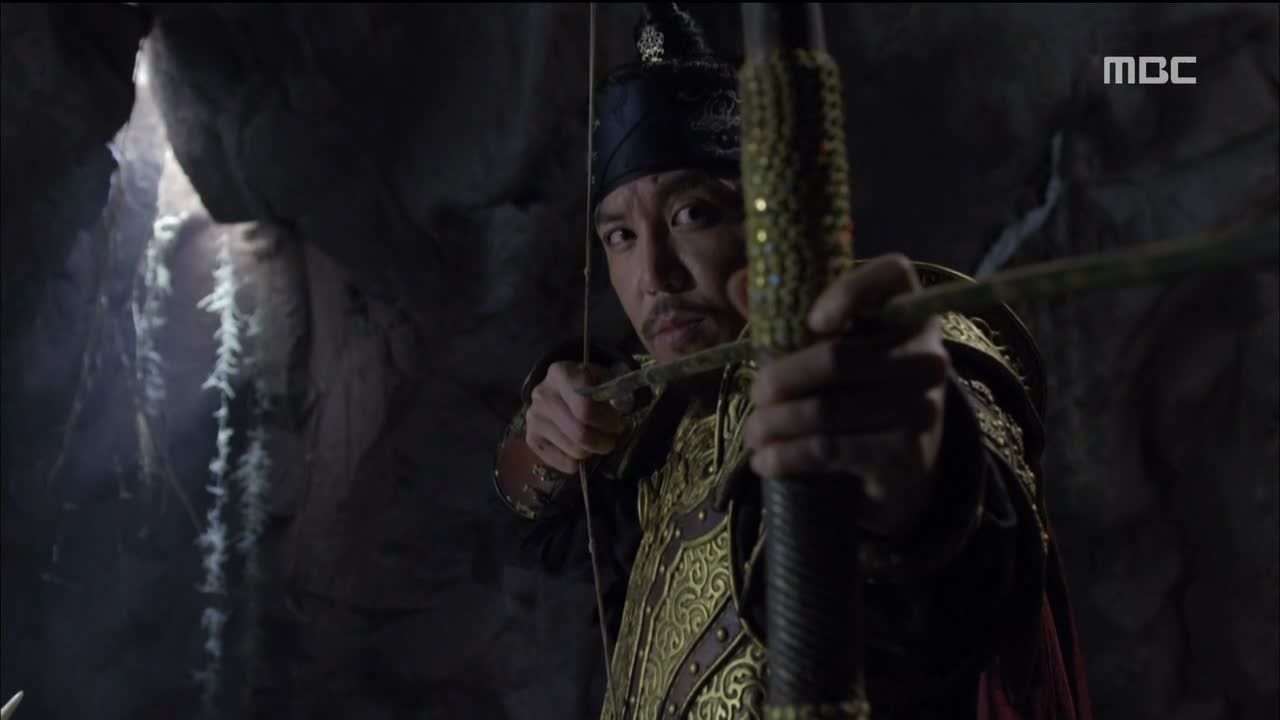 RELATED POSTS
Tags: featured, first episodes, Jung Il-woo, Records of a Night Watchman, U-Know Yunho