My Secret Hotel: Episode 5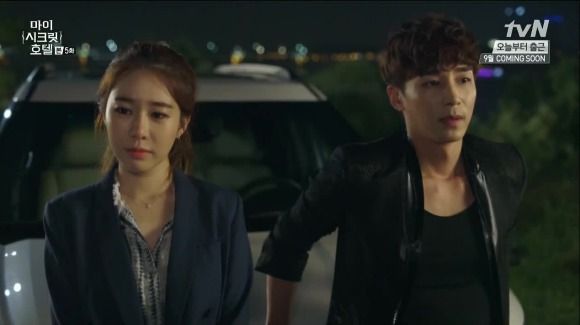 The mystery takes a backseat as we focus on Sang-hyo and Hae-young's relationship, particularly what happened between them in Las Vegas. But can the past be put aside in order for Sang-hyo to find a way to save the reputation of The Secret Hotel — and her job? Sung-gyum continues to find out all he can about what happened to his father, and Soo-ah manages to be the thorn in just about everyone's side.
EPISODE 5 RECAP
As he's leaving his studio, Hae-young finds Sang-hyo waiting for him. She promises to take care of his and Soo-ah's wedding, but he questions whether she can totally be neutral in helping him marry another woman. She reminds him that their relationship ended seven years ago — she has no feelings for him.
Hae-young refuses her offer, reiterating that he said he never wanted to see her again. But as soon as he's in his car driving home, his cool façade drops as he frets about the way she said she had no feelings for him anymore. Meanwhile, in a taxi of her own, Sang-hyo sobs furious tears as she curses Hae-young, calling him a jerk who will do anything he wants without concern for anyone else's feelings.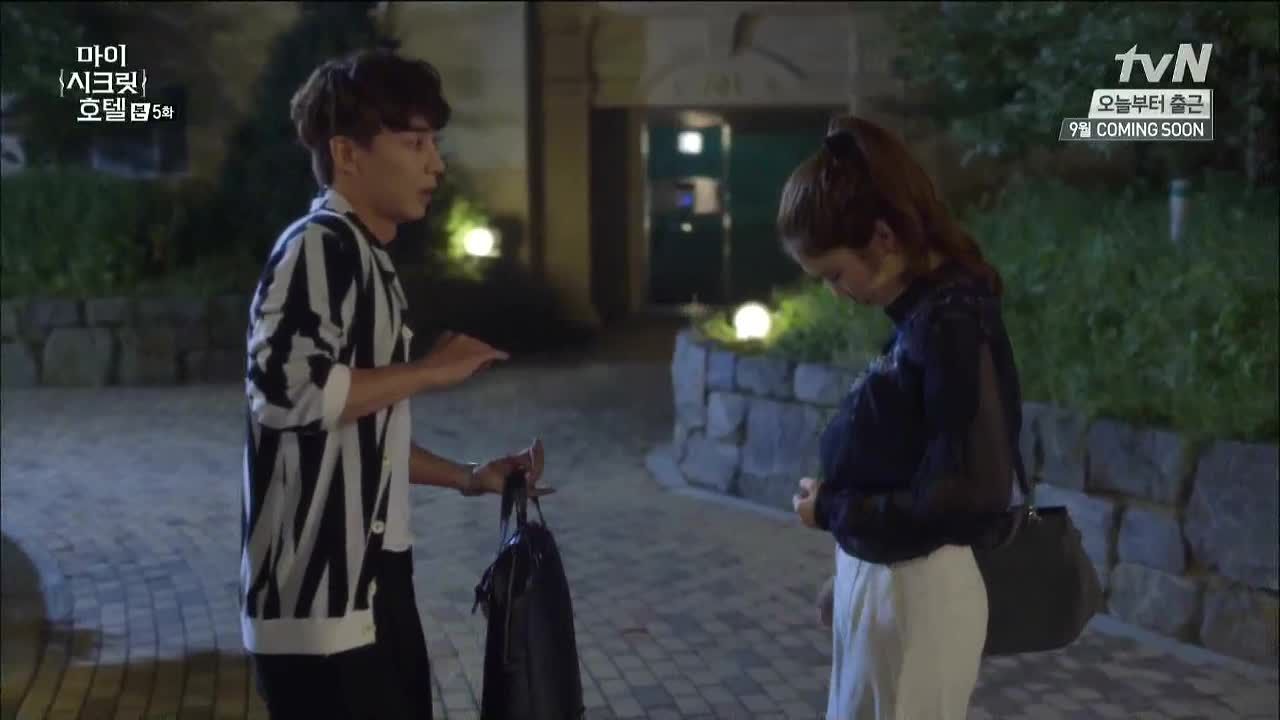 When he arrives home, Hae-young practically jumps out of his skin to find Sang-hyo waiting for him outside the apartment building. He's ready to take her to task for figuring out where he lives, but she's focused on getting him to agree to letting her handle his wedding.
Putting aside her pride, she desperately begs him to give her another chance. This isn't just about her; his wedding affects everyone else at the hotel too.
Any thought Hae-young had of reconsidering disappears as soon as he hears Sung-gyum's name. He doesn't care if the hotel goes out of business; he's not letting her handle his wedding. Sang-hyo's humble demeanor vanishes after that brush-off, and she shouts that she'll curse his wedding then!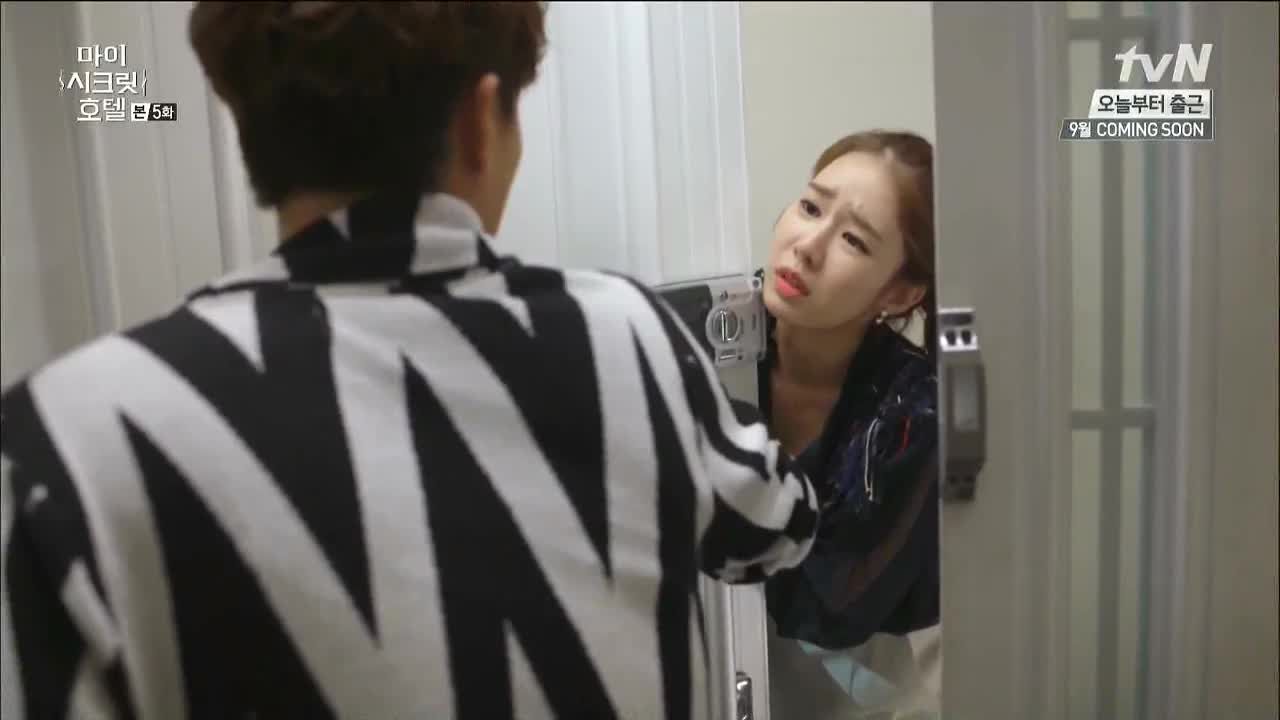 But she takes it all back as she follows him to his apartment, begging him to reconsider as she hangs on the door to prevent him from shutting it in her face. He manages to shake her off and lock the door. After settling down with a beer in hand, he tries to ignore the persistent ringing of the doorbell, but finally charges over, slamming the door open: "I told you to stop!"
Soo-ah's eyes blink in bewilderment, and Hae-young is taken aback to see his fiancée at the door instead of Sang-hyo. Soo-ah is ready to spend the night, and Sang-hyo (who'd hidden around the corner) gives a kick to the door as she takes her leave, overhearing what she assumes are the two of them preparing for some sexy times.
But Hae-young puts in a call for Soo-ah's chauffeur to come pick her up. She's a little offended that he doesn't want her to stay the night, wondering if there's another reason why he hasn't wanted to sleep with her, despite them being engaged.
She immediately leaps to the conclusion that he must be impotent, and reassures him that they'll find the best doctors and medicines to find a cure. He's offended that she thinks that's his problem, but decides it's pointless to argue with her.
Chauffeur Kim arrives and Hae-young sees them off (with Soo-ah still suggesting various natural remedies for impotence, ha). As Hae-young walks back to his apartment, he keeps checking to verify that Sang-hyo isn't lurking around. He pops out of his apartment every few seconds as if to suddenly catch her in the hallway, but his bright smile fades to a disappointed frown when he realizes Sang-hyo is truly gone.
Detective Kim is in his office, lost in thought as he recollects Hae-young's statement. Hae-young told him about the phone conversation he overheard the night he visited the hotel, as well as finding Kyung-hee crying alone.
The phone call Hwang made has been tracked down to a number in New York, but because the number is no longer in service, they're unable to confirm who it belonged to until they're able to cut through all the red tape to get that information from America. But Detective Kim is more focused on the content of the conversation: who is the son that Hwang threatened to tell?
Sung-gyum has tracked down a sushi chef who used to work at the hotel with his father. He asks the chef if he knows anything about his father's death, and when the chef hesitates, Sung-gyum slides over an envelope of money.
The sushi chef recalls that Sung-gyum's father fell over a railing on the second floor lobby of the hotel and died. Or so he heard. The chef hesitatingly admits that, because Sung-gyum's father had so many enemies in the hotel who were jealous of his success, there were rumors it wasn't an accident — it was murder.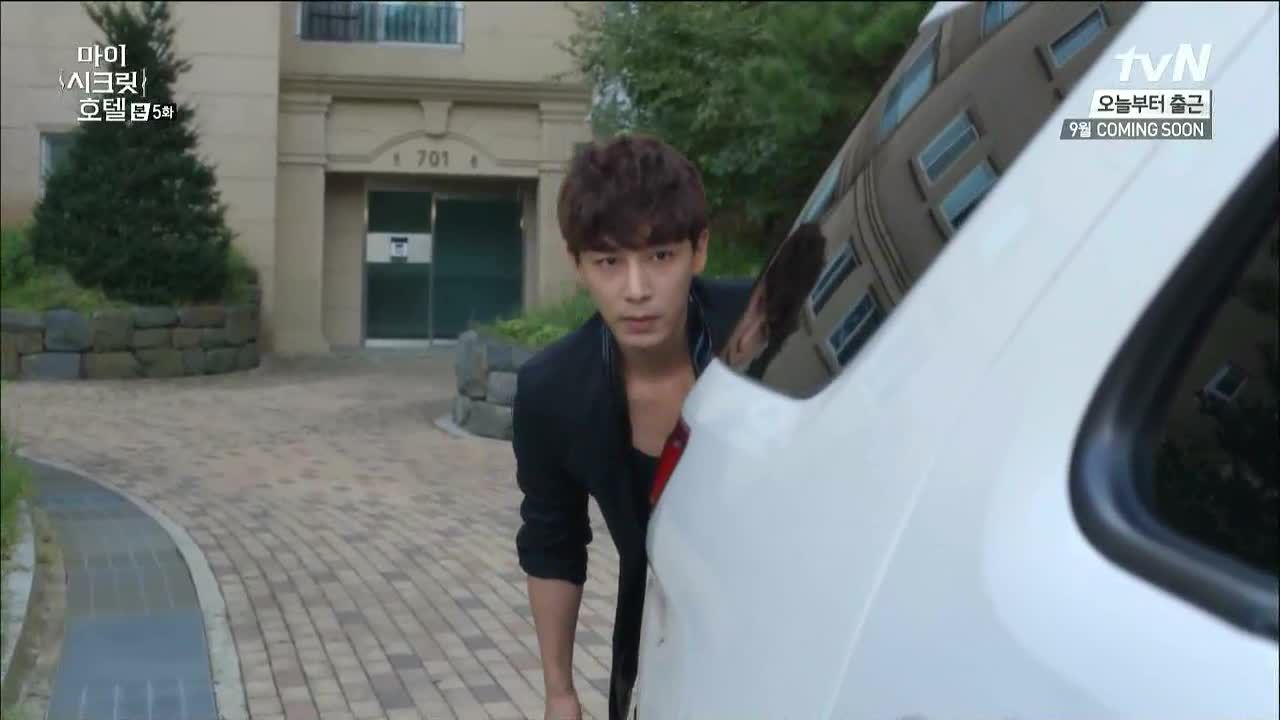 The next morning, Hae-young peers around all the bushes and crouches beside his car, expecting to see Sang-hyo leap out. Disappointed to realize she wasn't lying in wait for him, he gets into the car and imagines all the ways she had suddenly showed up before in all her crazy disguises. He sighs as he realizes that she must have come to her senses about begging to do his wedding.
Sang-hyo is contemplating her resignation letter when the rest of the wedding staff arrive at the office. She excuses herself, and Kyung-hee worries for her, realizing that Sang-hyo wasn't able to get Hae-young and Soo-ah to agree to redo the wedding after all.
Peering into Sung-gyum's office to see if he's there, Sang-hyo is startled to discover that he's actually behind her. Amused by her nervous antics, he asks if she's there to see him. Flustered, she explains that she was just walking by, and quickly makes her escape. But unbeknownst to her, the resignation letter falls from her portfolio and lands at Sung-gyum's feet.
She heads outside and finds GM Lee sitting on one of the benches. He invites her to join him, and says that even though it must be hard for her to try and resolve the wedding situation, he still believes in her and knows she'll do her best. At his kind words, she smiles, appreciative of the fact that he's always been supportive of her.
He admits that if he had a daughter, he would want her to be just like Sang-hyo. She confesses that he's like a father to her too. As she's about to show him that she'd even gone so far as to prepare a resignation letter, she discovers it's gone.
Sung-gyum has it in his hand, and as he rounds the corner of the garden, he sees the general manager and Sang-hyo together. His smile fades as he recalls the sushi chef's words about his father having enemies in the hotel.
Detective Kim is "having coffee" with Kyung-hee, but it's a thinly veiled excuse to question her about why she lied about where she was the night Hwang died. She had found out that she has cancer, and the doctors told her that she has one year to live.
Because she couldn't bear to go to an empty home to deal with the news, she went to the only place that held fond memories for her: the hotel. Kyung-hee apologizes for lying, and begs the detective not to tell anyone why she was there. The rookie detective barges in with some exciting news: He knows who Hwang's killer is! Or at least they know what he looks like: a gangster with a tattoo on his arm.
At his architecture firm, Hae-young is angry about Jung-eun's sensational article. She defends her work, coolly pointing out that she used his initials to keep his identity a secret. And besides, there was a dead body, so it's not like her article was completely fabricated.
Shi-chan tries to soothe things over after Hae-young leaves the room, telling her that his boss is just frustrated because of all the phone calls they received when the article was released. Speaking of phone calls, Hae-young's phone chirps with a message, and Jung-eun picks it up.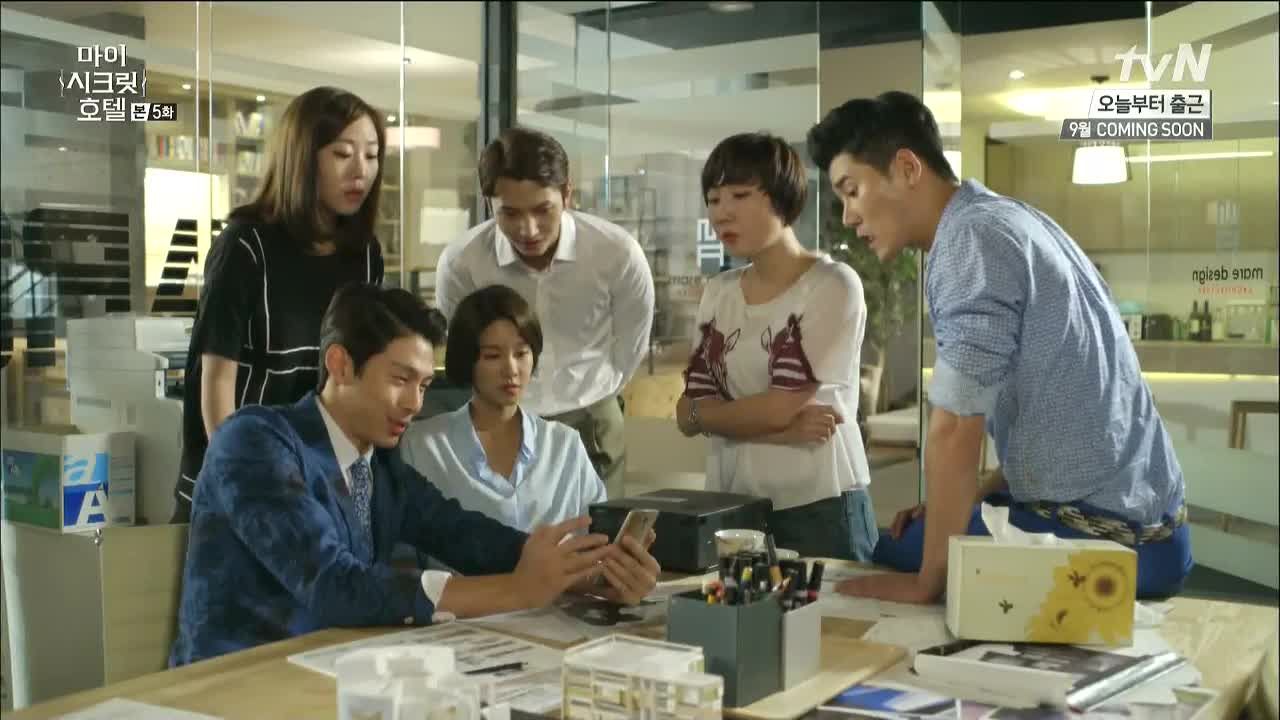 It's from Soo-ah, telling him that doctors can treat him, but he needs a complete physical first. Shi-chan snatches the phone from her, suddenly worried about the health of his boss and fearing a fatal disease. But it's revealed that the doctor Soo-ah has made an appointment with is the leading expert in curing impotence (much to everyone's amusement).
Hae-young wonders why his staff is huddled around the conference table, and pokes his head between them, only to discover Shi-chan cheerfully reading off the rest of Soo-ah's messages. At the sight of their boss, everyone scatters. Jung-eun hands over his phone, adding that she thinks she can forget him now.
He sighs in gratitude as he watches her leave the office — and then realizes, to his horror, that everyone had been reading his text messages.
As Soo-ah gets a pedicure, Sang-hyo tries to give her a sales pitch as to why she should rebook their wedding at The Secret Hotel. But Soo-ah ignores her to answer her phone. Hae-young is ready to yell at her for her embarrassing texts, but she just gloatingly chirps that she'll be expecting him to pick her up at the mall later.
Sang-hyo endures Soo-ah's rude treatment of her, cheerfully assisting her as she goes shopping. She keeps trying to persuade Soo-ah to listen to her as she explains all the ways they will make her wedding the best experience ever, but Soo-ah continues to ignore her. As Sang-hyo follows after her, laden down with all of Soo-ah's shopping bags, Soo-ah marvels at her tenacity.
She agrees that she'll hold her wedding at The Secret Hotel provided Sang-hyo does just one thing: get down on her knees and apologize.
Fighting against her pride, Sang-hyo kneels down in front of Soo-ah, quietly begging for one more chance. Soo-ah holds court as the rest of the shoppers look on. She marvels that Sang-hyo must not have as much pride as she thought. With a smirk, she tells Sang-hyo that she's thought about it after all, and she's decided against getting married at the hotel.
At that moment, Hae-young arrives and sees Sang-hyo kneeling before his fiancée. He orders Sang-hyo to stand up. When she doesn't, he bends down and pulls her to her feet, telling her not to kneel just anywhere. Then he grabs her and pulls her out of the mall.
Soo-ah is furious at being left behind, and Chauffeur Kim is left to pick up the shopping bags.
Hae-young drives as Sang-hyo tries to hide her tears. At an empty stretch along the river, he pulls over and steps outside to let her cry in private. As she lets out gut-wrenching sobs, he leans against the car and remembers their married life back in Las Vegas.
In a flashback, we see a happy Hae-young with a bouquet of flowers, ready to surprise Sang-hyo at the casino where she works as a waitress, only to find her being accosted by a customer for sexual favors. She refuses the customer's advances, and when he grabs her, Hae-young runs forward to punch him in the face.
When they get home, Hae-young orders her to quit her job. She tells him that those kinds of incidents don't happen very often, but he's willing to match whatever she makes just so she quits. Offended that he thinks her job is only about the money, she reminds him that being a hotelier has been her lifelong dream.
Furious, he asks if her dream job includes dealing with drunken men and apologizing even if they physically accost her and drag her to their rooms. He yells at her to quit and find a job somewhere else in a decent line of work.
Venting his anger, he kicks over a chair and knocks down a wall-hanging with happy pictures of the two of them. Both are shell-shocked after their fight, and he leans dazedly against the kitchen table while she cries on the bed. That brings us back to the present, as Hae-young leans against the car while Sang-hyo sobs in the passenger seat.
Having cried her fill, Sang-hyo wearily steps out to lean against the car with him. Quietly, she thanks him, and he offers to give her a ride home, but she says she's fine and turns to leave.
Grabbing her arm, he turns her back to face him. He pleads with her to listen to him for once: "You're upset right now. I am too, as much as you are." They spend a long, intense moment staring at each other.
Sung-gyum meets with Soo-ah's father over dinner to beg him to reconsider his daughter's wedding. Since he's invested money in the hotel, he should be concerned about its welfare. But Soo-ah's father is less concerned about the money than he is about his daughter's happiness, and he's leaving the decision up to her.
She barges in, whining about how she was planning to eat eel with Hae-young (because it's good for impotence, y'know) — but stops short when she sees Sung-gyum.
Soo-ah is totally won over by Sung-gyum's charms, and promises to try and convince Hae-young to rethink their wedding plans. As he watches them drive away, his smile fades to a sigh of relief as he loosens his tie. Potential disaster averted.
Sang-hyo thanks Hae-young for the ride home, but before she can enter her apartment, he asks her if she has to do "that thing" so badly — to reach the point where she has to beg and kneel. Sang-hyo: "Why? Does my job still seem that pathetic to you?" He insists that's not what he meant, but she's already on her way inside.
Hae-young stops at Soo-ah's (and she practically falls out of her shoes running to meet him outside the gate, ha). He's prepared to authoritatively insist they get married at The Secret Hotel no matter what, but she surprises him by instantly agreeing. After all, she can't just think of herself — there so many other people relying on them to hold their wedding there.
As Sang-hyo arrives at work the next day, Eun-joo asks her if she was able to resolve the wedding issue. Sang-hyo's "just don't ask" reaction makes Eun-joo decide that she will find a way to fix the situation.
Young-mi is busy showing Gi-chul pictures on her phone, proving that she went to Hong Kong on vacation last month. He jumps to attention when Sang-hyo arrives, and she tells them it'll be difficult resolving the wedding situation. But to her surprise, Kyung-hee arrives with a happy Soo-ah.
But Young-mi gives her a sidelong glance, because as she was scrolling through her photos, she just discovered that Soo-ah was in Hong Kong at the same time she was. We don't get to see the face of the man whose arm is draped around Soo-ah's shoulder, but from Young-mi's sly expression, there's a good chance it's not Hae-young.
Since Eun-joo assumes that Soo-ah and Hae-young's wedding won't happen, she meets with Sung-gyum to present her contingency plan: "The Secret Hotel's Managing Director and Beautiful Public Relations Manager: a magical wedding for two people to represent the hotel." Pffft.
But Eun-joo's contingency plan to revive the hotel is dismissed by Sung-gyum as he reminds her of the hotel's divorce curse — they don't want to confirm that it exists. When she insists that they wouldn't get divorced, he tells her the only reason to marry is for love (and not just to save the hotel).
Sang-hyo rushes in at that moment, breathless to report that Soo-ah's wedding is back on! Which means that Eun-joo's plan is completely worthless anyway, much to her chagrin.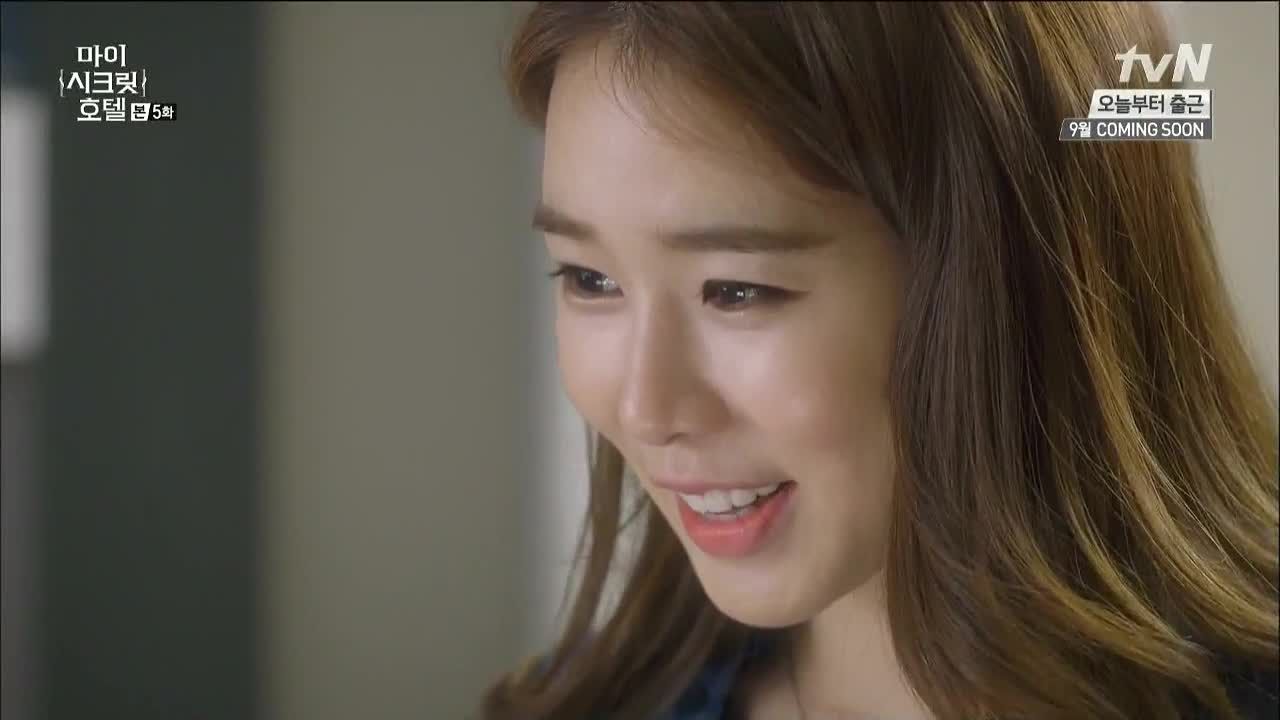 A beaming Sang-hyo thanks Sung-gyum for getting Soo-ah to agree to get married there. He says he just did what needed to be done in order to protect the hotel. Sang-hyo asks if he did it because he likes her and wanted to help her out. At Sung-gyum's silence, she laughs: "Just kidding!"
But the joke's on her when he pulls out her resignation letter. She's surprised that he has it, thinking it was lost. He sighs, saying it's a pity she "submitted" it to him, because now it will have to be processed. As he leaves for a meeting, she hurries after him until he stops and asks her if she wants her letter back.
She holds out her hands, ready to accept it, but instead he just gives her a "low-five" and tells her it will cost her: he'll forget the letter if she buys him the specific dinner he's been craving.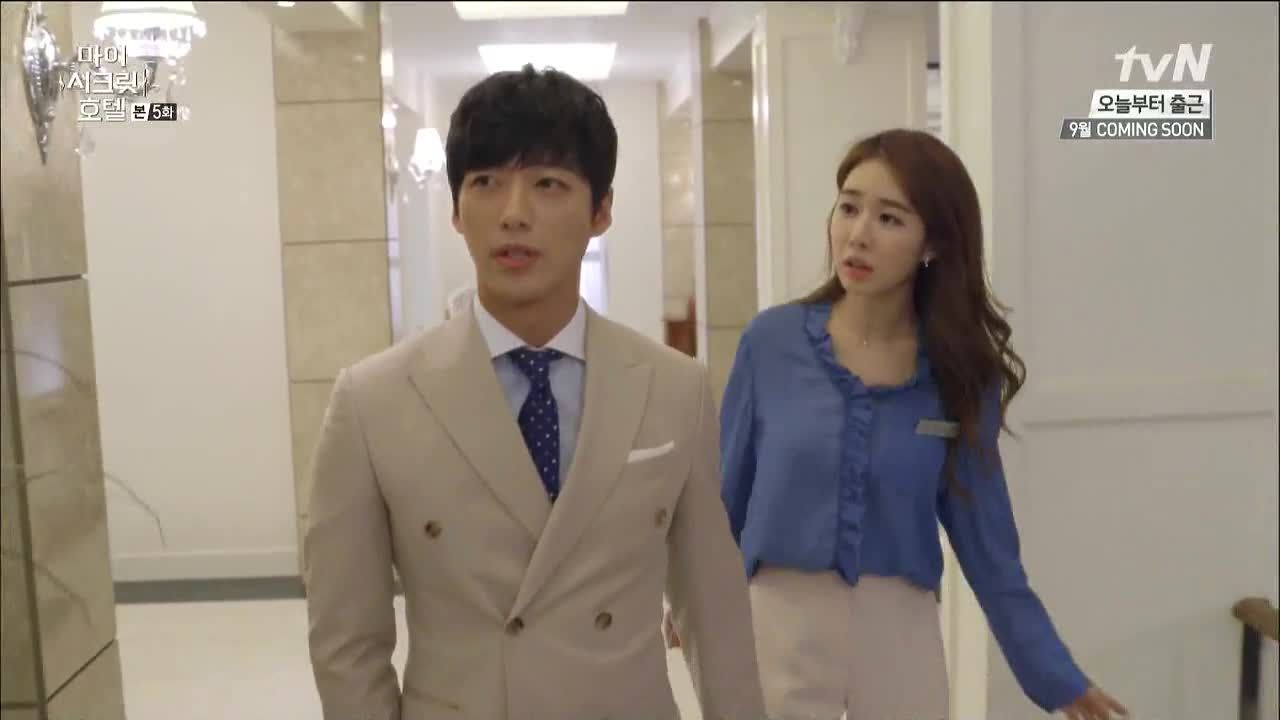 He gives her until he reaches the bottom of the stairs for her to figure out what kind of food he wants. But as she shouts out types of food, he dismisses all of her suggestions (and slowly descends the last few steps) until she lands on the correct one: ramyun.
Later, as Sung-gyum walks Sang-hyo home after their meal, she chides him for not eating most of his dinner. Perhaps instead of liking ramyun, he really likes her after all? She again laughs and says she's just kidding, but he admits that he wanted to go to dinner because he has something to ask her: "Do you know how long it takes to realize you're in love?"
She thinks a moment, but he answers for her: "Three minutes — the time it takes for ramyun to cook." Then he asks if they should make it official: "Let's date."
COMMENTS
This is the first episode with the new writer, Kim Do-hyun, who took over when the original writer, Kim Ye-ri, passed away in March. Writer changes are never fun, especially when the reason is as sad as succumbing to cancer, but I'm impressed at the fact the transition hasn't been particularly noticeable. Then again, it often takes about the first four episodes for a show to start to find its rhythm — but I do hope that this show is able to maintain the spirit Kim Ye-ri intended when she first conceived the plot.
It does make me wonder, though, if the fact that the characters seem to be growing so much more in depth and personality was intentional from the start, or if it has something to do with the new writer. Plus, the switch from rom-com to mystery feels somehow more cohesive than it did in the first few episodes. Maybe because it was more in the background than the focus of the episode, but the mystery surrounding Hwang's death still seems important, but not important enough to make it feel like the romance and relationships are in a tug-of-war of thematic cohesiveness.
Certainly it's important to everyone that Hwang's murder be solved, but it's more the impetus to unlock the secrets that everyone has been hiding for so long. Such as why Sang-hyo and Hae-young have such a tumultuous relationship, and why he can't seem to stay out of her present life.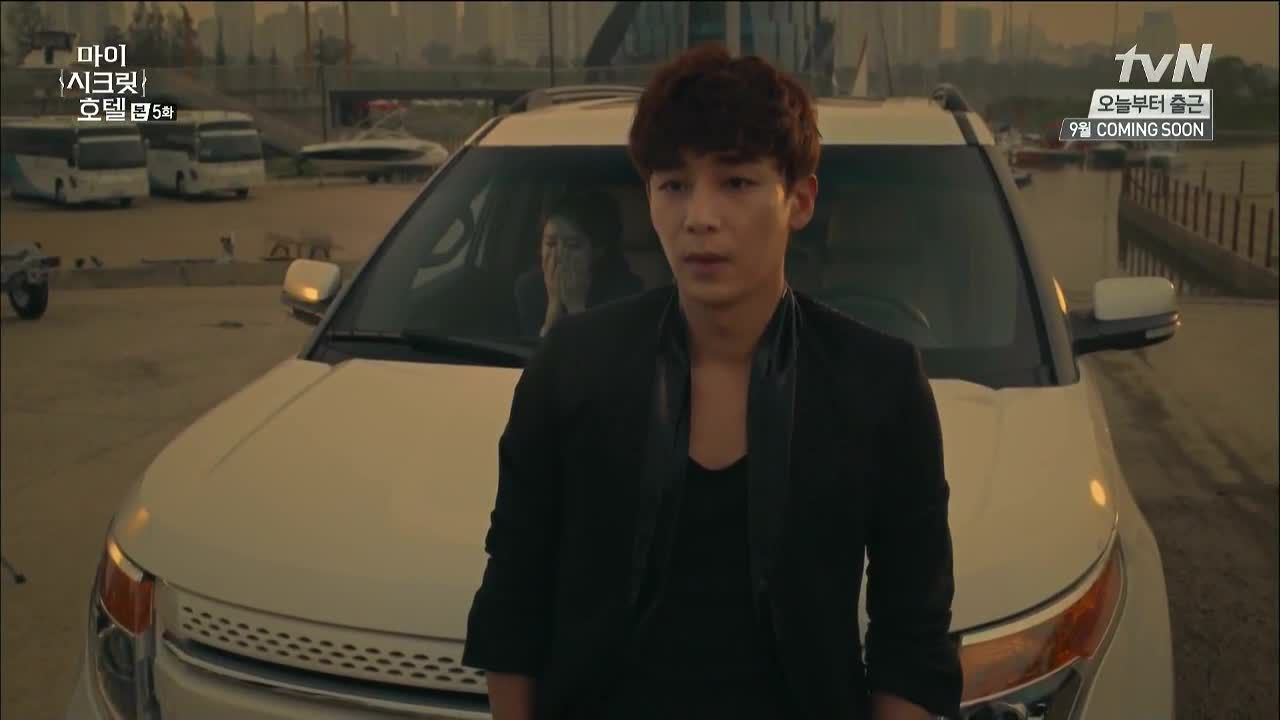 It does make me wonder if Hae-young views Soo-ah like the lecherous clientele Sang-hyo had to deal with back in Las Vegas — they want their way, no matter what, and then demand an apology even when they're the ones who are in the wrong. No wonder he dragged her out of the mall after finding her kneeling before his fiancée — I'm sure it brought up, all too vividly, the memories of Sang-hyo apologizing before all those guys who didn't deserve it.
Which does seem to doom the Hae-young/Soo-ah relationship, even if we weren't already expecting it. If he can't see her as anything but an entitled spoiled brat, then there's no hope for them. Although I am eagerly waiting for her mysterious secret to be revealed, because I'm not ready for him to play the noble idiot by marrying a woman he doesn't love just so he can save the career of the woman he does.
Then again, it would be almost poetic justice, considering how he had belittled her career, and now he's willing to sacrifice his future happiness so she can keep her job. Hae-young may still have a ways to go before he's ready to be considered worthy for Sang-hyo, but I'm optimistic at the growth we've seen so far.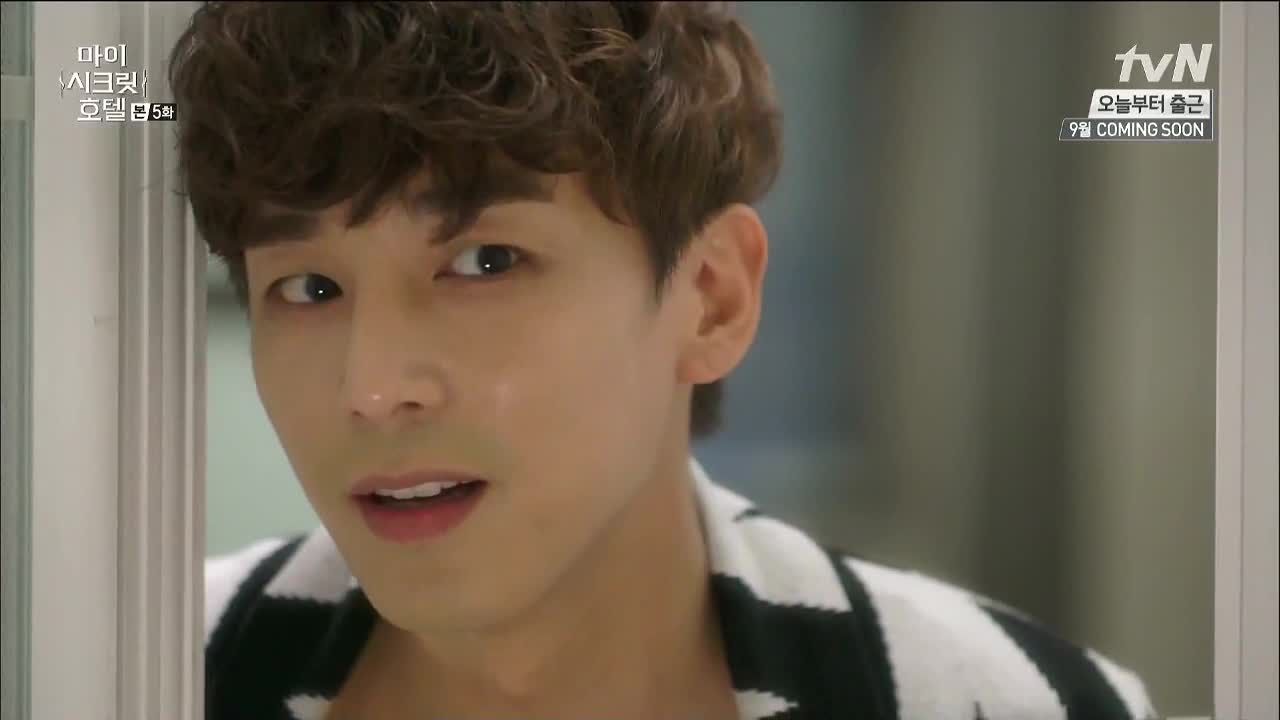 As for Sung-gyum, I'll admit I'm a little surprised by his forthright confession. Perhaps I shouldn't be — perhaps it was obvious, considering the way she makes him smile. But he's still such an enigma that I can't help but feel there's some deeper purpose as to why he would want to date Sang-hyo. He's grown on me enough that I want to root for him, I really do; but there's still something that seems "off" about his attention to Sang-hyo.
Maybe it's just because I feel like Sang-hyo deserves to be the center of attention, and right now he's focused on figuring out the mystery with his father. After seeing how chummy Sang-hyo and GM Lee are in their father-daughter relationship, as much as I want to believe he likes Sang-hyo for who she is, I'm suspicious that he'll use her to get more information about the general manager. Maybe that's just me, or maybe we're supposed to think that thanks to the editing (which makes it seem like there's definitely more to Sung-gyum than meets the eye). Either way, as much as I want to squee over the fact a second lead has come right out and asked to date a lead who's clearly into him, I've just got too many red flags to accept it for what it is.
Especially since the last thing I want for Sang-hyo is for her heart to get broken again. I want less crying Sang-hyo (as amazing as Yoo Inna is at acting out her gut-wrenching tears) and lots more sassy and smiling Sang-hyo.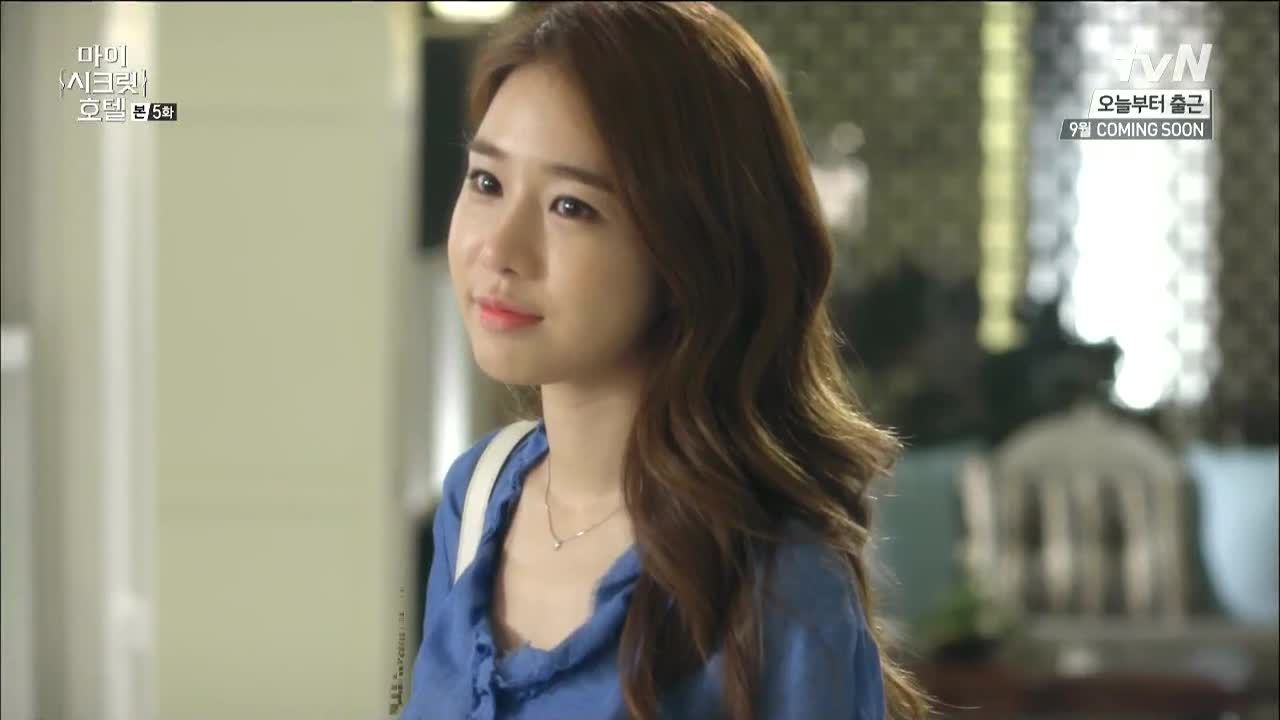 RELATED POSTS
Tags: featured, Jin Yi-han, My Secret Hotel, Namgoong Min, Yoo Inna