Plus Nine Boys: Episode 8
YOU GUYS. Kwang-soo smiles in this episode! A lot! It's gorgeous and it's awesome, because surely it's a sign of big things to come for him and, I hope, our other plus-nine boys too. This episode is just full of cuteness, as our boys turn on the charm in pursuit of their ladies with differing, but always adorable, results.
Track 8: "Things that make men change"
Kwang-soo screws up his nerve and enters Da-in's cafe, and she brings him coffee and cheesecake even though she's in the middle of closing. He makes small talk, attempting to bring up happy memories of their past, but she ignores him. Finally she hints that she has to pick up her daughter, even refusing payment to get him out of there faster — but he insists with a smile, since he plans to come in often from now on.
Kwang-soo attempts to talk to her but she interrupts him as is her habit, but this time he means to say his piece. He finally, finally asks her his question, "Why did you do it? Did I make things hard for you?" He tells her that he needs to know, because he's never been able to really break up with her. But he doesn't get his answer, since Da-in still refuses to talk to him.
Jin-gu sits in a plastic surgeon's waiting room with Go-eun, and they vow to make this work project perfect. She obliquely refers to their kiss the night before by mentioning that she couldn't sleep a wink, making him uncomfortable.
At the same time, Se-young and Jae-bum visit a street food vendor and she salivates over some spicy food which is apparently very popular among Chinese tourists. Jae-bum expresses concern over whether Se-young can handle the spiciness, bragging about how he used to eat raw peppers to perk up. Cut to: Se-young chowing down on her food, while Jae-bum trails behind her with his sore tongue stuck to a popsicle. HAHA. He insists that he's fine and it wasn't too spicy at all, but he seriously looks like he wants to cry.
Jin-gu and Go-eun interview a plastic surgeon for their work project, amazed that people will go under the knife to look like famous Hallyu stars. The doctor points out the corners of Jin-gu's mouth and bets he gets called a player a lot, suggesting surgery to correct the upward tilt (Dude, don't mess with the pretty mouth, I'm not even kidding). He refuses, but on their way out, Jin-gu laments that he does get called a player a lot, which is totally unfair since he's really very loyal when he likes someone. Go-eun looks understandably skeptical.
Kwang-soo primps in the office bathroom, dressed to the nines. Young-hoon is onto his weird behavior, thinking it's because he might be seeing Park Eun-ji again, and when he finds out he never met her for the second date, he gripes at Kwang-soo for still being hung up on Da-in. He tells Kwang-soo that Da-in is a dead end, but Kwang-soo just cryptically tells him that he and Da-in never broke up.
He's a different man as he goes to meet with his writing team, smiling and complimenting them and freaking them out. He invites them out for a cup of coffee and ohhh, now I see why he's so perky, as they all file into Da-in's cafe. Da-in, however, isn't nearly so happy to see him. Or you know, at all.
Kwang-soo is all bright-eyed and bushy-tailed as he orders coffee and cake for everyone, and makes them happy by actually being interested in their show ideas for once. He stares at Da-in and smiles whenever he catches her eye, which is just so cute, but she remains stone-faced and silent. Interestingly, the head writer seems to be picking up that something isn't quite right about this supposedly-spontaneous outing.
Su-ah walks down the street, not-looking for Min-gu so hard that she walks right into him. Hee. He's tickled that she was looking for him, and says that starting today, they're dating. Oh honey, you already tried that and it blew up in your face. Su-ah says they're not a good match, but she doesn't sound nearly as confident about that as she used to.
Min-gu backs off (good boy) and says that they can just date, and she can decide later if she likes it or not. He follows her into a coffee shop and orders the same espresso she does, saying how much he loves it, but his yucky-face when he actually tastes it makes her grin for the first time. Still not speaking, Su-ah pulls out her earbuds and studies, leaving Min-gu to stare at her.
He gets antsy and texts her from right across the table (he's still calling himself "oppa," which makes me so embarrassed for him) until she turns her phone over, and he respects her space for a little while but finally steals one of her earbuds to see what she's listening to. He recognizes it as Blue Paprika, the band he knows she likes, and she's surprised that he's familiar with them.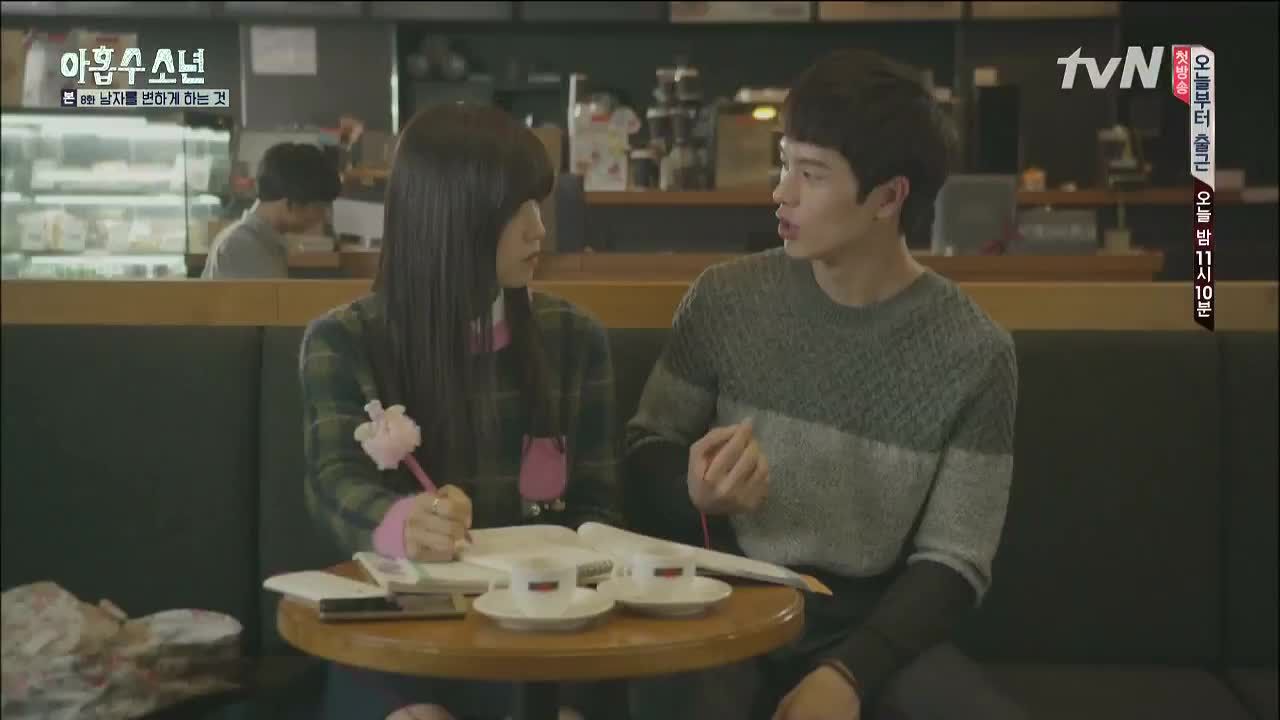 She asks what other indie bands he likes and he throws out the one name he knows, but he gets stuck when he can't think of any other bands. Su-ah tests his claim that he loooves indie bands by playing him a song, and scoffs when he doesn't know it's by Standing Egg.
Jin-gu and Go-eun have dinner, and her obvious delight in the food only serves to remind him of Se-young. Jin-gu comments on her good appetite, but says it's great that they finished their work first — Se-young always wants to eat and they end up working late. After dinner Go-eun again mentions that she can't sleep lately because there's someone she's thinking about, and tells him he'll like her eventually… but she cuts him off when he tries to let her down easy.
Jae-bum gallantly rides Se-young's bus home with her, where he accidentally spills the beans that Jin-gu doesn't live near her neighborhood anymore. She's floored to realize that he's been riding this bus with her all this time when he doesn't even live there. Meanwhile Jin-gu rides his own bus home, flipping through the numerous pictures of Se-young on his phone. Awww.
At home, Dong-gu practices choreography for a dance audition, while Mom cheers him on and Min-gu educates himself on indie music. Mom takes a call from a prank caller claiming to have kidnapped her son, and freaks out until Jin-gu walks in the door, perfectly fine. With all her chicks safely in the nest, she offers to pay the caller to take her brother instead. HAHA. I love Mom.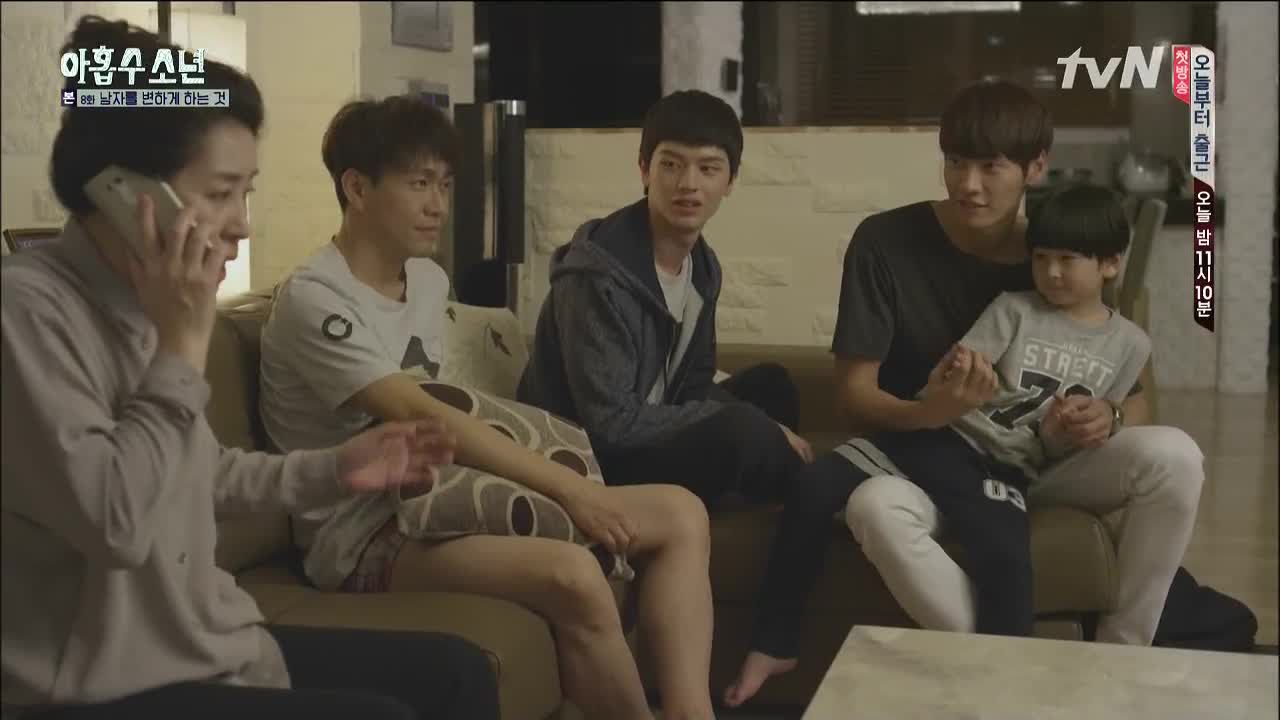 In the morning, Kwang-soo optimistically dresses up again and Mom notices he's even wearing cologne. She and Dong-gu head to his dance audition (Is he wearing guyliner??), and they find out it's a one-on-one battle, and of course Dong-gu gets assigned as contestant number nine.
Dong-gu is recognized by the judges, and when he does his dance (to Infinite's "Back") he's actually pretty damn good. He's a much better dancer than actor, and one judge (cameo by John Park) even gets up and improvs some "Single Ladies" choreography with him. But when the next contestant comes in and does a spot-on impression of Psy's "Gangnam Style," Dong-gu is overshadowed yet again.
Min-gu whines to his friends that Su-ah isn't reading his texts, while she complains to her friends about all the inane messages he sends. One friend points out that he must really like her a lot to keep following her around after being rejected, and suggests that Su-ah just date him already. Su-ah admits he's cute, but she can't get past the fact that he's in high school.
Min-gu's friends, as usual, have differing advice — one tells him to give up while the other assures him that Su-ah will probably text him after school. He sees Su-ah's latest profile update mentioning how sad she is that the Standing Egg concert is sold out, which seems to give Min-gu an idea.
Su-ah's friends invite her out with them, but she's in a bad mood and declines, and a minute later Min-gu pulls up on his bike (and boy, what a difference a new hair-do makes!). He says he wants to take her somewhere and convinces her to go for a ride, and soon her grumpy expression is replaced with a reluctant smile.
They pull up to the venue where Standing Egg is giving a concert, and Su-ah is so surprised that she just nods mutely when Min-gu asks her to see the concert with him. They have front-row seats, and Su-ah watches the concert with her first genuine smile of the entire show, while Min-gu is more interested in watching her.
Kwang-soo stands outside Da-in's cafe — and gets a text from Min-gu thanking him for the concert tickets, awww — but when Da-in comes out, she yet again ignores his attempts to talk. She walks right past him like he's not even there, only deigning to speak when he offers her a ride to wherever she's going, and declines of course.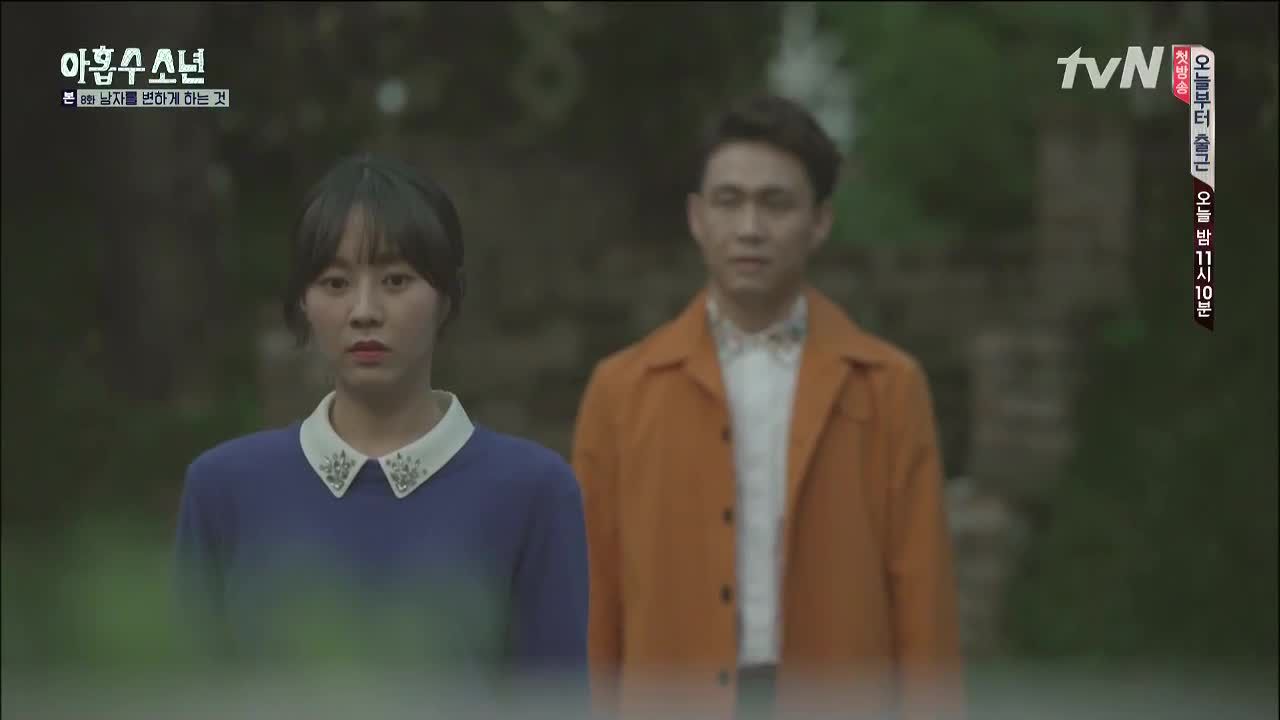 She's stopped in her tracks by the sound of their song coming from Kwang-soo's jacket — it's playing on his phone, and he says he still loves listening to the song. She gathers her dignity again and walks away, leaving him to wistfully watch her go. Still, it's a marked improvement from his former beaten-dog demeanor.
Se-young gorges herself on samples at a street market, and is surprised when Jin-gu joins her today instead of Jae-bum, who had a meeting and couldn't make it. They peruse the foods, more comfortable with each other than they've been in months. But it doesn't last long, and things get tense when Se-young burns herself on some hot food, and Jin-gu tries to doctor her over her protests.
Despite Jin-gu's attempts to keep things light, Se-young's mood is sour now, and she can only think of how Jae-bum spilled the beans about his not living in her neighborhood. As they walk to the bus stop Jin-gu takes a call from Go-eun, who needs him to meet her at the office. Se-young is still quiet, and Jin-gu jokingly calls her on her sulky mood but it just makes things awkward between them again.
Finally she asks why he didn't tell her that he moved, and he says that obviously it was so that he could ride with her. He smiles as he tells her he was sincere about her all along, it's just that she never believed him, and he jumps on his bus before she can say a word.
Things are going well at the Standing Egg concert, and Min-gu excuses himself for a moment. The band introduces a special guest, and Min-gu steps onstage to sing a song for Su-ah. He's really good, and Su-ah starts out uncomfortable but soon she's smiling and shy. So cute, these two.
After the concert they walk on their overpass and Min-gu croons to Su-ah a bit more, but she's conspicuously quiet. Finally he asks if she has something to say to him, but she doesn't answer. He turns serious and tells her that he really likes her, but she still has nothing to say, so he leaves her to walk home alone.
Su-ah watches him go then heads home herself, and a few minutes later Min-gu gets a text that says simply, "Okay." Min-gu is over the moon, and he jumps and shouts in the street, yelling back in her direction, "Su-ah, I love you!" even though she's too far away to hear him.
Da-in pulls into the parking garage, and Kwang-soo peeks out from behind a pillar to jokingly point out that she's late. He asks her again why she left him back then, but says blithely that it's not urgent, and she can take her time answering. He wonders if she can't remember, because surely she wouldn't be keeping it from him. She keeps quiet as usual until he tries to help her with her things, and she blows up at him in banmal to stop. He soberly calls attention to the fact that she's finally being informal with him.
He smiles and says this is better, but Da-in just wants to know why he's doing this to her. She thinks he feels sorry for her because she's divorced. Kwang-soo tells her honestly that he still likes her, but she doesn't want to hear it and just gets her daughter and heads inside.
Kwang-soo tries one more time, asking Da-in if she really doesn't feel anything towards him, and if it's really over for her. She says that she's not the old Da-in anymore, she's simply Eun-seo's mom now, but Kwang-soo objects — who she is to him, is the love of his life. He says his heart pounds and he feels strange when she's around, but asks if she's really fine.
Kwang-soo regroups and starts over, and says that he feels good lately because it's like the clock's turned back ten years. All he's done for the last decade was work, not even realizing that he wasn't living life. But now he feels like himself again and he feels great. He asks one last time if Da-in really feels nothing at all.
She finally looks him in the eye and says it's all in the past, and he asks why she's so cruel if that's true. If it's true, he says, then she can just act normal around him. Da-in only sighs and goes inside.
Watching her go, Kwang-soo narrates that at 39, he decided to stop being Producer Gu and start being the old Kwang-soo again. On his bus, Jin-gu tells us that what makes a man change isn't the world, or time. And as he kisses his text from Su-ah and wiggles in happiness, Min-gu says that what makes a man change, is the girl he loves.
COMMENTS
How wonderful to see our boys (well, three out of four) finally taking some responsibility for their feelings and recognizing that they have to step up if they're going to expect things to change. This week's episodes were so fun to watch, because I love it when people recognize that they have the power to make a difference in their lives and then set out to make those changes.
To be fair, Jin-gu still hasn't done much to earn Se-young's trust back, other than to repeatedly ask her to talk to him. It's not his fault that she won't, but sometimes words aren't enough. He hurt her with his actions, not his words, and I think that it's going to take actions to bring her back around. It's a start, that she knows now that he rode her bus for a solid year just to spend a little more time with her each day — but that was ultimately something he did for himself, not for her. I want to see Jin-gu do something for Se-young, something truly selfless and honest, to show her that he's not really the guy she thinks he is and that he truly does love her. Come on Jin-gu, you're a smart guy who claims to understand women, I know you can think of something!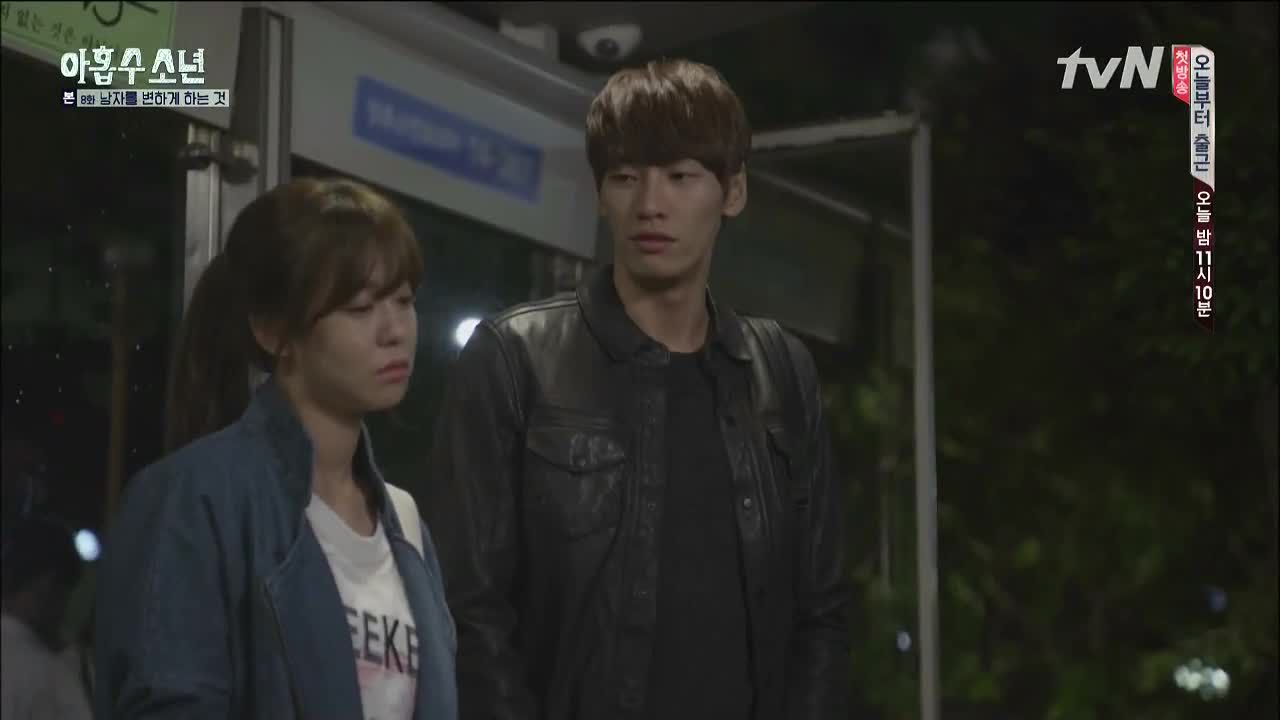 Min-gu has made some great strides, first and foremost in that he now listens to Su-ah rather than just talking at her. He still comes on pretty strong, but he's learning that all that gets him is a brick wall in his face. He's figuring out that if he reins it in and gives Su-ah the space to think about what she feels, instead of having to keep her guard up in order to fend off his feelings, she'll slowly but surely come towards him. It happened when he got too aggressive early in the episode and told her they were dating, which made her lock down just like when when they first met, but when he asked her to date him she loosened up again. Then later when he pushed a little too hard for her to say what she felt, there on their overpass, Su-ah shut down on him again. But he'd learned his lesson and backed off, and gave her that space, and she came towards him again.
It's also pretty big that he listened to her enough to learn her music preferences, actually took his own time to learn more about the style of music she likes, then set up a situation (the concert and serenade) that would make her feel comfortable to soften towards him. Music seems to be important to Su-ah, and Min-gu did a great job meeting her on her own turf. And it worked! Min-gu still has a lot to learn about women and relationships, and I imagine Su-ah is going to teach him some of those lessons the hard way — but like I've said before, she's just the sort of tough cookie he needs to get him to stop living in a fantasy and start living in the real world.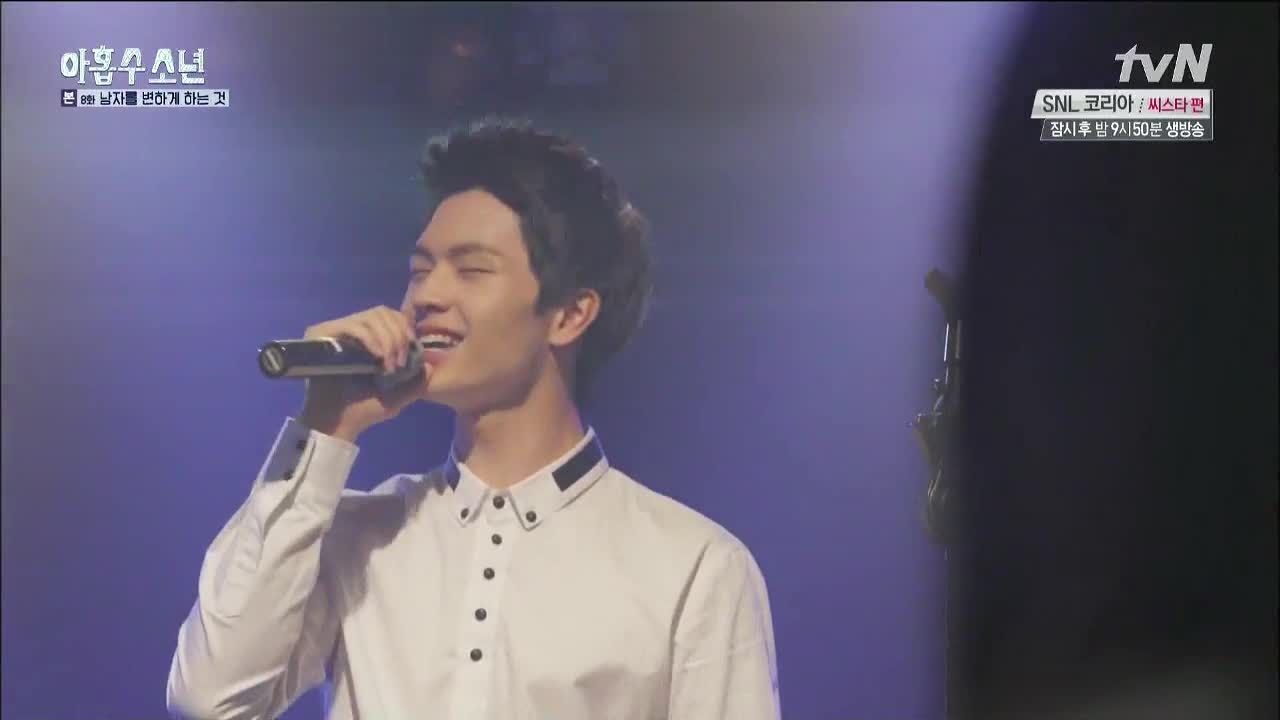 But mostly and most importantly, I'm so impressed with the strides that Kwang-soo has made on an emotional level. He's done some really important work on himself, firstly that he just decided that he was done being sad and mopey and slogging his way through his work day. He wakes up now with a skip in his step, he takes care with his appearance, and he treats his team at work with respect… if nothing else, that's enough to make a drastic positive change in his life. If he didn't do anything else, those things right there will make him a better, happier person. So yeah, Kwang-soo still sits around the house in his pajamas, but who doesn't? ::Looks down at self::
More crucially though, Kwang-soo made the decision to take the situation with Da-in firmly in hand, and get himself some damn answers. I'm so proud of him that he doesn't quake in fear when he sees Da-in anymore, and that he stands up for himself and his right to know what in the world she was thinking when she just left him without a word. He's not afraid to admit that he's still stuck there, or to ask her to explain herself, which is huge considering that just a few months ago he was so scared of the answer that he could barely squeak out a single word whenever he saw Da-in.
Mostly I'm proud of Kwang-soo for the realization that, if he and Da-in aren't meant to be together, then at least as neighbors he deserves for her to treat him with respect. I think we all know from last week what I think of Da-in and her behavior ten years ago, but I don't much care for her behavior now, either. She's acting childish and disrespectful of him and his right to know what made her leave him all those years ago. Kwang-soo is one hundred percent correct, in that either things aren't over and that's why she always ignores him, or they truly are over and the least she can do is act casual around him so that he can move on. It took a lot of courage for him to say that to her, and it couldn't be easy to tell her that the way she's behaving right now isn't any more okay than the way she treated him a decade ago.
Now if we could just get some of the ladies to start, I dunno, talking? We might actually see some progress in these relationships. Keep your fingers crossed.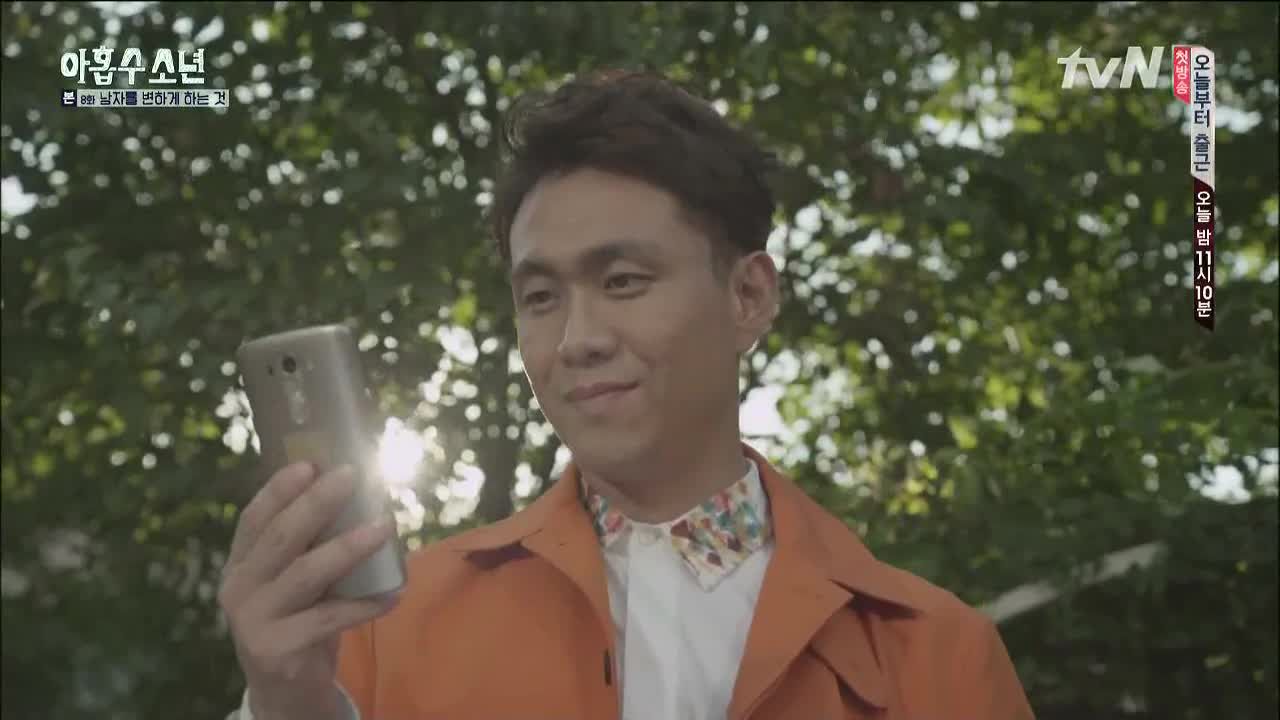 RELATED POSTS
Tags: featured, Kim Young-kwang, Kyung Su-jin, Oh Jung-se, Plus Nine Boys