Cantabile Tomorrow: Episode 12
With old problems finding resolution, we open the door for new goals and new directions, though what remains is still one of the things I like best about the show, is that the characters stick around to guide each other along. Of course, all that serious personal growth doesn't mean we're lacking the petty rivalries that keep tension in the game—and humor too, since it's always fun watching our hero fumble to keep his cool. Especially if fails.
SONG OF THE DAY
Satie – Three Gymnopédies [ Download ]
Audio clip: Adobe Flash Player (version 9 or above) is required to play this audio clip. Download the latest version here. You also need to have JavaScript enabled in your browser.

LESSON 12 RECAP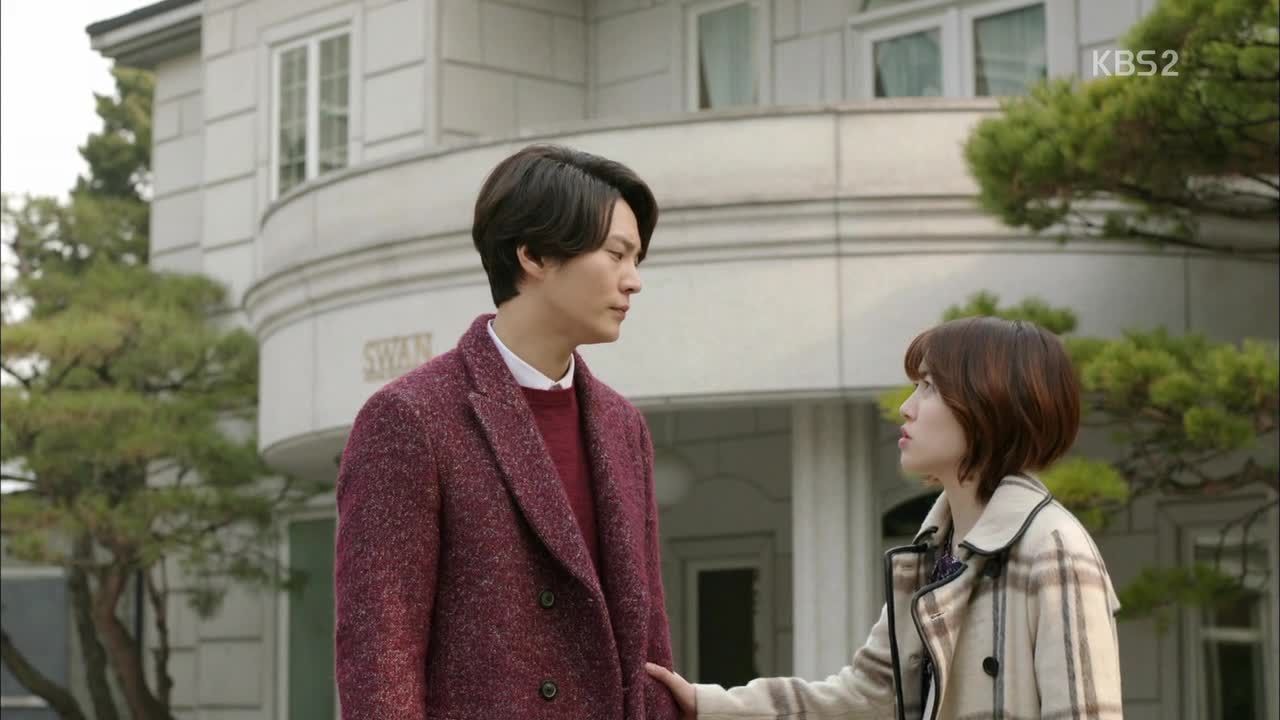 After Yoo-jin's failed hypnotherapy session, he happens upon his uncle talking to Nae-il, making mention of his airplane accident. Uncle had assumed Nae-il knew since she was aware of his water trauma, but Yoo-jin is upset to have his secret revealed and leaves the house, pulling Nae-il along with him.
But the truth is out and there's no use pretending she doesn't know. Yoo-jin tells her of the plane crash that landed him in the sea, giving him a two-for-one trauma deal that prevents him from taking planes and boats. "It's absurd, isn't it?" he asks bitterly. "Go ahead, laugh."
She's the furthest thing from laughing, and realizes that Yoo-jin isn't choosing not to go abroad but actually unable to. Knowing how much he wanted to study overseas has her on the verge of tears, though Yoo-jin tells her that it's not worth crying over.
They return home and stand there unlocking their separate doors, but Nae-il guesses that he doesn't want to be alone yet. So she ends up at his piano, playing for him the Gymnopédie No. 1 that she'd listened to at his uncle's house.
It's soothing, and Yoo-jin thinks as he listens that it's the song that taught him that something simple could also be full and rich. He smiles to himself, thinking, "You're working hard to comfort me, Seol Nae-il."
He sees an old watch poking out of Nae-il's bag, which she explains was a gift from Streseman before he got dragged off to Germany. She mentions seeing watches used in hypnosis, which Yoo-jin explains hasn't worked on him, supposing that he doesn't trust the therapist enough.
Nae-il dangles the watch and mimics what she's seen on television, intoning, "You're falling asleep… you're falling asleep…" And wouldn't you know, Yoo-jin nods off right then and there, his head dropping to his chest. He's out so firmly that Nae-il can't shake him awake, and ends up clapping her hands to break the trance. Yoo-jin snaps right back to consciousness without ever knowing he was out.
Hearing that Nae-il is afraid of his disciplinary fan, Teacher Do struggles to give it up, which I find really endearing for some reason. (He's trying!) Of course, Teacher Ahn has to all but pry it out of his hands, finally cashing in his favor after winning their old bet (about Nae-il and Yoo-jin's piano duet); he asks Teacher Do to use praise with Nae-il rather than the fan.
So when Nae-il arrives for her lesson, all wound up with nerves, she finds Teacher Do at the piano playing none other than her fart song. The lyrics go thusly: "I wake up in the morning and go to the bathroom / I give it my strength and it'll come out…"
He offers her cookies and praises the song's composition, offering to help her finish it. And when she corrects his pronunciation of the word "fart," he bites back his grumpy retort and forces a smile, even if it gives him a headache.
Meanwhile, Mini Min-hee eyes her two suitors with a sigh: Clarinet and Oboe are at it again, bickering with each other in the cafe about who should step aside. Mom notes that they spend more time fighting with each other than with Min-hee, and urges her to pick one to end the fuss. But that's no use, since Min-hee already told them both she's not interested, ha.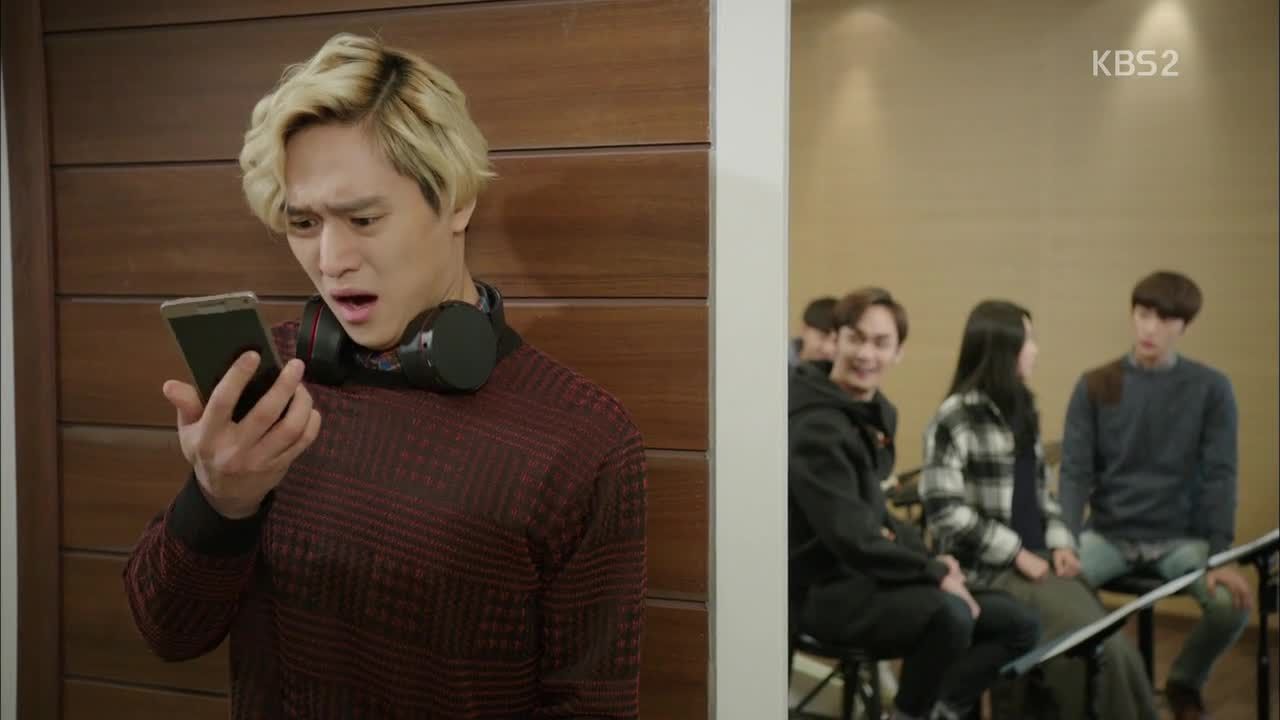 Il-lac's crush continues on its dopey trajectory, with him admiring Shi-won from afar. Her sidekicks poke fun at her for wearing a skirt and she fusses with it self-consciously, so Il-lac gallantly steps in to offer her his jacket as a cover-up. Then he answers a phone call to make his cool exit, not noticing that his phone screen is totally facing outward, which he only realizes after everybody else does too. He dies of mortification when the boys laugh at him, but Shi-won looks pleased at his gesture anyway.
Yoo-jin drops by the hospital to see his doctor, who asks if Yoo-jin really is motivated to address his trauma, thinking that Yoo-jin seems to have accepted the situation. As he leaves, he gets a group text message from Yoon-hoo, with an accompanying photo that makes the gang think he returned to Juilliard.
But Yoo-jin recognizes the background and has a hunch, and finds Yoon-hoon in the hospital where he's still recovering from surgery. Referring to the group text, he asks when Yoon-hoo started thinking of him as friend, and Yoon-hoo realizes that Yoo-jin was the guy who called when he was prepping for surgery. How cute—his mother had assumed he was a friend, and since he didn't identify himself, Yoon-hoo had saved his number in his phone as "nameless friend."
We see more of their similarity that Streseman noted when Yoo-jin asks why Yoon-hoo keeps his surgery a secret. Yoon-hoo asks Yoo-jin the same about his going-abroad trauma, and they both answer that it's not something they feel needs to be expressly stated. At least Yoo-jin knows from experiencing it firsthand that shouldering everything in solitude is a difficult thing, and he cautions Yoon-hoo about it.
Yoon-hoo thanks Yoo-jin for making him cancel the duet, though, and says that they're even now. Yoo-jin still doesn't know that Yoon-hoo was the guy who pulled him out of the pool at the water park, so he says he's never owed him one, and Yoon-hoo leaves it at that. And it's nice to see Yoon-hoo move past the self-pity and on to new beginnings; he starts studying a score, this time with a conductor's eye.
Nae-il is excited about the improvements made to her fart song, thanks to Teacher Do's helpful direction. Aw, I really love that Teacher Do is treating this song seriously as a musical exercise, giving it credit for being a good composition, and he gets into the spirit of the song as she plays, dancing along. He says he enjoyed a lesson for the first time in ages, and gets excited thinking about what they'll work on tomorrow.
But to his surprise, Nae-il chides him gently for thinking of having fun when there are competitions to prepare for, and asks for serious lessons beginning tomorrow.
Mina calls Yoo-jin in with good news and a favor: The Rising Stars are attracting media interest, and as the conductor, she wants Yoo-jin to appear on an upcoming broadcast. It'll be a great way to raise the orchestra's profile and cement its legitimacy, although Yoo-jin prefers to keep out of the press spotlight.
The notice reaches the orchestra members too, who are beside themselves with excitement at the idea of being featured on television. The A orchestra elites shake their heads at the S members, until they hear that the broadcast is connected to a major record label and was responsible for launching Su-ji's soloist career. Suddenly they're all starry-eyed together, dreaming of getting that coveted kickstart to their careers.
Su-ji meets with Yoo-jin a last time before heading overseas, and predicts his future stardom. She asks when he'll go abroad and seems disappointed that he'll stay with the Rising Stars when he could be making greater strides. Isn't he eager to perform with as many different "instruments" (orchestras) as he can? She encourages him to think it over.
Nae-il finds them together in the cafeteria and immediately slits her eyes at the sight of Su-ji, purposely linking arms with Yoo-jin. I'm noticing that Yoo-jin doesn't pull away and in fact smiles, while Su-ji finds her cute. When Nae-il pointedly asks when she's leaving, Su-ji can't help teasing, answering that seeing Nae-il has given her a sudden urge to stay.
Nae-il asks hopefully if she'll leave if Nae-il goes away, and "disappears" by sliding behind Yoo-jin, which only makes Su-ji laugh.
The orchestra holds a meeting to discuss their next performance, and everyone's full of suggestions that highlight their instruments. It's more of the same bickering as the A musicians sniff at the S students for riding their coattails and not being good enough for solos, until Yoo-jin calls the meeting to a halt and leaves.
He sighs to Nae-il that this time the fighting will be more intense because the stakes are higher and everyone's thinking of their futures. Nae-il notes with amusement that Yoo-jin's talking like a concerned father, which of course makes her the mother.
Then she informs him of her intentions to compete, and his reaction is a mix of surprise and worry that she's rushing into it. But Nae-il is feeling optimistic and just asks for his praise (and gift ideas for when she takes first place).
The A orchestra pot-stirrers, Trumpet and Oboe, grouse to themselves about the S members being unworthy of solos. This goes overheard by S member Clarinet, who wastes no time spreading word about the smear job they're getting, which of course raises the hackles of all of our S members.
This leads to another stand-off between the two sides, with Il-lac and Shi-won caught uncomfortably in the middle. The A side huffs that they're more skilled, the S side retorts that they're better-looking (important in a broadcast), and the two violin leaders try ineffectually to calm everyone down.
Mina is optimistic about RS Orchestra's future, not sharing Streseman's concern over their easy approval. He warns that a baby trying to run will only lead to a fall, and that getting drunk on the taste of their initial small success could be a dangerous thing.
Things escalate when the A's block the rehearsal room door to keep the S's out, and the S's retaliate by blocking the door to shut the A's in. The tug-of-war turns into a push-of-war, until one side gives and students go tumbling everywhere. Just in time for Yoo-jin to walk by and see the disgraceful mess.
He sits them down like the stern papa and gives them two choices: They can hold open auditions and vote—by selecting a name from the other side. And if they can't handle that, they'll perform a piece without a solo.
The authority to select the song ultimately lies with Yoo-jin, so he reminds them to abide by his decision. That means that voting for a solo is the lesser evil, even though the conditions make it tough for them to accept.
Nae-il makes a selection too, picking a Haydn sonata for her competition piece. She hasn't played it before but explains being drawn to it, like wanting to get to know something that's different from her usual style. Teacher Do tells her to stick to what she does know given their time crunch, but she's determined, and spent all night practicing.
He has her play it, and she's good—light, feeling, nuanced. But as she gets caught up in the music, Teacher Do barks at her not to ignore the score because she's given herself to the emotion, and without even thinking he rolls up a piece of music to use as a pointer. Ack, please don't slap her with it! Thankfully the lesson ends without incident, though it does leave Teacher Do deep in thought over how to teach her.
He seeks out Yoo-jin and says that even geniuses have to find their moment; if left undeveloped, they could spend their lives completely ordinarily. "It feels like she's being kept forced into a box," he muses.
Teacher Do understands that Nae-il doesn't like to play things as written, following her feeling instead. The irony is that while he such playing might go appreciated in a final round, he knows she'd never make it through the preliminaries if she can't play by the book. He fears that he's come to Nae-il too late to help her.
That night Yoo-jin calls Nae-il over and sits her down with various supplies and instructions to help her through practices, and how to take care of her hands. He also provides her with a recording of her piece, played exactly in the style that judges like.
Knowing that the lessons have been hard for her, he says, "Teacher Do doesn't know you well yet. After seeing your talent for only a minute, he's both coveting and despairing. He doesn't know that you're faster hearing music than reading it."
Yoo-jin asks her to play by the book just for now: "Once the world knows you, then you can play according to your feelings." Nae-il guesses that Yoo-jin recorded himself playing, and he gets a little fidgety, saying it's only because he had some spare time lying around. You big marshmallow.
Over the following days, Nae-il immerses herself in more lessons, more listening, and more practices. She settles into the piece, and finally, Teacher Do looks pleased.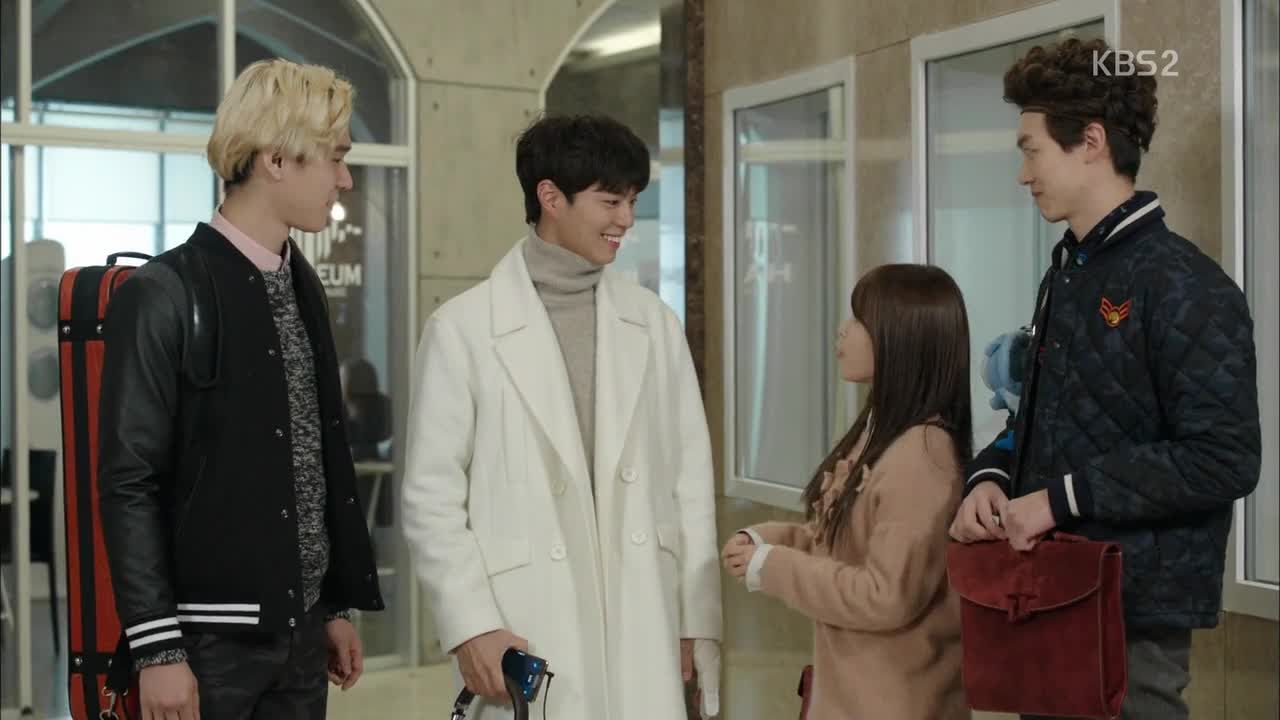 Yoon-hoo returns to campus, still listening to that piece of music he's been studying, with his left hand bandaged. Il-lac, Min-hee, and Su-min are excited to see him back, wondering at his absence, then gasp to see his hand. He plays it off as a minor fracture, calling the cast protective, and is grateful to receive their concern.
Then he asks after "our Nae-il," and the wording makes everyone gape. He just grins widely in response to their questioning looks, and aieee, it's so refreshing to see Yoon-hoo looking unburdened and free for once.
He catches up to Nae-il outside, and she notices that he seems different. He shows her his wrapped hand, but again downplays the severity, saying that it's only slightly hurt. No career-ending calamity or cause for existential crisis or anything.
Auditions commence for the Rising Star solo, and everyone puts in solid performances. The S musicians are are good enough that the A's have to give them credit, though only in the most grudging way, of course.
Il-lac picks the Tchaikovsky violin concerto knowing fully that Shi-won has prepared the same piece, but rather than look worried he just admires her playing and tells his teammates that this makes it a fair comparison. His friends have to agree that she's great, despite their reluctance to give the A's an inch.
From the way they talk, Shi-won is the clear standout, and Yoo-jin comments that if the votes are made rationally, the winner will be obvious. Il-lac beams at Shi-won, saying that the problem ought to be resolved in no time.
Of course, rational may be expecting a lot of these two sides and their grudges. For instance, the S's agree that Shi-won was the best, but if she gets all their votes, that means the A's win. The A's propose to pick someone clearly unfit, so that they'll quit before they begin. Yeesh, is anybody around here a gracious loser? Min-hee comes up with one method to ensure that A doesn't get the solo…
With tensions at an all-time high, Il-lac and Shi-won meet secretly to discuss the situation. Il-lac starts to say, "We have to join our hearts…" before trailing off stupidly, then mumbles, "smell…" A confused Shi-won hurriedly checks herself to make sure it's not her, then all but rolls her eyes when Il-lac continues, "Your hair smells nice."
Shi-won scolds him for being a smooth operator and tells him not to flirt with every girl who walks by. Il-lac blurts out defensively that it's not every girl, it's only her, because he likes her. She stares in astonishment, and then he does this hilarious slow roll of mortification along the wall to put some distance between them. It's the best thing.
Yoo-jin walks past a boutique on his way home and pauses in front of the window, looking a formal dress that is exactly Nae-il's style. He tries to figure out her size by holding out his arms and guessing how tall she is, just as Yoon-hoo joins him and asks if that's Nae-il's competition dress. Yoo-jin answers automatically that he just thinks she might like it, and Yoon-hoo perks up and immediately heads inside to purchase it, leaving Yoo-jin sputtering that he totally saw it first. HAHA.
Yoo-jin follows him in to argue that he called dibs, and Yoon-hoo has fun messing with him a bit before affably giving up his claim. He tells Yoo-jin to be on his guard, though, and flashes him the jauntiest grin. So a relieved Yoo-jin gets the dress, though he's left a little antsy to note that Yoon-hoo has upped his game.
Yoo-jin calls Nae-il to come out, and as he walks past, he just thrusts the shopping bag into her arms and quickly walks into his place without so much as a word. I love awkward, embarrassed Yoo-jin. He's not going to let Yoon-hoo swoop in and outmaneuver him, but he has no idea how to win gracefully. It's great.
From inside, he hears Nae-il reacting to the gift happily, and mutters to himself, "Shopping is hard." You're telling me.
Yoon-hoo meets with Streseman to give his decision, saying that there wasn't really much of a decision to make, which I'll assume is a yes to the conducting path. He excuses himself to make it to Nae-il's preliminary round of the competition, which is about to start.
Teacher Do gives Nae-il some final reminders to play perfectly by the book, and they exchange an adorable fist-bump and a "fighting!" Yet Teacher Do wonders why he feels so nervous, which now makes me feel nervous.
He and Yoo-jin seat themselves in the audience just as a familiar face also walks in—it's that mean teacher from the festival, who is here after receiving a special request. She recalls Nae-il vividly, of course, after she'd run from her master class. Gah, this can't be good.
Nae-il's turn is up, and she stumbles on the stage, which gets a few disdainful sniffs from the judges. She makes a stiff bow to the panel, then sits down at the piano. Looking out at the seats, she catches Yoo-jin's eye as he smiles encouragingly at her, thinking, "Yes, just like that. You're doing well. Now show the world—the pianist Seol Nae-il."

COMMENTS
Of course you would end there! Ack! My heart dropped when that festival teacher reappeared, especially when we find out that she was called here specifically—that suggests that somebody wanted her to see Nae-il, and that has to be a negative thing. I want the teacher to see Nae-il rock the performance and give the perfect Haydn, but it's clear that the teacher expects failure. One bit of silver lining is that the episode ends on Yoo-jin's hopeful words as Nae-il sees him smiling at her; I feel better knowing that when we leave them, the state of mind for both is in a promising place.
I have to say that this episode started out a bit disjointed, which I was expecting since the previous episode had done such a great job bringing three major arcs to a mini-close; we're on to new goals now, and there's always some energy required to set a new path in motion. I didn't mind catching up to our side characters and jumping around a bit, but I felt like the plot was moving a bit jerkily until the pieces could be aligned to take us to the next bit of narrative track. But once it was up and running, I was happy with where the episode ended up, and where it'll be taking us next, so by the end of the hour I was just as eager to see the next scene as ever.
I particularly enjoyed Yoon-hoo's cheerful return, because first of all it was lovely to see him at peace with himself, and secondly because how adorable is he when he's egging Yoo-jin on? I like that he's come out in the open by showing his interest in Nae-il, and I don't actually see him as a determined suitor for her affections but more of a catalyst prompting Yoo-jin to get his butt in gear and not take Nae-il for granted. I don't doubt that he likes her, but his actions are (so far) good-natured and have the effect of making Yoo-jin act, which make them a welcome development. Especially when they keep Yoo-jin off-balance and hilariously bumbling.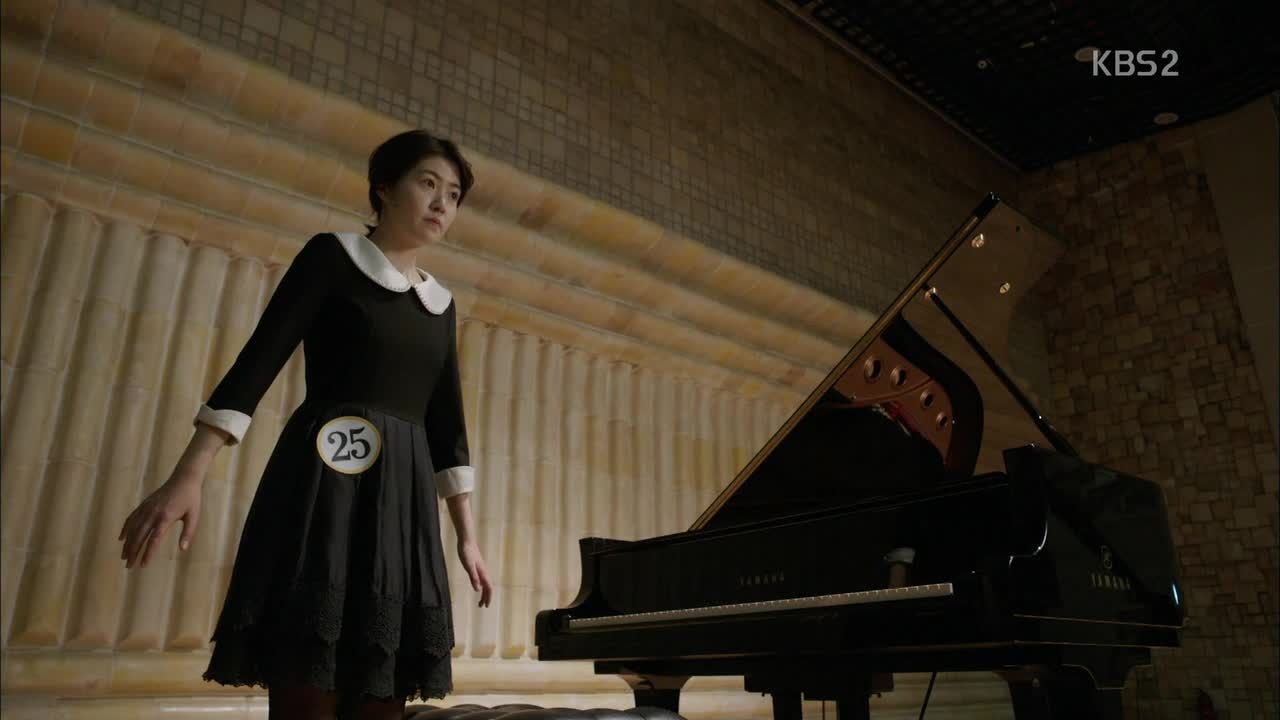 The show's done a good enough job in developing the characters that I actually feel that the competition could go either way and still give us a satisfactory feeling; it's not a black-and-white case where Nae-il must succeed or suffer a huge setback. Especially with Yoo-jin's comforting words last episode still fresh in our minds—that makes me feel that even if she chokes, she'll be okay. She'll learn something from it, and Yoo-jin will still be there to help her deal with it.
Speaking of being there, I love the bit about the hypnosis; even knowing where this is heading, I appreciate the little details about Yoo-jin's failed attempts at hypnosis being about his inability to trust the one leading him back into his airplane memory. I like that the show makes this connection explicit, showing us that he's still blocked from revisiting that trauma even from within the safety of a hypnosis treatment.
So when he falls asleep with Nae-il manning the clock, my heart feels that tug because it's not that she's some hypnosis genius, but that he's going to entrust her with his pain. Just like his hands lend her comfort in the wake of her panic attacks, she'll be the one holding his hand figuratively as they confront his obstacles. I don't need romantic pairings to be perfect metaphorical mirrors of each other and in fact find those constructions worthy of an eye-roll (you know, he can't feel pain, she's extra-sensitive to pain, she sees ghosts, he conjures ghosts).
I appreciate much more when they form a complementary partnership in ways that, to me at least, are far more meaningful; they don't have the same trauma but they can relate to each other. They don't face the same paths and obstacles in musical growth, but are speaking the same language. I don't need their hearts to fit together perfectly like some magical lock and key; I just want their hearts to talk, and listen.
RELATED POSTS
Tags: Cantabile Tomorrow, featured, Go Kyung-pyo, Joo-won, Shim Eun-kyung