Cantabile Tomorrow: Episode 13
Sometimes I wonder whether the show would be served by upping the conflict and angst quotient, but then cuteness like this reminds me that entertainment doesn't always necessitate a dramatic push-pull movement, and that minor triumphs can be just as satisfying to watch as the climactic, grandiose ones.
It is probably safe to say that mainstream Korean audiences do like more drama in their dramas (if we're going off ratings), but I hope that doesn't stop producers from making more slice-of-life shows because there is absolutely a market for soothing, cute, mellow (not melo!) stories of friendship and finding oneself.
SONG OF THE DAY
Chopin, Etude Op. 25, No. 11, "Winter Wind" [ Download ]
Audio clip: Adobe Flash Player (version 9 or above) is required to play this audio clip. Download the latest version here. You also need to have JavaScript enabled in your browser.

LESSON 13 RECAP
Fighting nerves, Nae-il stumbles onto the stage and sits at the piano for her first-round performance. Looking to Yoo-jin out in the audience calms her, and he thinks encouraging thoughts her way as she begins her competition piece.
She's off to a good start, and Yoo-jin relaxes while the judges start nodding approvingly, noting that she's the best so far. Teacher Do is pleased, too, recognizing that Nae-il is adding her own feeling into the performance: "Good," he thinks. "Play just like that."
Also watching is Teacher Yoon from the master class, who remains stony-faced through it all. Yoon-hoo, on the other hand, doesn't look worried as he joins her in the audience.
Nae-il plays strongly through the end, and more than anything I love that she looks thrilled with herself. Teacher Do bursts into applause, and Yoo-jin joins in, thinking, "Good job, Seol Nae-il." It's like she can hear the thought as she nods back him, and Yoon-hoo notices their silent communication with a dip in his spirits.
We hear that Teacher Yoon came at Yoon-hoo's request, but she informs him not to expect any more of her—Nae-il is no more than the girl who ran out of her master class. Yoon-hoo explains that he was afraid the teacher would let her prejudice close her ears to Nae-il's playing in the final round (which she's judging), so he wanted her to listen to Nae-il before then.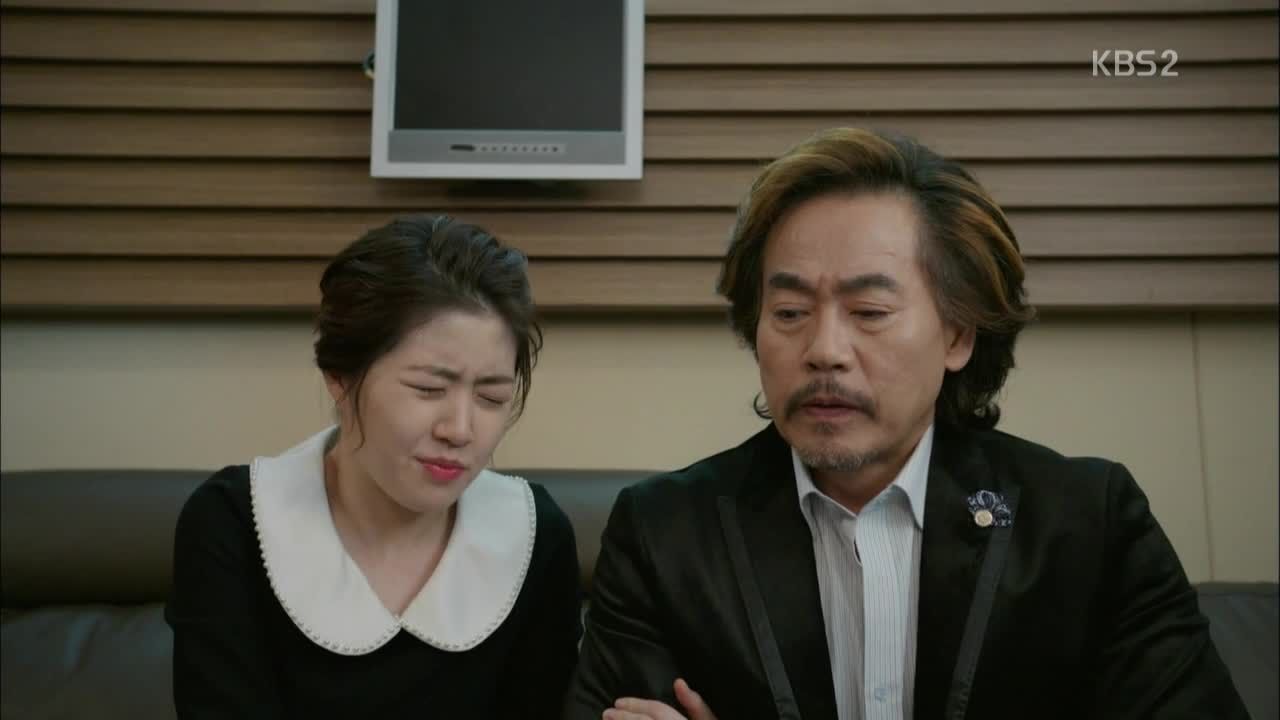 As they await the results, Nae-il fidgets nervously, simultaneously confident that her performance was good and worried that it wasn't good enough. Teacher Do is just as nervous, but advises her to never let down her guard even if she feels confident, because arrogance makes a musician too lax.
Yoo-jin gets Nae-il's text as he's running to rehearsal, and although he's just as anxious to know how she did, the moment he reads that she passed the first round, he says confidently, "Of course you did."
Time for the Rising Stars to vote on a soloist. The orchestra is still divided down the middle, so when Il-lac moons all over Shi-won, his friends mutter, "Traitor." Aw, can't a guy even have a crush without being all political about it?
Yoo-jin counts the votes, and his furrowed brow alerts us to shenanigans. Both sides have schemed to keep the other side from "winning": The S members divided their votes so that no A members could amass enough to win, and the A members voted for someone they could manipulate into giving up: Il-lac.
Il-lac is stunned to hear Yoo-jin pronounce him the winner and protests, asking if there was a mistake. Despite knowing otherwise, Yoo-jin says pointedly, "I'll choose to think that everyone voted for the sake of the orchestra. I'll trust that there was no other intention."
The A members suggest that Il-lac choose a new soloist since he isn't up for it, and Il-lac is happy to agree, naming Shi-won. But it's Yoo-jin who cuts him off and reminds everyone that they agreed beforehand to abide by the votes, holding them to their promise. He names the Tchaikovsky violin concerto (which was Il-lac's audition selection) as their performance piece, and the A's glare in disgruntlement. Hey, it's not Yoo-jin's fault your dumb idea backfired.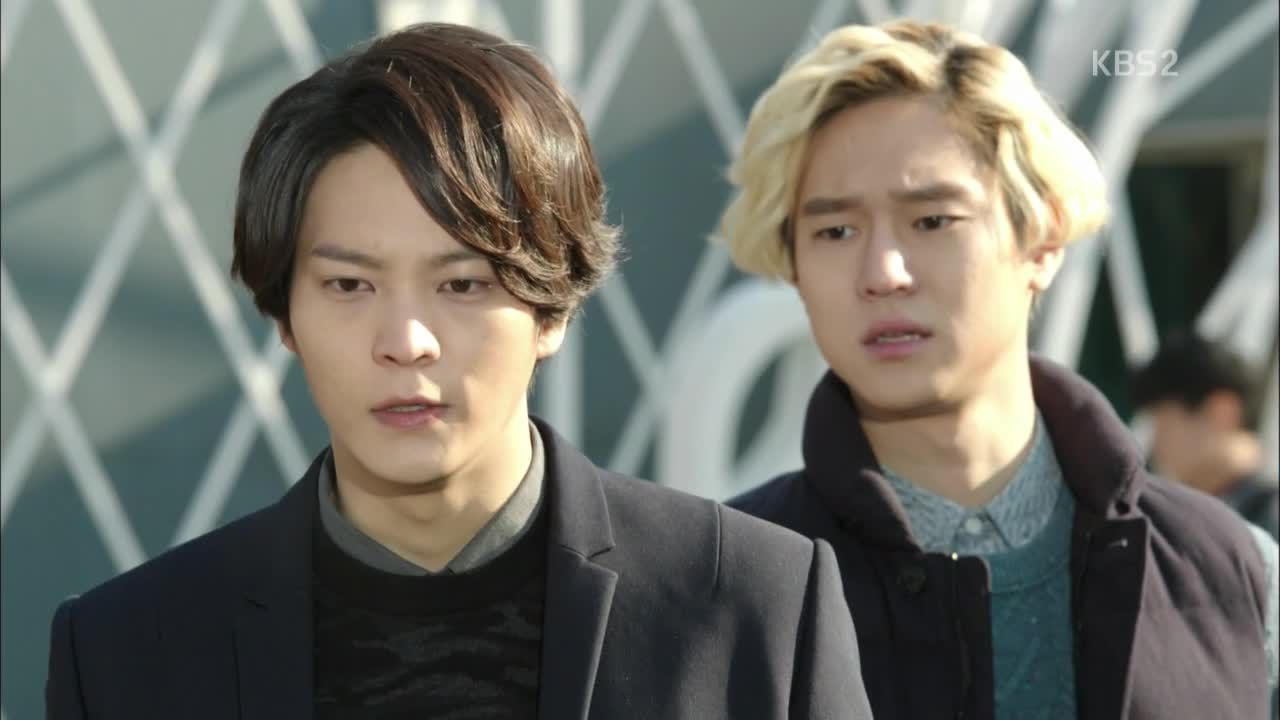 Even so, Il-lac suggests that Yoo-jin open a revote or reconsider the matter, hesitantly asking if Yoo-jin is angry that he was named the soloist. Yoo-jin answers yes, making Il-lac momentarily more woebegone before clarifying that it's because the A members have no respect for Il-lac. They knew he'd be afraid of ruining the concert for everyone and would take himself out of the running.
Instead of caving to their expectations, Yoo-jin tells Il-lac to prepare for three-hour lessons every day, "so that those guys can't say a word about you."
Aw, I love Yoo-jin's continued trust in his friends. Il-lac stammers a bit that Yoo-jin likes him too much, but he's obviously touched and encouraged by the show of faith.
When Yoo-jin comes home, Nae-il is there to surprise him (ineffectively, since he's unsurprised to find her there) and asks him to praise her for doing well today. He merely replies, "You'll do an even better job in the future," which isn't quite praise but is almost more effective, since he's treating her success as a foregone conclusion.
They trim bean sprouts together as they chat about the solo selection, and he admits being surprised at the extent of the feuding; he'd believed the members would think of the orchestra more than their in-fighting. She asks if he was disappointed in his members, and he admits that he was.
Just as I'm thinking of how they strike me as a cozy old married couple, Nae-il comments on it too. She sighs that it's nice to have Yoo-jin confiding in her, at which point he tosses away a sprout and barks at her to practice. Apparently the only way to get Yoo-jin to enjoy domesticity is to trick him into it.
Nae-il worries about her second round song selection, hoping she'll be able to play a composer she feels "friendly" with. This turns out to be something of a struggle, as Teacher Do runs down the approved list of pieces, all of which are unfamiliar to Nae-il. Thus far she's only played things she liked, which explains the gaping holes in her repertoire, now a clear source of chagrin for Teacher Do.
But there's one piece on the list that she's played before, a Chopin etude ("Winter Wind"). She looks rather scared at the thought of it but she gives it a try, playing it from memory. Her fingers fly over the keys as her mind flashes back to the last time she played it: She'd been a child, and the display of her talent had her teacher excited to develop her further. Yet it's not a happy memory…
Watching her now, Teacher Do thinks how Nae-il isn't "just good"—she's amazingly, unnervingly good. Yoo-jin can hear it from outside the practice room door, where Yoon-hoo joins him to wonder why Nae-il's piano is only now being heard by the world.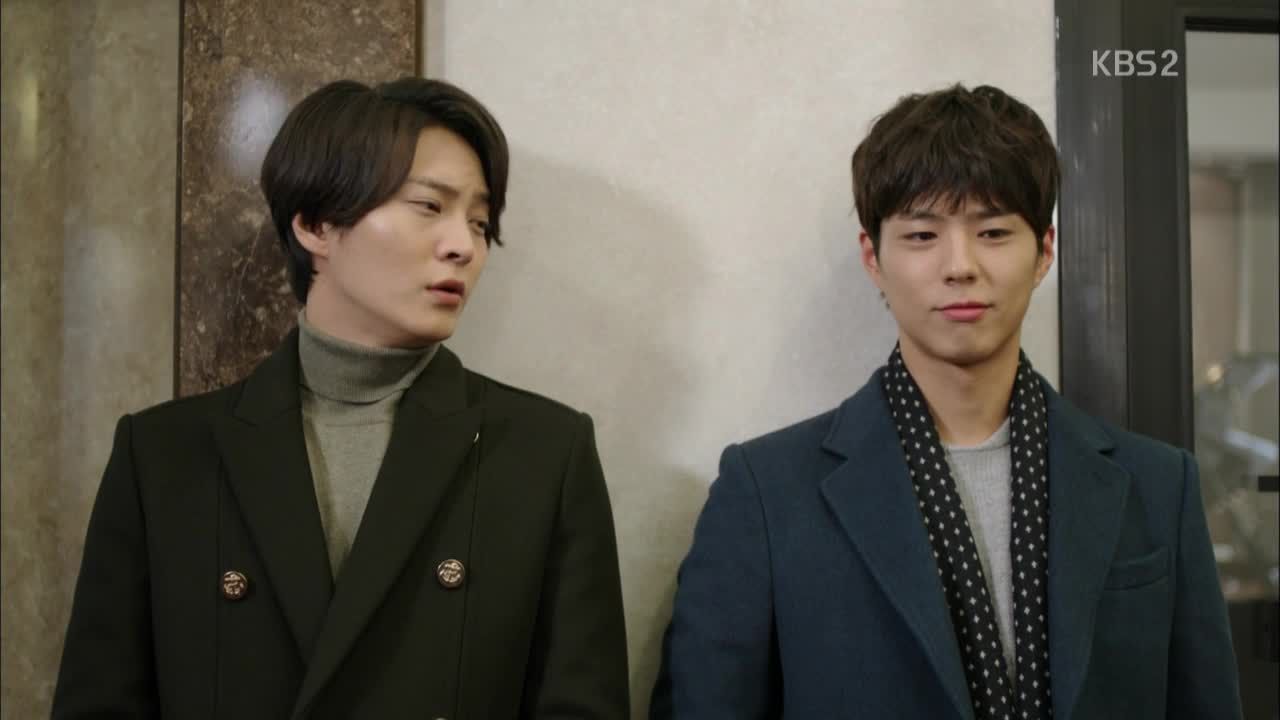 Yoon-hoo sighs that he wants to show off her playing to others, but also wants to hide it away as a treasure because it makes him uneasy—similar to Nae-il's own thoughts regarding Yoo-jin's conducting.
He supposes that Yoo-jin feels the same, but instead gets back a different reply: that it's up to Nae-il to decide what to do with herself, because she's not an object. He says it without judgment, but I still kinda want to say, Booyah.
And then, Yoon-hoo informs Yoo-jin that he's applying to the conducting department, and with Streseman's recommendation to boot. So when Yoo-jin is called in to see the maestro, he asks why he wasn't told about it, only to be reminded that it's not something he should find a big deal. The maestro has bigger plans for Yoo-jin, starting with the idea to travel to Europe together, which he has already cleared with Dean Mina.
Yoo-jin is taken aback by the proposal, but Streseman asks directly if he isn't going to go abroad—does he plan to keep conducting the Rising Stars even after he graduates? He points out that Nae-il gets to study in Europe if she places first in the competition, and asks if that had anything to do with Yoo-jin encouraging her to compete. And if so, is he really not going to go with her? I don't suppose any of this is news to Yoo-jin, who seems like he's consciously aware of his motivations, but it's hard to shy away when it's stated so plainly like this.
Il-lac feels dejected over the way the orchestra vote went down, but Shi-won assures him that he deserves this solo and can do a good job. She's sweet in the supportive (almost?) girlfriend role, though in this case it may be even more meaningful to throw her support to him as concertmaster, and she tells him to do a good job.
Bolstered, Il-lac promises to do well enough that the others won't be able to say a word against him, putting a finger to her lips in a silencing gesture… and then he sneaks that finger to his own lips in a sneak-kissy move. Lol. One of these days, you'll work up the guts for a real kiss! At least you'd better.
But his confidence just isn't there in orchestra rehearsal, where his intonation is all off and he's missing shifts and sounding like a mess. His detractors smirk to themselves, while his friends look on in concern. Yoo-jin corrects him kindly, but is clearly dismayed at Il-lac's subpar playing. Although everyone's nice to his face about it, Il-lac's clearly feeling vulnerable.
Nae-il practices her competition piece furiously, haunted by the memory of her teacher's harsh lessons with this same etude. She has to force herself to chase aside the bad thoughts, and reminds herself to focus on coming in first place so she can accompany Yoo-jin to Europe.
Streseman watches from the hallway as Nae-il plays through her bad memories, then approaches with concern. He asks how she's feeling, noting that her feelings come through loud and clear in her playing, and that her face looks harsher than the bitter winter wind evoked by the song.
Nae-il apologizes for letting other thoughts in while she's practicing, but Streseman advises her to utilize her emotions, to pour all of herself into her playing. She has nothing to fear in front of the piano, he says—and once she lets everything out, she can be free to return to her normal, happier self. The words seem to have an effect on Nae-il, who promises not to avoid confronting her feelings.
Yoo-jin directs violin lessons with Il-lac, which aren't going as well as hoped for, and picks up on a recent change in Il-lac's playing. Il-lac admits to purposely pulling back because he's afraid of getting carried away by his feelings, only to have Yoo-jin assure him that he shouldn't lose that ability. As long as he doesn't go overboard, he should be able to lose himself in the performance.
The advice renews Il-lac's enthusiasm, with Yoo-jin giving him the greenlight to return to himself. He resumes playing, and already the results are improved.
Nae-il waits outside that evening, excitedly waving at the distance at an approaching figure until she belatedly realizes that it's Yoon-hoo, not Yoo-jin. He notes her disappointment, and also her chilled appearance, reaching to drape his scarf around her neck. Nae-il shrinks back involuntarily, though, and adds that his constant teasing makes it seem that he likes her.
He asks if it would be such a bad thing, but Nae-il replies that he can't like her. She excuses herself, leaving Yoon-hoo to sigh that he rushed things.
He joins Yoo-jin in the cafeteria later to announce that Nae-il rejected him. Yoo-jin's first reaction is to smile; his second is to ask why Yoon-hoo's telling him this. Yoon-hoo explains that he has nobody to tell, and that the gang wouldn't take his side anyway. Yoo-jin supposes that he doesn't have many friends, being the type to take things on himself. Spoken like an expert in the matter.
Yoon-hoo guesses that Yoo-jin knows that from experience, and proposes a ceasefire, just until Nae-il wins her competition. Yoo-jin replies that he hasn't been fighting with Yoon-hoo, but his face sure takes on a conflicted look when Yoon-hoo states his intention to follow Nae-il abroad to study music. Isn't Yoo-jin going to go too?
It certainly isn't that he doesn't want to, and the idea brings on another flashback to his childhood plane accident.
The Rising Stars hear that they'll be entering into a competition of university orchestras, and scoff at the idea of using Il-lac's solo to go up against formidable rivals, particularly one led by a conductor who was taught in Germany. The news has everyone determined to up their game.
Round 2 of the piano competition arrives, and Nae-il texts Yoo-jin to ask him to make sure to see her play. She isn't quite "friends" with this composer, she says, but she's acquainted with him and promises to work hard.
She'll need to, because the competition heats up and one particular pianist, named Ka-ram, attracts everyone's notice as the one to beat. To make matters worse, there's a familiar face in the crowd: Nae-il's childhood teacher.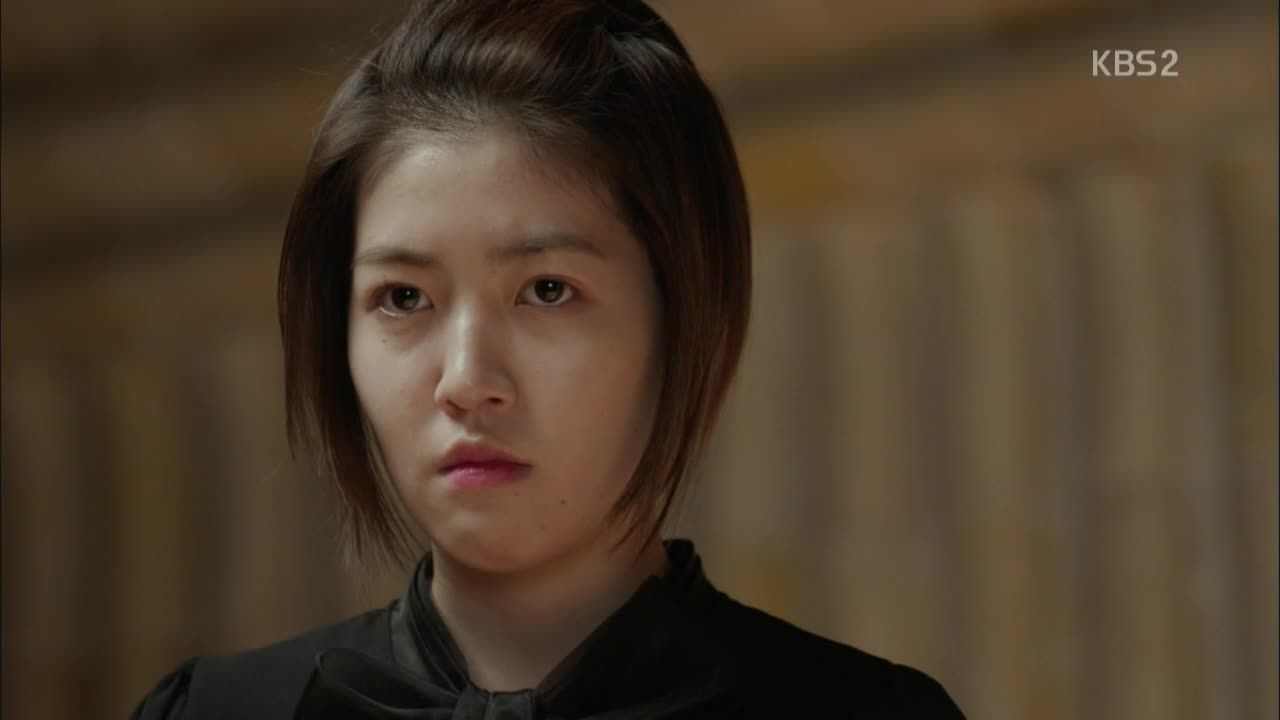 Nae-il waits for a reply text from Yoo-jin but doesn't get one, as he's currently stuck in traffic trying to get to her performance in time. He ends up ditching the taxi and running on foot, arriving just as she's beginning.
Yoon-hoo isn't surprised to see that Teacher Yoon is back today, and when she asks why he didn't specifically request her presence here, he replies that he knew she'd come anyway. Ha.
Nae-il comes out wearing a long face, and everyone puzzles over her obvious heavy mood. She looks downright angry as she plays the etude—fiercely, almost frantically—and the judges shake their heads that she's playing way too fast. It's a far cry from the perfect performance she showed with her textbook Haydn in Round 1.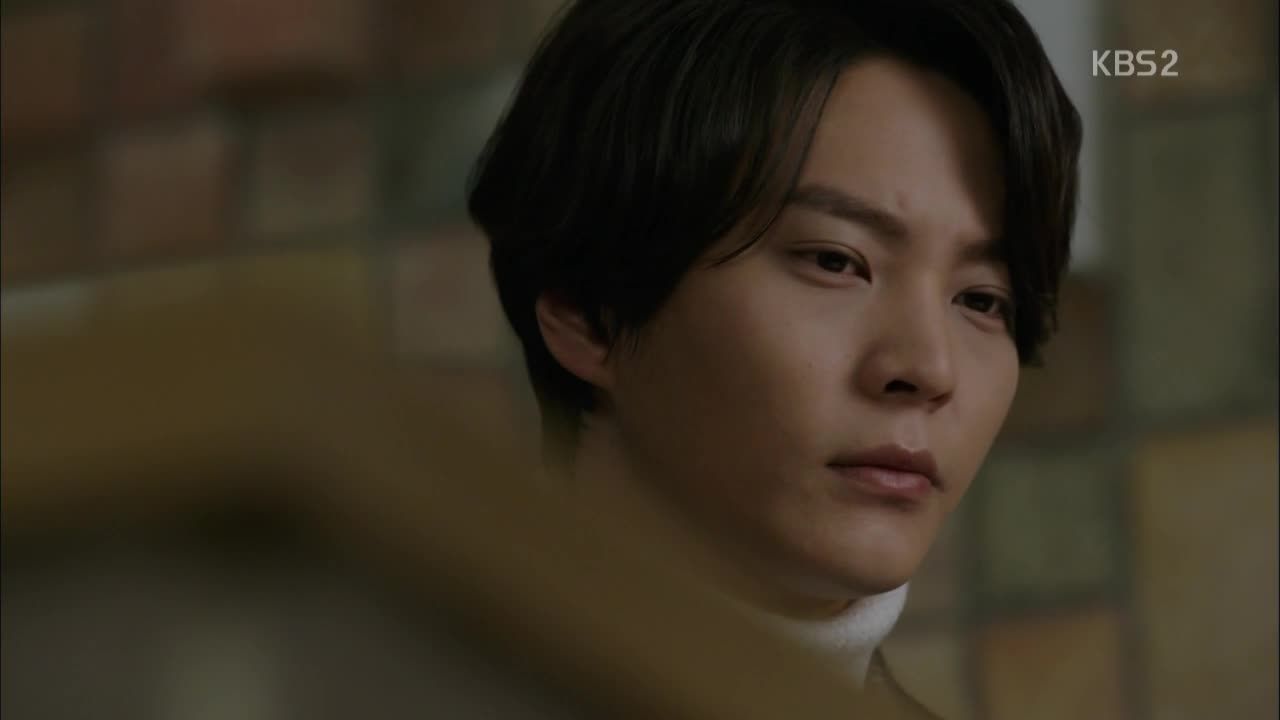 Yoo-jin knows it's a rocky performance and Teacher Do says grimly that it's all over. Nae-il is so upset with herself afterward that she won't come out of the bathroom, despairing that she ruined everything.
Yoon-hoo says optimistically that Nae-il put in a good performance—it just didn't happen to suit the competition. On the other hand, Teacher Do barks that a player has to be prepared to follow competition rules when they come to a competition. You've gotta play the game to win the game.
Still, they crowd around the bulletin board hopefully when the results are posted, and are elated to see that Nae-il's name made the list after all. Teacher Do exults, and holds up a hand for a high-five that gets left hilariously hanging.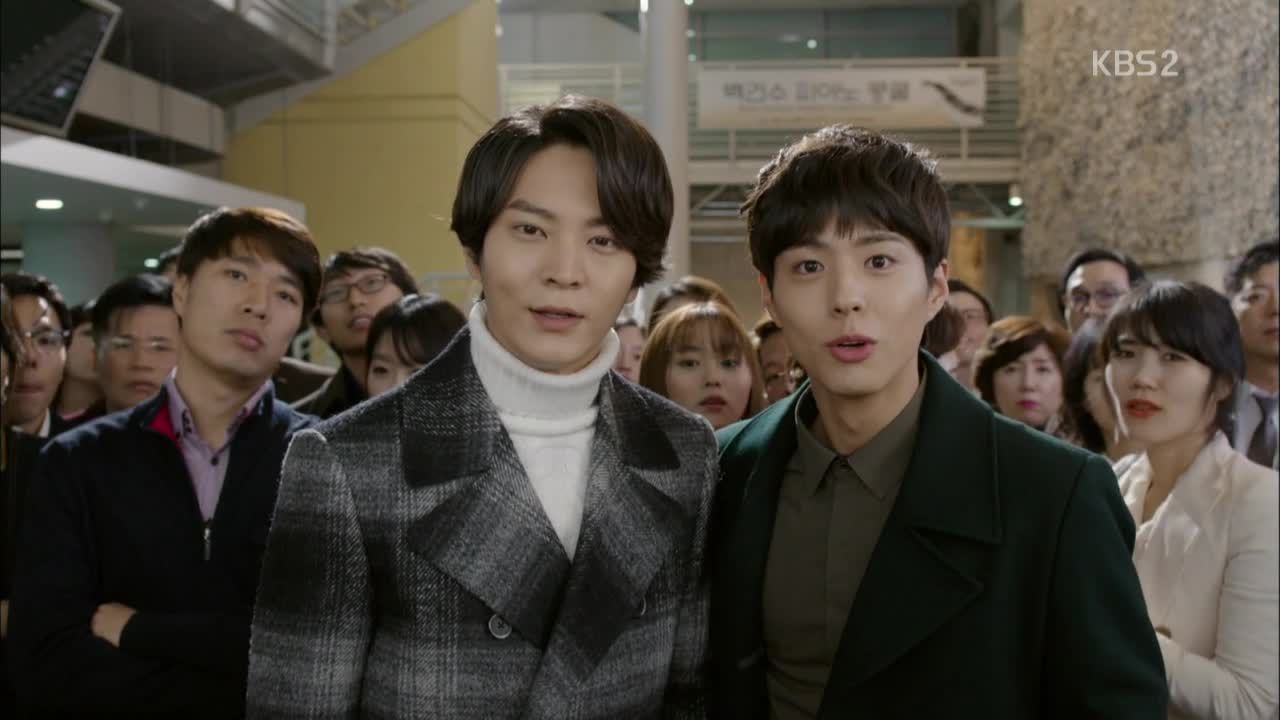 We see in a flashback that Teacher Yoon had played an instrumental role in swaying the judging panel in Nae-il's favor. They'd agreed that she had talent but had been ready to drop her anyway; she'd ignored the competition's rules and played too much in her own way.
And so, Teacher Yoon had pointed out that she'd like to see more of Nae-il's playing, which had a personal appeal. The other judges had admitted to the same curiosity over what she'd play next, and had decided to advance her.
Yoo-jin calls Nae-il with the good news, texting her the message when she refuses to answer the calls out of shame, thinking she'd failed. The good news lures her out and she launches herself at Yoo-jin in a fierce attack-hug (I love that Yoo-jin is attacked regularly with hugs, and that he obviously doesn't mind them anymore).
Teacher Do rescues Yoo-jin from the hug and drags Nae-il away to prepare for the final round. Meanwhile the student expected to win, Ka-ram, also advances to the finals, and it turns out that she's a student of Nae-il's mean old teacher.
Nae-il's name is distinctive enough to catch the teacher's eye, and when Ka-ram asks about her, the teacher sniffs that while Nae-il is very talented, she's nobody to worry about because she can't handle competitions.
Be that as it may, Nae-il's confidence meter is back to full as Teacher Do goes over the selection for finals. She's unfamiliar with the pieces, so he selects Liszt's "La Campanella" for her, and they get to work.
Orchestra rehearsals continue, and Il-lac's playing is much improved, to the relief of all his friends. In fact, it's the arrogant trumpet player who squawks in the middle of a run-through, and Yoo-jin makes it a point to tell everyone to put in additional individual practice. (Cutely, when he says he won't single out the mistake-maker, Su-min points a finger immediately in Trumpet's direction, having no problem with it.)
Despite the progress, Il-lac has second thoughts and worries to Yoo-jin about making a mistake during the concert. He hems and haws before getting to his point, asking if it's possible to swap soloists and have Shi-won play the concerto instead.
Yoo-jin flatly denies the request, asking what happened to Il-lac's renewed drive. He assures Il-lac that he'll perform well if he continues to practice, closing the door to further argument.
Nae-il works through her competition piece, thinking herself through the interpretation as she plays, and Teacher Do is amazed. Not just at her progress, but the fact that she got here all on her own, because he didn't teach her any of this. "How can such a person exist?" he wonders.
Teacher Do calls Yoo-jin to request his help, which must have to do with Nae-il's absorption in practice. Yoo-jin finds her playing at the studio late into the night until she literally conks out at the piano, falling asleep on the keys.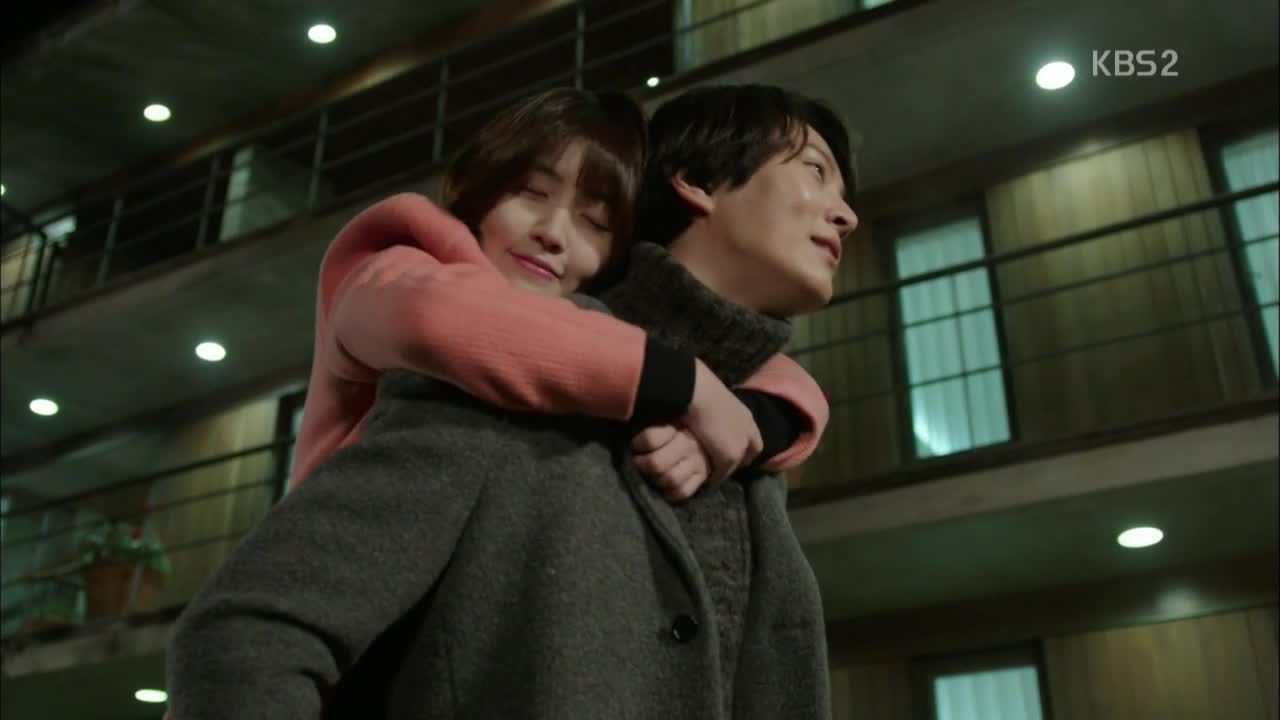 He carries her home on his back, and she sleepily asks him to come to Europe with her. Yoo-jin replies that it would be nice if he could, and when she promises to make it so, he thanks her for the thought.
Then when she promises to work hard so she won't be embarrassed in front of him, Yoo-jin answers that she doesn't have to win first place. He says she was right before when she talked about playing freely and with enjoyment, because she has to be happy in her playing in order for her listeners to be happy. Nae-il comments that he's changed a lot, but adds that she still wants to take first place.
Soon it's the day of finals, and Mini Min-hee and Mom head over to cheer Nae-il on. Nae-il is in good spirits as she prepares backstage… until she comes face to face with her old teacher in the hallway. Ack.
The teacher is just SO condescending about having expected Nae-il to have quit already, and essentially sniffs that Nae-il is wasting her time since her student Ka-ram will take this competition.
The encounter has Nae-il deeply rattled, and exacerbating the matter is seeing Ka-ram playing the same Liszt piece she's selected. Other competitors comment that they're glad they didn't pick the same song, lest they be compared unfavorably.
Nae-il is slated to follow her, and the old nerves resurface as she's instructed to head outside for her turn. Choking back her panic, Nae-il gets up—and bolts the other way.
She runs out the back door and through the lobby, stopping only when her escape path is blocked by a new arrival. Yoo-jin.

COMMENTS
You know, I almost wanted the episode to cut out before Nae-il ran into Yoo-jin, even though that would have left me feeling added angst—because the moment she ran into Yoo-jin, I felt like all would be right with the world. Such is the power of their rapport that I feel like the question isn't even whether she'll win, but whether she'll be able to perform in peace (and let the results happen as they may).
I don't actually want Yoo-jin's presence to become some sort of magical talisman for Nae-il, so I think there's a line that should be observed here as he guides Nae-il along in conquering her trauma. The show has done a pretty good job of respecting that their musical paths must be taken independently—the beauty is that the paths are parallel and complementary, but they're not the same path—so it's not a huge concern for me. But I did have the thought in this episode that I just wanted Yoo-jin to be there to make it all better, and then brought myself up short because that isn't actually the thing I want for Nae-il. Let's avoid the "codependency is romantic" message, shall we?
What I do like about Yoo-jin being there for Nae-il is that rather than calming her enough so that she goes out there and kicks ass, the message is more along the lines of "Be yourself, that's enough for me." And of course the beauty of that is that Nae-il's pure self is worthy of being named the best anyway, when she's true to her talent and unfettered by demons and nasty teachers and rigid rule-makers.
It's nice to see this appreciation come out in Yoo-jin with the other friends too; Il-lac's flash of insecurity was a well-placed counterpart to Nae-il's conflict, showing them experience similar crises of confidence. A really lovely side effect of Yoo-jin being such a vaunted musical talent is that it makes him so effective when bolstering his friends' flagging confidence. Sure, it's nice when your buddy (or your doting dad) tells you how good you are, but when it's Yoo-jin? Well, you can't argue with him because he's never going to lie just to make you feel better. When he tells you you're up to the task, well, you believe it and work extra hard to ensure that his estimation wasn't misjudged.
I suspect we're about to revisit Yoo-jin's trauma next, which feels like a natural next step, and one I'm eager to see since it's his turn to put a foot forward. (I LOVE Yoo-jin, but he's in danger of becoming too perfect, and I always find heroes—or any character, really—more interesting when they're working through stuff.) He's done plenty of supporting in recent episodes, and now I want to see everyone return the favor (again). In a big-picture sense, the movement of this show sometimes feels like a three-legged (or maybe many-legged) race—marked by cooperation and steady progress, with everyone looking out for each other and holding each other up when someone takes a stumble. The steps may be ungainly at times and I can get antsy for quicker progress, but in the end I'm warmed by the camaraderie and collective growth.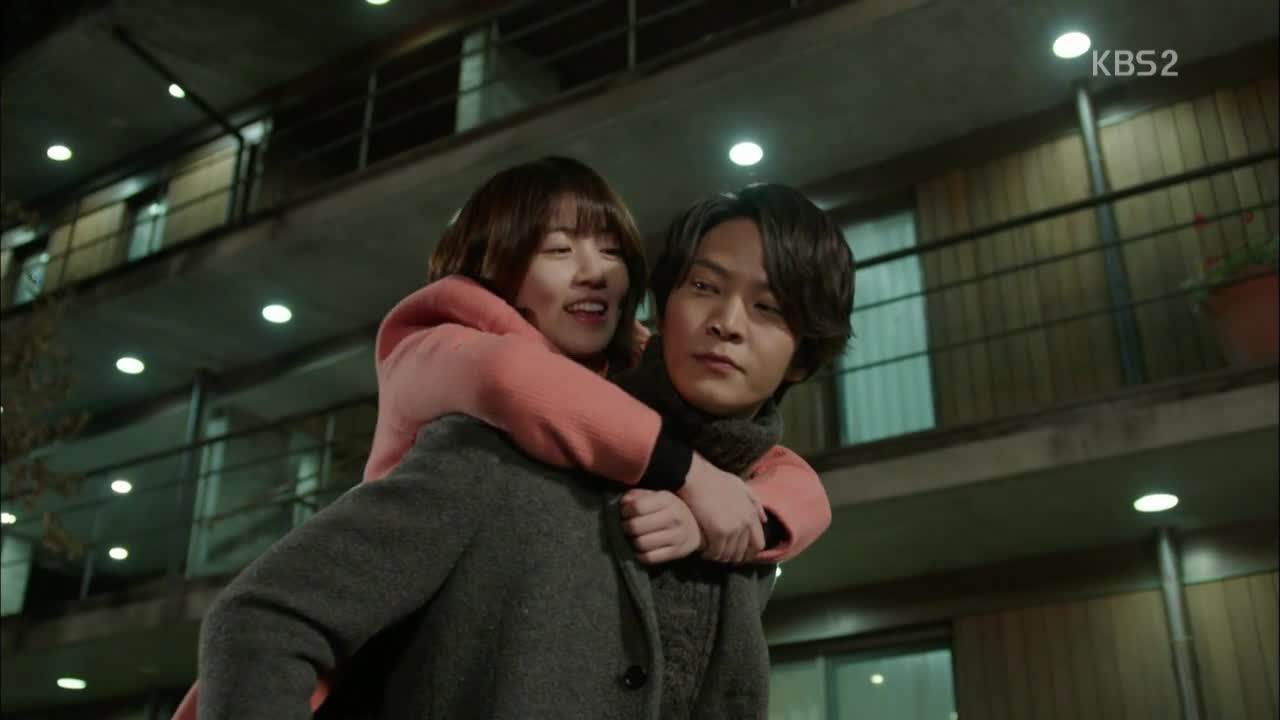 RELATED POSTS
Tags: Cantabile Tomorrow, featured, Go Kyung-pyo, Joo-won, Shim Eun-kyung