Our love-hate relationship with drama remakes and adaptations
"They're remaking another drama?" *Boo, hiss, wails.* I'm pretty sure that's a familiar script for most of us who've been following dramaland for a while, and one that's cropped up with particular frequency in recent months and years.
Adaptations and remakes are nothing new—people will retell new versions of old stories until the end of time—but the recent surge has spurred increased talk about the trend. I find it interesting to note the tenor of the commentary, because even though the fan voice tends to be united (in dismay, most often), the broader public response encompasses a pretty wide range.
I don't have a singular stance that applies across the board—say, for instance, "remakes are the devil"—but there are enough issues in play that I think the topic merits its own discussion, separate from recaps and narrative-focused commentaries. So I won't be making a central argument here (sorry, high school essay-writing lessons), because I don't know that I feel one thing about this. Rather, I want to open the conversation and maybe see where it leads us. I guess I should warn you up-front that rambling is afoot, but you probably already know to expect that of me. No apologies!
(I realize that remakes and adaptations aren't interchangeable terms, and I don't want to lump everything into one catch-all pot: The manhwa-into-drama adaptation, for instance, is different from the cross-national drama remake, which is different from the movie-to-drama reboot, and so forth. These projects encounter a similar set of complications and pitfalls, so for the purposes of this discussion I'm often talking about them within the same overall context. But we'll distinguish when necessary.)
Why can't anybody leave a good thing alone? is the prevailing cry whenever another property gets snatched up for remaking, and it's a knee-jerk reaction that seems both completely understandable and sadly futile. I feel that chagrin myself whenever Hollywood, for instance, takes something I love—something with nuance and character—and then proceeds to suck out its soul to replace it with empty gloss. (See: Il Mare (The Lake House) or My Sassy Girl or Oldboy. Or scratch that; don't see them. And I'm more nervous than optimistic for upcoming drama remakes of Nine and You From Another Star; Good Doctor is less worrisome, mostly because I care less about that show but also because it's a concept that I think would find a ready home in CBS's medical-procedural stable.)
On the other hand, the Korean industry is just as often the perpetrator, and in those cases I try to keep an open mind that perhaps the end result will be worth the attempt, or that this latest version may even contribute something new to the dialogue. It probably has more to do with the fact that we cover Korean dramas here and not Hollywood ones, and I aim to keep hope alive as long as possible if only for my own mental well-being. (Who needs to introduce stress before it's necessary? At least hope is its own reward.)
There are concrete reasons for producers finding the remake/adaptation an attractive option, and longtime drama fans are probably aware that the relationship between business and creativity doesn't always tilt the way we want it to. (Okay, fine, it never tilts the way I want it to! But until I am a multimillionaire with money to spend on funding drama productions, I just have to accept certain bitter realities.) Remakes have built-in name recognition, and are much easier to launch than an original series that must be planned and produced from scratch. Personally I'd like to tell broadcasters to suck it up and just do the work—because I don't care if it's hard, I care if it's good—but again, my unfortunate lack of millions is really getting in the way here.
I'd also like to put aside, for the moment, the broad lamentation regarding the dearth of original ideas. It's not that the complaint isn't valid, but I think we all agree that fresh stories are always desirable, and that more of those in dramaland would be nice. Nobody's arguing for fewer original dramas! But it's a preaching-to-the-choir sort of speech, of the kind the choir makes while beating a dead horse into a bloody pulp. There's also the point one could make about there being no new stories under the sun, and if we're taking that kind of absolutism to its extreme (i.e., retelling old stories is bad and therefore pointless), then perhaps we should all just curl up at home with our battered copies of Aeschylus, because once a story has been told, it must never be told again. *Hiss* *Shrivels from the sun*
The thing that makes adaptations and remakes both challenging and fascinating is: They serve two masters. One is the existing fanbase, whom you do not want to betray, while the other is the broader mainstream audience, whom you do not want to alienate by serving a small niche of insiders at the expense of new viewers. This is a tricky balance to strike and, as we know, not often done well.
The double-edged sword is especially keen when we're talking about hot properties like Hana Yori Dango (Boys Over Flowers) or Nodame Cantabile (Cantabile Tomorrow), whose heightened profiles create immediate interest that is nearly impossible for a brand-new show to match. Not without substantial effort and cash, at least. It's that same interest that makes backlash especially scathing, however, if/when fandoms aren't pleased. And once you get one Boys Over Flowers breaking out and becoming a smash hit, everybody's clamoring to get the next one, and then we just end up with a river of tears cried by sad manga lovers.
This is something we don't necessarily see with adaptations like Three Musketeers or Surplus Princess, which almost don't feel like adaptations because they're based on well-known classics and thus are granted more latitude. But they, like the other dramas mentioned here, are doing the same job of taking K-drama twists to make things their own. (Maybe we can look to that as support for the argument that more freedom in interpretation yields better results. A shame that producers aren't often granted that freedom, though!) Fated To Love You also had a funny trajectory in that the Taiwanese original was wildly popular at home and throughout Asia, and then the Korean remake was successfully exported and enjoyed a fresh wave of popularity in China and Taiwan. But that's the anomaly.
It's enough to make you wonder whether it's better being an adaptation of an original property that wasn't that popular, which mitigates the potential feeling of betrayal. Pretty Man and Tamra the Island were both manhwas that had smallish niche audiences, so when both dramas underperformed (Tamra because of low ratings despite a cult following, Pretty Man because it was a mess), they receded quietly, without incurring the level of netizen scorn reserved for more high-profile projects. The bigger the target, the harder they fall. (Other adaptations that came and went quietly: Birdie Buddy, Nail Shop Paris, Her Lovely Heels, Strike Love, A Man Called God, My Fair Lady (Take Care of the Lady), Mary Stayed Out All Night, and Hot-blooded Salesman, among more.)
This is also why, despite the impression that it's easier to write a remake than an entirely new drama, that's only true from one angle. New dramas aren't hamstrung by the same expectations and prejudices that these remakes are, which are as much a handicap as they are a helpful guide. Dramas that try to make everybody happy may instead end up making nobody happy.
Because really, the baggage can be paralyzing, and choosing to honor that over a new vision could very well sound your death knell. Consider the drama that's a so faithful and afraid of stepping out of line that it presents a story with exactly zero surprises. Yawn and yawner.
This is one aspect I find very enjoyable about Cantabile Tomorrow, because it's just different enough that I appreciate where they're trying to stretch a bit; the K-drama hews closely enough to Nodame Cantabile's storyline to feel like an adaptation, but it's thoughtful about where it chooses to deviate. The hero role of Yoo-jin is like Chiaki, for instance, but the overall flavor of the character feels like something Joo-won has created on his own. I have seen comments that Yoo-jin isn't cold or harsh enough, and that because Tamaki Hiroshi played him more aloof, Yoo-jin is therefore wrong. I agree that Yoo-jin is the gentler version, but surely both actors still register on the "cold, gruff" spectrum of standoffish heroes, so neither interpretation strikes me as wrong. They're two ways to interpret what the manga created, and frankly, I love that we have both.
Hana Yori Dango/Boys Over Flowers is another example where the heroes were clearly from the same mold—haughty, imperious, in desperate need of some humbling—but diverged in key ways, and I was also happy to have both portrayals to watch. (I do have to say that the heroines were unequivocally better in the Japanese dramas, though.)
I frequently see the argument "This didn't happen in the novel/manhwa/anime, therefore the drama is wrong" leveled against a show as though the act of deviating automatically invalidates the choice. A bad choice is a bad choice, but let's not assume that different necessitates bad. In this regard I find the intensity of the criticism against Cantabile Tomorrow surprising; to me, it's a light, good-natured show that's doing a pretty good job as a drama and as a remake, albeit with flaws in both areas. What I find odd is the way in which these remake debates can go askew and even revise history, misrepresenting the original dramas as infallible masterpieces and the remakes as worthless drivel. I have trouble accepting such blanket arguments. I found Hana Yori Dango superior to Boys Over Flowers in most ways, but man if Boys Over Flowers didn't have a strange manic pull that sucked me in, in a way I didn't feel with the J-drama. Being better in most things didn't make it better in all things.
Nodame Cantabile is a case where I'll actually argue pretty strenuously that the Korean version is improving on the execution in many ways, and feels more emotionally resonant than the Japanese drama did (for me! I speak for myself!)—the J-drama was fully enjoyable and I daresay nobody tops Ueno Juri as the heroine, but I thought it emotionally lightweight and very, very slapsticky. The Korean version is held back somewhat significantly by Nae-il being less relatable than Nodame, but I also think Yoo-jin and the side characters are doing it more for me here (okay, Mine is a draw with Il-lac). At first I'd wanted to cry at the thought of losing Rachmaninoff's Piano Concerto No. 2 as Yoo-jin's solo, until I heard the Grieg and felt the show had done the work to make the selection thematically relevant—it's powerful, sweeping, and intense, which is reflected in Nae-il's tumultuous response to it. And while the S Orchestra's rendition of "Rhapsody in Blue" was inspired in the original, I thought the "Mambo" perhaps even a cut above as a representation of the orchestra's character—all fast, crowd-pleasing fun.
All of which I say not to convince you to agree with me, but to present the argument that older isn't automatically better. And that a new adaptation necessitates some new interpretation, no matter how familiar the story. And that a new version can sometimes build upon the older to draw out and improve upon the basis. I love the story of Nodame, but I wanted to feel more emotionally drawn into the world—and that's what Cantabile Tomorrow gives me (even if I have to put up with some additions that I dislike, such as the teacher drama). Ultimately isn't this a win-win?
Even so, let's suppose for a moment that a remake is indisputably worse than the original—can we still agree that harping is an activity we'd like to see cease? Consider a scenario where you go to a party in a good mood, only to run into a guest who follows you from room to room pursuing an argument:
"The party I went to yesterday was better."
"That's nice."
"It had better food than this one. Better music too."
"Okay."
"It was better in every way."
"So I hear."
"I don't even know why they bothered throwing this party."
"I'm going to go over here now."
"I'll follow you, so that I can tell you more about all the ways in which the other party was better."

Murder ensues.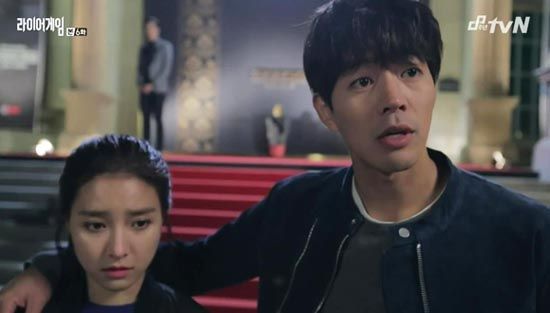 It's a curious exercise to watch the response to Cantabile unfold simultaneously with the response to Liar Game, because I've seen the original(s) for one and not the other. Hearing remarks that the original Liar Game is better is intriguing because I'm enjoying the K-drama wholly, and the possibility of a better version makes me curious—but it doesn't make me like the K-drama any less. What's the purpose in insulting one drama to elevate another? Ultimately my conclusion is the same: That I enjoy these K-dramas as K-dramas, and what I know of the world outside of those 60-minute episodes is incidental to how I feel about the show itself.
It's why I'd argue that the mainstream television audience ought to always be the production's priority over adherence to the original story, because in adapting this idea for this particular medium, you'd better make sure you serve this medium. If the remake makes an effort to find its own voice, at least it can stand on its own feet even if the fanbase hurls epithets and exits in droves (…though let's be honest, sometimes it's more like exiting in drove).
Because what worked in a different medium—or a different time, or a different cultural context—may not work in the here and now, so a remake does in fact necessitate deviation. A beat-for-beat remake, snatched from one time and plonked down in another, starts feeling like some hybrid monster, ill at ease in its own skin. Some dramas stand the test of time because we're able to view them through the lens of nostalgia, or history; if you took Autumn Fairy Tale and set it in the present day, we'd have a lot less patience for what are now trite misunderstandings and melodramatic twists, even when those are the same moments that gripped our hearts and made us cry back in the day. It's the misstep I felt with Strike Love, the 2009 baseball drama based on a 1986 manhwa that felt like it had been lifted wholesale from that time. It felt dated, as though nothing about it had been updated to reflect the new milieu.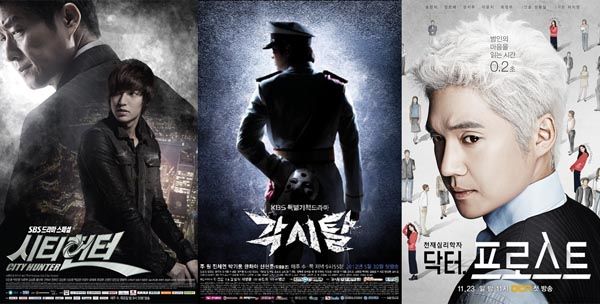 To look at the issue from another perspective, it's another interesting exercise to juxtapose these cases of criticized adaptations with those that surpassed their source material. Gaksital may have had its fans when it was a black-and-white manhwa, but the drama brought new dimension to the birth of a dark national hero and made us feel the range of emotions in hi-def, full-colored glory. Coffee Prince was a fluffy romance novel before a thoughtful PD transformed it into something modern, sentimental, and insightful. The drama version of Sungkyunkwan Scandal, based on a novel, took a familiar cross-dressing reverse-harem premise and elevated it with smart casting, adorable chemistry, and sharp directing choices. And The Moon That Embraces the Sun, for all its simplistic melodrama, was a juggernaut of a show that far exceeded the popularity of its novel inspiration.
City Hunter is an example of a K-drama that was really only an adaptation in concept—it was loosely based on the manga, but reset the scene, added a different backstory, reshaped the characters, and turned into a prequel, so that the end result resembled almost nothing of the original save for the title. But it succeeded by being a damn entertaining drama, regardless of its origins, and in my book that puts the drama into the plus column. Since I wasn't much of a fan of the original to begin with, to me the 2011 K-drama was even an improvement on the source material (…though perhaps diehards of the 1980s manga might have a different argument to make).
These cases are much better, I think, than the flipside where a property is so intent on preserving the original that it forgets to be a drama. Because then you've failed before you've begun. (Other adapted dramas that were arguably as or more successful as TV shows: Painter of the Wind, The Return of Iljimae, Full House, Goong, Gourmet, Capital Scandal, and the big one these days, Misaeng.)
Speaking of which, Misaeng is currently positioned to become the next pop-culture sensation, and for good reason: It's smart, it's thoughtful, its portrayal of what it's like to work in modern Korea is so keen as to be painful. It captures a zeitgeist that started with its webtoon, which was a sensation in its own right and has now reached bestseller status. What I find fascinating is how the drama production managed to capture the soul of the webtoon so accurately in such a different medium, which speaks to the consummate skill of its director. In Misaeng's case, the spirit of the original has been transferred without necessarily copying everything frame by frame.
And really the secret to success, for Misaeng specifically and for remakes in general, lies chiefly in the execution—more than casting or content, say, or buzz or faithfulness to an original idea. You only need to look at cases like Faith versus Dr. Jin to see how two very similar concepts (so similar as to incur legal battles) could produce two such disparate shows. Witch's Romance produced a surprisingly charming remake earlier this year despite being a super-obvious story with no huge surprises, buoyed by its writing and pacing and charismatic leads. On the other end of the spectrum, Level 7 Civil Servant's spy-meets-spy romance gave rise to one zippy, fun movie and one drama about which we will never speak again.
So maybe what it all boils down to is the most obvious statement of all, which I feel silly saying plainly for its obviousness: Don't underestimate the power of a good story (or your viewers' intelligence), and the question of who said it first becomes less important than the fact that you're entertained—and we're all really here for the entertainment, aren't we? Make good dramas, and the audiences will respond. If you build it, they will come.
Images used, in order: Misaeng, Three Musketeers, Cantabile Tomorrow, You From Another Star, Nine, Boys Over Flowers, Sungkyunkwan Scandal, Tamra the Island, Surplus Princess, Cantabile Tomorrow, Cantabile Tomorrow, Liar Game, City Hunter, Gaksital, Dr. Frost, Fated To Love You, Misaeng
RELATED POSTS
Tags: 1 show to rule them all, adaptations, Boys Before Flowers, Cantabile Tomorrow, City Hunter, Coffee Prince, Fated To Love You, Gaksital, Hana Yori Dango, Liar Game, Misaeng, Nodame Cantabile, Pretty Man, remakes, Strike Love, Sungkyunkwan Scandal, Surplus Princess, The Moon That Embraces the Sun, Three Musketeers