Misaeng spawns parody drama on tvN
javabeans: I can't believe this is a real thing. I know tvN really really (like, REALLY) loves Misaeng (read: loves the fame and $$$ brought in by Misaeng) and wants to do anything it can to extend its lifespan, but is a parody series really necessary?
girlfriday: Basically Misaeng is their only cash cow all year long, and they know it.
javabeans: Milk milk milk that cow. I could understand pressuring the producers for more episodes (which were refused) and then tacking on two "special episode" broadcasts, but a parody that's based purely on a pun title?
girlfriday: Now they're really reaching.
javabeans: The parody drama will be titled… drumroll… Misaeng-mul, which is the word for microorganism. The pun doesn't translate well, but it doesn't really mean anything deep in Korean either. I honestly just think the station wants any reason to extend Misaeng's glory.
girlfriday: I understand that the network wants something, since the producers put their foot down about not doing an extension (thank goodness), because PD Kim Won-seok is shooting and editing everything himself. I figured the two-episode special was their way of squeezing what ad dollars they could at the very end, but now it's going to be the drama that never ends.
javabeans: It's getting a little out of hand, don't you think? I mean, yes, Misaeng is fabulous! We love it! But there comes a point when you have to let something go. Is tvN just that desperate?
girlfriday: Yeah they are. I mean, we lived through 2014. If Liar Game and Misaeng hadn't come along at the end of the year, I think their drama department meeting would've gone very differently, don't you?
javabeans: Well, they would've had to stop mocking the Big Three for sucking, that's for sure. They like to do that a lot. (I mean, I don't disagree that a lot of their shows are better, but every time I see an article that says something like "Broadcast shows' embarrassing defeat against cable" I think somebody at tvN fed the press the story with backhanded compliments all prepared to go.)
girlfriday: That's gotta be someone's job at every network, I'd wager. The truth is, the ratings were embarrassing for EVERYONE this year, with plenty of shame to spread around to all.
javabeans: I suppose we should be relieved(?) that Misaeng-mul will only be a two-episode dealio, but that kind of seems like praising somebody for breaking only one dish instead of all ten. All we know is that the lead will be played by a former idol, Jang Soo-won of a group called J-Walk that I've never heard of. Is he going to be a microbiologist? Because even if the name's just a joke, it should make sense, no?
girlfriday: I think you're asking for a lot from a parody driven entirely by a punny title.
javabeans: Can it be all about the cutthroat backstabbing culture at a microbiology lab, centering around Research Team 3 and their new intern hire?
girlfriday: Well now you're making me want to watch that drama.
javabeans: It's all fun and games until the SNL sketch goes on too long. Two hours too long.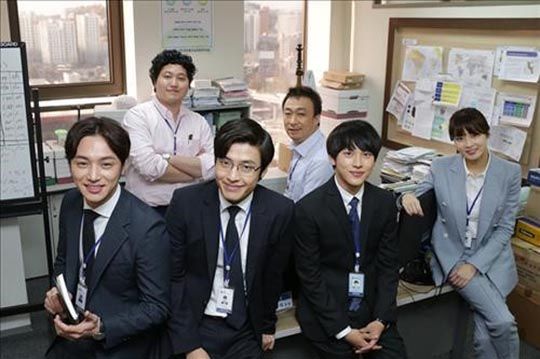 Via Osen
RELATED POSTS
Tags: cable programs, conversation post, Misaeng