Im Shi-wan: "I had to take Misaeng"
Four years after debuting in idol group ZE:A, Im Shi-wan is having his moment: He took the Everyman character of office worker Jang Geu-rae in Misaeng (or Incomplete Life) and turned it into something extraordinary, with a standout performance as the guy almost every viewer could relate to. It wasn't his first role (he had appeared in The Moon That Embraces The Sun, the film The Attorney, and Triangle), but it was a career-defining one.
Misaeng was a ratings juggernaut (it received the all-time second-highest number of viewers for a cable show in Korea), and tvN rewarded the cast and crew with a celebratory mini-vacation in Cebu, Philippines. Im Shi-wan was interviewed immediately after his return, by a crew of reporters itching to hear more about his take on Misaeng and his future projects.
At an early press conference, you had said that you lost some of your confidence. How do you feel now?
"I feel much more comfortable. Back then, I felt like I was in a place where I shouldn't be. I felt burdened because cameras were flashing in front of a bunch of actual corporate workers, but now, I'm used to the sound of typing." [Laughs]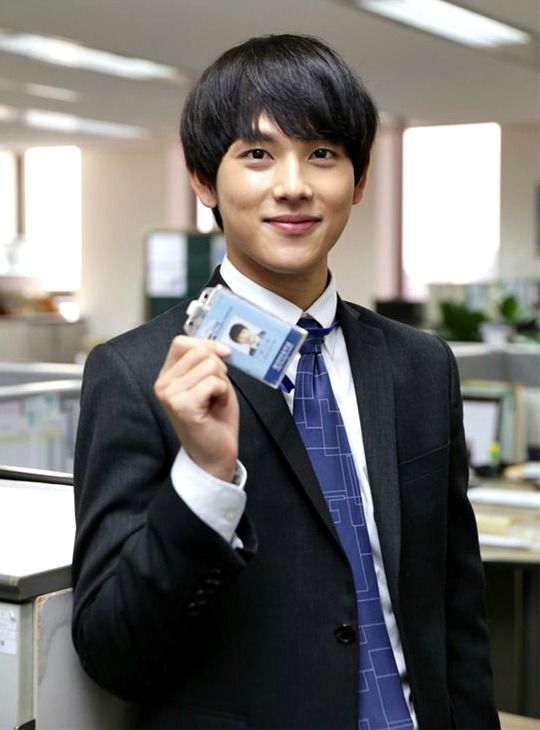 Who is Jang Geu-rae to you?
"At first, I thought I was perfect for Jang Geu-rae. But as the show went on, I found that viewers read even more into the character than I did. It wasn't me, the actor, who the viewers were sympathetic towards; the vast majority of viewers identified with Jang Geu-rae because they had been him at some point in their lives. That's why I can't put myself out there as Jang Geu-rae, because I feel apologetic to the real Jang Geu-raes out there. Even more so than me, I believe that the viewers who identified with the character were the real Jang Geu-raes."
"At first I thought I was a perfect Jang Geu-rae," you said. In what ways did you find you were alike?
"When I first started appearing on TV, I often felt, to use a baduk analogy, like a useless stone, a person whose existence wasn't crucial — it didn't matter if I existed or if I didn't. And I also had doubts, 'Is it okay for me to be here?' In those instances I felt similarities to Jang Geu-rae. I thought to myself that I could rehash those experiences to identify with him, and I felt that those memories were aligned with Jang Geu-rae's past, so that it would be easy to relate to him. However, I realized that the viewers came to identify with him even more strongly."
If you could give yourself a score on your ability to synchronize with Jang Geu-rae…
"At first I thought I was close to 100%, but now I couldn't dare say that. However, if I look at the four months — five months including the prequel — if I were to take a look at the five-month stretch and give myself a score, [he imitates Superstar K's jury panel] 'My score is…' Still, I would like to give myself at least an 80." [Laughs]
You were Jang Geu-rae in the Misaeng prequel, and you were him in Misaeng. Was there a reason you had such an attachment to the role?
"Because I believed that I had lived a life like Jang Geu-rae, when I received Misaeng's synopsis, I had the strong thought, 'I have to do this' rather than, 'I want to do this.' While the yardstick for measuring shows isn't just ratings or viewership, I was relieved that in those areas it performed well. However, even if the ratings weren't high, or even if it didn't succeed, it was a project where I felt satisfied because I was able to bring Jang to life."
During casting, actor Lee Sung-min (who played Department Chief Oh) said that a good-hearted, nice actor needed to play Jang Geu-rae. Why was that the case?
"Misaeng is thoroughly a drama about those living their lives. To portray the characters, the actors need to have an air of humanity, and I think that's why sunbae-nim said the person chosen needs to be good-natured and kind. I think they wanted an actor who gave off the sense of being a real human being."
You probably haven't experienced life as a corporate worker, but you probably experienced some feelings that were new to you while shooting episodes at One International.
"When I was a pop star trainee, like Jang Geu-rae, I thought, 'If you work yourself to the bone, you can accomplish anything.' But I learned that it's not enough for the ordinary worker just to work hard. Sometimes you have to turn a blind eye to what is right, and sometimes you have to be conscious of appearances while you work. I think work life within Misaeng demonstrated that thoroughly. Previously, I used to think, 'What if I went back to what I majored in and started working in the corporate world?' Now, if I think about it, I have no confidence. I have to take the current opportunities that have been presented to me and try hard." [Laughs]
You must have identified with people who have truly lived "incomplete lives."
"My father and friends are all corporate workers, but I hadn't had a chance to witness that lifestyle myself. I had the vague idea, 'It must not be easy,' but through Misaeng, I've been able to visualize similar joys and sorrows, and through the direct and indirect experience, it's been pounded into me that it really isn't an easy life. It's hard for me to even dare say now that I identify with certain parts of that life."
Was there someone like Chief Oh to you as there was to Jang Geu-rae?
"I've heard this before: Chief Oh's existence itself is a fantasy. [Laughs] On my cell I have a group text going with some friends; they say that one of the detriments of a show like Misaeng is that all of their supervisors think of themselves as someone like Chief Oh. Hearing the supervisors talk of themselves like that makes it really difficult for them to bear. [Laughs] Actually, I think it would be difficult for someone like Chief Oh to exist in real life. However, if someone like that existed, to me it would be Lee Sung-min sunbae-nim, Kim Won-Seok PD, Yang Woo-Seok PD [of The Attorney], and Song Kang-ho sunbae-nim. I think it would be someone like them. And it's true that these people have had the largest influence on my life so far."
We almost forgot to ask you about the celebratory vacation. Talk about some of the laughter-filled moments of the trip.
"It was the first time I'd ever been on a reward vacation, and none of the others had gone on many reward vacations, either. I'm not sure if that's why, but we were all extremely excited, just about the fact that we were going. We were overjoyed that we weren't all heading abroad together for work, but for play. Once there, we followed Baudelaire's Be Drunk poem to a T. When we drank together, we would recite, 'Be drunk, you must always be drunk," and drink accordingly. [Laughs]

I think the person who received the strongest impression from that poem is Jeon Seok-ho sunbae-nim, who played Assistant Manager Ha. I think the poem really left a deep impression on him. [Laughs] Also sunbae-nim really set the tone of the trip. He was popular with the female staff members, and he plays hard. He's kind of a bohemian. He was the first to make himself at home in the new surroundings, almost like a local, and due to him, I laughed a lot."
There's a palpable bond among the Misaeng cast, especially between the four newbies. Do you communicate through another avenue?
"On our phones we have a group text going for all of the newbies. However, it's not put to use that often. We have met offline quite a bit. Even during filming, we would meet to chat briefly and met often. For Sales Team 3, Lee Sung-min sunbae-nim doesn't use the group chat service. So naturally Sales Team 3 didn't have a group text going. But as a result, there were a lot of texts and phone calls, and we spent a lot of time together."
What are your plans for 2015?
"Like I have up until now, I don't want to get greedy, but want to take things slow and steady. I hope this year will be like this last one, but I think that might be difficult. Haha! I hope the year passes as tranquilly as the flow of water.

I'm not a critical baduk piece, yet, but I do have a sense of security that, 'At this spot [in my life], there are things that I can do.' And that's a relief."
RELATED POSTS
Tags: Im Shi-wan, interviews, Misaeng