Punch: Episode 7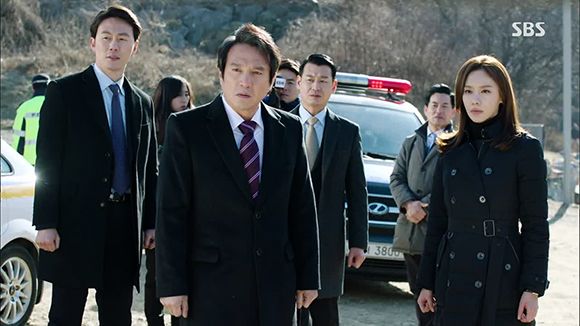 The secret's out, not to the people who'd be most affected by the knowledge, but instead falling into the hands of those who would do the most damage with it—a fact that shouldn't be surprising in a world as unforgiving as this one. Former pillars of morality begin to fall this hour, leaving Ha-kyung as one of the few remaining bastions of truth and justice, though she has yet to realize that too much of anything doesn't make it a good thing. Even when it comes to the law, a little moderation can go a long way. Or possibly end your political career forever. Punch doesn't pull any punches when it comes to high stakes, that's for sure.
SONG OF THE DAY
Zia – "나쁜 소문 (Rumor)" [ Download ]
Audio clip: Adobe Flash Player (version 9 or above) is required to play this audio clip. Download the latest version here. You also need to have JavaScript enabled in your browser.

EPISODE 7 RECAP
We return to Jung-hwan's interrogation of Dr. Mechanic, Hyun-sun's unapproved beau, even as she defends his decision to give up his medical license when faced with a malpractice suit as proof that he's a good person.
Jung-hwan disagrees, noting that Dr. Mechanic's family history (which Yeon-jin must've dug up for him) precludes that any wife of his would just become the household maid. And that's not what he wants for his sister.
A curious thing happens when Dr. Mechanic admits that he'd make a different decision if he could just go back to that one moment: Jung-hwan is reminded of Doctor Jang saying that the desire to return to a certain moment in time is a universal one, and one that could potentially cause delirium in someone with Jung-hwan's condition.
"What point in time in your life would you wish you could return to?" Doctor Jang had asked him, prompting Jung-hwan to manifest his personal feelings on the subject outward, toward Dr. Mechanic. "You chose to admit malpractice, and you chose to live this way. Don't regret it. Take responsibility for your choice and endure it."
Just as Yeon-jin calls to inform him that Tae-sub is dead, the focus shifts to Tae-joon numbly following the stretcher carrying his brother's body into the waiting ambulance.
Ha-kyung and Detective Oh arrive on scene, and she's left to give Tae-joon her condolences along with her request that his brother's body be taken for an autopsy—otherwise they won't be able to rule out murder.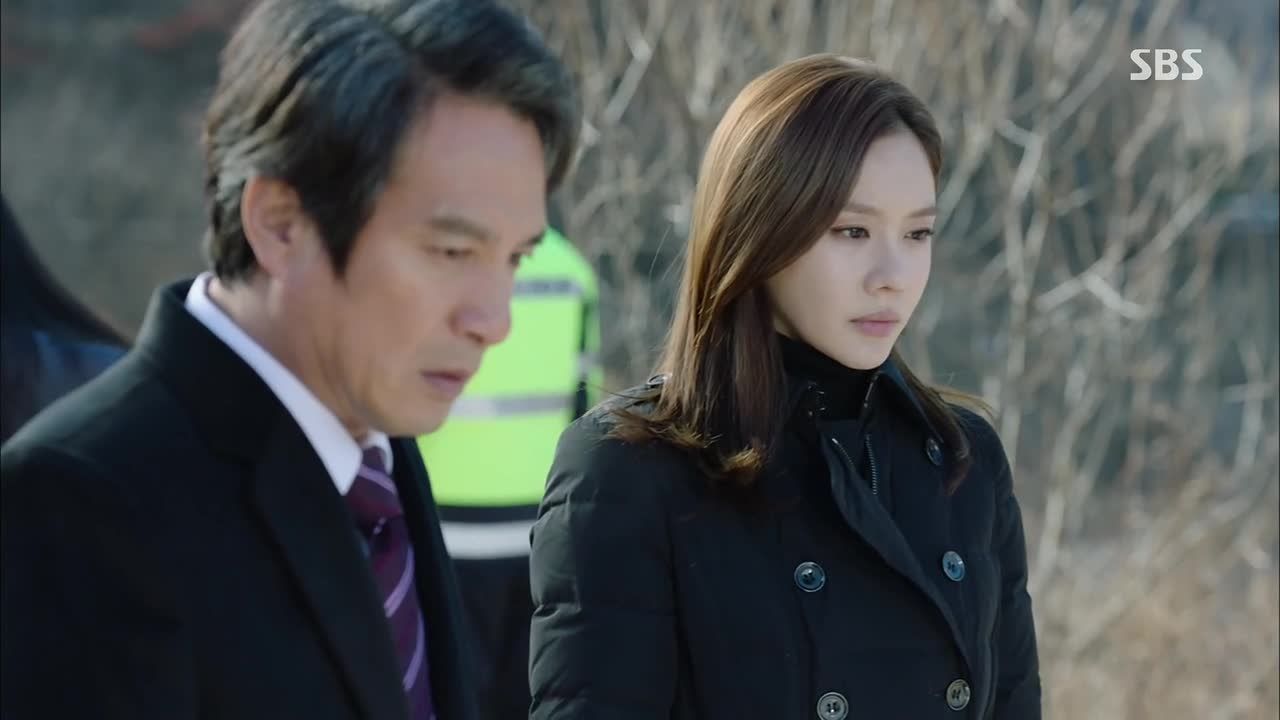 Tae-joon seems too numb to argue the point, and only requests that Ha-kyung make sure that no scars will be visible to his brother's family after. But he also gives her a message for Minister Yoon: As far as their game of hide and seek goes, it's her turn to hide. He'll be the seeker now.
At the wake, Tae-joon is given his brother's last effects after Kang-jae informs him that his cause of death was ruled to be drowning. Poor Tae-joon can't help but sob when he touches the kudzu root Tae-sub dug up for him.
His tears dry when Jung-hwan arrives to pay his respects, the look on his face incomprehensible. Jung-hwan manages to hide his vertigo and blurred vision well, even as he thinks back tot he moment he wishes he could go back to—that moment when he evaded questioning by launching himself out of a window to stall for Tae-joon's arrival.
When Tae-joon extends his hand, Jung-hwan grasps it tightly, somehow transported back to when Tae-joon pulled him to safety from the windowsill. "As promised, I held out for ten minutes," Jung-hwan says with an uncharacteristic smile, parroting what he said at the time. Oh no. It's the delirium setting in!
"I've been hanging on for over thirty years, this is nothing," Jung-hwan continues, totally unaware that his mind is playing a memory reel. But Tae-joon knows. He KNOWS.
Almost instantaneously, Kang-jae shows up on Doctor Jang's doorstep with all the dirt Jang has been trying to get Jung-hwan to hide… plus an arrest warrant.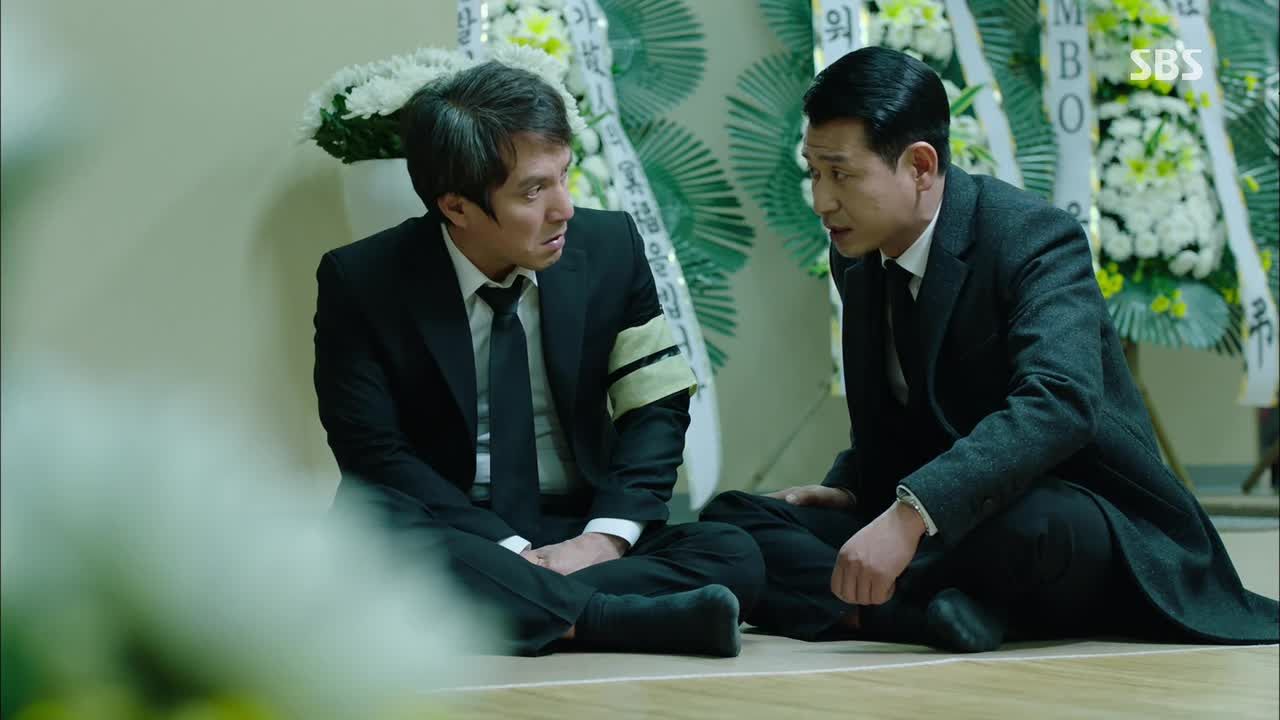 But that's just there for posterity, as a threat he can use to ensure Doctor Jang's compliance—if he tells Kang-jae the truth about Jung-hwan's condition, he'll make the warrant disappear.
"Jung-hwan's surgery failed," Kang-jae excitedly reports to Tae-joon. "He has about two months left." The pieces start to fall into place for Tae-joon, especially the bit about Jung-hwan's delirium, and how it'll only get worse as time progresses.
Worst of all, Jung-hwan won't even remember those episodes, which Tae-joon witnessed firsthand when Jung-hwan was snapped out of his temporary insanity and resumed his cold demeanor toward Tae-joon like nothing happened.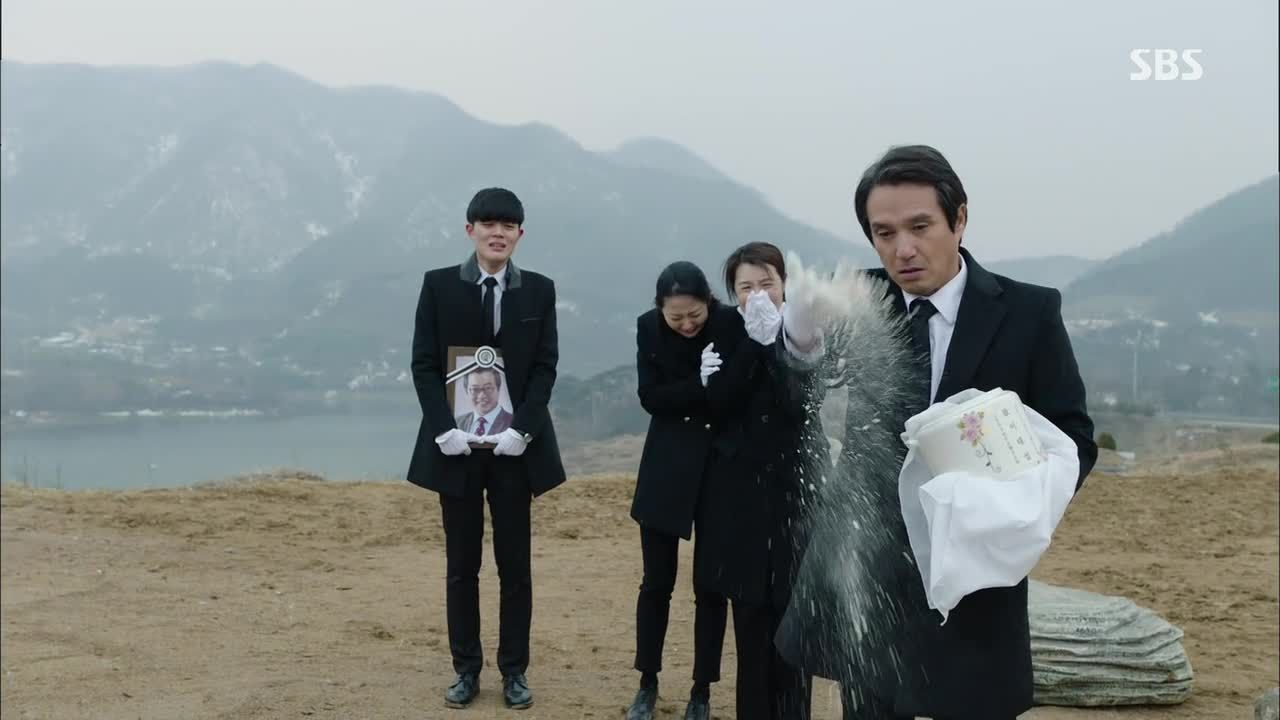 It's only when Kang-jae tells him that Minister Yoon is dead set on exposing the link between him and Chairman Kim that Tae-joon says, with a wild-eyed look, "Let's untie the link between Chairman Kim and I and put it in Jung-hwan's coffin."
If his brother had to drown in freezing water, it would only be fair that he not let Jung-hwan die in a heated room, right? (Anything you say, crazy person.) Tae-joon holds onto that rage and sadness as he later spreads his brother's ashes over the same cliff he jumped from.
Jung-hwan takes Mom and Hyun-sun to have their portraits taken without divulging that he's there to get his memorial photo done. Hyun-sun uses the opportunity to tell Jung-hwan that she hasn't been able to reach Dr. Mechanic, a fact which pleases him: "So he understood."
Hyun-sun tries and fails to convince him that she likes Dr. Mechanic, because Jung-hwan's quick retort is that feelings change—and that when love fades in a marriage, only reality is left. "Don't do something you'll regret and live a good life."
"So did you have a good life?" Hyun-sun fires back, challenging his supposedly sage and oh-so-pragmatic advice. "Are you living a good life without regrets?" Well, she's got him there.
Jung-hwan is in for a rude awakening when he does as Doctor Jang asks by getting a witness statement retracted… only for Doctor Jang to answer that he's given his case over to Kang-jae. Oh, and Kang-jae took all the Demerol, so Jung-hwan will have to go to him if he needs them. (Are there no other buyable doctors in Korea?!)
Kang-jae is enough of an asshat to purposefully make a call to order a suit to wear to Jung-hwan's funeral when the dead-man-walking bursts into his office. He looks at Jung-hwan tauntingly when he asks how soon he'll need it.
When Jung-hwan asks to see Tae-joon, Kang-jae replies that the closest he'll get is when Tae-joon visits his grave. Wow. Just wow, Kang-jae. And here I thought Jung-hwan was bad.
Kang-jae is all too happy to tell Jung-hwan that Tae-joon is holding onto his painkillers, and that he'll only get them if he does exactly what they say. Jung-hwan's only defense—his ability to confess everything—won't work here, because Kang-jae knows as well as him that he needs what little time he has to secure his family's financial future. He can't do that from a prison cell.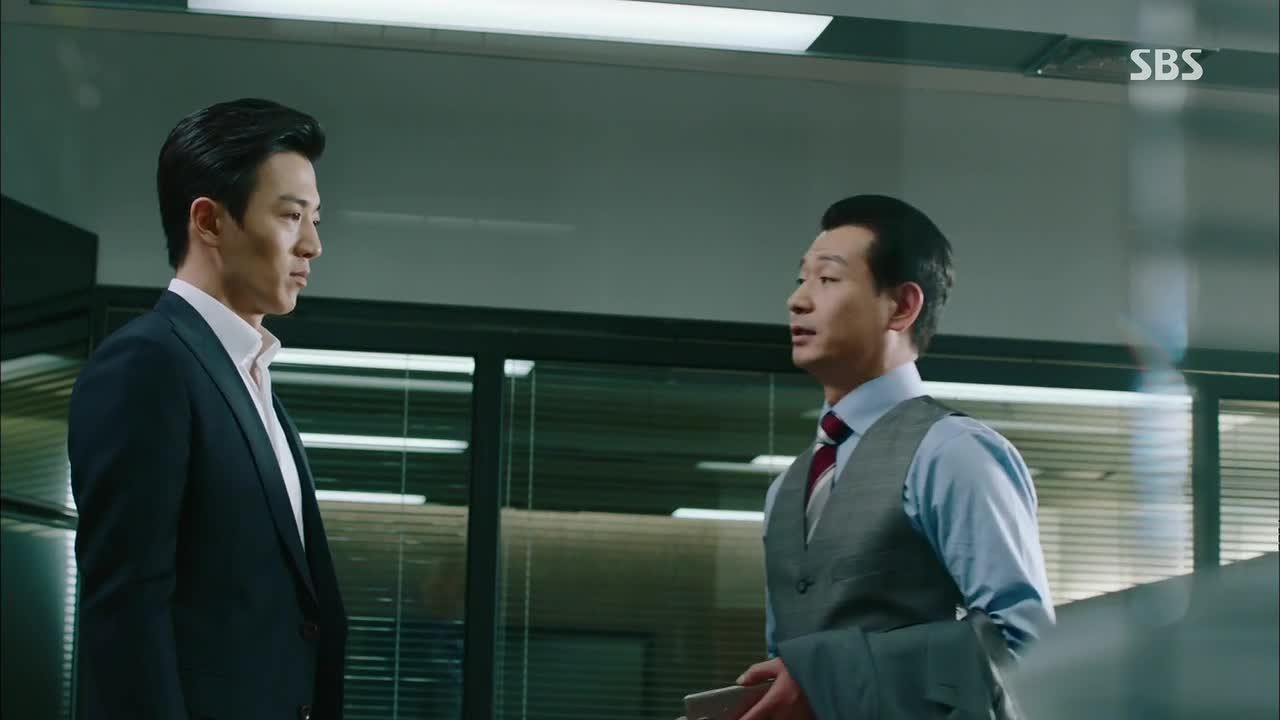 Jung-hwan's mission? To make sure Chairman Kim doesn't spill the beans regarding his ties with Tae-joon while in Ha-kyung's custody. Jung-hwan doesn't jump at the opportunity, obviously, leading Kang-jae to sarcastically wonder if Jung-hwan must have sooo much extra time if he can use it up thinking over a decision.
In a meeting with the Blue House Chief Secretary, Minister Yoon and Tae-joon find themselves at another standstill when she refuses to back off on investigating Chairman Kim just because of Tae-sub's death.
But Tae-joon proves he had a hidden card this whole time he just hadn't used, as he brings up the military conscription corruption case from seven years ago—when Jung-hwan, working under her employ, had made an illegal deal with the suspect. (Without her permission, mind you.)
The Chief Secretary doesn't know that, but Tae-joon's subtle threat is clear to Minister Yoon: If she doesn't back off, he'll reopen that case and drag her name through the mud.
They don't make much more progress once they're alone either, since Minister Yoon refuses to be cowed by his threat—she knows that many of his friends used their influence to spare their children from mandatory military service. The joke's on her, Tae-joon claims, because he couldn't care less about his friends or their children.
Now's his opportunity to reverse the question Minister Yoon once posed to him as to whether a prosecutor general has ever been imprisoned while serving his term in office by switching out "prosecutor general" with "minister of justice" in order to threaten her this time.
He adds that she better hide herself well in their ongoing game of hide and seek, 'cause ready or not, here he comes.
It turns out that Minister Yoon's record isn't as flawless as she'd led us to believe, which is a realization that seems to be fully sinking in with her as she flashes back to that case seven years ago.
Things were friendly and almost familial between her and Jung-hwan then, until he handed her the list of men who'd used an illegal broker to escape enlistment… and among the names was her son.
She knew her son didn't enlist, but thought he'd been excused with a legitimate medical problem, until she called her mother (possibly mother-in-law?) for clarification.
And the truth was that her son, with whom Yoon must have been estranged from, illegally evaded his mandatory service, putting his mother in a very precarious situation. Minister Yoon had to ask the righteous Ho-sung to withhold her son's name from the list not because she feared the legal ramifications, but because it'd squelch her efforts to reform the prosecutor's office and leave the corrupt Tae-joon to take over.
Poor Ho-sung looked so tortured at the prospect of going off the books, but was the one who told Minister Yoon that Jung-hwan got the broker to divulge the names by making an illegal deal with him. So Jung-hwan became the scapegoat, the one Minister Yoon had arrested for breaking the law in order to cover up her own son's unlawful actions.
Minister Yoon is shaken by the possibility that Tae-joon might bring all of that to light, and can hardly compose herself in front of Ha-kyung as she desperately asks her to find the link between Chairman Kim and Tae-joon in three days, rather than the week she said she'd need.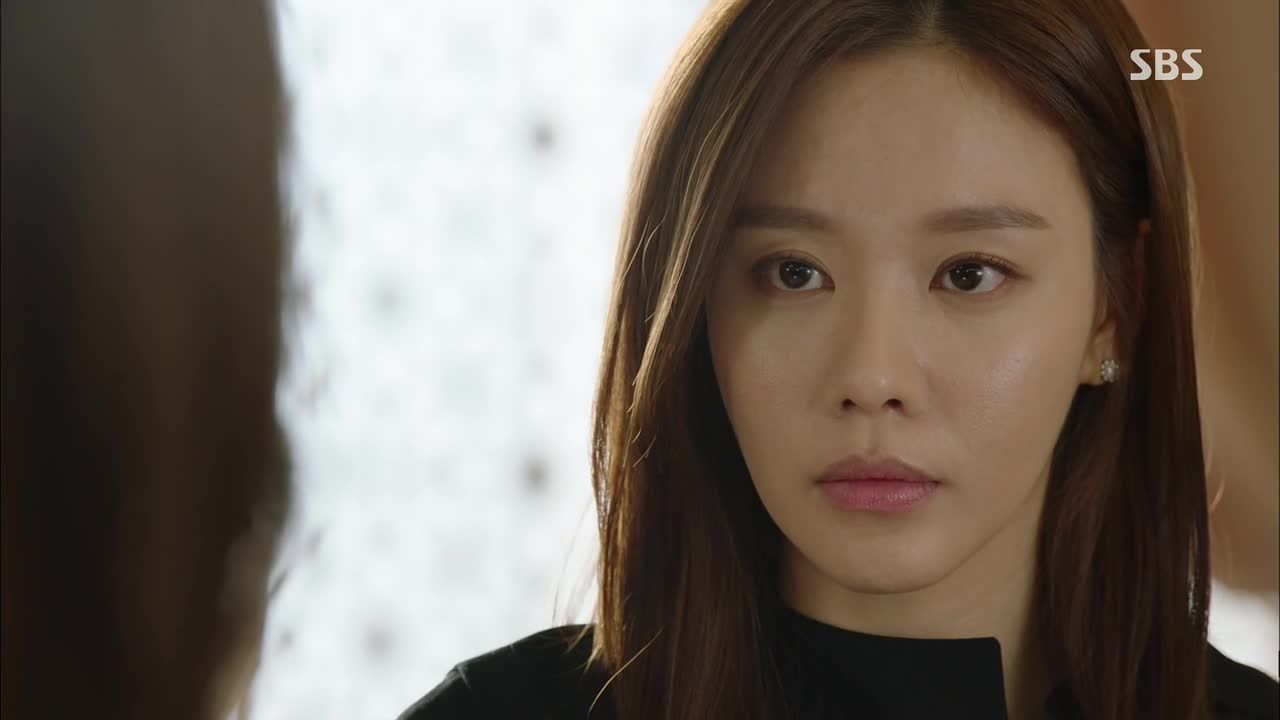 She reminds Ha-kyung, again with that air of desperation, that she doesn't need to expose all of Chairman Kim's crimes before she can expose Tae-joon's. Ha-kyung doesn't know what's going on, but agrees to the tight timeframe.
Tae-joon is nonplussed when Kang-jae tells him about all the resources Minister Yoon is scrambling to dig up everything about Chairman Kim, confident that Jung-hwan will be able to make Ha-kyung stray from the case.
He's got people searching for the broker Jung-hwan once made a deal with, and is confident that he'll become the final nail in Jung-hwan's coffin. And he'll make sure Minister Yoon will be the one to hammer it in when the time comes.
Jung-hwan only has one vial of Demerol left and looks like he's already knocking on death's door, but he manages to perk himself up when Ye-rin calls to remind him about her graduation tomorrow as well as to ask for a suuuuper expensive gift. (Hint: It's fifty thousand won, roughly fifty dollars.)
After a night spent thinking about Mom and Ye-rin's plans for the future with him, ones he knows he can't fulfill, Jung-hwan has to deal with Kang-jae miming the act of injecting his much-needed Demerol at work. "Hurry up," Kang-jae mouths.
With Ha-kyung keeping such a tight lid on Chairman Kim's communication with the outside world, Jung-hwan derails his prison transport in order to have a moment with him. Unluckily for him, Ha-kyung sniffed something rotten and follows the transport.
She sees Jung-hwan get into Chairman Kim's van when it's waylaid by a flat tire (not a coincidence), her suspicions sadly confirmed. She calls Prosecutor Jung to let him know.
Jung-hwan convinces Chairman Kim to take sole responsibility for Ocean Capital (meaning to disavow any ties with the Brothers Grimm) in exchange for keeping some of his assets. If he mentions Tae-joon, he'll lose everything.
His homework done, Jung-hwan calls Tae-joon via Kang-jae to request his Demerol…
…But Tae-joon has no intention of giving it to him, and states exactly why while breaking the individual vials so Jung-hwan can hear. He blames him for his brother's death, proving that he's not kidding when he smashes all the remaining vials with his hand, so angry he can't even feel the pain from his bloody palm.
Since he was updated on Ha-kyung's every move (because he planned the whole thing), he tells Jung-hwan a second before it happens that Ha-kyung will be arresting him. And lo and behold, she opens the van door with a team at the ready.
"Go to hell first and wait for me. And say hello to my brother," Tae-joon says over the phone. Jung-hwan: "I may be going to hell first, but before that, let's go to court together." Tae-joon laughs.
Ha-kyung reads Jung-hwan his rights, but lets him be escorted without handcuffs—he has nowhere to run anyway.
Minister Yoon calls Tae-joon out for trying to pin everything on Jung-hwan, before telling him that it won't be so easy to investigate the conscription corruption case when there are so many high-ranking officials involved. The president would put a stop to it just to prevent public outcry.
But he's not worried the way Minister Yoon wants him to be when she calls Ha-kyung to tell her to hurry up and get Chairman Kim to confess his connection to Tae-joon, since he knows that'd take days—and he'll have the broker Yoon sent out of the country back before then.
As if things weren't already looking bad for Minister Yoon, her last holdout gets torn down when they're informed that the president is giving the conscription case his full support. Oh no.
But what both parents apparently forgot was Ye-rin's graduation, since Ha-kyung gets a call from her teacher asking her to come since Ye-rin is inconsolable over her father not showing up.
Since Ha-kyung has him locked in an interrogation room, she has to tell the teacher that neither of them can make it. Poor Ye-rin.
Ha-kyung is able to hold Jung-hwan without a warrant based on Chairman Kim's (false) testimony that Jung-hwan asked for one of his properties, which makes her an unsympathetic ear when Jung-hwan insists that he has to get out to apologize to Ye-rin for missing her graduation.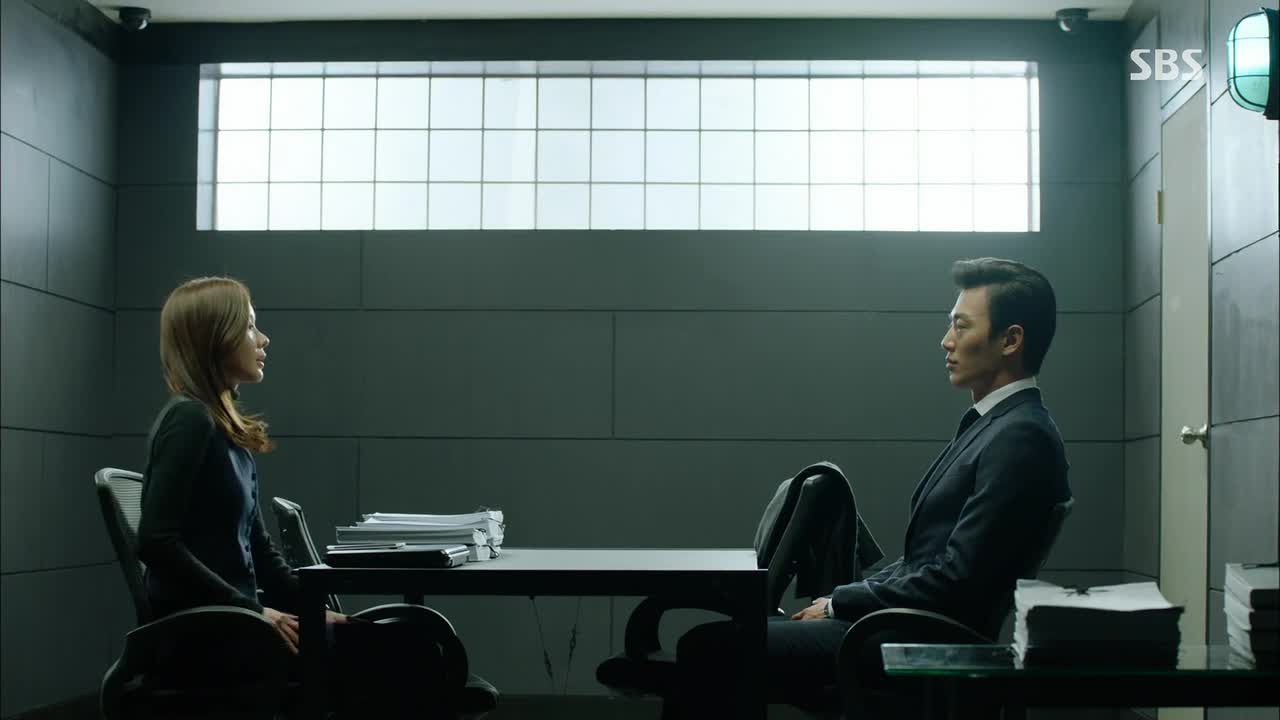 "It's a relief that you didn't get to go to her graduation," Ha-kyung says, stressing that he's gone too far this time. Then again, she remembers feeling the same way when she found out Jung-hwan had fabricated evidence while Ye-rin was still a baby.
Jung-hwan defends his actions then as being for the good of his job—so he could get promoted from his small-town job—an idea Ha-kyung hates. "Do I have to lose?" Jung-hwan asks. "The privileged ones got ahead of me with their families' reputation and wealth. Should I just look on in silence? Ha-kyung, that's the way the world is."
Surprisingly, Ha-kyung doesn't argue that point, and actually gives it to him: "The problem is me. How am I to live in a world like that? That's the way you've lived. It's time for you to take responsibility for it and accept punishment."
Jung-hwan can't help but think back to his sister asking him if he's lived such a good life, and listens when Ha-kyung tells him that she's going to change the status quo where the poor and honest always lose out to people like him—she's going to use the law to investigate the case and win.
I wonder if Minister Yoon sees it as an act of providence that the weather's turned bad enough to divert incoming flights, giving her the opportunity to catch the broker outside of Seoul and hide him from Tae-joon.
To do that, she has to employ Ho-sung's help again, though he's reluctant to do so since she broke her promise that Jung-hwan wouldn't get hurt seven years ago. She defends that it happened because Jung-hwan joined forces with Tae-joon, while Ho-sung argues that she's the reason Jung-hwan had to do that in the first place.
But her plea eventually reaches him, since he knows that Tae-joon will seize control of the prosecutor's office if he gets ahold of that broker. Still, Ho-sung realizes that he's just picking between the lesser of two evils, same as before.
Meanwhile, a war of influence goes on between Minister Yoon and Tae-joon—whoever can flex enough muscle to land the plane carrying the broker at their airport of choice wins.
Ha-kyung mentions that this is the longest they've been in a room together since their divorce, but that Jung-hwan has spent the last couple hours in silence.
It takes him that long to finally admit that he should be punished for the way he's lived, "But, Ha-kyung… why do I have to be punished alone?" She doesn't know he's thinking of his ultimate punishment—the tumor killing him—and comforts(?) him with the promise that he won't be so alone when Tae-joon and Chairman Kim join him.
Of course, as Ha-kyung is praising the virtues of Minister Yoon's righteous and uncompromising sensibility to Jung-hwan, we see her using everything at her disposal to get that plane to land where SHE wants.
Eventually, the decision is taken out of their hands, since the plane will land at whichever airport is safest. Tae-joon mulls over his hyung once promising him that he'd stop the rain from falling just to make him feel better, and holds back tears as he eats the kudzu root Tae-sub left behind.
Ha-kyung allows Jung-hwan to make a call to Minister Yoon containing an offer: He'll reveal the link between Chairman Kim and Tae-joon if she promises to let him out on bail so he can see his daughter. Minister Yoon agrees to the deal.
After he hands the phone back, Jung-hwan tells his ex-wife that he hopes, for her sake, that Minister Yoon is the person she thinks she is. Then he reverts to calling Ha-kyung by her formal rank and title to begin his testimony.
And not a moment too soon, since the plane ends up landing at Tae-joon's airport of choice, which he thanks his brother for—he stopped the rain when they were kids, and he did so again. Aw.
Tae-joon thinks he's already won when he and Minister Yoon approach their meeting with the president's chief secretary, enough for him to boast about it without her being able to utter a single word of protest.
She doesn't pull a Jung-hwan-sized rabbit out of a hat during the meeting either, much to my surprise—she ends up making the whole investigation on Chairman Kim seem like a weird phase of Jung-hwan's, and not anything substantial. Which means Tae-joon gets off without a scratch.
Ha-kyung takes issue with this after, even though Minister Yoon claims that the request to shut down the case came from the president himself, since he didn't want to throw the struggling economy into upheaval by arresting a prominent business executive like Chairman Kim.
She knows that Jung-hwan will take all the blame if they stop investigating Tae-joon and Chairman Kim, and is blindsided when Minister Yoon asks, "Is Prosecutor Park Jung-hwan innocent?" Gasp. She's not serious, is she?
Ha-kyung is shaken by this sudden change in her mentor, but announces that she was given three days to find the missing link, and she still has one day left. She'll keep her promise.
To that, Minister Yoon turns to Prosecutor Jung and tells him to dismiss Ha-kyung as his aide and strip her of any investigation rights. GASP. W…what on earth happened to her?!
Prosecutor Jung thinks for a moment before replying that he's a prosecutor, and as a prosecutor, he follows the rule of law and not the rule of the Blue House.
Then he looks to Ha-kyung and tells her to continue with her investigation unimpeded—he'll handle the fall from here. Ha-kyung answers an enthusiastic yes, leaving Minister Yoon outnumbered. For now.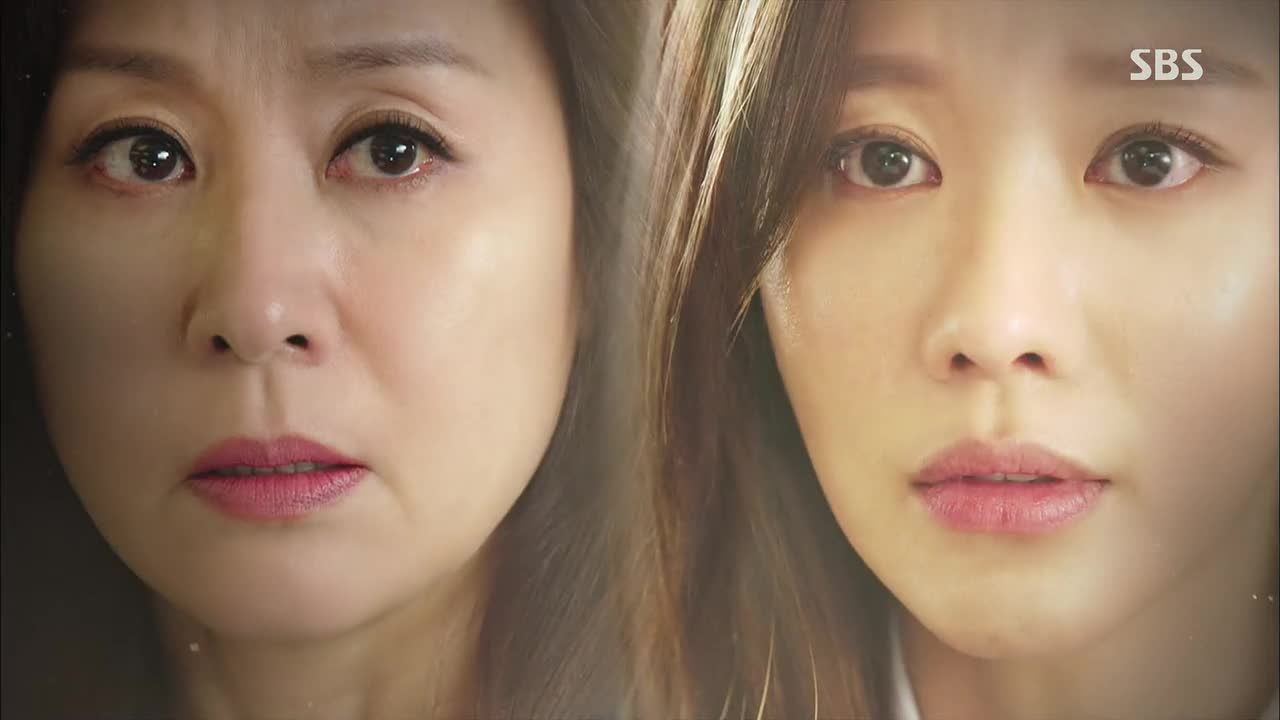 COMMENTS
I love it when a show surprises us with a twist much sooner than we were expecting, since I'd just begun to wonder how affected Ha-kyung would be if she found out that the mentor she idolizes and emulates isn't the person she thought she was. Which, consequently, was exactly Jung-hwan's concern. I also believe he was being honest and genuine in that moment, since he's been moving through the five stages of grief up till now and seems to have arrived somewhere between bargaining and acceptance. Acceptance-based bargaining, perhaps. Or bargaining-based acceptance. Or none of the above.
But it's fitting that Punch would spend a week fleshing out two diametrically opposed supporting characters, especially when Minister Yoon and Tae-joon pretty much run the show. Minister Yoon has been a fascinating figure from the beginning, so I was more than happy to see an episode all but dedicated to her, even though it didn't exactly put her in a favorable light by casting most of what we thought about her into question. That's likely only a taste of what Ha-kyung will feel when she finds out the actual truth—because something tells me that this phantom order of Minister Yoon's didn't come from the Blue House. If it's true that Minister Yoon lied (again) to save her own skin, then the impact will be huge. I can't even wait. Does that make me sadistic?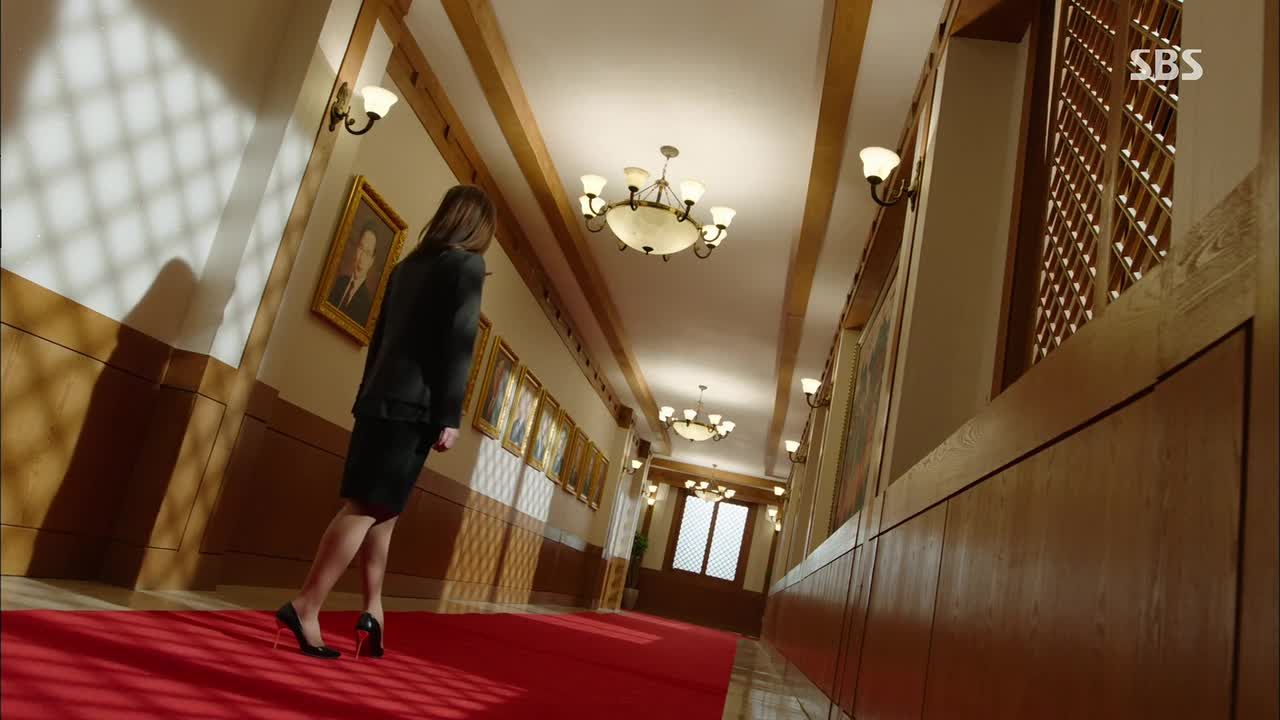 If nothing else, this hour proved that Minister Yoon is just as fallible as the people she's been condemning all series long, giving Ho-sung ample reason to believe that he was choosing the lesser of two evils when it came to her and Tae-joon. Inevitably I feel bad for her, since she seemed to have no hand in her son's illegal conscription evasion—and the fact that she didn't know about it sooner speaks to a rift in her family life that was just barely hinted at but still tantalizing. At the same time, I don't feel so bad, because she threw Jung-hwan under the bus to save herself while claiming it was all for the greater good. And maybe it was, but it was still a crappy thing for her to do.
The one thing that threw me off plot-wise this hour, though it was thankfully resolved in a short amount of time, was Jung-hwan's dependence on The Only Demerol Stash in Seoul. A man with his resources wouldn't let himself be so dependent on a douche like Doctor Jang, especially if he wasn't hand-brewing the miracle potion in an apothecary somewhere—Demerol may be a highly controlled substance but it's not made of unicorn horns, and I'm sure Doctor Jang isn't the only doctor around with some skeletons in the closet. I was worried that we'd spend a small chunk of time with Jung-hwan enslaved to Tae-joon, but the show knew better and didn't wear out its welcome mat on that front. For that, I'm grateful.
What's motivating Jung-hwan now is still a bit of a mystery, though at least you could always say that what he did was for the good of his daughter, no matter how morally repugnant his actions could get. Contrast that with Ha-kyung, who placed her job as a higher priority, and you begin to wonder who's better being a parent or a person. Because clearly, you can't just be both in Punch's cutthroat world.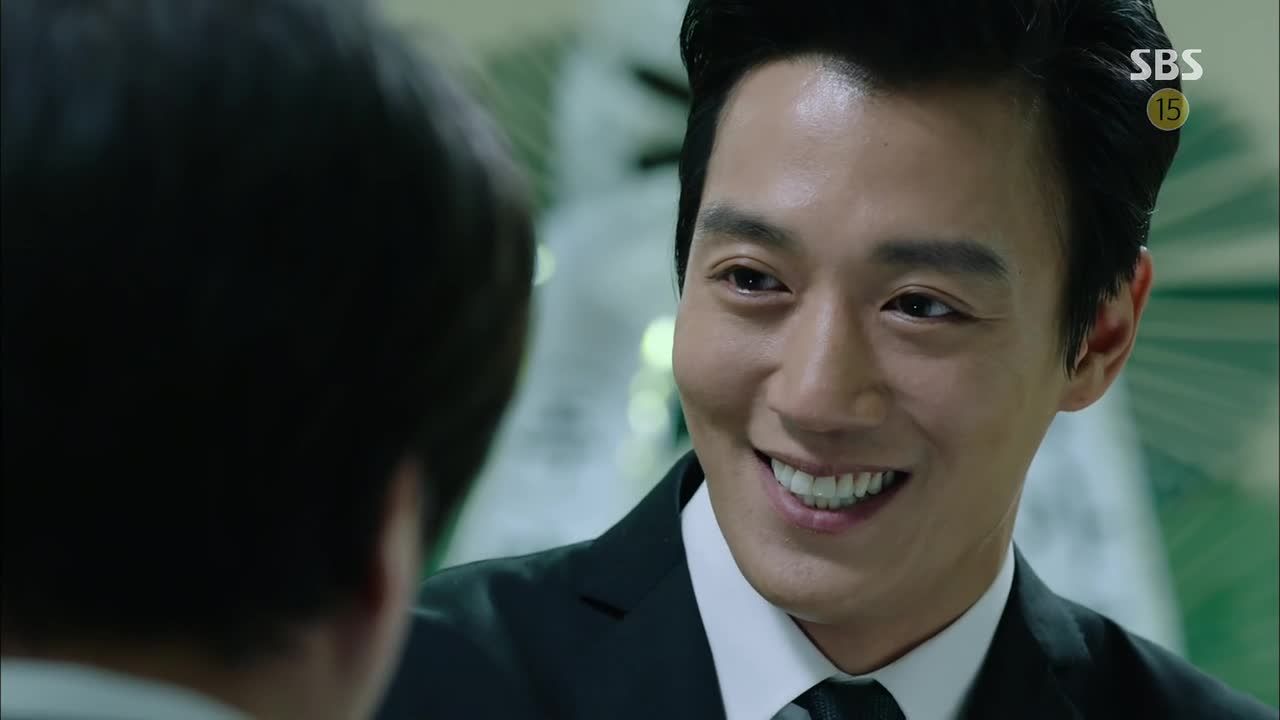 RELATED POSTS
Tags: featured, Jo Jae-hyun, Kim Ah-joong, Kim Rae-won, Punch