Trials, tribulations, and tuxes for Three Meals a Day: Fishing Village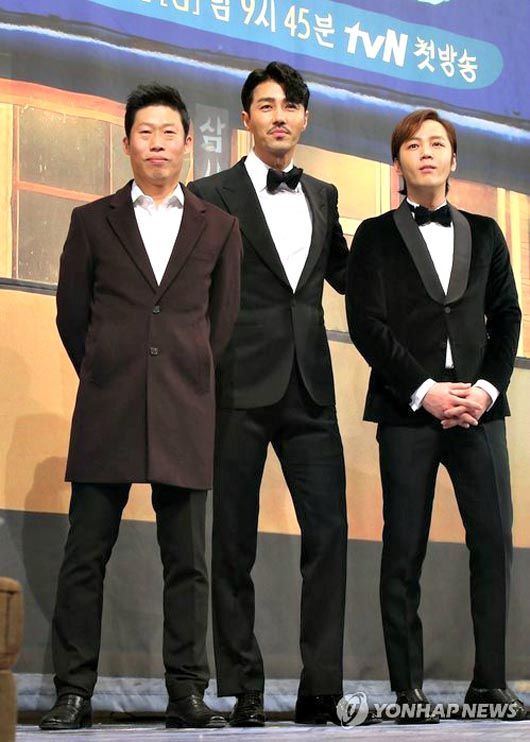 The newest installment of Three Meals a Day, the cooking-reality-suffering show produced by PD Na Young-seok, is premiering next week, which called for a press conference on the afternoon of January 9. This series is titled Three Meals a Day: Fishing Village, and inexplicably, Na PD's three newest victims showed up wearing formal tuxes, which is hilariously random—surely done to mock the show's very low-tech, high-suffering concept of sending stars to a remote island and making them feed themselves, right?
The original program was a surprise hit (well, not a surprise in that Na PD has the Midas touch, but a surprise in that it was so low-concept that its cast was insistent that it would flop), and while struggling to feed oneself was one of the premises, I don't really think that was the focus. Shot on a farm and featuring a rotating roster of guests, the cast did have to cook, but had a lot of ingredients ready on hand, so the suffering was more of the grumbling-good-natured variety. This time is different, with Cha Seung-won, Yoo Hae-jin, and Jang Geun-seok having been shipped off to a remote fishing village on a tiny island, and from the sounds of it, the suffering is in full force.
Three Meals a Day: Fishing Village will be 10 episodes, and airs on tvN on Fridays beginning January 16.
Na PD: "After casting Cha Seung-won and Yoo Hae-jin, we needed a slave laborer. There was bound to be a lot of things needing to be done, and we got in touch with Jang Geun-seok. I told him we were making a high-class cooking program and asked if he wanted to do it, and he readily agreed."
Jang Geun-seok: "I was definitely told it was a paradise with lots of things to eat. And there were things in abundance, but it's that we couldn't catch them. I felt like I'd been scammed."
Cha Seung-won: "Compared to the original Three Meals a Day, we didn't have a lot of things. There was only one market there but it didn't have some items, so we had to fend for ourselves."
Na PD: "The three of them worked like animals."
Jang Geun-seok: "Since I was told it was a cooking program, I wanted to be impressive with my cooking, but all I did was peel garlic and carry pepper powder and do assistant work. In the end I just did what I was told."
PD Shin Hyo-jung: "Once casting was complete, I was really shocked by them. It was like Cha Seung-won lived in the kitchen, and Yoo Hae-jin was a citizen of Manjaedo. Jang Geun-seok became 'Manjaedo's Prince.' Female viewers may enjoy the broadcast, but they may also be disappointed—you'll see a completely different side to the three of them."
Jang Geun-seok: "My face bloats really easily, so I took milk with me. But when Na PD saw the milk, he just said 'Are you kidding me?' and confiscated it. It came as such a shock."
Yoo Hae-jin: "When you see Cha Seung-won-sshi cooking on television, you'll be shocked. It's on a different level than the original show. Every meal was delicious, enough that viewers will be surprised."
PD Shin Hyo-jung: "[Cha Seung-won] worked really hard, and because he's particularly good at cooking, he was nicknamed Chajumma. He didn't leave the kitchen." (Can we pause to appreciate the simple beauty of CHAJUMMA?)
Cha Seung-won: "There were a lot of dishes that the producers requested. We didn't even have the ingredients but they kept pushing us to make them, so from the cook's perspective it was really annoying. Even so, I wanted to find a way to do it and win, and I'd end up taking out my annoyance out on Yoo Hae-jin."
Yoo Hae-jin: "Cha Seung-won cooks really well. But if things don't go the way he intends, he's the type to harass other people. You know how you fry seaweed when you make seaweed soup? I felt like his seaweed being fried. While filming, sometimes I'd be annoyed at him but then as soon as it was time to eat, those feelings would go away."
Jang Geun-seok, on the trials of being the maknae: "It was hardest whenever my name was called. Whenever the hyungs would call out, 'Geun-seok-ah,' hardship would follow. I became newly aware that my name was Jang Geun-seok while we were there."
Cha Seung-won: "Because Geun-seokie was there, we were able to eat tasty food. He said he felt afraid whenever someone called his name, but he would do any errand whether it was fetching vegetables or other ingredients, and sometimes he'd have them prepared in advance. So he got the title 'Jang Chef.'"
Cha Seung-won: "Every single day was difficult. On location, Na Young-seok PD was especially irritating. Even though I'd never fished before and the weather was bad and there were a lot of struggles, he just kept demanding things."
Via Review Star, E News 24, Joy News, E Daily
RELATED POSTS
Tags: Cha Seung-won, Jang Geun-seok, Na Young-seok, press conferences, Three Meals a Day, Yoo Hae-jin