Persevere, Gu Hae-ra: Episode 1
Here we have Persevere, Gu Hae-ra, a delightful musical drama on cable channel Mnet that manages to mix in the perfect balance of music, drama, heart, cuteness, and meta. The title is a term that literally means you fall seven times but come back for an eighth (hence, persevere), and the show is heavy on musical performances and interludes, similar to Mnet's Monstar. Every episode also takes a famous song as its title.
The premiere adopts a fun premise by taking the audition show and pop-culture sensation Superstar K and presenting this drama's story as the unseen B-sides, allowing for tons of references and in-jokes (the directors were PDs on Superstar K). The show is brimming with potential in its narrative and music, as it's done a great job with the musical cues and choices for this first installment. As there is plenty of music scattered throughout the show, I will link the available songs for your convenience. The drama airs once a week on Fridays and currently has four episodes out, so we'll be playing a bit of catch-up. So without further ado…

EPISODE 1: "The day we met"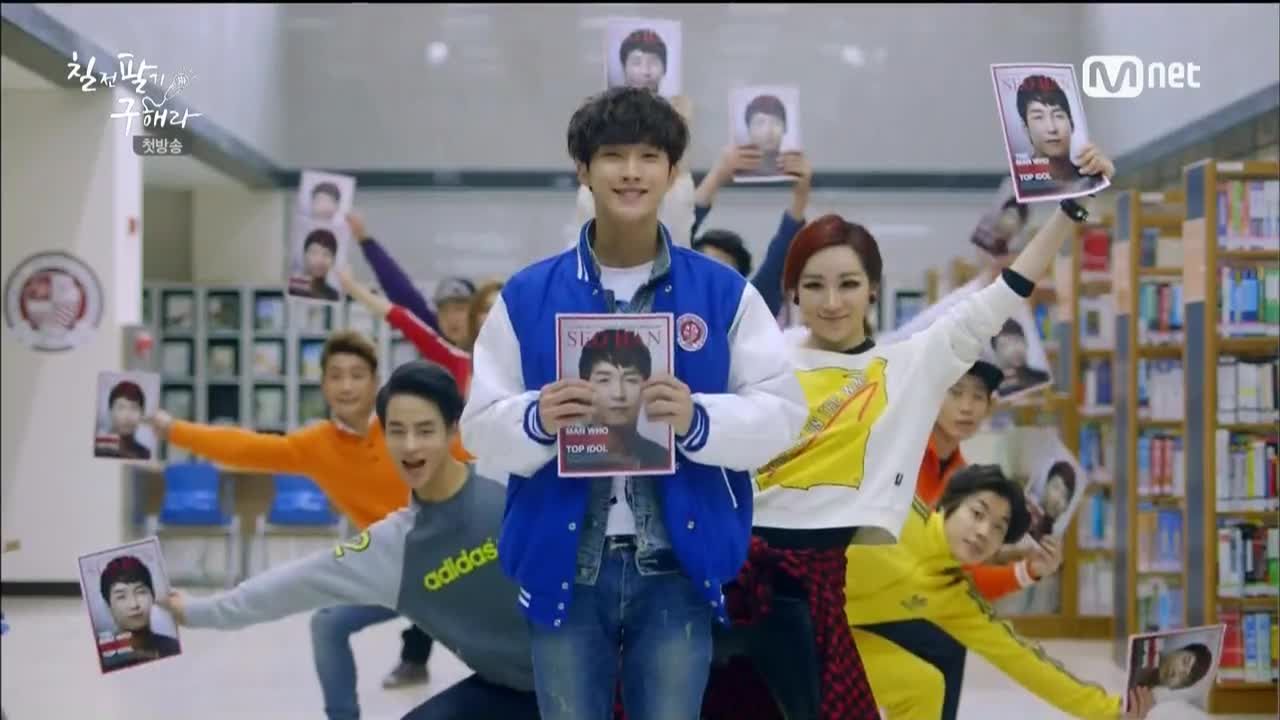 We start off with a present-day interview with Superstar K's Season 2 Top 11 alumni: John Park, Jang Jae-in, Andrew Nelson, to name a few. They reminisce on their days on the show, and when they're handed a picture, each singer recognizes the group from their season, saying they made quite a splash. But we (the public) wouldn't know them as Superstar K contestants because they were cut from the footage in full, due to some unknown conflict. Those unknown contestants will be the focus of our drama.
April 2010. "5, 6, 7, 8!" A group of dancers gracefully execute their moves, transitioning with a twirl into our singers and instrumentalists. The music crescendos into Kim Won-joon's "Show," and we get a great musical montage of dancing and singing throughout the school. The scene ends with a dramatic finale in front of the school, and where we see that the whole musical was a filmed advertisement for the university.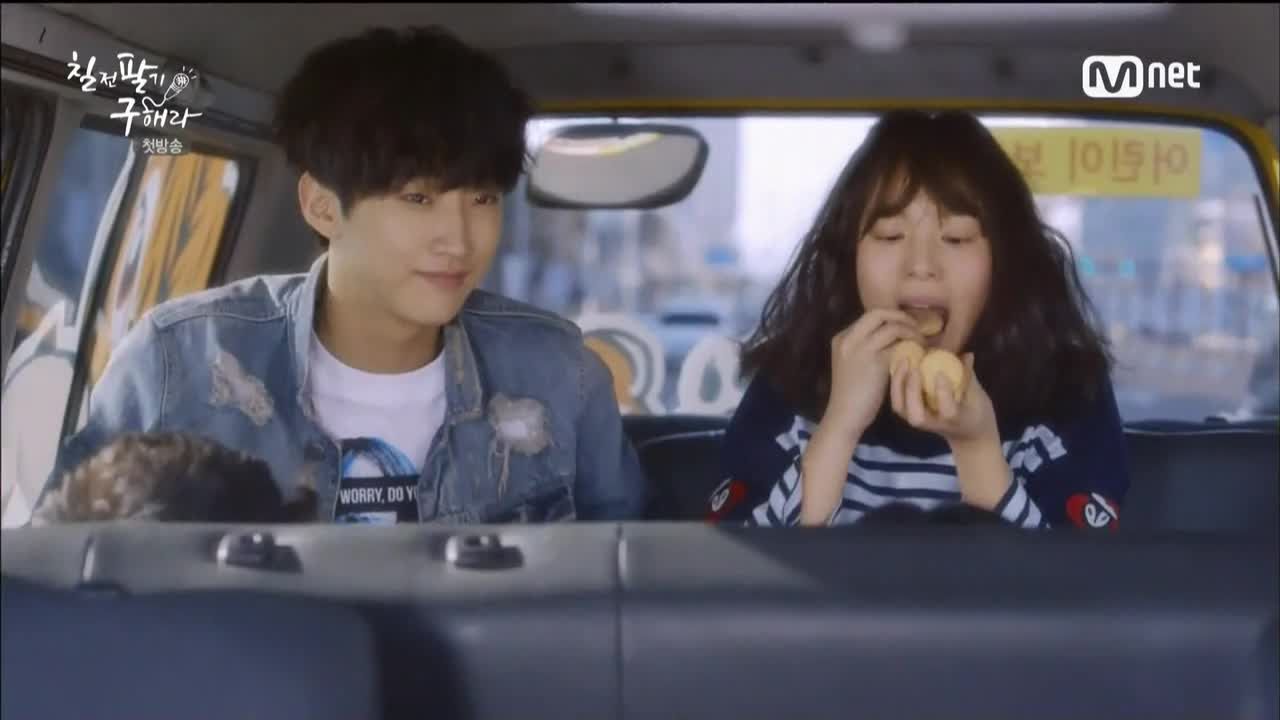 A girl trips over her own feet as she rushes to a van for a kiddie Taekwondo studio. This is GU HAE-RA (Min Hyo-rin), and she's followed into the van by her friend, KANG SE-CHAN (Jinyoung). Hae-ra curses her bad luck, but Se-chan assures her that he's gathered all of his good luck for her today.
While stuffing the little Taekwondo girl's cookies (and thus making her cry) in her mouth, she gets a call from the casting director asking about her whereabouts, and she's saved by Se-chan, who reassures the director that they're almost there—they can see the building from the car, he lies. Van driver ajumma tsks that he would go to hell first if it was for Hae-ra, and he nods happily in agreement.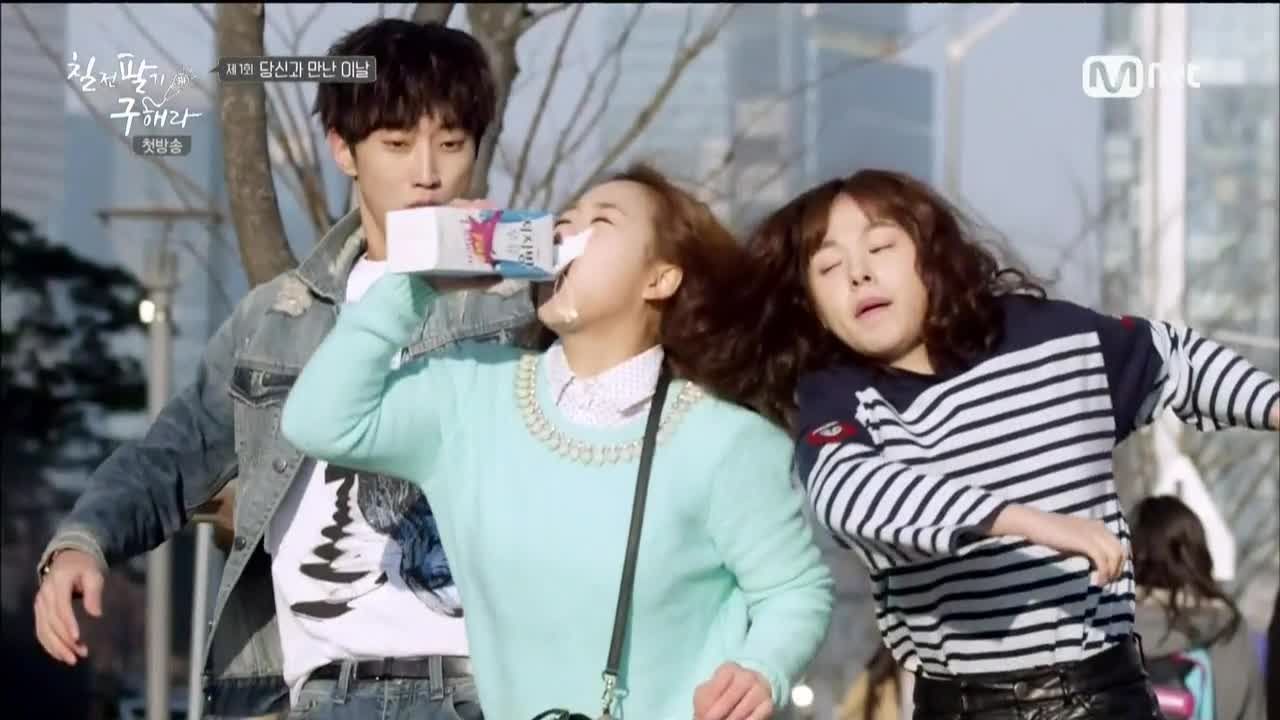 Ajumma makes an impressive swerve to the side of the road, where the two jump off. They start running among other audition hopefuls, and one girl pushes between them chugging milk. Ajumma drives off, but Hae-ra suddenly stops. They forgot Se-jong! Thankfully, the van is stopped (albeit dangerously) by a pedestrian (Henry of Super Junior M), who almost gets run over. He apologizes, cuing the perfect background music: "Sorry, Sorry" by Super Junior.
Woken up by this sudden stop, a guy steps out of the van with a nice stretch. Hae-ra runs toward him fuming and yelling his name, KANG SE-JONG (Kwak Shi-yang). He seems nonchalant and annoyed to be at the audition, but he's alarmed when he sees Hae-ra's face. He grabs her face and asks if she ate the peanut cookies in the car. She didn't know they were peanut cookies, and unfortunately she's allergic.
He grabs her, ready to take her to the hospital, but she refuses. She missed last year's audition due to the swine flu, and she's not missing this one. He drops her wrist and makes it clear that he warned her.
Se-chan fills out forms for their team and notices the contestant next to him doesn't have a pen. He offers his pen and the guy takes it, but not before he wipes it down with a disinfecting wipe. The interviews for the contestants start up, and we're introduced to our main crew.
First up is the milk girl, LEE WOO-RI (Yoo Sung-eun), who's a vocal student. She says that her professor said that a chubster like her should try out for Superstar K. She asks the interviewer if she's that chubby, and she's given a curt "yes."
Next, our fraternal twin brothers, Se-jong and Se-chan. Se-jong is older by one minute, but Se-chan claims that he's got the better looks. They're both here for Hae-ra, and we jump to her interview. Her father was an unknown singer-songwriter, and he couldn't release his last track because of her. She wants to make her father's last song known to the world. After that comment, she makes a face to itch the sides of her mouth. The allergic reaction is kicking in.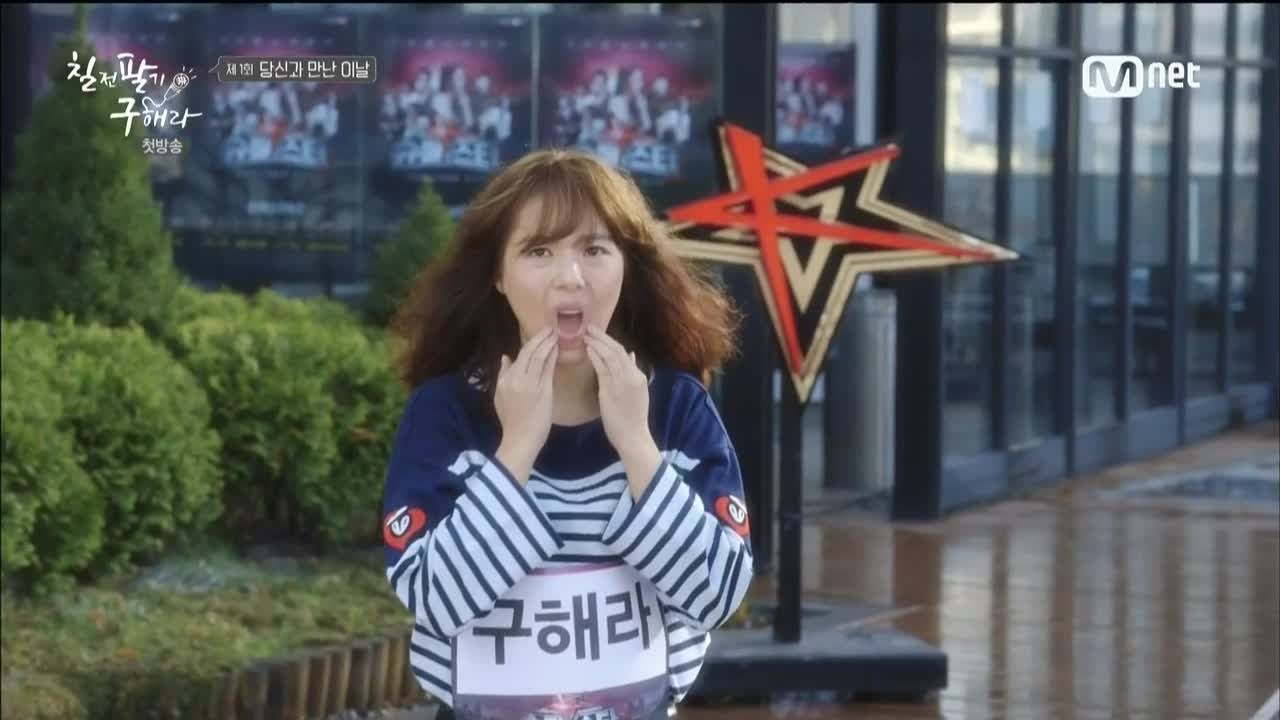 Henry stands in front of the judges (cameos by famous singers Sul Woon-do and Baek Ji-young) and introduces himself in banmal as a former chef from New York hoping to pursue K-pop. His grandmother is Korean, and he makes a play on words saying, "Hal-MONEY!" Ha. His specialty is beat-boxing, and the beat continues as we're introduced to more contestants.
Germaphobe's name is JANG GOON (Park Kwang-sun of Ulala Session), and he tells the judges that his father disapproves of his auditioning. His phone begins to vibrate in his pocket, and it adds to the beat. The music begins to play, and we get a montage of the audition with the contestants singing Lim Jeong-hee's "Music Is My Life."
This montage mixes in real Superstar K2 contestants along with new contestants whose names are hilariously similar to real singers (Hwa-nee, a reference to Fly to the Sky's Hwanhee, Jung In-yi for Jung-in). At one point, Jung In-yi's guitarist turns around wearing the name tag Jung Seok-won — it's a cameo by Jo Jung-chi, who is Jung-in's real-life husband, bearing the name of Baek Ji-young's real-life husband. HA, the meta.
Jang Goon's germaphobic instincts stop his singing when he notices crumbs on the side of Baek Ji-young's lips. He has to put on his gloves and wipe off the crumbs before he starts singing again. The auditions finish up, and Jang Goon, Woo-ri, and the Kang twins celebrate their success.
Their happiness is quickly taken back when they see Hae-ra's face, her reaction getting worse. She insists that she's fine to audition, but the boys don't look reassured. Jang Goon gives her some special honey spray to calm down her allergic reaction, but all it does is attract a bee.
Hae-ra walks into the audition with her hair tied in front of her face to hide the allergic reaction, and the judges assume that she's not confident in her looks. She begins to sing Gummy's "Amnesia"—and while shooing the bee flying around her head, her swelled-up face is revealed. The judges gasp, though they give her credit for the vocal performance. She's given one yes, one no, and Judge Baek Ji-young decides her fate.
She walks out with her head down, but it's only a brief fakeout—she made it! Inside the audition room, Baek Ji-young is asked why she give her a yes, and she says that her face makes for a great story on the air, which is what people love. The last contestant walks in, and it's Huh Gak (the actual winner of Superstar K Season 2). Baek Ji-young sighs, saying that there'll be tons of stories this time.
Hae-ra admires the T-shirt she got for passing the first round, and Se-jong comes back with medicine for her, using the excuse that he went out to buy a drink but saw a pharmacy on the way. The three go out for drinks, and three pervy guys eye Hae-ra's bare legs. Noticing this, Se-jong ties his jacket around her waist, much to the pervy guys' disappointment, and covers up the nice gesture by telling her her gruffly to cover her ugly legs.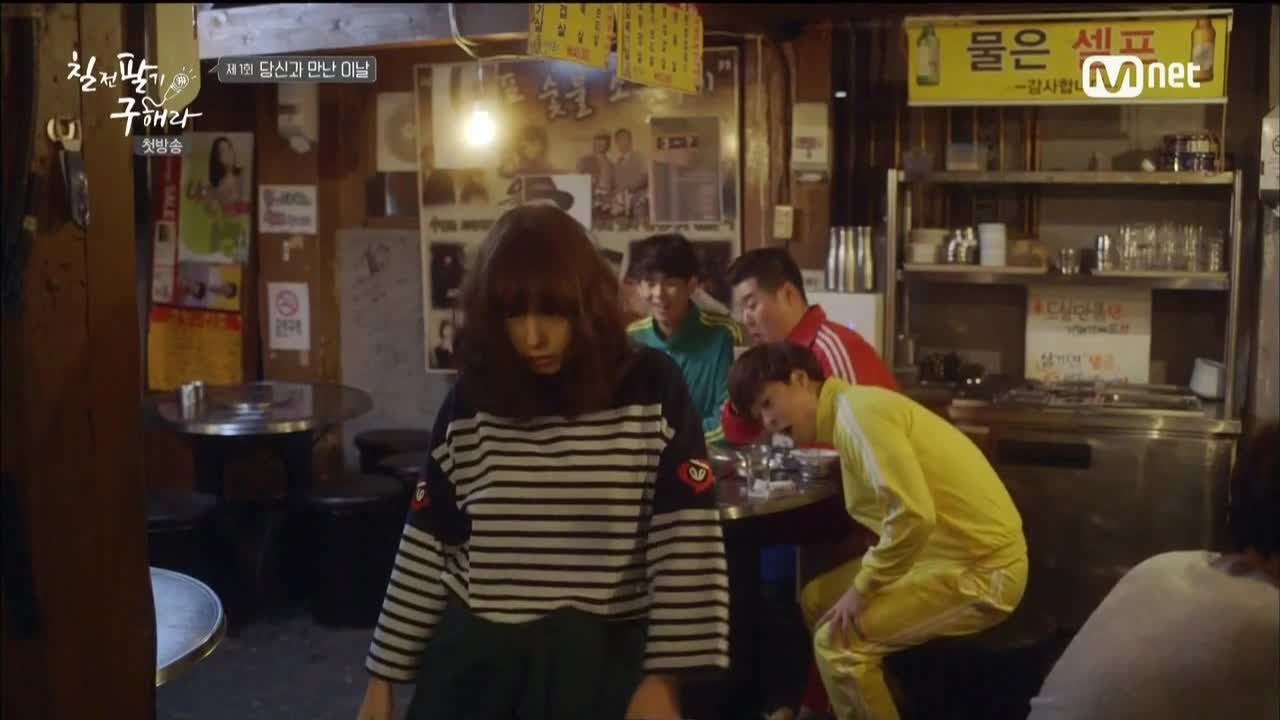 She starts stumble to the bathroom with one shoe on, but she notices the three perverts trying to take pictures. She takes the lead pervert's phone and drops it in their stew, then offers to fish it out and pours the whole pot on his crotch. Se-chan blocks a hit from Perv's friend and runs out with Hae-ra.
Perv cries out that it's hot (to appropriate background music by 1TYM), so Se-jong obliges him by throwing a glass of cold water on Perv's crotch. He now cries out that it's cold, and the trio run off hand in hand. Ha, they're perfect.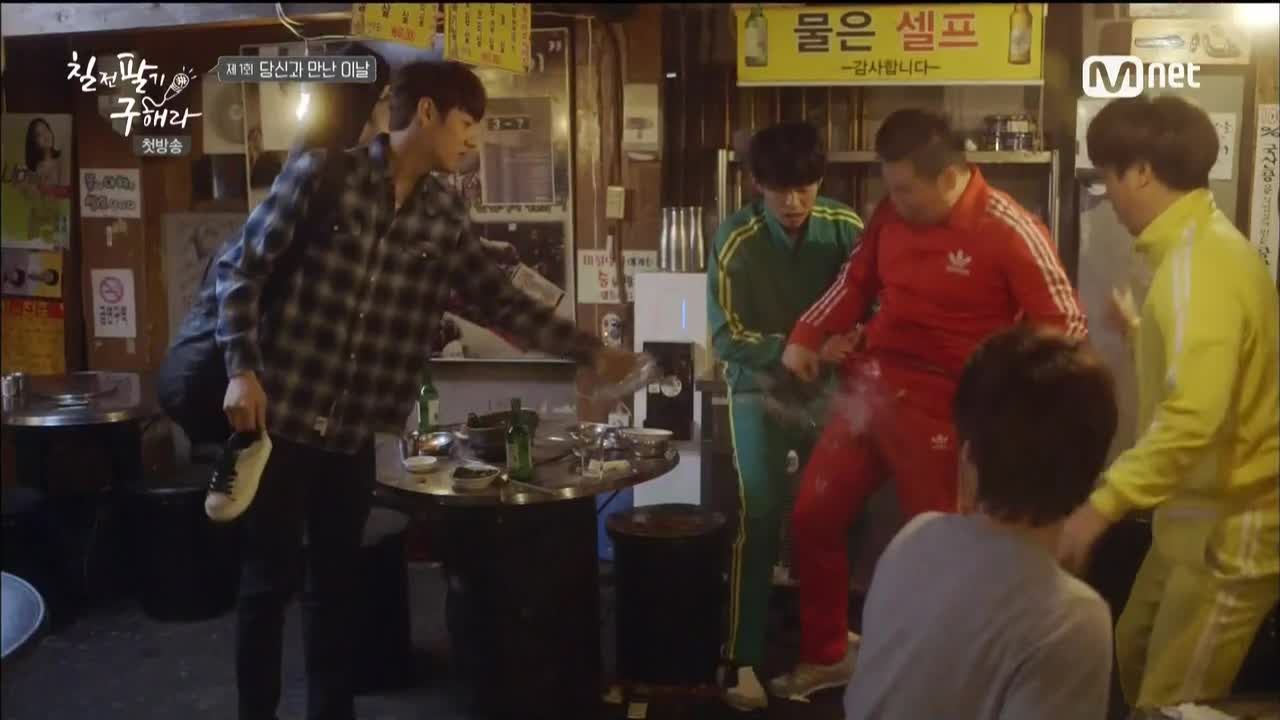 The three walk into a shop that's still in construction and use the karaoke machine that's set up inside. Se-chan already knows the song Hae-ra's going to sing: Lim Ki-hoon's "The Day We Met." Se-chan narrates a flashback to when they first met as children. "Fate is not a choice. I didn't choose for Hae-ra to move across from us and sing with those sad eyes when I first saw her. But at times, I wish I could choose my fate. The day we met, I chose my fate."
We see little Se-chan confessing to Hae-ra that he fell for her at first sight and asks her to marry him. Little Se-jong watches from afar, just as he does in the present while the two perform together.
As they finish the song, the owner lady barges in and scolds them for singing again in their shop that hasn't even opened. Se-chan tries to convince her to let them stay a little longer in celebration of their successful auditions, but it's Se-jong who's able to convince her. He never makes requests, so owner lady agrees this one time. She says under her breath about her shop opening being compromised, which Se-jong catches but slides under the radar for the other two.
At a studio at Hwangje (Emperor) Entertainment, a huge operation clearly modeled after SM, a group of trainee boys undergo a dance evaluation. President Hwang seems benevolent to their faces and says mistakes happen, telling his staff to buy the boys some meat for dinner. But as soon as the boys leave the room, he drops his façade, slamming the table and chastising the choreography and vocal teams for their incompetence. He asks if they've got any good new kids, but gets told that all the good vocalists are heading to audition programs now. As a matter of fact, he just went today to try scouting potential trainees from Superstar K.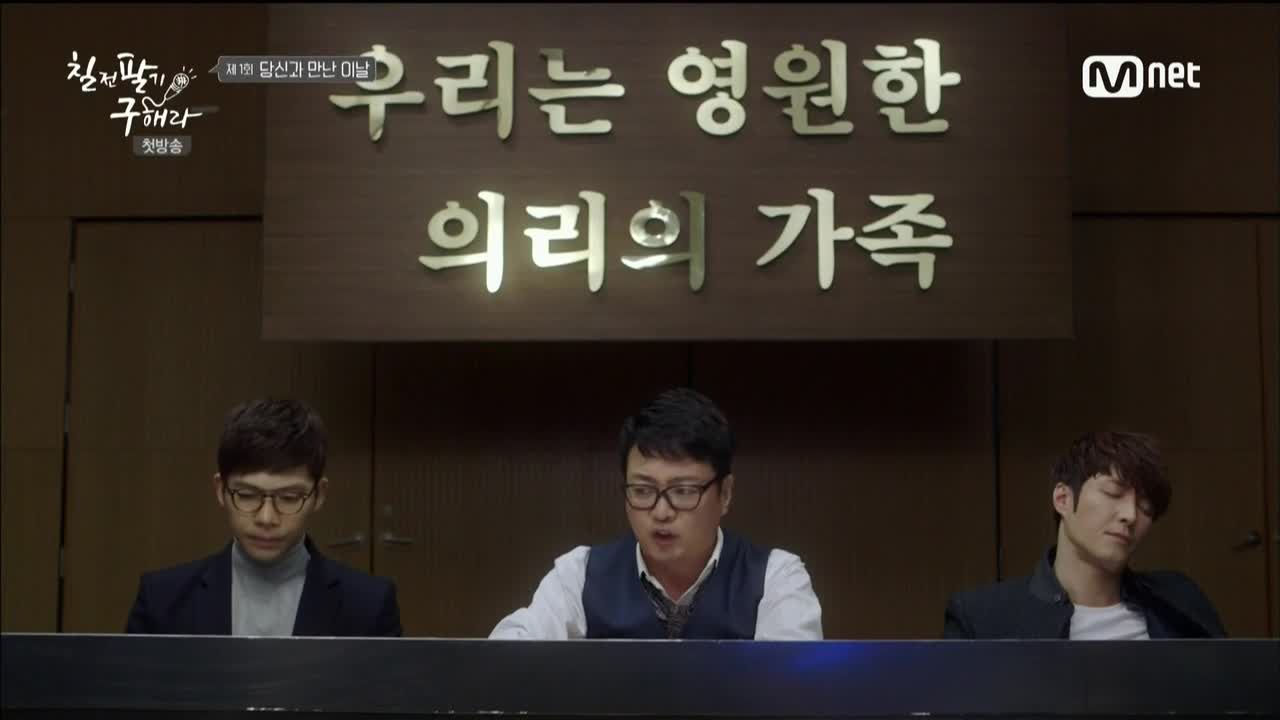 In the morning, Hae-ra treats her hangover with some samgyupsal, which causes her mother to shake her head and Se-chan to smile like a fool. Se-jong walks into the room, and we see that our two ajummas are their mothers — van ajumma is Hae-ra's mother and shop ajumma is Se-jong and Se-chan's mother.
Se-jong asks his mother about the delay in their shop opening, and Hae-ra's mother butts in to mention a sudden lack of funds. Se-jong's mother keeps the news hidden and turns on the TV to change the subject. The news reports on an infestation of bugs, and Hae-ra wonders if they have one in their old building. Se-jong asks defensively if she's scared, and we see his hand starting to tremble.
They change to the music channel, where Hae-ra points out their school sunbae, TAE-POONG (Shim Hyung-tak), a former hotshot idol from the group Storm who's now a producer at Hwangje Entertainment. Se-jong's mother is a fan and gets teased by Hae-ra's mother, who reveals that she's a fan because boys' father looked just like Tae-poong, but their father ran off with another woman. She laments their luck with men, but Se-jong's mother points out her husband was a singer-songwriter.
Sighing, Mom looks at Hae-ra and asks if she remembers her father. In a flashback, young Hae-ra waits for her father at her birthday dinner and calls him to hurry. He's composing a song for her and promises to be there when she finishes singing her favorite song ten times. But he collapses due to a heart problem and never fulfills his promise.
While moving into her new home, young Hae-ra sings and notices a boy stopped in front of her. "Just when I thought that my eleventh birthday could no longer be happy, a boy with my father's eyes appeared like a gift." The boy is Se-jong, and their eyes meet for a moment before they're interrupted by an enamored Se-chan.
Back in the present, Hae-ra notices Se-jong's jacket — the one he tied around her waist — hung to dry. Before she returns it to him, she sprays a bit of her perfume on it. Se-jong is in the middle of showering while rocking out to Panic's "Left-handed," so Hae-ra waits and puts on the jacket. She suddenly hears a scream from the bathroom, and when she bursts in, she sees Se-jong cowering in the corner because of a bug.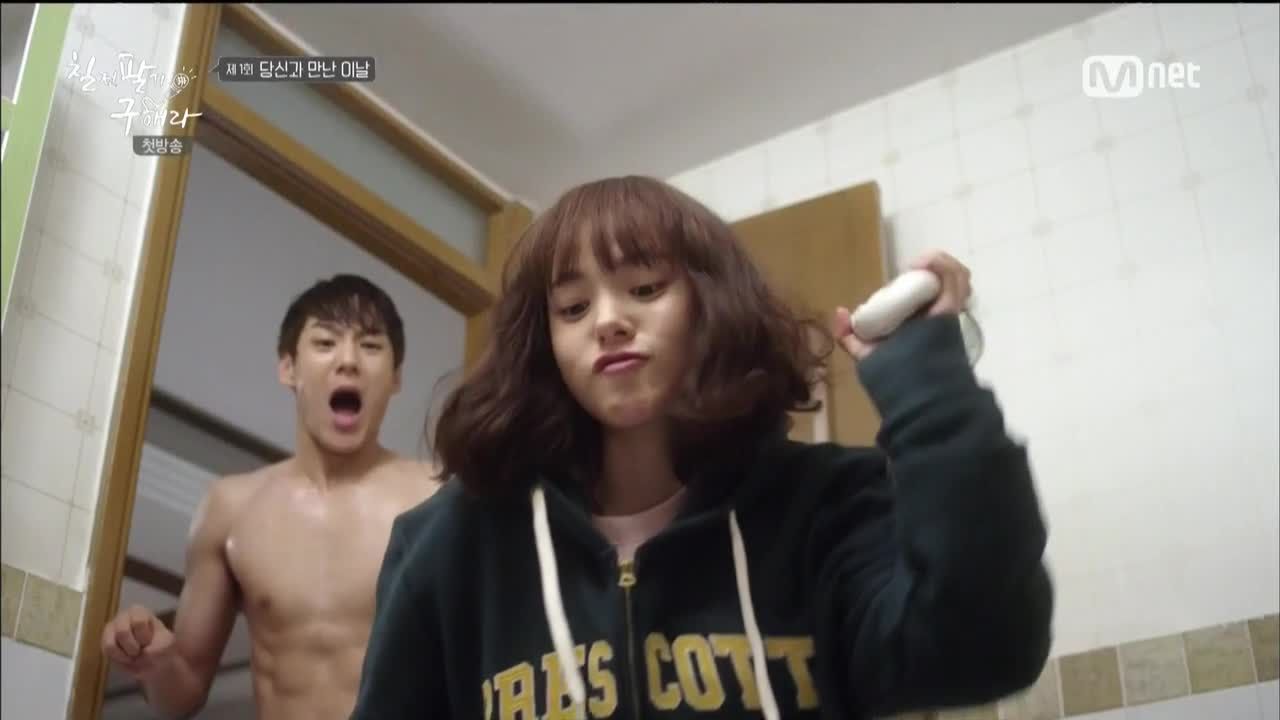 He's scared and runs behind Hae-ra, so she grabs her slipper and violently chases after the bug. It's pretty comedic until both of them slip, with Hae-ra on top of half-naked Se-jong on the ground. The mood quickly becomes tense just as the CD switches songs to the romantic ballad "Waiting," and both of them secretly smile to themselves.
Their moment is interrupted by Se-chan, who accusingly asks what they're doing. Hae-ra assures him that no funny business was going on, just that Se-jong is a big coward, hiding behind a girl because he's scared of bugs. Se-jong argues that he's not scared, he just doesn't like bugs. Their bickering ends when Hae-ra kicks him for calling her violent, and she walks out victorious in his jacket she meant to return.
One week later, Se-jong's mother rushes out when she gets a call about the guy who took her shop funds. She asks Hae-ra to send Se-jong a change of clothing, and Hae-ra offers to deliver it herself, since she's off work today. She find that her shoes are mismatched and all her other pairs are as well, thanks to her drunk habit of losing her shoes. She reaches for her only matched pair of sneakers, then decides to go with heels. Then she goes through wardrobe for a series of outfit changes to look nice for Se-jong.
Se-jong works at the Kaist Research lab, and he notices all the sounds around him. He walks around the lab and picks up on various sounds of glass, sirens, and robots. Closing his eyes, he orchestrates the sounds around him, but he's knocked out of his reverie when he notices a glass tank of bugs.
He's working on a lie detecting device with his research partner and tests it on his sunbae. Sunbae teases the partners, suggesting that they should date since they're always working together. During the lie detection test, Sunbae gets asked if he has an ideal type, and his internal rates shoot up when he sees Hae-ra. She's here to deliver Se-jong's clothes, and Se-jong quickly sends her off. She asks if he's coming home before Super Week, and his colleagues gape at this news. His dreams to be a singer were under wraps at work.
Sunbae notes that this is the first girl to ever visit Se-jong at work, and he asks if Hae-ra is his girlfriend. She doesn't seem too off-put by the idea, but Se-jong immediately shuts down that assumption, calling her just a friend. He tries to send her off again, but Sunbae asks for a favor. He uses her as a participant in their study, which uses the functioning of the brain to detect lies.
He starts out lightly, asking about her weight, and she answers honestly. He then asks if she's hugged anyone in the past week. She isn't sure what to make of the shower encounter and answers no, but the machine indicates that it's a lie. He then asks if she has a boyfriend or if she likes someone enough to want to date them. She says no, but the detector blares "false." Flustered to be caught in the lies in front of Se-jong, she hastily excuses herself, and Se-jong follows.
Running down the stairs, she trips in her heels and breaks a heel. Se-jong comes to the rescue calling her "Peanut." She asks to switch shoes, but he offers to piggyback her. She gratefully accepts and calls him "Oppa," and he notes that she only calls him that when she feels like it.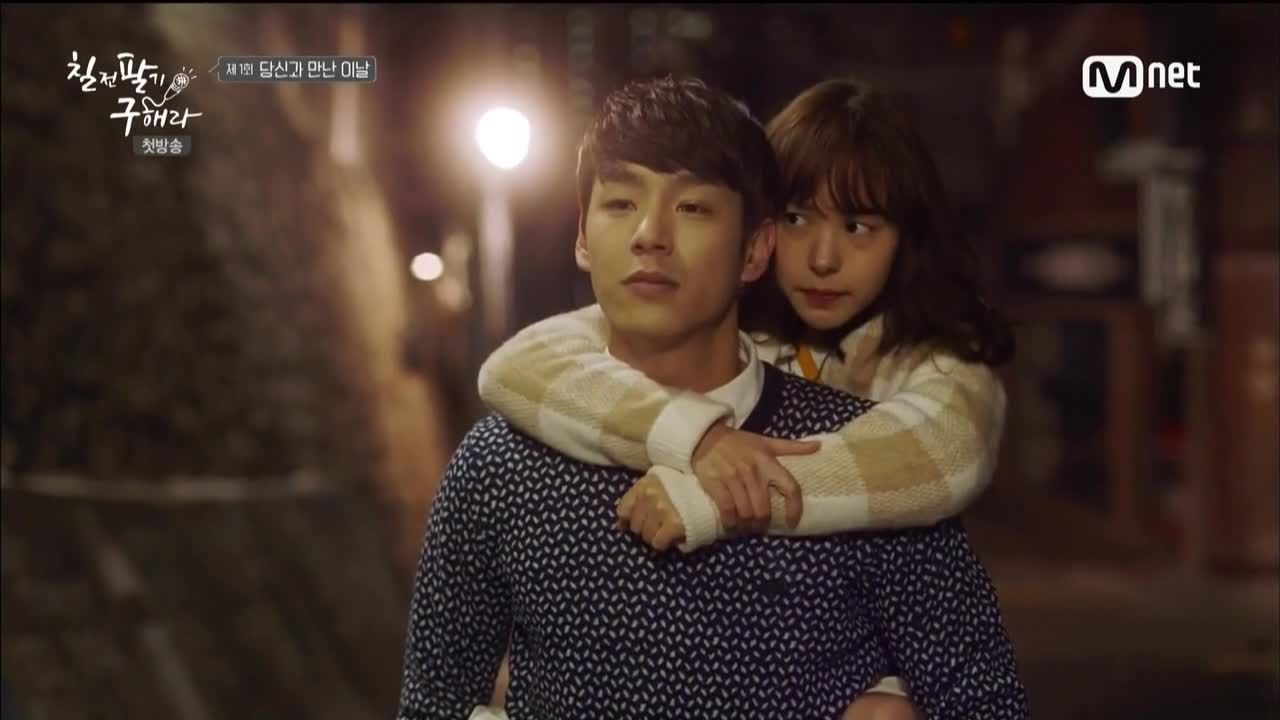 While walking back, Hae-ra keeps glancing at Se-jong. He breaks the silence by joking that the lie detection machine must not work, since she seems much heavier than she claimed to be. After another moment of silence, she musters up the courage to admit that the lie detection machine works and she felt bad when he called her just a friend, because she realized today that she doesn't want to be just friends with him.
Se-jong stops in his tracks and starts to respond, but Hae-ra covers his mouth. She asks him to think about it and respond when Superstar K is over. As they near home, they run into Se-chan, who once again notices the two of them looking close asks offers to piggyback her from there. She refuses the offer and walks off, so Se-jong hands Se-chan her broken heels and asks him to take care of her.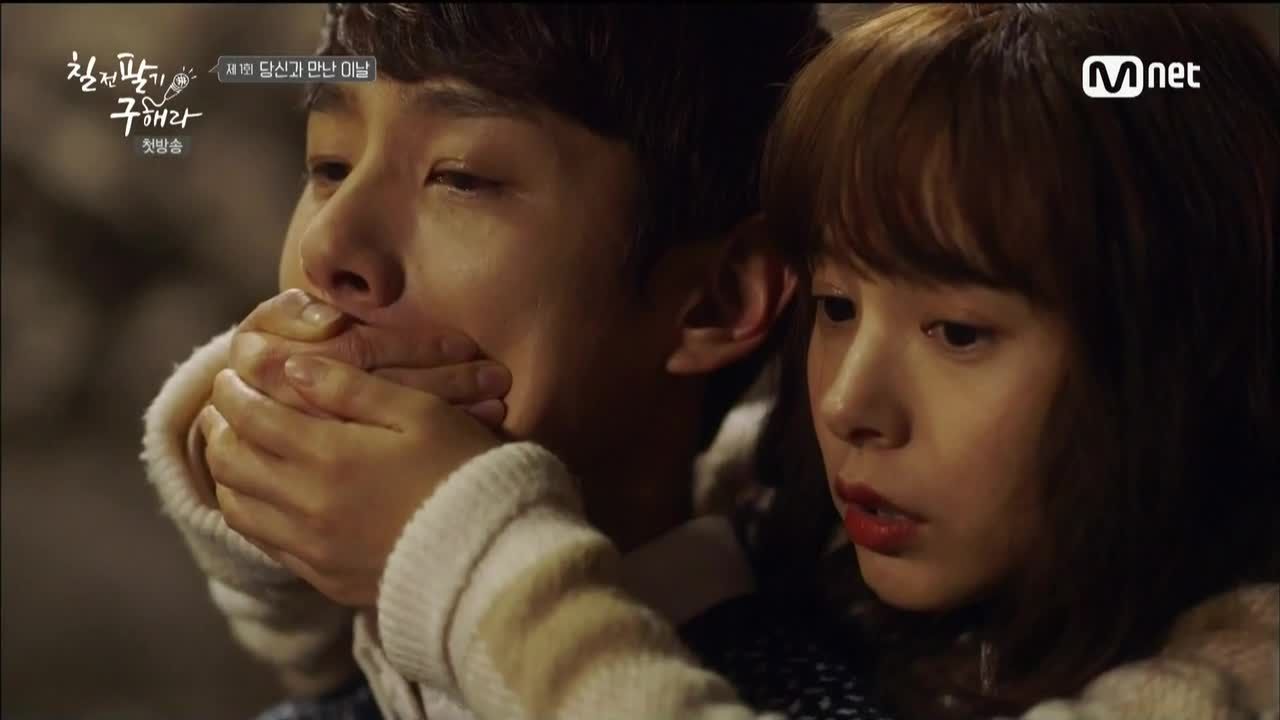 In his room, Se-chan looks at Hae-ra's heels and tells us in voiceover: "We notice the change in the person we love." The night before Super Week, Se-chan offers to pick up Hae-ra from work, but she texts back with a lie that she left early. She's met with Se-chan outside anyway, since he's been waiting for her, and the air gets awkward as they both try to ignore the lie. Se-chan tries to lighten the mood by offering to get food, but she refuses.
He straightens the crooked initials on her necklace, then goes in for an unexpected kiss. She pushes him away and tells him to stop messing around. They're just friends, and friends don't do this. Se-chan watches longingly as she walks away.
Se-chan writes in his journal that he's been rejected by Hae-ra, and he contemplates the words "just friends." He thinks back to Se-jong piggybacking Hae-ra and asks his sleeping hyung if she likes someone else, admitting that he really likes her. Se-jong opens his eyes, having heard his confession.
Se-chan steps outside and writes a message on the whiteboard hung between their balconies. It has three slots (to, from, and "song request") and today for his song choice he decides on Na Yoon-kwon's "If It Were Me." The next morning, Hae-ra stretches on the patio, and we see that the whiteboard has been erased.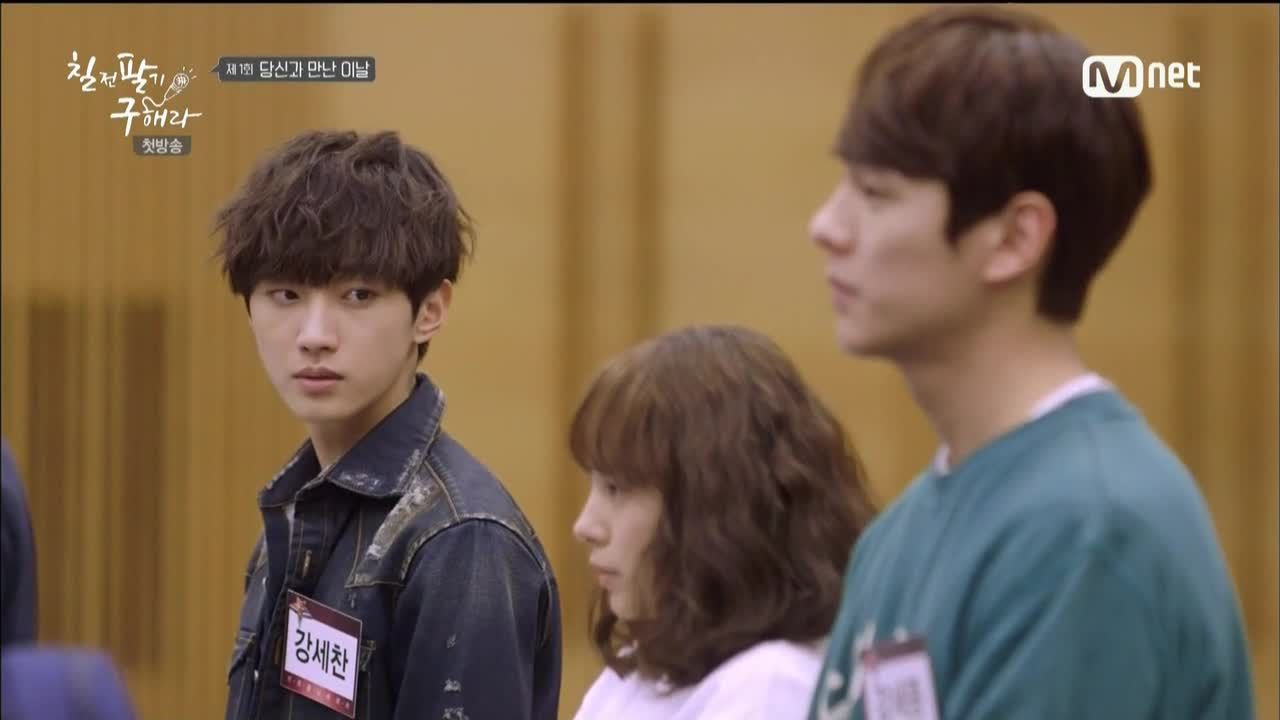 The Super Week contestants gather with some familiar names in the crowd. Jang Jae-in and Kim Ji-soo cameo as themselves, and we get some real footage of Season 2. Se-chan steps up to be a team captain and chooses Hae-ra first, and the mood grows strained as he conspicuously ignores his brother every time it's his turn to pick. Se-jong stands in the dwindling crowd, snubbed, and finally in the last round of picks, Hae-ra pleads with her eyes and Se-chan picks him after all.
The team also includes Woo-ri, Jang Goon, and Henry, and they gather with their song. Se-chan purposefully brings Hae-ra to sit on his side while Se-jong watches knowingly. Their team name is the "Persevere" from the drama's title, and they have to decide how to rearrange their song, Lee Seung-hwan's "As Much as the Love in this World." Henry suggests they make it performance-based, but Se-jong disagrees, thinking a team mission should focus on harmony. Woo-ri and Jang Goon agree, but Se-chan opposes his brother, then looks to Hae-ra expectedly. She agrees with Se-jong's suggestion about harmony.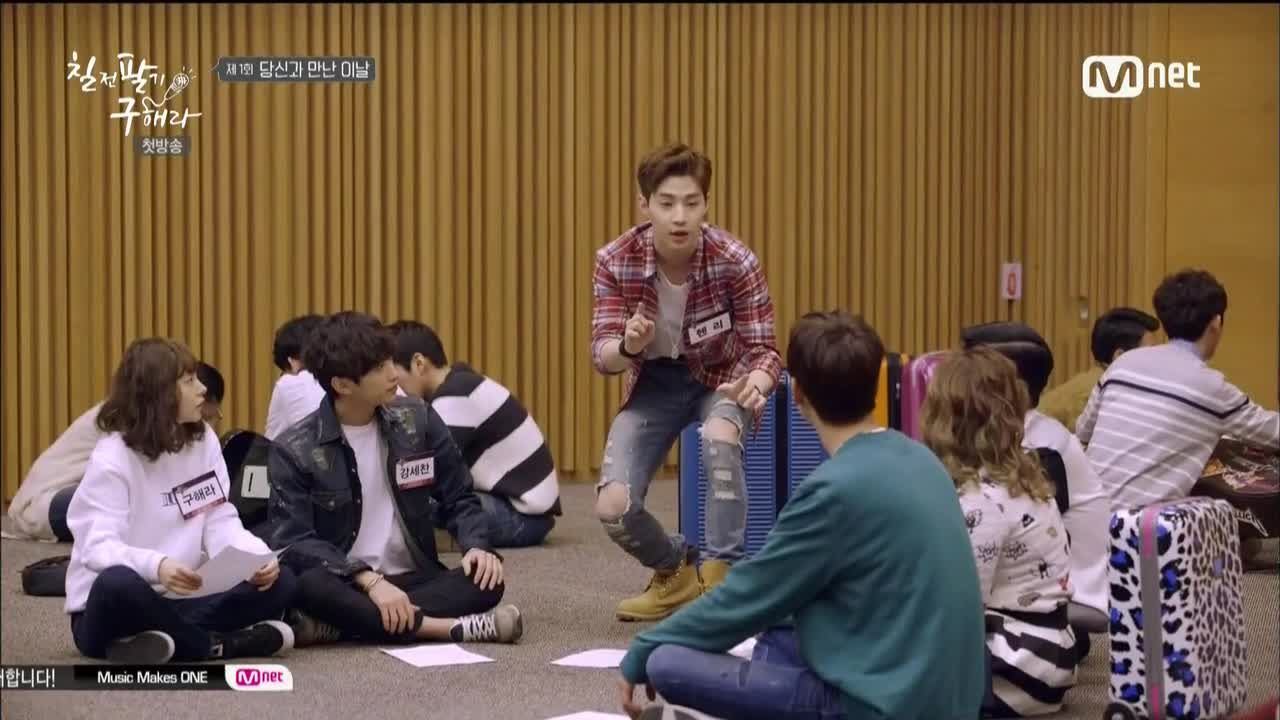 Despite the majority preference, Se-chan decides that they'll focus on performance, so they practice endlessly. This takes a toll on the group, especially on Woo-ri, who collapses on the ground in exhaustion.
During the break, Woo-ri notices Jang Goon's nervousness with responding to his father's messages and sympathizes with his difficulty with becoming a singer. She has her own struggle: dieting. She takes out a big stack of cherry tomatoes out of her bag and starts to eat them all. Jang Goon mentions that he met her before when he hugged him in celebration of her audition and admits that he fell for her… voice.
Surprised, Woo-ri literally chokes on her cherry tomato, and Jang Goon hesitates because he's fearful of the germs. But there's no one else around to help, so he performs the Heimlich on her. The cherry tomato flies out of her mouth, and Woo-ri is saved. She tries to give him a hug, but he fearfully avoids human contact and accepts her gratitude by proxy.
Team Persevere prepares to get onstage and notice John Park in the previous group messing up his lyrics. They predict that he'll be eliminated, heh. The team gets onstage, and President Hwang's assistant sneaks into the auditorium to scout a contestant. Ha, singer-songwriter Yoon Jong-shin and producer JYP make cameos as judges, with carefully placed screens making it look like real Superstar K2 judges Uhm Jung-hwa and Lee Seung-chul are also in the room (using real footage).
The team gets started by recording sounds with everyday props and looping them to create their background music. The dancing and singing are going well, though Se-chan notices Hae-ra looking at Se-jong more often when she sings. Henry has a solo violin part, and he tries to finish off with a fancy spin but falls over. Worried about his state, the team stops singing and runs to his side. Thankfully he's not seriously injured, but the judges have some harsh criticisms.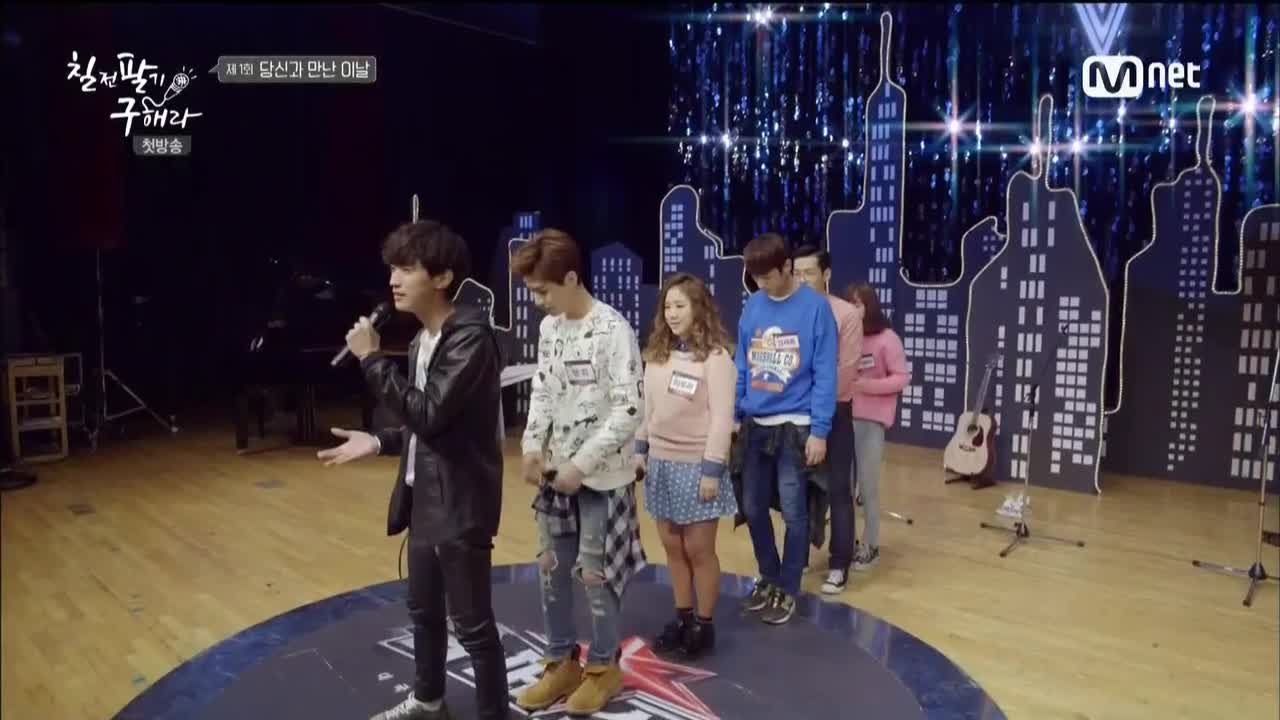 The person who had the part after Henry, Se-chan, should have continued on with the performance because it's his job to keep going. Judge JYP says that due to Se-chan's sudden stop, the team cannot be judged properly and are, therefore, eliminated.
Everyone's face drops, and the team clears the stage. Se-chan narrates, "Super Week was a dream for all of us. To pursue that dream, we threw away our secure futures, hurt the people we love, regained hope, and stood onstage. I also had a dream: to fulfill the dream of the person I love. But today, I broke the dream, just like our broken trio."
Suddenly, we hear Hae-ra's voice yell out, "Wait!" Se-chan adds, "And then… something incredible happened."

EPILOGUE
During their break, Henry speaks on the phone with a friend about a guy here that looks exactly like the friend. He tells him that he'll send a picture of him. He looks through his photos and decides on a picture of the trio. Se-chan calls him over to get back to practice, so he promises his friend the picture soon.

COMMENTS
Huh, how curious. This first episode did a great job with introducing our characters and the central love triangle, but that epilogue hints at a greater conflict at hand. We've gotten foreshadowing with occasional reminders that our twins look nothing alike. It makes sense because they're fraternal, but the drama seems to be insinuating more. I wonder if it'll be a switched at birth sort of deal, but more importantly, I wonder which twin will be Henry's friend look-alike. It's another layer in the story, and I'm interested to see how this will unfold.
I was pleasantly surprised at all the goodies this show had in the first episode. Along with some great musical choices, it had a solid emotional beat with the trio. Emotionally and romantically, there seems to be a stronger case for one side of this love triangle, and as a result, the angst has already begun. My hope is that the angst started early to end early so that we can move on to richer conflicts and more musical competition.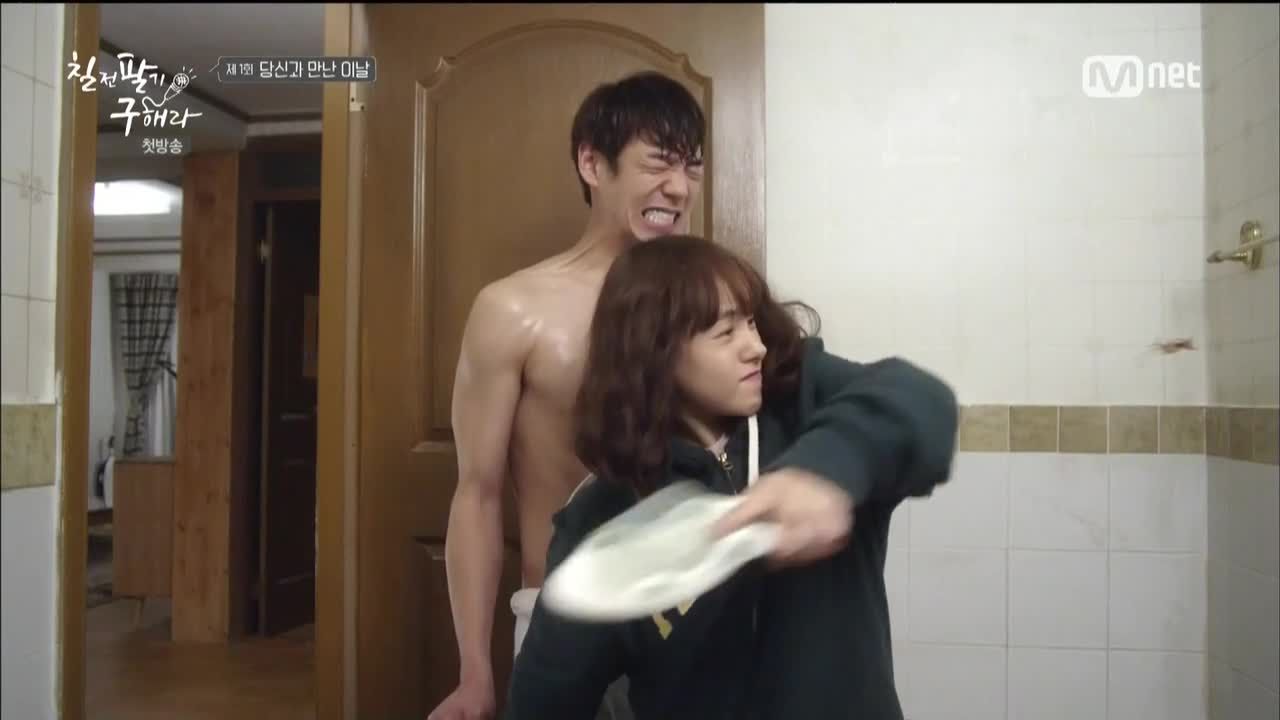 I especially enjoyed the comedic timing of this show, and I love Min Hyo-rin's portrayal of Hae-ra. She's not afraid to look silly or ugly for the character, and that's making Hae-ra come to life. I've never heard of Kwak Shi-yang before, but I do enjoy his performance here. He can express his emotions through silence, and I like that balance he brings to the trio. His character seems to come to life whenever he's with Hae-ra, which is also a great dynamic to watch. The bug killing scene was probably my favorite in this episode because of many reasons (surprise shower scene), but mainly because it was actually hilarious. The facial expressions and contrast of reactions was great.
The team members also have great comedic contributions, and I look forward to how they grow throughout the show together. I love how germaphobe Jang Goon reacts to everything, but especially Woo-ri's hugs. His instinctive repulsive reaction is hilarious in contrast to Woo-ri's automatic response of trying to hug him. I feel like Henry is just himself in this drama, which is super convenient and funny because I don't know if the production team just casted him as himself or tried to make him follow a script but failed miserably. Either way, we got Henry playing Henry, and I'm a fan.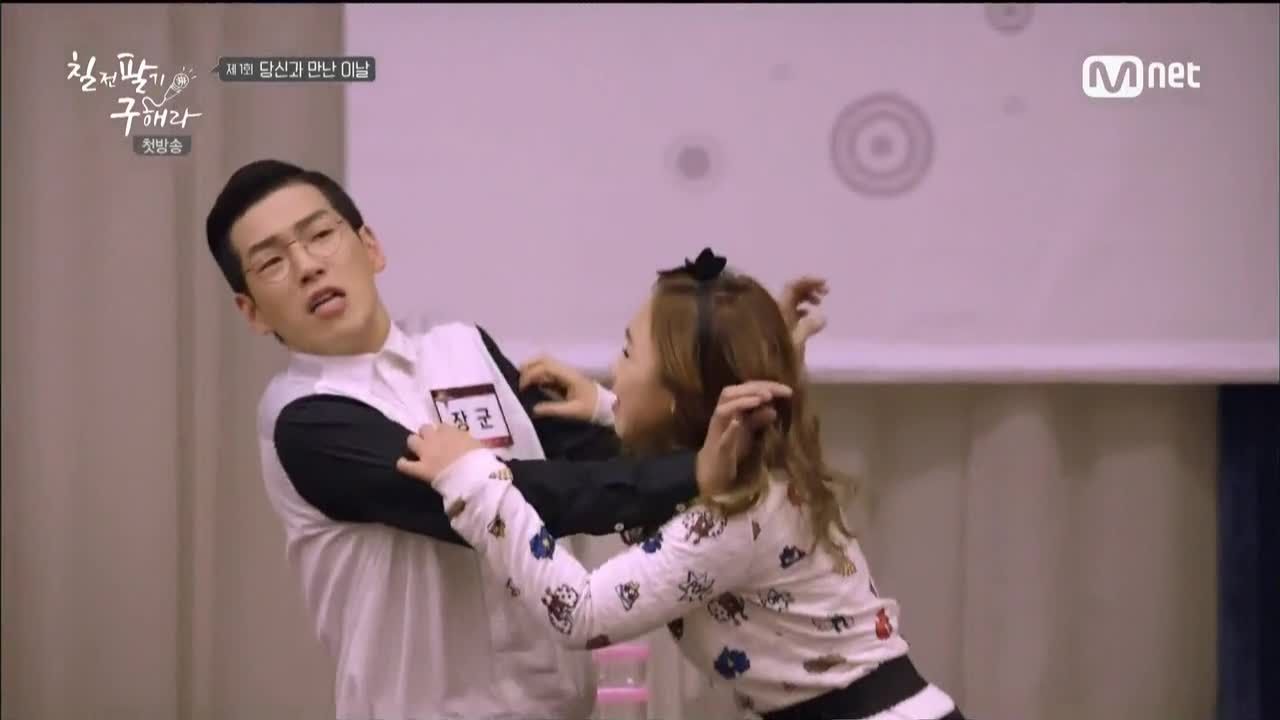 I love the meta going on for this whole show, and it seems like one big Superstar K Season 2 reunion or something. Maybe the producers just really liked that season and wanted everyone back on set because I've never seen so many cameos in one episode. It's great, and I love how willing everyone is to play their part. It's funny how they try to reenact the whole scene and replace people with screens. It works because editing makes it look pretty smooth, but I find it amusing that they can effectively fill that gap as long as they have some cameo contributors to make it seem somewhat legitimate.
The whole audition scene was great, with all the nuance meta jokes and the flow of the song. With all the references and jokes, they're walking the fine line between a parody and a comedic drama, but I think it's a plus for the show. If you can get all these fun people to make fun of themselves, why not? The show is doing great with incorporating music into the drama, and I have higher hopes for this to be an actual musical drama than its predecessors. Many of the musical dramas before had clearer distinctions for the music aspect and drama aspect rather than embedding the two, and the first episode showed that it's possible to have a better combination of the two than what's been done before. I don't expect or want the show to be on the level of High School Musical in terms of making it a musical, but occasional musical sets or smoother transitions into songs would definitely enhance the musical drama experience. So far, I am impressed and hopeful for what's to come.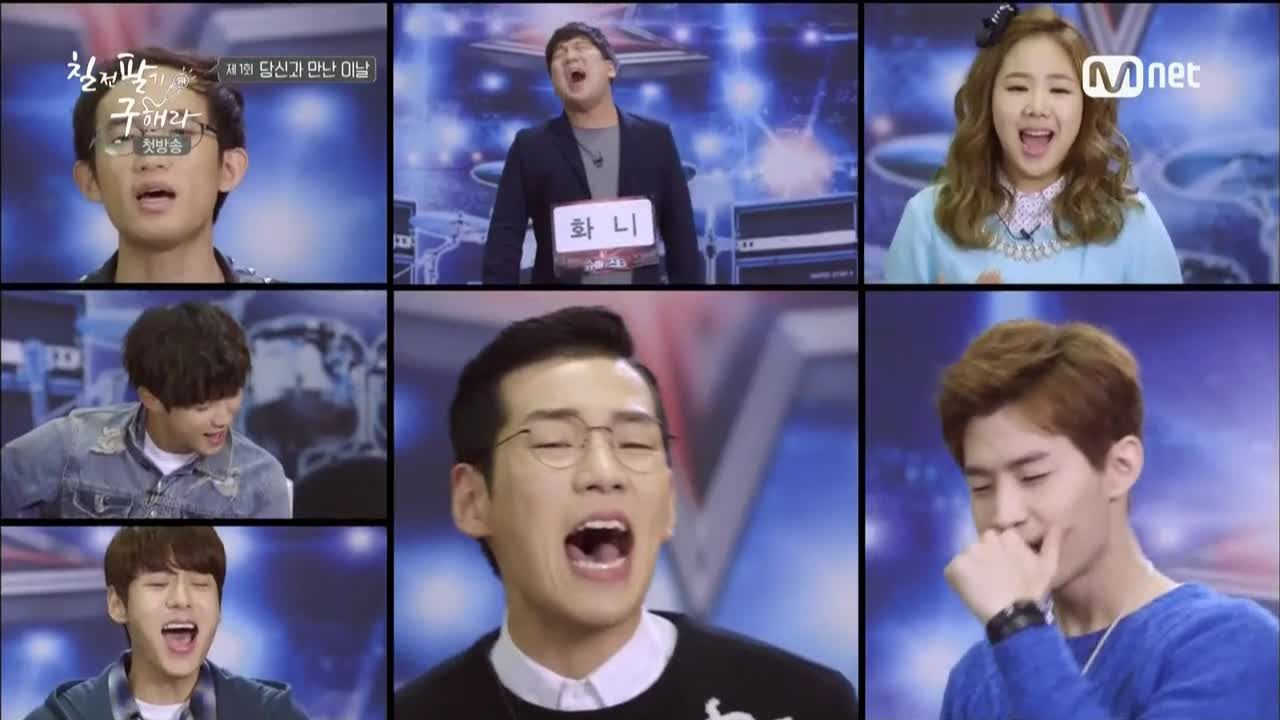 RELATED POSTS
Tags: featured, first episodes, Jinyoung, Kwak Shi-yang, Min Hyo-rin, Persevere Gu Hae-ra