Girl Who Sees Smells: Episode 7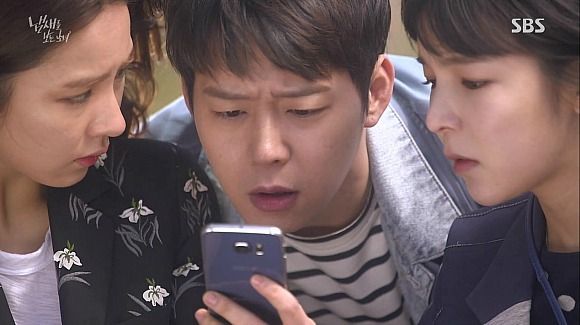 The deeper we get into the psyche of our killer, the more things make sense — which is exactly as creepy as it sounds. We learn a few things about what make him tick, and a few things that reveal exactly how cold and calculating he can be. But there's plenty of cute in this episode too, as Mu-gak and Cho-rim's growing attraction starts to become too big for them to ignore.
EPISODE 7 RECAP
As Mu-gak explains the meaning of the barcodes carved into the killer's victims, the other detectives make a chilling realization — if the ISBN numbers are chronological, then the first known murder from five years ago is not the first victim of the Barcode Killer.
Lieutenant Yeom does a little on-the-fly profiling, describing the killer as educated, self-disciplined, neat, and physically strong. We see Chef Jae-hee engage in a strenuous exercise program, revealing an incredibly strong physique which explains how a relatively average-sized man dominates his victims so easily.
Later, Jae-hee leaves Baek-kyung (or… his body? Please no) in a car in his underground parking garage, then saunters upstairs to arrange to test a company's cookware as if there's not a victim right under their feet. As the men move out his own equipment, Jae-hee deftly knocks a crystal decanter onto the floor and shatters, it, and lets the men take the blame for the breakage. He asks them to leave, saying he'll have his own people take care of the equipment later.
The detectives determine which company uses the particular set of barcodes that the Barcode Killer uses, a publishing house which has been out of business for fifteen years. They don't immediately see a connection, but Yeom asks the men to search for the owner of the company.
Mu-gak points out that the one thing that was different in Ma-ri's case, was that she was left in her car when no other victims were left without any other evidence. The car could help them figure out the killer's movements before he left her body to be found.
After the briefing the team wants to go for barbeque, but Mu-gak has plans. He heads to the Frog Troupe's theater where a performance is in progress, but Cho-rim is nowhere to be seen. She's behind the set, literally holding it up as the troupe members bang it and hang off it, until she cuts herself on a nail and she and the set piece fall onto the stage.
The troupe members don't move a muscle to help her, and Cho-rim runs off stage in tears. Mu-gak follows, witnessing one of her sunbaes verbally accusing Cho-rim of ruining the show on purpose since she can't go onstage. With tears running down her face, Cho-rim bravely retorts that she's not jealous, nor will she find another job — she'll just do her best and try to get onstage next time.
Mu-gak starts to follow her, but the director finds him first, asking why he's here since Cho-rim said he can't do skits anymore. It's news to Mu-gak, especially when Woo-ya sneers that he was Cho-rim's only chance to get onstage. He remembers now, how Cho-rim deflected every time he asked about practicing together.
Mu-gak trails Cho-rim in his car as she walks towards home sniffling, and he calls her and tells her to pick a number — one or two? She chooses one, which he says is spicy pork hocks, and her face when she realizes he's right behind her is priceless.
As they eat, Cho-rim blames her copious tears on the spicy food. Mu-gak is so sweet that he doesn't even say anything when his car is towed… not wanting to interrupt his time with her, perhaps? Cho-rim asks why Mu-gak craves spicy food when he can't taste it, and he compares it to window shopping when you can't buy. That actually makes a lot of sense.
Awww, when they find Mu-gak's car gone, he even pretends to be surprised and is all, "Oh no, whatever shall we do? Guess we have to walk home together." He's getting more transparent, this one.
I love these two for their way of putting issues right out in the open, and Mu-gak stays true to form when he asks Cho-rim why she lied to her boss that he couldn't do the skits anymore. Cho-rim explains that it was because he's so busy, and that he seems to be in some emotional pain that would make it hard to make people laugh.
Mu-gak stops and looks Cho-rim right in the eye: "Do a skit with me. And do investigations with me, too." How is that so swoony? But Cho-rim does swoon, and Mu-gak elaborates that just as she said, he can protect her when they're together. He even promises never to put her in danger. But, he clarifies in a very serious tone, the skit has to be really funny. HAHA. Cho-rim gets the cutest attack of the nervous hiccups ever, and quickly heads off home on her own.
Jae-hee drives to the restaurant to arrange things to look as though someone is in the middle of cooking. He hails a cab home, leaving his own car there. We see him at his home later, dressed all in black, driving Baek-kyung's car — and what I'm pretty sure by now is Baek-kyung's dead body — into a trailer.
He drives the trailer out to the country, backs Baek-kyung's car out onto the road, and douses him with alcohol. Strangely, we see Jae-hee thinking about a time earlier in the day (based on the shirt he was wearing) when he'd been cooking at home and watching a video of Baek-kyung. He'd been in the same white room where we saw Ma-ri imprisoned, robotically repeating over and over, "A golden fish must meet a lonely man. A golden fish must meet a lonely man." What the hell?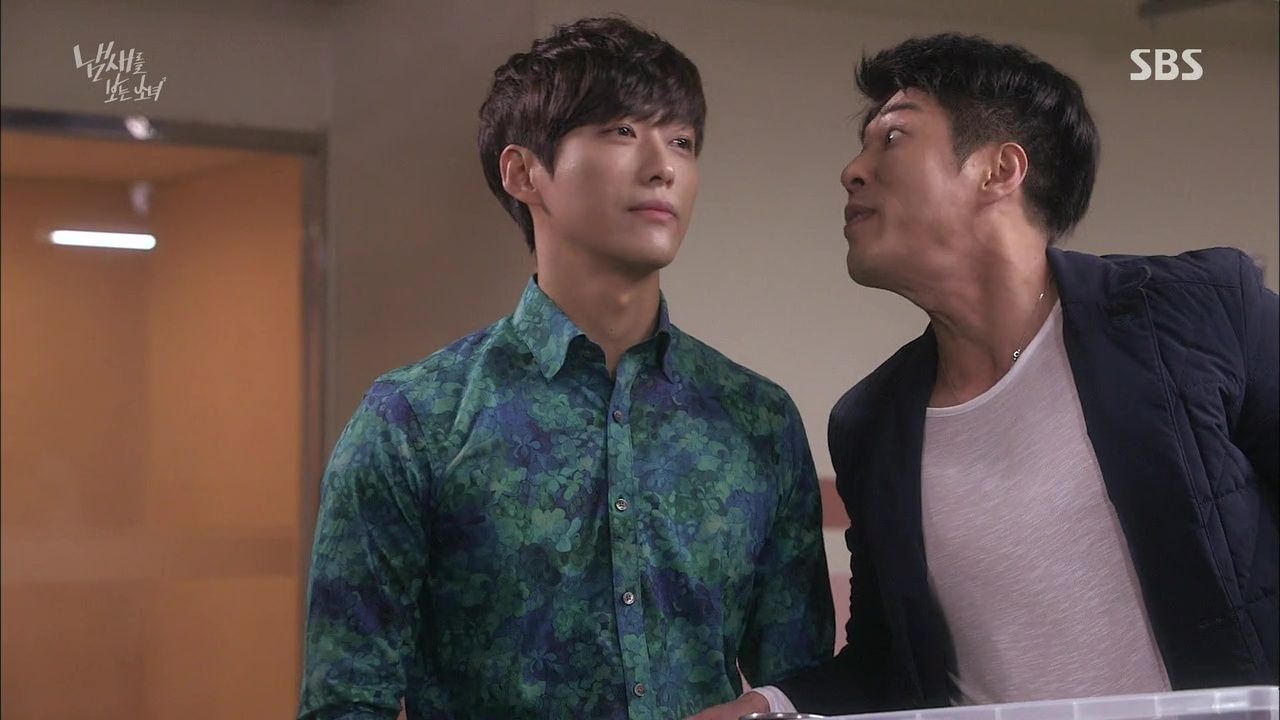 Jae-hee gives Baek-kyung one last long look, then then calls a driver to take his own car home from the restaurant. Right on cue, his sous chef sees the car leaving the garage and assumes it's his chef. Damn, he's good. The sous chef calls to ask where he's going, and Jae-hee explains that he went to get a special spice and asks him to take over the food he was in the middle of prepping.
The driver brings Jae-hee's car to a rest stop, where he's waiting in the trailer. After the driver leaves, Jae-hee disposes of the phone he used to make all these calls, and gets in his own car and drives back to the restaurant, where his sous chef thinks they're just creating a secret new dish. If this plan weren't so evil, I'd be impressed with Jae-hee's attention to detail.
Cho-rim shows up for work the next day at the restaurant, but when she says hello to Jae-hee, he looks at her without recognition. We see her through his eyes, and her facial features swim and shift until she speaks, and then she snaps into focus. Oooohhh. Does he have prosopagnosia (inability to recognize faces)? He does seem to always take a minute to recognize people — that would explain so much!
Jae-hee invites Cho-rim to join him for coffee, and he asks if she noticed anything strange when she greeted him. He admits he's got prosopagnosia, which isn't actually all that rare, and Cho-rim remembers all the times it took him a few seconds to realize who she was even when she was standing right in front of him.
Cho-rim blurts out that it must make people think he's so arrogant — and I know he's a serial killer, but the bland, "No kidding" look he gives her cracks me up. He asks her help, requesting that she stay close to him and let him know who it is when people approach. Of course Cho-rim agrees, though I can't help thinking it's a trap.
Mu-gak calls Cho-rim to the station where her friend Ae-ri is under suspicion of stealing five million won (roughly $4600) from her current employer. She swears she's innocent, but that a woman named Myeong-ok was at their restaurant the day the money went missing.
Myeong-ok claims to have been with her boyfriend in Incheon all day, showing the cops photos she posted online as proof. Looking closely, Cho-rim can tell the woman is lying because her body temperature is rising which makes her scent stronger, but the cops fall for her alibi.
Cho-rim and Mu-gak take Ae-ri to the roof to talk it over, where they take a closer look at the photos Myeong-ok posted on the social media sites. Mu-gak says Ae-ri's only chance is to show the photos were faked somehow, and the double-puppydog-eyes from both sides are too much for him to resist — he agrees to help prove Ae-ri's innocence.
Cue adorable pseudo-date montage, as Cho-rim and Mu-gak recreate the photos down to the last detail, trying to find an error somewhere to disprove Myeong-ok's alibi. I'm dying at Mu-gak's bored expression, until it's time to snap a photo and his face comes to life — but only for a split second. I'd bet good money that he's secretly enjoying their not-really-a-date, and the excuse for skinship with Cho-rim.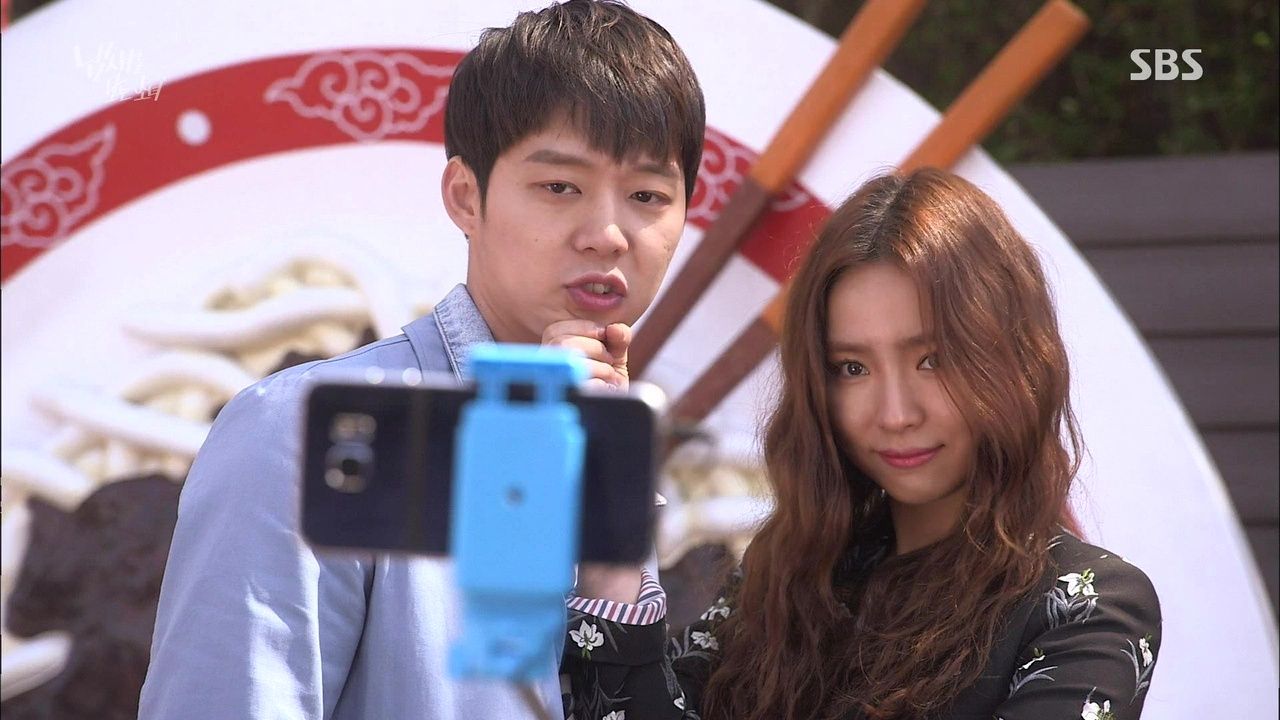 When they get to the place where the couple had lunch, Cho-rim stops Mu-gak from ordering his usual mountain of food, since they're here to re-create the alibi, not have fun. He gives Cho-rim the stinkeye but complies, then gets his revenge by refusing to let Cho-rim use the restroom since Myeong-ok didn't, going by the timestamps. I'll say it again, I adore Mu-gak when he's being petty.
They continue recreating the photos, even riding the rides at the amusement park (I saw that hug!) and finally settling on the trolley. Comparing the photos, they realize that so far, Myeong-ok's alibi holds up, but Cho-rim just knows Ae-ri is innocent. She defends her friend, saying that in high school she was the only kid who didn't make fun of Cho-rim's "monster eye."
They move on to the the next photo, which turns out to be Myeong-ok and her boyfriend kissing, hee. Seeing an opportunity, Mu-gak insists again that they must copy each photo exactly, down to the tiniest detail. Cho-rim is all, "Fine, let's do it!" and they get into a cute battle ("I'm really going to do it!" "What, are you scared now?"), daring each other to do it as their faces get closer and closer.
The trolley hits a bump and ends that argument, knocking their faces together, and they kiss. For a long moment they stare into each other's eyes, then try futilely to convince themselves that that was just for the simulation and no other reason. Riiight.
They head to the last photo location, a curry restaurant, but it doesn't seem to be where it should be. Cho-rim stumbles on her heels and Mu-gak asks why she wore heels for something like this anyway, since they'd be walking a lot. They go into a shoe store to get her some more comfy walking shoes.
Cho-rim giggles when the store employee mistakes Mu-gak as her boyfriend and corrects the woman, but I saw that tiny smile on his face. Suddenly Cho-rim realizes that even though they're in a shoe store, the scent of curry is in the walls.
The employee confirms that the shoe store only opened a week ago and that it was a curry place before. And if it's been a shoe store for a week, then Myeong-ok and her boyfriend had to have been here more than a week ago, busting her alibi wide open.
Faced with the evidence, Myeong-ok confesses to have stolen the money, Ae-ri's boss apologizes, but Ae-ri immediately quits. She offers Cho-rim and Mu-gak some coupons for the place and declines to join them, giving Cho-rim a look that clearly says, "Go for it, girl!"
As Mu-gak and Cho-rim leave to use the coupons, Mu-gak stops dead when he sees a particular car in the station parking garage. He recognizes the license plate as Baek-kyung's car, and he rushes over to see Baek-kyung in the backseat. Knocking on the window gets no reaction, and when Mu-gak opens the door, Baek-kyung's body slumps over lifelessly. DAMMIT, he's dead.
Horrified, Mu-gak orders Cho-rim not to look (how much do I love that his first thought was for her?) and turns back to Baek-kyung. His voice rises as he pleads, "Chun Baek-kyung… you can't die… you can't just die after killing my sister!" He screams at Baek-kyung to wake up so he can kill him himself. Oh, this is hard to watch.
This is the first that Cho-rim has heard of Baek-kyung being under suspicion of being the Barcode Killer, and she cries to think that the nice man she knew could be a monster. Mu-gak screams in frustration, beating his head against the car door as he sees his life's goal of killing the man who murdered his sister snatched from him.
Later the team investigates the car with Baek-kyung still inside, and they assume that he drove himself here and killed himself, as a way of turning himself in. Detective Ki isn't so sure, and just then one of the forensic team realizes the truth – there's a barcode carved into Baek-kyung's arm. Suddenly the situation morphs from possible suicide to murder, and the team smoothly switches gears and starts looking for clues.
Mu-gak walks away to process this, and Cho-rim gently asks if his sister was really killed by the Barcode Killer. He doesn't answer but she knows anyway, and she offers to look at Baek-kyung's body for any scent clues. Touched, Mu-gak's eyes well up and he says she doesn't have to do that, but Cho-rim is strong. She sees the obvious scent of alcohol, but says that there's another scent too, one that she's never seen before.
The team check the CCTV cameras, and discover that Baek-kyung's car was driven to the parking garage by a man who happens to have a history of assault on his record. They put out a warrant for his arrest, and Detective Ki poses as a deliveryman to get him to open his door. The man seems genuinely confused and says he was paid to deliver the car, and it's passenger, who he assumed was only drunk.
He takes them to the fishing area where he picked up the car, and they find a local ajumma who remembers seeing the car there two nights before. She can even pinpoint the time it was left, because the car wasn't there when she left work, but it was there when she went back for the wallet she'd left behind.
Jae-hee closes his restaurant temporarily, ostensibly to mourn his friend, and he worries over the mysterious sentence that Baek-kyung kept repeating while being held captive: A golden fish must meet a lonely man. Mu-gak comes to ask him some questions, and we see his features as Jae-hee sees him, fuzzy and unclear, until Cho-rim deliberately calls Mu-gak by name.
Mu-gak asks where Jae-hee was on the night Baek-kyung's car was abandoned, and Jae-hee pulls out his alibi of working late with his sous chef. Mu-gak interviews the sous chef who backs up the story, but Mu-gak doesn't miss the detail that Jae-hee was supposedly out buying a spice for some of that time. But the alibi holds water, and Mu-gak reports back to Lieutenant Yeom that it would be impossible for Jae-hee to have gotten all the way out to the fishing area and back.
While Jae-hee busily burns what looks like some important papers of Baek-kyung's, Mu-gak wonders to himself what it was that Baek-kyung wanted to tell him the night he disappeared. He visits the clinic, and the teary-eyed nurse gives him information about the place where Baek-kyung was storing his belongings while he went overseas.
As Mu-gak drives to the storage unit he takes a call from Cho-rim, who tells him to pick a number. He chooses one, which she says is tuna kimbap (and which she's already making because both numbers were tuna kimbap), and she offers to bring him some later tonight. Mu-gak adorably warns her to bring a lot, and they make plans to meet in an hour.
Jae-hee is also at Baek-kyung's storage unit, looking for clues as to what his strange sentence could mean. He finds a couple of books, one titled "Golden Fish" and the other "Lonely Man." Bingo. He takes the books and only barely misses running into Mu-gak as he arrives at the unit.
When Mu-gak goes into the unit, Jae-hee quickly escapes behind him. Mu-gak doesn't find anything of note, but he freezes as he realizes that a couple of hanging ropes are swinging gently — someone was just in here. Remembering the dark figure passing him, he rushes out, but can't quite catch the person as he darts between storage units.
Mu-gak rounds a corner and Jae-hee walks right into him, smacking shoulders with him but calmly striding away. Mu-gak stands stock-still for a long moment, then looks down to see blood gushing from a gaping wound in his stomach. Oh dear.
Mu-gak can't feel the pain, but his face goes pale as he loses blood at an alarming rate, and he falls to the ground. As his consciousness slips away, his thoughts are of Cho-rim, waiting for him.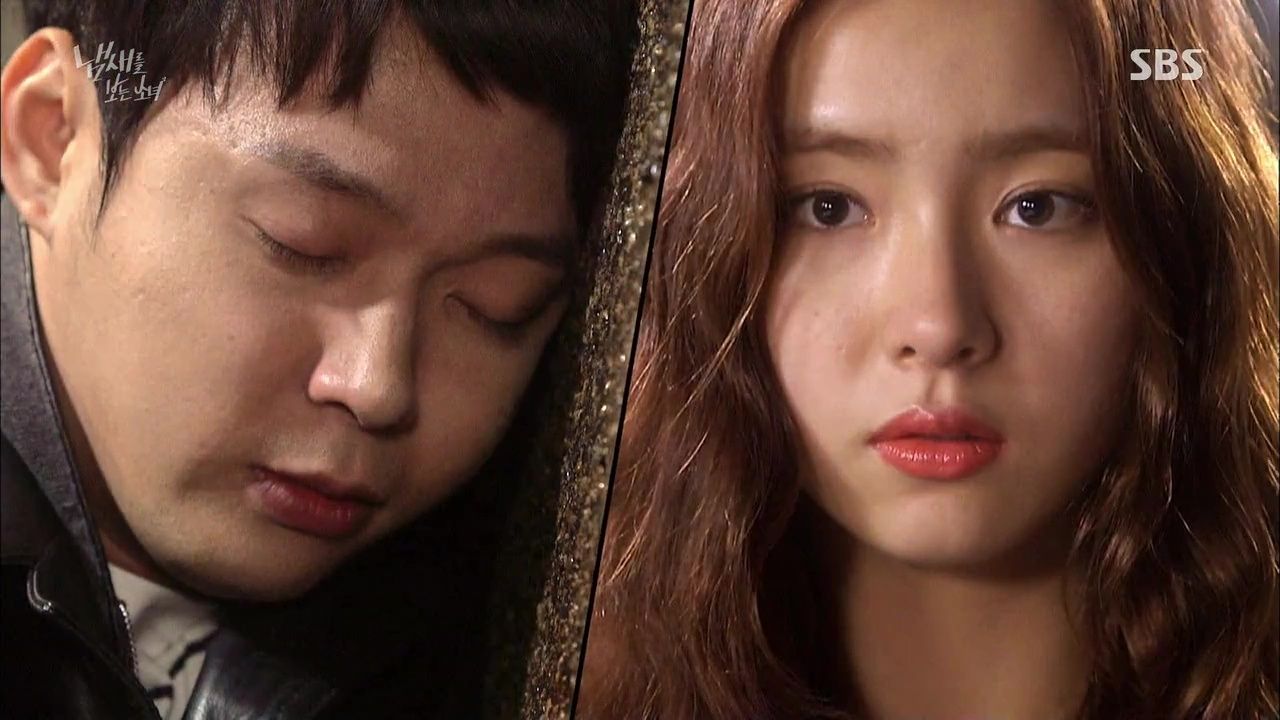 COMMENTS
Well, that escalated quickly. Let's hope someone finds Mu-gak soon!
I'm honestly surprised, and a little disappointed that Baek-kyung was killed off so soon, because I feel like I barely got a chance to know who he really was and now he's gone. I'm sure his death will serve a purpose, and I'm guessing the clue he left about the books will have some significance, but I'm still sad. I was sort of hoping he'd redeem himself with Mu-gak, and team up with him and Cho-rim to take down the real killer, though possibly his clue will still help with that (if posthumously). That clue is incredibly vague and fascinating, but one thing I'm enjoying in regards to this show is that the writer really likes to give us a chance to solve the mysteries ourselves before giving us the answers. So I'm looking forward to hearing people's thoughts on Baek-kyung's golden fish and lonely man clue in the comments!
Another clue I find fascinating, is how we were only just now told that Jae-hee has prosopagnosia, otherwise known as face-blindness. It explains a lot, like how he always stares blankly at a person when he's first faced with them, and only seems to recognize them a few seconds later. That was done so deftly that it really only seemed like a strange personality quirk of his, and I never guessed he might have a sensory processing disorder the same as Mu-gak and Cho-rim. I think it's interesting to tie his character in with the theme of the show that way, and face-blindness isn't so rare that it's out of the realm of possibility. An estimated 2-3% of people have some degree of face-blindness, so it's entirely believable to find out that Jae-hee struggles with it. And I guess we know now, how he ended up killing the wrong Choi Eun-seol three years ago.
I spent some time researching this condition, which is characterized by the inability to recognize faces, even when it's someone the person sees often and knows well. As with any other condition, there are degrees of severity, and based on his behavior it seems like Jae-hee's is pretty severe — he sees everyone as a stranger until they identify themselves. I actually asked some people I know who have this condition, and they clarified that, while it's almost certainly impossible that his face-blindness would contribute to Jae-hee's murderous tendencies, it could have something to do with the fact that his victims don't seem to be of any particular physical type. Since he can't actually tell what "type" anyone is by sight, he must be using some other criteria to choose his victims. I'll be very interested to learn what, if any, connection this condition has with Jae-hee's tendency to dehumanize his victims by marking them with a barcode and turning them into a thing, rather than a person.
And was it just me, or was it scary-impressive how Jae-hee planned out the disposal of Baek-kyung's body so carefully, weaving hsi movements in with his alibi so well that I had difficulty describing it even as I watched it play out. If this is what he's capable of when he has to kill and dispose of a victim without time to plan ahead, how much harder will it be to figure out how he carried out his other murders, the ones he had a year to plan in advance?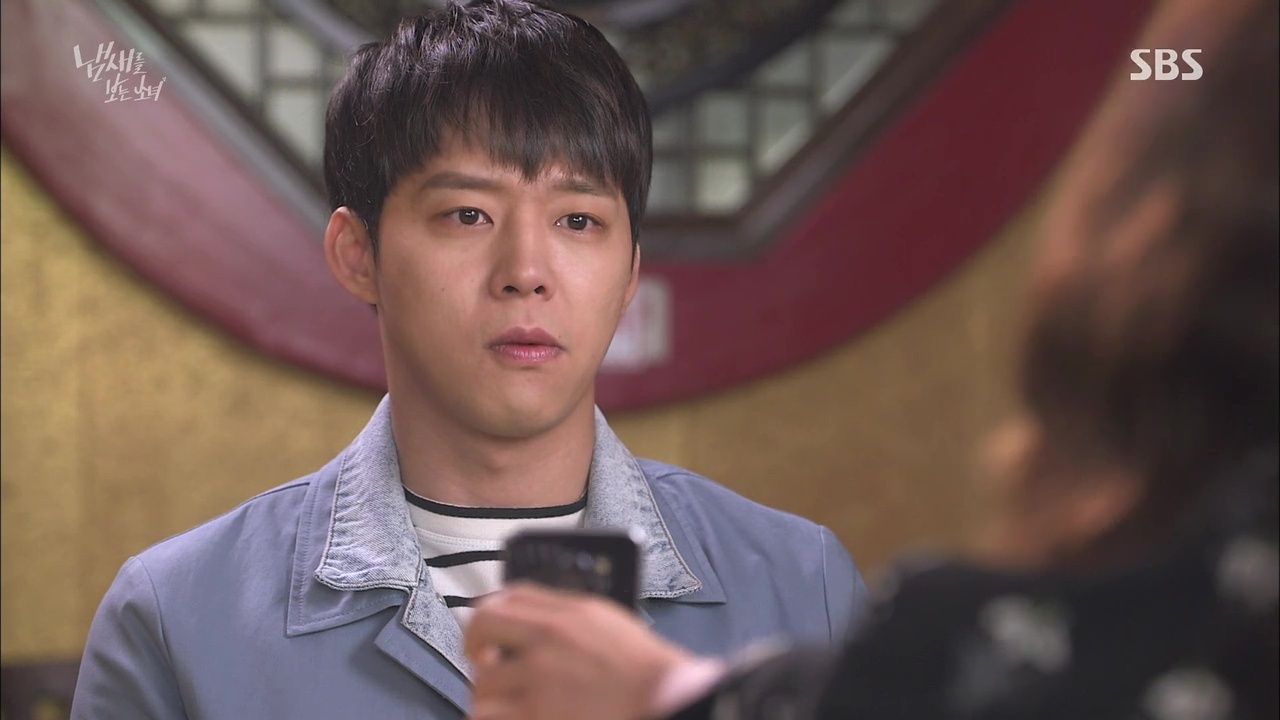 But this episode wasn't all doom and gloom, and I especially enjoyed the progress that Mu-gak made in his growing attraction to Cho-rim. First of all when he asked her to keep working with him, on investigations and in the skits, that struck me as such a turning point for him. His biggest failure in his life (as he sees it) was not protecting his sister, and to ask Cho-rim to stay near him and promise to protect her must have taken a lot of courage on Mu-gak's part. But I love that this couple doesn't shy away from each other, on any level, and if Mu-gak feels he can protect the girl he's coming to love, then he's more than halfway to healing his heart enough to let himself love her.
On a cuter note, on their not-a-date, it didn't escape my notice that Mu-gak was the one initiating most of the skinship — grabbing Cho-rim to steady her on the rides, guiding her around to the next photo location with a gentle hand on her arm or back, and even suggesting that they had to re-enact the kiss photo… you know, for science. For the first time he seemed to be actually looking for reasons to get closer to Cho-rim physically, and his shy smile when the shop owner mistook him for her boyfriend was just the cutest. I was also happy to see him think of her first when he realized Baek-kyung was dead, and not pushing her away "for her own good" when she offered to look at the body for clues. Their friendship and partnership are just getting stronger and stronger, and the more I see, the more I love them both.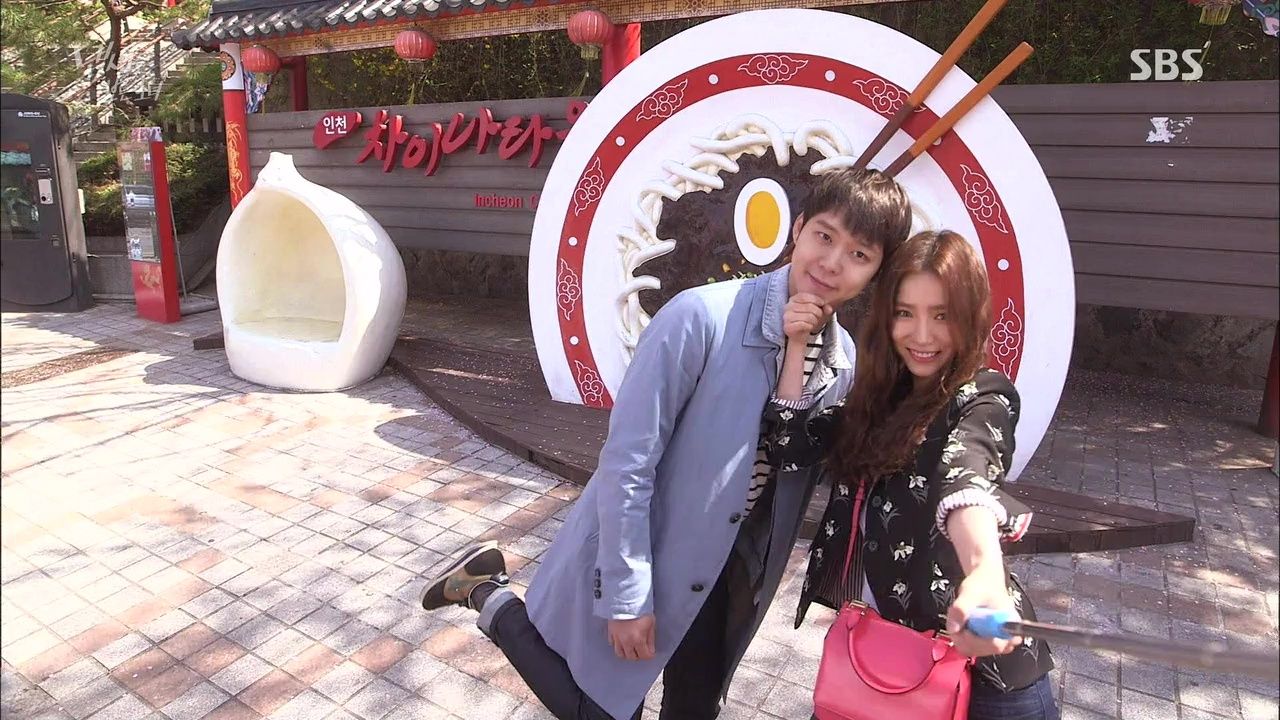 RELATED POSTS
Tags: featured, Girl Who Sees Smells, Micky Yoochun, Namgoong Min, Shin Se-kyung, Yoon Jin-seo