Roses and catnaps for Byun Yo-han and Song Ji-hyo's Ex-Girlfriend Club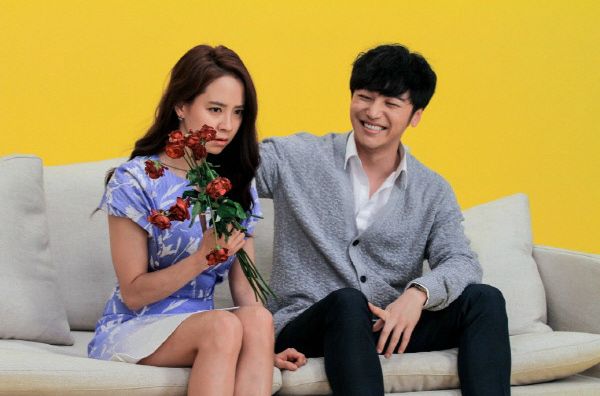 I'd be making that face too if my ex-boyfriend created a hit webtoon airing our past relationship laundry and then attempted to appease me with flowers. The first stills are out for tvN's newest romantic comedy couple Song Ji-hyo (Emergency Couple) and Byun Yo-han (Misaeng), shooting their first love-and-hate teaser for their new drama Ex-Girlfriend Club. They look awfully cute together; reuniting exes are now just standard in dramaland, but maybe this couple is one that I'll actually root for to get back together.
The new Friday-Saturday drama comes from the PD of Pasta and Miss Korea and the writer of My Country Calls and I Am Sam. Byun Yo-han stars as a webtoon artist who creates a series all about his ex-girlfriends — all four of them. It doesn't sound like a very big number, until of course the webtoon itself brings them back into his life all at the same time.
The catalyst for the mass reunion is the webtoon's successful adaptation into a movie, reuniting him with Song Ji-hyo, who plays a movie producer. The project brings all of the other exes back as well, from chic alpha girl Lee Yoon-ji (Dr. Frost), to first love noona Jang Ji-eun (Gu-am Heo Jun), to airhead actress Ryu Hwa-young (Today's Love).
The drama is about the webtoon making everything public — Byun Yo-han becomes Public Enemy Number One, but also everyone's public boyfriend, for better or worse. And he has to face the exes depicted in his webtoon and movie, which the drama dubs the "Lion Face-Off Scandal." Me-ow?
Ex-Girlfriend Club follows Superdaddy Yeol in May.
Via Osen
RELATED POSTS
Tags: Byun Yo-han, Ex-Girlfriend Club, Song Ji-hyo