Thing vs. Thing: Seojinnie vs. Chajumma
girlfriday: I can't really imagine a context in which you'd compare Lee Seo-jin and Cha Seung-won as actors, since they're such different types. But as variety personas on Na PD's shows (Three Meals a Day), sometimes it feels like there's a meta narrative of them competing against each other, even though they've never even been on the same show at the same time.
javabeans: Yes. The minute Cha Seung-won (or as we like to know him, Chajumma) came onboard Three Meals a Day, people were comparing him to Lee Seo-jin/Seo Genie/Seo Genius and his image as the helpful but gruff and complainy luggage-boy-slash-farmhouse cook. And now that Chajumma's season is over and the new season of the farmhouse edition is back, everyone's scrutinizing Seojinnie's cooking performance through the lens of Chajumma. "How does HE make soup? Whose bread is better?"
girlfriday: Now that we're in the second season, Seojinnie keeps insisting that he tooooootally doesn't care, but then Na PD has him building an oven and making his own bread just like Cha Seung-won did on the fishing island, and Seo-jinnie confesses to learning a bread recipe from a pastry chef.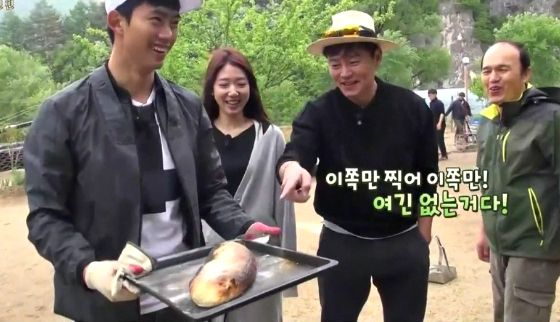 javabeans: Wow, he actually went out and TRIED? That's so against his whole Three Meals persona! The one where as long as he technically made three meals, he's content that he's fulfilled his variety obligation.
girlfriday: I know! The things he repeats the most on that show are: "No, why would I do that?" and "It's okay if it tastes bad. We just have to act like it tastes good." But with the bread, he kinda sorta tried for real. He still managed to muck it up and had to remake the dough, but yeah, that's trying for Seo-jin.
javabeans: See, I feel like you can't try to compete with Chajumma the master chef on his own turf. So unless Seojinnie was going for the comedy version, that was a failed mission from the start.
girlfriday: It was awesome to see him sweat as he was waiting for the oven to bake his bread. He was so nervous, it was like watching someone else. He confessed that he doesn't like to fail and so doesn't try new things, and that this is the most nervous he's gotten in a long time.
javabeans: That explains a lot about him. He likes being perfect and put-together too much to let the cameras catch him being bad at things. It's funny because in variety, you really have to show your flaws and let yourself be exposed to laughter. But Na PD let him be flawed while keeping his perfect persona together. Which explains why he's a magical editing genie.
girlfriday: He managed to make that persona funny, like the annoyance of having a hyung who's always, Don't hate me because I'm beautiful.
javabeans: Yes, it's such a pain in the ass but also appealing. Because fine, yes, you are beautiful.
girlfriday: I think sometimes that Na PD has a crush on him.
javabeans: Sometimes? Always! It's like the kid brother who has a crush on his big bro and can't express it in a normal healthy affectionate way, so then he just puts mice in his shoes and pudding in his pockets. It's love!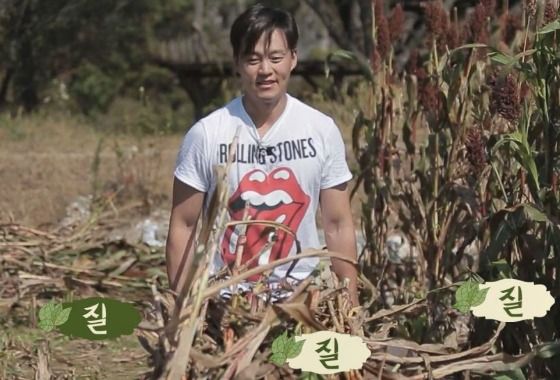 girlfriday: You have a weird relationship with your brother, I'm thinking. I do think that Seojinnie has the edge on the bromance with Na PD, because they have such great chemistry.
javabeans: With Na PD, yes. But Chajumma has his wife too, in Yoo Hae-jin! And if i were stranded on an island, I'd trust Yoo Hae-jin to feed me more than Na PD. Fine, Na PD may be fundamentally driven to starve people so that may be an obvious statement, but we also saw how terrible Yoo Hae-jin was with a fishing pole. Still, I'd trust him to try to catch things, and if he caught them, to share them with me.
girlfriday: I can picture Na PD catching one tiny fish after five hours, and then making you play a game to win the right to eat it.
javabeans: Would you rather be Seojinnie and have to take care of your posse all the time (hence extra work), or would you rather be Chajumma and have a posse who was useless, and hence have to do all the extra work yourself anyway?
girlfriday: I feel like this is a trick question. I think my general personality tends more towards Seojinnie, because he doesn't care, or at least gets to be grumpy about all the work he's doing. Being Chajumma feels like too high a bar to maintain, or even aspire to.
javabeans: So you're saying, you'd rather be Seojinnie — perfect, but grumpy — rather than Chajumma — perfect, unceasingly, without rest. I can get onboard with that.
girlfriday: Oh but Chajumma has the better posse, because Hojoonie is SO FREAKING CUTE. Plus, the puppy-kitten rivalry for his love was one of my favorite ongoing dramatic storylines.
javabeans: True, an adoring, wide-eyed posse is more fun than one who doles out praise in droplets.
girlfriday: Na PD has announced that this will be the final season of the farmhouse in Jeongseon for Three Meals, which is shorter than the four seasons they had initially planned. But it turns out that they only leased the farm for a year and ran out of time. Whoops. So I guess next season they'll have to change it up somehow.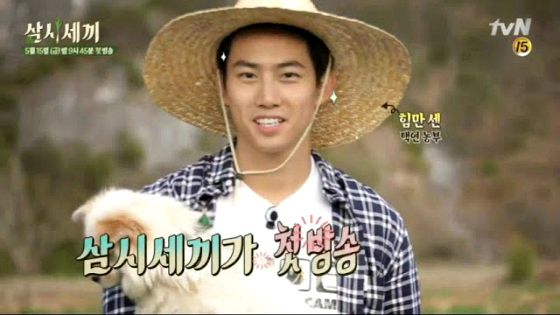 javabeans: He's given coy statements in the press about the possibility of Seojinnie and Chajumma meeting, which could be a hint… but also promises absolutely nothing.
girlfriday: But wouldn't it be awesome if they did a joint season somewhere (else) in the middle of nowhere, with much suffering and epic cooking battles?
javabeans: Dude, that would be fascinating — not because of cooking, but to see the dynamic shake out. They're both of an age, similar in leading-man casting status, and alpha types. How would that even work? Who would be whose sidekick? Would there literally be too many cooks in the kitchen?
girlfriday: Yeah that's the part that would make me super nervous, but also suuuuper curious to watch, because you'd be trapping two alpha dogs on an island and leaving them to duke it out.
javabeans: Omg, can you see them bringing Sohn Ho-joon and Taecyeon along, and then the two sidekicks getting all competitive?
girlfriday: My hyung's better than yours! Mine cooks better! Mine has better hair!
javabeans: It can't be a straight-up cooking show, because it's too obvious that Cha Seung-won is better at that. You've gotta even the playing field somehow — to make it a fair battle, you'd have to introduce driving, hotel-reserving, tour-guiding, and concierge duties to the plan. Maybe drop them off in a foreign country?
girlfriday: What Na PD should do is turn guest-casting into a competitive sport between them: Who can bring better cast buddies? Seojinnie will call Ji-woo, who will bring her best friend Kim Tae-hee, and Chajumma can bring Kim Sun-ah.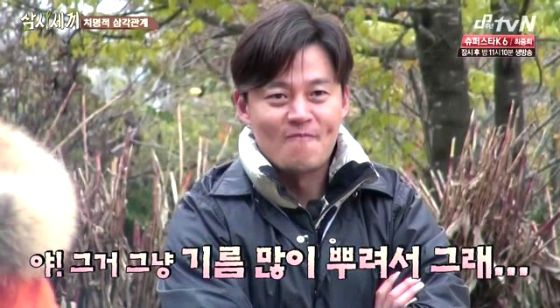 javabeans: What if you made Seojinnie and Chajumma compete to win the halbaes' love?
girlfriday: Oooh, those are some high stakes. I don't think I could take it if Seojinnie wasn't their number one!
javabeans: But have you SEEN Chajumma's cooking? The way to a halbae's heart is through his stomach, haven't you heard?
girlfriday: Okay, it's off to cooking school for Seojinnie!
javabeans: Although with this halbae crowd, maybe bartending school would be the better bet.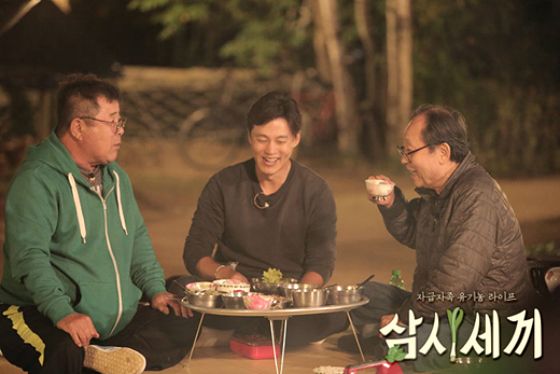 RELATED POSTS
Tags: 1 show to rule them all, Cha Seung-won, conversation post, featured, Lee Seo-jin, Thing vs. Thing, Three Meals a Day