Warm and Cozy: Episode 14
Get ready for an episode of cute!… is something I can't say, despite the image above that might suggest otherwise. It's a fleeting moment of sweetness, yes, but in a sea of circular logic and backwards progress. My kingdom for movement that actually takes us somewhere! I guess I could have put up an image of people being petty or moping or sacrificing to better represent the contents of the episode, but we have the rest of the recap for that.
SONG OF THE DAY
The Hi-Lites – "바보 둘의 행진" (March of two idiots) [ Download ]
Audio clip: Adobe Flash Player (version 9 or above) is required to play this audio clip. Download the latest version here. You also need to have JavaScript enabled in your browser.

EPISODE 14 RECAP
After seeing the mayor comforting Jung-joo, Gun-woo sits outside, angry-drinking and ignoring Jung-joo's calls. She wonders why he told her to wait for him and then didn't returns, but finds him when she wanders outside.
He's in a full-on jealous snit, and what ensues is the most frustrating, pig-headed conversation—they snipe at each other because they're hurt, and in their hurry to stick needles in each other's prides, they don't see they're hurting themselves more. Gun-woo says he was giving her space to be cozy with the mayor, and she sarcastically thanks him for the consideration. When she asks what he was planning to tell her, he asks sarcastically if she even remembered, or wondered what he'd say.
Jung-joo says defensively that she was more worried that he'd ask her to go with him when he left Jeju. He retorts that it's a good thing he wasn't going to ask that then. OH MY GOD YOU TWO.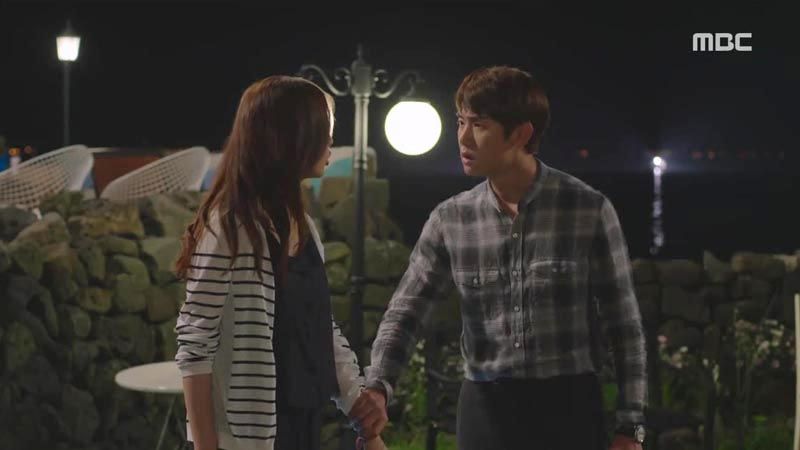 She asks if his announcement was that he was going to take someone else, thinking of Ji-won. Gun-woo snaps that it should mean nothing to her whether or not he goes with anyone else, and she agrees that it means nothing. ARGH. At this rate you two don't deserve a functional relationship! Go on, screw yourselves over more.
And then they do, of course, because Gun-woo says she sure hopped lovelines fast, going to the mayor so soon after she'd admitted how much she liked Gun-woo. He asks whether she built up her feelings for him so she could use him.
That crosses the line, and she gets up to leave. He grabs for her arm, and she tells him angrily not to come inside—not today or afterward, since he's leaving anyway. With nowhere to go, he just lingers outside the restaurant—and stays there all night, hunched over glumly.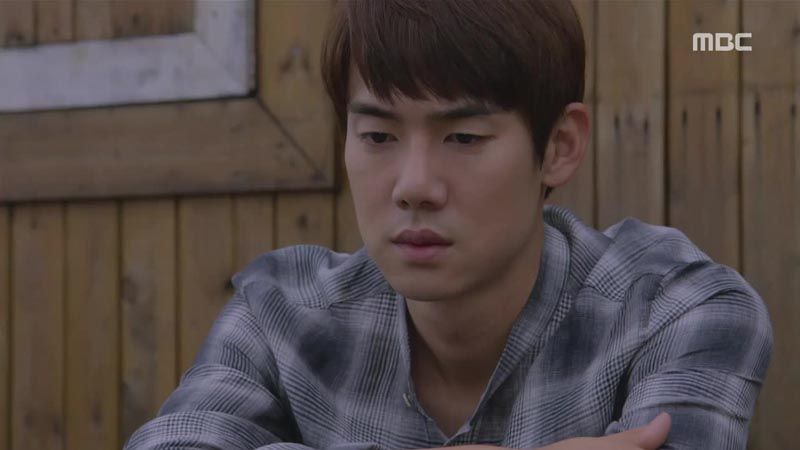 In the morning, he finally gets in his car and drives to the resort, looking miserable as he crawls into bed. He looks ill enough to worry his sister, though he asks her to leave him alone and not tell hyung about it.
He's sick for two days, and Poong-san worries about his absence while Jung-joo tries to act like it doesn't mean anything. Noona wonders if his illness was due to Jung-joo, relieved when he snaps that it's not. She also asks if he means to go away with Ji-won, since she heard she's quitting her job to go to New York.
Realizing that means Ji-won meddled, Gun-woo's face takes on a grim look and he decides he'll have to "take care of her" before he goes. Well, at least you managed to put two and two together. Granted, you had to have those twos put into your hand for you, but it's better than nothing.
When he calls her out on it, Ji-won pouts that she only told Jung-joo they were both going to the same place. She adds that she can't give him up even after learning his "weakness" (his father's misdeeds), and that shows just how much she likes him. Oh how generous of you. Here, you win a cookie.
She guesses that he can't tell Jung-joo about it, and he agrees, saying he likes her too much to reveal his weakness. When Ji-won urges him to go to New York together, he just tells her to go her own way—he'll go his.
He clears the air with his brother about why he's leaving Jeju, and Jung-geun is sorry for the awkwardness but also thankful to Gun-woo for removing himself from the situation. Jung-geun intends for this to be a temporary measure, until his relationship is more stable and can withstand the fallout. Gun-woo agrees to be there at the wedding, though, and to cook for the occasion.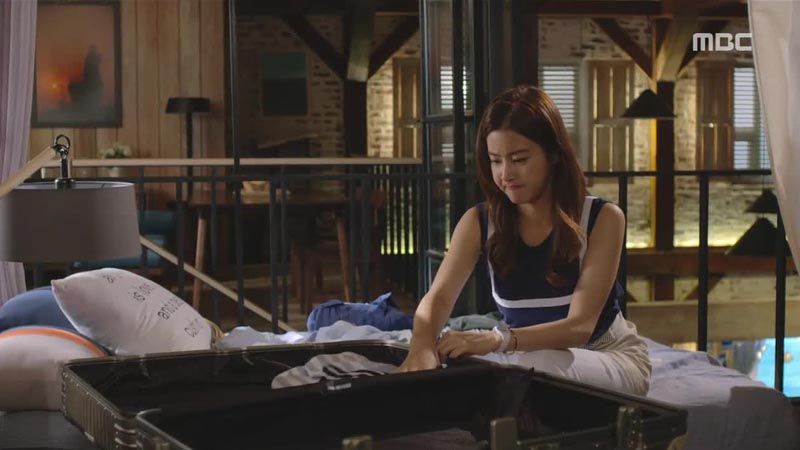 Poong-san suggests that Jung-joo see Gun-woo at the resort, using his luggage as an excuse, but she decides to send Poong-san to deliver it. Packing Gun-woo's things brings back a flood of memories that bring her near tears, and she calls him a jerk for leaving without hearing her out.
Gun-woo intends to return to the restaurant, using hyung's wedding preparations as his excuse, but is hurt to hear that his bag has already been packed for him. Noona has some choice words for Jung-joo, calling her shameless and ungrateful for putting him through all this pain when he was so good to her.
He defends Jung-joo, warning noona not to talk about things she doesn't know about—but when he goes to the restaurant to get his bag, he ends up spouting all of noona's words at Jung-joo. How could she send him off with zero disappointment? How could she have no sympathy for the cold he caught while waiting outside? How could she be so shameless?
Jung-joo just accepts all his accusations and tells him to go. He storms off with his bag, just in time to run into Wook, spurring another round of jealous sniping. Gun-woo snaps at him for being ready to swoop in right away, but that just spurs Wook to move faster and speed along the courtship while Gun-woo's still here. He thanks Gun-woo for his "help" as he heads off to buy the ring he ordered.
Poong-san worries that Gun-woo just gave his rival a jumpstart, but Gun-woo huffs that Wook will get rejected if he presses forward now. While Gun-woo's still around, she won't accept the mayor's feelings, he says with certainty. And then, with a little less certainty, he wonders, "Would she?" Good lord, I don't understand this whole game where you're determined to keep her from being with some other dude by sticking around, all while insisting you'll be leaving without her. Pick a lane! Put a ring on it or go! I am so out of patience for this nonsense-o-go-round.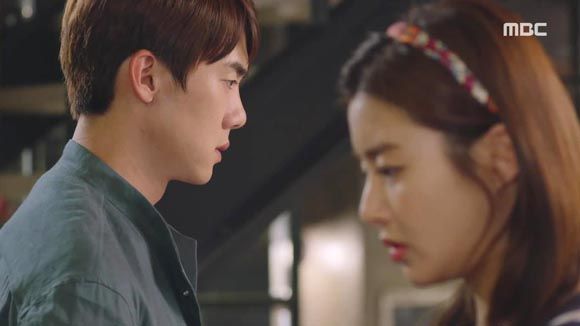 Gun-woo returns to the cellar, contemplating the necklace he'd first left there, then took back, and now leaves again. He also has the pair of plane tickets that he's been unable to show Jung-joo.
As he leaves, he tells Jung-joo that he had wanted something desperately, but has decided now to leave it behind—he isn't sure he can take it with him. He apologizes for his words earlier, taking them back and reminding her that he respects her. Softening, Jung-joo replies that she's not unmoved by his departure, and tells him not to be sick, because it makes her feel bad.
With the hurt feelings smoothed over, Gun-woo explains that he's cooking for his brother's wedding, and will be leaving Jeju right afterward.
Hae-shil tries on bridal gowns, and Jung-geun says that she looks the second most beautiful that he's seen her—the first being the day she saved him in the water. He calls her a warm, strong person and makes a few pre-wedding vows now, promising to keep his body in shape and be careful not to let his hair fall out to preserve his black pearl-like beauty. He also asks her to promise to forgive him just once later, and she promises because she has no idea what that is.
Wook picks up the diamond ring he ordered from the jeweler, and news travels fast to his staff, who speculate that he's going to propose today. Mr. Gong wonders why he's heavy-hearted to hear that since he'd been on Wook's side, but he even goes so far as to dissuade Wook from making his big gesture tonight.
Mr. Gong suggests that tonight won't be a good choice since she'll be bound to be busy with tomorrow's wedding, but Wook is determined to do it. He's fixed on the idea of fair play and winning her agreement while Gun-woo's still here. And if he's rejected, well, he can still try again later.
That leaves Mr. Gong in a dilemma, because he's reminded of the debt of gratitude he feels toward Gun-woo's father, and he feels caught in the middle between the two suitors.
Gun-woo pulls up to the restaurant jus as Poong-san calls to tell him not to come—Jung-joo's out and may be receiving the mayor's proposal today. Put out, Gun-woo lies that he's glad he doesn't have to come, and then Mr. Gong texts him to come to Jung-joo's dilapidated shack.
Ah, then Mr. Gong tells Jung-joo to come quickly to that house to meet a potential buyer. He gets her inside the house and face-to-face with a confused Gun-woo, bolting outside and barring the door shut before they can react. Wily old man!
Gun-woo says sourly that Mr. Gong must have prepared this to help Wook win her heart, and that he got in the way. That explains the candles and balloons laid out inside the house, as well as the food spread. Mr. Gong also had the forethought to request Jung-joo's phone on the way, taking it with him.
So when Wook calls her phone, Mr. Gong answers and rattles off a quick excuse in bad falsetto, leaving Wook confused and, for the moment, stood up.
Gun-woo settles in to wait for Mr. Gong to return, but Jung-joo asks for his help finding an exit path. He asks if she finds it too "dangerous" to be alone with him, then huffs when she says that he's "Just Baek Gun-woo" to her. Still, when invites her to sit down for a last going-away party, she agrees.
Mr. Gong finds Wook still waiting for Jung-joo outside the restaurant, dressed to kill with his ring and red roses at the ready. He droops knowing that she's not coming, and admits to Mr. Gong that even though he could sense that today wouldn't work out in his favor, and that she'd have her mind too full of Gun-woo to think of him, he had hoped. He'd wanted to inspire the same heat that Gun-woo did, rather than being safe and warm in the background until the rival left.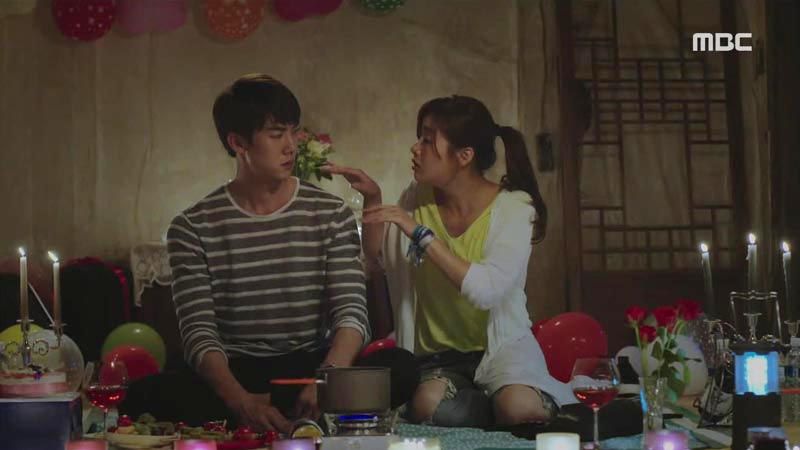 Gun-woo uses the fruit and chocolate left by Mr. Gong to rig a fondue setup, and teases Jung-joo with a bite before letting her eat it. She chides him not to joke around all the time—especially in this house. She leans in to warn him of the ghost who lives here, which is why the house won't sell.
She fashions a whole story about the woman who died waiting for her husband to return from the mainland, who now haunts men thinking they may be her husband. Gun-woo remains unspooked while she waves her hands eerily at his throat, just staring at her intently until he grabs her arm and puts it around himself, drawing her in for a hug. "You're the one who made me scared," he says, "so you take responsibility."
He says he'll need to hold her for a bit longer, and acknowledges that he'd treated her badly, doing whatever he wanted all the time. He says her feelings for him have made him a better person, since he now thinks of her first: "Don't be hurt or in pain because of me anymore. I'll… let you go."
He pulls back from the embrace, and Jung-joo wonders what the wife ghost could say to the husband to scare him the most. She decides that it's "The moment you left, I forgot you. I won't wait for even a second." On that note, she excuses herself to look for an exit, and he says to himself, "It really is frightening."
Jung-joo returns to Warm & Cozy late that night, where she learns from Poong-san about the rumors that the mayor would propose to her tonight. In his characteristic way, Wook downplays her no-show and says he was just worried about not being able to contact her. He also lies that he's home instead of standing outside her door, though she sees him the moment she steps outside.
Feeling terrible, she apologizes for today. Wook just sighs and tells her something he read that describes his feelings perfectly: "If I wait, it feels like you won't come. If I approach you, it feels like you won't like it. But to give you up—I like you too much for that."
As he starts to leave, Jung-joo tells him that she likes to act in accordance with her words and be clear about her intentions. Today will be her last day of indecision, and tomorrow she'll give her answer.
Still at the shack, Mr. Gong chides Gun-woo for not taking advantage of the occasion and expressing his feelings. Gun-woo doesn't want to explain about his terrible father, but Mr. Gong hints that Dad may not be as bad as he believes. He decides to think the matter over carefully, and if it seems that father and son are fine living separate lives, he won't say anything. But if he thinks they still need to hash it out, he'll call them together.
Hae-shil and Jung-geun spend the eve of their wedding out by the pool, and she hopes the skies remain clear for the outdoor ceremony. Jung-geun reminds her of the adage about rainy weddings leading to good marriages, adding that his first day in Jeju was a rainy one. He recalls seeing a melancholy-looking woman sitting by the bluff, and it filled him with a sorrowful feeling. He wonders if it was Hae-shil (while we see that it was), and the couple smiles to think that their connection comes with implications of good fortune.
Wedding day rolls around, and Hae-shil talks to noona before the ceremony as she prepares. She wonders at Gun-woo's sudden departure and can't help but think he's running away, and that it may have something to do with her, though noona assures her that there's no reason for that.
At the restaurant, Jung-geun has a chat with Gun-woo and apologizes again for putting him in this situation. Gun-woo takes everything in stride, keeping his mood light as he explains his change in plans to go to Hong Kong instead of New York. Jung-geun asks if he'll stay in contact with Jung-joo, and Gun-woo just shakes his head wistfully and says, "If I stay in touch with her…." What, Gun-woo, what? You'd both be happy? Heaven forbid that should happen.
The happy couple is wed in the restaurant's outdoor garden area, while the reception is laid out inside. Gun-woo is ready to leave even before the ceremony is even over, needing to catch his flight. His exchange with Jung-joo is artificially light as they talk about rent payments and text messages instead of their feelings.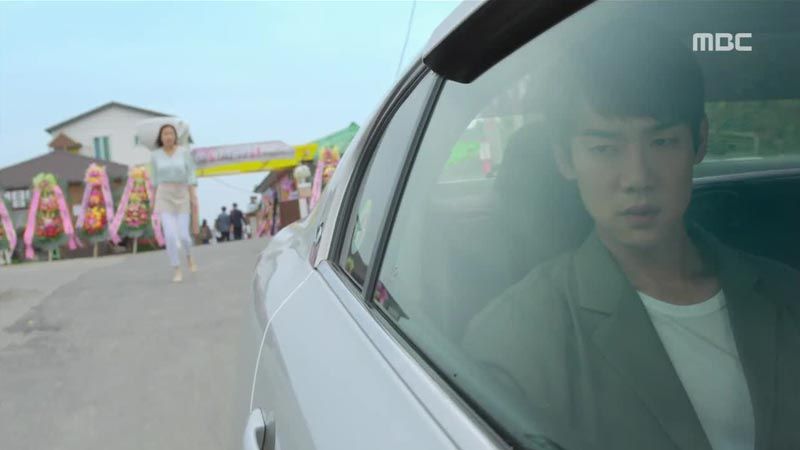 She watches him go with wistful eyes, and seconds later she gets a text message from Gun-woo: "Since I'm gone, you're crazy sad, aren't you? I'd like it if you are. I thought about it all night long, but ultimately, I'm a bad guy."
Jung-joo runs outside as his taxi is pulling away, too late to stop him. His message continues, "I don't want you to be happy with someone else. There's no guarantee I'll return and we made no promise to wait, but I want you to keep liking and missing me. And I hope that these last words will pop the last balloon you have for me. Lee Jung-joo, keep liking me."
They both have tears in their eyes as the car gets farther and farther away. Jung-joo mutters to herself, "Bad jerk. You think I'm crazy?"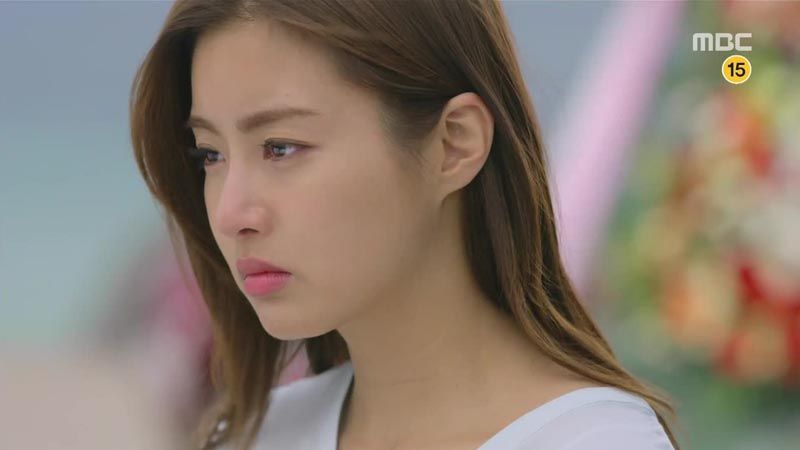 Poong-san hears that Gun-woo left and asks why Jung-joo rejected his feelings if she likes him so much. Snd she scoffs at the idea that Gun-woo likes her, but Poong-san counters that he told everyone that he did, and wonders if she turned down Gun-woo's proposal to leave together.
Confused, Jung-joo says he was supposed to go with Ji-won, only to hear otherwise. Not only is she still here, Ji-won steps inside and shamelessly admits to lying to give Jung-joo the wrong idea, and that she hated seeing Gun-woo dangling after Jung-joo.
Jung-geun clears the air further by telling Jung-joo that he sent Gun-woo away—he didn't just skip out frivolously. While Gun-woo didn't want to divulge why, he has real reasons for leaving. He asks Jung-joo not to blame Gun-woo, because he'd saddled Gun-woo with a big burden.
Now Jung-joo thinks back to all the things Gun-woo had said to her earlier, hearing them without the "I'm just joking" qualifiers he'd attached. Like how he left something behind despite wanting to take it with him. That sends her to the cellar, where she finds the necklace and his expired plane tickets, one of which bears her name.
Shocked and heartbroken, Jung-joo stares at the tickets and starts to cry, and Poong-san is so worried he asks Wook to check on her.
Wook sees her tearstained face and decides to come clean, telling her that there's something he's done that keeps him from being a good guy. He tells her that Gun-woo did in fact come for her that night when she was drunk (at the pojangmacha), which means that the things he told her that she assumed were her imagination were all sincere.
Saying that his mind feels clear now, Wook says he can go back to being a good guy: "And since I'm just a good guy, Lee Jung-joo, you should go now." He advises her to go to the airport to stop Gun-woo from leaving, and she does just that.
Jung-joo hurries through the airport terminal, thinking all the while: "Gun-woo-ya, I feel like I'm going crazy now that you're gone. I didn't believe your words. I didn't have the confidence to believe in those words. You felt just as desperate as I did, didn't you? Baek Gun-woo, where are you? No matter what happens with you, I'll keep liking you."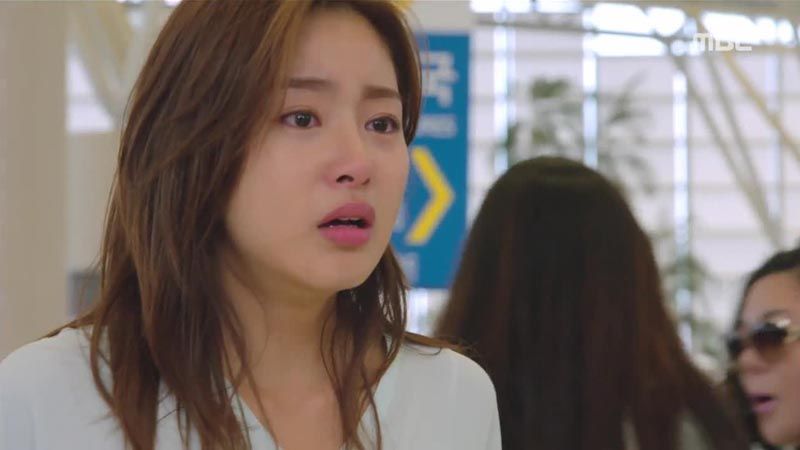 COMMENTS
Omgahhhhhh why does everything go 'round and 'round in this drama, and why does nothing ever stick? Why do people do things for stupid reasons that defy earth logic, and then play the martyr about them? Why are people so tragically stubborn or blind or dumb that they have happiness staring them in the face, and instead of grabbing with two hands, they insult it, mock it, and stick pins in its soft heart, under the guise of protecting their own?
For all the frustration of earlier episodes, I was actually happy with the turn last week when Gun-woo admitted his feelings and realized they went disregarded because he'd been such a joker. It was believable that Jung-joo would be once bitten, twice shy, and I gained a lot of satisfaction out of seeing Gun-woo ruefully acknowledging that his light-as-froth attitude about everything worked against him, and that he had to make up ground. That kind of movement would have salvaged the show for me and kept me on the warm and cozy train, because at least people were trying and hearts were warmed.
That trajectory denotes growth and discovery and makes our hero proactive about his feelings, lest he miss his window of opportunity to win her heart. But then he just reverted to his stupidly joking defense mechanism again, and we went back around in circles again. And while Jung-joo usually grounds the show and functions as the lens through which we experience this world, the longer his noble idiocy goes on, the worse she seems by contrast. Because yes, he's dumb for saying things like "Would you go with me? Ha ha, just kidding" but there's a point at which taking things purely at face value and not reading anything into them—ignoring context, delivery, jealousy, heated emotions running high—makes you simple too.
Really, I have to again credit the two leads for selling the emotions, because even when the plot is making the rounds of Nonsensetown for the hundredth time, I do believe the characters' feelings, and I think Kang So-ra and Yoo Yeon-seok are working hard to find ways to ground the characters in something genuine. If they weren't, I don't think I could even watch the show because its logic would be too alien to follow (as it is, I spend most of the episode asking my screen, "Why? Why is this happening?"). I don't believe their rationales for doing the things they do, but I do actually buy into their emotions. It's not their fault the writing dealt them a bum deal, but I'm grateful that they haven't given up on the show.
That said, I'm glad we're heading into the last week of the show, because frankly when we were at Episode 8 I was wondering how we were only halfway done when it kinda felt like we were done already. This story was never meant to sustain this many episodes, and I feel wistful for the funny, adorable, cheeky moments we did have earlier because those had value.
It's just, when you get to this point and nobody makes sense anymore, it's a little like putting a beast out of its misery. I know I'm tired of beating the dying horse myself, especially when the couple is so dense that you wonder that even if they got to their romantic resolution, you wouldn't feel safe leaving them to their own devices. At this point it feels like they're doomed to fall apart without well-meaning folks stepping in to guide them in the right direction. It takes a village, indeed. I just hope the last week at least manages to bring us back around to cuteness, now that the filler episodes have been filled and I can stop wanting to wring Gun-woo's neck at every turn. Soooo adorable, and soooo tear-your-hair-out frustrating.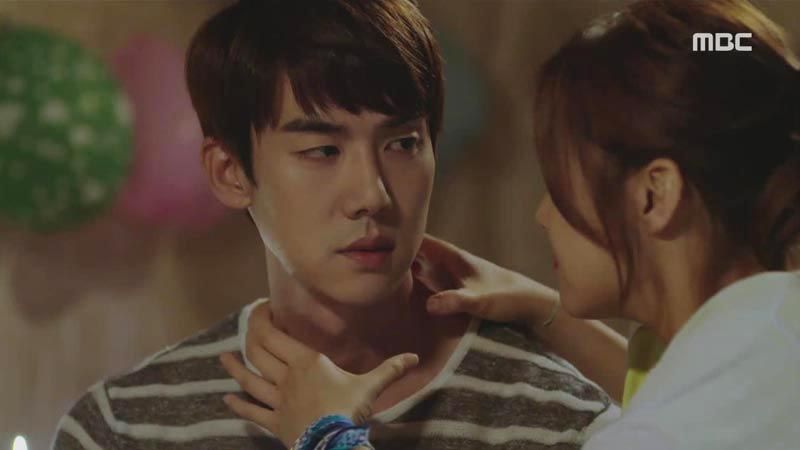 RELATED POSTS
Tags: featured, Kang So-ra, Warm and Cozy, Yoo Yeon-seok