Hidden Identity: Episode 12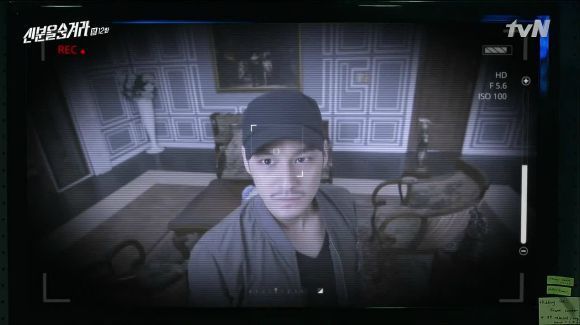 The team prepares to meet the Ghost — or at least find out who he is. It's no surprise that the list of Ghost candidates are all men in power, although the type of power might be surprising to some (or maybe just to Tae-pyung). Figuring out who might be the Ghost would suggest that the next step would be capturing him, but it's never that simple, is it? Especially when the Ghost seems to always be one move ahead of Jang and his team.
EPISODE 12 RECAP
After monitoring In-kyung's messages, the team finally gets a lead that prompts them to start preparing to meet the legendary Ghost. The meeting In-kyung is setting up will be held at a charity fundraiser and the team confirms where the VIP room will be. The problem now is getting past the security set-up.
Duk-hoo points out that there are three security cameras that constantly sweep the hallways leading to the VIP room, so planting cameras and bugs won't be easy. But Gun-woo volunteers for the task, insisting that even if it doesn't look it's possible, they'll have to find a way.
It'll be even trickier to get their hands on the VIP guest list, since the exclusive invitations were only sent out by In-kyung. Tae-pyung "volunteers" Min-joo to get that information from In-kyung's computer. Ha! None of their missions have seemed particularly easy so far, but Jang seems extra serious when he warns his team to be careful.
Late at night, Gun-woo is stationed near the doors leading to VIP area where the event will be. In the team's portable monitoring station, Duk-hoo reassures him that he'll be watching the cameras and cuing Gun-woo when to go. As soon as the security guy leaves the area during his rounds, Gun-woo slips inside, hiding around the corner so the camera doesn't see him.
Duk-hoo waits for it to sweep across, then counts down so Gun-woo can scurry across and hide behind a pillar before it pans back that side of the room. He manages to make it all the way to the VIP room by dashing from pillar to pillar when the camera isn't pointed in that area, although not without at least one nerve-wracking moment when Duk-hoo's countdown was slightly off.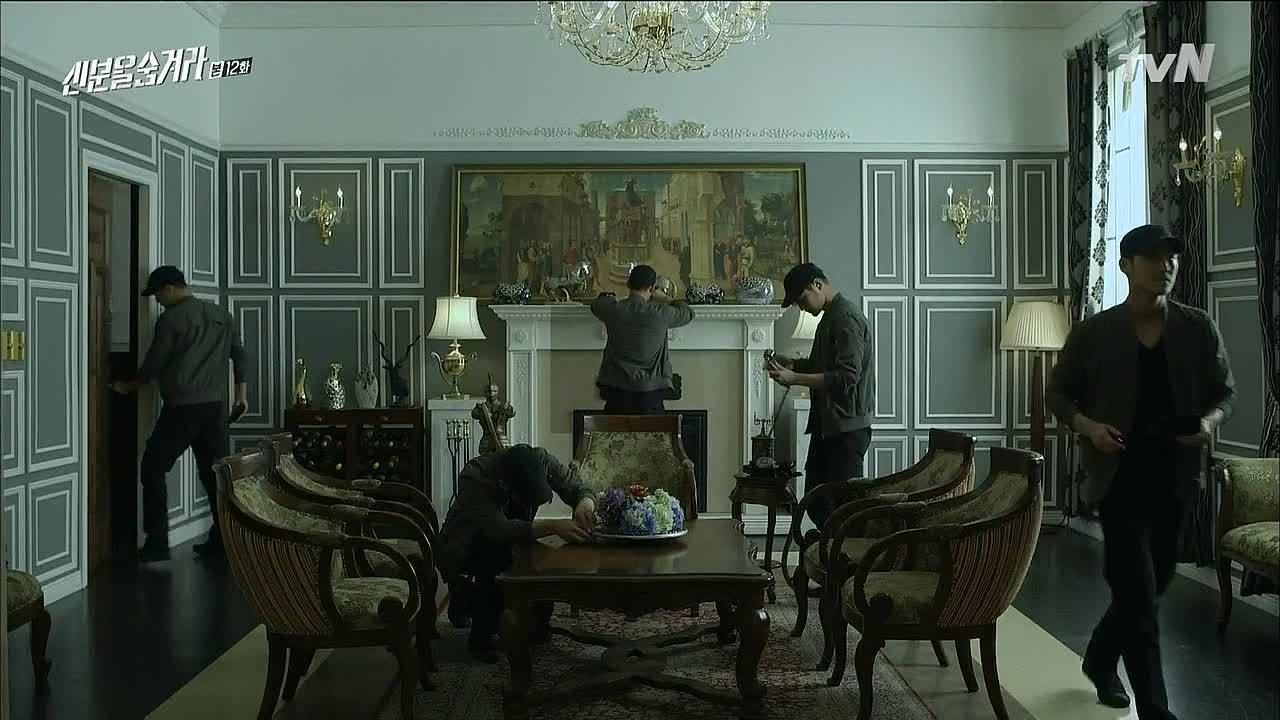 There aren't any cameras in the VIP room, though, so Gun-woo freely sets up as many of their own hidden cameras and bugs as he can.
Meanwhile, Min-joo is at the office, hiding behind a door as she waits for In-kyung to leave (along with her loyal henchman Kang). As soon as In-kyung locks her door and disappears down the hallway, Min-joo picks the lock and hurries inside to try and break into Min-joo's computer.
The file she needs is password protected though, so Duk-hoo starts searching for all the passwords he's collected since they've been monitoring In-kyung's computer. But uh-oh — In-kyung left her cell phone there, and it starts buzzing. Min-joo knows that In-kyung will be returning any second to retrieve it, and she frantically starts typing in the passwords Duk-hoo tells her.
None of them are working, and even though I'm oddly comforted that a scary-smart crime boss uses variations of the same password like a normal human being, Min-joo is getting more worried that she'll be caught in the act. Finally one of them gets her access to the file, and she manages to download it and escape before In-kyung returns. Whew.
Min-joo returns to the Investigative 5 Unit headquarters in triumph and Duk-hoo uploads the list of VIP guests. Tae-pyung is amazed that In-kyung's invited some of the most powerful and influential people, but then stops short when he recognizes the Chief of Police's name. He can't believe that the chief would be a part of the Ghost's circle.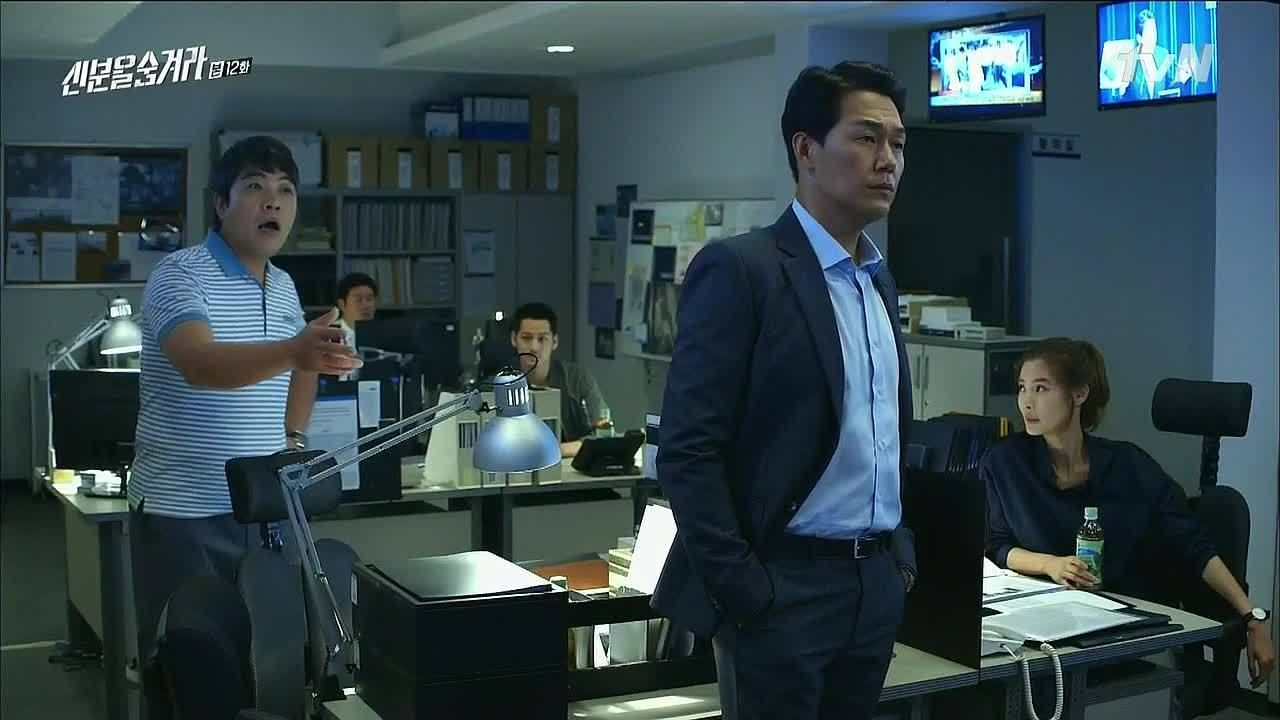 Jang just reminds him that they don't need to worry about the entire list of VIPs — they just need to find out who shows up at the VIP room. Until then, they'll hold off judgement.
They go through more of the list, and to no one's surprise, the crooked Chairman Lee is included. Well, to no one's surprise except for Min-joo, who drops her bottle of tea in shock and then tries to pretend it was just because she got a little dizzy all of a sudden. She doesn't recognize him at all, nope; not at all.
Tae-in's fighting to stay awake as he monitors CCTV feeds at the NIS offices. But he suddenly sits up, totally focused when something catches his attention.
In the empty and darkened outer offices of Investigative 5 Unit's headquarters, Min-joo stares out at the city lights. The ever-perceptive Jang checks on her, asking if she's okay. She reassures him that she is — she was just surprised, because she hadn't seen Chairman Lee's name in so long.
She smiles wryly, adding that he hasn't changed at all. His attending a charity event is just to make him feel better about his hypocritical ways. If he turns out to be the Ghost… Jang interrupts her, reminding her not to worry about it until the night of the event and giving her a reassuring pat on the shoulder. But Min-joo still seems worried.
There's no time to linger, though, because Tae-in calls him, updating him about the footage he found. There's a chance they might have recorded the rental car Chief Han used, and Jang tells him to see what records they can pull from the rental car agency.
He asks if Tae-in knows about the important mission tomorrow, and Tae-in reassures him that he'll do it himself. Jang warns him to be careful. Hmmm, I have a feeling that this "mission" isn't just about In-kyung's VIP room.
A bum is gathering up abandoned cardboard boxes, his face covered in a paper medical mask. Chief Han is cautiously tailing him, and when he follows him to a run-down abandoned apartment building, he pulls out his gun as he slowly enters the door to one of the apartments.
But there's no one there, although the steaming cup of ramen indicates someone was there recently. Chief Han slowly looks around, but isn't fast enough to react when the bum jumps out of his hiding space, easily pinning Chief Han's arms as he puts a homemade knife to his throat.
It's not a serious threat, though, as the bum recognizes Chief Han, expressing mild amusement that Chief Han visited him himself. He tells the bum that In-ho is dead, and the bum sighs, adding that he's not surprised, but he wanted to kill In-ho himself.
He assumes that Chief Han's visit means "the boss" wants to see him, which means it's getting close to the "big event." So what is he supposed to do? As an answer, Chief Han hands over his phone with Tae-in's photo on it. This can't be good.
The Investigative 5 Unit are brainstorming about the upcoming event and the Ghost's possible actions. Jang points out that their identities may have been compromised — or at least the Ghost may know who they are now. However, when In-ho was warning him about the Ghost them before, he only mentioned Min-joo, Tae-pyung, Gun-woo, and Jang.
That means the Ghost doesn't know about Duk-hoo — so he'll be the one going undercover for this mission. Yay! Tae-pyung agrees whole-heartedly, telling him that it's Duk-hoo's turn to be in the field. A worried Duk-hoo stammers out that he's sure he'll be okay… but will Tae-pyung be able to handle working the computers? HA!
Jang sets his team in motion: Duk-hoo will go undercover; Gun-woo will be dressed as a janitor on stand-by as back-up; and base camp will be set up in a supply room near the VIP room. He reminds them that they'll be meeting the Ghost soon — so let's show him what they're made of. The excitement is high as they put their plan in motion.
One of the outer-office agents arrives with new information about In-kyung transferring 50 million won into a dummy account for someone. They have footage from the bank's security camera of the man when he withdrew the money, but they aren't able to identify him yet — not the least because he's wearing a medical mask over his face. Hmmm.
They're baffled as to why In-kyung would transfer the money like that, and they assume it has to do with the charity fundraiser. Jang assigns Min-joo to look into it instead of the fundraiser mission, which surprises her. When they step outside privately to talk, she asks if he's worried about her. She reassures him that she's not like Gun-woo — she can control her feelings.
Jang agrees, but he's assigning this new mission for her because In-kyung knows her face, so it's risky for her to be near the fundraiser. Even though she accepts his explanation, Min-joo doesn't seem all that convinced. Especially once we see in a flashback that on Min-joo's first day as a part of Investigative 5 Unit, she had sworn that she would not regret leaving behind everything, including "that man" who no longer means anything to her — her father. Or, as we know him, Chairman Lee.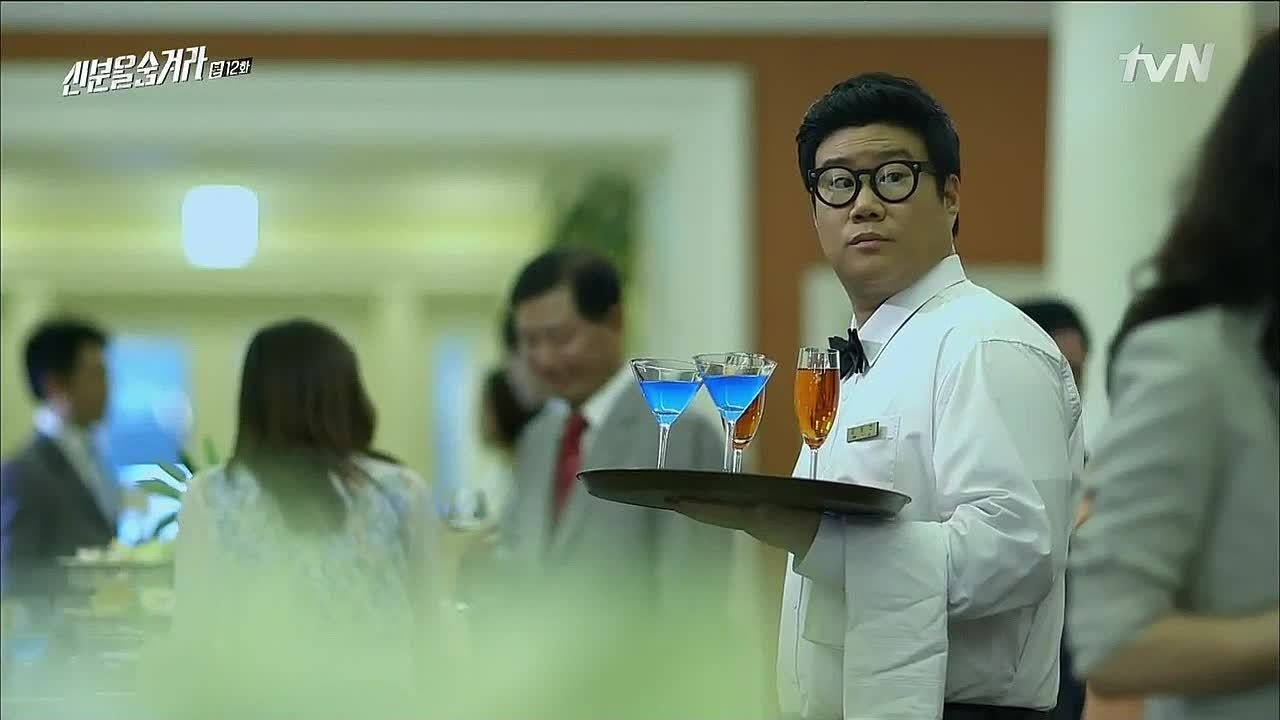 At the fundraiser, Duk-hoo makes for the cutest waiter ever as he makes sure the recording devices in his glasses are working. In the mobile HQ, Tae-pyung sits behind the computer, sighing that he's better suited for the field. As Duk-hoo serves drinks, he tries to keep his gaze on In-kyung and the guests she greets so that Jang can see who's arriving.
Of course, one of those is Chairman Lee (and his assistant — with whom In-kyung shares a meaningful glance. Hmmm). She politely thanks him for his generous contribution, reassuring him he has a special reserved seat. But her face falls slightly when she sees her next guest walk in: the Chief of Police.
Politely, but cautiously, she greets him, asking if he's there to meet with Senator Park. Duk-hoo reports back that it seems like a casual conversation.
The real surprise guest is NIS Director Choi, who wasn't on the original VIP list. Director Choi immediately strikes up a conversation with Chairman Lee, and Jang orders Duk-hoo to get closer. But Duk-hoo is stopped by Chairman Lee's scary assistant, and despite him stuttering out that he thought they might want a drink, he's unable to get any closer.
In-kyung is the first to arrive at the VIP room, and she sits herself at the head of the table. Watching from their surveillance cameras, Tae-pyung rubs his hands together in expectation — finally they'll get to see the Ghost!
The first VIP guest to be shown in is… Director Choi?
Tae-pyung is baffled, wondering if he's the spy. But Gun-woo (monitoring from his supply closet) points out he could be the high-ranked spy. Even so, the Ghost was blacklisted by the NIS, so how could he become the director.
Director Choi says that he thought Senator Park would be here, and In-kyung introduces herself, explaining she set up this meeting using Senator Park's name because she wanted to meet him.
The next VIP guest enters and it's the Chief of Police. Both he and Director Choi are surprised to see each other, and In-kyung secretly smiles to herself. She invites them to have a seat, and Director Choi notes the empty chairs, implying that more guests are due to arrive.
A knock on the door indicates that he's right, and both he and the chief sit up in anticipation as the next guest walks in.
Meanwhile, Min-joo is busy breaking into the room of the guy who gave the mysterious masked man a ride from the bank. She's rifling through his personal documents on the desk, finding nothing of value, until she glances over and sees a table that's set up like a homemade chemistry lab.
She finds a bottle of poison, and also discovers an employee photo ID card in the trash. Wait, isn't Bio System the pharmaceutical company Chairman Lee acquired?
Back at the fundraiser, the next VIP guest is the head manager of what is essentially the Center for Disease Control, and he and Director Choi greet each other in surprise as they recognize each other. It seems like all three men were there under the pretense that they would be meeting with Senator Park.
In-kyung gets the ball rolling as she brings in a waiter with a fancy-schmancy bottle of super expensive wine. The oenophile CDC head manager sits up in delight, knowing how rare a bottle this is. I'm more concerned about how similar that waiter looks to the picture on the Bio System ID card.
As the waiter pours the wine into a decanter to allow it to breathe (or be poisoned!), In-kyung explains the significance of the wine:
It was produced in a town that, during the Cold War, was a secret headquarters for spies. However, once the Cold War ended, the country had to deny any knowledge of the town so that secrets wouldn't be revealed to the world. Eventually, the town just disappeared — along with 197 spies. This was the wine made from those grapes, whose vines were bourn from blood of the loyal spies (presumably executed to keep the secrets safe).
Director Choi is more interested in why they're all gathered there than some story about a bottle of wine. In-kyung reassures him that Senator Park will be there soon, but she wanted to make sure they all would appreciate the gift of this rare wine.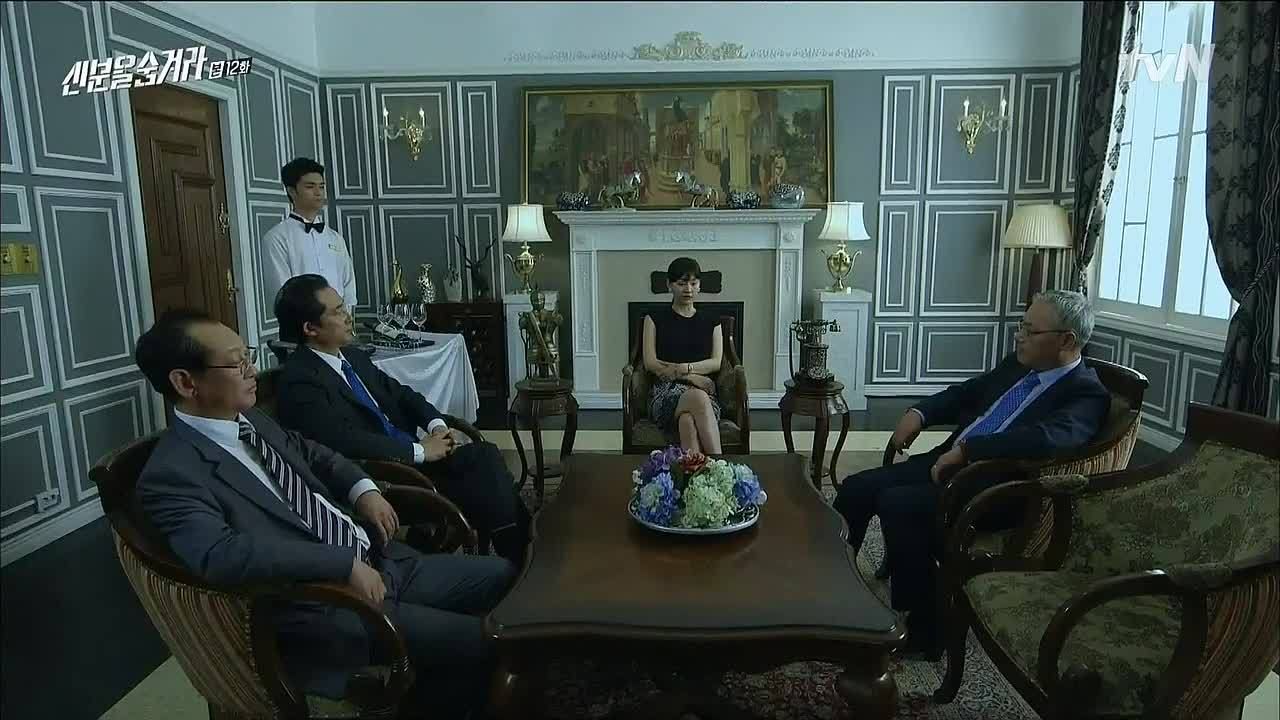 Even Tae-pyung is bewildered by her story. He's not all that convinced that one of the three men is the Ghost, either. So what's the deal with the meeting, then?
As Min-joo investigates all the bottles of chemicals and drugs on the table, someone enters the room and attempts to attack her, but she quickly knocks him out. She reports to Jang her findings — both the poison and the Bio System employee. Jang immediately deduces the significance of In-kyung's story and why everyone is gathered together: it's an assassination.
Time to send in some back-up. Gun-woo's janitor disguise lets him get by unnoticed until he reaches the VIP room, where Henchman Kang stops him. But he's no match for Gun-woo, who easily takes him down, and then barges into the VIP room, gun at the ready.
The police chief is surprised to see one of Jang's men, and Gun-woo tells him that they believe the wine is poisoned. Ha! All the men gingerly put their wine glasses back on the table. The bio-scientist/waiter plays dumb, but Gun-woo says that if there's nothing wrong with the wine, then he should drink it.
In-kyung: "I'll drink it." She calmly stands up as Gun-woo swings his gun around to aim at her. She nonchalantly asks if he's going to shoot her, and then turns her back on him as she walks towards the window. If she's arrested now, she doesn't know what kind of torture she'll have to endure, especially given how spies were treated before.
Gun-woo asks if she's going to just kill herself then, and she admits that she doesn't have the strength to endure what will come. But is the Ghost really worth throwing her life away? She spins around and glares at Gun-woo, then turns back towards the window. Her voice breaking as she fights back tears, she says that the Ghost sacrificed his whole life for them, so giving her life is the least she can do.
Gun-woo then asks what she means by that, but she just turns back around, and with barely controlled anger, says that she just wanted to see the faces of these corrupt leaders become contorted in pain as they died. She gulps down her glass of wine, then gives her final threat: "I am dying, but it's you, the living, who will have the true taste of hell."
With that, she drops the wine glass and then collapses to the floor, spitting up blood as the poison takes effect. Gun-woo tackles the waiter, handcuffing him, while Director Choi goes over to In-kyung. She's dead.
In his swanky super VIP room elsewhere at the fundraiser, Chairman Lee waits patiently as he sips at his glass of whiskey. His assistant gets a call — there's been a problem, so they'll need to postpone the meeting. Annoyed, Chairman Lee gets up to leave, telling him that the next time they should come to him.
Tae-in's busy tracking down Chief Han, using the rental car records to at least get an address. It's an abandoned office building, and when he breaks into it, there's nothing there but a desk with two manila envelopes. He opens them, but they're filled with blank paper. It's a trap!
As Jang debriefs the Chief of Police on why they were there, the chief gets a phone call — Senator Park was in an accident and died en route the hospital. Ohhhh, so that was the trap: to distract everyone from the main target of assassination, Senator Park. Director Choi stops Jang as he's on his way back to the team. He owes Jang for saving his life, but promises he'll pay him back soon.
Tae-pyung doesn't understand how it was a trap, because he's pretty sure In-kyung didn't know about them. So what did it mean (per her messages on the computer) that the Ghost would meet with one of the guests?
Back at the abandoned office, Tae-in turns around to see the masked man standing there. Tae-in's ready to fight, but he's no match for the masked man, who knocks him out.
Meanwhile, Tae-pyung is still trying to puzzle out why the Ghost targeted Director Choi, the Chief of Police, and the CDC head manager. If it was for revenge, then he would have targeted them long before this. Gun-woo reminds them that the Ghost wanted to spread the VD107 virus, so removing the men in charge of keeping such national threats contained would be beneficial. But the virus was destroyed — so why would the Ghost still try to kill them?
Chief Han arrives where the masked man stands over the passed out Tae-in. He calls someone, telling them that they have the VD107 virus.
Duk-hoo rushes into the Investigative 5 Unit headquarters, reporting that they've found an empty syringe gun where In-ho was killed. They think he injected the virus into someone, which means the virus still lives on, since it can be incubated in a body. After 96 hours, the virus takes effect in the person's bloodstream — and also becomes highly contagious.
So who was the person infected? None other than Tae-in — which also explains that mysterious phone-call, where he reported back that he'd be injecting the virus into Tae-in. Now that the Ghost has kidnapped the infected Tae-in, In-ho's dying words make sense:"This is just the beginning."
Gun-woo chokes up as he realizes what this means, and he whispers, "Tae-in hyung."
COMMENTS
Awwww, it's not just "Tae-in sunbae," but "Tae-in hyung," which makes it all the more super emotional since we know how much Gun-woo prefers to keep things professional. Also: why is it always Tae-in? Why?
I feel like I should be more suspicious, but I think Tae-in just has the worst luck ever. I do think that all the hints about who might be the Ghost have been slight red herrings. The show makes us want to believe it's someone in power, but I feel like it will turn out to be someone who's more of a supporting role. Right now Chairman Lee's assistant is pinging my "not is all that it seems" radar, but I know that's largely due to the way the show is edited.
When we first met the assistant in episode 8, he got a really nifty and artsy introduction in a long shot where we didn't even see his face for awhile. Then there were the knowing glances exchanged between him and In-kyung this episode, plus how much he seems to know — perhaps even more than Chairman Lee, because I'm not at all convinced his appearance at the fundraiser wasn't a ruse. To be fair, a ruse unbeknownst to Chairman Lee who may have genuinely thought he was going to be meeting with someone (Senator Park, again, perhaps?), but the assistant seems to have been totally aware that it wasn't going to happen. The point is, I have suspicions, although I also won't be too surprised if the show proves me wrong.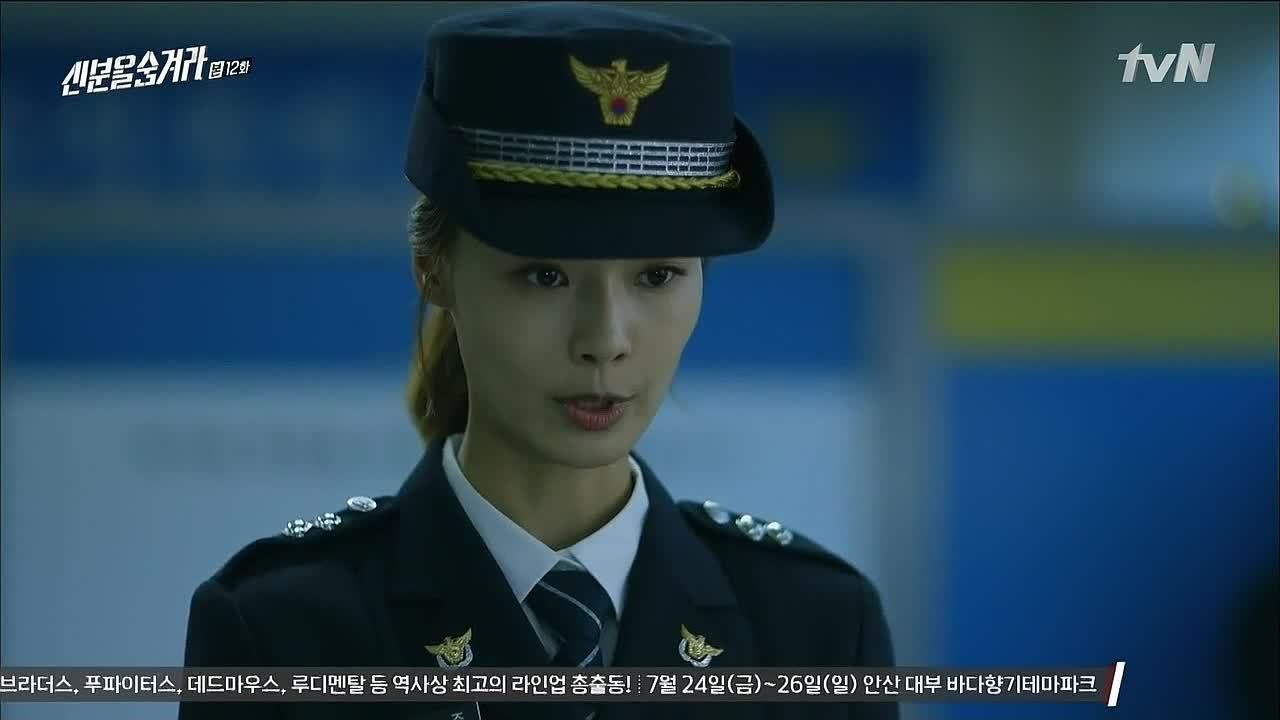 Speaking of Chairman Lee, I'm really excited that we get a little more of Min-joo's back story. Clearly there's some daddy issues, and I get the feeling it has to do with Chairman Lee's notoriety. I find it a little interesting that she doesn't share the same last name — is she illegitimate? The daughter of a mistress, perhaps? Clearly it's not well-known that Min-joo is related to Chairman Lee, since no one else seems to know except for Jang (and of course he knows because you'd think he'd have to know everything about his staff who'd be working for this elite investigation team that "doesn't exist").
That also upholds my belief that the Ghost isn't someone obvious, as in, someone powerful we've already met. Because I can't really see this show making the Ghost Min-joo's father. That'd be just wayyyyy too much baggage for my girl, and this show, while it likes to have some baggage, doesn't really like to get bogged down with too much multi-layered depth.
Although, it does love to kill off the baddie-of-the-week. Excuse me while I shed a stoic tear for In-kyung, who was so awesome and so badass and who I so desperately hoped would stick around longer (hey, if In-ho could do it, so could she!). But the Ghost has some mystical power over his people, where they would willingly choose death over surrendering. I know why In-kyung did it — she's clearly experienced the bitterness of being tortured for information before, and assumed that's what would happen to her again.
But I'm still a bit baffled (or just impressed) that everyone who's even close to being able to give up information about the Ghost ends up dying, usually by their own hands. Then again, it seems like they'll be killed anyway if they're caught (remember Teacher Jung, way back when? If only we knew then that death was inevitable for any one associated with the Ghost, his death-by-sniper would not have been so surprising), so why not do it yourself and save the Ghost some trouble?
All in all, I really love this week's episodes. Even though the pace has never truly dragged throughout the show, I feel like the plot has picked up and I actually believe that we'll finally — finally — be able to meet the Ghost and have a showdown. I'm also mildly concerned that not everyone will survive it, my faith in the superhuman healing powers of the Investigative 5 Unit notwithstanding.
Which is a pretty fine place to be as we head into the last few episodes. I have no idea how it will shake out, but I assume it will be a bloody game of chess as the Ghost keeps one step ahead of our team, and where Jang will have to pull out all the stops to outwit everyone in order to reveal that the Ghost is merely flesh-and-human — and can be stopped. Preferably before more people die. Fingers crossed that Tae-in still has a few of his nine lives left.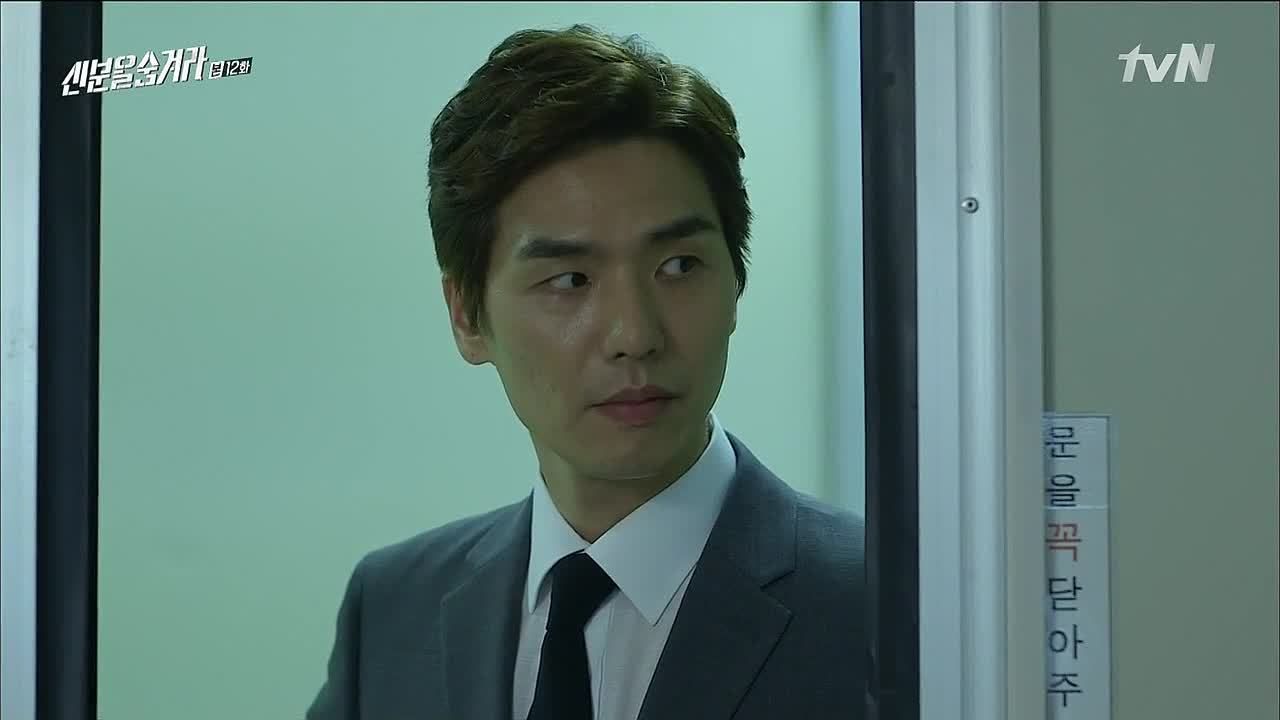 RELATED POSTS
Tags: featured, Hidden Identity, Kim Bum, Lee Won-jong, Park Sung-woong, Yoon So-yi