Hidden Identity: Episode 13
The clock is running out for Tae-in, and the Investigative 5 Unit rushes to find both him and the virus's antidote before it's too late. They hope to flush their ultimate target at the same time, but the Ghost is proving to be every bit as elusive and ephemeral as his name. Every time they think they're closer to catching him, they find out they're actually further behind than ever… or are they?
EPISODE 13 RECAP
Tae-in runs into the masked man in the abandoned office, who handily knocks him out cold. Chief Han joins them, and makes a call to report that he has the VD107 virus.
At the same time, the Investigative 5 Unit realizes that In-ho must have injected someone with the virus, and that the only team member who's been alone with In-ho long enough to be injected, was Tae-in. Gun-woo reels at the news, breathing out a worried, "Tae-in hyung," while Team Leader Jang's chin actually wobbles with emotion.
Director Choi gets a shave, and holds an innocent-sounding conversation about the weather with his barber, though their words seem loaded with meaning. Choi visits someone's ashes, saluting them solemnly, then takes a call about the VD107 virus. The caller says that "they" are worried about the virus, and that something should be done.
The team discusses In-kyung's meeting, which they now know was a decoy to allow the Ghost time to kill Senator Park and kidnap Tae-in. They assume the three men who were almost poisoned must be the people the Ghost considers the most hindrance to his plans. And Duk-hoo has found a connection between all those who have died while in service to the Ghost, including In-kyung — they all have a father whose records have been erased. Could this be what inspires their slavish devotion to the Ghost, even to the point of dying?
The team wonders why the country would be willing to erase the fathers' records, and Director Choi shows up to answer that question — all of the fathers were members of the Special Forces. He confirms that the meeting during the fundraiser was just the Ghost manipulating them all.
Director Choi and Jang speak privately (and on Jang's part, reluctantly) about Tae-in's kidnapping. They agree that in order to cultivate the virus, the Ghost will also need a biochemist, since the one that Sae-jin kidnapped (who invented the virus) was killed. But it turns out that the body wasn't that of the biochemist, Yoo Jin-woo — the biochemist may have escaped the Ghost.
Jang thinks that if they can find Yoo Jin-woo, they can use him as bait to lure the Ghost, as well as to help them find Tae-in. Jang asks why Choi is telling him all this, and Choi proposes that they work together on this.
Chairman Lee and his assistant head to a meeting, the assistant assuring Lee that the people they're meeting are all dependable. They're from Hexagon, the mercenary company whose members the Ghost often hires for his own purposes. They meet with four young men, and Chairman Lee smiles with satisfaction.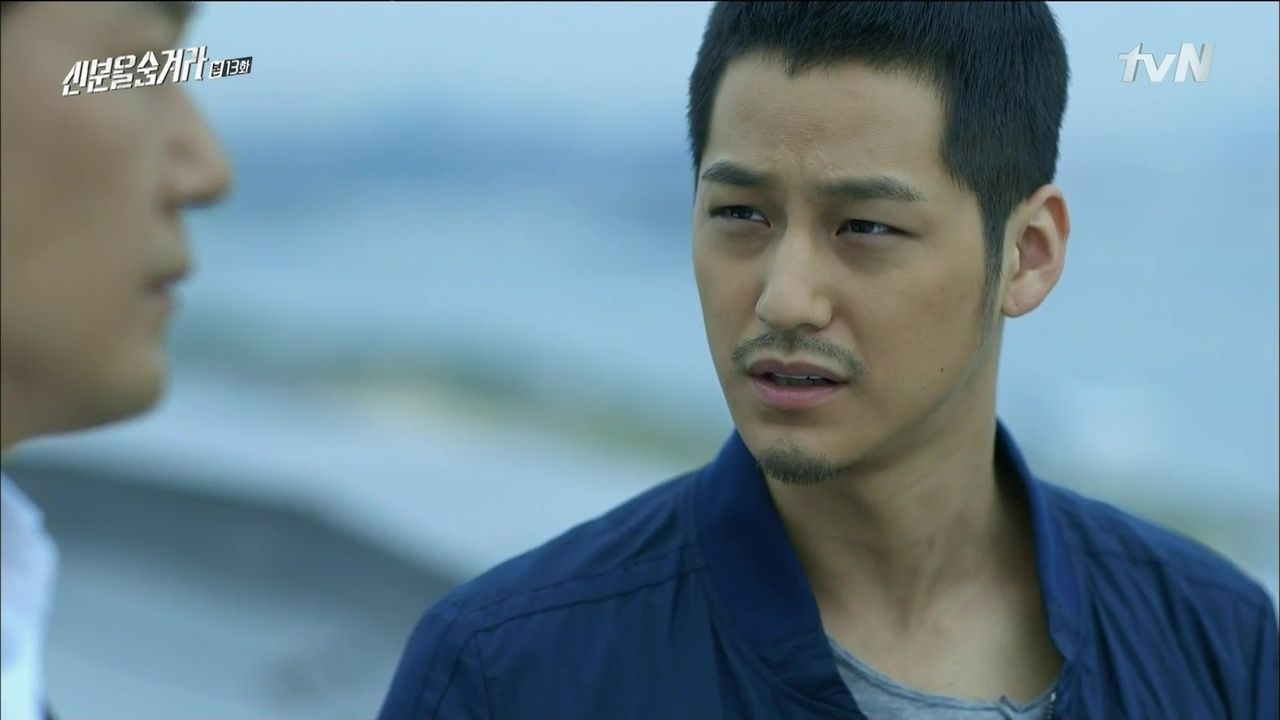 Team Leader Jang tells the team that they'll be working in cooperation with the NIS, since the VD107 virus could threaten all of Asia. They calculate that they have less than seventy hours to find Tae-in before he becomes ill and contagious, so they don't have the luxury of making an issue of the NIS stepping in. They have to focus on finding Tae-in.
Gun-woo goes to the roof and remembers happier times when Tae-hee was alive, and the three of them were friends. Jang joins him and promises to find Tae-in, but when Gun-woo asks if there's a cure for the virus, he's silent. Director Choi had guessed that Yoo Jin-woo created a cure when he created the virus, but that's only a guess.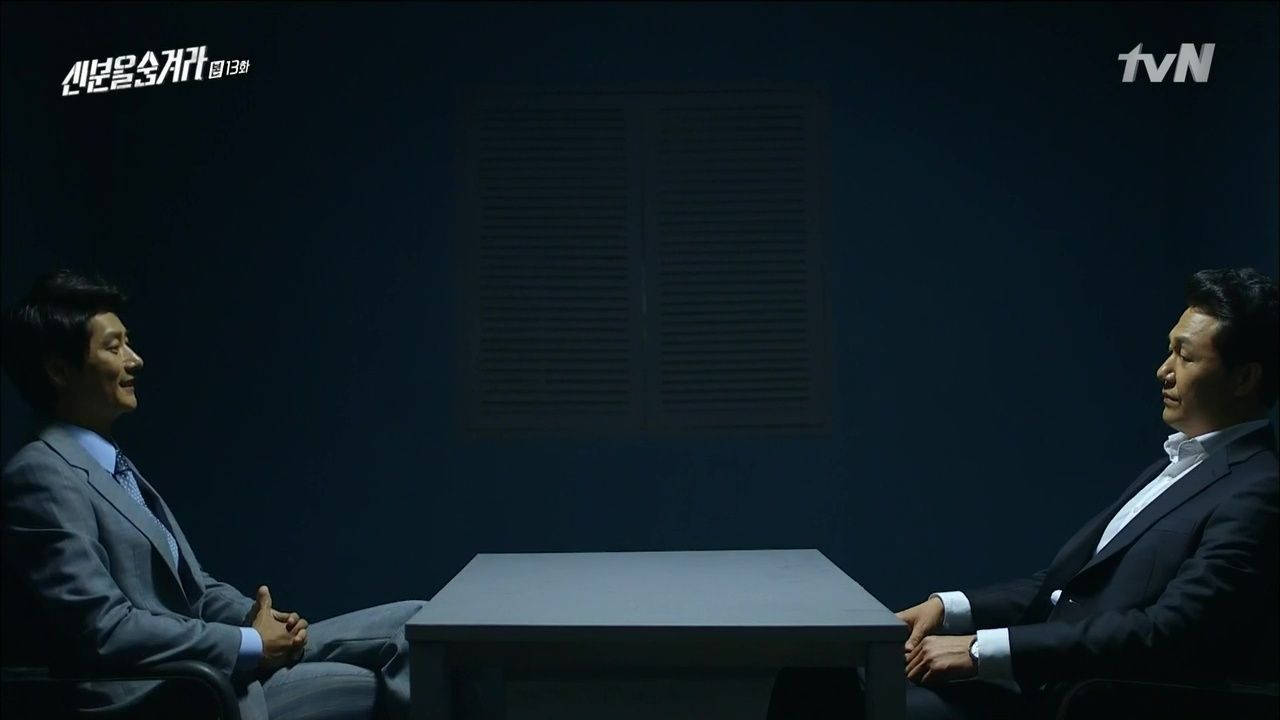 Jang officially accepts Director Choi's offer, and Choi admits that since they were told not to make this a big public deal, there are very few NIS agents who know about it. Jang just replies that his condition is that he's in charge, which Choi readily agrees to. He just wants to catch the Ghost, and he doesn't care how.
Jang introduces Director Choi to his team, but Choi already knows them all — except Duk-hoo, ha. Poor neglected computer nerd. Choi promises to stay out of their way, and addresses Gun-woo, aware that he has a special relationship with Tae-in. He says they should work hard so Tae-in's sacrifice has meaning, and Gun-woo spits back that Tae-in will not be dying.
Jang meets with James, the Korean-American man who helped Sae-jin procure laboratory space to create the virus. James claims not to know Yoo Jin-woo, though his face freezes at the name and gives him away. Jang says that Jin-woo doesn't know anyone in Korea so would need help hiding, and Gun-woo growls that he's going in if James doesn't talk soon.
James sneers that he's deleted all information tying him to this, and that he only came here today out of curiosity. He gets up to leave, but Director Choi steps in and stops him, and James looks satisfyingly nervous when he hears that the director of the NIS is standing in front of him.
Choi orders the camera turned off, and tells James almost casually that in his thirty-five years with the NIS, he's had to do some pretty terrible things to people in the name of protecting his country. It makes him angry to see people like James messing with his country for money. James offers to introduce Choi to a bar hostess if he just wants to whine about his problems, and Choi coolly shoves the table at him, pinning James into his chair.
Choi softly informs James that there are other agencies besides the NIS who dispose of trash like him, and James idiotically continues to bluster even as he can't breathe. Choi releases him and says that his country is not soft — they've been preparing for a war for sixty years. They don't play dirty tricks, but it's not because they don't know how. He says he can make James disappear with one phone call, and finally James starts to go a little pale.
Watching from the next room, the team are impressed with Choi's tactics, and I can't blame them. That was pretty damn frightening. Tae-pyung states the obvious: "He didn't become the director [of the NIS] for nothing." Sure enough, James spills his guts and names Jo Chul-joong, a forger he knows who makes fake identification. He admits that introduced Yoo Jin-woo to him, but he doesn't know anything else.
Gun-woo meets with Chul-joong, ostensibly to buy a fake ID, and slides his own cop ID across the table when Chul-joong asks what he wants. I love how the forger just sighs when he realizes it's the real thing, hee. He confesses to making Yoo Jin-woo an ID and passport, and says that he was getting them for a woman named Choi Ha-young.
Jin-woo and Ha-young met at UCLA, but Min-joo discovers that Ha-young has been seeing an obstetrician for the last six months. She must be pregnant with Jin-woo's baby, which is why he's been so desperate to get into South Korea. Maybe even desperate enough to manufacture a deadly virus in return for being smuggled in by a crime boss?
Gun-woo and Min-joo pretend to be a couple and go shopping in Ha-young's bag store, and sure enough, the lady in question has an impressive baby bump. They place a small bug on one backpack and buy it, then ask her if they can leave it there while they shop some more.
As they wait in the car, hoping for audio of Ha-young being contacted by Jin-woo, Gun-woo steps out for a smoke. Min-joo starts to get out to talk to him, but Tae-pyung stops her, since Gun-woo won't be receptive while Tae-in is in danger.
Soon, Ha-young gets a call from Jin-woo, who's anxious to get out of the country with her as soon as possible. She obviously doesn't know why he's so upset, but they make plans to meet at the store in an hour.
Back at headquarters, Jang tells Director Choi that he doesn't have to come to the scene, but Choi is willing to put his life in danger for his country. Duk-hoo interrupts their debate, having found Jin-woo on a CCTV feed.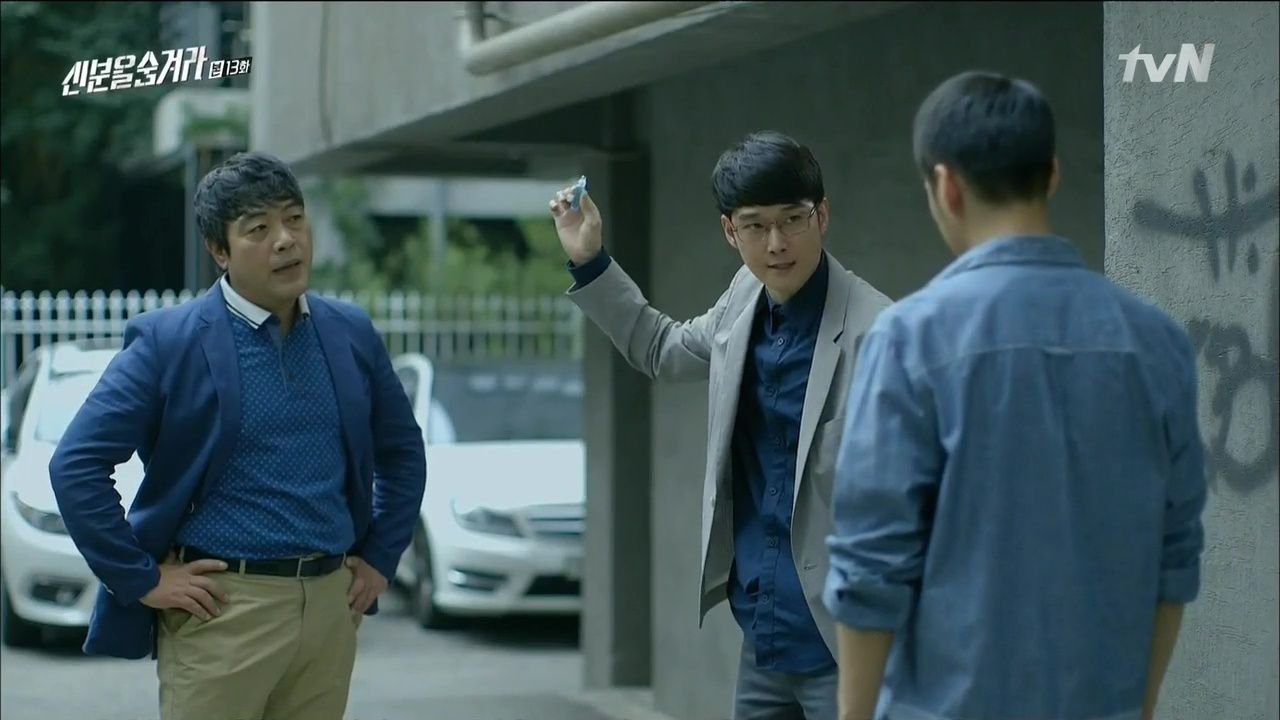 As Jin-woo waits nervously, Tae-pyung casually walks up to him and introduces himself as a cop. Gun-woo flanks him before he can run, and they move to apprehend him. But he pulls some sort of vial out of his pocket and threatens to break it if they come any closer.
Only, right as he's about to release whatever-it-is, Min-joo and Ha-young approach, and Gun-woo tells him he can't break the vial without endangering his family. Tae-pyung kindly tells Jin-woo that they know he was coerced, and they'll protect him if he comes with them willingly. Jin-woo collapses, and says that the substance in the vial is the VD107 antibody. They have the cure.
In the interrogation room, Jin-woo says that he just wants to live quietly with Ha-young and their baby, and suddenly Gun-woo completely loses his cool. He barges into the room and slams Jin-woo against the wall, snarling that people will die because of what he created. Those people also have families — did he think of them?
Speaking of whom, Tae-in is awake and furious about being held against his will. He screams at Chief Han (through the locked door) to tell him what they did to him, but the masked man arrives and he and Chief Han leave without speaking to Tae-in. It's chilling how he's obviously just an incubator to them.
Team Leader Jang tells Director Choi his plan to put Jin-woo in a safe house, then leak some information and set up a trap. Choi asks if he's positive that nobody on his team is a spy for the Ghost, and Jang takes a moment to look at this team, hard at work, before saying that he's absolutely sure. Choi just says it's a blessing to have people you trust, then offers to leak the information while Jang's team secures the safe house. Is it just me, or does something suddenly feel off?
Choi gets a call that someone who looks like Chief Han has been spotted near their building, and the whole team goes on instant high alert. Jang starts barking orders, and assigns Gun-woo to bring Jin-woo and watch over him every moment. It's assumed that Chief Han is here to take out Jin-woo, now that he's been caught.
Duk-hoo finds Chief Han on his own CCTV feed from ten minutes prior, walking into the building as bold as you please. Before they can locate his current position, the entire feed goes dead. Tae-pyung and Min-joo prepare for possible gunfire, and Tae-pyung tells their team this is a real threat.
Director Choi surprises everyone by asking for an earpiece and getting his gun out, ready for anything — he's not too old to help, and he's not the stay-back-and-watch type. He tells Jang and Gun-woo to protect Jin-woo no matter what, and goes to take his own position.
Tae-pyung, Min-joo, and Director Choi each lead teams through the building in search of Chief Han, and Choi seems to see someone in the stairwell. He fires a couple of shots then calls Jang, and Jang hears two more shots through the earpiece. Choi's voice, now sounding strained, says there's a bomb and to relocate Jin-woo to a safe place. One more shot, and the line goes dead. A bomb, what? Something is definitely off.
Jang sends the others to the stairwell, where they can see one agent lying dead in a pool of blood. Min-joo starts to open the door and is nearly shot in the head, so Jang tells them to wait until he can get there. He instructs Gun-woo to take Jin-woo to the National Police Agency, adding a serious, "I trust you," before heading to help his team.
As Team Leader Jang gets closer to the team, he hears another gunshot. He waits at a stairwell door until he hears two men going down the stairs, and busts through the door and opens fire. He shoots one of them before the other kicks his gun out of his hands, and while he's fighting that man hand-to-hand, the injured man points his gun at Jang. But Tae-pyung arrives and shoots first, saving Jang, though Min-joo reports that they couldn't find Chief Han.
Gun-woo and Jin-woo use the elevator on the other side of the building, but the agent with them gets out at the ground floor too fast and finds himself with Chief Han's gun at his head. Gun-woo pulls his own gun on Han, who takes the agent's weapon and orders Gun-woo to lower his.
The moment Gun-woo drops his gun, Chief Han shoots the other agent point-blank in the head. Gun-woo grapples with him and manages to grab Han's gun, but in the moment when everyone freezes, Gun-woo sees a shadow move behind him. Before he can react, the masked man has grabbed the gun and removed the bullets — damn, he's fast.
But Gun-woo does manage to kick the mask off, and we see at least part of the masked man's face. Chief Han punches Gun-woo to the floor, and Director Choi steps out of nowhere and leads Jin-woo away while everyone is distracted. Gun-woo backs into the elevator and closes the doors, safe for the moment.
Back in the stairwell, the team finds the men who were with Director Choi dead, and Tae-pyung realizes that Choi is nowhere to be found and wonders if he was taken hostage. Min-joo realizes both men were shot in the back, and we see that the gunshots Jang heard were Choi, shooting his own men. He'd pretended to be injured and called Jang, then gone to where he knew they would lead Jin-woo out of the building. GAH, I knew it, dammit.
Gun-woo finds them and reports that Choi took Jin-woo, and the now-working CCTV shows him being driven out of the building in Chief Han's car. Jang remembers that it was Choi who knew that the Ghost was probably looking for Jin-woo, and how he'd been so against the Investigative 5 Unit until this case.
So many things that Director Choi has said and done click into place now, and Jang utters one word, "Ghost."
Tae-pyung starts to stammer in shock, and Min-joo says at least they still have the antivirus, but Duk-hoo points out that now that the other side has Jin-woo, he'll have him make changes to the original virus. The current antibody will be useless. Gun-woo asks, practically begging, if Jang has another plan in mind, but Jang just bows his head.
Tae-pyung wonders why In-kyung was trying to poison him if he's the Ghost, and Duk-hoo figures it was an alibi — they didn't suspect him after that. Min-joo says it still doesn't make sense that the NIS wouldn't recognize him, much less make him director, and Jang says there's got to be something they don't know.
Jang notices that Gun-woo is doing his clenched-jaw internal fuming thing, and reminds him to be rational, not emotional. He tells the team they don't have time to speculate whether Choi is the Ghost, and to keep it in mind but look for hard clues.
In the car, Director Choi asks after Tae-in, then sighs at how far he, Chief Han, and the masked man go back. He thanks them for staying loyal, saying that the day is almost here.
Tae-in sits in his locked room, glaring whenever one of the guards come by to check on him. One of them stops by, but a few minutes later he's called back to the room to see Tae-in lying on the floor in a pool of blood. It's too early for it to be the virus, so they assume he's hurt himself. If he dies, the virus dies, so they go in to check on him.
They barely realize there's no wound before Tae-in opens his eyes and quickly dispatches them, and escapes. We see that he'd bitten his own hand to produce the blood, which shouldn't be shocking considering the torture this man has survived. He runs outside and waves down a car, but stops in confusion when Director Choi steps out.
Tae-in can feel there's something wrong when Choi calmly thanks him for all his hard work. Chief Han and the no-longer-masked man get out of the car, and Han points a gun at him. Tae-in has a moment to remember how he told Director Choi that the Investigative 5 Unit found In-ho, and now we see that the call In-ho made when he knocked Tae-in out was to Choi himself.
Tae-in whispers one chilling word as he stares at Director Choi: "Ghost."
COMMENTS
Director Choi is the Ghost! I really never saw that coming. In fact, I was all prepared to get excited about the cooperation between Jang's team and Director Choi because Choi was suddenly such a badass. As Tae-pyung so aptly put it, he's not the NIS director for nothing, and getting to see him be more than a paper pusher was awesome. When he got in James' face and called him trash, I shivered in anticipation of all the terrible and patriotic punishments he's probably has in mind for someone who threatens the safety of his country and his people. Choi suddenly went from a semi-interesting side character to someone I hoped would stick around as a partner for the rest of the Ghost chase.
Then he had to go and be the Ghost, just as I was starting to like him, which gives this reveal an added layer of my being actually disappointed in him. Seems as though all of Jang's frowny-faces whenever Choi stepped in to help were for good reason — I should have trusted his instinct instead of thinking he was just being stubborn. It also makes sense (though I'm still looking forward to learning more about how this factors into the Ghost's organization) that the Ghost's minions were all children of former Special Forces members. Only the director of the NIS would have access to that kind of security, to make those records disappear. And I give the show props for really keeping us on our toes, and getting us to suspect nearly everyone BUT Choi, since he literally was the only character I never really suspected could be the Ghost (though looking back, there were so many little clues, such as the mention that the Ghost knew all of the team members' faces but Duk-hoo's, then when Choi met the team he knew them all — except Duk-hoo). It crossed my mind once or twice that he might be on the Ghost's payroll, but I never saw him as the Evil One himself.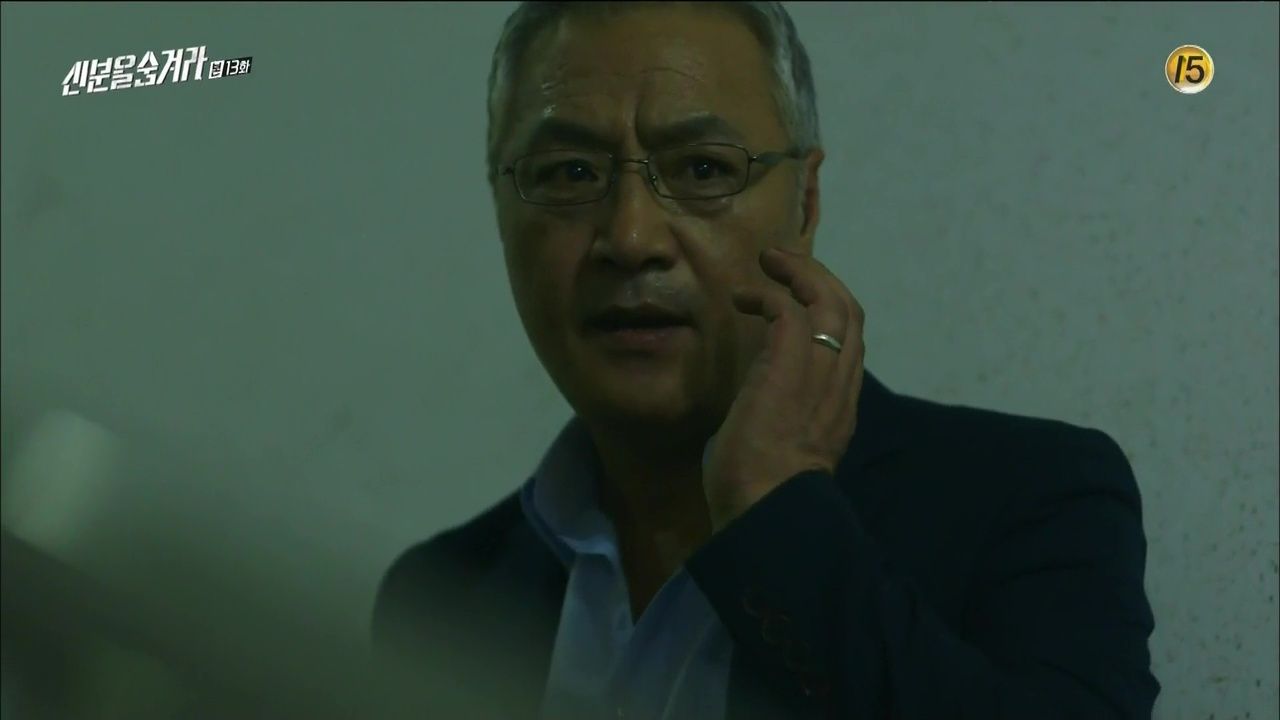 Aside from that, another thing I enjoyed about this episode is that this is the first episode where we've really seen how much Tae-in — as himself, and not just as Tae-hee's brother — means to Gun-woo. We know they had a good relationship and cared about each other, but until now, I thought that mostly what Gun-woo felt for Tae-in was a mixture of friendship and nostalgia. But seeing how emotional he's gotten when faced with the loss of Tae-in (and I agree with odilettante's observation that Gun-woo calling him "Tae-in hyung" was very meaningful), it's obvious that it's much more than that. Gun-woo loves Tae-in for himself, as part of the little family the three of them had created, and probably feels his loss much more keenly than it originally seemed. No wonder Gun-woo spent eight entire years in a funk — he lost the two people he loved most in this world, all in one fell swoop, and blamed himself for it. That could definitely cause a person to change in a profound and lasting way, as happened to Gun-woo.
It's heartbreaking that Tae-hee's death caused the two men to lose each other as well as herself, though we still don't know exactly why their relationship faltered quite so permanently with her loss. We saw in a flashback in the first episode that Tae-in seemed to be the one to pull away first, and that it hurt and confused Gun-woo, and I feel like there's probably a lot of misunderstanding involved in what happened. Either Tae-in blamed Gun-woo for Tae-hee's death, or Gun-woo assumed that Tae-in blamed him. But it's clear that both men still care for each other a great deal — and their reconciliation, more than anything, is what I'm looking forward to seeing the most. I kind of love that the "love story" in this show isn't between a leading man and woman, but a hurt and damaged young man, and the man he looks up to like a brother. I want them to reconcile as badly as I've ever wanted to see a leading couple get together in the final scene of any romance.
But first, we have to save Tae-in's life — again — and that's never been an easy feat. Team Leader Jang is right when he says that Gun-woo is going to have to be rational rather than emotional, which has never been Gun-woo's strong suit. Not that Tae-in isn't a capable agent in his own right, but now that he's faced with the Ghost himself, it's going to take the whole team to get him back to safety. (And then let's wrap him in bubble wrap, because the poor man could use a break from being kidnapped and tortured, yeah?)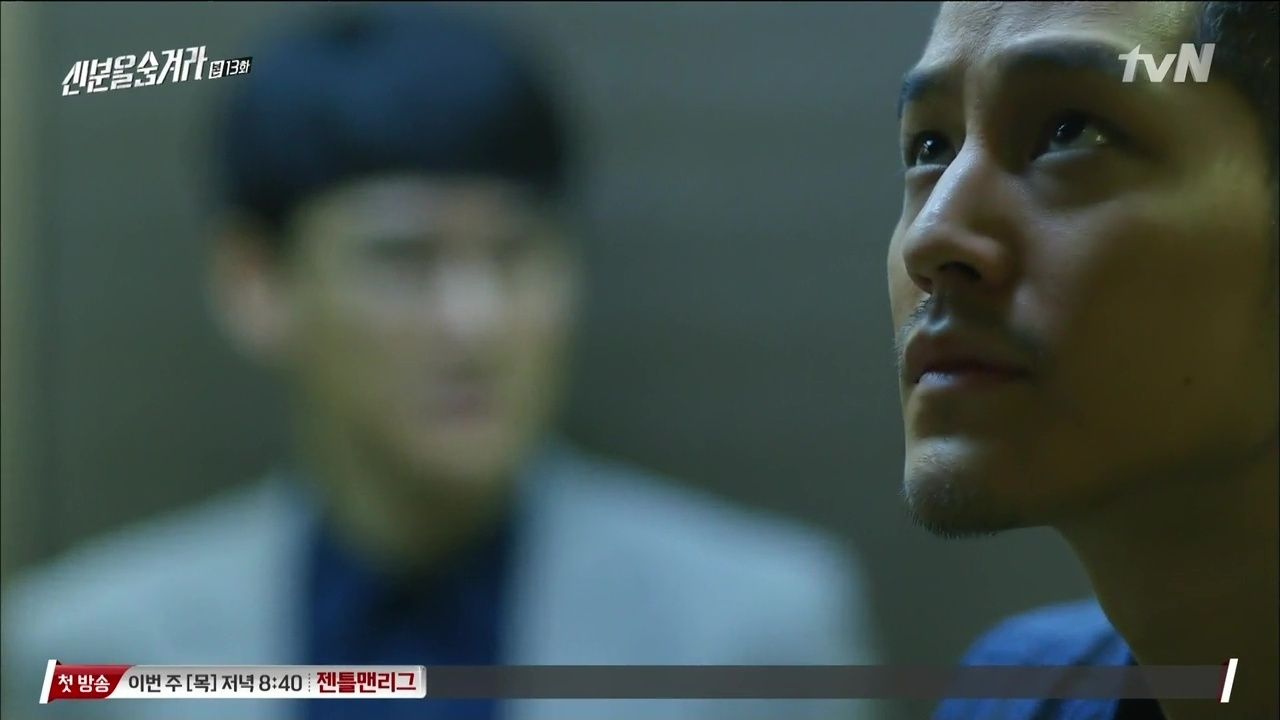 RELATED POSTS
Tags: featured, Hidden Identity, Kim Bum, Lee Won-jong, Park Sung-woong, Yoon So-yi