I Need Romance writer, director reteam for cable youth romance

Min-ho, Park So-dam
Another cable station is throwing its hat into the drama ring, and I'm a bit surprised to hear that it's OnStyle, since that's a channel that, as its name suggests, focuses on style, beauty, fashion, and the like. The drama is titled Because It's the First Time and will be OnStyle's very first original drama series.
Because It's the First Time has just finished casting a bunch of young actors to play out the contemporary youth romance depicting twenty-year-olds who are clumsy in life and love—because everything is a first time at that age. They'll come together for different reasons, fall in love, and make their way in the world in a story "told with honesty and realism."
If they're going to be entering the crowded drama market, at least OnStyle is doing it with proper producing talent: The series will be written by Jung Hyun-jung of Discovery of Romance and all three I Need Romance seasons, and directed by Lee Jung-hyo of Witch's Romance, I Need Romance, and, incongruously enough, Heartless City. (Despite the tonal differences in PD Lee's shows, I suppose they do all share a certain stylish flair.) Both the writer and director are experienced in the rom-com realm, and they're the main reason I'm sitting up in interest for this show.
Idol-actor Min-ho (Medical Top Team) has been cast to play the lead character of Tae-oh, whose rooftop apartment becomes something of a hub for the gang of friends. Tae-oh is described as a free-spirited, cool twenty-year-old, and he'll be romantically paired with Park So-dam (of movies Veteran, Sado, The Silenced), who's a positive, bright, modern Candy type.

Lee Yi-kyung, Jo Hye-jung
Their romance won't go unchallenged, though, with Kim Min-jae (Persevere, Gu Hae-ra and one of the 1N2D idol cameos on The Producers) coming in as the third wheel of the main love triangle. His character has a lot of things he wants to do with his life, but pushes those aside because of his difficult family background, intending to do them later when he can get to them properly. He gets close to Park So-dam's character at the part-time job they work together, and he'll likely cause Min-ho some angst.
Lee Yi-kyung (The Superman Age, Maids) always picks oddball/funny/interesting roles, so I'm glad to see him continuing that streak as the guy who dreams of being a musical actor and refuses to give up until he succeeds… despite the fact that he can't sing. Pwahaha. Furthermore, he acts like he's always dating around, but actually has never had a girlfriend and has yet to experience his first kiss.
But he'll get a loveline when he meets Jo Hye-jung (daughter to veteran actor Jo Jae-hyun, recently of variety show Take Care of Dad), who's described as awkward in love but possessing an honest, bright personality. Her relationship with her father is a painful topic for her, but her friends provide her with comfort. She's (supposedly) chubby but doesn't suffer body image issues because her friends insist she's pretty just as she is, and boasts a confident fashion sense. And last but not least, model-turned-actress Jung Yoo-jin (Heard It Through the Grapevine) plays a pretty, popular It Girl type.
I do wish we had more story information to go on, but I suppose a drama that's about youthful modern romance is likely to be more character-driven and less about plot twists. I do hope the cast can keep up; I'm all for giving rookies a shot, but that can also be a risky proposition when most of them are still rather green.
Because It's the First Time plans to begin filming in early August and will premiere in mid-September.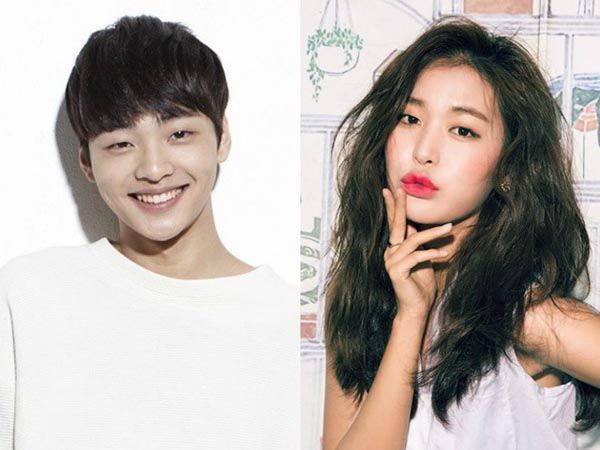 Kim Min-jae, Jung Yoo-jin
Via TV Report
RELATED POSTS
Tags: Because It's the First Time, Kim Min-jae, Lee Yi-kyung, Min-ho