Kim Woo-bin offered fantasy movie opposite Ha Jung-woo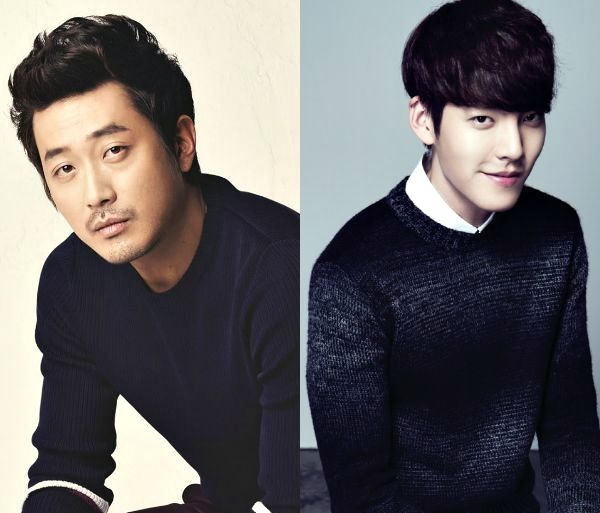 This would be a dream pairing of leading men if it happened, though I suppose that's just a regular day for Ha Jung-woo (Chronicle of a Blood Merchant). Kim Woo-bin (Heirs) is entertaining an offer to star in a new fantasy movie, which is currently courting Ha Jung-woo. It's an adaptation of a manhwa series called With the Gods by Joo Ho-min, an omnibus satire series about gods and humans dealing with their fate in the afterlife.
The manhwa is based on the concept of 49 days marking the time of judgment for a human soul after death, and the fictional universe draws from Buddhist myths, populated with the ten gods who rule that realm and pass judgment on souls through a very human court system. A movie featuring one of the reapers as the main character was looking at Gong Yoo to headline, and that film (by director Kim Tae-yong) is still in development as a part of a series of films based on this world.
This installment (also called a prequel) will feature different characters and be helmed by director Kim Yong-hwa (Mr. Go, Take Off), and is touted as a 15-billion won blockbuster fantasy. It's about a man who dies and then undergoes a trial before his 49 days are up and his ultimate fate is decided. He'll be represented by an afterlife lawyer and face a tribunal of sorts, and be tried alongside other reapers in court, through which he'll receive a judgment on how he lived his life.
It's a popular manhwa series that's been adapted into a musical as well, and based on the premise it seems like an entertaining fantasy that's very much about life, not death. I'm looking forward to its satiric bent (the whole lawyer/court setup makes it seem like a very human realm, even in death), and obviously, would love to see Kim Woo-bin and Ha Jung-woo acting together. I don't know if the reaper Gong Yoo version overlaps or intersects directly with this story, or if the omnibus nature of the comics lends itself to multiple standalone stories, but wouldn't it be nice to get a whole giant fantasy series going with all three of them?
Via TV Report
RELATED POSTS
Tags: adaptations, Ha Jung-woo, Kim Woo-bin