Warm and Cozy: Episode 15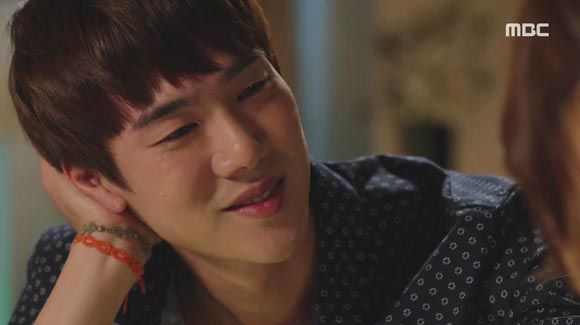 What a difference a little sincerity makes. Who knew that the secret was to loosen your tightly held grasp on reason? (Who even knew Gun-woo had that much reason to hold onto in the first place?) In any case, I'm just glad we can get past that frustrating block of doublespeak and opposite-talk, 'cause watching two blind lonelyhearts missing all their connections can only be endured for so long.
SONG OF THE DAY
Jubee – "보이지 말아줘" from the Warm and Cozy OST [ Download ]
Audio clip: Adobe Flash Player (version 9 or above) is required to play this audio clip. Download the latest version here. You also need to have JavaScript enabled in your browser.

EPISODE 15 RECAP
Jung-joo runs to the airport, her mind replaying all of Gun-woo's declarations and finally hearing them as genuine. She sends him texts admitting that she hadn't believed him before and promising to keep liking him, but the texts remain unread. As she leaves the airport feeling dejected, her voiceover tells us that those "unread" indicators remained there for one full year.
ONE FULL YEAR. Good god.
Fast-forward. At Warm & Cozy, Poong-san is now head chef, business has grown, and Jung-joo still runs the place. She's also still diving, though she doesn't catch much because she's always so busy watching "the baby."
In walks Mayor Wook with a baby boy, and the show goes through a whole elaborate sequence of making us think this might be Jung-joo's baby. Right away Wook is ruled out as the father, since she heads out to return the boy to Daddy.
Gun-woo returns to Jeju, deciding it's time to meet his father after all, with Mr. Gong acting as the intermediary. He asks that his brother and sister not be told, not intending to stay long or see anyone.
Jung-joo arrives at the hotel with the baby and comes face to face with Gun-woo, and they stare in shock for a few long moments. They exchange awkward pleasantries and Gun-woo fishes for clues as to whether it's her baby, and when Jung-joo's answers make it sound like it is, Gun-woo's face falls as the elevator doors close between them.
Gun-woo finds a toy rattle on the ground, then bolts into action, running up the stairs to intercept Jung-joo. But he gets there too late.
It turns out that the baby is the child of her irresponsible cousin (the one who bought that shack in the first place), and she's been babysitting while the parents are in town. Jung-joo's still in shock over running into Gun-woo, not entirely sure it was real. Her friend points out that he was gone a year, returned without notice, and didn't chase her upon seeing her. It must really be over between them.
Gun-woo, on the other hand, isn't convinced the baby is Jung-joo's and figures that Poong-san would have let him know. But he sees a picture of Jung-joo with the baby on Poong-san's SNS account, which makes him uncertain.
Jung-joo decides to go out looking for Gun-woo, only to find him waiting for her. He asks if the baby's last name is Hwang (as in Wook), and she clearly wants him to be worried about that possibility but doesn't give a straight answer. Instead she mentions how the baby looks like her, and when he asks who the father is, she says, "You've seen him before." Good gravy. I don't even know why we're being so coy in Episode 15, since they're just going in circles. I suppose we must fill this episode in order to get to the last, so circles it is.
They sit down for a longer chat and Jung-joo asks why he didn't tell anyone of his trip, and he replies that he didn't intend to meet anyone, nor is he keen to talk about the past. She tells him of the texts she sent that he didn't read, and how she's glad she can apologize now for not taking his words seriously back then. He asks if she was hoping that he'd come back to see her, and Jung-joo admits that she was. That makes him smile and call the baby rattle bait to lure him in.
The first thing Gun-woo does when he gets to his room is plug in that old phone, which has been dormant all year. But it's been so long that the undelivered messages don't arrive, and the phone carrier informs him that they're irretrievable. Gun-woo pleads, "It's only been a year! Is it that difficult to turn things back?" Well that's time for ya, buddy.
Jung-joo wonders to Poong-san whether things would have turned out differently if those messages had been delivered, referring to the texts as feelings that were tossed out into the air. Poong-san suggests that she resend them, but she counters that Gun-woo doesn't mean to stay. When Poong-san hears that Gun-woo didn't believe the baby was hers despite her acting like it was, he gets a glint in his eye. Hearing that Gun-woo's been reading his SNS page all year, Poong-san uploads a photo of Wook with the baby to reinforce the misconception. Gun-woo sees it go up, pushing aside his alarm by telling himself that he doesn't believe it.
Still, just to make sure, Gun-woo roams the entire hotel floor to "return" the rattle to its owner, exceedingly relieved to hear that the baby is actually Jung-joo's nephew. And when Jung-joo's friend confirms his name, he looks surprised but pleased to be referred to as Jung-joo's first love.
Meanwhile, when Wook's employees make a casual reference to Jung-joo, he tells them sternly not to interfere anymore, or link him with Jung-joo—he's over her now, and that's not their business.
Gun-woo's noona also returns to Jeju, and also asks her driver to keep this a secret from Jung-geun. She's been banned from being served alcohol at the resort, the result of an unfortunate drunken incident with her ex-boyfriend. She insists that she totally quit drinking after that, but sends the driver on without her so she can down boxed liquor by the beach.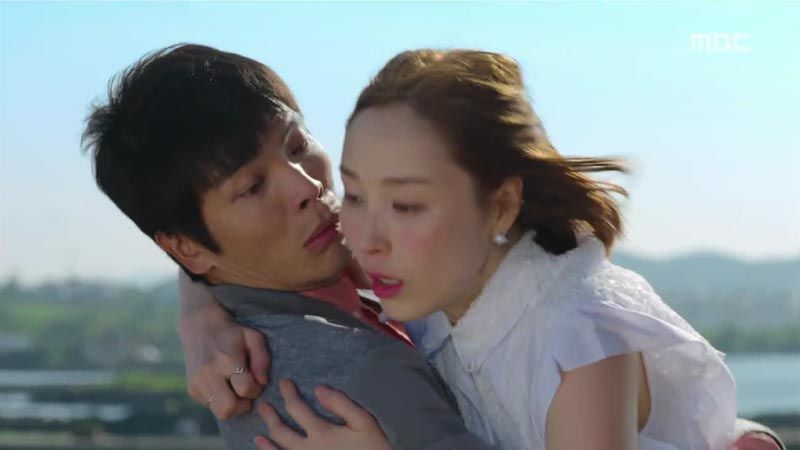 Wook finds her three sheets to the wind, littering the sand with peanut shells, which she only scatters more deliberately at his nagging. But when a peanut gets caught in her windpipe, she falls into his arms and he thumps her back until it's dislodged.
Wook makes Noona clean up her mess, and asks why she's getting drunk alone here. She says she's treating her injured heart after being dumped by the boyfriend she treated so well, looking vulnerable and teary-eyed. Wook spots a rip in the seat of her skirt and wraps his jacket around her waist, earning her gratitude. Guh, are they going to be a thing now? Why, writers, why??
Despite Noona's attempt to be under the radar, Hae-shil anticipates her arrival at the resort and drops by, just in case Noona causes any trouble. Which, knowing her, is a fair bet. She asks the driver-secretary not to let on that she knows, leaving him griping about the members of this family always keeping everything secret from each other.
Mr. Gong agrees to set up the meeting between Gun-woo and his father, and shares his theory—that Dad took the fall for Gun-woo's mother, because he's the type of man who would do anything for the woman he loved. Gun-woo says he's pretty sure that theory is wrong, but he's here to wipe out doubt.
Mr. Gong asks about Jung-joo, and Gun-woo admits to being shocked to see her with the baby at first. He decides he'll go ahead and take her bait, and see what happens.
So he strolls into Warm & Cozy unannounced and pretends that he believed Jung-joo married the mayor and had a baby. She tells him the truth now about being an aunt, and Gun-woo says that it's a relief because he was worried for a second there—it occurred to him that he might be the father.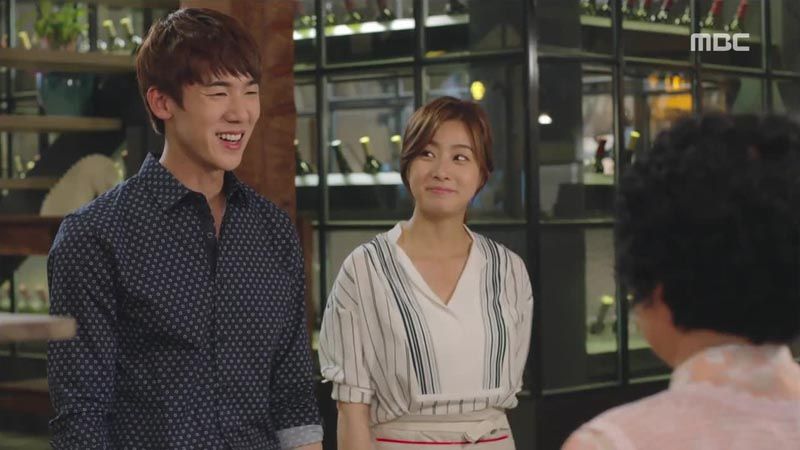 LOL. Jaws drop all around at his implication, including Jung-joo's. She asks incredulously how he could think that, and he refers pointedly to "that night." Jung-joo hastily tells all the ajummas listening that there was no such night, and she drags him out while he loudly exclaims, "There was that night that you don't remember!"
Jung-joo insists that there are no nights she doesn't remember, but he says slyly that there's one when she was drunk. Jung-joo apologizes for not believing him then, and explains how Wook told her that Gun-woo came to get her. She says that if she'd remembered that, she wouldn't have sent him away alone, and asks if they can clear the air now. Can he can fill in what happened on that night she doesn't remember?
Gun-woo recalls that night when he'd taken Jung-joo home, promised to give her Warm & Cozy, and then added himself to the deal, sealing the pinky-promise with a kiss. But before he can say anything, Poong-san interrupts with a restaurant issue and Gun-woo excuses himself so she can work, asking her to call later.
Gun-woo leaves as Wook arrives, the latter having heard from his employees that Gun-woo's back in town. Moreover, they overheard him talking about the baby like he thought it was the mayor's. Gun-woo is confused when Wook grabs his hand and insists on drinking together, but Wook explains that he's refrained from drinking for the past year—lest the villagers think he was licking his wounds over Jung-joo despite his clean resolution to give up. So he's prepared to drink a year's worth right now, if Gun-woo can keep up.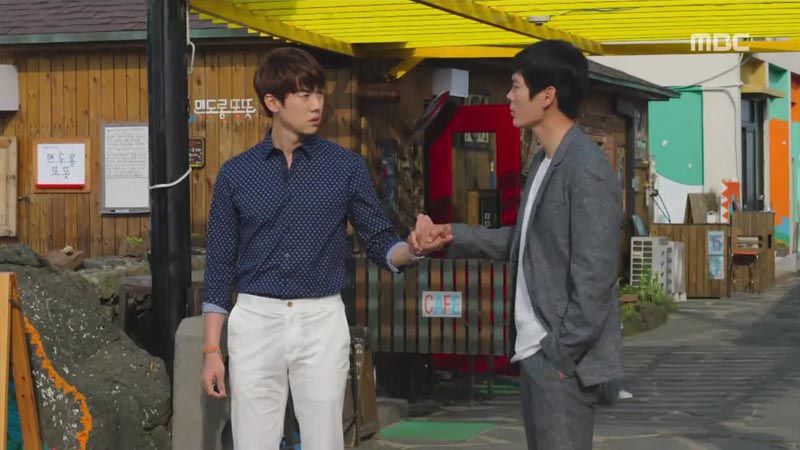 Driver-secretary next ushers Jung-geun to his resort suite—he came early without Hae-shil knowing, because he wanted to surprise her with gifts. Ha, now it's a clown car of early arrivals. He has the ill-advised idea of sneaking up on his wife in the dark looking like a ghost, and she reacts by taking a swing at his face in fear. Apparently he's got a history of planning sweet but inept surprises, like lighting curtains on fire with his candlelight surprise, or nearly drowning while planting a pearl in the sea.
He proudly tells her of the treasure hunt he planted around the suite, and she says he left one out in plain sight. She cups his face in her hands: "Right here." Aww, they're cute.
Poong-san tells Jung-joo that the two boys went off together looking serious, and worries that they might be fighting. She doesn't think so, since the mayor's over her and Gun-woo says he is, too. Poong-san counters that Gun-woo isn't, and hopes the guys are okay.
By now, they're both slurring and a little bleary-eyed, with Wook insisting on being called hyung. Wook also sniffs at Gun-woo's choice not to try again with Jung-joo, saying he needs a good knocking-out (literally, to let go of his tight mental grasp)—hitting is good for that, or at least more drinks.
Wook slurs that he's been asked for introductions to Jung-joo from twenty-five guys, and of them, at least five are as good-looking as Gun-woo, and seven as tall. Two of them are even rich.
Gun-woo quips that it's hard to get all those traits in one person like himself, but Wook says he's going to start making the introductions, one at a time: "After you leave, I could have her married in a year." Gun-woo asks why Wook would do that, and Wook retorts, "You know I don't like you, right? Just for that, I'd interfere!"
Then he pours Gun-woo a full glass of soju and says each drink will knock out one contender. Whoa. That's serious business.
Gun-woo wipes out all twenty-five guys, though, and wipes himself out in the process. Wook delivers him to the restaurant unconscious and advises Jung-joo to have her say when Gun-woo wakes.
Wook heads out to the pier and takes out the diamond ring he'd once meant to propose to Jung-joo with. He tosses it into the sea.
Jung-joo waits by Gun-woo's side while he sleeps at the counter, and when he stirs awake, he smiles and says, "It's Jung-joo. I miss you. I thought of you every day. I really want to go see you."
Jung-joo replies, "Me too. I really missed you too."
He chuckles, "That's a relief." A tear trickles down his face as he touches her face, and he says sweetly, "I love you." Then his head drops and he falls asleep again.
He wakes up in his hotel room and wonders if that's how he got here, a vague memory of Jung-joo's face floating to the surface. Did he see her last night?
Then Ji-won calls, having just arrived in Jeju, ugh. At least she's a nonentity at this point, busily planning her own wedding, and Gun-woo firmly declines her offer to drop by. Ji-won's mostly just happy that her groom is a chaebol, blerg, not that we ever expected her to change, right?
Gun-woo's tempted to call Jung-joo but decides against it, and racks his brains trying to figure out what happened yesterday. He sees a blanket on the chair and wonders if the secretary spent the night, then notice the cutesy band-aid on his hand.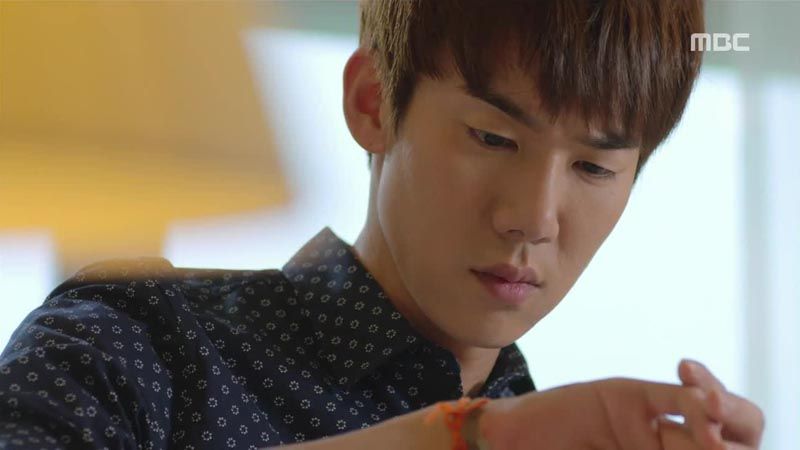 Jung-joo's nearby in her friend's room, telling her how she spent the night in Gun-woo's room. She's aglow with happiness, saying that even if he doesn't remember, she's going to keep liking Gun-woo now.
Gun-woo calls the secretary to ask about last night, but gets his brother on the line instead. Jung-geun calls him over and tells Gun-woo to stay in Jeju if he wants, because he's preparing to Hae-shil the full truth now, and he's also planning to relocate to Okinawa with her to work on a new resort. Gun-woo mentions that the truth may be worse than hyung knows, but rather than divulge that their mother may have been the culprit, he says that he likes things as they are now. That is to say, he'll weather the burden alone and keep his siblings in the dark.
Hae-shil glimpses Gun-woo in the hall and asks Jung-geun about it, and he reminds her of the promise he asked for before their wedding (asking for her future forgiveness). Once she finds all the gifts in the treasure hunt, he'll tell her the full story.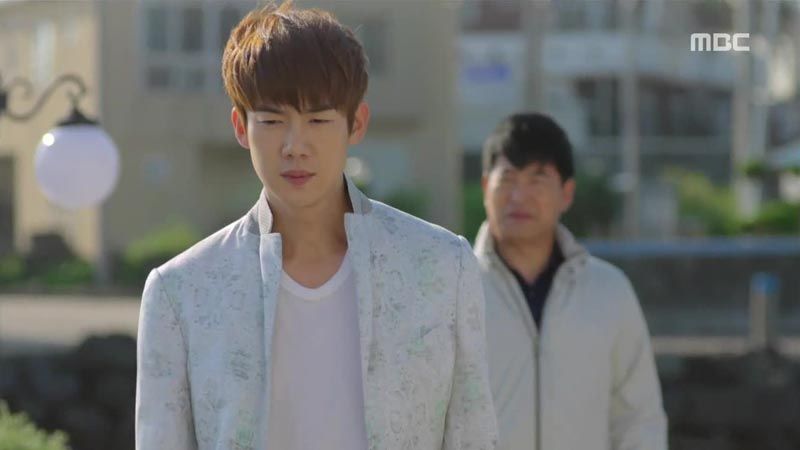 Gun-woo hasn't had word from his father and is ready to leave anyway, thinking a meeting unlikely to happen. He informs Mr. Gong that he intends to leave tonight, and Jung-joo's so happy here that he can't ask her to go with him.
Noona meets her nosy writer friend at a cafe, and brightens when Wook drops in. The writer reminds her that they met at the wedding last year, and in a flashback we see Noona heading down to the cellar swigging wine and witnessing Wook crying out his heartbreak alone.
Hae-shil runs into Jung-joo at the resort and asks about Gun-woo. Hearing that he's here confirms her suspicion that he's avoiding her, and she asks Jung-joo to pass along the message that she wants to straighten out their relationship, since they're family now.
Gun-woo drops by the restaurant to say goodbye to Jung-joo, only to find that she's out. That's where he spots the band-aids there that match the one on his hand and makes the connection.
Jung-joo heads to Gun-woo's hotel room with anticipation, only to find Ji-won waiting inside, acting like she owns the place. Ji-won purposely gives the wrong impression that she and Gun-woo are an item, and she drops mention of her upcoming wedding intending Jung-joo to assume the marriage is with Gun-woo. Gah. Somebody squish her.
But Jung-joo's dealt with her enough to figure that some crucial details are missing, and she pointedly asks Ji-won whom she's marrying: "You like it when I misunderstand things, don't you?" Ji-won chokes on her tea to be caught. Jung-joo continues, "Do you think I'd jump to the wrong conclusions just because you're in his room? When Gun-woo likes me so much? We spent last night here! Get out while I ask nicely. Get out!"
Ha, well isn't that satisfying.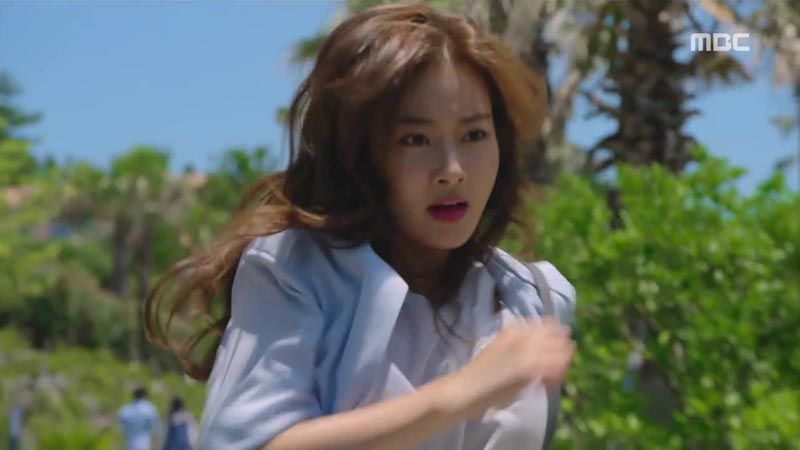 But worry mounts when Jung-joo sees that Gun-woo's bag is gone, and then she gets word from Mr. Gong that Gun-woo's taking a 5 p.m. flight. She races for the airport (…weren't we just here an episode ago?), and his drunken words from last night replay in her ears. She vows not to let him go this time and asks him not to go, thinking, "I love you too."
But when she gets back to the restaurant that night, she's heavy-hearted and alone. She looks at the messages from a year ago, still unread, sighing that if she sent them again right now, he'd probably miss them again.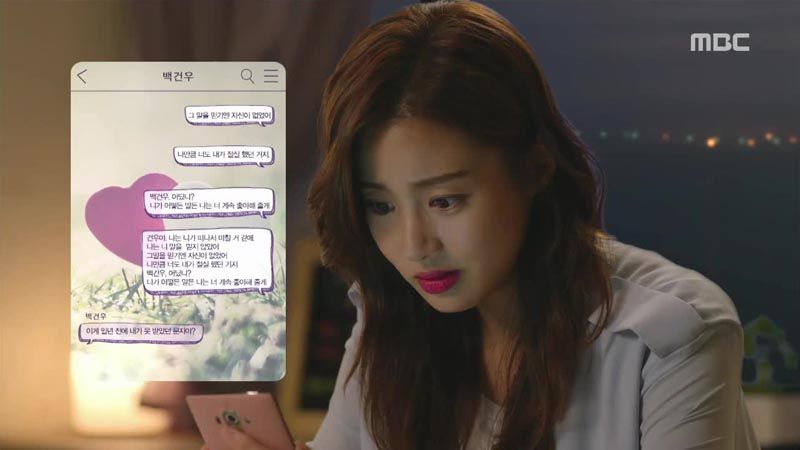 But then, before her eyes, those unread markers disappear—he's just read the texts. A new message pops up, asking whether this is what she sent last year. She asks where he is and if he remembers what he said last night.
At that, Gun-woo appears right next to her and takes a seat. He confirms that she she stayed with him all night, and admits that the mayor caused him to loosen his tight mental grasp. And that led him to miss his departure.
She asks if he remembers what he said last night, deflating when he tells her to forget everything a drunk person says. But he adds, "Listen again to the words said with a clear mind. Jung-joo-ya, I love you."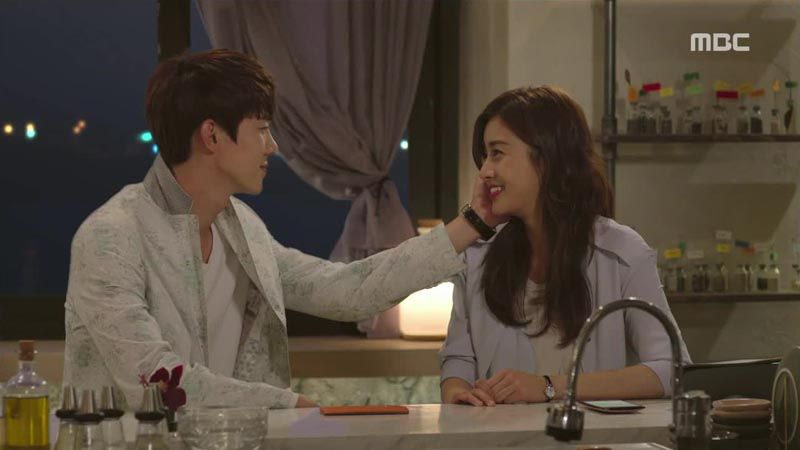 COMMENTS
Well, finally. Was that really so hard?
I know the whole point of lies is that they're necessary narrative evils, and that a drama full of heartfelt truths is probably the fast track to Boringtown, but after so much shaded talk and self-defensive posturing, it's a relief to get some real feelings out there in the open. I won't argue that there weren't a zillion better ways to bring us to this point, but I suppose I should mostly be glad we got here at all.
What's frustrating about the past couple episodes (aside from the obvious) is that it could have worked more convincingly if the reasoning were more sound—if the writing had taken a little more care to fill in Gun-woo's parents' backstory (instead of dumping a convoluted explanation in our laps), if the burden of guilt were built in more strongly, if the sibling relationship had been depicted as more fraught (and therefore Gun-woo's sacrifice felt earned and meaningful), if his reasons felt necessary and not misguided. The problem with throwing a simplistic rationale at our hero is that he looks dumb for believing it, and then our heroine looks dumb for going with it. I want my couple to feel thwarted by something bigger than themselves, and not a mere inability to speak a straight sentence.
I hate the stupid time-jump, but I suppose a year isn't so long that I'm angry at the time wasted. I mean, one wasted year is a sad thing, but these writers have given us longer separations so this one feels like a gift, practically.
I still don't see how this mother-killed-your-husband tangle of generations-old guilt will resolve, because I don't see how we're any closer than we were last week. I do actually think the concept of Gun-woo's guilt is reasonable (it's this drama's handling that was flawed), because children bearing the sins of their parents' generation is a familiar and understandable theme. I don't like that it happens (especially when dramas fall back on them as crutches, which is how I feel this show did it), but sure, culturally speaking that's something that happens. It's too bad the show never got us to care about anything in the parents' generation, and as a result it never lands emotionally when the hero takes it so hard.
This episode felt like we were making one giant circle in the plot, but because it ends on a satisfying, hopeful note, I'm at least left with some warm fuzzies. In the absence of plot logic I at least want some fanservice or emotional gratification, and tomorrow had better deliver at least one of those things! Ideally all of those things, but really, at this point I'll just take the kisses.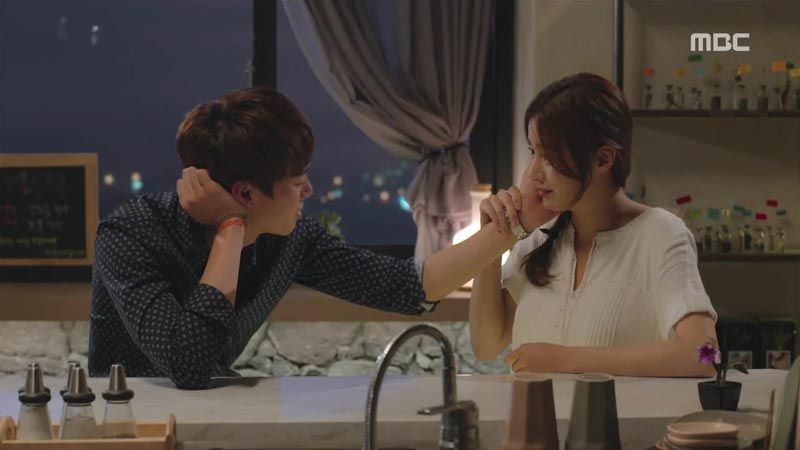 RELATED POSTS
Tags: featured, Kang So-ra, Warm and Cozy, Yoo Yeon-seok