Warm and Cozy: Episode 16 (Final)
After wading through the arduous portion of denial with a side of noble idiocy, we finally get to the good stuff: fluttery anticipation of first dates, how to seduce your boyfriend without seeming too eager (Answer: There's no such thing as too eager! Too eager's for people in Episode 8! Get on with it!), and what it takes to hang onto your happiness once you've found it. Does it involve kisses? Because it should.

SONG OF THE DAY
Beauty Handsome – "너를 좋아하니까" (Because I Like You) [ Download ]
Audio clip: Adobe Flash Player (version 9 or above) is required to play this audio clip. Download the latest version here. You also need to have JavaScript enabled in your browser.

FINAL EPISODE RECAP
Now that they've FINALLY confessed their feelings (thank ye potent grain alcohol), Gun-woo and Jung-joo tease each other about who's been nursing the bigger crush. Jung-joo asks if he was crying every night without her, and Gun-woo busts out the big guns: his recent discovery that he was her fantasy-prince-first-love.
She cringes and he says he couldn't get on a plane after hearing that, and debated whether or not to show up on horseback. He remembers her request years ago for him to grow up a wastrel, and sighs that if he'd known that was what she was really into, he wouldn't have become so responsible. 'Scuse me? Are we talking about Baek Gun-woo?
Ji-won catches up with Noona, and tells her that Gun-woo's been so responsible lately that he might inherit his uncle's company after all. She admits that she was hoping he was doing all of that to change for her, but Gun-woo never let her get close.
She's happy to marry Gun-woo's friend the chaebol heir anyway, and we cut to Jung-joo being introduced to him. Ha, it's a cameo by Yoo Yeon-seok's real-life friend Sohn Ho-joon, who plays Gun-woo's friend Sohn Joon-hee, the "Young-seok Group" heir (lol, as in PD Na Young-seok).
Joon-hee invites them all to his "giant villa" on Manjaedo (where Three Meals a Day: Fishing Village was shot), and brags about his world-class Chef Cha. Gun-woo is surprised to hear that Ji-won is okay with having their wedding in a sunflower field and going to Manjaedo for their honeymoon, but to their shock, Ji-won plasters a smile on her face and says that she wants whatever Joon-hee wants. Jung-joo and Gun-woo gape like she just grew a second head.
In the restroom, Jung-joo points out that Ji-won doesn't seem the type to have her wedding in a field, but Ji-won obviously only cares about marrying a chaebol. She says that she doesn't regret following Gun-woo because she met his friend that way, and Jung-joo asks what Gun-woo's been up to in the past year. When she hears that he's been working for his uncle and might inherit his company, she starts to worry that he's suddenly out of her league, and of course Ji-won rubs it in.
Hae-shil comes by to see Mr. Gong, and happens to overhear him conveying a message to Chairman Jin that his son left. He jumps when he sees her, and she forces him to spill the beans about Gun-woo being the son, and even his suspicions that it was Gun-woo's mother who really killed Hae-shil's husband.
She realizes now why Gun-woo's been avoiding her, and finds another of Jung-geun's hidden presents behind a picture of his mother. She doesn't explain what she's learned, but searches Jung-geun's face to see how much he knows, and decides that he doesn't know about his mother's involvement.
Hae-shil says vaguely that it isn't his fault but she's angry with him anyway, and he guesses that she's mad about not being told that Gun-woo is in Jeju.
Jung-joo brings up the last year Gun-woo spent working for his uncle, and he guesses right away that Ji-won said something to scare her off. He asks if she wants him to be a chaebol heir or not, clearly not caring either way as long as it's what Jung-joo wants.
Hyung calls and Jung-joo tells him to talk things out with his brother, and mentions Hae-shil's desire to work things out with Gun-woo. She tells him that if it involves the reason he left Jeju, she'll stick by his side no matter what happens.
Jung-geun asks Gun-woo to say a brief hello to Hae-shil since she knows he's here. He says that he's terrible at keeping things from her, and Gun-woo says that's why he's avoiding them. Jung-geun heard from his secretary about how important Jung-joo is to him, and tells him to stay in Jeju and not to leave her behind—hyung will be the one to leave this time.
Gun-woo waits outside until Hae-shil arrives and bows to greet her, only saying a few words about staying here for a few days. She looks up at him with conflicted emotion in her eyes, but says nothing in response.
Meanwhile, Mr. Gong meets with Gun-woo's father and tells him about what Hae-shil knows, and Dad asks to meet with her.
Jung-joo lights a candle on a table prepared with wine, and waits and waits for Gun-woo while spraying perfume and putting on face masks. She dozes off while waiting for him, and finally calls to ask when he's coming over. He didn't realize that her "I'm heading home" included him, and Jung-joo quickly backpedals so as not to sound too eager.
She insists that she is in no way waiting up for him and hangs up, and Gun-woo calls back to suggest that they erase their last conversation and he'll come over right now. She's adamant that she was not waiting up for him, and he says with disappointment that he thought that maybe she lit a candle, sprayed perfume, and woke the seductress vampire.
She blows out the candle immediately and denies it, and he pouts that he was hoping she was giving him an excuse not to be so patient. She counters that she's very patient, then immediately regrets implying that she wanted him in the first place and rushes to say goodnight. Gun-woo mutters to himself, "Does she really think I can sleep after that?"
Jung-joo buries her head in mortification and falls asleep that way, and Gun-woo ends up coming over after all. He smiles to see the wine and candles that she swore she didn't prepare, and regrets not coming sooner. He tells her not to be patient anymore and tucks her in before heading back out.
Gun-woo returns in the morning, and Poong-san is elated to see that he hasn't left. Gun-woo replies loudly for Jung-joo to hear: "Because of Jung-joo. I didn't think I could live without her, so I couldn't go. We're dating now, so spread the word all over town!" Why so cute?
Jung-joo plays off last night as a misunderstanding and insists that she is in NO way the kind of girl to set up a plan to seduce him, or to move that fast after dating for all of one day. He tells her not to be patient anymore, but she yells back, "I'M NOT burning with that kind of desire!" Pffft.
He pouts and agrees to do it her way, but offers to cooperate anytime she decides she doesn't want to wait. She walks away before losing any more ground, and he grumps that she should just admit to being a vamp.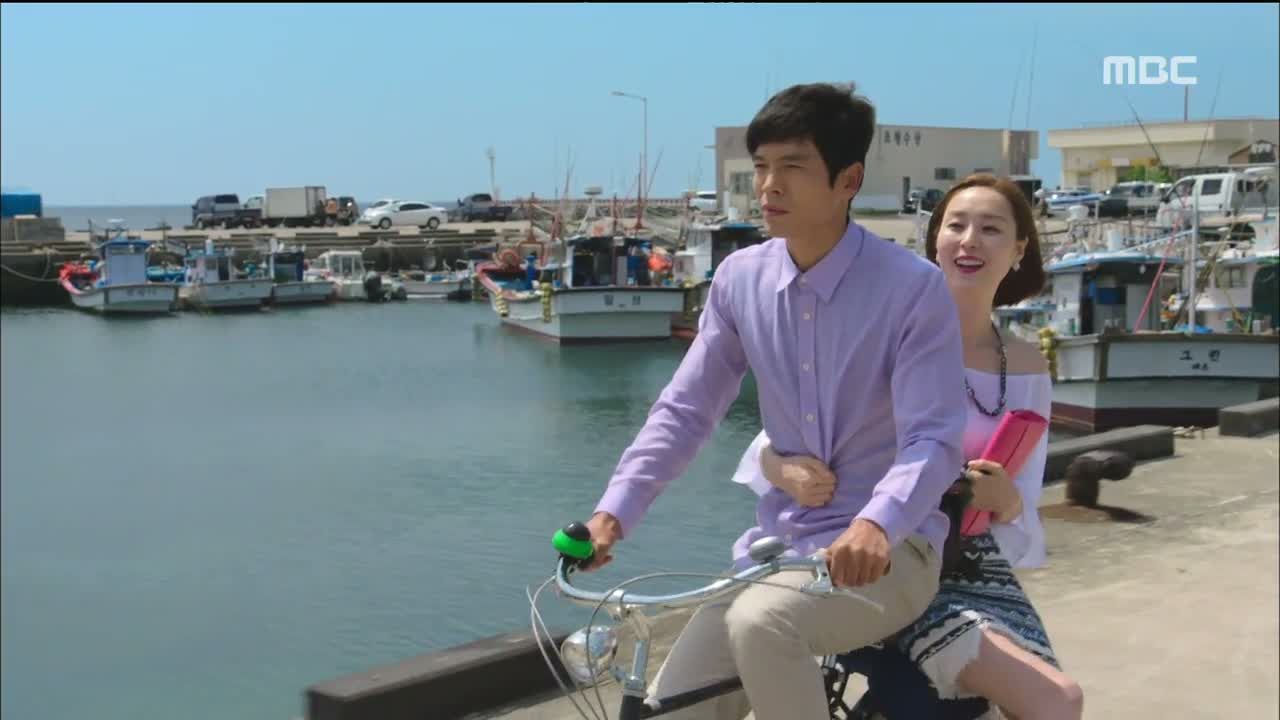 Noona returns Wook's jacket to him at the mayor's office and offers to buy him a meal, and when he turns her down, she shouts loudly, "But you hugged me and took off your clothes!" He drags her out in a hurry, and his staff watches with jaws hanging open.
Unsurprisingly, Noona's just as bad at courtship as the rest of her siblings, and threatens to leak a picture of Wook crying at Jung-geun's wedding if he doesn't help her get into the diving school. Wook storms off angrily, and she races after him to admit that she was lying about having a picture.
She trips in her heels and scrapes her knee, and he takes pity on her and helps her up. She's all smiles as he gives her a ride on his bicycle, and she wraps her arms around him happily.
Gun-woo is hard at work peeling potatoes and offers to catch a bunch of sea snails too, and Jung-joo starts to worry about her chaebol prince living like a commoner just for her. She imagines him in a fantasy sequence giving up his royal life to peel potatoes for her, and Gun-woo chuckles to find out that she's angsting over it.
She assumed he was giving up his inheritance for her, but he asks why he'd do that, and tells her that he can't just leave his position at his uncle's company at the drop of a hat. He's a responsible person now, and has to go back to work soon. He asks if she's okay with a long-distance relationship for a little while since she's soooooo patient and all, and her face falls.
Jung-joo tells the diver ajummas about Gun-woo leaving again, and they warn her not to let him go because they've seen men come back after leaving once, but never a second time. They say she's on her way to becoming one of them, and she imagines her life as a lonely diver waiting by the sea for her lover to return.
Gun-woo finds her at her ramshackle house and vetoes her plans to turn it into a café, pointing out that the house technically belongs to him (since it was her down payment for Warm & Cozy). He thinks it makes a better house than a café, and tells her not to do any construction on it without him.
He thinks back to that night they were locked in here, and wonders whether things would've gone differently if they'd really been trapped inside. He muses, "You're patient so you would've protected me, right?"
She half-heartedly agrees, and he scoffs, "I give you opportunities to jump me and you're going to protect me to the end?! Let's see how long that patience lasts!" Seriously, why are we not jumping his bones? He reminds her that he leaves in a few days, and challenges her to go ahead and waste the rest of their time playing coy.
Ji-won asks to host her wedding at Warm & Cozy at her fiancé's request, and neither of the ladies seems happy about it but Jung-joo agrees to host it. Ji-won is surprised to hear that she's about to let Gun-woo go off on his own again, and she warns her that she ought to be more uneasy because Gun-woo is surrounded by beautiful women wherever he goes.
Poong-san agrees that there should be more tension in their relationship, and notes that Jung-joo and Gun-woo seem no different than when they were just business partners. So that night Jung-joo decides to do something about it, and gets all dolled up and practices asking Gun-woo out on a date in front of the mirror.
She heads downstairs and suggests a movie or a drive or a meal, and Gun-woo absently shoots down all of her suggestions and says he doesn't feel like going anywhere. She argues that there's no tension between them even though they're supposed to be dating, and he counters that he's never looked at her without feeling tension.
He says he's always been uncomfortable around her, and she lights up at that, deciding that they should head out for a date then. But he pulls her down into his lap and plants a kiss on her instead: "I don't wanna go for a walk. I don't want to eat bean porridge, and and I don't want to see a movie either." Rawr.
Jung-joo: "I don't [like those things] either. I like you best. Gun-woo-ya, I love you." He kisses her again and again, and they wrap their arms around each other as they pause only to look into each other's eyes.
The camera pans over until they're hidden behind a bookcase (damn bookcase!) and a caption reads: "Of course that night… they didn't go outside…"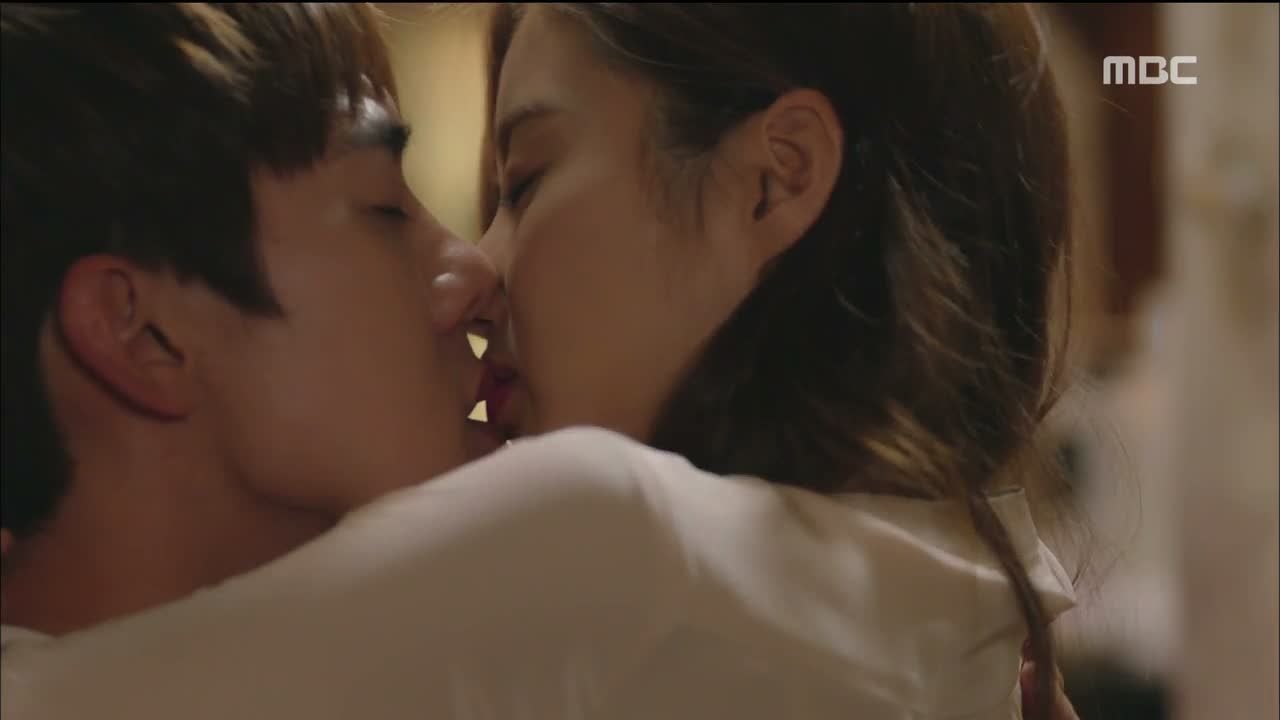 Hae-shil takes Jung-geun back to their spot on the bluff and says with a heavy heart that sometimes when you're diving, something catches your eye on your way up to the surface, and you dive back down for it, knowing that you might run out of air and it might not be worth it. She calls herself childish for going after it, but Jung-geun says it's better than wondering what if for the rest of your life.
Later that night, Hae-shil meets Gun-woo's father and asks if what Mr. Gong said about Gun-woo's mother causing the accident was true, and Gun-woo shows up to listen in. Dad scoffs at the idea that he'd throw away his whole life for love, and asks if she really thinks that kind of grand love exists in this world.
He assures her that it doesn't, and that he's paid his debt in prison and wanted to buy her house to ease his own conscience. It still seems like he's taking the fall to protect everyone else, not that he'll admit it even to Mr. Gong.
Hae-shil comes home and finds the last of her hidden gifts—a jar full of sand from all over Jeju Island, which Jung-geun collected by hand because he knows how much she loves this place. In the letter he calls her his life's perfect jewel, and tells her that he loves her. She clutches the jar and cries, and then agrees to grant him a wish.
Gun-woo is quiet after eavesdropping on his father's conversation, and Jung-joo says that he doesn't have to tell her anything—she just thought she should be by his side. He pulls her close and says that it's comforting.
Jung-geun tells Gun-woo that Hae-shil agreed to go to Japan with him, and tells Gun-woo to stay in Jeju if he wants. Really, this is the best you guys can do as brothers? To not live in the same place at the same time?? Whatever.
Gun-woo asks if hyung could throw away the rest of his life for love, and says that he's just wondering if such a love could exist in this world. Hyung doesn't know, but Gun-woo says, "I don't know if I could do it, but I think it exists."
Dad stops one last time at Warm & Cozy, and Jung-joo invites him in to have lunch. She doesn't know that it's Gun-woo's father, but nearly brings him to tears when she tells him that their chef cooked this meal, and that he named the place Warm & Cozy because it's a saying that his father used to say to his mother.
She says that their chef has a warm heart, which is why all of his dishes are tasty and warm, and Dad tastes his son's cooking with a deep sigh. Jung-joo walks him out, and Gun-woo arrives just in time to see Dad leaving. He doesn't make his presence known, and just watches his father leave with tears in his eyes.
Jung-joo goes to meet with the contractor and asks why all of the café materials have been swapped out for house-building materials. He says that her husband-to-be told him to turn it into a family home.
We flash back to Gun-woo's meeting with the contractor, where he asks for a master bedroom overlooking the ocean, and adds, "One, two, no three—we should have at least three [kids], right?" Kyaa.
Gun-woo tells her that night that he has to go back to work tomorrow, and asks if she's prepared for a long-distance relationship. She asks how often he'll be able to return—once a month? Two months? Three? She starts looking worried, and then says, "I'll be back in a week."
He says that hyung is leaving and he's able to stay in Jeju, and he thought about it and decided that he wants to stay here with her and do what makes him happy. He finally says that he wants to tell her about his father, and she holds his hand and agrees to listen to whatever he has to say.
A quick montage of their relationship (minus the infuriating circles, thank goodness) leads us to two aprons hanging side by side on the clothesline outside Warm & Cozy. Gun-woo and Jung-joo present Ji-won and her fiancé Joon-hee with the simple noodle dish they plan to serve at their wedding, and Ji-won grits her teeth to try and be patient.
Joon-hee suggests that after the wedding they go live in Oksoonbong (Seo-jinnie's farm) and live simply, making three meals a day. That's the last straw for Ji-won, and she tells him to make his own three meals and get married on his own too, and storms out in a huff.
Jung-geun hugs Hae-shil and thanks her for leaving Jeju for him, and she says that being together is what's most important. He asks if she believes in a grand love that sacrifices everything, and she says that he did that for her. She adds, "The grandest love in the world can't beat the everyday, precious love that I have right now."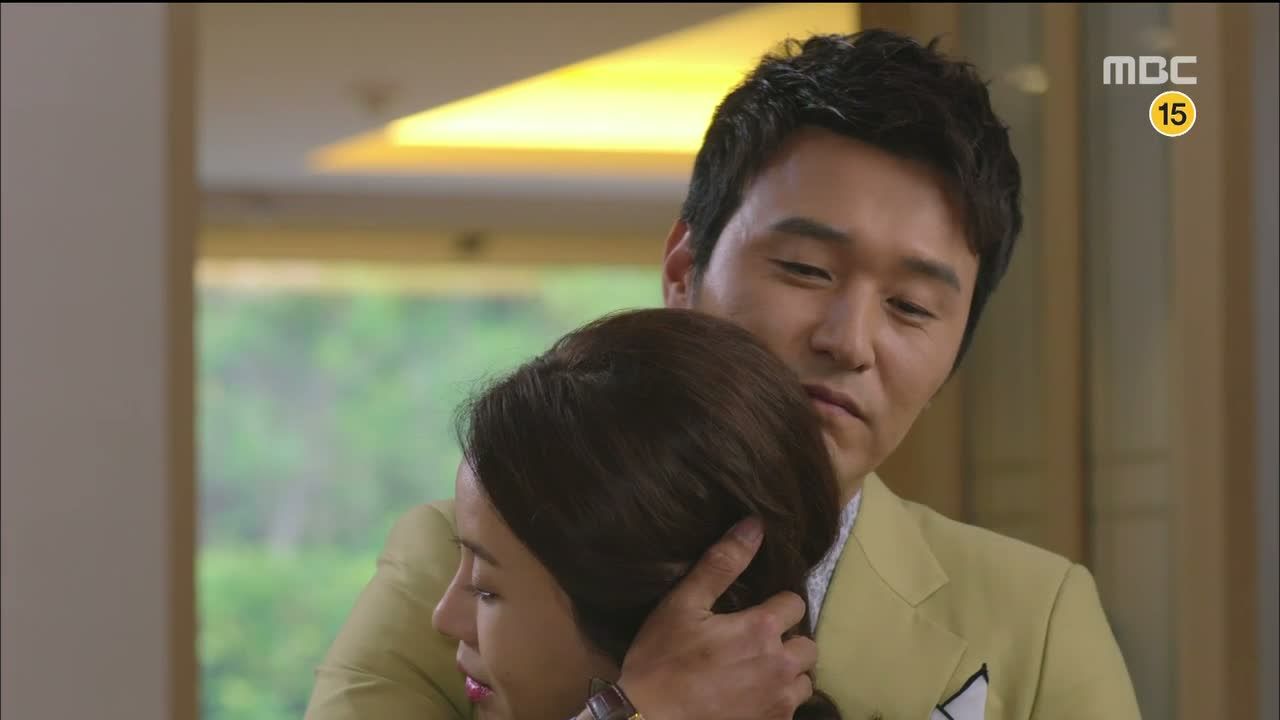 Noona runs out of diving school and catches a ride on Mayor Wook's bike, and they head over to Warm & Cozy where practically the whole town is gathered for lunch. Wook asks if she brought him here on purpose, and she informs him that she's already met his uncles, brothers, and father who all look like him, so there's no backing out now.
They join Hae-shil and Jung-geun, and as food goes out to all the tables, Jung-joo takes stock of her surroundings and asks Gun-woo, "Are you having fun?" He smiles and says he is.
In a quiet moment, they sit outside Warm & Cozy overlooking the ocean. Gun-woo says that Joon-hee and Ji-won decided to ditch the sunflower field for a ritzy wedding hall in Cheongdam-dong, ha. All I can say is, POOR JOON-HEE.
Gun-woo asks how they should plan their wedding, and Jung-joo pretends to contemplate it for a moment: "Well, I guess you should be the groom, huh?" Gun-woo: "Yeah, that can't be helped. I already gave you everything. I'm yours till the day you die. No take-backs."
She leans her head on his shoulder and says that she can feel his temperature now and that makes her feel safe. When she thought she was the only one boiling, it made her anxious and all she could think about was the temperature difference between them.
Gun-woo says he was hot too—she just never opened the lid to check. Dude, you're like totally glossing over the part where you made her so confused that she didn't know up from down or hot from cold.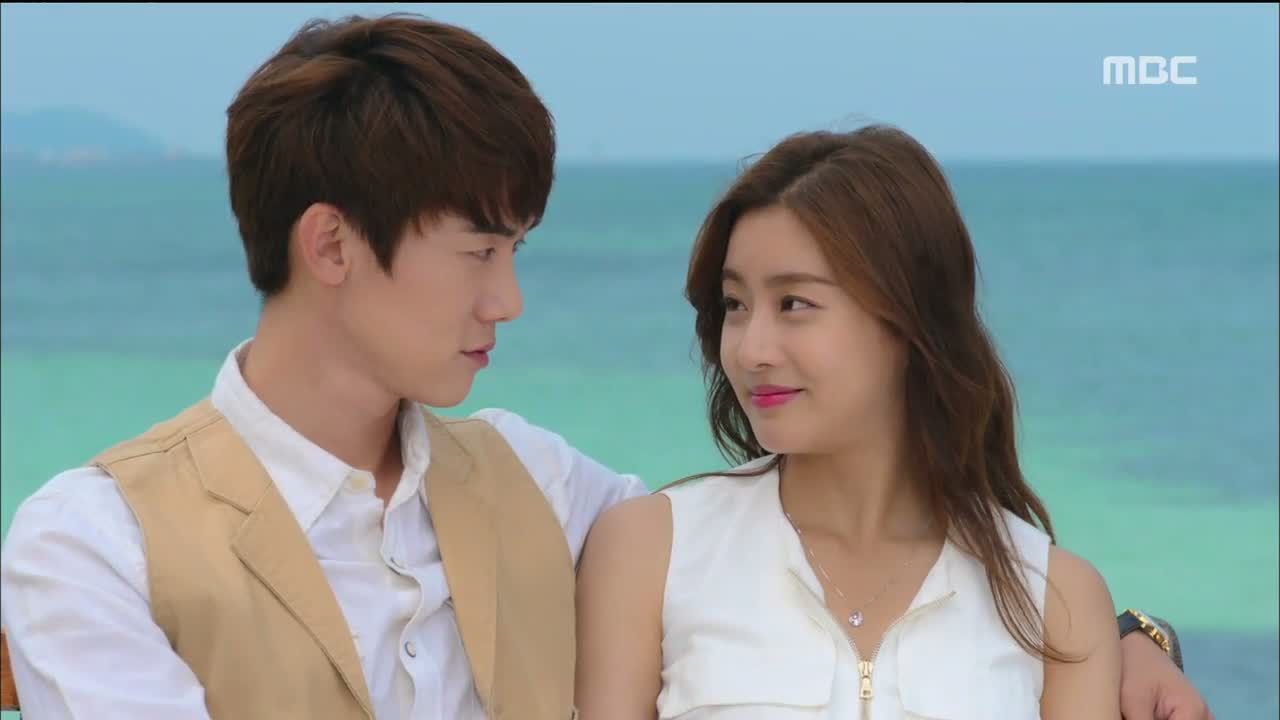 Jung-joo decides, "Let's not boil or cool on our own, but match our temperatures and be warm and cozy for the rest of our lives." He agrees and kisses her on the forehead with one last, "I love you." Jung-joo answers, "Me too."
They snuggle and wonder if they should have their wedding here at Warm & Cozy, but then Gun-woo gets the idea that Jung-joo should wear her diving gear and they'll get married in the ocean and he'll hide a pearl ring in a conch shell, and she chides him for ruining the surprise.
He nudges her, "Jagi-ya, want to make it a warm and cozy night?" Jung-joo's done playing coy and says that's what she was hoping for. They turn to the camera with the send-off: "Have a warm and cozy night!"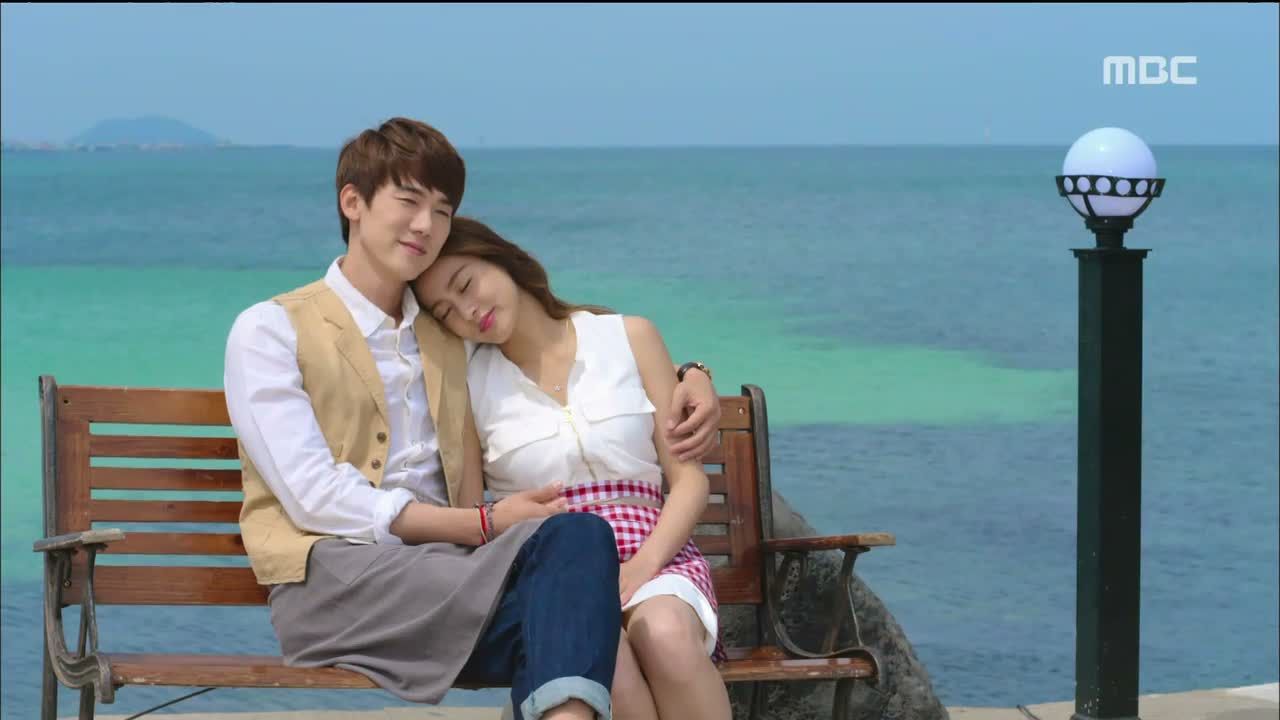 COMMENTS
Aw, at least we got exactly the kind of finale that was promised—a warm and cozy happy ending for our lovebirds, and buckets of cute to remind us why we wanted them to be together in the first place. It was easy to forget at times, especially when Gun-woo spent so (so, so, so, so) long either in denial or purposely resisting his feelings that it seemed like we'd never get to the part where they could be honest about their feelings and move forward. On the one hand, I'm just glad we got as much happy romance as we did in the last two episodes; on the other, I still fail to understand exactly why we couldn't have gotten here on Day Two, save for the fact that we had 16 episodes to fill.
Overall the drama was a disappointing outing from the Hong sisters, who seem to now care less about building their episodes around the kind of manic metaphor-laden zany humor that characterized most of their dramas until now. There have been exceptions, of course, but in general their style has favored a level of wordplay and dynamic comedy that seemed muted in this drama, and though there were a few gems here and there, I always left each episode wondering whether the fizz had flattened. For the sake of longtime fans, I hope there's an upswing on the horizon and that it's not a sign that they're just done trying.
This was a drama that rode almost entirely on the chemistry of the two leads, which was its only true saving grace in the end. The story had so little conflict that I spent a lot of time trying to figure out if I was missing something, because there was actually never any reason that Gun-woo and Jung-joo couldn't be together. They had angst due to their own inability to be honest about their feelings, sure, but it was never angst that went beyond the simple solution of confessing and being vulnerable with one another. It's a zero-sum game to be invested in angst that doesn't have real roots in anything, and if your story lacks a core conflict, we'll feel that even without knowing the whole picture. Which is why most of us just sat here waiting for Gun-woo to get his head out of his ass—the only thing stopping them was his stupidly misplaced devotion to Ji-won (ugh, I still gnash my teeth to think of all the time she wasted) and his fear of rejection.
The parental conflict didn't even turn out to be useful as a real obstacle to love (I would've happily taken a complicated birth secret story if it had served an actual story purpose!), and I can't believe that they introduced the storyline only to let it trail off on Dad burying the truth. What? So what you're saying is that it doesn't even matter who really killed Hae-shils' husband, as long as she doesn't think it's her new husband's mother? And do Hae-shil and Jung-geun just plan to live in another country and avoid Gun-woo forever? This is your solution? This family sucks.
I was all ready to forgive Jung-geun for making Gun-woo leave because I expected him to come around and feel truly bad about it, but they just continue to stay apart for no apparent reason. I honestly don't understand why everybody couldn't stay in Jeju, and I went from loving the brother relationship to resenting it by the end. It doesn't seem fair that Gun-woo can't have a relationship with a father OR a hyung because of what their mother did, and the only solace I can find is to say to hell with the family—go make a new one with Jung-joo. And don't even get me started on Ji-won and Noona getting rewarded for their bitchiness with Ho-joonie and Mayor Wook! WhatEVER. Did karma skip this town or something?
I'm actually saddest about the terminal illness misunderstanding being blown so early in favor of needless I'm-leaving-no-really-never-mind-just-kidding plot circles that never went anywhere. The best conflict we got all series long was everything that came out of Gun-woo thinking Jung-joo was dying, and I really wish we could have a do-over where his emotional angst stems from something logical and universal like falling in love with her thinking she's going to die. It's a pity that setup wasn't milked for more conflict, and that Gun-woo learning the truth actually acted against his character and made him harder to empathize with.
I wanted to kick Gun-woo in the pants at least once an episode from the start, but the latter half really tested my love for Yoo Yeon-seok. He's really what made the insufferable Gun-woo more a lovable scamp than a hateful jerk—that line was really really thin with Gun-woo, and it was the longing looks and the searching eyes, and the soft boyishness in his delivery that kept him from veering off into bastardville. He made me believe that Gun-woo's love for Jung-joo was real, long before his character ever knew. Kang So-ra had the less flashy job of playing a consistent character from start to finish, but I always loved her in every moment, and rooted for her love and never thought less of her for being faithful to Gun-woo. She had a way of making Jung-joo seem strong, not down-trodden, and more of a giving person who's willing to sacrifice rather than just a doormat who keeps letting people walk all over her. They were both great at balancing humor and raw emotion, and despite the fact that the drama was lackluster overall, they walk away with strong performances and palpable chemistry, and I think better of them as actors for what they managed to make out of a pretty flimsy story.
Warm and Cozy ended up being exactly like the relationship that Gun-woo and Jung-joo promised to maintain: neither boiling nor cold, but just nicely warm and feel-good. It was a totally inoffensive drama that was easy to watch and had no truly low lows, but it also had no high highs to sweep me along and make me wonder about these characters after any given hour was over. Other than make me want to take a vacation to Jeju, Warm and Cozy didn't really leave a strong impression about anything within the narrative, mostly because proper character motivation was so scant around these parts. If we separate the main love story from everything else, then it's a sweet contemporary tale about risking your heart for the one person who makes it all worth it. And maybe the point is that their love isn't grand or all-consuming, but relatable, everyday happiness that you have to make for yourself and not take for granted. And that, I suppose, isn't all that little in the end.

RELATED POSTS
Tags: featured, Kang So-ra, Warm and Cozy, Yoo Yeon-seok