Last: Episode 2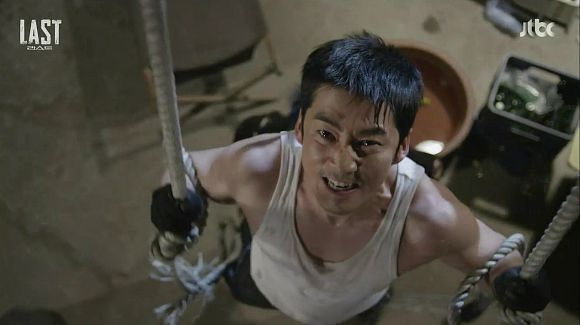 I know we said we weren't planning on recapping Last, so… surprise! The premiere was so good, we changed our minds. Be patient with me for a couple of weeks while I get recaps caught up to the current episodes, and I'll try to have them out as quickly as possible.
We learn a bit more about the Seoul Seven, and the code of ethics that rule the entire underground society. Tae-ho is going to need more than strength to climb his way to the top – he's going to have to learn that code like his life depends on it, which is where his little band of friends will come in. But he still can't do it without help from an unexpected place, and convincing the right person to help him isn't going to be easy – or even safe.
EPISODE 2 RECAP
The remaining five underground bosses known as the Seoul Seven (sans Tae-ho, and also without Straw Cutter, who is in prison at the moment) meet up at The Club, where SEO MI-JOO (Park Ye-jin) refuses to serve them. Number Six, CROCODILE (Jang Won-young) takes offense and threatens her with a smile, so she elegantly pours him a glass — all over his hand.
The other bosses cringe when Crocodile slaps her hard, and Number Two JONG-GU (Park Won-sang) diffuses the tense situation by sending her for some soju. He decks Crocodile, twice, and goes on to do the same to the others — they need a little reminder of the natural order of things around here.
Number One Heung-sam arrives, and stops to check out Mi-joo's fresh shiner. He stops the brawl-in-progress between his men and cheerfully offers Jong-gu a drink and a woman, even Mi-joo if he likes. Jong-gu is in a terrible mood and declines both, saying that he only came because his boss called.
Jong-gu leaves with Heung-sam's blessing, but his laughter holds a nasty edge. On his way out, Jong-gu tells Mi-joo to just obey and she won't be broken like this. She fires back a question — why should she do something he can't even do? Touche.
Crocodile is the mouthy one of the group, and he whines that Jong-gu only acts that way because he's Number Two, and that he doesn't really do anything for the honor. Number Six, SERGEANT BAE, agrees with him, and they say that in their hearts it's really Number Four, POISON SNAKE, who should be second in command. Heung-sam tells them to challenge Jong-gu openly if that's the case, but he won't tolerate scheming behind his back.
Heung-sam tells the men that they need to be on their toes and watch out for the men from Dong Hae Financial Company, a group of loan sharks, especially their leader President Jang (the same President Jang that sent Tae-ho into the river). Poison Snake wonders why they would butt heads with loan sharks, but Heung-sam just barks that he doesn't need his approval.
Heung-sam only now realized that Snake Eye isn't here, and Poison Snake tells him that he's been "repurposed." Yikes, did they sell off his organs? Ew, a quick flash of a bloody underground operating room shows us what happens to a Boss who loses his power. Heung-sam asks who took his place, and tells Poison Snake to find out more about the newcomer.
In the morning, Hae-jin cheerfully bounces Tae-ho out of his makeshift bed in the subway, chattering about how cushy his pile of cardboard boxes is. Tae-ho says he won't rest well until he's sleeping in Number One's bed, but Hae-jin says he's got to go to work first. Baby steps.
He Teaches Tae-ho how to collect the beggars' money, explaining that it's better they give it over to a Boss than have it stolen by someone else. At least a Boss leaves them thirty percent to live on. Tae-ho decides to change the system and split the takings fifty-fifty, and tells the beggars to spread the word. Ha, smart, he'll get more beggars in his districts that way.
Later Tae-ho and Hae-jin discuss strategies to oust Number Six, Sergeant Bae, but Hae-jin says Tae-ho's fighting skills are gonna need some work. He gets serious for a moment, and warns Tae-ho that he'll be repurposed the minute he loses his position in the Seoul Seven. They witness Sergeant Bae roughing up one of his men for being late to "work," and Bae recognizes him as the new Number Seven.
That night, they're still with Sargeant Bae and his men, watching how he extorts money from club owners by basically blocking the doors until they pay up. Sargeant Bae orders Tae-ho to dance in the street as a way of asserting his dominance, but Tae-ho simply glares at him.
He manages to slip away in the confusion when President Jang's minions show up, and the head goon and Sargeant Bae get into a little spat over territory. Jong-gu saunters over just as calm as you please to ask Sergeant Bae about his money, and tells him to settle this thing with President Jang's goons quietly.
When the Head Goon gets mouthy, Jong-gu offers to fight him right here and settle it, and though the guy is twice his size, Jong-gu neatly flattens him in about five seconds. Tae-ho witnesses the whole thing, and actually looks impressed.
Hae-jin goes looking for Tae-ho at Nara's restaurant, but she hasn't seen him lately. She does ask if "that ahjussi" is good at fighting, and Hae-jin calls him an amateur that he's working on fixing up, ha.
Tae-ho spends some time on a roof overlooking the city, thinking of his last run-in with President Jang and how Min-soo was killed because he picked the wrong card. Hae-jin finds him and fusses at Tae-ho for running off, and Tae-ho just mutters that he's starting to fear lots of things lately, but now there's nowhere to run. He does admit that the fear is good, because then you don't underestimate your enemy.
The next day they head right to Jong-gu's "house" in an abandoned bus under a bridge. Jong-gu is sleeping and Hae-jin wakes him with a gut-punch, which seems really stupid somehow, but Jong-gu doesn't get angry. Tae-ho asks Jong-gu to teach him to fight, but Jong-gu just tells him jovially to go away.
Tae-ho won't take no for an answer, and Jong-gu asks Hae-jin if he's done a background check on this guy — he looks like he's caused some trouble in the past. Tae-ho leaves, saying in a friendly tone that he'll take care of the punks between them before visiting Jong-gu again. Jong-gu just laughs and yawns, completely unconcerned.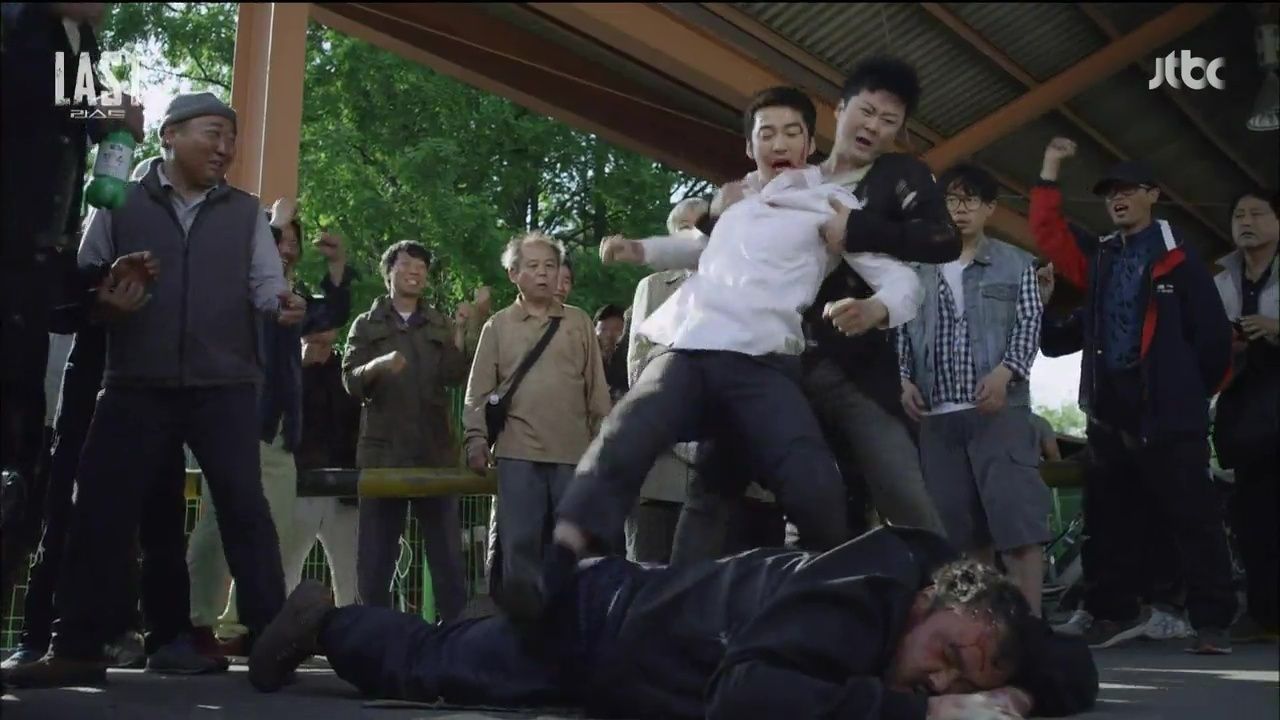 Tae-ho and Hae-jin run into the guy who challenged Tae-ho for the Number Seven spot, who still wants his duel. Tae-ho agrees so they choose a time and place, and a crowd of hobos shows up to witness. The rules are simple: duels are one-on-one only, no weapons allowed, and no killing your opponent.
The duel commences, and while Tae-ho isn't a bad fighter, it's clear he needs some work. His opponent knocks him down several times, and Tae-ho is soon a bloody mess. But the hobos cheer him to get up, knowing he's their best shot at keeping their money — something comes over him and he gets his second wind.
He focuses on his opponent's left knee, kicking it over and over until the guy goes down. Tae-ho jumps on his back and wails on him, and Hae-jin has to pull him off before he kills the man. He tells Tae-ho that now he has to buy a round for the spectators, which Snake Eye never did.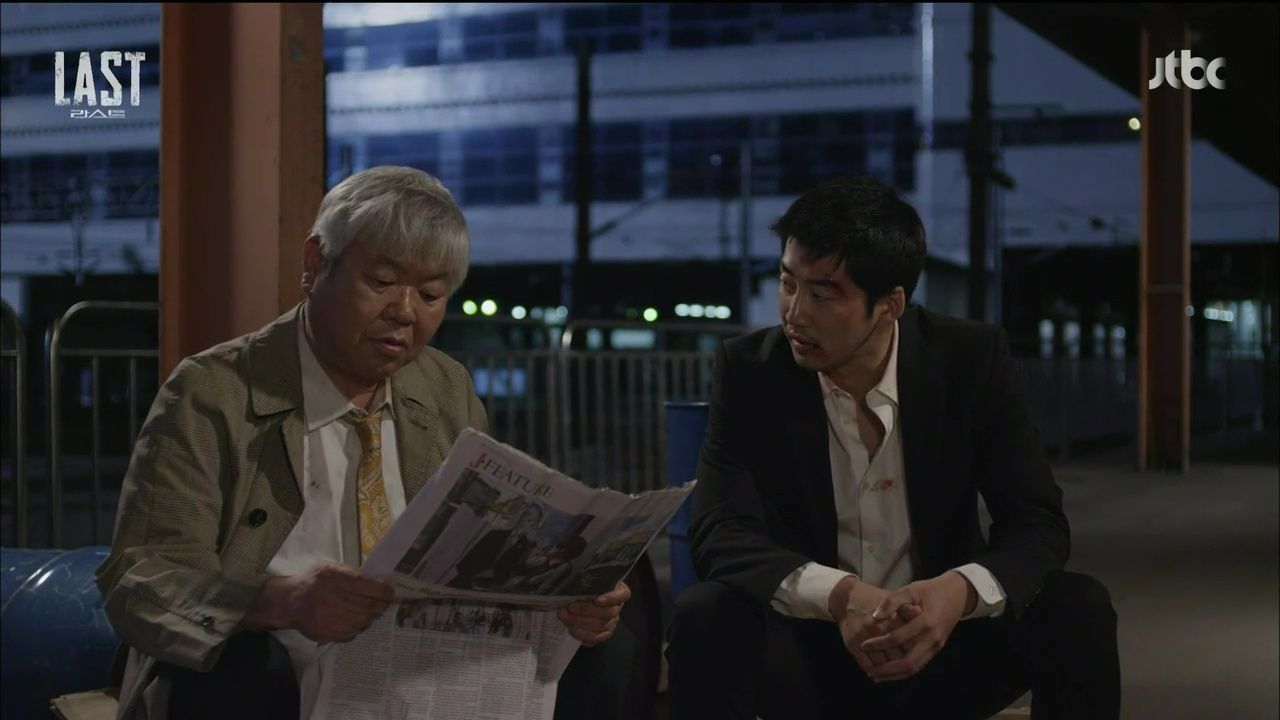 From a distance, Jong-gu watches the hobos parade Tae-ho around on their shoulders, and he smiles to himself as he walks away.
There's a hobo party that night with drinks and food, but Tae-ho sits off to the side with the Chairman. Hae-jin brings them some pork belly, and the Chairman starts asking about the other men, referring to them as his employees. He even mentions Tae-ho's opponent's knee, and how he's had trouble with it for years. Hae-jin plays along, though Tae-ho seems a bit unsettled.
He gets a summons from Sergeant Bae, Poison Snake, and Crocodile, and he's taken to Poison Snake's "operating room" to talk. Poison Snake asks who gave him permission to drop his percentage take, and Tae-ho fires back that if he needs permission, he'll ask Number One.
Poison Snake corrects Tae-ho — the three of them have the real power around here. Number One Heung-sam is busy with more important things, and Number Two Jong-gu may as well not exist for all the interest he shows.
Sergeant Bae takes a package from a nearby freezer, which seems to contain a human ear, and Crocodile tells Tae-ho to say hello to Snake Eye. Ick ick ick. Tae-ho thanks them for the warning and issues his own, pointing to them in the order that he plans to eliminate them.
When Poison Snake seems ready to get rid of Tae-ho right now, Tae-ho reminds them of how many of their own men saw him come in here, asking if Number One would be happy that they didn't follow the proper duelling procedures. They know he's right, and are forced to let him go for now.
Tae-ho wanders past Nara's restaurant after she's closed up, and helps her take out the trash. She notices he hasn't shown up for any meals, free or otherwise, but he says that today he came because he heard about a free clinic that treats the homeless.
Luckily Nara works there as well, and she patches up Tae-ho's challenger, of all people. He's meek as a lamb around her, and says he hasn't got any family when she offers to call them for him.
Tae-ho waits until Nara is done, and she gives him a hard time for bringing her a patient whose condition he's responsible for. She gets a little unsettled when Tae-ho thanks her sweetly and comments on her giving nature as a nurse and volunteer.
Tae-ho offers to walk Nara home, but she declines, saying that the whole Seoul Station area has been her home her whole life. She realizes then that she doesn't know his name, and they formally introduce themselves.
The next morning, Jong-gu wakes to find Tae-ho outside his bus, straightening up the place. Jong-gu jokes that he must be making a place for their duel, asking if he's taken care of all the other guys, but instead Tae-ho asks formally for Jong-gu to teach him to fight.
Jong-gu grumbles that he'll only use the skills he learns to take over his position, but Tae-ho points out with a smile that it will make their duel that much more interesting. Jong-gu assesses Tae-ho, saying that he looked like he was fast, but that he won't even be able to land a punch on Sergeant Bae. Tae-ho already knows, which is why he's here.
They relocate to Nara's restaurant, and Hae-jin is on Cloud Nine until Jong-gu says he hasn't decided to teach Tae-ho yet. He asks how a hedge fund manager ended up in the streets, and pinpoints exactly what happened when Tae-ho tries to be evasive. Tae-ho turns Jong-gu's question back on him, and he honestly admits that he's here because of alcohol, women, and drugs. Heh.
He asks Tae-ho's plans, saying that even when he reaches the top he'll still be a bum. Tae-ho plans to take Heung-sam's money and use it to start over, and Hae-jin nervously assures Jong-gu that he'll get his share. He makes the mistake of mentioning that Jong-gu can use it to find his daughter, and Jong-gu loses his temper.
He asks if Tae-ho left something behind in the outside world, saying that everyone down here has something they care about more than themselves and he's no different. But he tells Tae-ho that leaving this life isn't as easy as he thinks, likening Seoul Station to a prison whose inhabitants are all serving a life sentence.
Tae-ho just thinks that means they should escape, and he's determined to reclaim his old life. When Jong-gu asks if he's willing to risk his life for it, Tae-ho calmly says that he's already died once.
Jong-gu agrees to train him, and assigns Tae-ho a punishing exercise regimen. Tae-ho's grouchy "Oh well, I asked for this" face is hilarious. Hae-jin loyally stays to coach him through it, and eventually the gruelling workouts pay off. For now he's forced to submit to Sergeant Bae's abuse, but he shoots the man filthy "Just you wait" looks whenever he's not paying attention.
Tae-ho destroys an entire chicken alone at Nara's restaurant, and asks Jong-gu for a more intense workout. Jong-gu warns that going too fast will teach him poor skills and he'll lose his first duel. Tae-ho asks how skilled a fighter Heung-sam is, and Jong-gu uses his discarded chicken bones to illustrate how Heung-sam could snap Tae-ho in half easily.
Heung-sam has a lunch engagement with President Jang, who it turns out helped him get to where he is today. President Jang is unhappy that Heung-sam has started up his own loan sharking sideline, and warns him to keep to his own business. Ah, this is why Heung-sam told his underlings they'd be running into President Jang's men more often.
Heung-sam is blithely unconcerned even when President Jang hollers at him, stating that he's paid back all of his debts. President Jang's business hasn't suffered, anyway. Jang says this is about loyalty, but Heung-sam says he lost five billion won because of his loyalty to Jang — oh crap, some of the money that Tae-ho lost belonged to Heung-sam.
After promising to catch the guy who lost their money (Tae-ho) and deliver him to Heung-sam for "repurposing," Jang tells Heung-sam one last time to get his bums off his turf. Heung-sam doesn't even try to hide his contempt for President Jang, which infuriates Jang no end.
A woman passes away, surrounded by family and her husband's employees. Tae-ho's ex-fiancee Jung-min arrives, calling the new widower "father," but he says that her half-brothers probably won't ler her see his dead wife. Jung-min takes offense that the woman who cursed her and her mother won't even show her face to her after death. I get your point, but is this really the time for this?
After she calms down, Jung-min promises her father that she won't come to the funeral. She apologizes that all she can do for him as a daughter is be invisible, and he asks her to come to his home after the funeral. She thinks he means to visit, but he intends her to live there. His sons are useless — she's the only one he can trust.
As one of her father's employees, Jung-min's new boyfriend Se-hoon had been shocked to see her here. She tells him that she's lost boyfriends this way before, which is why she didn't tell him who her father is. On edge, Jung-min says she's not up to talking about it, and Se-hoon says they can talk about it whenever she feels ready — though he can't guarantee he'll still be willing to listen.
Tae-ho collapses on Jong-gu's doorstep and looks up to see Mi-joo, looking decidedly less glamorous today in jeans and a baseball cap. She assumes he's Jong-gu's new bodyguard, but Jong-gu laughs that he's going to learn from him, then use his own skills to beat him up.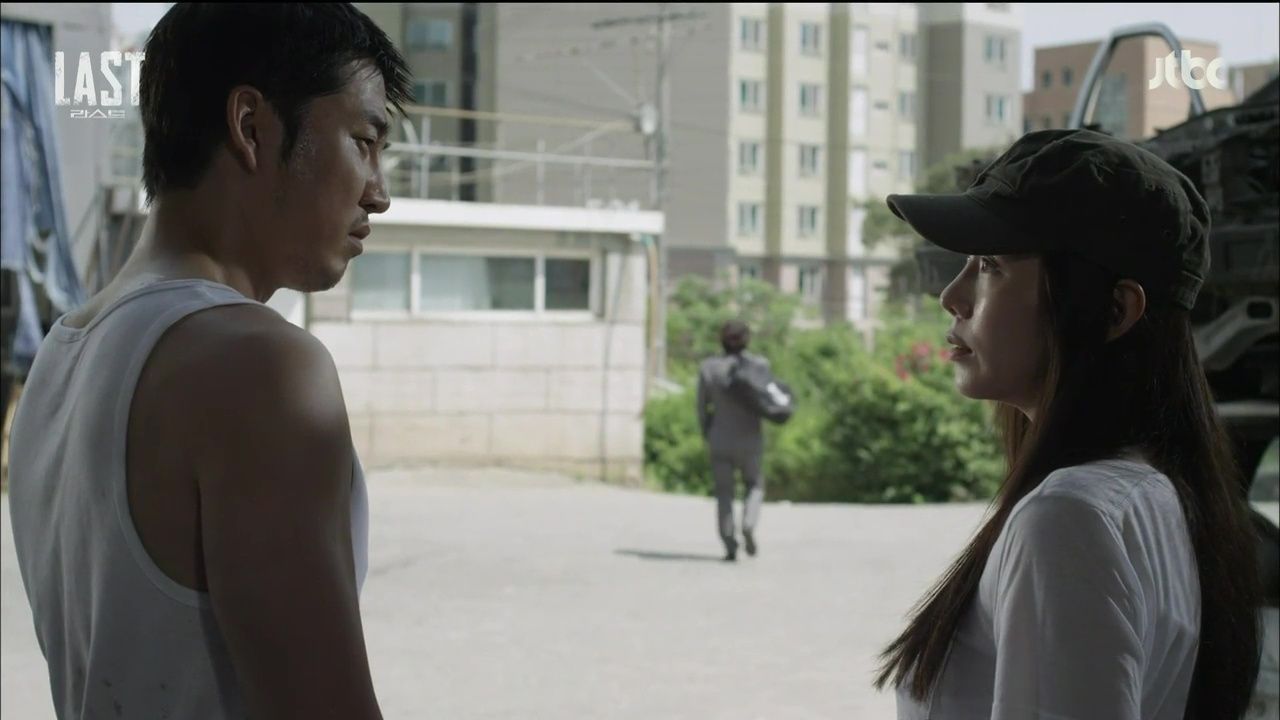 Jong-gu is looking handsome in a suit, and Mi-joo hands him a note with an address, saying she's not sure it's the right person. She tells him to stop by the club for some soju afterward, and straightens his tie. Jon-gu leaves, telling Tae-ho he'll be gone for two days and that his training will get hellish when he gets back.
Mi-joo watches Jong-gu go, and asks Tae-ho if he plans to stay near Jong-gu from now on. He's in enough danger, and she worries that having Tae-ho near will make it worse. She knows exactly who he is and warns him to leave while he can, because the higher-ups are planning something and she doesn't want Jong-gu caught up in it.
Poison Snake tries to speak to Heung-sam — he's discovered who Tae-ho is — but Heung-sam's bodyguard Praying Mantis seems to hate his thin attempts to get on his boss's good side and refuses him. He informs Poison Snake that this is the boss's orders.
Heung-sam plans a get-together at the club with some Inspectors with Mi-joo, and he asks her what's up with his Number Two lately. She pretends not to know, but he's distracted by Praying Mantis delivering the news that the new guy was a hedge fund manager.
The Chairman is sick but he declines medicine, saying that his personal doctor will be back from a conference soon. It's sweet how Hae-jin humors him, saying that the company owner has to take care of himself for his employees' benefit. It works, and he takes the medicine. Hae-jin is worried because the Chairman is supposed to work for Sergeant Bae tomorrow, but Tae-ho says he'll handle it.
Meanwhile Poison Snake, Crocodile, and Sergeant Bae are planning to take Tae-ho out, sure that Heung-sam won't mind their taking the initiative since Tae-ho is responsible for his lost money. They just have to make sure Tae-ho starts things, and Poison Snake tells Sergeant Bae to bait him until he challenges him. Sergeant Bae: "That's my specialty."
The next morning Nara takes care of the Chairman at her clinic, and it's obviously not the first time. She's good at humoring his fantasies of running a conglomerate, and even sweetly slips him some cash (her "bribe") before sending him off.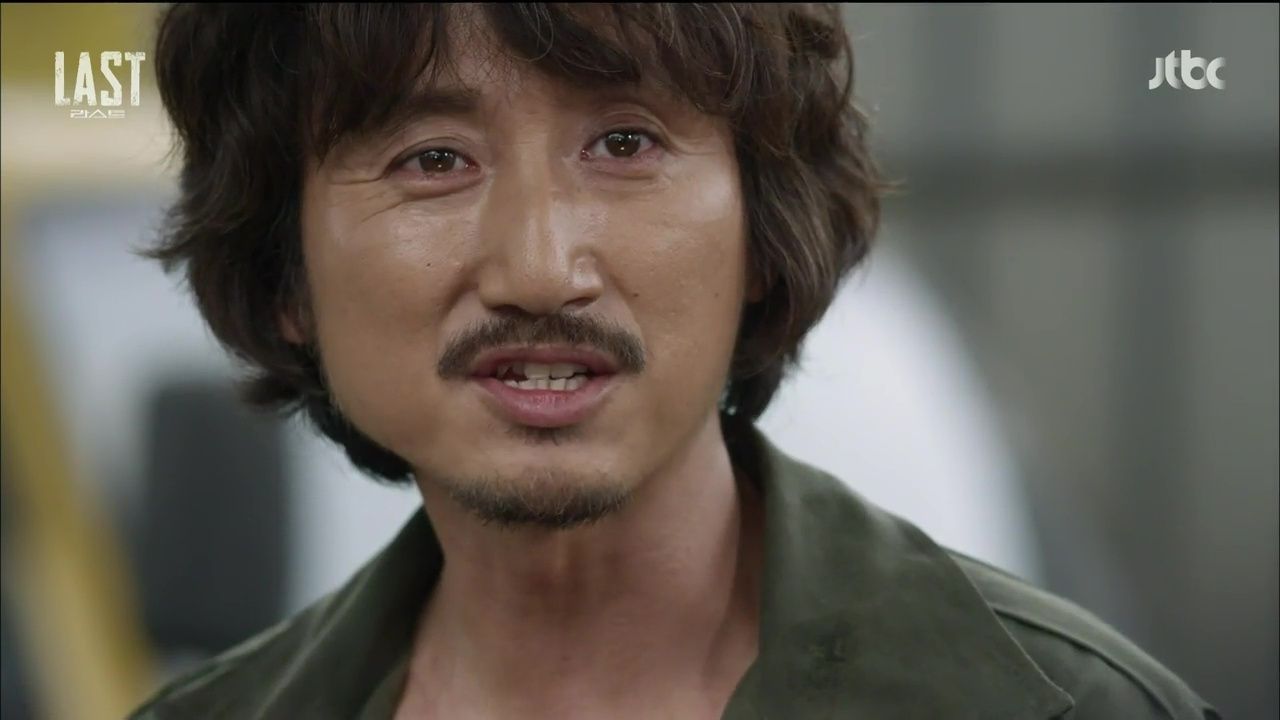 Sergeant Bae orders him to do pushups for arriving late, but when he pushes the old man down, the Chairman seems to have some sort of mental break. Passing firetrucks cause him to clutch his head, and Hae-jin breathes that sirens are a trigger for him. He jumps on top of the Chairman when Bae starts to hit him, then Tae-ho throws a can and hits Bae in the head. Uh-oh.
Bae asks if this is a mutiny, but Tae-ho says it's not… "It's a challenge!" Sergeant Bae smirks, having gotten exactly what he wanted.
COMMENTS
I really, really like this show. Which is actually a surprise to me, because it's so far out of the usual style of dramas I enjoy, but something about the characters and the setup just draws me in. I love a good underdog/redemption story, and Tae-ho is about as under as a dog can get. But it's not just him — usually in this kind of drama, all the gangsters and goons running around posturing at each other are so one-note and there's no explanation for why they are who they are, the audience is just expected to accept that they're Bad. It bores me silly. But in the case of Last, I find all of the players interesting and three-dimensional, even and especially the Seoul Seven (well, the ones' we've met, there's still that one guy in jail).
The Seoul Seven are all underdogs who have fought their way to where they are, and it may not be a glamorous place, but it's a place they've made for themselves. But I'm guessing that Jong-gu's statement that they all have something they left behind that they're willing to die for is true about each of them (okay maybe not Crocodile, that guy should be called Weasel). We know that Jong-gu is searching for his daughter, and I'm sure that we'll learn more about our Seoul Seven and their motivations as we go along. I'm guessing they each have something they're working for, even if their idea of "work" is a bit skewed.
I went into the show expecting something dark and gritty like Cruel City, but I'm pleasantly surprised by the healthy dose of humor and heart we're being given already. You can already see the family that Tae-ho will slowly build around himself as he rises in power, and I look forward to seeing the men bond and become friends. Not to mention Jong-gu, who seems a wonderfully complex and deep character. I'm fascinated to learn more about his story – how did he lose his daughter? Why is he Number Two when he's not even very interested in the Seoul Seven's goings-on and why does Heung-sam let him get away with it? What's his relationship with Mi-joo? But mostly I'm looking forward to he and Tae-ho growing reluctantly close, and the struggle both men will go through as they bond together, then are forced to fight one another to keep their position. And it's not just their place in the Seoul Seven heirarchy at stake — it's literally their lives.
I kind of love the whole "honor among thieves" system in the underground heirarchy — it's a simple system, but it works. Seeing the players maneuver situations within the rules set up by their code of ethics is fun, and gives things an added layer of gameplay rather than just "take your enemy out no matter what." There are rules that must be followed, though nobody said you can't find creative ways to play within those rules. The rules are what keep the underground society from going up in flames, but the creativity within those rules is what makes the Seoul Seven the powerhouses that they are. Watching Tae-ho learn the rules, then manipulate them to get the power for himself, is what's going to make Last an exciting ride.
What I find the most compelling about the show is Tae-ho's character arc, and what he's going to learn about himself as he experiences a different way of life. He's so used to freedom, but he treats people and money as things to grab and possess. I don't even blame Jung-min for ditching him when he lost everything, because she wasn't really convinced he was a good person who loved her to begin with, or she wouldn't have turned down his proposal. And she was right about him, because the next thing she knows, he's vowing to come back and make her a trophy. How romantic. I do expect Nara (and his little hobo posse) to teach him a thing or two about how to treat people, first and foremost to treat them AS people. But Jung-min has some lessons to learn as well, because she's got her own set of baggage to unpack, and I hope she sees that her new man Se-hoon seems to be a good guy before it's too late.
But most of all I'm excited to see Tae-ho learn about life as he navigates the perils of the underground. I fully expect him to realize that he's fighting for the wrong reasons well before he gets to Number One, Heung-sam, and hopefully before he's called on to take out his teacher Jong-gu. I would much prefer to see them take power and use it, together, to change the system. Tae-ho has already proven he's willing to do that my altering the collection percentage in his area. But he's doing it to gain more followers — I'm looking forward to seeing him do these things because it's the right thing to do. That change as he finds his humanity will be beautiful to see.
RELATED POSTS
Tags: featured, Last, Lee Beom-soo, Park Ye-jin, Seo Ye-ji, Yoon Kye-sang