Last: Episode 4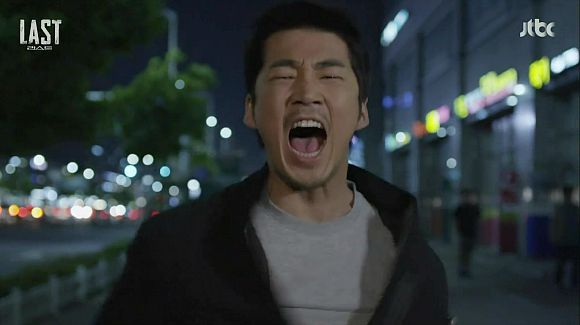 Tae-ho starts to realize that the longer he stays in the Seoul Station underground, the harder it will be to get out. But when the past rears its ugly head, Heung-sam makes Tae-ho an offer he literally can't refuse – not if he wants to survive. Jong-gu would like to help him but he's got his own demons to fight, and for now at least, Tae-ho is on his own.
EPISODE 4 RECAP
At the docks, a car is being pulled from the water. It's almost certainly the car that Tae-ho and his friend Min-soo were in when President Jung tried to kill them.
Tae-ho and his buddies bring the recovering Chairman to their new room, but he's refusing to eat, having experienced an upsetting period of lucidity and remembered how he lost his wife and company in a fire. He feels bad for causing trouble, and apologizes pitifully.
Young-chil, the ex-hacker, offers to visit his family's traditional medicine store for something for the Chairman (Young-chil is homeless by choice — he ran away from home because of familial pressure to be successful), but Hae-jin thinks they should just leave the Chairman alone.
Tae-ho heads off alone to go train, but he's intercepted by Praying Mantis, who takes him to Heung-sam's penthouse. Heung-sam wants to know why he refused his gift of Mi-joo, but Tae-ho politely explains that he's not in a position to worry about women.
Heung-sam notes that Tae-ho is an honest guy — but honest people are selfish, because they get to unburden themselves while the listener gets tired. Heung-sam does compliment his sticking power, saying that he thought Tae-ho would have given up on all this by now.
He turns on the news to show Tae-ho that Min-soo's body has been found, though of course it's unidentifiable without an autopsy. What they do know is that it's Tae-ho's car. The death is assumed to be murder, and the police are looking for Tae-ho.
Heung-sam pours Tae-ho a stiff drink, and asks where he plans to go. With the police and President Jung after him, Tae-ho knows there's really nowhere for him to hide. Though he didn't kill Min-soo, Heung-sam points out that the police will assume he did, and gets Tae-ho's attention when he asks, "Do you want a way out of this mess?"
Praying Mantis brings over a high-tech gun, and Heung-sam says simply, "Get rid of Jung Man-chul." He says their mantra is Kill or be killed and reminds Tae-ho that President Jung got him framed as a murderer.
Tae-ho asks what's in this for Heung-sam, who claims that it's mostly business and that it will benefit Tae-ho much more than himself. It's his only way to escape President Jung. Tae-ho quietly says that revenge was never his intention, and that he'll pretend he never saw this gun.
Oh, but there's the little matter of Heung-sam's five billion won, and President Jung's twelve billion. Crap. Heung-sam cheerfully denies that he's blackmailing Tae-ho — he's just offering him a choice, is all. He can bring Heung-sam his five billion won by next week, or kill President Jung.
On his way out, Tae-ho runs into Crocodile and Poison Snake bringing in their suitcases of cash. Crocodile complains about Number Seven talking with the boss, but Poison Snake says it must be part of the boss's plan (while having his usual hate-filled staredown with Praying Mantis. These two are going to kill each other eventually, aren't they?).
Poison Snake complains that the daily collections aren't going well because of President Jung's men lurking everywhere, but Praying Mantis throws his own words back in his face: It's all part of the boss's plan. Heh, I sort of love him.
Later, Poison Snake and Crocodile have a drink with President Jung, who says that he pities the two of them for the way Heung-sam treats them. He thinks he's gotten too greedy and his time is over, and offers to help them step into Heung-sam's place once he gets rid of him.
Crocodile seems ready to dish the dirt, but Poison Snake shuts him up and says they'll be taking their leave now. He tells President Jung how Heung-sam literally took a knife wound to save his life once, and that no matter what, he will never betray him. But before he goes, he tells President Jung about Tae-ho.
Heung-sam finds Hae-jin alone, and gives him money and a cell phone to "keep an eye on" Tae-ho. He wants to be called if Tae-ho seems to be going anywhere, and leaves before Hae-jin can really process what just happened.
Mi-joo buys a couple of train tickets, and sits in the tiny station to wait. She remembers her younger self doing the same many years ago, and that Jong-gu had joined her then. But he hadn't come to run away with her — he'd come to take her back. She'd tried to convince him, but he'd argued that there's nowhere for them to run that they'd be safe.
Years later in the same station, an older, sadder Mi-joo tears up the tickets, drops them on the bench, and leaves. In his bus, Jong-gu looks at the calender, then tears up the page. Oh that's so tragic — does she buy tickets every year on the same day, and wait for him?
Tae-ho shows up late for practice, and I love how Jong-gu carefully tallies up the number of minutes he was late… at one hit per minute… then he's all, "Anyway I'm gonna hit you a lot." He quickly notices that Tae-ho is distracted.
He tells Tae-ho to forget his old lfe: "You're a Seoul Station hobo now." Tae-ho mutters that his friend died because of him, but Jong-gu says that nobody dies because of someone else. He tells Tae-ho not to blame himself, but Tae-ho fires back that he would say the same thing if it were someone else's situation.
But Jong-gu isn't having that, and tells Tae-ho that he's not happy living this way, either. But it's Tae-ho's problem, so he can figure out a way to survive.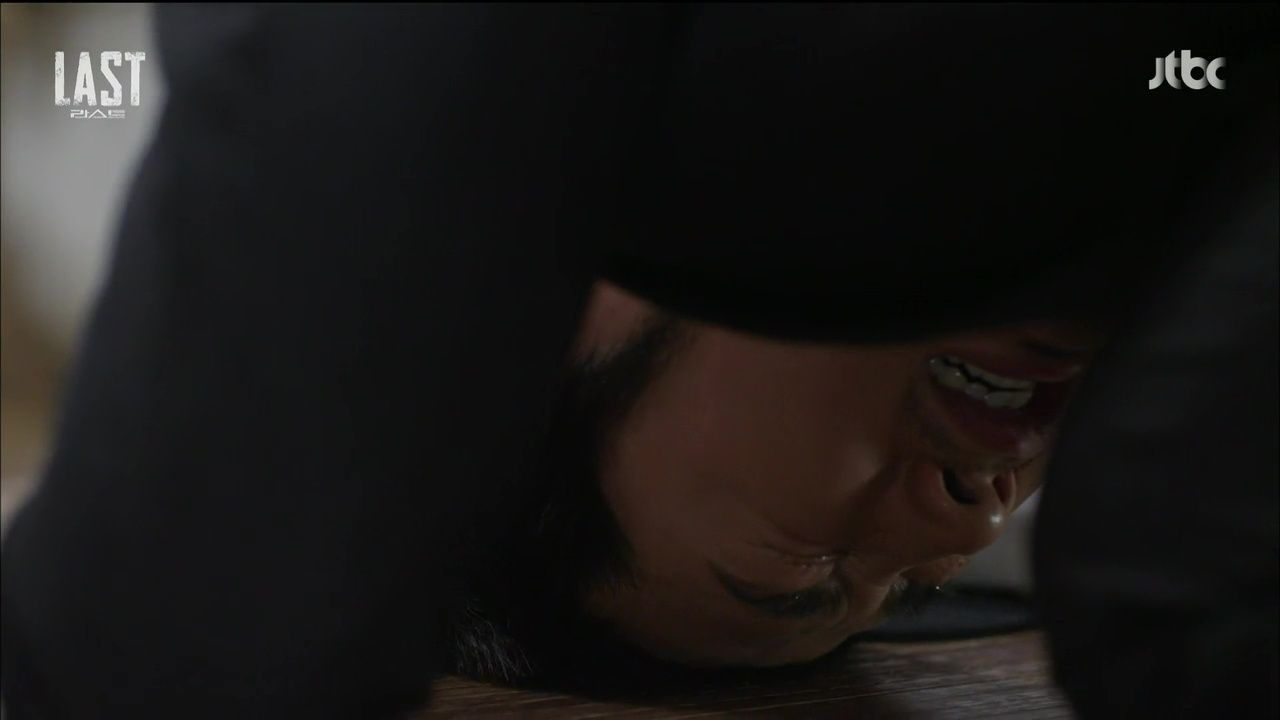 President Jung gripes at his minions for not finding Tae-ho, when he's been right under their noses this whole time. He assumes Heung-sam is using him to manipulate stocks to get his money back. Jung tells his man to go find Tae-ho, thinking he'll probably show up at Min-soo's funeral.
Sure enough, Tae-ho sneaks in by hiding behind a huge flower arrangement, and the moment he enters the room he bursts into guilt-ridden tears. When they leave they run right into Jung's minions, so Hae-jin swings the flowers around wildly and Tae-ho runs, but he's quickly caught anyway.
At a stop light on the drive to President Jung, Tae-ho takes advantage of the stopped car and jumps out — he has good enough fighting skills at this point to allow him to slip the minions and escape. He jumps onto the back of a moving truck and makes his way back to his little room, and starts to pack his things.
He catches the Chairman also leaving, who asks him to pretend he didn't see him. He says he doesn't want to be a burden, but Tae-ho says that they all genuinely care about him. The Chairman thanks him for that and goes, but not without noticing Tae-ho's own bag. He tells him to get out of this life as soon as he can.
Praying Mantis tells Heung-sam that Tae-ho is mostly likely dead by President Jung's hand by now, but they're both surprised when a visitor proves to be Tae-ho, alive and well. He says he'll kill President Jung, on one condition. Heung-sam isn't inclined to giving anything to Tae-ho — it was a command, not a request. But Tae-ho insists that he needs something from Heung-sam.
Heung-sam says he knows about Tae-ho's capture and escape, and agrees to hear Tae-ho's request. Tae-ho asks why he asked this of him when he has a capable right-hand man and many other people who would be willing to kill Jung. Why ask an amateur?
He figures there's a reason it's not easy for Heung-sam to get rid of Jung himself, because he'd be suspected. Then Tae-ho comes along — a disposable person, a failed market manipulator who murders one of his investors. It's certainly a plausible scenario, and nobody would suspect Heung-sam. Then after he kills President Jung, Heung-sam will have him killed. Easy.
His condition is that he wants to leave the country when this is over. He asks for a passport and money, to allow him to leave. Heung-sam asks why he should, since it would be easier to kill him, and Tae-ho says it's because Heung-sam is in the same boat as him. President Jung already knows Tae-ho is one of the Seoul Seven, thus connected with Heung-sam himself.
Tae-ho admits that he nearly just ran on his own, but he realized that he needed some hope to escape his situation. He swears, if Heung-sam makes him this promise, he will kill President Jung.
In response, Heung-sam points a gun at Tae-ho's head. Whoa, okay. Tae-ho holds his ground, and Heung-sam orders Praying Mantis to get the best quality fake passport that Crocodile can manufacture. Heung-sam lowers the gun and says it's a waste — Tae-ho could have risen in the ranks of his men easily.
Tae-ho spends a day following President Jung around, noting Jung's habits, where he spends his time, and with whom. He especially notices that Jung is very suspicious, with people following him all the time and only going to familiar places.
Jong-gu runs into the guy who tried to challenge Tae-ho for the Number Seven position, and he demands to know where Tae-ho is in return for getting Jong-gu a stuffed bear from a Claw machine. Jong-gu warns him to drop it, because Tae-ho isn't the same as he was when they first fought (and takes his bear, hee).
Praying Mantis reports back to Heung-sam that Tae-ho hasn't gone home in a few days, and they figure he must be staking out President Jung. Heung-sam tells Praying Mantis not to bother when he says he hasn't asked Crocodile for the passport — he won't be needing it. I knew it.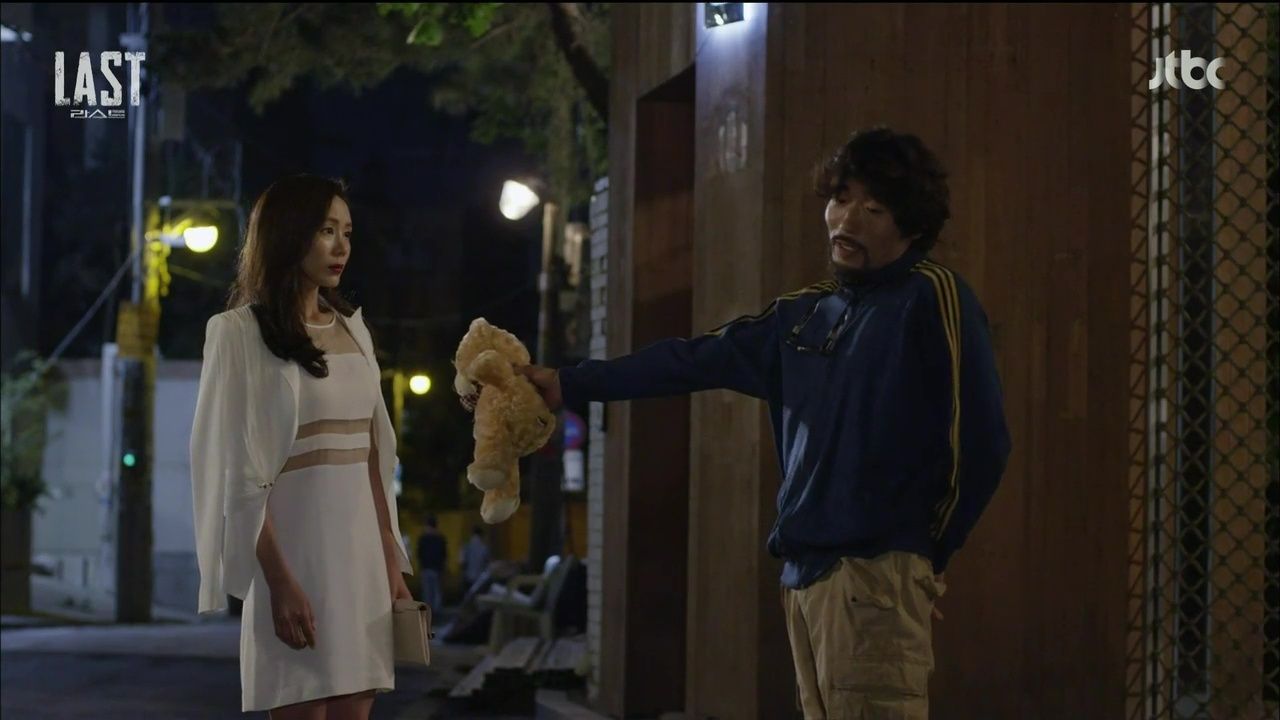 Mi-joo brings Heung-sam some papers to look over, and he warns her, "Don't litter. It will become a habit." Oh no, does he know that she buys those tickets and leaves them ripped up on the bench? When she asks what he means, he just smirks at her, and Praying Mantis gives her a side-eye I don't like at all.
When Mi-joo leaves the club for the night, she finds Jong-gu waiting for her in the street. He's obviously been drinking but he's in a good mood, and gives her the stuffed bear from the Claw machine for her birthday. Awww. That is the sweetest thing ever.
He says he only remembers her birthday because it's right before his daughter Eun-ji's (I'm calling out that lie), and Mi-joo admits that she's not happy. He asks if it's because he didn't come to the station again, and she says she can't decide whether to be angry or give up.
Mi-joo returns the bear and tells him to save it for Eun-ji, thanking him for remembering her birthday. She starts to go, but stops and asks if Jong-gu has seen Tae-ho lately. He says he hasn't, and something about Mi-joo's expression causes him to worry.
The next day, Jong-gu interrupts Tae-ho's stakeout of President Jung, having heard everything from Mi-joo. He rightly knocks Tae-ho around a little for being stupid enough to agree to this plan, and Tae-ho wilts to know that word got around so fast — President Jung himself will probably know soon.
Jong-gu orders him to either go to Heung-sam and call this off, or run away. His plan will never go like he thinks, because Heung-sam won't keep his promise. Looking deeply disappointed, Tae-ho thanks Jong-gu for the warning, and goes right back to what he was doing.
Jong-gu grabs Tae-ho's arm, and without even thinking, Tae-ho whirls around and punches Jong-gu hard in the stomach. He looks immediately contrite, but explains that he can't think of any other way out of his situation. Jong-gu says that if he wants to die so badly, then he'll leave him to it.
Tae-ho's challenger goes to see Nara at the clinic, snacks in hand, clearly trying to butter her up. He mentions that Tae-ho hasn't been around, wondering if she's seen him, but she knows he's planning on fighting him again. She tells Challenger that it was Tae-ho who brought him here in the first place, which is news to him.
Ring in hand, Tae-ho hangs around Jung-min's apartment, and witnesses Se-hoon bringing her home. It's obvious they're more than friends, but he still steps out to speak to Jung-min once Se-hoon drives away. But Se-hoon looks back in his rearview mirror and sees them talking, and stops to watch.
Tae-ho is happy to hear that Jung-min's been worried about him, but his smile fades when she mentions Min-soo's body being found and asks what he plans to do. He says he'll be going far away tomorrow, maybe never to return, and that he wanted to see her one last time and give her back the ring. He doesn't want to leave with any lingering attachments.
Jung-min wryly notes that he hasn't changed, still making decisions on his own, but she says it almost fondly. She takes the ring, and says she'll do as she pleases with it. He smiles and thanks her, and wraps her in a big bear hug. He says that the time he spent with her was the best in his life, and that he loved her.
But Tae-ho is not as jovial as he seemed with Jung-min, and he runs (literally) screaming through the streets, unable to escape the problems that echo in his mind.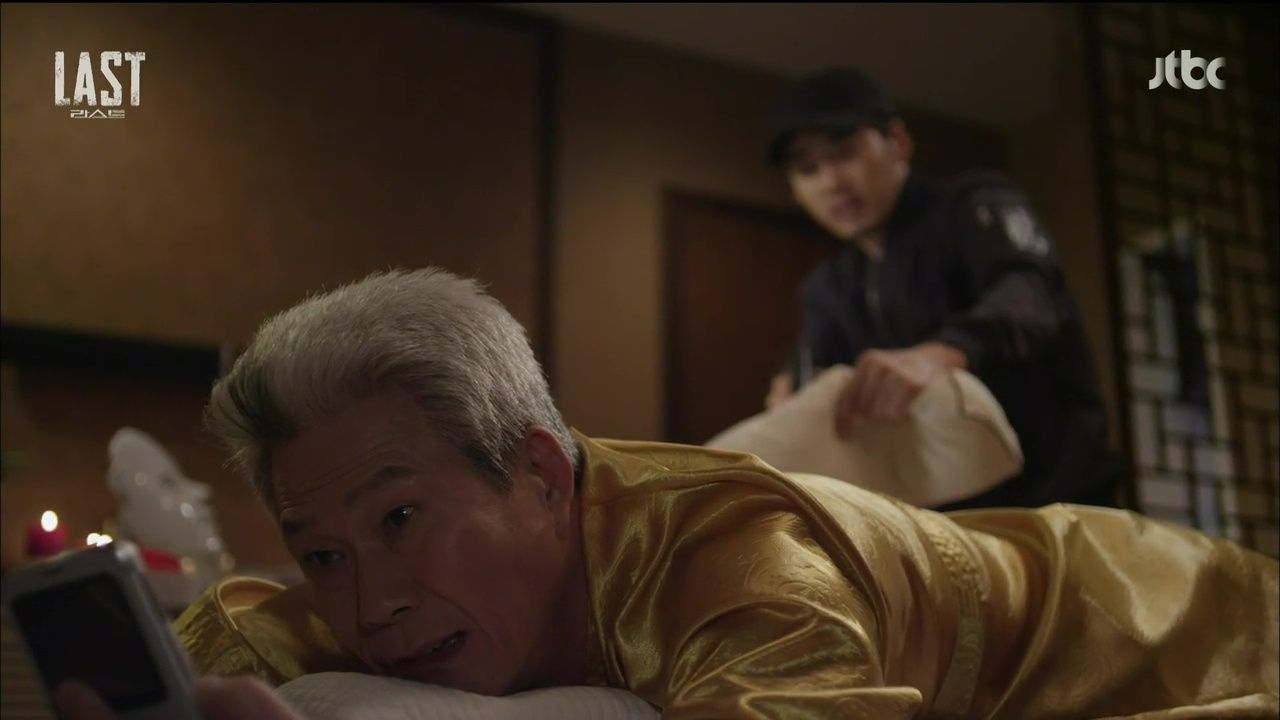 But the next day he's all business, having figured out that President Jung's most vulnerable moment of his day is when he changes clothes for his massage. He calls the massage parlor to report that Jung's car has been scratched, which gets his bodyguard out of the waiting room long enough for Tae-ho to slip inside.
He gets access to President Jung by claiming to have money for him, but just as he's ready to shoot Jung, Jung's phone rings. It's a video call from his adorable little granddaughter, who Tae-ho can see from his angle, and it makes him pause. When Jung ends the call, he sees Tae-ho behind him on the screen, and only now realizes there's a gun pointed at him.
Scared and angry, Tae-ho demands to know why President Jung tried to kill him, and Jung begs for his life. Tae-ho screams, but he can't bring himself to shoot, and says that Jung deserves worse than a quick death. Both men are crying, and Jung's bodyguard finally comes back and starts pounding on the door.
Tae-ho backs off and escapes out the window, but he's trapped by a virtual army of President Jung's men below him, and the only way out is up. He climbs to the roof, dropping the gun in the process, but Jung's men quickly corner him up there.
Tae-ho fights them off singlehandedly, until he's knocked down all but the big guy. Big Guy stabs Tae-ho in the gut, which weakens him enough that the other men are able to knock him with their bats.
They shove him over the roof's edge and he clings there, and President Jung comes out to grab him and ask if Heung-sam ordered him to do this. He offers another round of his favorite card game, but Tae-ho calls him a crazy bastard and says he'll choose his own fate this time. With that, he lets go, falling several stories into a pile of boxes.
Luckily, Challenger was following him, and manages to get him out of there before Jung's men get back downstairs. They jump on a motorcycle and evade Jung's men, who take a furious verbal beating when Jung finds out that Tae-ho got away. Jung wails that Heung-sam is behind this, and tells Big Guy to call everyone he knows — this is war.
When Heung-sam hears what happened, he orders his men gathered together, but Hae-jin and Young-chil hide from Sergeant Bae's roundup. Hae-jin's new cell phone rings and he yells at Young-chil when he asks about it, and he tells Praying Mantis that he has no idea where Tae-ho is, either.
Challenger takes Tae-ho to his little hideout, and tells him that he heard about how he helped get his knee treated. He apologizes for fighting with Tae-ho and offers to take him to the clinic, but Tae-ho know they'll be looking for him there.
Sure enough, Crocodile is terrorizing the place, and Nara fearlessly yells at him to stop. She's shocked to hear Tae-ho's been stabbed, but she's saved from having to call the cops to get rid of Crocodile when he hears that there's been an incident at Heung-sam's, and runs out.
Someone threw a sign through a window at the New Seoul Hope Society's office space, so Heung-sam retaliates by sending his men to an alcohol wholesaler run by President Jung's brother-in-law. While the gates are open to let out a delivery truck, Heung-sam's men begin their attack.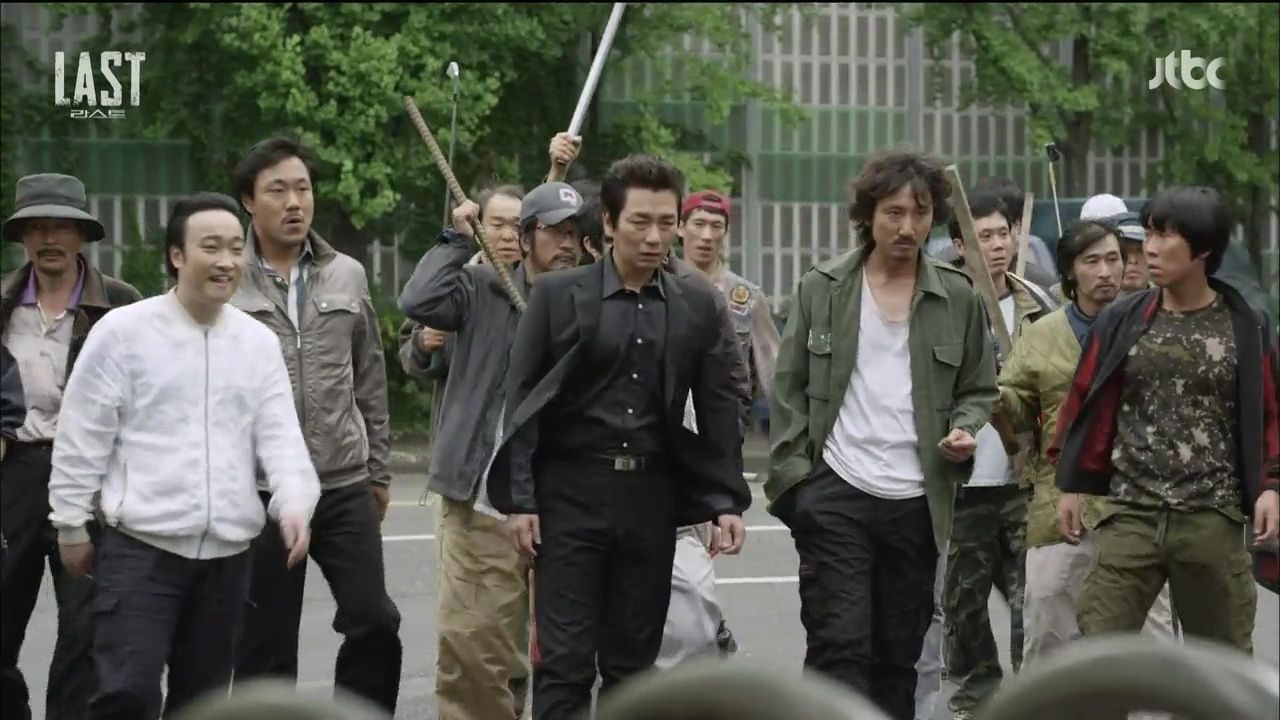 COMMENTS
Is it weird to say that this is really getting fun? I know that lives are on the line, but damn if I'm not seriously enjoying this whole war idea. Even while being dark and gritty and raw, this show has a sense of lightness running through it at times, that really allows me to enjoy the little (and not so little) power plays between all the leading men. The snarking, the backbiting, the attacks and retaliation are just plain entertaining. And I still love that, through it all, there's a code of conduct that they all live by. Yes, Heung-sam started it by sending his man to kill President Jung, but there are rules here, and you don't just go for the big guns first. You throw a sign through a window, he fights back by sending his men to your brother-in-law's business, and we work our way up to the more serious acts of vengeance. There's a sense of order amongst the chaos, which allows me to sit back and relax for now, because nobody will be dying — yet.
But that's not to say the show isn't tragic at its heart, and that tragedy is really starting to come out and make itself known. Tae-ho isn't just a man who had a run of bad luck and found himself homeless — his friend died, his life was ruined in every possible way, and now there's more than one very powerful man who wants him dead. It's amazing that he can even function at this point, much less make plans to get himself out. You can see his struggle on his face at any given time, that he's trying so hard to just hang on and stay alive. It's impressive that he hasn't given up, and is still fighting — literally — to not just survive but thrive in this new environment. The key is going to be when he finally realizes that he can't do this alone, and lets his new friends help him.
Aside from all the interesting gangster-type interactions, I never thought a show about homeless underground thugs would make me feel this much. I think that's the heart of what most of us like so much about Last — that we care so much about the people who inhabit the Seoul Station underground. They're trapped, and they live every day not knowing if they'll be alive tomorrow, and yet they don't give up hope. I'll admit there were tears in my eyes when I realized that Mi-joo buys train tickets every year on the same day, and waits for a man who never comes. And that man would probably like to come with her more than almost anything in the world, but he's afraid of condemning her to a life on the run. And it's so heartbreaking that her current life of being a plaything for men, is the better choice. You can just feel Jong-gu's sense of disappointment in himself and his helplessness, that he can't do anything for Mi-joo but leave her alone or make her situation worse.
Mi-joo just kills me, and she makes me cry at least once in every single episode. Something in her sad face really speaks to me. She's obviously had a hard life, being relegated to nothing of value but an object for men's pleasure, and it's not that she even really expects much out of life. She's only ever wanted one thing, and she can't even have that, though she never gives up her hope. I don't know if there's something deeper that keeps Jong-gu from letting himself love her, but the two of them are breaking my heart already. Usually I can't wait for answers to questions like this, but in this case, I almost don't want to know — I have a feeling that knowing will hurt too much.
For me, it's the complexity of the characters that keeps me coming back for more. Nobody is "just" their character… they all have a depth of heart and emotion that makes me love them, even this early in the story. It's easy to make characters in shows like Last simple and one-dimensional and still have an enjoyable show. But that's not the case in this show, and it's what makes it special. I don't even care where the main action takes us — war between the factions, Tae-ho's rise to power, whatever happens I'm on board — because I just want to see more of these characters and their struggles to survive.
RELATED POSTS
Tags: featured, Last, Lee Beom-soo, Yoon Kye-sang