Last: Episode 5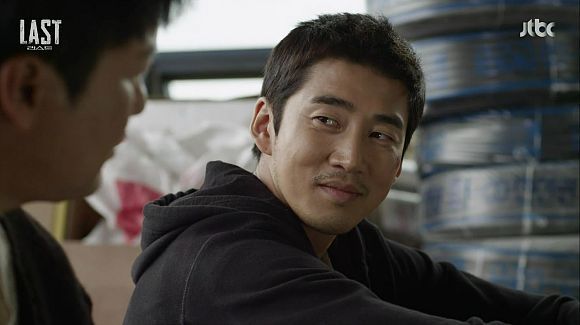 The war between Heung-sam and President Jung has an unexpected outcome, and an even higher power has to step in and take charge. With his hands now tied, Heung-sam needs to get creative if he still wants to get rid of his nemesis, and there's only one man in a position to do the job. Luckily, Tae-ho has the brains to come up with a perfect plan, and if he can get Heung-sam on board, he just might be able to save their money and their lives.
EPISODE 5 RECAP
President Jung declares war against Heung-sam, and his first act is to throw a sign through the window of the New Seoul Hope Society's office space. In retaliation, Heung-sam sends his men to the business of President Jung's brother-in-law, where they get to work destroying the place. President Jung's men arrive, and suddenly it's an all-out brawl between the two factions.
Jong-gu is sleeping (and cuddling his teddy bear, awww) when Hae-jin comes to tell him about the turf war. The Seoul Seven are all at the hotel guarding Heung-sam, but Tae-ho is nowhere to be found. Jong-gu says he doesn't care, but jumps up and runs out.
Challenger (whose name is actually Ship-jang) waits for Nara at the clinic, and brings her to his hideout to find Tae-ho sick and injured. She fusses at him for not bringing Tae-ho to the clinic, then realizes that he couldn't since everyone is looking for him.
Crocodile and his men are stationed around Heung-sam's penthouse, while Sergeant Bae is looking after the club. Poison Snake suggests they focus on finding Tae-ho since he started all this, and handing him over to President Jung would probably end this whole war.
Heung-sam snaps that it's not that simple — what if President Jung won't accept the gesture? Will Poison Snake turn Heung-sam over to him next? Poison Snake stammers that that's not what he meant, and promises to find Tae-ho. Heung-sam says he needs to handle this himself, and orders Praying Mantis to bring Tae-ho directly to him.
President Jung is upset and ready to bring the fight right to Heung-sam's door if he won't come out, but his men urge him to wait a bit longer for their reinforcements to arrive. Jung decides to use Mi-joo as bait, to lure Heung-sam out of hiding.
Mi-joo is busy trying to get rid of Sergeant Bae and his men, whose presence is causing her regulars to leave the club. Bae refuses, but Jong-gu arrives and pulls rank, telling Sergeant Bae to get out and settling in himself. Unfortunately, President Jung's men are waiting outside, and see Sergeant Bae and his cronies leaving.
Mi-joo tells Jong-gu not to expect her gratitude for doing this, and he claims he just wanted a drink. He tells her not to worry about him, but she says she's already stopped, because she's finished wasting her feelings this way. Ouch, that looks like it stung — I would swear Jong-gu is on the verge of tears.
He brings up a previous statement she made, that he still sees her as that naïve eighteen-year-old girl, but before he can get to the point President Jung's men come inside. Big Guy says he's here for Mi-joo, but Jong-gu says he's already claimed her for himself. He takes on Jung's men all by himself, but a liquor bottle to the head knocks him dizzy long enough for them to start making off with Mi-joo.
With renewed energy, Jong-gu takes down all the baddies and yanks Mi-joo out of there. They jump into a conveniently-passing taxi and get away, for now. Mi-joo wants to take Jong-gu to the hospital, but he's contented to drive around a bit while she administers to him herself.
The next morning Heung-sam comes to Jong-gu's bus personally, looking for Mi-joo. She's not there, and Heung-sam sneers that if he's going to save a princess, the least he should do is earn her love.
Jong-gu asks what he wants, and Heung-sam tells him to speak comfortably, but Jong-gu makes it clear he's not at all comfortable. Heung-sam says their past only allows him to let so much slide, but Jong-gu barks that he never wanted to be Number Two. He has no plans to change, so he'll leave Seoul Station if Heung-sam wants.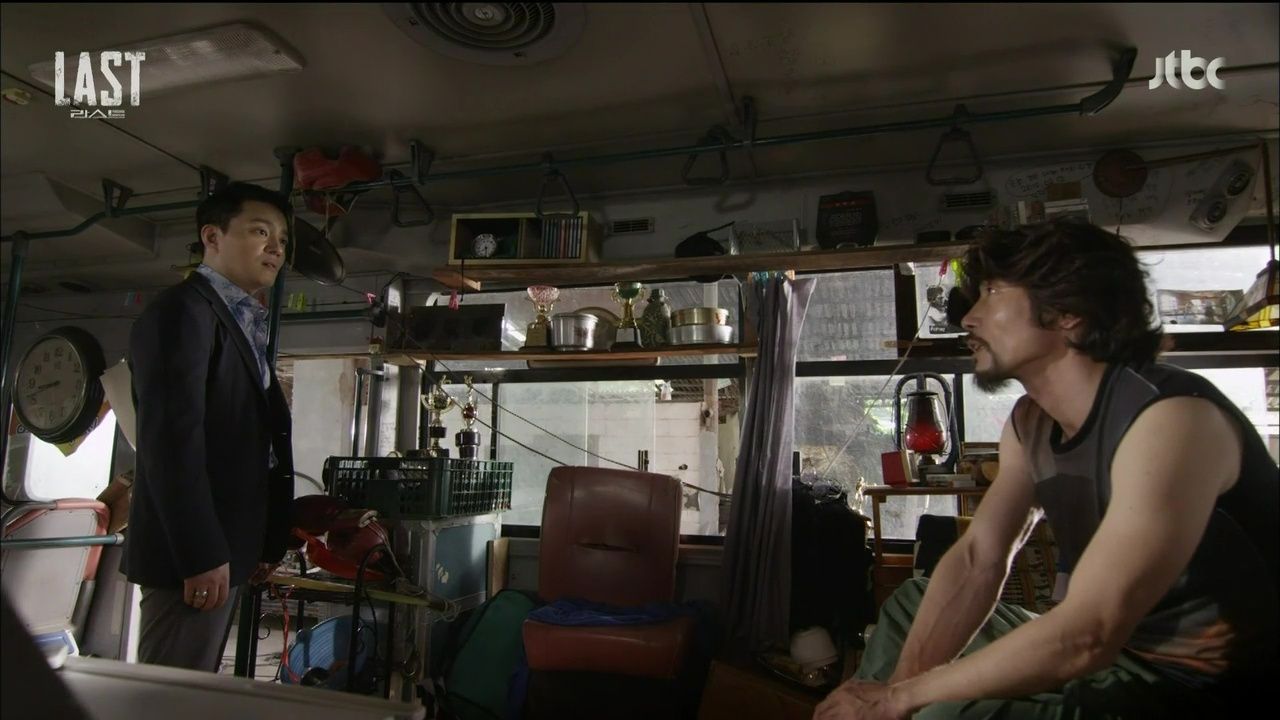 Heung-sam asks if Jong-gu knows what Tae-ho's been up to and what he caused, and Jong-gu counters that he knows Heung-sam put him up to it. Touche. Heung-sam says that President Jung has amassed a huge army, and he wants to make a strike at him. He's telling Jong-gu to finish what Tae-ho started.
Surprisingly, Jong-gu agrees easily, but asks Heung-sam to let go of those who should be let go — in other words, Mi-joo and Tae-ho. Tae-ho doesn't know how to give up, and still has a chance, unlike himself. Heung-sam points out that Jong-gu was like that too, when he was a boxer.
Nara tends to Tae-ho's wounds all night, and she's still there in the morning when he wakes. Tae-ho asks about Ship-jang, but he's gone to work already. Nara tells Tae-ho to go to the hospital, but she can tell that won't happen, and she fusses at him for making life so hard on himself.
She turns to leave him to himself, but he stops her by saying that he nearly murdered someone yesterday. He doesn't want to live like this either, but it's not easy. He thanks her for helping him, and she promises to stop back by after work.
President Jung and Heung-sam meet with their respective armies, handing out pipes and boards for weapons. Heung-sam gives an eloquent speech about how everyone treats the homeless as subhuman, and that this is not a fight for him, but for themselves. Ha, right in the middle of his speech, he gets a call — sorta takes the wind out of it a bit.
Heung-sam and President Jung are called together, along with two other men ( a Congressman and a man connected to the police department), to a fancy home of one Chairman Wang. Wang is evidently the big dog in charge of, well, everything. He tells them that the turf war has already gone far enough, and that they're both at fault.
President Kang, the man connected to the police force, he promises to let things go if there are no more problems. Chairman Wang gives President Jung a job working on the Mi Rae City Development Project, and tells him to overlook Heung-sam's new loan shark business. Jung meekly agrees, but Heung-sam is upset.
When asked, he says that Chairman Wang must consider his position, too. He's not ready to stop the war under those terms, but Chairman Wang says that if President Jung falls, he and the ohters at this table will be his opponents. Can he take them all on?
Jung-min goes to see Se-hoon in his office, upset that he plans to report someone named Director Choi to the chairman. She warns him that Choi has connections and that he could get hurt, but Se-hoon is more concerned that he's using his connections to gain power. Jung—min says it's only what he deserves for how much he's given the company, but Se-hoon disagrees.
At his young age, Se-hoon got this position because of his skills. He takes his responsibility to the company seriously, and he intends to prune the rotten branches. Jung-min says that Se-hoon isn't as smart as he seems, but he promises to protect her if she helps him, sealing it with a hug.
Nara lets Hae-jin know where to find Tae-ho, and he fills Tae-ho in on the war and the cease-fire. He also tells him about Chairman Wang, who is just a retired loan shark on the surface, but supposedly has a lot of power in politics. Hae-jin entreats Tae-ho to stop doing everything himself, and lean on him as a friend and as his "manager." Aww, Tae-ho seems really touched to be called a friend.
On his way home Hae-jin is stopped by Praying Mantis, who says that Heung-sam is angry that he hasn't found Tae-ho for them yet. Praying Mantis knows that Hae-jin does know Tae-ho's location, but Hae-jin sticks to his guns and insists he doesn't know anything.
Nara brings food from her grandmother's restaurant for Tae-ho and Ship-jang that night, along with notice to pay rent or move out, ha. She seems a bit nervous and hyper-aware of Tae-ho, and you can't really blame her, the way he's looking at her with those soft eyes and sweetly asking about her flowers.
She asks if Hae-jin brought the antibiotics she sent, but they haven't seen him this afternoon. Oh no. Praying Mantis is currently torturing him in what looks like Poison Snake's harvesting room, but Hae-jin is still holding strong.
Tae-ho ventures out the next morning, worried that Hae-jin hasn't been seen since yesterday. Young-chil thinks he's probably just off gambling, since he's got money suddenly and even a cell phone. He hasn't seen the Chairman either — he knows of a place that takes in elderly homeless people, but the Chairman wasn't there as of yesterday.
Tae-ho runs into Nara, who gives him his daily reprimand, this time for not staying put until he was healed. She's worried because everyone is looking for him, but nervously claims it's just that she's nosy, not that she really cares or anything. Of course her insistence that she doesn't really care at all proves just how much she does care, and Tae-ho notices.
He thanks her for her help, and says that he never really knew what thankfulness was until he met her. He's nervous too and stumbles over his words, and when Nara says she has no idea what he's talking about, they both just laugh. So cute, both of you.
Tae-ho goes back to Ship-jang's hideout to find him being brutally beaten by Praying Mantis — bless him, he clings to Praying Mantis' leg and yells at Tae-ho to run. Tae-ho orders Praying Mantis to stop, and he runs to Ship-jang to apologize.
Praying Mantis locks Tae-ho in a room with a very beaten Hae-jin, who immediately bursts into tears and apologizes for being weak and giving up his hiding place. He confesses that he even took money to report on him to Heung-sam, but Tae-ho tells him to stop apologizing — they need to focus on survival now.
Jong-gu is waiting for Tae-ho to show up for practice, worried sick about him, when Mi-joo comes to see him. She says that Tae-ho will find a way to survive, but Jong-gu grumbles that he's not that smart if he agreed to kill President Jung. Mi-joo smiles — Tae-ho reminds her of someone else who takes on too much.
Mi-joo wants to take Jong-gu to buy a new suit, as thanks for saving her, but he says to just save him a bottle of soju at the club. Mi-joo asks if he doesn't want to look as nice as possible when he finally finds Eun-ji, and tells him to be ready to go shopping on Friday.
Ship-jang comes running in, screaming and bloody and upset over Tae-ho being taken away, so Jong-gu goes to see Heung-sam. He asks Heung-sam to let Tae-ho go — kick him out of Seoul Station and let it go at that. But Heung-sam's main concern now is his reputation in the organization, and he needs a sacrificial lamb.
Jong-gu can see that his pleas are falling on deaf ears, and leaves. But he says on his way out that he knows he'll end up like Tae-ho eventually, and asks Heung-sam to please tell Tae-ho that he's sorry.
Heung-sam goes to see Tae-ho and Hae-jin, and orders Hae-jin taken to the operating room. Nooo! Once alone, he tells Tae-ho that it won't hurt once the anesthesia kicks in, and says that he shouldn't have failed to kill President Jung.
Tae-ho has nothing to say, but his eyes widen when he hears of Jong-gu's request to save his life. He still doesn't speak until Heung-sam turns to go, and he asks if Heung-sam doesn't still want to catch President Jung.
He points out that Heung-sam can't get rid of Jung himself now because his hands are tied, and asks for ten minutes of Heung-sam's time. If he doesn't like what Tae-ho has to say, he can harvest both him and Hae-jin. But if his proposal seems possible, he will let Hae-jin go.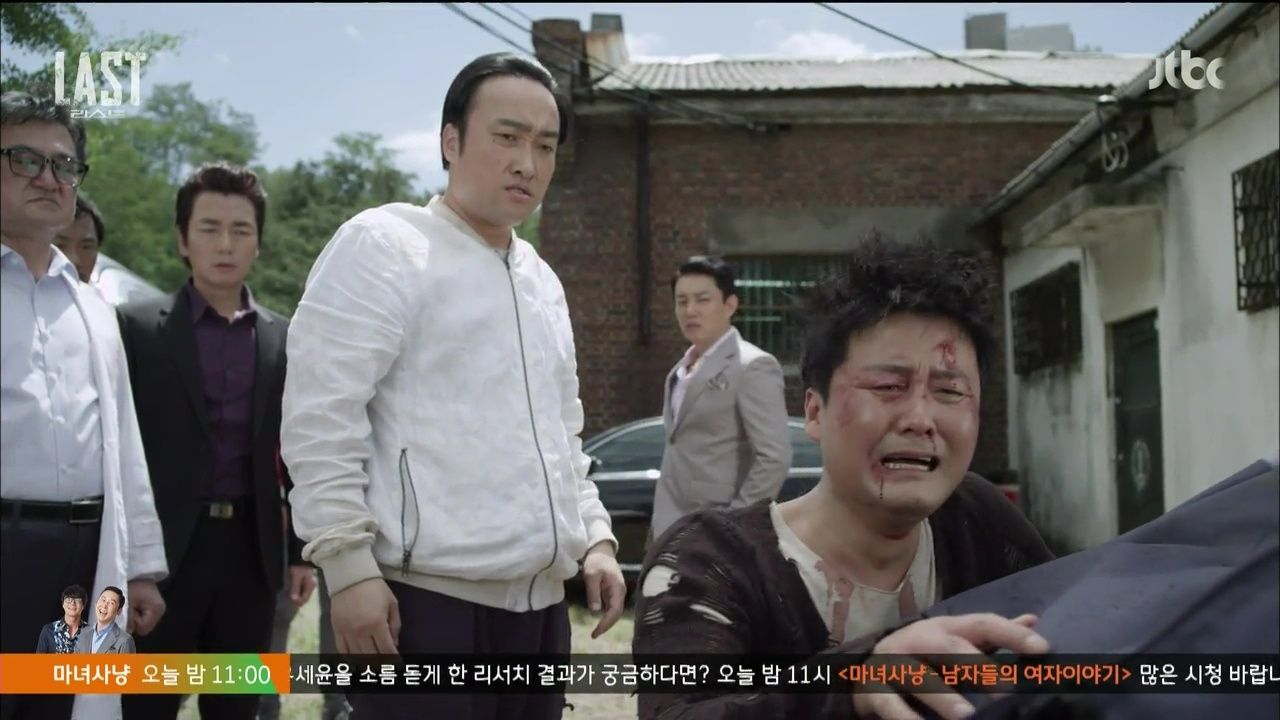 Tae-ho says he knows of a way to get rid of President Jung — not by using his fists, but his brain. Heung-sam sits to listen. We don't hear Tae-ho's plan, but Heung-sam seems impressed, though he points out that Tae-ho will die either way. He calls off Hae-jin's harvesting.
Poison Snake and Crocodile show up with the doctor, ready to harvest both men's organs, but find Heung-sam there unexpectedly. He tells them to let Hae-jin go and leave him alone from now on, and that Praying Mantis took care of Tae-ho himself. Right on cue, Praying Mantis wheels out a body, and they see that it's Tae-ho — Hae-jin bursts into hysterical tears.
Nara overhears the news in the food line that Tae-ho was killed, and she runs home to find Hae-jin and Young-chil moving out. Hae-jin doesn't confirm Tae-ho's death, just telling her that ignorance of the situation will serve her better.
Nara goes to Jong-gu to ask if he's going to just let this happen, and that they need to report the possible death to the police. She demands to know who killed Tae-ho so she can report it, but Jong-gu says that it will just be treated as a missing person. Without a body, there's no murder.
At Nara's shocked response, Jong-gu gently informs her that most of the people she feeds and treats are considered "missing." She thinks that shouldn't mean that nobody cares when they die, because they're still people.
Jong-gu says the world won't collapse if one homeless man is gone, but Nara spits back that Tae-ho's world has collapsed. She knows there's an organization taking advantage of the homeless, but it gave her hope to see that Tae-ho was actually improving things. How could Jong-gu fail to protect the one person who looked up to him?
She says that she had hope that the two of them could change things together, but Jong-gu says that nothing will ever change. Seeing that it's useless talking to him, Nara admits that her hope was probably immature, and leaves.
Tae-ho wakes up in a grimy room with Heung-sam watching over him, and Heung-sam says that the rumors of his death have been successfully spread. He says that this is Tae-ho's new headquarters where he'll live and work. He gives him fifteen days to complete his plan, and Praying Mantis leads in Hae-jin and Young-chil, who look thrilled to see Tae-ho.
Tae-ho says he needs two more people, and Heung-sam says he can choose whoever he likes. He tells Tae-ho to use up all of his luck to get every penny that President Jung has, and instructs Praying Mantis to give him whatever he needs.
As soon as they're alone, Hae-jin begs Tae-ho to run, but Tae-ho says they need to find the Chairman and get to work. The next day they find Ship-jang and recruit him as well, and he's impressed that Hae-jin's little act over Tae-ho's "corpse" convinced Poison Snake and Crocolide of his death so well.
Ship-jang fusses that Nara is so upset over Tae-ho's supposed death, and clicks his tongue at Tae-ho — he should at least tell her and Jong-gu that he's alive. But Tae-ho can't do that, because this mission depends on everyone thinking he's dead.
They find the Chairman at a hospital, safely back in his delusion, and Tae-ho tells him that there's been an incident at the company and they need his help. The Chairman grouches at Tae-ho for letting the company have problems just because he's not there, and Tae-ho's happy grin is just glorious.
Everyone goes back to Headquarters and Tae-ho hands out the plan outline. It has something to do with the current method of extracting oil from sandy areas, which can be done in a more green way but is too expensive. They'll somehow use this information to get President Jung to invest.
The Chairman seems reluctant to be doing something so dishonest, so Hae-jin spins it another way — it's really just wealth redistribution. But it turns out the Chairman is just upset that his fake Korean-American name is too common. Hee.
Hae-jin's concern is that President Jung's right-hand man has seen him before and could recognize him, which Tae-ho agrees is a problem in his current state. Manly makeover time! They all go for a nice bath at a sauna and get fancy haircuts, and each get a spiffy new suit. RAWR times five. Let the games begin!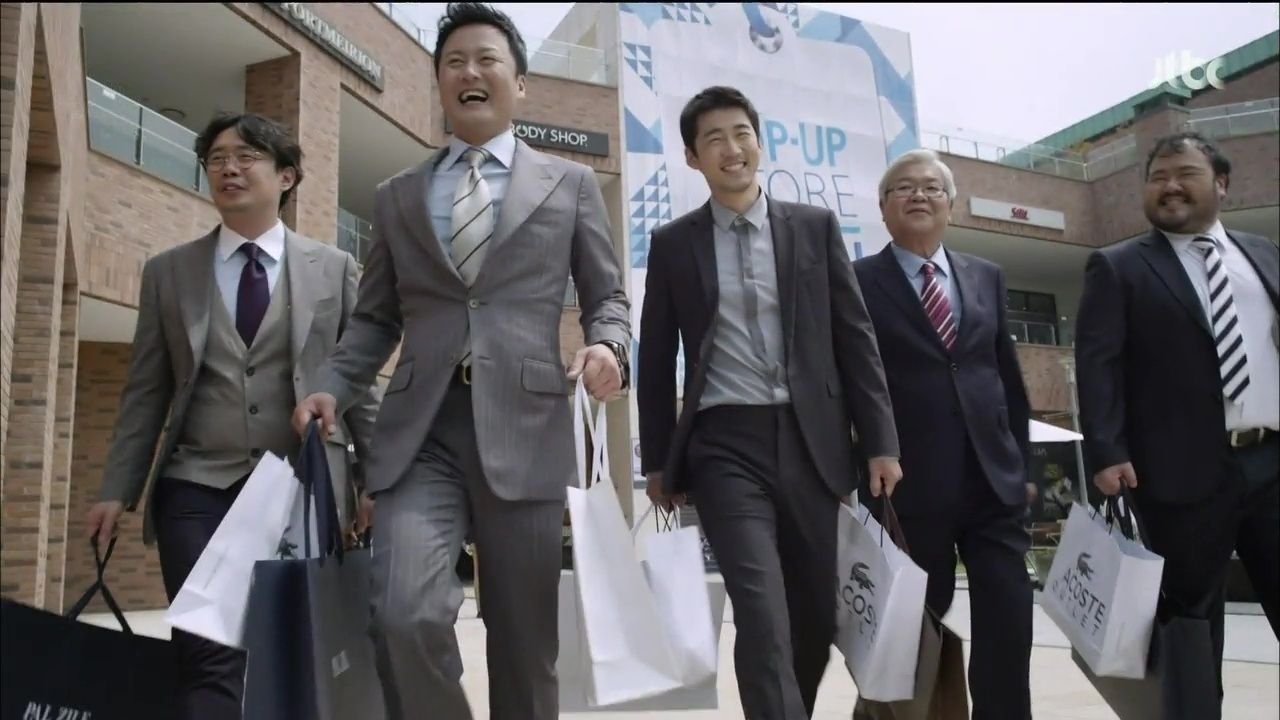 COMMENTS
Did I mention this is fun? This is so fun! This is what I've been waiting and hoping for — for all of our players to come together and form a band of merry men, and follow their Robin Hood as they go on a mission to rob from the rich and give to the poor. It's just wealth redistribution, dontcha know! I don't even care what the plan is, as long as I can watch these friends outwit President Jung, and possibly even Heung-sam himself in the process. I have no doubt that the main point of Tae-ho's plan is to get Heung-sam's money back and save his own life, but I wouldn't be one bit surprised if there's more to it than what he's told his boss. One thing we know about Tae-ho is that he's smart and savvy, and always on the lookout for himself.
We didn't get a lot of character development in this episode, but that's okay with me because the plot took a few mighty leaps and bounds forward. I do appreciate that Last strikes a very good balance between the two, never giving us too much of one without enough of the other. I don't think I would like this show as much if it were too heavy on one side or the other — too much plot maneuvering and you don't care about the characters, but too much focus on emotional baggage can bog down the storytelling. This show gives us just the right amount of each, allowing us to love these people so much that we enjoy their scheming not only because it's fun to watch the bad guys go down, but because we're also emotionally invested in the success of the good guys. I don't know about you guys, but I really care about Tae-ho and his friends. I want them to win this battle and get out of their current living situation, but I also just want to see them be happy and feel a sense of accomplishment.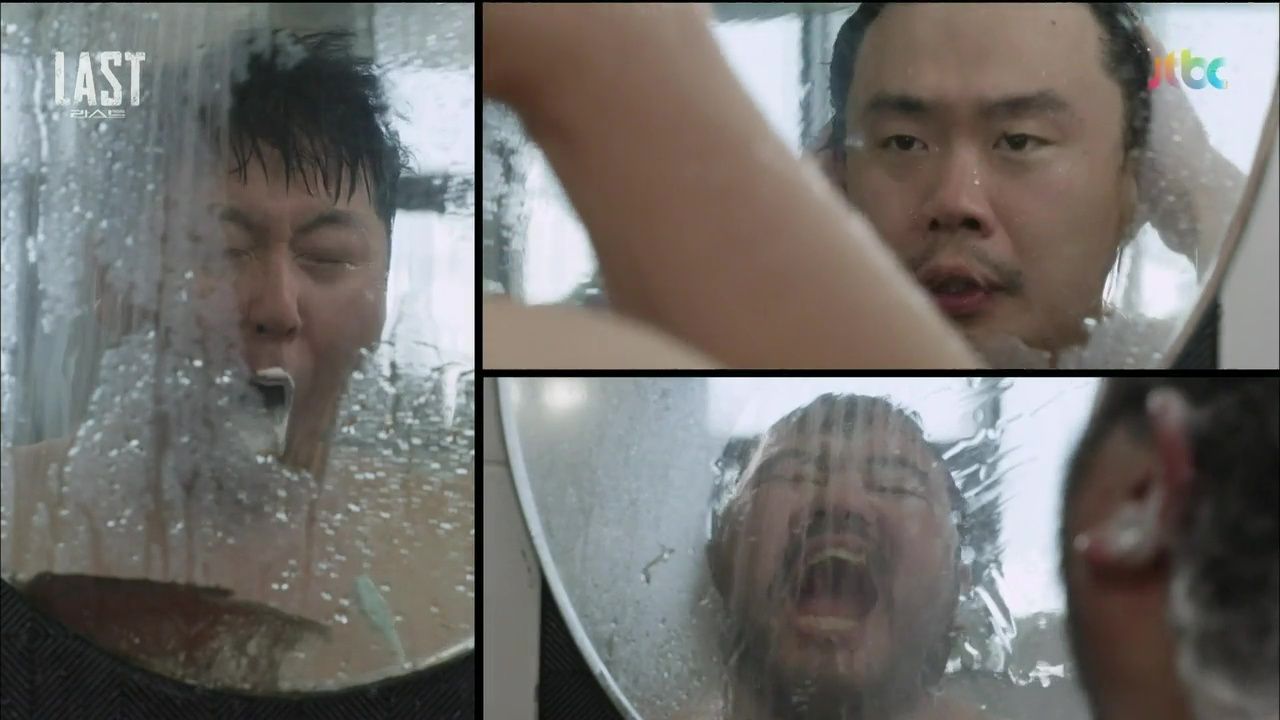 It's interesting that, only five episodes in, I'm already watching a very different show than I thought I would be watching a few episodes ago. I do wonder if this new caper means that Tae-ho's plan to rise to the top of the Seoul Seven has been scrapped, or simply put on hold while he does some damage control and gets his feet back under himself again. I hope it's the former, because I do want to see him taking on Poison Snake and Crocodile and putting them firmly in their place. And the angst that can be wrung out when he finally has to face Jong-gu, his mentor and friend, will be painfully delicious.
Not to mention, we still haven't even met Straw Cutter, Heung-sam's Number Three who is apparently so evil, we don't even know what his deal is yet. So I'm happy to take a detour into an exciting plan to take down President Jung (especially if it involves a savvy group of handsome ajussis in snappy suits), but I hope we veer back afterward to the main plot of Tae-ho's rise to power. I still want to see him take on the Seoul Seven one by one, even if it means he will struggle with the temptation to give in to corruption on the way up. Wait, who am I kidding, especially if it means he will struggle with temptation.
What is there to say that I haven't already said? I love this show, I love these characters, I love this world and the fact that it's flawed and gritty and grimy and real. And yet through all the hardship and struggle, a thread of hope runs throughout the homeless community, which Tae-ho had embodied for a short time. Nara points out to Jong-gu that Tae-ho made things better — maybe just a little, maybe only for a short time, but it was enough to give hope to the homeless who are being exploited and thrown away by those in power. To people who have been forgotten, even just the small hope that someone considers them valuable can mean all the difference in the world. The potential loss of that person can be catastrophic to the people who counted on him, even if only because it takes that hope away from them again. I'll be glad when Tae-ho resurfaces and can see what he has meant, and can still mean, to those he's affected — if there's one thing he's missing right now, that could make all the difference in the world, it's a little dose of self-worth.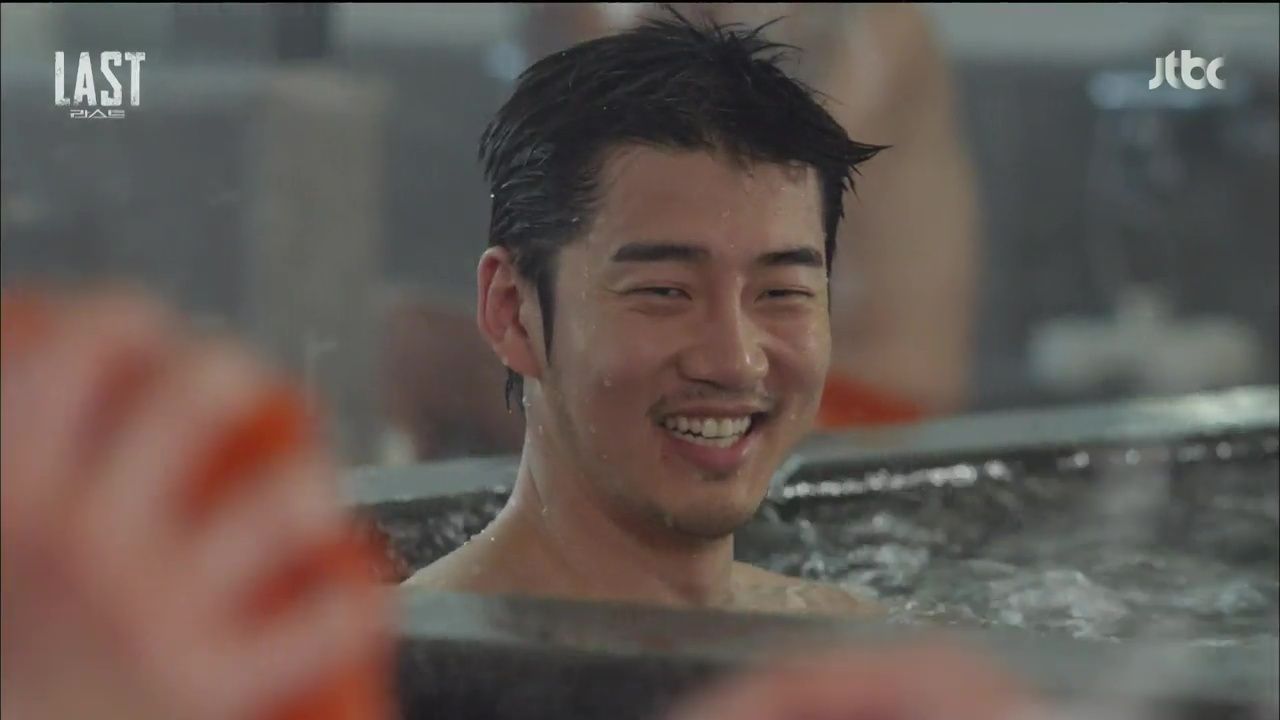 RELATED POSTS
Tags: featured, Last, Lee Beom-soo, Yoon Kye-sang