Odds and Ends: The KCON 2015 wrap-up
javabeans: I know, I know, we're totally late in talking about KCON this year, which was a full week ago. We meant to do our wrap-up post earlier, but the problem with taking three of your recapping days off to attend a convention is that you still have to make up those three days. But the universe doesn't give you three extra days.
girlfriday: Yeah the math strangely works out to something like, three days for KCON, six days to recover from KCON. But it's always fun to hang out with other drama fans en masse.
javabeans: Actually, this year I felt like the convention was run so smoothly on the logistical side that there was less en-masse-ing and more moving-right-along-ing. Which is great for attendees, but kind of made the frenzy feel less focused.
girlfriday: Yeah the Staples Center and LA Convention Center were great in that we could be in the posh indoors and away from the heat, but I kinda sorta missed the madness of a gazillion fans crammed into the Memorial Sports Arena. More communal suffering in the name of fandom, more memories.
javabeans: Not that we missed the hours-long waiting in lines, not at all. It was nice to have all the panels in the same corridor so you could just hop from one to the next, and the capacity was a lot larger than last year, where a lot of panels were standing-room-only, out in the heat. I did miss the bustle of last year's marketplace, which was chock-full of booths and food choices and lots of things to buy. This year's marketplace was sleek, air-conditioned, and very corporate.
girlfriday: On Friday we hosted a panel called "Dramabeans: Hallyu in Academia," with three lovely professors — Regina Yung Lee, Hae Joo Kim, and Bonnie Tilland — who get to teach dramas and k-pop in college classes. They had a lot of entertaining stories about designing their courses and converting students into fans.
javabeans: I liked the stories about funny student reactions, like Regina's story about her student who'd been watching a drama on her laptop when she fell asleep, and woke up to find it queued up to Coffee Prince, with a string of agitated texts from her "Seattle lumberjack" boyfriend about why Han-gyul can't just admit his feelings for Eun-chan already, who cares if he thinks he's a boy???
girlfriday: That was so adorable. Bonnie said that she had one group of male students who were particularly upset about being assigned to Sandglass for their group project, thinking that they got the old boring drama. But once they actually watched it, they loved it so much that they were all proud of getting the "cool, manly drama."
javabeans: I liked their responses to our question about whether they they think Dramabeans and drama fans are ever reading too much into the texts of dramas. Or as we asked, "Is a handhold ever just a handhold? Is a mean mother-in-law sometimes just a bitch?" And they basically said, "NEVARRR." Regina's answer was along the lines of it not being possible to read too much, that a response to a work is valid, and that the text is never to blame for bad analysis.
girlfriday: It's nice to know that the professors agree that you can have a worthwhile discussion on just about anything, because it's what we believe at Dramabeans — that just because it's television or pop music or any other form of pop culture doesn't mean you can't have meaty discourse on the subject.
javabeans: Of course, I did also agree with Hae Joo that sometimes a cigar IS just a cigar. (She gave an example of a communist soldier in a Chinese film who'd looked back over his left shoulder, and some critic was convinced it was a meaningful political symbol, when maybe he just turned left instead of right.) But her reference to the Velveteen Rabbit was also apt, where the value of the toy came in the child's appreciation for it, not any of the bells and whistles that made it a better or worse toy.
girlfriday: So basically, our love of dramas does actually count for a lot.
javabeans: Dude, sometimes it's the only thing we come away with! There is no empirical dramaland truth. There is no spoon. But there is love.
girlfriday: Love of Gong Yoo.
javabeans: Well, that's implied.
girlfriday: I was also glad to hear that the professors all agree that there's a bright future for Hallyu in academia — that it is capitalizing on a current trend, but there's growing interest in lots of departments like Media Studies and Korean Studies.
javabeans: They all told stories of how effective Hallyu is in sparking Korean studies — universities and faculty are aware that putting Hallyu on the course curriculum is really the most powerful way to draw interest in their programs. In fact, I think the schools were very aware of this, which is why those classes were approved (and in some cases, suggested to the professors). So really, Hallyu is the gateway drug.
girlfriday: I knew it was some kind of drug.
javabeans: Moving on to our other panel the next day, we were joined by gummimochi and HeadsNo2 for "Show, You Complete Me," which was kind of our catch-all title so we could just sit and gush about dramas for an hour. They did a great job throwing questions at us, and not letting us know ahead of time what we'd be asked.
girlfriday: They were so super-secretive!
javabeans: They kicked us out when we tried to sit with them! They were all, "Are you really sitting there? Now? We have to work on this." But we think the conversation flows better that way, even if it raises the stress level a little for girlfriday and me.
girlfriday: Really, it doesn't take much to prompt us to ramble about what makes a good drama, what makes a not-so-good drama still watchable, and why a handhold makes us squee.
javabeans: We did talk a bit about the distribution and access side of dramas, because it's an issue that feels increasingly more crucial as more restrictions get placed on streaming rights, limited licensing, and availability. We're totally supportive of the drive to capture this international interest while it's hot, and to build companies to do so profitably — drama-makers should absolutely be able to make money from the worldwide Hallyu craze, and legal drama-watching is a good thing. But we're also kind of scared that doing this short-sightedly can have the unintended consequence of choking access, and thereby killing the interest before you can monetize it.
girlfriday: And last but not least, we closed out the hour on a lightning round, which is always a highlight. Heads and gummi always do a good job of coming up with really stressful games for us to play. We were given fake drama sequel titles and told to pitch the plot in seven seconds.
javabeans: CRAZINESS! What is this evil trickery? How am I supposed to whip up a pitch for "Runaway: Plan C" in seven seconds?
girlfriday: You had a good plot for "Ten: Ten Time Travels" though: "He finds a tenth incense stick, and it time-travels him ten years into the future."
javabeans: But isn't that a great sequel? Because in Nine, he had to fix the present through the past. In Ten, he would have to fix the present using his tips from the future. "Did that do the trick? Light incense. Damn, still in prison. Let's try again!" I liked that even if you hadn't seen the original, you could totally get the plot of it through our sequels. Like your answer to "Let's Eat 3" was: "Yoon Doo-joon moves to a third city, meets a third girlfriend to get over the second girlfriend he met in Let's Eat 2. And they keep eating."
girlfriday: Javabeans' pitch for "School 2020" was "Yook Sung-jae and Kim So-hyun meet again as adults, and this time they get to be together forever!" I may have clapped a lot for that one.
javabeans: Girlfriday got a lot of cheers for "King 3 Hearts" by resuscitating Earnest-bot and saying, "I don't care about anything else." Gummi and Heads did generously double our time for very special sequels "City Hunter 2" and "Gaksital 2," but OH MY GOD. I spent like a whole month in 2010 crafting a sequel to City Hunter in my head! How was I to get all that out in 15 seconds??
girlfriday: That's pretty much what she said (while hyperventilating) in the 15 seconds. I don't even remember what my answer was for Gaksital 2, other than war breaking out, and I think it involved rewriting history.
javabeans: Hey, dramas are fiction. Phew, the lightning rounds are super fun to play, but totally nerve-wracking. Seven seconds?! No prep?! I loved the comment afterward that it was fun to see us sweating, which we were doing because we had no idea what they were going to ask next.
girlfriday: I wonder what they'll come up with next year.
javabeans: First we had Five Second Summaries, and then it was Seven Second Sequels, so maybe we can hope for a whole ten seconds next year.
girlfriday: We have a full year to bribe them for the three extra seconds.
javabeans: Bribes, threats, blackmail. All valid.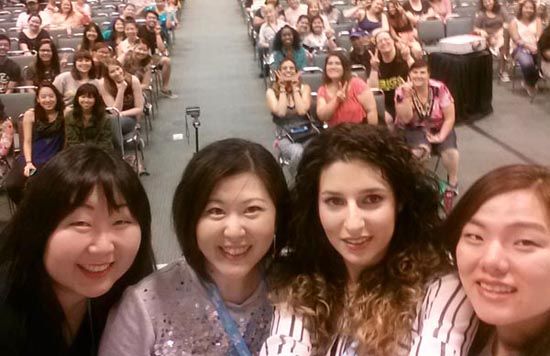 RELATED POSTS
Tags: conversation post, Odds and Ends