Ji-soo, Lee Won-geun up to play high schoolers in Sassy, Go Go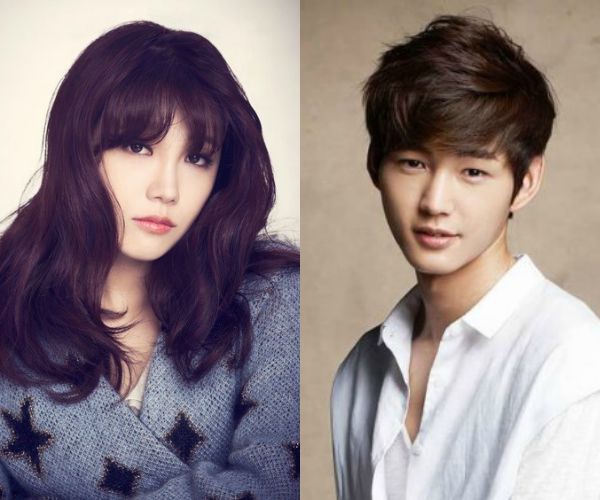 Jung Eun-ji, Lee Won-geun
Keeping in mind that none of these castings is confirmed yet, I'm glad to see the names in the mix for KBS's cheerleading high school drama Sassy, Go Go—or rather, I'm really excited about ONE name in the latest crop, and that's newcomer Ji-soo, who came out of nowhere and stole all his scenes in Angry Mom earlier this year. (He had us all screaming "MORE JI-SOO" and now we may have more Ji-soo, so basically I'm happy.)
But fine, let's start with the leads: Jung Eun-ji (Trot Lovers) is still in the mix for the main role of a high school cheerleader who's popular and outgoing but has bad grades. Lee Won-geun is up for his first leading role playing the perfect boy who has everything: looks, brains, grades. I've seen Lee Won-geun in a handful of roles but don't really have much of an opinion of him; he seemed okay as a cute young member of the circus troupe in Hyde, Jekyll, Me, had a short role playing a spoiled rich ass in the sageuk Secret Door, and also played young Song Jae-rim's child role in The Moon That Embraces the Sun. He's okay I guess?
I have a slightly stronger impression of Chae Soo-bin from her recent turn playing a North Korean spy in Spy, and I have the vague recollection that she was pretty good in that. Her character sounds like the opposite of Jung Eun-ji's, in that she's got her ambitious path mapped out for her (thanks to her mother) with the goal of attending an elite American university. She's smart, charismatic, and has leadership skills, and is head cheerleader, or at least one of them; Jung Eun-ji would be the main leader of the squad.

Ji-soo, Chae Soo-bin
Ji-soo, meanwhile, does a complete 180 from the neglected, deliquent, hardened street rat (with a heart of gold!) he played in Angry Mom, since his character has never lost his ranking as Number 1 in the whole school, on top of being competitive at the top of the nation-wide lists—he's so smart that he finds university-level math problems easy. When the rankings came out for the first time at school, his were so stellar that they made everyone snap to attention, and he's been the subject of scrutiny and interest ever since.
I'm still so stuck on Ji-soo as the gruff hoodlum with an adorably boyish crush (on Kim Hee-sun) that I'm not sure how I'll believe that he's a total brainiac… but Angry Mom proved Ji-soo is an acting talent to watch out for, so I have total faith he'll be credible. I have even more total faith that I'll fall in love with him all over again, and am just thrilled he's getting more roles, even if it's not leads just yet. [girlfriday interjection: "I am so offended that he's not the lead!"] Okay, I agree with that statement, but we get to see him week after week on our screens! [girlfriday: "SO OFFENDED!"]
(And now, I'm left wondering how weird/cool/jarring it would have been to have had Kim Yoo-jung still in this drama with Ji-soo in it as well, where she's the dummy and he's the brain. Also, where he's not being all threatening and maybe instead getting all pine-y over her instead of her mother. I kind of wish we could've had that reunion, but I'm kind of also glad to avoid that awkwardness.)
Sassy, Go Go will be a KBS Monday-Tuesday drama that follows Strange Daughter-in-Law.
RELATED POSTS
Tags: Ji-soo, Jung Eun-ji, Sassy Go Go